Discover more from Simplicius's Garden of Knowledge
War strategies, geopolitical analysis, SitReps, and discussions.
Over 24,000 subscribers
Welcome back everyone. Here's Part 2 of the ongoing mailbag series. Once again, the comments section here is open to all subscribers, so have at it.
Without further ado, let's begin with the next batch of highly incisive questions!
---
21.
Do you have new information, how well does work the "Penicillin" anti artillery radar with its acoustic sensors, thermal imaging and seismic detectors?
No, unfortunately there's not much info yet besides a vague news report from months ago that said the system had "proven itself" and done well thus far. Since it's fairly new there hasn't been any further information to give an inkling of how well it actually performs. I'm eager to know as much as you are, but unfortunately particularly for the newest systems, Russia likes to keep it quiet and not feature or showcase them for security reasons. Also, Russian troops were said to have received a new batch of the systems earlier this year but it's likely a smallish one for now, particularly given that counter-battery radars in general have been claimed to be low.
Russia is learning to fight.

Western estimates of Russian electronic warfare systems in the NWO. In recent weeks, Russia has significantly stepped up its electronic warfare: most of the ground operations of Russian troops are now covered by electronic warfare to limit the strikes of Ukrainian drones. According to NATO, the Russian JSC NVP Protek at the beginning of this year sharply increased the supply of R-330Zh Zhitel and Pole-21 complexes, capable of jamming GPS and Starlink satellite communications signals.

Learning from its past mistakes, the Russian military has completely reorganized its electronic warfare capabilities since the start of the Ukrainian counter-offensive. NATO's GPS-guided weapons, Lockheed Martin's HIMARS and Boeing's JDAM, are heavily jammed. The use of reconnaissance UAVs by Ukraine is also becoming more difficult, slowing down opportunities to break through Russian positions.
However Shoigu and co. recently said they've demanded a large increase in counter-battery production so hopefully Penicillin is amongst that and will be seen increasingly in the future.
Personally I'm curious how it holds out because the thing is, normal counter-battery radar is very concealable due to it being a low-profile radar panel. And other systems like American AN/TPQ-50 are short round arrays, which you can see concealed amongst the vegetation on the left: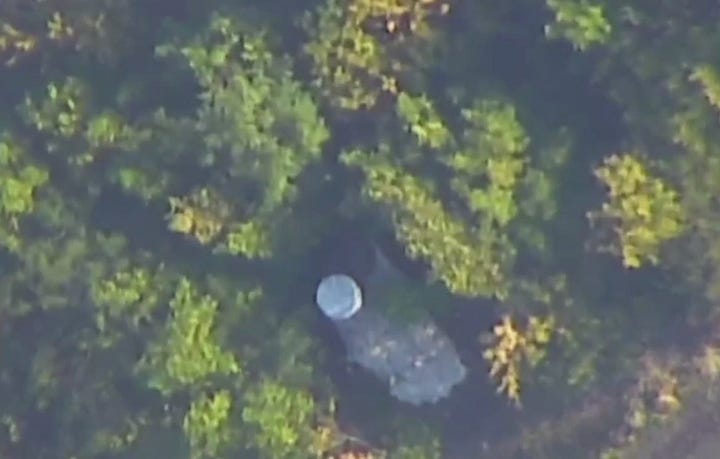 But the Penicillin has a tall mast as part of its array which would likely be spotted above vegetation. For previous radar systems with masts like those of the S-300/400, they had the luxury to be upwards of hundreds of kilometers behind the line and safe from any artillery, drone, etc., attack:
But Penicillin necessarily has to operate fairly close to the frontline, relatively speaking, at least much closer than such strategic-level air defense systems/radars:
So I'm wondering how well it does in concealment and camouflage. But so far there aren't any reports of them being hit as with Zooparks, etc., so I can only assume they've found ways to conceal it well. But I'll definitely report on it in the future if and when any new information appears.
This second question was similar so I'm combining it here:
Thanks for all you do!

I wanted to ask about the proliferation of suicide drones, like FPV and Lancets. Are there any developments in the pipeline to neutralize them? Seems like I'm seeing more and more videos of successful drone attacks by AFU on RU forces lately. Articles in western media used to talk about the success of Russian EW capabilities (https://www.businessinsider.com/ukraine-losing-10000-drones-month-russia-electronic-warfare-rusi-report-2023-5) but seems like EW isnt working as well anymore? Too many videos of poor soldiers looking up at a small drone getting ready to drop a grenade on their head. Cant these small drones be disabled w/ a shotgun at least?? Probably wont be long until we start seeing mass swarm attacks consisting of dozens at a time, too, I suppose.
There are many different angles to this. Of course both sides are in fact increasing drone production massively, and both also utilize EW. My personal experience is that drone attacks on Russian troops appeared to have actually decreased—there seemed to be far more of those types of videos months ago. But drone attacks on Russian armor/vehicles on the other hand definitely have increased.
One reason could be that Russia is utilizing much more trench anti-drone capabilities. One of my very first posts here was about this:
And it's still relevant because one of the systems I covered above continues to be seen on the front. In fact just a couple weeks ago there was a new post from a AFU soldier channel complaining that their drones are not able to reach Russian trenches (on that sector of the front, at least) because they keep discovering these 'trench shield' type automated EW systems, which sit in the trenches and automatically "zap" their FPV drones.
This new brilliant full length episode about new adjustments to Russia's tanks from experience in the SMO shows some of the anti-drone capabilities already being rolled out, which zap small drones in the vicinity of the tank:
Youtube link for the above.
But for those who want to see just the anti-drone section, here are the highlight clips:
Such defensive countermeasures will only increase.
And here's a recent photo of a Ukrainian tank, showing how insulated against drone attacks both sides' armor is becoming: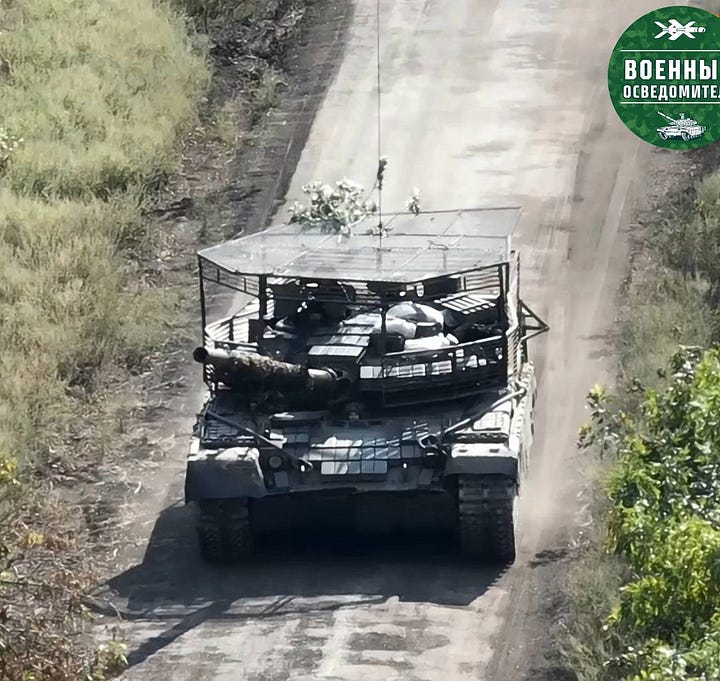 One of the main issues with EW in general is that it affects your own assets as well as the enemies. This is a complaint repeatedly heard on the Russian side. Some fronts they're forced to tone down their EW or shut it off completely just to be able to use their own drones when conducting strikes. EW is fairly directional but both parties are generally operating in the same exact axis of directions on any given front position.
One workaround was that some Russian units create an EW net from nearly ground level to a certain altitude, so nothing can fly beneath that altitude of let's say 5000ft. But since Russia has the more numerous high-altitude drone assets, it allows Russia's high flyers to still operate (Orlans, Inokhodets, etc.) while everything below is shut down.
In general however, EW can also be ineffective against FPVs because they conversely fly very low beneath potential EW nets not to mention there's rumor or at least speculation that newer drones are being shielded against EW, making them more resistant. This is done for instance by shielding a much more directional, backwards-facing antenna so that while the drone is flying towards the enemy, the front portion of it has nothing the EW can really interfere with.
As for things like shotguns, it's impractical because you're talking about basically arming every single soldier with a shotgun, not to mention it likely won't do much in the majority of cases as the FPVs simply come way too fast and often appear without warning.
Either way, I believe in the beginning Ukraine pioneered and was winning the small-level drone war. The Ukrainians are truly resourceful drone masters and up to maybe early this year they were likely ahead. But now that the Russian manufacturing powerhouse has turned its attention to these small drones, Russia has shot ahead. Even though Ukraine's use is still prolific, for every Ukrainian drone attack there's now probably 5 or 10 Russian ones if not more.
Russian units are receiving stacks like this on a regular basis:
If you've seen the recent videos, like this one from today, you'll note that Russia's FPV drone strikes are now vastly outnumbering and outperforming those of Ukraine:
(Graphic Warning)
All in all, both offensive use and defensive countermeasures against drones are increasing apace, neck and neck. I believe it'll continue spiraling upward with each sign gaining a brief advantage until more defensive measures nullify them. You're right that swarms are coming next, as well as AI guided drones, most of which I covered at the bottom of this article:
22.
These next two questions are very similar so I'll combine them:
My question is what you think of the motivations of the US foreign policy establishment, ie the "Neocons" to pursue this war and the continuous escalations. It is clear, I believe, that they are the main proponents on the western side and that their involvement goes beyond mere rational considerations. Using the most distinguished among them, Victoria Nuland, as an example, her ancestors came from the region. Her grandfather was persecuted and fled from Bessarabia near Odessa during early 20th century pogroms, which created deep personal trauma and resentment in the family passed down to her and those around her.

Together with the fact that the Ukrainians assisted the Nazis during WW2 she would have plenty of reasons to dislike Ukrainians just as much or even more than Russians. Many other neocons have a similar provenance. Given the fact that the Ukrainians now are goaded by the US into sacrificing immense amounts of manpower, for instance by incessantly pushing against the Surovikin line with inadequate means to do so, could it be imagined that this is an example of induced "suicide by Russia" as in "suicide by cop"? Then the neocons are trying to kill three birds with one stone, ie neutering Russia, emptying Ukraine for their kin to repopulate it and to make a fortune through MIC-contacts. Any thoughts on this would be appreciated.
And:
I cannot overstate how much I appreciate your reporting. It is a shame that some accuse you of shading to one side or the other. In my experience liars are rarely specific about supporting facts. BS is easy to smell especially when the truth is considered valuable.

I wonder if you have any incite concerning some of the West's motivations for perpetrating this wicked slaughter upon the people of Ukraine. I recall the Russian ambassador to the U.N. presenting evidence that exposes the existence of "Bio-weapons labs" in Ukraine. Like all dirty business in the U.S. these days a Biden or all Bidens are implicated as involved. I know there are Neocons that just want to conquer Russia for some diluted reason. Can you tell us about any more evidence Russia and possibly independent investigators have uncovered to explain what is really behind all of this?
As to the portion from both questions revolving around motivations, I post this article of mine in answer where I gave my full views on what I believe to be the true motivations for all these actions, and their connections to the PNAC wars of the past two decades:
As to the first, there are many top establishment figures with ties to Ukraine, that's true. Not just in the global geopolitical scene but even in the domestic woke agenda one. For instance, the infamous Pritzker family, one of the richest billionaire families in the U.S. not far behind the Waltons of Walmart—they've worked their way into politics with several Governors and other leading figures amongst them, and they're tied into the Obamas, Clintons, and many others. Their family's ancestry is also from Kiev.
There are definitely signs that point to some of the things the first question suggests. Ukraine is a very bizarre amalgamation of contradictory and antithetical ideologies. For instance, here's a post from the official Ukrainian-American Washington D.C. embassy account, from four days ago:
There is clearly something very dark going on in Ukraine. Ukraine has both the highest percentage of Jews in its administration of any country on earth outside of Israel, but also the highest percentage of open Nazis in its governmental and military ranks. How's that possible?
Zelensky himself stated several times that he envisions Ukraine becoming like a new Israel to the West.
In the grand scheme of things, what I believe to be the overall neocon goal is what I outlined in the Heartland Goldrush article above, which is basically taking out Russia and China to rule the world, as Russia/China represent the last two capable forces strong enough to withstand the Atlanticist Empire. Beneath this broader geopolitical end game, I do think there are many other sub-objectives which can be thought of as killing multiple birds with one stone, as the first author suggested.
The conundrum brought up about the hatred of Russia over that of Ukrainian nationalists being illogical and irreconcilable is true. In my view it's because the globalists who are trying to create a one world totalitarian system need to uproot the last still-standing bastions of tradition, heritage, and culture in the world. Ukraine is already uprooted and deracinated—it has no authentic culture left, just whatever anachronistic and apocryphal new-age hogwash their script-writers feed them to engineer a false sense of national pseudo-destiny.
But countries like Russia and China, due to their deeply rooted traditionalism and culture, are a very big thorn in the globalists' side, as people who value heritage and family cannot be mind-controlled and enslaved like the Western world has been. Hence Russia and China are the end game because after that, the globalists can institute their new age ideology across the globe, and basically enact the Coudenhove-Kalergi plan to turn humanity into a subserviant, cultureless, unquestioning race of Morlocks.
In view of such grand schemes, the pesky incongruities happening in Ukraine, as openly flaunted in the above embassy post, are not a major consideration or obstacle for the true shadow hands at the top of the pyramid.
23.
The G20 is looking less and less relevant; what sequence of events would it take for the current UN to be abandoned/replaced?
It's interesting you mentioned this because one of the biggest events in such a sequence has just taken place—which is that two of the most powerful and consequential countries both basically ditched the meeting, which sent a resounding message of the G20's waning relevancy reverberating around the globe.
That is, Russia and China both sent only minor delegations. And now at the UN, the same thing has occurred, though even worse because India's PM Modi didn't attend either. More and more these no-shows are beginning to give these large global assemblies a certain cast.
Recently, one of the dominant messages sent by some of the most powerful global leaders has continued to revolve around the need to remake these leading global institutions into something more equitable. India, China, Brazil, and now even Turkey have repeatedly complained that organizations like the UN are obsolete relicts which no longer adequately represent the contemporaneous global composition. Days ago Erdogan even announced that Turkey may have to consider "parting ways" with the EU, as well.
At the recent UN meeting, several African leaders attacked the UN. The president of the Democratic Republic of Congo demanded the withdrawal of UN peacekeepers from his country while the de facto leader of Guinea boldly told the West to "stop lecturing us."
Turkey's Erdogan complained about the UN's forced LGBT values, saying that he did not appreciate seeing the LGBT colors represented:
And Russian UN rep issued this critical statement:
"Everyone realises that the composition of the UN Security Council does not reflect today's world, we are even more active about this than others. We believe that it should include not Western countries, but those countries that have their own position on many issues that represent the interests of the vast majority of humanity. India and Brazil do not cause us any rejection, we support their application."

Russian First Deputy Permanent Representative to the UN Dmitry Polyansky
Now there's been repeated mention that the West is trying to establish a new Iron Curtain between East and West.
Though they may seem disparate, I mention all these things because it gets to the heart of the same development.
The system is fracturing, with the global south openly voicing their discontent upon the deaf ears of the West. It's only a matter of time before the now-ascendant global south ups the ante beyond merely "voicing" their disagreement, and walks the walk as well. I'm not saying the G20 and/or the UN will fall apart any time soon, but the fact that such institutions are becoming increasingly sectarian and partisan means that the dialogue will steadily deteriorate until the most consequential countries of the global east and south find it pointless to even send any delegation at all.
The arrogant, patronizing, sermonizing attitude of the West used to fly before when the global south was still poor and without influence. But as multipolarity continues to take off, the global south countries are coming into their own and acquiring a newfound sense of pride, self-respect, and self-determination. This is connected to the spate of name changes (Turkey —> Türkiye, India —> Bharat) I reported on last time.
That being said, I don't think the UN will be completely abandoned or replaced anytime soon, and the only type of true 'sequence of events' that could abruptly make that happen is likely the world being plunged into a WW3 or wider European war scenario. Of course we now see that this scenario is relatively likely in the medium term future, so it could very well happen.
But barring that, I think it will progressively lose influence and relevance as the world continues stratifying between East and West. In the future, it will likely regain prominence again (perhaps under a completely new global body) when China and Russia fulfill their total defeat of the West, perhaps sometime in the 2035-2040 period. At that point, a newly humbled, weakened, and backseat-relegated West will likely take their rightful secondary place of counsel under a China-led order.
24.
Question: With all the speculation that the 'BRICS side' of the multipolar world will be fairer and less controlling to its citizens, under the radar we still hear rumblings of surveillance of citizens, digital currency, medical control, acceptance of 'climate change', the UN, the WEF, etc. Do you think that, despite US hegemony and influence being reduced in the future, the multipolar world will actually be any different for its citizens, or just two sides of the same coin??
This topic is a can of worms not because it's a bad or 'uncomfortable' question, but because it really deserves a much longer, more detailed and nuanced response than can be given here.
This topic is contentious and particularly susceptible to people on the 5th/6th column side using simplified caricature versions of BRICS countries' true positions to paint a certain misleading narrative, not leaving any room for nuanced interpretation of actual realities.
One of those nuances to understanding some of the BRICS' countries relationships to global power structures, i.e. the insidious ones behind all the Agenda 2030 type of programs, is that many of the global south countries can be called somewhat naive in their understanding of these movements, simply by way of inexperience with the types of shadow groups that are behind them. That's because the lineage of such groups and movements is in many ways intimately tied with that of European nobility. Thus, countries far removed from that lived experience will not have an innate understanding of the true depths of esoteric and clandestine control that takes place behind the scenes.
They view these initiatives in a sort of bright-eyed wonder and assume they're actually well-meaning.
That's not to excuse anything but rather give a brief contextualization of much of the global south's relationship to Old World nobility and secret society globalist scheming and conspiring.
The BRICS is definitely a loose patchwork organization compared to the uniform monoliths of the West. This is mostly a good thing, and represents the true vision of new multipolarity—plurality of thought, culture, tradition, and approach.
It's true that there are many interlinking ligatures between BRICS and globalist initiatives. For instance the BRICS countries made a series of 'declarations' at their summit, including those in support of climate change initiatives, while past declarations included support for the WHO, etc.
However, one key difference is to compare words against deeds. In the West, the declarations are followed by actual demonstrative action, whereas many countries of the East merely pay lip service to these globalist structures in order to "fit in" and give the appearance of "1st world" status. But their actions end up being completely contrary, as in the case of Russia, China, and India which are not destroying their energy infrastructures with "green energy" initiatives, for instance, despite half-hearted declarations claiming to support 'climate change'. To truly understand this, you have to read their words carefully and realize that their interpretation of these terminologies often differs from the West. I.e. they may use the word "climate change" or "equity", but given their cultural differences, they mean very different things to them.
For instance, many of the global south currently speak of 'equity' but not from the standpoint of the "woke" West's understanding of it, but rather against the West—for instance, equity in the earlier-mentioned fair representation of global south countries in structures like the UN. I.e. U.S. equity being: transgender rights. Global south equity being: we want a seat in the UN Security Council.
Another example: many of the anti-imperialist countries also speak of a global reset and a "new world order", as even Lavrov recently called it. Are they talking about the same Western banking cabal order? Of course not. Though the terminology seems similar, they're referring to a new reset of the current unipolar model, away from Western-controlled-and-dominated power structures to a new, fairer, multipolar world. That's why one must be careful not to get caught up in semantics. Language is limited, there are only a finite set of words to represent each concept, and two people can use the same word but mean two very different things.
In many ways declarations of support for such initiatives in the past were viewed as a form of obeisance and paying dues to feared or respected Western power structures. That's not to say all of it is like this, or even the majority necessarily, but I'm simply stating a reality—which is that it was considered fashionable or a sort of status symbol to ostensibly blow the clarion of these globalist initiatives, when in reality, behind the scenes there was no such actual motivation or support for them. In short: it's a form of "virtue signaling."
Also, one can't ignore that two like initiatives will not be handled the same way in the East as in the West, or with the same secret objectives. In China, state institutions are actually concerned with the well-being of its people and do not use initiatives to enslave their people for a higher globalist hierarchy, ethnic cabal, or whatever might be the case in the U.S. The Asian countries have always been far more health and medicine conscious, as well as wary of things like airborne pathogens. They were famous for donning masks in public for years en masse long before Covid came around.
People misconstrue that and use it to bolster a false narrative that China, as an example, is committing some mass medical enslavement of their people for a nefarious globalist purpose.
The same thing goes for CBDCs. I talked about it in this article, mentioning how just because it's the same concept in both Russia and the West, doesn't mean it's serving the same purpose or interests. We happen to live in a digital world with internet—it was only a matter of time that countries began to convert currencies to much more convenient digital versions. Does that mean every single country on earth is de facto part of some secret Judeo-Masonic conspiracy to control their citizens? That's not how it works. Or rather, it does when you're a cheap propagandist pushing a narrative and afraid to do the real journalistic work necessary to verify each individual truth on its own merit.
There's a very good article by a French thinker which tackles this exact question—the question of whether BRICS and Russia are part of the "globalist" 2030 scheme. I recommend you to auto-translate (preferably on deepl.com/translator which is far superior to google translate) and read it:
https://www.egaliteetreconciliation.fr/Lucien-Cerise-La-Russie-et-le-Great-Reset-73585.html
A couple small quotes:
The launch of the digital ruble in August 2023, ahead of the digital dollar, aims to occupy the position of reference digital currency ahead of the competition - in an attempt to occupy the center of the chessboard - and will have the collateral effect, in the medium term, of partially de-dollarizing the world in the field of digital transactions. It's an arms race in economic warfare too, and if you don't play the game as imposed by new technologies, you're letting the enemy win.
And:
On Russia's relationship with the Great Reset, some commentators fail to distinguish between, on the one hand, simple obedience to the Western agenda and, on the other, a "mimetic rivalry" type of positioning, an application of game theory, which induces two contradictory movements in all players in a conflict: rivalrous and divergent movements, but also mimetic and convergent movements, like two intertwined sinusoids. Two mortal enemies are obliged to cross paths and maintain points of contact in order to fight, which will serve as a pretext for some commentators to say that they ultimately belong to the same system. This is not false, but it applies to everyone. The Hegelian dialectic is universal and no one can escape it, because no one can escape contradictions, whether external or internal. To be effective on the battlefield, you have to share the same battlefield with your enemy, and even share the same weapons, in order to fight at least on equal terms. Paradoxically, it is these compulsory convergences on the battlefield, method and means, which enable us to sustain the balance of power in order to diverge on the agenda and the goal.
What he's saying there is that you cannot defeat your enemy by unplugging yourself entirely from the system, like for instance North Korea has done. Or even the Soviet Union, which ultimately fell because it refused to play on the same chessboard as the West, having its own mostly siloed system behind the Iron Curtain. Russia is taking a different strategy of defeating the West from within by subverting their own system.
However, that's most certainly not to say that there aren't major globalists within the Russian power structure. Even the author above admits this but states you must merely compare the percentage, i.e. how many people in Russia are pro-globalism and how many anti, then compare that to the West. The point being that, though there certainly are some, their contingent is far smaller and weaker, a minority.
Just this week Russia's central bank's Elvira Nabiullina again clearly reiterated her position on CBDCs:
The head of the Central Elvira Nabiullina estimated the probability of the disappearance of cash in Russia. According to her, this will not happen, since there is still a demand for them, reports TASS.

"This is our principled position that a person should choose for himself how to make payments. We create choice, opportunities for choice, " the head of the regulator stressed following the meeting of the board of directors.

Nabiullina noted that the Central Bank continues to develop cash, a new design of a number of banknotes is being developed.
Should we blindly trust what a central banker says? Of, course not. Always use reason and discretion as with everything.
Anyway, the foregoing was merely my attempt to illustrate that there is much nuance to this topic. There are many Western globalist structures constantly attempting to attach themselves like barnacles onto global south and BRICS countries, and coerce them into any variety of their nefarious agendas. But the most important thing is to know that the heart of this cabal, which conceives of and controls all these initiatives, lies in global finance, which itself is headquartered in Western capital—i.e. the fiat monetary system represented by such structures as the interlinking Federal Reserve, BIS, World Bank, IMF, and the old European nobility or "old families" which dynastically and generationally control them.
Thus, when the multipolar divide truly splits the financial system of the world down the middle, it will greatly weaken and likely destroy this old world capital cartel behind the agendas at issue. Even splitting them by half would likely destroy them because the fatal flaw of their system is that it's over-leveraged to ungodly levels, relying on the rest of the world to launder and recycle that rotten fiat while the West "treads water" by pumping it 24/7 from their printing presses. As soon as the East refuses to play along and stops buying the worthless paper, the insanely overleveraged house of cards will likely collapse entirely and irreversibly, causing a crash from which the cartel can never again recover.
But at that point, will the Eastern powers who may inherit the earth treat their citizens any better? I think so because their aim was never to rule the world, and their countries are not the ones ruled by a small internationalist minority with no loyalty to its own citizens. The precedent simply isn't there.
25.
"I've stated multiple times that I still do fear the possibility—low as it may be—that Putin could eventually cave to pressure and sign a type of 'Khasavyurt Accords'."

To which pressure?
The main pressure I referred to in those past instances is from Russia's closest allies. In short, I hypothesized that once the U.S. decides to put a lid on the conflict, they will exert many pain levers, by way of coercion, incentive, bribery, blackmail, or all of the above, on Russia's closest allies—i.e. be it China, the BRICS, etc. And thus my fear was that under a potentially altered posture from said countries, Putin could perhaps falter, particularly if the deal they make him sounds well-reasoned to the rest of the BRICS and Russia's other biggest supporters. To flout such a deal would be to scorn or snub Russia's most vital and only close supporters. Even yesterday, a Chinese official reiterated their call for a 'peaceful dialogue' in Ukraine, while Lula of Brazil echoed the words.
But for such a (hopefully) improbable thing to occur, two (hopefully) improbable other things would have to happen first:
1. China, in its historic, generational wisdom, would have to somehow experience an uncharacteristic moment of ineptitude and lack of foresight in not being able to correctly forecast the obvious eventual consequences of a Russian geopolitical capitulation in Ukraine. It's something that would have reciprocating and deleterious effects on China itself down the line, so it's difficult to imagine how China could even hypothetically be talked into truly pressuring Russia to stop—in contrast to merely paying lip service and giving the token perception of doing so simply to keep up global appearances of being a peace advocate.
2. Putin himself would have to completely forget or ignore the harsh realities of the aforementioned Khasavyurt Accords themselves. Russia suffered nothing but further CIA escalations and provocations in the form of numerous terrorist attacks all over the country, which did nothing but lead to the necessary continuation in the form of the Second Chechen War.
Logically one would think that Putin—being the man who literally walked Russia through the second war—would understand the perils of repeating those mistakes. This is why I don't rate the chance of him folding too high. However, a small chance still exists merely because there are some realities beyond the surface we're not privy to, which would absolutely necessitate a pause.
A hypothetical example might be that Russia's military situation is much graver than we thought, and it's internally decided there's no hope of overcoming Ukraine's defenses in a decisive fashion at the current time, without a much heavier and long term build up and rearmament. For obvious reasons the conflict would then certainly have to be paused, no matter how bad the repercussions—it would be the acceptance of simple reality on the ground.
Ultimately I believe that as Europe and the U.S. descend into ever-lower levels of economic and socio-political hell, they will exert emergency levels of pressure on Russia's allies that could make them cave. I always said that the West still has many more "pressure points," levers, and dials it can turn up to really make things uncomfortable for the other Eastern partners, thus the concern.
The whole world already talks of a peaceful resolution, but so far a concrete set of proposals hasn't been brought forth, so there hasn't been pressure on Russia to accept anything just yet. But in the near future, once actual concrete proposals are produced, and especially if they look somewhat reasonable on paper, then Russia will be in an increasingly isolative position to reject them.
26.
Will you write an essay giving a short term assessment (1 year), medium term assessment (2-4 years, and long term assessment (5 and up) for the war?
I partly answered this already in question #9 in part 1.
But to paraphrase and summarize as well as add some more:
The next half year or so I expect intense efforts from certain parties to freeze the conflict. If they don't succeed then Russia will likely use the winter to greatly degrade Ukraine's infrastructure, particularly the power and electrical just like last winter. The official stat I've seen claims only 25% of last year's damage was repaired. That means Russia could "finish off" much of their power grid this time around.
Also during winter, all the vegetation dies out which heavily favors Russia as its superior frontline ISR capabilities will target Ukrainian troop concentrations all throughout the now naked forests, inflicting grievous casualties on them while likely even advancing in key regions like Kupyansk where the forests are heaviest.
In spring-summer 2024 we can expect both to attempt new offensives as Ukraine will conduct a mass mobilization before hand. Unfortunately, they will not have heavy equipment for much of those troops and will suffer increased slaughter while continually reorienting its remaining resources towards hybrid/asymmetric warfare on Russia's "rear" infrastructure—more "showy" strikes on empty HQs in Crimea and things of that nature with little result.
Depending how large of a meat-assault force Ukraine mobilizes this winter, Russia may even choose to continue playing defense for a while longer next year as it will be increasingly easier to destroy the enemy forces out in the open. But there's still a good chance that at least by summer time if not sooner Russia will launch its own heavier offensives after having accrued enough munitions in the interim.
Seeing where the current map is drawn, and noting the timelines for progress in the past, we know the following: the most significant captures of 2022 were Mariupol and the Severodonetsk-Lisichansk agglomerate. In 2023, Russia only really took Bakhmut (with some outlying settlements like Soledar, etc.).
Russia's ongoing and likely continuing focus will be on the Kharkov region for 3 main reasons:
It's where it currently has the most forces/momentum/initiative arrayed

It's critical to freeing the remainder of both Lugansk and Donetsk republic territories

It's critical for eventually encircling the Slavyansk-Kramatorsk agglomerate, which itself is critical for capturing all of Donbass
Additionally, there are recent rumors of an even larger Russian force build-up there for an offensive. We can deduce that Kharkov could remain the focus well into 2024, with the goal being to perhaps get to Slavyansk-Kramatorsk's doorstep by the end of 2024, with perhaps a winter city battle for the agglomerate in winter 2024-2025 just as Bakhmut was a winter battle early this year. That's because rasputitsa and winter conditions don't really affect city battles as there are paved roads that don't bog down with mud, and shelter in buildings for the cold, etc.
Any number of unexpected major moves could happen, or some black swan event. But if we follow the most pedantic military strategic line, we get the above. That the focus for the next 1 year period could be the Kharkov region in order to bring Russia's forces once more onto the Izyum/Barenkove salient and besiege Slavyansk-Kramatorsk from the northwest.
2-4 year projection would see Slavyansk-Kramatorsk being taken by 2025, which sets off a domino effect of most of Donbass and east of the Dnieper regions falling, as there are very few defensible settlements between the Slavyansk-Kramatorsk agglomerate and Pavlograd, which itself is already near the river.
Before going on—the question of, why do I foresee the development of the Kharkov push rather than somewhere else like pushing north from Zaporozhye? Answer: because it's pointless pushing from there as there are no forces up north you can connect to create a cauldron. By developing Kharkov into the previous Izyum salient, you can create a potential pincer for all of Donbass after Slavyansk-Kramatorsk falls.
As to 4-5 years and beyond. If Russia should get to this point where most of Donbass is taken, we have to consider the following. Ukraine reportedly lost upwards of 70k in Bakhmut (some estimates higher) and 70k+ thus far in the counteroffensive. The Slavyansk-Kramatorsk agglomerate was always the headquarters for the entire ATO/JFO and is by far the densest concentration of Ukrainian assets and would be a grand, epic final stand for them. That means we can expect them to lose even much more there than in Bakhmut, unless they really play it smart and just ditch it the way they did Severodonetsk-Lisichansk.
That means, if they lose 100k+ defending that metro area, we must consider that their armed forces could potentially be so broken as to be incapable of continuing past that point.
If they manage to continue, they will likely be too broken to hold many more positions in the east, and would likely effect a swift retreat west of the Dnieper. If they then strategically blow all the bridges, preventing Russian forces from following them across, it would entail a massive rest & refit and reorientation of Russian forces from the north (Belarus, etc.) to continue chasing Ukraine into the interior regions. This would could take as long as 6 months to a year and would pause the conflict until 2026.
Anticipating the question of why Russia would have to reorient from the north: because if UA blows all the Dnieper bridges on retreat, it will be physically impossible for a massive army of 300-500k+ to ford/pontoon the river, especially with today's ubiquitous, all-seeing ISR technologies. Russia could hardly ford the Donets river without losing an entire battalion at one time to massive fire destruction last year, it's simply not going to happen with the exponentially larger Dnieper. Nor will Russia care to do a mass combined airmobile assault and D-Day style amphibious beachhead, as that would entail inordinate casualties.
Therefore, the final projection would be from 2026 onward for the Russian army to come down from Kiev once again, then chase the remainder of the AFU through central Ukraine with the intent of capturing Odessa. By this point, Poland/NATO would likely get involved, not necessarily kinetically (at least at first), but perhaps taking western Ukraine under a protectorate to create a Ukrainian government-in-exile, since Kiev by then would be effectively surrounded/besieged.
Into 2027, Russia would let the AFU reorganize in the joint Polish-Ukrainian west while Russia captures Odessa and the landbridge by way of Nikolayev-Kherson. At that point a deal would be made to end the war since Russia would now control everything it wants while the AFU command hides in Lvov and digs trenches in Vinnytsa.
That's the pedantic and straightforward outlook, assuming that a.) Russia doesn't turn up the heat somehow in an exponential way with a much more surprising "big arrow" rapid offensive (probably unlikely) and b.) Ukraine doesn't collapse and surrender from unsustainable destruction to their manpower sometime long before we reach that point of 2027 or so. And we can add c.) if NATO/U.S. doesn't stage a massive black swan event or falseflag in order to intervene in the war and save Ukraine at the 11th hour.
As a final point: We've seen now in Zelensky's disappointing charity tour that interest and funding may be drastically waning. This could be reduced even more by next year which would mean that Ukraine simply would not have the sustainment to continue prosecuting a high intensity conflict like this one. If financial and arms support drops even further in 2024, then I foresee a potential Ukrainian military collapse by the end of the year and at latest in 2025. This will likely end in a military coup taking out Zelensky and subsequent mass surrender of the entire armed forces to Russia. Russia would then install its own puppet in Kiev, disarm the AFU entirely like the U.S. did to Japan/Germany post WW2, and install a permanent CSTO peacekeeping force to forever patrol the country and enforce strict arms controls, making sure no secret GLADIO/NATO arms continue streaming into the country through the Western borders. Ukraine will then exist as a rump state while Russia annexes its desired oblasts, which would most likely be Odessa, Nikolayev, Kherson, Dnipropetrovsk, Kharkov, Sumy, Chernigov, etc.
27.
What are your calculations on rate of Russian troop buildups? Also I would assume some correlation in manufacturing capacity to equip these troops. I have always believed that was part of the reason for Russia playing defense. The accumulation of men and equipment that once an offensive was launched would lead to a resolution. Your general thoughts?
I've reported that Russia intends—and is on course—to get 420k new enlistments by end of this year, counting from January 2023. The current Russian force is somewhere in the 350-450k size, give or take. The new 420k however are ostensibly for a reserve army, but a.) a portion of them are being actively sent to the front and b.) we still don't know if the bulk of this "reserve army" could potentially be used in the SMO.
Of course Russian manufacturing is going through the roof at every weapons enterprise, and news today states that Russia will be raising its defense budget next year to 6.5% of GDP, over the current 3.9%. This would be nearly the world's highest, and higher than Israel's 4.5%.
However, the key heavy systems are still very difficult to build in great quantities and as such, Russia will continue to face issues adequately equipping mass amounts of new troops. They will certainly be much better equipped than Ukraine, but even with ramped up production, Russia simply can't build the latest tanks and such fast enough to equip hundreds of thousands of new recruits as well as they'd like. Which is why many will have to get refurbished older equipment, etc., at least initially. But within a year or so the manufacturing should catch up.
But as far as what you said, that is correct. The proper historiography of the war is as follows:
1. Russia came in guns blazing, hoping to end the conflict quickly and thus firing unsustainable levels of munitions.
2. By September 2022, shells were low and Russia went into conservation mode. Mobilization was launched and for the period of mobiks' training, Russia hatched the plan to use Wagner as a decoy, to distract and bleed the AFU in Bakhmut as long as possible in order to give time to train and re-equip the newly mobilized long-term army, as well as rebuild stocks of munitions.
3. This went on until nearly the middle of this year, at which point Russia realized Ukraine was getting desperate and needed to launch its own massive offensive lest it lose all support from allies (having just suffered massive defeats in Bakhmut, and going on 1 year since the AFU's last "victory"). Seeing the opportunity to cripple the AFU out in the open, where Ukraine would be conveniently charging at Russia and making it easy to pick them apart, Russia saw fit to play defense while conducting a turkey shoot on Ukraine's assaulting forces.
All this time, Russia continues to prioritize stockpiling key munitions for its coming future offensives. Some quick napkin math to give an example of how long that takes:
At its highest intensity, Russia liked to fire over 60k shells per day—this is what it required to consistently advance. This is 1.8M shells per month.
Let's say the Russian general staff has outlined a detailed plan for an offensive that should last 3 months and capture a certain major territory, like all of Kharkov region. This would require 1.8m x 3 = 5.4M shells.
Here's the problem. Russia needs to fire at least 10-15k shells per day currently, in low-intensity defensive orientation just to sustain their fighting posture. If they currently manufacture around 300k shells per month, this is equal to firing exactly 10k a day. That means they aren't even saving any shells to stockpile for that offensive, for which we just calculated they need a massive 5,400,000.
So let's say they are manufacturing 400k a month, which is a stretch but possible. This is 13k shells a day. If they are firing 10k a day, that means they can save 3k a day for the future offensive stockpile. How many days of such stockpiling would it take to reach 5.4M? 5.4M / 3k = 1,800. Yes, that means it would take 5 whole years to stockpile enough just for a 3 month offensive. You see the issue?
The potential solutions are:
ramp up manufacturing of shells exponentially

carry out an offensive firing a low amount of shells, which results in you incurring major casualties

procure large amounts of shells from allies
As to the last one—the rumor says Russia is buying over 10M from North Korea. That would be enough for a major series of offensives. This is to shed a little light on how it works and why Russia has been stockpiling for so long and likely still doesn't have anywhere near enough the shells it would prefer to have.
The other thing I mentioned in the past is, Russia's capabilities in ISR, accuracy, Recon-Fire-Complex, etc., are all increasing day by day, which means Russia requires comparatively fewer shells to destroy objects. That's compounded by the manufacture of many new guided systems which can destroy targets in 1 hit, while shells would take dozens or hundreds. So all of this will also work to alleviate the issue and hopefully make a future offensive a sooner reality.
28.
Dear Simplicius!

As things are getting grimmer for Ukraine's regime and, in my opinion, the end is getting closer, and probably for the Zelensky first handily. With the most recent, serial visitors to Ukraine, things seem to be intense and from what I gather is that the Western masters are trying to prep Zelensky for a possible negotiation with Putin, thinking that by providing the final scraps of the barrel in the name of ATACMS, they may have a leverage to pressure Russia to negotiating table – another blunter in the making. While the Ukrainian Bandera's Nazi faction is not too keen to negotiate with Russia and in disagreement with the Western masters, that explains the serial visitors to Kiev to try to bring all factions inline – my pure speculation as I have no factual evidence by just trying to read between the lines.

That said, the West is trying to salvage the situation and safe its face in the coming elections, etc, hence my question:

What, in your opinion, are possible scenarios for the West to paint the failure as "rainbow colored win" and how will it be possibly presented to the Western public? Will they really be able to save their faces this time or...(your take, please)?

Thank you in advance!
I think you pretty much nailed it with your reading of the situation. Only thing is, it was just announced that ATACMS is apparently a no-go, so that's already a major hole in their plans.
But as to your question: to be honest, that's something I myself have been giving a lot of thought to recently. I can't quite make out, exactly, how they could try to spin it in a positive light to save face. But as you said, I realize that they have no choice but to somehow do this.
One of the previous ways it seemed that they were preparing to do this was by conditioning the public with headlines you may recall over the past few weeks that began to pin the blame of the counteroffensive on Ukraine, in order to absolve the U.S. of any perceived "failure." Numerous coordinated articles bombarded us with the narrative that U.S. did "everything possible" to make it a success, but it was those dastardly fickle and recalcitrant Ukrainian troops who refused to follow their flawless NATO training, and instead reverted to their old ways and ruined/wasted all our great equipment we so graciously bestowed on them.
That at the least represented the first leg of the 'face-saving' campaign.
But certainly as you suggest they will need another more convincing leg later on when it becomes even more apparent how poorly Ukraine is doing.
One potential idea is that early next year or so, they could begin digging up major corruption scandals on Zelensky and his top administration. They could then perhaps try to push the narrative that Zelensky was corrupt all along, embezzled and squandered everything we gave him, and we naively munificent saints never imagined we were being played all along. In short, throw Zelensky under the bus and blame all the failures on some cooked up corruption that "we never saw coming" to try to wash their hands.
After all, isn't that pretty much what they did with Saakashvili? He was their golden child then was tossed out with the bathwater soon as he failed. All sorts of corruption was then spotlighted and the West washed their hands of any association with him as he became an international fugitive.
One sign that's already started is news just yesterday that Zelensky's top general Zaluzhny is now under criminal investigation for his defensive failings in the opening part of the war.
Another way that's a favorite of theirs is they may try to suddenly create some new global flashpoint elsewhere to completely paper over the Ukrainian war. You've seen Trump recently pointed out how he knows Ukraine is losing because "the news doesn't even report on it anymore." Just like the current Armenian eruption, they may try to instigate some new major provocation or regional destabilization, perhaps activating the Serbian front again, or something else to take all attention away from Ukraine and shelf the coverage or "bury the lede."
We can already see American Republicans pin all the failures of Ukraine on Biden in exactly the way we expected:
Listen to what he says at the end, that this failure is all Biden's fault.
And lastly, MoonofAlabama actually just covered your exact question yesterday:
https://www.moonofalabama.org/2023/09/how-will-the-biden-administration-cope-with-its-loss-in-ukraine.html
Bernhard quotes Michael Brenner in his proposed options for the U.S. establishment handling the Ukrainian loss:
Here is a menu of options for handling it:

Redefine what is meant by defeat, victory, failure, success, loss, gain. There is a new narrative that is scripted to stress these talking points: ...
...
This narrative already has been given an airing in speeches by U.S. Secretary of State Antony Blinken, National Security Advisor Jake Sullivan, Defense Secretary Lloyd Austin and Acting Deputy Secretary of State Victoria Nuland. Its target audience is the American public; nobody outside the Collective West buys it, though — whether Washington has registered that fact of diplomatic life or not.

Retroactively Scale Back the Goals & Stakes
...
Cultivate Amnesia
...
Next: China
...
Bernhard's own take is: all of the above:
It is likely that the administration will use all four options to make the pain and memory of defeat go away. Declare victory over Russia  because Russia was stopped at the border with Poland. Then forget about all the details and consequences and move towards war on China.
I can see that happening given how loudly they've been squealing about Russia moving on to Poland or the Baltics lately, they could try to paint it as a win that Ukraine managed to stop the "new Hitler" of Vladimir Putin from conquering all of Europe, and that Biden is now technically the savior of European sovereignty and integrity.
B ends with:
If he doesn't the neoconservatives around him will have a great incentive to move on China as fast as possible. As Biden will have difficulties in winning next year's election he needs some objective that can unify the country. A war that he can claim the U.S. will win is one. Some hostile naval exchanges with China will follow.
This pretty much dovetails with my earlier suggestion that some new falseflag or flashpoint will be created to take attention away from the fleeting Ukrainian story to something far more dangerously immediate, and where the U.S. could be engineered to appear in a more favorable and dominating light.
29.
I understand that the US and Russia are negotiating, but I see what Russia wants and what US is willing to give is too wide. I see the security of everyone - Europe, Russia, and myself and my family would be more secure if we demilitarized Europe and took back our nukes to our own country. I want peace to break out - a spiritual transformation now that we know the hatred, cruelty, and suffering created by war. Let's start the Peace Revolution. Any chance the US rejecting all the the BS and voting in new people? Where are they?

Let me rephrase my question. How do we make this into an influential peace movement? We write comments here, but that is preaching to the choir. The peace movement has got to get onto the streets. Social media/ YouTube seems to be working with videos, but no response apparent except on the internet. "Peace in Europe - Demilitarize and get the nukes out."
I like your idealism, and I share your wishes in all of those things happening. But unfortunately there's very little chance of that as I don't think we're even close to the terminal point of the Western order yet. The global financial cabal is kicking, spitting, and thrashing but they're still a dangerous animal with a lot of fight left in their rabies-ridden blood.
There's some attempted peace movements here and there. For instance Gerald Celente has Occupy Peace where he stages rallies that bring together musicians, thinkers, influencers, etc., in preaching ways to end the neocon/globalist forever wars. Unfortunately for the most part it really is "preaching" to the choir.
I think the only way a global peace movement can happen is organically, with more and more people 'waking up' each day to the hypocrisies of the Western system, whether you want to call it their "rules based order" or the general Western financial system with its vast debt enslavement, corruption, and unfairness. It's only a matter of time that enough people wake up to form a concensus, leading to enough pressure that will overwhelm these structures.
Unfortunately they still control vast power and influence and there will be several wars ahead—or in other words, "it'll get worse before it gets better."
30.
As this War is about tamping down U.S. Hegemony, floated by the USD, why would BRIC Nations not encourage Bilateral Trade, with surpluses to be cleared through a BRICS Clearing Bank, where excess funds from a particular country are used at a third BRICS country? Through daily trading the value of all currencies would be found, and the main BRICS countries have plenty of gold to stabilize things.

If this is out of your bailiwick, please do pass.
You're right that it's not my absolute bailiwick, however I'll note a few things for the sake of spurring discussion.
My understanding is that BRICS are doing what you described in fits and starts. They have their own bank, the New Development Bank, which distributed shares of its capitalization equally amongst the members. It wasn't created with the intention of being a clearing bank per se, but they've said that as they design a BRICS currency, it may effectively be used as a clearing bank for the type of internal bilateral trade you describe:
One of the reasons some of the members have such problems in trading with their own currencies was exemplified between Russia and India where Russia accumulated hundreds of billions of Indian Rupees that it couldn't spend because there were no Indian imports to match the sheer volume of oil Russia was suddenly selling in exchange for Rupees. As a workaround, India even began paying for some of it in Yuan, which at least kept it within BRICS currencies. I surmise you're suggesting such a bank could allow an interoperability where Russia's surplus account balance in this regard can be utilized in other countries, not just India.
That's what will naturally happen once a common currency is rolled out. As you may have seen, at the recent BRICS summit Russia's ambassador to South Africa even presented a symbolic BRICS banknote, a sort of prototype made by Russia, perhaps with the aim of kickstarting things:
It even has the New Development Bank stamped on the edges. Novo banco de desenvolvimento.
That's all to say that BRICS are really serious about creating this common currency, however they've already signaled that this is a more medium term project to be realized within something like a 4-6 year timeline, if I'm remembering correctly. Once that happens I think it's only natural that that everything you described about the clearing process can come about.
The only logical follow up question is what's holding them up from carrying that out sooner? To that I can't say I'm sure, but it clearly is more complicated than it sounds, particularly because most of the BRICS countries are not simply trying to form an isolated economic bloc—or completely parallel system—amongst themselves. Most of the BRICS still heavily rely on trade with the West, and their economies are awash with those hard currencies particularly because they're also big holders of Western debt, though they've been increasingly dumping U.S. treasuries as you probably know.
But due to this heavy intertwining and the fact that many of the BRICS countries still harbor very pro-Western/globalist contingents, the process has to necessarily be gradual and cautious—one step at a time. The limits in the NDB bank increased in stages, as well as the overall dedollarization, etc. This is to prevent any missteps that could lead to unexpected 'shocks' in their respective economies. They want their individual economies to adjust and acclimatize to the changes gradually, as well as a slow conditioning and inuring of the political and economic elites in each country to the new realities, which keeps the more globalist/Western-leaning ones from protesting too much, or outright revolting and causing a system split.
31.
I have always thought that there is a rise in general crime during war in any given country. There is some kind of common knowledge that there was a noticeable rise in crime in USSR during and immediately after WWII, "The meeting place cannot be changed" being a good example of it sneaking into the culture. You mentioned a few times how you are "sieving" through multiple info sources and how you store and organize your data. I was wondering if anything in there suggests that there is any crime rise (or other noticeable trends) in Ukraine and Russia? I guess I am mostly interested in general crime, not corruption of top Ukrainian or Russian officials.
The only specific knowledge apropos any potential post-WW2 crime I have is that after Stalin's death, Lavrentiy Beria released 1 million criminals from Russia's penal system as a part of de-Stalinization, which caused a massive crime wave. But this was in the 50s, though the film you reference I believe is also from the 50s and is based on a true story, so that crime could likely be related to that rather than the war itself.
It's general knowledge that crime is intrinsically linked to economic conditions. When the economy is doing badly, there are few and/or low paying jobs, then the bottom "falls out" and those occupying that bottom rung turn to crime to make ends meet.
In war time, national economies in many countries begin to stagnate or experience devastation for obvious reason. And this can extend several years or even decades beyond the war, depending how badly the infrastructure was destroyed or damaged, so the attendant crime can persist.
In Ukraine there's definitely more of a case of that because much more of their economic infrastructure was destroyed. If you recall, in the early part of the SMO authorities even handed out tons of automatic weapons to citizens, hoping they'd use them against the 'Russian occupiers'. Instead the weapons all fell into the hands of criminal cartels and there were dozens of videos showing gun battles in the streets, rival gang members shot dead, robberies, etc.
Now, because so many people have fled and so much infrastructure has been destroyed, the official estimate is that 1/3 of the Ukrainian economy is gone, although it's likely far worse than that—the authorities are just trying to spin it in as positive light as possible. So drug use and boozing increases for people trying to plaster over the hardship, which leads to further crime, etc.
That being said, many observers have noted that the larger Ukrainian cities don't appear as bothered by the war as circumstances would suggest, but there certainly is still an increase in all the negative effects.
In Russia I don't think there's any notable increase in crime, at least not that I've heard of or seen any statistics for. Russia's infrastructure has not been touched, its society has actually consolidated in greater solidarity and national pride, and its unemployment is actually so low that it's become problematic because enterprises can't find enough workers. When a society has everyone employed, crime by extension is very low because everyone's working and making money, and they don't have time nor reason to go out and commit crime.
This is a slight simplification of course, but the general gist is that Russia is not experiencing any of the fundamental conditions necessary for an uptick in crime.
Finally, to drive home the point, several cursory searches give us statistics indicating that Russian crime has been dropping for years and continues to drop even through the contemporary period of the SMO hostilities:
A TASS article from July of this year shows a YOY drop for this year's crime statistics in every category of 1-2%:
32.
Theory. USA makes captagon in northern Syria mostly for the ukes and the other jihadists they support, and blames the drug on Syria. This is one reason Syria was invited into the Arab league, so other countries could get him to stop since the drug is very disruptive. But he tells them it's USA, so the Arabs select Jordan to bomb the production facility.

If it was a successful strike, the uke war may change as the fighters lose enthusiasm.

Plausible?
That's one of the wilder theories I've heard. There is certainly a huge amount of evidence of some serious drug use in the AFU ranks, like this video from just yesterday:
Unfortunately, I have no real information as to the credibility of your theory. I suppose it's plausible as we know for a fact that the CIA and other global intel agencies have conducted the drug trade for a very long time. So anything illicit of that sort which can sponsor and support their home-grown insurgent terror armies, like the nationalists in AFU, ISIS, Al-Qaeda, and many others, is fair game to them.
And although your theory could sound cockamamie on the surface, the fact is many parallels have been made between the current end-game "terminal phase" AFU to that of the 3rd Reich Wehrmacht of WW2, who used Pervitin and then D-IX. That being said it's probably a stretch to think destroying their supply would drastically affect their operations as there are likely many other types of cheap stimulants and other things they could continue to get their hands on anyway, particularly in today's pharmacologically dominated society.
33.
I'd appreciate your comments on this article - and my question would be to what extent these failings are being observed on either side the the current fracas
Thanks, it's a very thorough article that seems to hit most of the points accurately. Though of course one can write an equally long article showing the vast amount of hypocrisy in it, to the extent that much of what it describes also exists in the U.S. military to varying degrees—for instance, the clannishness and corruption.
One major thing that, to me, is missing is the contextualization that much of these so-called issues in Arab armies stems from the fact that most Arab countries at the center of the discussion are essentially fake countries contrived by the Western powers for the express purpose of controlling the strategic Middle East. That's to say, they were arbitrary creations for the purpose of geopolitical aims and as such, their military cohesion is representative of that because the men and units at the granular level have more loyalty to their close-knit tribes than they do to some overall supreme concept of 'nation', which is often a relatively recent/modern construction.
It gets into a much larger question of what makes a nation, nationalism, what constitutes the feeling of oneness. For that to happen, a nation must be built up with cultural interconnectivity, by way of roads, interlinking cities which have experienced trade and various cultural 'sharing' for many generations. You can't just arbitrarily take a sparse desert area interspersed by small groups of tribes at very irregular intervals, barely connected by roads and thus by mutual 'sharing' of that sort, and then put them all under one flag and call it a nation, then expect them to be a unified force.
You can argue that Israel is also a very new and recent construct, yet they adapted and became unified and fit all the various principles of a "Western army" described in the article. But of course Israel was massively funded and virtually constructed by Western superpowers to become a sort of Western beachhead into the Middle East. The country in some ways represents some of Europe's leading figures being transplanted into one country where it was akin to just taking a slice of Europe and relocating it, then continuing to be subsidized and propped up by Europe in every way.
Lastly, the comparison in the article, while valid, is still a little odd to me. The premise is why do Arab armies fight poorly or lose wars. But the question is, lose to whom? And who are Arab armies being compared to? The majority of the article is spent comparing Arab armies to the superpower U.S. military. Is that a fair comparison? Are we to assume that a cultural "inferiority" is what led to Iraq losing to the U.S.? That's like watching a 240lbs boxer knock out a 120lbs school girl and then saying the school girl must have low IQ for losing.
How can we derive a perceived inferiority in the way they fight by studying a 'hyperpower' beating up on a helplessly small Arab country? Sure, you can use the Israeli-Arab conflict as a better example, but I'm only reacting to the article itself, which concerned itself primarily with comparisons to the U.S. military. How would Israel fare against modern Turkey in a full scale war? How did Israel fare against Lebanon in 2006?
For that matter, how did the U.S. fare in Iraq/Afghanistan? We know they didn't even really fight, but rather paid off anyone of note to come in and pretend to have 'taken over' the country; just read my article on it here:
The argument is that, U.S. defeated the main forces but struggled with the "insurgency". But that gets to the heart of the issue. The article you presented compares traits and characteristics of armies on each side. The common theme appears to be that Western forces have a much more flexible and robust overall structure, and are superior at the organizational level. But no mention is made at the most granular level of the soldier. It's common knowledge that Western soldiers are often inferior in the area of personal hardiness and fortitude. This is why this is a common sight in the American military:
You'll be hard-pressed to witness such a display in the other militaries being compared to the West.
Personal mettle and fortitude is essential toward winning long-term, attritional conflicts—like what the Vietcong achieved. If you have a hardier spirit and composition you can outlast your opponent. This is also a crucial attribute for comparison, yet mysteriously left out in the mostly Western/cosmopolitan perspective of the article in question.
This likewise transfers to the Ukrainian conflict. The feats of arms we've witnessed thus far in this war are things that Western soldiers are physically and literally incapable of doing. Both Russian and Ukrainian soldiers are much hardier than those of Western military powers. They have the ancient fighting spirit in them that only exists in dribs and drabs in the West. This is why I've illustrated several times in the past that Ukrainians have often laughed at their Western "trainers" even as far back as the Donbass conflict of post-2014 era. It's something reported by many experts on the conflict, like Dmitry Orlov in his interview with The Saker here: https://www.unz.com/tsaker/the-saker-interviews-dmitry-orlov/
That being said, vis a vis the Ukraine conflict portion of your question, I'd also point you to this recent article of mine (if you haven't read it yet) which deals very specifically with that, connecting the concepts from the article you gave insofar as NCO systems and differences in culture etc.
In general though, I think you could make an argument for some of those issues described in the article you gave also applying to the Ukrainian and to a lesser degree Russian militaries as these cultures too are more "Eastern" in tradition and characteristics. But similarly at the level of the individual soldier, there are vast superiorities.
These are very broad and almost useless generalizations. But for the sake of brevity if I had to really generalize the advantages/disadvantages of each system, I'd say the West has superior organizational robustness, i.e. the top or macro level, and armies like those of Russia and Ukraine have superior individual troops, which likely extends to squads and platoons/companies. The article you gave even admits to and agrees with this, as it said Arab armies are one to one with Israel on a company level, but it's in battalion and above they begin to fall apart.
Both Russian and Ukrainian troops and squads regularly show heroism that's unheard of in the West. But the coordination and integration of their 'combined arms' capabilities often leaves much to be desired.
34.
Ukraine after Zelensky… Any scenarios/names?
It's a timely question because there are growing numbers of hints suggesting that the West intends to kick Zelensky to the curb. I mentioned some of it in yesterday's recap but even today there have been a few new developments. Not only has the Polish PM issued an even more extreme warning to Zelensky personally:
Polish Prime Minister Mateusz Morawiecki warned Vladimir Zelensky against new insults against Poland

"I want to tell... Zelensky to never again insult the Poles the way he recently insulted during his speech at the UN. The Poles will never allow this," he said during a meeting with voters, which was broadcast by TVP.
But, responding to these developments, Lukashenko even remarked that this trend represents a new push from the West to flush Zelensky down the toilet:
Washington has given the go-ahead to its partners to "dump" Ukrainian President Vladimir Zelensky as he has become a nuisance, Belarusian leader Alexander Lukashenko claimed during a government meeting on Friday.

"Do you think that Poland is putting pressure on poor Ukraine today for no reason? No, they have been given the go-ahead from overseas: We need to dump this Zelensky, we're tired of him," Lukashenko said.

He noted that the US has an upcoming presidential election and suggested that no one will care about Zelensky at that point.
One must also recall that recently Zelensky's original sponsor, owner, and handler Kolomoisky was arrested—it could perhaps point to a cleaning out of Zelensky's team.
There have been numerous other people who've signaled interest in the presidency, however I don't know if any of them stand a serious chance. For instance, Kiev mayor Klitschko is openly interested:
In one interview he downplayed it, stating that he doesn't like to talk about it openly because then Zelensky's SBU will come knocking on his door, implying that Zelensky takes any competition or challenge very seriously.
Arestovich likewise expressed interest but he can't be taken as a serious candidate.
The most serious I can think of is Poroshenko, who's been making very large efforts to try and present himself as a beacon of light in Ukraine, clearly posturing for another future shot. There's also rumor that Poroshenko and his very powerful interests have been maneuvering behind the scenes to take down Zelensky's crew, bit by bit—he may even be responsible for the Kolomoisky job as they're rival billionaire oligarchs.
The reality though is these are moot points. Ukraine in its current form will likely not have another presidential election. If it does in March 2024, it will be a quick and phony mock election meant merely as a feeble virtue signal of governmental continuity, a token appeasement of Western allies that will allow no real serious challenger to Zelensky.
More likely Ukraine will collapse and/or surrender to Russia in 2024-2025, upon which point Russia will appoint its own president, perhaps long-rumored Medvedchuk, who will oversee the newly ratified constitutional purges of all Nazi/nationalist movements, sects, cells, etc.
---
That's all for today, folks!
Join me next time for the big mailbag Finale of Part 3.
---
If you enjoyed the read, I would greatly appreciate if you subscribed to a monthly/yearly pledge to support my work, so that I may continue providing you with detailed, incisive reports like this one.
Alternatively, you can tip here: Tip Jar
---