Discover more from Simplicius's Garden of Knowledge
War strategies, geopolitical analysis, SitReps, and discussions.
Over 24,000 subscribers
Mystery Russian Systems Are Taking Out Ukrainian Drones
A broad overview of Russia's current and up-and-coming anti-drone and EW systems.
A brief exploration of some of the new advancements in the field of drone and anti-drone technology in the war.
There's been a recent surge of internal Ukrainian army complaints that on certain frontlines, their drones are being neutralized with growing intensity by Russian forces. For one, they complain that Russia is using some type of new 'trench shield' apparatus.
The above Ukrainian cry of alarm translates as follows:
These are the new trench products of the Russian Federation such as "Python", "Harpoon", "Stoizh" bringing down our drones.

That is, the new strategy is as follows: the electronic warfare is silent, the detector waits for a close approach, then the electronic warfare from close range suppresses the control channel and we lose the drone. A sort of anti-drone gun with detection in automatic mode.

And we are still looking from the air for huge electronic warfare vehicles of the Zhitel type, and the Russian electronic warfare "goes" into the trenches.

This is just an example of the fact that the Russians do not stand still in the war of drones and we need to respond equally.

And that's what I'm always afraid of. The Russians have strong electronic warfare, and when something factory goes into production, this is bad. This is not aliexpress.
He describes an advanced automated mechanism that detects drones, lets them approach close enough so that the countermeasure can have maximum effect and guaranteed success in severing the signal link, then activates automatically and seizes control of the drone.
Some Russian channels even revealed new footage from the trenches with such a Harpoon-3 system in operation:
The first video shows a hidden/camouflaged system inside the trench, with the soldier explaining that it is automated, and he keeps it covered so the small lights are not visible at night. The system works during the night even while soldiers are asleep, and protects them automatically.
In the second video he shows the internal working of the system on a test drone they flew up in the sky somewhere outside. On the console it can be seen how the system immediately detects the drone with alarms.
Another alarmed Ukrainian report reads as follows:
Since January 2023, UAV operators of several large formations of the AFU in Bakhmut have lost at least a hundred commercial drones used to correct artillery. 

Drones do not have time to reach the positions of the Russian Forces — they are suppressed by previously unknown EW systems. For the first time, such a phenomenon was encountered in November last year by units of the 80th separate airborne assault Brigade of the AFU in the Kremennaya area, but mass failures of drones have been recorded only in the Artemovsk (Bakhmut) area since the end of January.

UAV losses are reported by several units: the 53rd, 93rd and 63rd mechanized brigades. 

According to preliminary data, since the beginning of January 2023, drone operators in the units of these brigades reported the loss of at least 77 UAVs over positions in the previously abandoned villages of Kleshcheyevka, Kurdyumovka, Zelenopolye and Ozeryanovka, 30 km south of Artemovsk (Bakhmut).

The mass neutralization of Ukrainian drones may be related to the operation of portable electronic warfare stations that have appeared at the front relatively recently.
One possible explanation is a new Wagner system spotted in Bakhmut which some sources identify as the 'Repeinik' ("Burdock") system:
The Harpoon-3 is a Russian system which includes an anti-drone gun, in the standard form factor which many countries currently field, and also an EW station, seen on the right in 'camouflaged' mode.
Russia also uses a similar 'Stupor' anti-drone gun system:
The mentioned Strizh-3 system can be seen here:
Russia has scrambled to develop many other countermeasures specifically to combat the plague of mini-drones. Systems that can far more effectively and cheaply destroy DJI-style drones, without having to waste expensive SHORAD missiles like Pantsir, TOR, etc.
Among them is a new module based on the Typhoon-VDV chassis, which itself has recently been seen with the new BMD-30-D 'Spitsa' 30mm modules. The new anti-drone module, however, combines a 23mm Zu-23 autocannon with a fierce 2000rpm fire rate, and advanced sensors and computer systems for accurately correcting and automating the fire.
Excerpt:
It uses elements of artificial intelligence. The operator, using augmented reality glasses, selects the most important target, which is conducted in automatic mode before pressing the use of weapons button.

The probability of hitting enemy drones is estimated at 85-90%. Remote control is provided, the remote control can be located at a distance of up to 100 meters, if a radio channel is used, the distance increases to 2000 meters.
A variation under developing called Gibka-S, includes Verba missile launchers.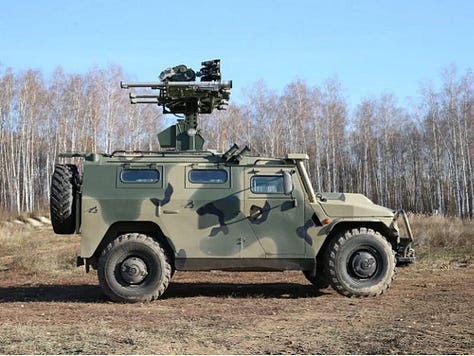 Russia's Rostec has also been developing the 'Rat' Complex, which utilizes both microwaves and lasers to suppress mini-drones.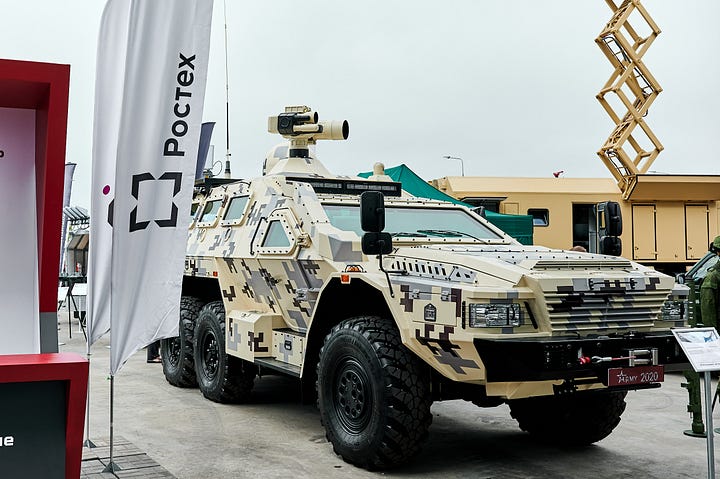 And Rosoboronexport has showed off a mobile anti-drone detection radar system, specifically designed for small UAV's: Video
Another system called 'Borshchevik' has been designed to detect Starlink terminals specifically. It can detect 64 terminals in a 360 radius of 10km.
Although this also isn't in the anti-drone news, it's worth mentioning since it happened today: Reports from the AFU claimed that Russia has been using "new types" of high-altitude drones which have been doing reconnaissance over several cities, including Dnipro, flying at 6km+ altitude. This comes on the heels of the recent Western announcement that Iran has delivered a batch of its most advanced UCAV drones to Russia. They imply it includes the Shahed-129 and Mohajer-6, pictured below.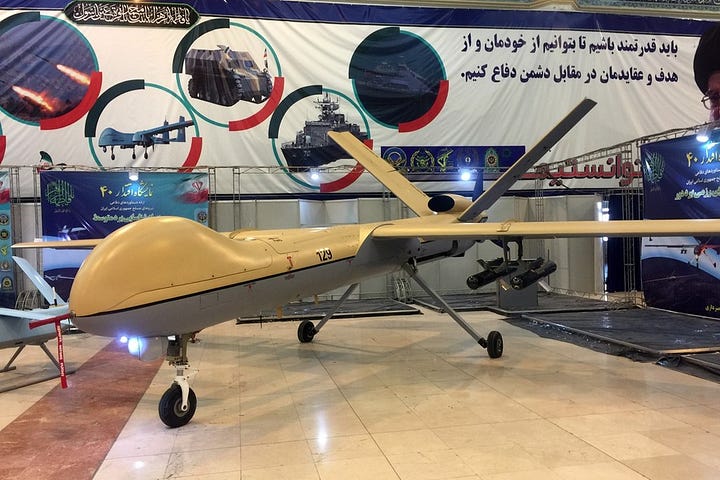 These could potentially be the new high-flying drones spotted by the AFU.
And turning back to the anti-drone capabilities, there are two lesser-known systems Russia has been developing for some time, which are designed specifically to combat the small drone threat in a low cost way.
The first, Sosna ADMS, is a fully automated system armed with 12 x 9M337 Sosna-R anti-air missiles. The innovative thing about it is that it's a rare air-defense system which does not utilize any radar, but rather electro-optical, with IR and laser tracking/rangefinding. This makes it effectively 'stealth' against anti-radiation or radar detecting systems, and also impossible to jam. It has a crew of only 2, which indicates its high automation.
The second system is the formidable 2S38 Derivatsiya (Derivation). This is a SPAAG (Self-Propelled Anti-Air Gun) and is meant to replace the famous older ZSU-23-4 Shilka and 2K22 Tunguska. The special thing about the Derivatsiya is an unprecedentedly massive 57mm gun, which is a BOFORS on steroids.
The Derivatsiya is amphibious, based on BMP-3 chassis, and has a lot of advanced digital fire-control improvements and automation. It also uses no radars but rather multiple TV and thermal channels. But the real special sauce of this system will be the addition of 'smart ammo', also called fuzed or programmable rounds, which will enable high probability of killing drones as the ammo will be digitally and automatically programmed to 'explode' (by the auto range finding system) with tiny fragmented shrapnel. So even if the round is slightly 'off', it will send a cloud of shrapnel to kill the drone in the area. This is why the massive 57mm cannon is ideal for this, as it can create much greater area-of-effect hits with programmable ammo of that caliber.
Lastly, terms of more serious, brigade level EW systems that can combat drones and everything in between, Russia has already long employed the Tirada-2S, R-330ZH Zhitel, and Murmansk-BN systems, which can suppress/jam satellites as well as various radar and communication systems. As well as the famous Krasukha-S4, Repellent-1, Moskva-1, Infauna, Borisoglebsk-2, and many others.
We've seen Russian-Allied forces continue to be hit with various small drones carrying bomblets, new FPV-style drones, and those which simply harass or correct artillery fire onto their positions. This puts into question how widespread the usage of these Russian anti-drones systems really is, although the common argument is that the actual Russian forces are usually protected with most of these powerful systems. But the majority of the videos showing troops being hit are unfortunately from the various LPR/DPR and volunteer battalions to whom, regretfully, such protective countermeasures have not yet trickled down in as great a number.
Also, recently we've seen the debacle with Russian Marines in the Ugledar direction, who were slammed by the power of enemy drones on their approach toward the fortress city. In this case, the explanation for why they weren't protected is likely because they were hit while 'on the move', and most of the smaller EW systems mentioned here are stationary systems with limited range. The powerful brigade level systems like Krasukha and the others should be effective even at great range, but it remains a mystery as to whether they're being employed in this frontline, and if not, why not.
Unfortunately most of the other mobile anti-drone systems showcased here have not been mass-produced yet, or at least not in great number. Systems like the Typhoon truck mounted Gibka-S, 'Rat' Complex, 2S38, Sosna-R ADMS, etc., although other mobile ones like Leer-3 have already gotten wide use in the SMO.
However, there clearly is something powerful being used. At the top of this article we posted very recent reports from the AFU of mass drone downings from some 'mysterious' EW systems that are presenting a huge headache for them.
One must remember this recent Forbes article pointed out that Russia in fact disabled a whopping 90% of AFU's drones in the very first weeks of war.
In fact, I encourage you to read the Forbes piece, as it goes into much more detail about specific systems and their usages, including the density at which Russia deployed their systems on the frontlines.
Hopefully, whichever those systems may be that have been having success, they will spread much wider through the Russian forces in the near future, because the AFU's own drone capabilities are only growing with each day.