Discover more from Simplicius's Garden of Knowledge
War strategies, geopolitical analysis, SitReps, and discussions.
Over 24,000 subscribers
Today once more we start with the ever-important undercurrents, which are the actual significant drivers of the developments beyond the ongoing tactical vagaries of the battlefield.
Putin had a meeting with Erdogan where he reiterated Russia's stance on the grain deal—that it cannot go forward until Russia's demands are resolved. Putin mostly spoke about the economic factors related to this, however adjacently Shoigu released a statement on the military side; namely, that part of the deal was Ukraine cannot build or launch offensive naval drone strikes from the port areas, which he says they have been doing.
But beneath this surface level arbitration, the real weight shifted around new deals between Russia and Turkey, which further develops the multipolar expansion. In particular, the two countries laid out a plan by which Russian grain will be facilitated by Turkey in the future as well as, even more importantly, the beginning of talks between Russia-Turkish banks to initiate trade in national currencies.
Turkish President Recep Tayyip Erdogan has underscored the importance of switching to national currencies in bilateral trade with Russia. He made these comments during his meeting with Russian President Vladimir Putin in Sochi on Monday.

"I believe that the fact that the heads of our central banks will meet here today is important from the point of view of a step towards the transition to national currencies in bilateral relations between us," the Turkish president stated.
Now rumors circulate that Turkey has asked Iran for help in obtaining an invitation to the BRICS. Considering that we now know that China and several of the BRICS powerhouses wanted more members but were forced to compromise with India's vision, it's quite possible that Turkey will be on the agenda for the next round of invitations. And since they're already beginning initiatives for national currency settlements, this will fit hand-to-glove with the BRICS global de-dollarization drive.
On top of this, Russia is now taking its relationship with North Korea to the next level, which will strengthen both countries and create an even more weighty regional power bloc to negate NATO's growing expansion into a "Pacific NATO". Not only is Russia sending a delegation to North Korea's next military parade but they've now invited Kim Jong Un himself to visit Russia for further strengthening of military ties and signing of weapons manufacturing deals:
This follows other 'below the surface' developments which continue accelerating the rapid multipolarity and de-dollarization movement:
Meanwhile, both China and Saudi Arabia have been dumping US treasuries:
Europe is panicking over the BRICS expansion, with Borrell calling for an emergency expansion of the EU, hoping the addition of 10 new members can boost the dying totalitarian relic:
"The European Union must prepare for a new enlargement, which will lead to the entry of 10 new states, it is necessary to consider the time frame for their admission" — Borrell
Meanwhile President Xi has snubbed the G20, stating he will not be attending but will instead send a lesser delegation. Some jumped to conclusions that this is really a snub to India, where the G20 will be held, but some Western publications have wisely gleaned the true motivation:
The Sirius Report writes:
Xi not attending the G20 has absolutely nothing to do with India and everything to do with him personally refusing an audience with Biden and China's disdain for his administration's ongoing dysfunctional attitude and approach towards Beijing.

For that to change, something seismic would have to happen in the next few days, which seems highly unlikely.
Ironically enough, India itself fired a shot across the bow of Western led global frameworks when Modi again repeated calls to the colonialist UN to "accept new realities," particularly that of allowing India as the most populous state in the world on the UN Security Council.
Indian Prime Minister Narendra Modi called on the United Nations to reform in line with 21st century realities to ensure the representation of voices that matter, according to an interview published on Sunday.

A "mid-20th century approach cannot serve the world in the 21st century", Modi, who will host a summit of the Group of 20 big economies from next weekend, told the Press Trust of India news agency.
With the situation in Africa getting worse by the day for the Atlanticist order, the global shift is becoming ever more tangible.
//
In Ukraine the biggest development continues to happen around the growing mobilization threat. It's now all but certain that a new repressive press-gang regime will take effect this fall. A plethora of documents and information continues to pour out in this vein, as well as further underlining evidence of unprecedented ongoing losses.
All sorts of 'exemptions' are being cancelled. Anyone with a medical exemption is now being forced to re-process as this crazy video illustrates.
Some as yet uncorroborated sources even claim that strictness will be relaxed on a slew of serious diseases in order to make eligible as many Ukrainians as possible:
This is in conjunction with confirmation that several countries are cooperating in forcibly extraditing Ukrainian 'refugees' of military age back home, particularly Poland and Germany:
And here's BILD:
Autotranslation:
But you also would affect thousands, possibly tens of Thousands to Germany, the refugees Ukrainians. According to the Federal Ministry of the interior (as of February) after the beginning of the Russian attack war 163,287 male, military capable of Ukrainians entered Germany (dated: February 2023).
Not to mention that women are now being forced to register at the enlistment office:
➡️Starting from October 1, 2023, female workers in the medical and pharmaceutical fields will be required to register with the military enlistment offices.

➡️Women in other professions can voluntarily choose to register. Women can register if they are fit for military service due to age, up to 60 years old, and their health condition, which is determined by the Medical Examination Commission
Reportedly, one Ukrainian deputy even proposed a bill to reduce the draft age to 17, so they can begin harvesting up all those young teens for the slaughter:
⚡️⚡️⚡️The deputy from the Ukrainian party "European Solidarity" Sofya Fedina submitted a bill to reduce the draft age to 17 years

While we are talking about military service, but it is well known that after its completion, soldiers are not allowed to go home, referring to "martial law".

This is illegal, because officially Ukraine is not waging war. Nevertheless, young guys are forced to sign a contract with the Ukrainian Armed Forces in various ways, and several cases of suicide have already been known when Ukrainians who did not want to fight chose such an extreme measure.

17 years old is still teenagers. And now they will be sent to the front.⚡️⚡️⚡️
And there's reports that mass prisoners are being released from the west of Ukraine and used to replenish losses in the ongoing offensive.
Here's a Russian Channel 1 report on the ongoings:
And why is this all going on?
Well, to answer we continue to get more and more confirmation of not only the mass losses Ukraine is suffering, but the disparity in losses between the AFU and Russian forces.
Join me in this brief, grisly tour through the latest:
Firstly, there was an interview with a Polish volunteer to Ukraine who had some very shockingly eye-opening things to say:
💥💥💥"A Pole on the difficult situation in Ukraine: 'They have no one to fight': A Polish volunteer in an interview told what is really happening with the counterattack."

"Slawomir Wysocki, a Pole who regularly travels to Ukraine with humanitarian aid, told how tragic the situation is: 'For several months they have only breached the first line of defence. The human losses on the Ukrainian side are huge. Western equipment is burning like matches. Things are much worse than is commonly imagined.

I counted the graves in Lviv. In the old part of the cemetery there are about 100 graves, in the new part - more than 600. In the villages this proportion is colossally different. When I drive by, I see cemeteries along the streets. Each has up to a dozen new graves. There are flags near each one, they are easily recognisable. There are more than two thousand graves in Kharkov. These losses can no longer be hidden.

Two months ago I was full of optimism about Kupyanskaya. Now we are still managing to hold our ground. It seems that the Russians are doing everything they can to reach Kupyansk, where they will take up their positions for the spring offensive."

[How do Ukrainians feel about the Russian defence system?] They are terrified. They know that the Russian army has already foreseen everything. The defence system was built by construction companies. It's not a peasant swinging a shovel to build a trench. Companies came in, poured concrete, made fortifications in the style of the Maginot Line. And there are three or four such lines. Ukrainians say there are five mines per square metre. You can't put your foot on the ground without one of them exploding.

[With such a situation at the front, with ever-increasing losses, are there still people willing to defend their homeland?] There are none. They are looking for them on the streets. There are "round-ups" in Lviv, people are taken from construction sites, from bars. Recently I witnessed such a situation at the bus station in Lviv. Five policemen stood and checked everyone who wanted to leave Lviv. Eight people were detained in this way. Many of the reasons for the current mobilisation situation originate in Bakhmut. It was such a drain, such a meat grinder that there was no one left to fight".💥💥💥
As to the mine situation, it may sound like he's exaggerating but a new video from the Ukrainian perspective shows exactly what he's talking about:
As to the losses, here's a new account from a Ukrainian military source in the Klescheyevka direction:
And this new BBC video on Ukrainian losses is a must watch for anyone still in doubt:
It's a companion piece to this BBC article:
Notice how openly the MSM is now reporting on this.
Hell, just look at how Ukrainians are now discussing getting out of being mobilized:
Well…better than being dead, I guess.
Additionally, there have been some interesting new insights in regard to Ukrainian POW exchanges in particular, which gives us an inside look into what the real loss disparities between the two sides are.
Recall the important point I had made a while back: losses on both sides are semi-subjective things and the numbers can be fudged with selective stats from one side or the other. This is because one side hasn't released official losses since last summer, and the other side has never released official losses.
However, POW statistics are the only statistic that has actually been at several points released by both sides—which means it's the only statistic that allows us a measure of insight in comparing the losses of both sides. I had already said many times before that Russia takes upwards of 5-15x more POWs than Ukraine takes of Russian troops, depending on the time. For instance, there was a time that Ukraine officially confirmed having around ~2500 Russian POWs when Russia verifiably had over 12-15k+ Ukrainian ones.
POW to KIA ratios are obviously relative in the same way WIA to KIA are, which gives us an idea of the two sides KIA ratios as well.
And now we have further confirmation of this vis a vis the POW angle. Not only does this AFU spokesman confirm that they don't have enough Russian POWs for the exchange fund, i.e. to equally exchange them at the same rate with the Ukrainian POWs held by Russia:
🇺🇦🤡 The Kiev regime does not have so many prisoners of war to crank out the "all for all" exchange - Ukrainian Ombudsman Dmytro Lubinets.

"There is a figure, we do not name it publicly. What about the exchange fund - I constantly hear this question from relatives. We publicly said yes, we have problems with the exchange fund.

This means that we do not have enough Russian prisoners of was, whom we want to exchange for Ukrainian prisoners of war. They exist, the number is not enough, and this is also a problem," said Lubinets.

First of all, this plays into the hands of Russia, since any negotiations take place in a dominant position, and even an agreement on unequal conditions demonstrates a desire to meet and reach compromises, putting the lives of fighters as a priority.
But listen to what this Russian POW tells a smug Ukrainian journalist:
If we didn't have the above admission from Ukraine itself, we may consider this as some sort of cheeky exaggeration on the Russian's behalf. But in fact now we can see it's true.
Ukraine is demanding 15 of their own men for a single Russian soldier. This gives you an idea of the types of loss ratios we're seeing. Recall that these numbers actually back the rough ratio I gave from long ago where Ukraine had a couple thousand Russian POWs while Russia had as many as 15k Ukrainian ones.
Clearly, the loss ratios are consistent with this. I believe Putin recently again stated that the loss ratios in the offensive have been higher than 10:1 in Russia's favor.
Tons of new videos bear this out, as well—in regard to the POWs. Just in the past 4-5 days alone, there have been dozens of AFU captured as confirmed on video; if we count the ones not on video there are probably hundreds. Meanwhile almost nothing from the Ukrainian side. Look for yourself, here's just a small sampling of recent captures this past week: Video 1, Video 2, Video 3, Video 4, Video 5, Video 6, Video 7, Video 8, Video 9. And there's many more. In that same time period I've seen maybe 1 Ukrainian video showing the capture of a couple Russian troops somewhere—supposedly.
In one of them the Russian captor even says the 6 POWs they're showing on video are in addition to 14 they captured the previous day which they didn't film.
That's on top of the endless losses happening at the same time, like here, here, here, and here. In short, it's a slaughter. Just watch the BBC piece posted earlier—even the female morgue workers had to watch their own husbands stream back to the morgue from the frontline. This is mass genocide from the psychopathic Narco-fuhrer regime.
An account doing visual confirmations of AFU losses has counted this just for the month of August:
Visually confirmed Ukranian losses for the Month of August 2023, according to

@OsintArmor daily loss counter
Tanks- 113
IFVs- 199
APCs-64
4x4 (MRAPS Mostly)- 75
Artillery- 154
Air Defense- 11
Radar/EW- 15
Supply/Transport- 74 + Train Echelon
Aircraft- 4
Helicopters- 3
Engineering Vehicles- 5
Boats- 5
Unknown- 38

Total= 760 confirmed losses.
Is Ukraine getting some licks in too? Sure, they're getting a little here and there. For instance, the Bayraktar drone has come back into action for the first time in what—nearly a year now?—scoring 2 or 3 new kills on Russian forces in the Kherson region where a few Russian units are overextended on the Kinburn spit, those small islets in the gray no man's zone.
One of the hits was on a small crewed boat which likely generated some casualties, another on an empty truck parked under a tree, and one on an artillery SPG which seems to have missed—take a look at the 'heat' signature to the right of the unit, the bomb seems to have hit the ground next to it. A drop in the bucket compared to the losses inflicted daily on the AFU. Plus, I wouldn't be surprised if the TB2 footage is fake/old, rolled out now in desperation to buoy flagging morale.
Edit: the hit on the artillery SPG is already confirmed a fake: the timestamp above shows August 2022. How can we trust the rest of the hits when Ukraine is desperately and connivingly interspersing 1 year old footage?
But Western press is now trumpeting that Ukraine is finally making big gains, despite all these losses, and has even breached Russia's vaunted "first line" of the Surovikin defense. Is that true?
Here is where they are according to a Ukrainian officer source:
More:
The below video is geolocated to the area that corresponds to the map above, i.e. the road leading straight into Verbove:
What we appear to be seeing is the following:
Yes, a Ukrainian meat assault all on foot is being sent past the "dragon teeth" toward the Russian trenches. Remember how I recently outlined their new tactic multiple times, where, after losing heavy amounts of armor, they are now resorting to just throwing lightly armed meat assaults with no vehicle backing for any desperate break through? You can see this above.
By the way, you can use this map to follow along. You see that double layered line there? The first one under the red circle, which they claimed to have "breached" is a tank ditch.
The breach was supposedly thus far just a forward scouting unit that basically attempted to "sneak" past the line but was repelled by artillery, suffering heavy losses as per the video above.
They barely even have the equipment to breach the actual tank ditches and dragon's teeth there, which is why they're simply sending meat assaults on foot to get blasted apart.
In fact, their Leopard and other heavy tank breachers in general have taken such attrition that, in a serious downgrade, they're now apparently rolling out MRAP MaxxPro breachers: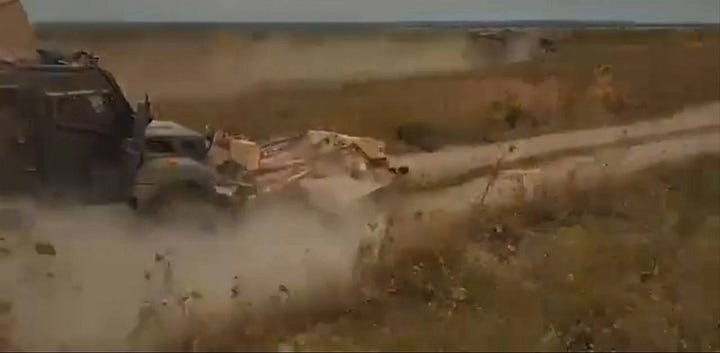 M1224 MaxxPro MRAP vehicle with a Spark II modular mine roller system during an exercise of the 58th Independent Motorized Infantry Brigade of the Armed Forces of the Ukrainian regime.
Of course, we've already been seeing several Stryker ESV (Engineering Support Vehicles) with LWMR rollers destroyed as well:
So, have they really "breached" the first Surovikin line? I'd say no. They're simply sending barely armed cannonfodder to die right on top of what is hardly even construed as the line.
However, there are indications that they are trying to refit and gather a new armored fist to make another attempt to punch through. They're still collecting their broken units in the rear, reconstituting the destroyed brigades from the last attempt. The rumor is now the following:
How they are planning the "breach" to work is, they are now sending territorial defense type of low grade meat assault units to try to make a breakthrough while keeping their good brigades, the 82nd, 47th, etc., back in the rear, waiting with the Challenger 2 and Leopard tanks. Once the meat units pile up enough of their own corpses on the Surovikin line to constitute a "break through", they intend to send the band-aid-and-banana-peel-held-together main brigades through.
The other component of the "strategy" is that these territorial meat units whose only objective is to just die on the 1st line, are meant to "exhaust" the Russian defenders, rather than actually break through in any meaningful way.
For those interested, the way the AFU structures its frontline force here goes as follows:
Back to the enemy's tactics. What is typical of the actions of the Armed Forces of Ukraine on the line of contact-how the counter-offensive forces are layered:

- Up to 15% of the personnel on the list of units is located directly in the frontline positions on the LBS and strong points (at a distance of 1-5 km, in the immediate rear). As a rule, these are not assault groups. These units ensure the withdrawal of storm troopers to the front, conduct surveillance and aerial-visual reconnaissance.

- At a distance of 5-10 km from the LBS, at strong points and in shelters (mainly in forest belts), up to 35% of the units ' manpower is located. They form the basis for the formation of groups of reinforcement, evacuation, and tactical reserve of storm troopers.

- In the rear areas at a distance of up to 15 km from the front line, the remaining 50% of the personnel of the units are located. They are used to place stationary objects and buildings with basements. It is on their base that assault detachments are formed. Despite the use of a layered system of distribution of troops on the LBS, the enemy was not able to minimize losses among personnel and equipment on the front line due to the concentrated fire of our artillery and minefields. 

However, he ensured a stable influx of offensive group reserves to the LBS, counting on an exhausting effect. This is typical for the entire front line. It is especially evident in the areas of the most acute battles: Zaporozhye and South-Donetsk sectors of the front, Bakhmut (Artemivsk) direction. The only area where this system has not been implemented is Kupyansky.
But despite the massive unprecedented losses, how worried should we be that Ukraine continues to still make some incremental progress? For instance, Boris Rozhin writes the following in this regard, particularly vis a vis the announcements of various invalids being mobilized:
Ukraine's plans to enlist the "limited fit" in the army are a common development for any country leading a general mobilization. Conscripts with this category of validity usually fall into the rear units and divisions that support the activities of troops at the front: repair, security, transport, and others. The key effect of conscription of these categories is the ability to throw all those fit for combat to the front, without leaving them in the rear, where they can be replaced by people with certain restrictions.

How effective does this work? The Armed Forces of Ukraine continue to advance despite all the problems, including because they can maintain the number of troops at the front, and the absolute dominance of military propaganda and the ideology of hatred make it possible to keep some loyal and others afraid.

The problems begin when units equipped with limited servicemembers have to be thrown into the first line, as happened with the Germans at the end of the war, when the Volkssturm of teenagers, old people and disabled people went into battle, supporting the fairly thinned Wehrmacht. (Boris Rozhin)
The thing is that, the advances they've made so far are not even close to what even the most die-hard pro-Z analysts expected. After last year's Kharkov and Kherson incidents, most analysts cautiously forecasted the AFU being able to make it down at least toward Tokmak if not further.
Personally, I'm not worried at all with their level of advancement so far. In some zones it did reveal certain ongoing deficiencies on the Russian side, which are being worked on and corrected—particularly on the Staromayorsk front. However, in general the cost-to-gain ratio of the exchange is very good in Russia's favor thus far.
The common thought question though is: "Sure, they're taking a lot of losses, that's a given. But what if they can keep sending endless men and taking endless losses until they inch forward toward Crimea/Mariupol/etc.?"
That's not possible, and won't happen.
Why?
Because:
It's costing them far too much equipment for far too little territory. It's your prerogative to argue they have endless manpower—maybe they do—and that's fine. But they most certainly don't have endless armor and equipment. They've been so depleted there that videos continue to show them literally impaling themselves on foot on Russia's defenses near Verbove, after jogging for 5km from their deployment point.
They simply don't have the equipment to make it down that far down with the current level of attrition. Sure, they're getting new tanks in an emergency bid to keep them afloat. But it's a whopping 10 Abrams on the way, with another whopping 10 Leopard 1A5s. This is hardly a day's worth in a major armor 'push' for them.
Now, maybe they can hold out during fall/winter, accumulate huge amounts of new armor over the course of the next 6 months and then I will concede they could stand a chance to push much farther. But that's only if Russia decides to do literally nothing in that entire period, and I highly doubt that's going to be the case. As soon as it senses blood and sees AFU near-exhaustion, Russia will likely launch something of its own—whether that's an actual full-fledged offensive to advance or simply to batter and finish off the actual AFU materiel/personnel we don't know yet, but they won't simply let them sit and accumulate armor.
In fact, there haven't been many missile strikes from Russia lately and an AFU spokesman days ago said they believe Russia is currently saving up a huge amount of cruise missiles for a big fall/winter strike campaign where they intend to decimate the AFU's rears and infrastructure; I agree.
The few times they have used them recently, there were big losses, as below from a few days ago:
WELDERS: An accurate missile strike by the Russian Armed Forces destroyed the placement point and training camp of the Ukrainian military in the Selidovo area. In this camp, the command of the 53rd Separate Infantry Division of the Armed Forces of Ukraine placed a recently arrived replenishment from among the mobilized people who were supposed to be thrown into battle near Avdiivka. According to our data, about a hundred Ukrainian soldiers were killed. Even Ukrainian commanders do not know the exact number of dead right now. Many of the bodies are still buried in the rubble and cannot be identified.
I'll finish this section off with the following someone posted:
As the classic saying goes, "History repeats itself, first as tragedy, second as farce."

Borodino 1812

Borodino 1941

Rabotino 2023

And while Napoleon and von Bock were lured by warm winter quarters in Moscow, Zelensky's proteges (similar to Napoleon, but with a nuance) are faced with plowed forest clearings in the field or ruined cellars in Rabotino."
//
Let's turn to a final few sundry items.
New satellite photos confirmed the damage: 2 planes at the Kresti airfield in Pskov were destroyed:
The only bad news is it is claimed by a Ukrainian OSINT account one of them was a more rare IL-78 MIDAS refueler, of which Russia has much less than Il-76s.
At the same time, Ukraine released a video from a controllable/FPV drone which overflew the airport and confirmed that the strikes actually happened from Russian territory:
Remember all the hand-wringing and pearl-clutching about how Russia's air defense could have failed so badly as to allow drones to fly 600km from Ukrainian territory? Or the concern-trolls accusing Putin of being weak by allowing NATO to bomb Russian airfields from Estonia/Baltics?
Well, along with the video, Budanov himself now confirmed it was done from Russian territory just like I had outlined as one of the likely possibilities in the last article, where I posted the CNN report showing how they've literally confirmed that Ukrainian saboteurs are being sent into Russia with drones they can launch from within Russian territory:
The strike on the Pskov airfield was delivered from the territory of the Russian Federation, said the head of the GUR Budanov in an interview with The War Zone project.

"We are working from the territory of Russia," Budanov said and declined to give other details.

He says that "two (Russian Il-76 aircraft) were destroyed and two seriously damaged."

The publication received images from a drone with an infrared camera from the GUR, which confirm this statement.

We do not really believe in an attack from the territory of the Russian Federation, because it is one thing to launch a separate copter, and quite another to organize a massive raid. It is necessary to involve a lot of people (who will certainly be detected), cars, drag drones, charges. And all this in enemy territory near a military facility. The story is far from reality.
Unfortunately, such attacks are very difficult to stop because a saboteur hidden somewhere right outside the airfield outer fence can launch such a drone and hit the aircraft literally within seconds, giving any air defense virtually zero time to react. And now that FPV drones can have upwards of 10-15km extended ranges, he doesn't even have to be anywhere near the fence/perimeter. He can fly the FPV drone literally skimming the ground at 10ft altitude for many kilometers right into the base. There's next to no way of stopping this with modern technology.
The closest and strangest thing Russia has attempted to do so is covering Tu-95s with car tires at another base:
Many have laughed and ridiculed them, while others have pointed out that the U.S. has allegedly done the same thing in Afghanistan and/or Iraq. Either way, it's a stop gap for now that's not meant to totally stop any and all strikes but at least give some mitigation, even if it's a small percentage.
And by the way, here's a new captured Ukrainian who shows how the U.S. feeds Ukraine targets to strike inside Russia—he has a whole phone full of them:
If you're interested in more info on this, read my article on the Delta Leaks that goes into much more detail on how this works:
Next:
In the last article we discussed at length the myths revolving around Russia's command and leadership abilities, professionalism, etc. A new video has shown what's claimed to be a more 'veteran' Russian unit conducting a successful combined arms assault that underscores many of the points my article made. Note the professional organization, the coordination between various units like FPV strike drones which are integrated directly into the platoon/company level. The poster even mentions that "FPVs are now [standard] part of Russian motorized infantry assault training."
This is reportedly the 5th Separate Motorized Rifle Brigade of the 1st Army Corps of RF forces, previously known as a unit of the DPR militia.
How more veteran russian units conducts assault actions these days. After a short artillery bombardment of the enemy trenches IFVs role in. 1 lost to directional mines. Infantry take up positions and force UA out of the trench .FPVs acting as super accurate fire support.
Speaking of drones, Ukraine is said to be receiving new AI FPV drones from its allies which are capable of locking onto a target at the terminal phase and tracking it on its own even if/when the signal fails. I've mentioned before such drones are unjammable because there is no longer any outgoing/ingoing signal feed you can "jam" because the drone is doing all its own processing and kill chain internally.
On top of that, Ukraine is coating drones with poison in some sectors:
📣 A message from a [Russian] fighter who is in the Kherson direction.

✅ The drones that the crests are launching at us have begun to be impregnated with chemicals that can lead to death. For example, as it was in my unit: they launched a copter at our positions, after it landed, we somehow did not pay attention to strange points. The lad who picked him up after an hour and a half began to vomit, his temperature rose and he became very dizzy. After a couple of days in the hospital, he recovered, he said that he was diagnosed with poisoning. As a result, after landing the drones, it is necessary to check the absence of left spots, as it can be chemistry and be taken only in defense!
And further speaking of drones, new footage has shown a Russian Mi-28 Nighthunter / Havoc chasing a large Ukrainian drone and getting a guns kill on it with its onboard 30mm Shipunov 2A42 autocannon. Both from the Mi-28's POV and that of the drone:
Next:
On the topic of mobilization: while Ukraine goes into overdrive in their own mobilization push, Russia has signaled the opposite direction. Duma deputy Gurulev stated:
⚡️⚡️⚡️There will not be a new wave of mobilization in Russia. Andrey Gurulev, member of the Defense Committee of the State Duma of the Russian Federation, said the following:

"I broke my tongue to say that we have gone the other way. We have a plan for 420,000 military personnel under contract, which we must implement by the end of the year ... What kind of mobilization are we talking about?"⚡️⚡️⚡️
This is in conjunction with a new update from Medvedev regarding Russia's "stealth mobilization" numbers. You'll recall that I've been keeping tabs on the figures each month. The current tally is as follows:
DMITRY Medvedev: 

According to the Ministry of Defense, since January 1, about 280 thousand people have been accepted into the ranks of the Armed Forces for a contract. Some of them are people who were in the reserve, some are volunteers and other categories. "According to the Ministry of Defense, since January 1, about 280 thousand people have been enlisted in the Armed Forces," he said at a meeting on Sakhalin, adding that some of them are volunteers, and some are in reserve.
Last time it was about 240-250k, so it's only natural it's up to 280k now that we've learned they're gaining upwards of 40k men per month.
Now as to Gurulev's statement about 420k under contract by the end of the year. This appears in line with earlier articles from this year:
If they have 280k new ones now, there are 4 months remaining until the end of the year—that's 40k per month x 4 = 160k expected more contracts to be signed. That means 280k + 160k = 440k.
Gurulev says the goal is just shy of that at 420k. That means by the end of this year, Russia expects to have 420-440k completely new contract soldiers, which are ones that signed up only from January of this year. This is a 'stealth mobilization' even 150% greater than last year's September call up.
Though it sounds miraculous, recall that Ukraine claims an intention to call up upwards of 500k this fall/winter, so we'll see who actually wins the mobilization race. If you read the beginning of this article, you'll note most of the ones they'll end up calling up are likely syphilitic invalids with hepatitis; either that or 17 or 60+ year olds. Not exactly an ideal combination.
Along that topic, another retired general who's now a Duma deputy, Lt. General Viktor Sobolev, has created a stir by remarking that when Russia conquers Ukraine, they should in fact absorb the whole state and make Kiev the new capital of all of Russia:
What do you think about that? Cockamamie, or does he have a point?
Of course we know such zany suggestions are normal for the Suvok hardliners, but it's an interesting thought.
Speaking of Russian generals. There are two new important updates.
Firstly, General Popov's father has apparently spoke out and confirmed that his son has been sent to Syria, which confirms that Popov has in fact been 'removed' from command of the 58th army. This is allegedly in reprisal for his complaints about the MOD on the southern Zaporozhye front.
At the same time, Surovikin was seen for the first time since June 24th in a new photo with his wife:
The "scoop" is that this appears to be in Sochi or elsewhere in Russia, and that the photo was "allowed" to be released now that Prigozhin is "cleaned up" and that saga is over. Slowly, the Russian MOD will reportedly allow Surovikin to inch back into the public awareness, perhaps with a new position of some sort.
The "TMZ" of Russian Telegram states the following:
A VChK-OGPU source says that Surovikin was allowed to leave the place of house arrest on August 26, when the issue with Prigozhin was already finally closed, and Surovikin himself finally unconditionally accepted the conditions of his further peaceful existence. Almost immediately, he flew with his wife to Sochi, to the same facility from the FBK investigation. When he managed to return is not clear, unless, of course, the photo was taken, as stated, in Moscow, and not in Sochi.

According to the source, the successful resolution of claims against Surovikin became possible thanks to Sergei Chemezov and Sergei Kiriyenko. On the initiative of the latter, today's photo of Surovikin and his wife was launched on the network. According to the results of media measurements of the reactions of the population to the "return" of Surovikin, the Presidential Administration will make a presentation for Putin, where they will emphasize the correctness of the decision to drop the charges against the people's favorite.

It is noteworthy that Gennady Timchenko made no effort to release Surovikin, which indicates the desire of the oligarch to isolate himself from his ties with Wagner and Surovikin.
I don't have too much commentary to add for now. I'll let a few more developments on this accrue and give fuller thoughts later. For now, "it is what it is," but it does seem to signal the slow 'denouement' of the post-Prigozhin/Wagner saga back towards low tension normality.
Next:
A small curiosity:
The Florida-based neo-Nazi group 'Blood Tribe' was seen praising Ukraine on video yesterday:
Behind their leader Chris Pollhaus, you can see the infamous tattoo-faced Nazi heart-warmingly called 'Boneface'.
Boneface, it turns out, had already served in Ukraine under the Azov battalion:
But most interesting is the video here where he nonchalantly reveals that it was infact the CIA that sent him to Ukraine:
So the CIA is sending American Nazis to fight for Ukrainian Azov Nazis? Who knew! And people call us conspiracy theorists.
Full report here for anyone interested, where you can hear him say the above in English: "It wasn't the FBI but Central Intelligence that sent me to Ukraine":
Next:
Earlier I'd mentioned how Ukraine pulled its feeble Leopard fleet off the line so the kitties can lick their wounds while the meatshields took a turn. Here we see the remaining Ukrainian Leopards have now—in a case of ultimate tragi-comedy—been replenished with Soviet-era Kontakt-1 ERA bricks:
Of course, some of them have already been destroyed just as quickly:
And now, as of this writing the very first confirmation of a destroyed British Challenger 2 appears to be hitting airwaves: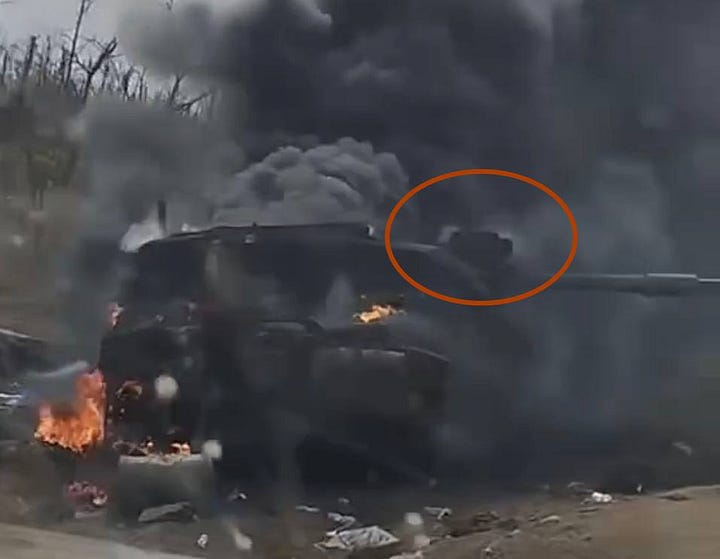 I haven't even had a chance to truly dig into and examine it, but on first glance it's looking like it—and there were only 14 of these things sent.
Remember this now risible headline?
Cue the laughter.
Next:
September 1st was the anniversary of the Beslan school massacre of 2004, where terrorists killed nearly 200 children, while heroic Russian spetsnaz saved many others. School children in Russia to this day honor the day by releasing white balloons:
One of the girls was only a baby when she was rescued by a spetsnaz member, and invited him for a reunion at her graduation seventeen years later: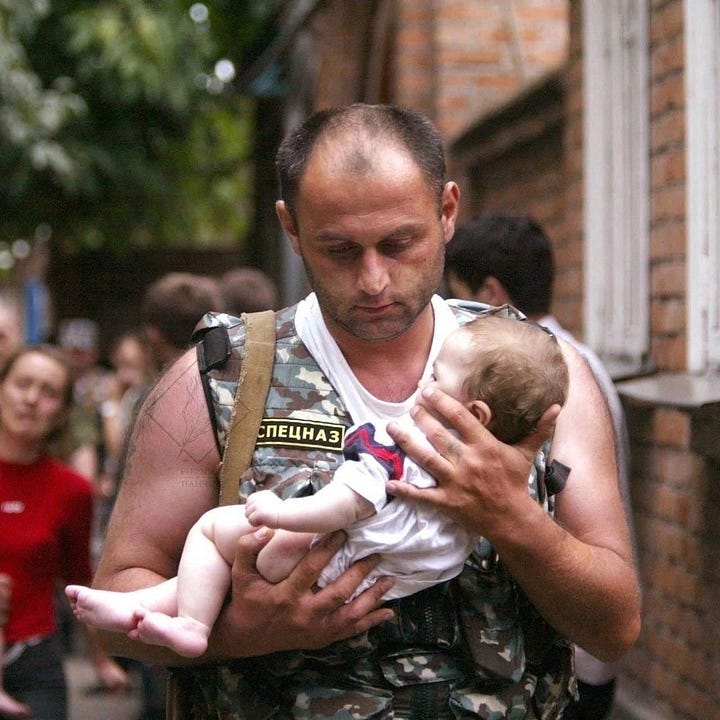 🇷🇺❤️ These two photos were taken 16 years apart.

All grown, Alena Tskaeva invited Elbrus Gogichaev, who carried her, as a six-month-old baby, out of the Beslan school 1, where her mother and older sister died in September of 2004, to her school graduation in May of 2021. 🇷🇺❤️

Russian heroes 🤍💙❤️
Lastly, I'll leave you with this heartwarming video of Putin recounting a story to schoolchildren on first day of school recently:
---
If you enjoyed the read, I would greatly appreciate if you subscribed to a monthly/yearly pledge to support my work, so that I may continue providing you with detailed, incisive reports like this one.
Alternatively, you can tip here: Tip Jar
---