Discover more from Simplicius's Garden of Knowledge
War strategies, geopolitical analysis, SitReps, and discussions.
Over 24,000 subscribers
There aren't a whole lot of significant battlefield updates just yet, so I wanted to take this time to project what the medium-term future will look like based on Ukraine and the West's signaled plans for the next 6 months and more.
But first, let's summarize roughly where things stand, particularly vis a vis the grand summer 'offensive' so that we're all on the same page as to where the conflict currently stands narratively.
Early this year, Ukraine began to outfit two separate 'army corps' of maneuver brigades specifically for the coming 'counter-offensive'. These were the 9th Corps and the 10th Corps. The 9th Corps was meant to be the—mostly—NATO-armed and trained one which was famously revealed in the Pentagon leaks. It consisted of the 9 named maneuver brigades, which were the 116th, 47th, 33rd, 21st, 32nd, 37th, 118th, 117th, and the 82nd air assault.
Out of these, the 47th was said to be the most elite, cobbled from all 'volunteers' who signed up specifically from other units and were trained in the UK and were armed with 99 x M2A2 Bradleys as well as American M109 Paladins for artillery.
The role of the two army corps was that the 9th was meant to be the breakthrough brigade which reached the first 'main line of defense', the notorious ones with dragon teeth that Russia spent months constructing. Upon reaching this line, the 10th Corps was meant to be the 'breakthrough' force which then took over for the 9th, pouring in another fresh 9-12 brigades through the gap to create an unstoppable opening.
💥💬💥Yaakov Kedmi on why Western instructors have taught the Ukrainian armed forces nothing:

"Neither the British nor the French, no one has ever trained and tried to break through echeloned defence systems. They don't know how to do it, they've never done it. So it is unlikely that they can teach it. Yes, there are certain units in the American army - armoured units. But much more organised, with professional soldiers.

The American armoured division practised how to break through an echeloned defence line. But they've never done that in any war, not even in World War II. They fight differently. So there's nothing to teach them.

To break through Russia's echeloned defence, you have to throw at least one division into the breach and after a while replace it with another. Because it will be all destroyed in the first stages of the breakthrough, having advanced in just one or two lines. Further on it needs more and more! They can't do it. Firstly, they don't have that much force. Secondly, any attempt to concentrate large formations before attacking makes them an excellent target for artillery and air attacks.

Western armies are not ready for the kind of war, the kind of military actions that are being waged in Ukraine today and will be waged tomorrow. They are not ready for modern serious military operations by large army formations against the Russian army."
The 9th experienced catastrophic losses from the start of the offensive on June 4th onward, as we all know. There are rumors that entire brigades were wiped out—for instance, this odd headline about the 32nd (one of the 9 from 9th Corps) which apparently was 'mysteriously' shipped out to a dead frontline:
Or this one, which details how several of the 9th Corps brigades seemed to be completely missing in action:
What was interesting is that, as per the 32nd brigade above, yesterday some new documents were leaked online which appeared to show that the 32nd was remanded due to mass desertion/mutiny and refusal to follow orders: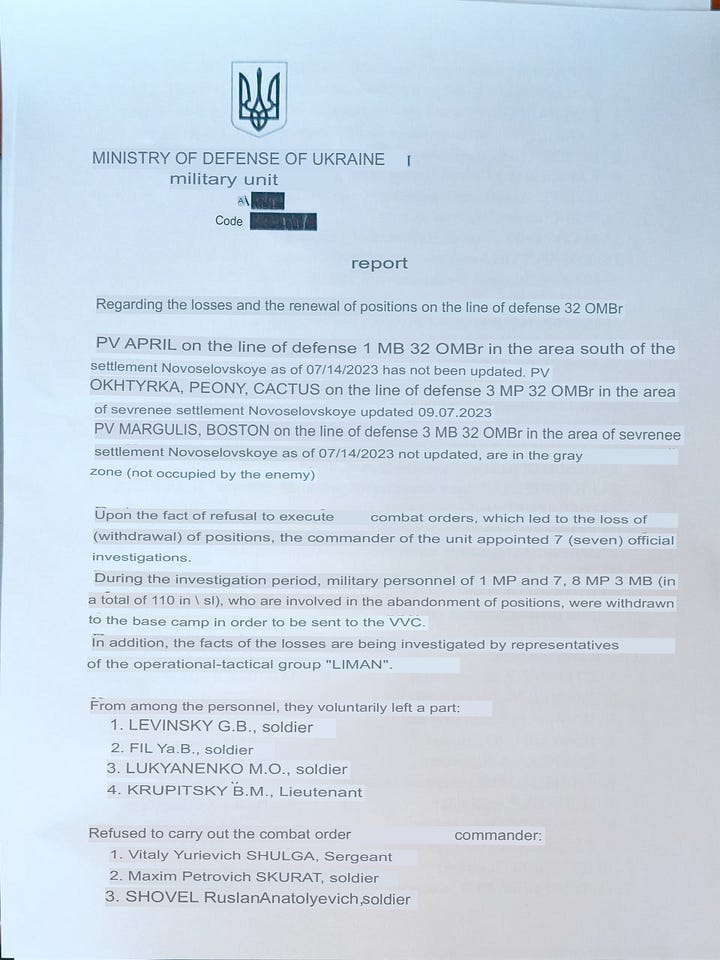 Furthermore, there were reports online from alleged loved ones and relations of the soldiers from the 32nd that an entire battalion was completely 'destroyed':
According to captured documents and confirmed by social media messages from distraught loved ones, an entire battalion of the 32nd Separate Rifle Brigade of the Ukrainian Army has been wiped out. 🪦🇺🇦
So the 9th Corps was not able to reach Russia's first line of defense and the brigades had appeared to be too degraded to go on any further, many of them withdrawn to refit/reconstitute in the rear. The 10th Corps was then injected prematurely to take over, which is what this new 'second phase' has been all about since the end of July.
Keep in mind, no one actually knows for certain regarding the 10th Corps, but the above has been the main narrative not only of NYTimes reporters who first broke the story but Rob Lee and Kofman who've now certified this narrative of the 10th Corps' take over.
Some context: Ukraine had, according to the Pentagon leaks, about 34 maneuver brigades, with another 27 TDF (Territorial Defense Forces) brigades likely capable of mostly holding trenches and without much heavy weaponry or armor, and 9 artillery brigades total left in the war. This is 61 total infantry/armor brigades which are meant to hold a frontline 1,300km long. This averages to 1300/61 = 21km per brigade. Note that in Soviet doctrine a brigade should hold something like no more than 2-3km at most and an entire division should hold 10km. Not to mention that Ukrainian brigades are at most 4000 men when they should be 5000, most are 3000 and apparently, even according to MSM articles covering them, some are 2000.
Some will ask, how is it possible that Russia is not overwhelming the AFU with such thin lines and battered brigades. Recall that Russia is only fighting this war with a percentage of its armed forces. The Russian army has classically had anywhere between 50-65% contract with 50-35% conscripts, and as you know, the MOD is not allowing conscripts to fight here. That means Russia is only using about ~60% of its total bayonet strength while Ukraine is using everyone—all Ukrainian troops are conscripts force-mobilized straight from the street.
Not to mention there are still hundreds of thousands (official number 340k) of 'National Guard' that Russia is not utilizing while Ukraine uses its full national guard, police force, and everything in between as frontline assault. Russia has typically only used small specialized Rosgvardia 'special forces' like FSVNG rather than the regular national guard itself. Thus, Russia is fighting this entire war as an exclusively contracted, professional military force while leaving hundreds of thousands of troops not committed. Ukraine on the other hand is committing everything imaginable.
This segues into the next section. For those who've followed my recent reports you'll note I've been keeping track of Russia's ongoing 'stealth mobilization'. In June, Putin had the roundtable with reporters where he answered about a potential future mobilization—I'll repost his response here again:
Vladimir Putin:

Is additional mobilization needed? I don't follow this closely, but some public figures say that we urgently need to raise another million, two million. It depends on what we want. At the end of the Great Patriotic War, we had almost 5 million in the armed forces.

It depends on the purpose. Our troops were at Kiev. Do we need to go back or not? I am asking a rhetorical question, it is clear that you have no answer to it. I can only answer it myself. But depending on what goals we set for ourselves, we must decide on the issue of mobilization. Well, there is no such need today.

We have started work since January of this year - we have recruited over 150,000 contract servicemen. And together with volunteers - 156 thousand. And our mobilization was 300 thousand. Under these conditions, the Ministry of Defense reports that, of course, there is no need for mobilization today.
Firstly, note that he says at the moment there's no need for mobilization, leaving the door open for the future. This is because Russia has been conducting the stealth mobilization which, a month later in July, Shoigu said saw 1,336 signups per day in Russia, which is just over 40k a month. Shoigu famously said "This is enough to complete a regiment per day."
Shoigu had also previously stated:
"In fact, by the end of June, we will complete the formation of a reserve army and in the near future we will complete the formation of an army corps. Five regiments have also been formed by more than 60%. In this case, I am talking about personnel and equipment," the head of the military department emphasized. .

Such data inspire confidence in the resilience of our defense in the NVO zone, especially against the backdrop of off-scale losses of the Armed Forces of Ukraine. In addition, the following phrase flashed in the minister's speech: "Preparations are underway for further offensive actions ... On our part as well."
The reason for refreshing your memory with the above, is to contextualize the new update below. Medvedev has now released a new video where he confirms that from January 1 to August 3, Russia has now recruited a total 231,000 contract servicemen. Watch the end of the video:
He further allegedly said that 400k by the end of the year is the goal. Now, keep in mind, Russia potentially lost 30-50k men with Wagner's departure, not to mention Shoigu's new reserve army and army corps, which could swallow as much as 120k of those men. In fact, I recall he specifically said last month—though I can't find the quote at the moment—that out of the 160k+ recruited at the time, 40k would be sent to the front while the remaining would go to these reserve armies. This likely breaks down as ~30k for the new reserve corps of three divisions or so, with another 90k for the new field army of 3 army corps.
So, with the new 231k signups that Medvedev announced, how many men are the actual net positive? 30-50k lost from Wagner's removal plus 120k for the reserves = 150-180k, subtract from 231k and we're left with about 50-80k net troops for now. However, if Russia achieves the 400k figure by the end of the year, that will begin to turn into a game-changing amount.
But, here's the wrinkle. In light of this, Ukraine plans to desperately try to match Russia as reports now claim the following:
In Ukraine, a large-scale mobilization may be announced in winter.
The "big mobilization" in Ukraine, which was announced by the deputy of the Rada Dubinsky, is, apparently, general raids on everyone who can still hold weapons, and no longer with campaigns in certain cities and districts, but on a large scale, everywhere and constantly.
Supplies of equipment from the West do not allow maintaining the required level of armament of existing units. If the number of these units increases, it will most likely mean the appearance of several dozen more TrO brigades, where for 3-4 thousand people in a brigade there will be a maximum of a tank company, a howitzer battery and a mortar division. Such brigades will not be capable of anything other than "meat assaults" or sitting in a blind defense.

A certain number of units with more or less normal equipment, of course, will remain — and will probably work as fire brigades.

The other side of the issue is the command of such units. You can recruit tens of thousands of conscripts aged 40-55. It is more difficult to understand who will control these troops on the battlefield. The shortage of junior and senior command staff began long before the start of the AFU offensive, and this problem has not yet been solved. (Older than the Edda)
This is supported by recent statements like from this Ukrainian veteran, who says that the entire male population of Ukraine should prepare for eventual mobilization. He foresees that 90% of males will eventually fight (and likely die, we can infer):
Recall that time is running out for the AFU this year. Many experts believe August and September to be the last real viable months before the second mini-Rasputitsa comes, with similar rain and mud conditions as in early spring. Zelensky fears losing the last vestige of support from the West and in fact, there are some rumors that certain key countries—namely Germany—have already curtailed their support in anticipation of a foregone conclusion. For instance, despite being the 2nd biggest overall supplier to Kiev, Germany has delayed certain critical shipments, like the new Leopard 1s, as well as many other promised items:
🚨Germany continues to delay promised weapons to Ukraine in the amount of 2.4 billion euros. So far, Kyiv has received practically none.

The list of planned deliveries includes 110 Leopard-1 tanks, 20 Marder infantry fighting vehicles, 18 Gepard tanks, 4 Iris-T anti-aircraft guns and 26,350 artillery ammunition.

Reconnaissance drones, radars, tankers and trucks were also promised.

But so far, neither Marder, nor Iris-T, nor trucks have been delivered to Ukraine. Kyiv received only 10 Leopard-1s, one air surveillance radar, 12 Gepards and 850 artillery rounds, as well as 8 ambulances.

Also Germany supplied 11,000 rations, three unmanned drone sensors and five metal bridges for the Beaver bridge-laying armored vehicle.
So now, Zelensky is escalating in order to draw Russia into over-reacting, which would re-engage NATO's flagging interest. Not only has Kiev stepped up outright acts of terror, like hitting Moscow office buildings with drones:
And yesterday's hit on a Russian civilian oil tanker by a Ukrainian naval drone.
But now, there are rumors Zelensky intends to escalate his terror war to new heights. It's believed the Moscow drone strikes were just probing attacks to test Russian defenses, and that a large-scale raid is being planned within weeks:
⚡️Kiev is preparing a massive drone raid on Moscow⚡️

⚡️⚡️⚡️The Wall Street Journal warns of a large-scale attack by Ukrainian UAVs on the Russian capital.

The authors report that thanks to the latest attacks on Moscow, the APU probed the weaknesses of the capital's air defense in order to send dozens of drones there in the future.⚡️⚡️⚡️

The publication is confident that the city will be attacked in several directions at once. The red date of possible sabotage is considered to be August 24 (the imaginary Independence Day of Ukraine), which is confirmed by the threatening cartoon that recently spread across social networks.⚡️⚡️😡
The goal of this would be obvious: to force Russia into somehow over-reacting with an uncharacteristically rash use of force which could highlight Russia's "brutality" and wring sympathy and further support for Ukraine from Western nations. For instance, one of the goals would be to get Russia to respond in a 'tit-for-tat' attack on civilian buildings in Kiev which would be hyper-focused by Western MSM while completely sweeping under the rug Kiev's own attacks on Russian civilian targets. This would then be used in a new PR campaign to drum up more weapons aid from the West, with Zelensky using it as an example of why Kiev needs tons of new Patriot missiles and things of that nature.
Obviously, this is pure desperation. It's the reason that I hardly even cover the drone attacks on the ships, skyscrapers, etc.—because they are utterly irrelevant and barely worth mentioning, having no appreciable effect on the battlefield dynamics/developments whatsoever. They are merely signs of utmost desperation, the frenzied clawing of a dying animal as it foams at the mouth after having been run over.
There's also a second dimension to it. It represents the unruly actions of a disobedient child thrashing out against their parents. Ukraine wants the grain deal back on as it's losing huge amounts of money from the deal's termination. Thus, by escalating past the West's own delimited 'red lines'—for instance, about striking Russian territory, etc.—Ukraine is 'rebelling' against their own masters in order to force them into action, ideally to coerce them into putting more pressure on Russia to get back to the table regarding the grain deal.
To summarize, here's what the advisor to the former president of Ukraine had to say about Zelensky's outlook:
💥💥💥Ukrainian President Volodymyr Zelenskyy faces civil war if he continues to illegally hold power in the country. A former adviser to Leonid Kuchma, Oleh Soskin, said this on YouTube.

"If martial law is not cancelled and elections are held, this power will be considered illegitimate. And since illegitimate, it is outlawed, and any Ukrainian within the framework of the fifth article of the constitution can destroy the rebels," he said.

Earlier, Soskin said that the decision announced on 26 July to extend martial law shows Zelenskyy's fear of losing the election.

The expert also noted that the failed policy of the Ukrainian president was the reason why many spheres of the state, including the economic and military ones, were almost completely destroyed.

"The Kiev regime has no popular support. As soon as the external supports fall away, everything will collapse at once," the politician said.
In short, Ukraine faces flagging support from the West and is forced to resort to increasingly escalatory 'gimmicks' like mass terror drone attacks on Moscow in the same vein as the terminal phase of the Wehrmacht in WW2 vindictively launching V1/V2 rockets at London. This is nothing more than a dying animal, thrashing out its last gasps.
Meanwhile, Russia is on track for 400k new servicemen by the end of this year, with production of all kinds continually ramping up. By next spring, I believe what we'll see is the slow envelopment of the AFU from every direction. It likely won't be a massive big arrow campaign but a continual collapse on every single front where the AFU has completely exhausted all combat potential, particularly of the offensive variety, and is desperately trying to hold ground. The dam will slowly break in multiple directions and their positions will be overrun everywhere. Next year will likely look like early 1945 Germany.
Keep in mind, I've been on record before stating this conflict could likely go for 3-5 or even 10 years. But we've gotten a lot more new data over the last few months, and intelligent analysis requires constant honest re-appraisal in the face of new information. As it stands right now, barring some unforeseen circumstances, I see it happening as described above. The war could still last another year or two past that, but only with a dogged defense and constant retreating on the AFU's behalf, for instance west of the Dnieper, which would cause Russia to have to take a long hiatus in re-orienting its troops, etc.—but essentially the result will have been decided by that point.
The major, insoluble problem for Kiev is particularly the fact that Russia's drone production is set for an exponential explosion:
⚡️⚡️⚡️Rising militarist in the use of "Lancets" at the front:

According to Western data, the scale of the use of the "Lancet" stray ammunition is growing. The number of their launches reaches at least 20-25 units per day. For the first time, the use of "Lancets" against trenches, positions and groups of infantry is observed.

At least 50-60 FPV drones and 20-30 lancets are used every day, and dozens of helicopters with 40 or 60 mm bombs drop them into trenches and fixed targets, especially in Donbass and Kherson.

If infantry and sapper posts are also among the targets, then the number of Lancets sent to the front has increased, and the units have been given freedom of action in terms of their use.

If the new Lancet models come forward more actively, in the coming months we can see a rapid increase to 50 and possibly 100 launches per day as there is a dramatic increase in production and its usage could increase several times⚡️⚡️⚡️
Many sources are saying that in the next few months, Ukraine will drown in Lancets. And there are new models coming which have thermobaric warheads for taking out troops rather than HEAT-style anti-armor warheads now most often used. That means Lancets will soon be taking out trenches and troop deployments along the entire front. We're certainly seeing a flood of daily videos showing almost nothing but successful Lancet hits. The bottleneck will likely soon be—if it isn't already—the operators themselves.
On top of which, British intel claims a new Geran drone factory is nearing completion in Tatarstan and it will be pumping out massive numbers of drones. Ukraine will be drowning in drone swarm attacks on a daily basis.
According to British intelligence, Russia has finished a Geran 2 drone factory to 80%.

It's capacity will allow the production of up to 5,000 suicide drones a year.

— Source ResidentUA
Recall earlier reports from Western MSM that Russia is already building and acquiring 45-50k smaller surveillance and FPV drones per month.
This hugely plays into something I've written about before, which is that Russia is primarily using its Geran drones to completely deplete the highly expensive Western air defense systems. Recall, I had stated that there is nothing of note to really hit in Kiev. It's not like Ukraine stages troops there. Russia simply sends swarms of Gerans to make Ukrainian air defense expend itself so that they have to take AD missiles from other frontlines, thus completely depleting the AD where it matters most.
🇺🇦Ukrainians report that drones over Ukraine are once again using "strange" tactics. Ukrainian monitoring channels report oddities in the use of Geranj-2 drones.

Some of them are circling above the alleged duty zones of the air defense system of the Armed Forces of Ukraine, and the other part of the drones is at a considerable distance from the targets and waiting for AD to be activated.
Now, there's been confirmation of this in the form of a very informative thread from this Western reporter who interviewed a Lt. Colonel in the Ukrainian air defense command. The shocking revelation he made was that the city of Kiev was very close to being entirely evacuated last December, due to the strength of Russia's missile barrage—that's all 2+ million people. The exchange is published in this article:
Ignore the fantasy about shooting down Kinzhal missiles, this is merely a fatuous lie meant to butter up Western officials into handing over more Patriots. The real telling information comes after:
"You can't plan a war with an annual production of 150-160 Patriot missiles. We fired those in a month," he said, sounding the alarm that his men were running out of ammunition. "If we wait until autumn, until mid-October, they will hit the energy infrastructure again. This is a certainty. This winter will be even more difficult than the previous one."
What he correctly reveals is that the U.S.'s annual production capacity for Patriot missiles is a mere 150+. Kiev fires more than that in a single month. The U.S. is estimated to only have probably around 3000-5000 total Patriot missiles, in terms of the ammunition. That may sound high but around 2-3k of them are loaded into U.S.'s own 500-1000 active launchers.
Then came the bombshell:
He disclosed that in December Ukrainian authorities had been on the brink of ordering the complete evacuation of Kyiv due to the intensity of Russian airstrikes. "Not many people know this, but Kyiv was on the verge of evacuation," he said. "There was one battle that, in my opinion, determined the fate of Kyiv and the Russian campaign to destroy our energy sector, when 49 cruise missiles were launched at Kyiv."

In a desperate 15 minutes on December 16, Ukraine fired dozens of missiles from its Soviet-era S-300, American Nasams and German Iris-T systems to save the city from total blackout in freezing temperatures.

"If we had allowed this strike to succeed, Kyiv would have had to be evacuated. And it is very difficult to evacuate two and a half million people," the colonel said.
The point of this is to illustrate that this coming winter will be particularly difficult for Ukraine as Russian missile and drone production has ramped up a lot since last year, not to mention the ensuing next year as well. If they were close to evacuating Kiev last December, what will the situation be this coming December?
This is all part of the slow collapse I outlined—as Russia gets stronger by the month. It will be a completely different ball game by next year and Ukraine will be hanging on by a thread, depleted to the bone not only in armored vehicles and artillery but the crucial AD system missiles.
And as of this writing, a massive new round of strikes is being carried out on Ukrainian targets, particularly the Starokonstantinov airfield in western Ukraine where the Storm Shadow-launching Su-24M planes are said to be housed. This is a particularly large strike with upwards of 15 Tu-95s airborne reported, as well as Kinzhal-carrying Mig-31Ks. In almost every strike now, Russian Kh-101 missiles are reported to take extremely circuitous routes, where they 'cruise around' the country, changing directions frequently and completely throwing off Ukrainian monitoring systems and defenses.
Starokonstantinov flew to the military airfield around 19:00. Explosions were heard about 8. Something is on fire.
Meanwhile, retired Ukrainian general Serhiy Krivonos believes Russia is on the verge of a major offensive in the next few months which could "take Kiev":
"Before Kiev in 12 hours": the ex-general of the Armed Forces of Ukraine warns of the impending offensive of the Russian army "In the coming months, the Armed Forces of Ukraine are waiting for the "worst scenarios," said Major General of the Armed Forces of Ukraine, retired Serhiy Krivonos. In his opinion, Kiev clearly underestimates the power of the Russian army, which will lead to terrible consequences, including the lightning capture of the capital. The ex-officer is confident that after the failure of the counteroffensive, the RF Armed Forces will strike at Ukraine and are capable of capturing Kiev in 12 hours. OstashkoNews
I don't know where he got the 12 hours timeline, but many do believe that Russia is gearing up for its own offensive in the near future. For instance, analyst Yuri Podolyaka again voiced his opinion that Russia will launch an offensive before Rasputitsa. Personally, I don't necessarily see that happening as, given the above longer term prospects for the AFU, I don't see a big current urgency for Russia to have to 'rush' into a series of offensives this year.
It's possible but only for opportunistic reasons. When you're playing 'active defense', as Russia likes to employ, you have to always be prepared to exploit an enemy's weaknesses in a given area. So if Russian commanders smell blood on a particular front, then it's possible. But as of now, it seems most logical to wait out one more winter to allow the aerospace forces to degrade Ukraine economically, militarily, morale-wise, etc., before attacking a much weaker foe in a much more favorable light next year.
In the interim of this winter, though, I could see a lot of intrigues playing out in the void left by Ukraine's exhausted combat potential. This will include the Poland-Belarus-Wagner vector.
Armed Forces of Ukraine cannot win, faced with intractable problems at the front near Artyomovsk, — Wall Street Journal

▪️Success in the Ukrainian counter-offensive is in doubt due to the fatigue of the soldiers of the Armed Forces of Ukraine in the Artyomovsk direction and serious losses.

▪️Currently, Russian troops use a lot more drones than before. In addition, the communication system has become more advanced, which prevents the APU from intercepting messages.

💬"There are fierce battles, we need more soldiers and weapons. We are tired," says the Ukrainian doctor.
Earlier, I had mentioned possible 'unforeseen circumstances' potentially occurring. As others have stated, Poland is due for their own elections later this year and any major actions on their part are unlikely before then. In fact, several reports ago if you'll recall, I said that a 'big' sudden action is unlikely at all. I explained that the framework for Polish takeover of west Ukraine would be more in line with a hybrid one, like that of Turkey in Idlib and north Syria, etc.
Putin has confirmed my thoughts in a new statement. Watch the end of the video where he explains how Polish units may be brought into western Ukraine under the guise of some 'internal forces' or national guard in relation to 'ensuring security':
Like I said in the earlier report, this would be akin to Russia's own 'little green men' takeover of Crimea. And since Belarus has now upped the rhetoric and delivered its own threats to Poland in regard to this, it makes it even more likely that Poland would opt for the more subtle and hybrid-style eventual takeover. But I don't see this option being activated until further down the line, perhaps next year at the earliest when the Kiev regime finally begins to crack to the point where Poland sees an opportunity to exploit a politically neutered and desperate administration.
Even Medvedev now blithely says that west Ukraine will 'fall to Poland' in the future:
Colonel MacGregor even has an interesting theory, which is that Poland may use the guise of creating an 'enclave' in Ukraine for the purpose of repatriating the Ukrainian refugees as a way to get in the door and effect exactly this type of 'stealth' take over I described above, and which Putin hinted at:
Now, that situation is developing as Polish officials have begun to use Wagner's deployment on their border as an excuse to condition the public for potential future escalations.
🇵🇱🤡⚔️🏴 PMC "Wagner" has already tried to enter the territory of Poland from Belarus, said Deputy Minister of Internal Affairs of Poland Paweł Jabłoński on CNN.

According to him, "the threat from Belarus is very real" and Warsaw is considering various steps, including the complete closure of the border.

"We are considering any steps that will be necessary to protect our territory, protect our citizens, including the complete isolation of Belarus, the complete closure of the border. We expect new attacks on our border, possibly new attempts to violate our airspace," stated Jabłoński.

Earlier, the Polish opposition accused the country's authorities of inflating the threat from the "Wagnerites" for election purposes.
Days ago, a Belarusian helicopter was even claimed by Poland to have crossed the Polish border, sparking another round of alarmism and a new deployment of more Polish troops on the Belarusian border.
Meanwhile, Zelensky continues attempting to hatch desperate plans to drag Poland and thereby NATO into the conflict:
💥🤡💥Ukro media:

"The president's office considers it possible to drag Warsaw into the war in Ukraine if there is a provocation or strikes by unknown UAVs against the Polish military."

Looks like "unknown UAVs" are already on the launch pads....

💥🤡💥
The SBU even stated that they believe Russia is in fact using Wagner to secretly spur Belarus into the conflict by using Wagner agents to instigate a falseflag in the country which can be blamed on Ukraine. This could be the SBU's own telegraphing of a planned provocation where they may attempt to attack Belarus in a bid to get them to enter the war, which itself would be a double bid to get Poland to respond to the 'threat of Belarus' and likewise enter the war.
Recall that Lukashenko issued a threat to Poland as their presence on Belarus's southern border can be considered a national security threat. But likewise, we can infer that Poland could consider Belarus's presence on its own southeastern border to be a similar threat. Thus, the SBU could perhaps be dreaming of coaxing Belarus into a trap in order to activate Poland, and then NATO.
Not that I believe the above scenario is likely, but just outlining the possibilities, given these new developments and rumors.
And as a last update to add to the growing list of problems, Ukraine's F-16 wunderwaffe hopes have been dashed as well due to Ukraine's lack of English-speaking pilots:
Politico writes: The weak level of English among Ukrainian pilots proved to be a stumbling block for the start of their training on F-16 fighters, as a result of which language courses to be held in the UK will begin earlier than the training program. At the moment, only 8 pilots are ready to train for the fighter.
In short, there's nothing good or optimistic coming up in the slightest for the AFU. The Russian army only continues to grow stronger, larger, more advanced, more experienced while Ukraine grows in the opposite direction, with arms shipments declining and no more 'wunderwaffe' on the horizon to save them.
In almost every conceivable direction, Russia is solving problems on a daily basis and improving, increasing its sophistication; just as a quick mention of a few of the key ones:
Russian communications systems are said to be getting increasingly more advanced. The AFU complains that Russian forces on every front have been upgrading their comms equipment, including with better encryption which no longer allows the AFU to intercept much communications

New Russian anti-drone systems continue to be developed and spotted with increasing regularity on the frontlines and in trenches

New powerful ability to jam starlink stations on a broader front, which a prominent AFU commander 'Magyar' recently began complaining about last week: "the Russians have learned how to jam Starlink at "zero" — Ukrainian commander Magyar.

"Now this technology is being tested and prepared for production on an industrial scale." Starlink on the front allowed our military to coordinate and control the operational situation.

At the beginning of the invasion, the Russian Federation had much stronger radio intelligence and communications suppression, but this changed after the arrival of Starlink"

This includes a new design for an FPV drone zapper being tested on tanks, which is a small unit placed on the back of tanks and armored vehicles which disables FPV drones in 4 channels and neutralizes them before they can make contact
🇷🇺Tank complex for suppression of FVP drones "Triton" from the PPSh Laboratory

According to the developer, the product is designed to suppress the control channels and data transmission of FPV drones in the 868\915\1300\2400 MHz bands (4 suppression bands)

Management is carried out by means of the portable panel for the maximum safety of the operator. Both autonomous operation from the built-in battery and power supply from the on-board network of the vehicle are possible.

Potentially, with the help of such systems it will be possible to protect armored vehicles from one the most deadly threats on the battlefield.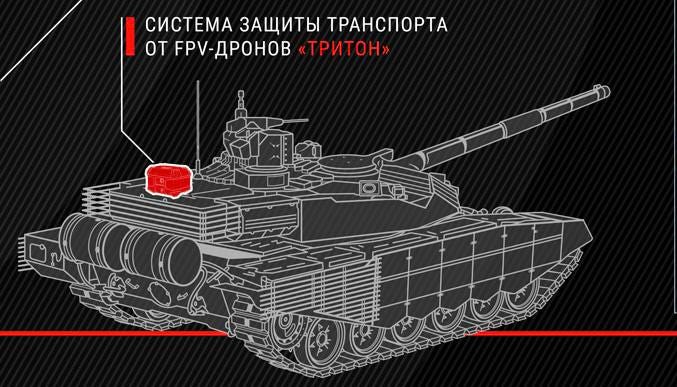 Not to mention the increasing use of Chinese jammers on Russian tanks for the same purpose:
By the way, the servicemen began to solve the problem with the vulnerability of armor to FPV drones on their own and at the grassroots level.

So, the enemy has already published a photo of one of the Chinese jammers, which some of our tank crews handicraftly install on their equipment.

Such systems allow you to create a dome of interference around the tank, which does not allow FPV drones to freely fly up to it. However, such jammers have holes in the zone of protection and are not fully integrated into the on-board network of the tank, so the army needs a serial industrial design installed on each tank directly from the factory.

Military Informant
This includes a new development for 'hibernating drones':
It's said these FPV drones can be placed in forward positions and 'hibernated' for weeks at a time. Then when an enemy offensive begins, they can be raised instantaneously, greatly reducing flight time, to strike right at the area where the enemy armor is passing. This way there is very little forewarning or chance to react.
Kuzyakin explained that the hibernation tool minimizes the time to prepare the device for an attack. "Flying time is saved. A few seconds pass between turning on the drone and attacking, which leaves no chance of launching countermeasure systems. One FPV pilot can place, and then 'wake up' and sequentially use up to 15 'sleeping drones,'" he said.
The drone or drones are placed on "commanding heights and building rooftops or other high-rise structures as prepositions for drone attacks." "When the time comes to launch the attack, the drone would not need to traverse the distance to the target, as it would already be positioned. This device enables reducing attack preparation time to the minimal amount possible – just a few seconds pass between drone reactivation and the attack, leaving the adversary no chance to launch anti-drone systems," the report added. 
Not to mention that British intel complains that Russia continues to receive the newest batches of upgraded Ka-52Ms which can now fire the Izdel. 305 LMUR TV-guided missile.
This adds a huge 'fire and forget' capability to Russia's attack choppers.
David Wu, ex-Wall Street and IMF strategist, Ph.D. in economics from Columbia University summarizes the coming situation very aptly:
Now, to move onto a few last disparate items.
One of the other biggest adjacently related developments is the brewing situation in Niger. I'll summarize the developments quickly for now:
There is a claim that Nigerien 'junta' general Mody is requesting the immediate help and deployment of Wagner forces, via Mali backchannels:
Normally, this would perhaps be uncorroborated rumor, however today footage appeared to show a Russian military heavy transport plane landing in the Niger capital of Niamey, with claims that Wagner forces are arriving:
The Nigerian senate has vetoed the deployment of military against Niger, but I'm not sure how much this matters given that ECOWAS countries continue to take an aggressive posture and threaten a military intervention. More and more, the sides are taking shape. Senegal has now voiced full backing for military intervention while Algeria said that this would be a threat to its own national security and implied backing Niger militarily.
"Waving military intervention in Niger is a direct threat to Algeria, and we completely and categorically reject it," the head of state stressed. "Problems should be solved peacefully," he continued, speaking about the events taking place in Niger.

"There has been a coup [in Niger]. And we have confirmed that we stand for constitutional legality. And it is necessary to return to this legality. We are ready to help them," Tebboune added.
Meanwhile, the American permanent representative to the UN has reportedly stated that any Wagner involvement or attack in Niger would be "considered an attack by the Russian Federation."
Clearly, this situation represents a new potential flashpoint which can erupt at any moment. Here's a good new Grayzone/Klarenberg article on the corrupt Nigerian president, ECOWAS chairman, and U.S. toady who's leading the push for military intervention in Niger.
No matter what happens, Africans are waking up and it's the beginning of the end for Western colonialism and free-rides:
Next:
New techniques for estimating Ukrainian losses continue to be innovated. This one studies the expansion of new Ukrainian cemeteries from space:
There's no telling how accurate it is so take it with a big grain of salt, but it's an interesting addition to the mental calculus. Certainly, even the top pro-Ukrainian accounts have recently lamented the unprecedented losses, which have been so large over the past few months even they're unable to sweep them under the rug with the usual techniques:
The other big news which really puts a stamp on all my outlooks for the future is that the new Worldbank estimates have come in, and Russia has now officially once again moved into #5th place in the world's top economies per GDP PPP, supplanting Germany for the spot:
You can get the official figures here: https://data.worldbank.org/indicator/NY.GDP.MKTP.PP.CD
The most startling thing is that Russia is only a hair behind Japan. Recall my article on this topic, where I outlined how Russia is the most sanctioned country on the planet and yet still manages to be close to edging out even Japan for the #4 spot. This latest news confirms my findings. I invite all to revisit this article:
Imagine if the West played fair and Russia was not under the largest economic terrorism attack of any other country in the world? I said it in the article above and I'll say it again, if that were the case, Russia would likely be the #3 economy on earth after China/U.S., and it will return to that position in the future. It will likely surpass Japan in the next 3-5 years on that list. The end of this war will shatter a lot of illusions and the West will come to respect and be in awe of the military and economic powerhouse that is Russia.
Next:
A Ukrainian post that highlights some of the major ongoing refusals in the military and how drastic it's gotten:
❗️UKRAINIAN POST❗️

‼️ ABOUT THE COUNTER-OFFENSIVE ‼️

I wondered for a long time why our offensive was not getting anywhere. The main reason, of course, is that our leadership, who knows why, trumpeted about it in all directions. Strange, huh?! No wonder we received such a warm welcome.

But that is not the only problem. The trouble is that our defenders, and I'm not talking specifically about the 93rd separate motorized brigade, would much rather be chilling at home during the offensive.

Let me explain! 👇🏻

Ever since the ATO [Anti-Terrorist Operation] and JFO [Joint Forces Operation] kickbacks to commanders for not going into battle and staying home have become standard practice. The same story continues today, only in a more sophisticated form.

Today, for a tank to be disabled by the crew itself, you need to pay the commander $1,500 and he will turn a blind eye, and the combat vehicle, together with the crew, will go to the rear for repairs. How do you like that?!

I am not saying this out of nowhere. My friend at a repair base near Bakhmut told me that in just a few days of July, four tanks and six armored personnel carriers arrived for repairs. After analyzing the breakdowns, the lads found out that two tanks and one of the armored vehicles were put out of action on purpose. That is, the breakdown was intentional and it was obvious that the crew was responsible for it.

It all makes sense! The guys are simply afraid for their lives, especially when the command sends them into battle in under-equipped vehicles.

This is the next point of our "successful" counteroffensive.👇🏻

The truth is that incompetence, corruption and simply disregard for people lead to a considerable number of non-combat losses.

From the same source, I learned that at least 3 tanks burned out from the inside due to the fact that the fire extinguishing system lacked a special reagent, which we happen to have plenty of in our warehouses.

I honestly don't know which of the above was the decisive factor, but I do know that we won't win the war this way.

One more thing! 👇🏻

To all of the above, add more kickbacks for "bonuses" and "sick leaves". It's no surprise that such a large number of AWOL soldiers is due to these same schemes. The guys give half of their money allowance to the commanders, and get to sit it out at home. My hypothesis is confirmed by the fact that a very large percentage of AWOL reports are not sent by commanders to the DBR [State Bureau of Investigation] and other bodies. No wonder a whole AWOL commission paid a visit to our 93rd brigade.

UPD: While these fighters, experienced in terms of "dodging", are sitting at home, the command is recruiting raw and inexperienced lads and sending them into battle. But I am sure that the 30 percent of them that remain after the first battle also become EXPERIENCED (. That's some vicious circle.

@HolodniyYar
Next:
Both General Teplinsky and Seliverstov of the VDV have now appeared in new videos honoring the paratroopers during Paratroopers Day, which celebrates the August 2, 1930 founding of the Russian Airborne.
Here is Seliverstov:
And Teplinsky:
Recall that these are the two Generals said to have been "purged by Putin" by a bunch of cranks and amateurish 2D blogger-grifters to push some laughable narrative. Now, like every other 'purged' figure, they are seen still at their duty and commanding their forces. Consider that narrative fully debunked and dispelled.
And speaking of people said to have been purged, Shoigu has now visited the 'Center Group' frontline to meet with General Mordvichev—incidentally, also said to have been 'killed' and now miraculously resurrected. Shoigu not only awarded troops with special custom pistols (MP-443 Grach 9x19MM according to one source) but also inspected the captured Swedish CV-90 IFV and its uniquely huge 40mm Bofors rounds:
In the 2nd video above, he quips whether they caught any Leopards then says to the effect of, "Well the other guys are destroying so many of them you may not see any here."
Meanwhile, the U.S.'s own recruitment is going so poorly that Military.com has urgently called for a new limited draft in order to replenish the armed forces:
Most amusing of all is, after making fun of Russia's 'dual' conscript/contract system for so long, now they're proposing it for the U.S.
But after two decades of war -- both of which ended unsuccessfully -- and low unemployment, many experts believe the all-volunteer force has reached a breaking point. And American confidence in its military is at a low.

The fastest and most effective way to resolve this recruiting crisis is to change how we recruit.

Instead of an "either an all-volunteer force or a fully conscripted force" model, I propose a both-and solution.

We should have our military recruiters sign up new troops for 11 months out of the year, and then have the Selective Service draft the delta between the military's needs and the total number recruited.
Meanwhile, here's what the latest class of U.S. Marine Corps recruits looks like:
Cue the laughter.
Russia is supposed to be afraid of that? Have you seen what Russian troops look like in the war?
Next:
As many have likely heard by now, it appears that Gonzalo Lira never made it across the Hungarian border, and was in fact stopped by Ukrainian services and has now 'disappeared', perhaps for good.
For those who continue to complain that Gonzalo messed up by posting videos while on the run—recall that he set the video on a timed delay for release 6 hours after recording it. By the time the video actually hit the web, he was supposed to have been long across the border. He wasn't posting the video while still in Ukraine.
I'll leave you with this aerial shot of the Kakhovka dam area to give an idea how the reservoir is looking these days, although keep in mind this is a bit upriver of the ZNPP plant:
And a closeup view of another of many destroyed M2 Bradleys:
---
If you enjoyed the read, I would greatly appreciate if you subscribed to a monthly/yearly pledge to support my work, so that I may continue providing you with detailed, incisive reports like this one.
Alternatively, you can tip here: Tip Jar
---