Discover more from Simplicius's Garden of Knowledge
War strategies, geopolitical analysis, SitReps, and discussions.
Over 24,000 subscribers
Let's begin with the biggest news: the AFU has launched a large multi-vectored counterattack on Bakhmut as has been expected for weeks, or even months, now. There are a few key things to clear up right off the bat:
Firstly, the much-ballyhooed 'retreat' of Russian units is in fact going exactly as planned, and I have the receipts to prove it. In this Sitrep from March 19, I stated that Russian/Wagner forces had temporarily halted advances in Bakhmut proper in favor of broadening the flanks to create 'crumple zones' for the very purpose of having a large buffer area to fall back through for when Ukraine launches their long-awaited counter-assaults. Screenshot from the report:
The point of such crumple zones militarily is to create a large buffer of space that you technically 'don't need' in capturing your objective, but is captured solely for the sake of establishing a layered defense which you can withdraw through to put your advancing enemy through a grinder. How defense typically works is you don't just sit there on one line and "butt heads" with your enemy til you're both gored. You preferably lead him back through several layers of increasingly fresher echelons that can put him through the ringer.
For anyone that's interested, here's a detailed explanation on how Russian defense in depth works from a respected ex-U.S. Army officer expert: LINK.
So what else do we know about this assault? That elite Ukrainian units, such as Azov and 24th OSHB of Aidar battalion are being sent against weak spots on the flank manned by some form of either mobilized, volunteer, or LPR units. There's much controversy about claims that Russian units are "running away", which have stolen headlines for the past several days. These claims are being endorsed and amplified by Prigozhin himself, and one video showing 4-5 troops running across a field.
Let me first say that there is zero evidence thus far that I've seen that these flanks and "retreating troops" are Russian army regulars. Every single named unit thus far has turned out to be LPR or 'volunteer' forces. For anyone claiming they are Russian army, let's hear exactly which unit? So far, the so-called 'retreating' units have been variously described as 2nd Army Corps (LPR), 3rd Army Corps (new ragtag volunteer brigade), the 72nd (which no one can find in any Russian OOB, only Ukraine appears to have a 72nd brigade), the 374th OMSB, which means separate motorized rifle brigade(Russia had one in WW2 that was disbanded, this appears to now be an LPR unit), and the "4th OMSB" which once again, appears to be LPR:
The 4th OMSB were said to have retreated from the southwest Ivanovskoe direction, while a claimed Russian '72nd Brigade', of which no one can find any information or valid OOB placement on, was said to have retreated from Kleeshchevka area just south of Ivanovskoe. Another '9th Motorized Rifle Regiment' was said to have withdrawn from the forest belt on the road to Chasov Yar. This unit, too, appears sketchy although I've found a potential match for a Baltic Fleet unit from the 18th motorized rifle division stationed in Kaliningrad. This is the only one I could find with any semblance of connection to nominal Russian armed forces.
Though it may be a semantic issue, I wanted to clear it up because people are using this to drag the RuAF's name through the mud, and I have yet to see a single piece of evidence of an actual Russian army regular unit involved.
Now, onto the second thing I want to clear up. Because there have been retreats and losses of buffer territory, the AFU is trying to sell this as a massive rout where Russian forces are being slaughtered and captured. Yes, there have been videos showing a total of maybe 10-15 KIA's on the Russian side, as well as 5-6 captures. But there's also videos showing the exact same for the AFU, for instance today's video of what appears to be at least 10+ captured AFU, and a separate video showing some captured in the Zaporozhye direction as well.
Additionally, the AFU's own propaganda video shows them taking massive losses during the assault. For instance, the video making the rounds for days where the alleged 'Russian soldier' surrenders to an AFU drone shows the soldier walking through a field full of destroyed AFU armor/equipment including corpses next to one of the Turkish MRAPs that can obviously only belong to the AFU:
Does that look like a successful assault to you? Those are all burned out AFU APC/IFV/IMVs in the no man's land between the two sides' trenches. And remember, this is from their own published video.
And yesterday there were other big losses in separate assaults. For instance, AFU attempted to assault Mayorsk and Ozaryanovka at the NW tip of Gorlovka. They were blown away with losses of half a dozen armored vehicles or more, many captured POWs all seen in this video here.
In other directions, Russian-Allied forces successfully stormed AFU positions in several directions, from capturing Kamenka in Avdeevka, to capturing new positions in Spirne (near Seversk) as well as Bilogorovka (also same area). Another more detailed report showing Spirne captures.
Colonel Cassad:
Rozhin:

1. We have minus 5 oporniki [fortifications] near Bogdanovka and Kleshcheyevka.
2. The APU has minus 3 strong points in the Svatovo-Kremennaya direction and 1 more strong point in the Disputable area.
3. 2 oporniki near Mayorsk were returned to our control.
In short, the AFU is clearly taking huge losses in their 'assaults', and Russian MOD's report confirms this, whether exaggerated or not:
Russian Ministry of Defense:
In total, in the Donetsk zone of operations, the total losses of the enemy amounted to about 900 Ukrainian servicemen killed and wounded. More than 30 armored vehicles, two D-30 howitzers and one L-118 howitzer made in Great Britain were destroyed."
In fact, Shoigu stated the following of AFU's losses for the entire past month:
🇷🇺 Full statement made by the Minister of Defense of the Russian Federation Sergei Shoigu at a conference call with the leadership of the Armed Forces of the Russian Federation:

- Over the past month, the Armed Forces of Ukraine have lost more than 15 thousand people;

- The number of basic types of weapons purchased under the State Defense Order increased by 2.7 times compared to 2022, and those in high demand - by 7 times;

- The Russian Armed Forces destroyed 8 Ukrainian aircraft, 277 drones, 430 tanks and other armored vehicles, 18 MLRS vehicles in a month;

- Measures have been taken to increase the pace of production of weapons and military equipment for delivery to Russian groupings of troops in special operations;

- The Russian Armed Forces continue to eliminate weapons supplied by the West for the needs of the Ukrainian armed forces;

- The system of interaction between departments for the prompt resolution of issues related to the production and supply of weapons has worked effectively;

- Corporation "Tactical Missile Weapons" continues to create promising, modernized and existing models of weapons.
Of course, some will argue that Russian MOD also claimed thousands of losses during the Kharkov offensives which allowed AFU to recapture huge swaths of territory, so clearly AFU doesn't care about losses. But what I'm simply stating is that there are objectively large losses being seen, and the narrative that AFU is 'routing Russian forces' while suffering no losses is provably wrong. Like I said, just watch the video of the 'surrendering Russian serviceman' from which I posted screenshots above, and decide at what cost that one flimsy trench came to the AFU? The trench appears to have 3-4 total Russian casualties including the POW, yet all around it are half a dozen destroyed Ukrainian armored vehicles, including AFU corpses strewn about.
With that out of the way, let's see what they have actually taken: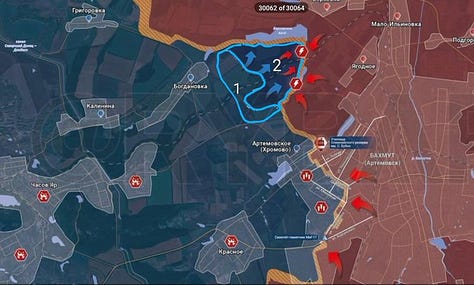 Basically, it appears they've taken up to the reservoir in the northwest of Bakhmut, with some small sections on the southwest line. Prigozhin now rightfully cries that this gives the AFU a height advantage, as they have secured some heights there which allow them to look down on Bakhmut, but as I reported last time, that's not much different to the height advantage they already had on the entire western flank of Bakhmut because that whole line is elevated:
I circled in blue the area they appear to have captured adjacent to the south side of the reservoir. This doesn't even look like a particularly big height compared to the actual red zones they've already controlled for a long time all around it. So is Prigozhin exaggerating when he tries to claim that these captured 'heights' are disastrous?
One report describes it as follows:
For those who are not good at topography.

Russian Armed Forces units have lost tactical heights and retreated towards the Berkhovsky reservoir, which is in a low-lying area.

The AFU stronghold along the Bakhmut-Chasov Yar route, which was first occupied by the Wagnerians and then lost by the military, was at 190 meters. The bank of the Berkhov reservoir, to which the RF Armed Forces units retreated, was at a height of 110 meters. The total drop is 80 meters.

Thus, the Ukrainian Armed Forces are now in a favorable tactical position that allows them to conduct reconnaissance and use any type of weapon effectively.
But Wagner fighters actually inside Bakhmut continued to advance and captured several new blocks, seen in orange below:
⚡️⚡️⚡️Having left the "Knizhka" - the building of the Pedagogical Institute - the Ukrainian militants crossed Tchaikovsky Street to the west.

Now the "musicians" are pushing the enemy out of the "Nest" - a fortified area, a complex of buildings surrounded by Yubileynaya, Chaikovsky and Liberators of Donbass streets

Immediately after the "Nest" near Levanevsky Street, another fortified area begins, which must also be taken by storm.

In parallel with this, the "Orchestra" is moving in the private sector of the western part: there is an advance along the streets of Medvedev, Chernyakhovsky, Tolbukhin⚡️⚡️⚡️
And Prigozhin continues pulling down Shoigu's pants:
In the translated message above, he invites him to come to Bakhmut. This is after throwing a new fit claiming that Wagner was once more lied to and backstabbed, and that no ammunition is coming their way once again.
So now that we've caught up with the assaults, it should be said that this does not mean Russia is in the clear. So far, they've fallen back as expected (at least by those who know how military strategy works), but this is not a carte blanche statement to mean that there is no danger, and that Russia has successfully fought everything off.
First of all, it does clearly show the weakness that Russia is utilizing much lesser trained or lesser armed troops on the flanks. It's unclear exactly because early reports stated the units which "fled" did not even have ATGMs or any anti-tank weapons, which allowed the elite Azov/Aidar groups to crush their trenches with a full-on tank assault. However, in the footage of one of the taken trenches, they appeared well stocked with lots of confirmed Konkurs ATGM canisters, which refutes that narrative. The trenches also had tons of TM-62 mines which flies in the face of claims Russia is not providing them any mines against the assaults:
So it's clear from the above that much of the current narrative is objectively wrong and disproven by actual facts on the ground, which should give anyone pause from directly swallowing AFU's or even Prigozhin's reportage hook, line, and sinker.
But the attacks are worrying in the sense that it shows the AFU retains good intelligence capabilities as they are clearly able to ascertain where the weakest, most ragtag units are stationed and hit them hard.
Thirdly, it can be argued to be worrying for the fact that, though the AFU used elite Azov units for some of the assaults, which are well-equipped and trained, they still have not utilized their truly elite 'Western trained and armed' new brigades that are expected to be utilized in the main offensive still to come. So one could argue that, if Russia's weaker troops are overrun by these units, then what will happen when the truly elite units armed to the teeth with the top Western armor likewise pinpoint weak spots on Russia's Zaporozhye line and blitzkrieg them?
Also, some reports indicate only a few battalions of AFU troops were used, and a large force was not pushed through, so this leaves analysts wondering why Russia was not able to resist these advances and plug the gaps with reinforcements. Prigozhin gives some hint to a possible answer when he described the situation on the flanks such that the Wagner and Russian forces have either very poor communication amongst each other, or even that the Russian forces are punished by command for communicating and coordinating with Wagner. Thus, he explains, Wagner fights like 'a horse with blinders on', as they can only see directly 'ahead of them' in Bakhmut itself, and have no idea who's even on their flanks. Unfortunately, how much of this is truth and how much is usual Prigozhin exaggeration or provocation is difficult to know for now.
From a Russian correspondent describing the above:
So, he says that the commander of this enigmatic 72nd is a great man who did his job, personally went to the frontline. But squabbles between Wagner and the 72nd is what caused the chaos as Wagner claims they tried to contact the 72nd and were rebuffed and ignored, while the 72nd allegedly accuses Wagner of not reinforcing them. A claim is made that the 72nd has a 'ban' on working with Wagner.
How much of this is real? It's difficult to know, but it certainly appears to give credence to Prigozhin's many accusations of hostilities between the Russian and Wagner forces.
The ultimate answer to these questions will come once we await the outcome of the current assaults. We have to give it a few days at the least to see if the advances actually stick, or will they run out of steam and get turned back? Depending how far they make it before they're exhausted, we can then draw proper judgments and conclusions. As we speak, the offensive appears to have petered out. Maybe they'll renew more attacks, or maybe they already suffered enough losses and expenditures to slink away while licking their wounds for a few glorious hundred meters of empty no man's land.
One example in regard to this is, there were reports that leaked plans for the main AFU offensive still to come pretty much designated a two week or less period in terms of munitions allotments, etc. That means, the AFU would have 10-14 days max to make all their breakthroughs and gains before the offensive is exhausted and the allocated munitions are all shot through.
Ex-Ukrainian servicemen and now blogger says the following:
Prospects for the success of the Ukrainian counteroffensive are questionable, said Ukrainian Armed Forces serviceman Yevgeny Bekrenev, better known as military blogger Artie Green.

In an interview with Ukrlife TV, Green believes that Ukraine has not yet had the experience of inflicting heavy military defeats on the Russian army. And in all cases when Kiev liberated territories, the Russians almost always withdrew their troops, without incurring major losses and preserving the army.
In Kherson, according to him, the main success was not in the liberation of the regional center. And the fact that thanks to the shelling of the Armed Forces of Ukraine caused damage to the Russian army. "This is not how it turned out in the Kharkiv region. We liquidated a little bit there... almost all the personnel left," he said.
At the same time, according to him, the APU outplayed the Russians strategically, forcing them to retreat from areas that were unprofitable to defend or where the defense was already weak. If the Russian Federation began to actively resist, then moving forward was fraught with heavy losses.
The military man says that the low operational skill of the generals, who need several more years of training according to NATO standards to reach the necessary level, may stand in the way of Ukraine's counteroffensive. "They often don't understand what is happening on the battlefield," Bekrenev said.
In the Donbas, the Ukrainian Armed Forces often attack "enemy positions that are not suppressed" with artillery, which leads to high losses.
According to him, in the Kharkov Offensive of last year, anytime Russian troops actually resisted, the AFU experienced heavy losses. It is likely the same here.
Popular blogger Starshe Edda also stated something interesting:
Older than Edda: "On the eve of large-scale battles, when the consumption of ammunition will again jump to several echelons per day, you can put a memorial candle on the pre-war plans for purchasing ammunition – and from everyone. Multi-year contracts with predictable figures, under which long-term investment projects and loan programs were made up – everything was so predictable for years and years to come.
But these plans, for the most part, did not envisage a real big war of large regular armies. This situation can be called a "non-calculated accident" - almost no one laid down a situation where a week of conflict can devour 20-30-year savings."
And he's right, almost no one foresaw how vast the ammunition depletion would be, perhaps not even the Russian MOD, though they likely would have seen it at least better than everyone else. Even the British armed forces are now said to be restructuring into an artillery first force, having seen what it truly takes to win modern wars:
👉👉👉Here's for all the people claiming that artillery is useless or can't win wars.

"The head of the British Ministry of Defense intends to reduce the size of the army, despite pressure from high-ranking generals, writes The Times.

According to the newspaper, the British authorities are planning a "rebalancing" to reduce the number of infantry in favor of artillery.

It is logical - why keep your army if Zelensky will supply as many units from Ukraine as necessary to die for the glory of the "White Sahibs"."
But this brings me to another point. People are wondering why the Russian army continues to idle for so long, not launching their own offensives. And I wanted to use that opportunity to run through the numbers one more time to give a perspective on how long it may be taking Russia to adequately rebuild its ammo stocks.
To give an idea, some Russian sources believe the Russian army might have gone through the majority of its artillery by summer of 2022. Firing 60k shells a day for, let's say, five months straight would be 60k x (30x5) = 9 million shells. I've gone through it all before, and won't go into extreme detail, but suffice it to say that Russia could have had anywhere from 10-30 million shells in storage. This is based on various intel service reports, research, as well as comparisons to what the U.S. army had in its stockpiles (~20M shells).
Or if you choose to believe they had much more shells stockpiled, then let's say they ran out by November or later, which is roughly when we have confirmation that Russia truly began firing a fraction of the shells, i.e. 10-20k per day rather than 40-60k.
The point is that, let's say they want to build up a healthy stockpile for a major offensive or series of offensives. As hinted above in the post about a 10-14 day allocation for an AFU offensive, the way offensives are planned is you allocate the amount of munitions you believe will be required for a mass-sustained high-intensity campaign of a certain X amount of days. So let's say Russia plans a two month long offensive where they want to be able to fire the 60k+ shells per day which they previously needed to advance on a consistent basis.
That would be 60k per day multiplied by 60 days (two months). This is 3,600,000 shells. Now, Russia produces an estimated 300k shells per month currently, perhaps more, but certainly they hope to ramp it up past that, though we don't know how much more they can do so, or by when. But taking 300k per month into account, this equals 10k per day. Yet they're currently said to be firing 10-20k per day. Let's say hypothetically they are producing more, like 400-500k a month. Either way, this allows them to "save" and stockpile only an additional 100-200k shells per month, while the rest are fired straight from the oven, so to speak.
At 100-200k per month, they would need upwards of a whopping 18 to 36 months just to save up the 3,600,000 shells needed for a high intensity campaign of a mere two months. You see the problem? They've already been stockpiling for at least 6 months, since last November. But this has theoretically only given them a surplus of maybe 600k - 1.2M shells.
There could be ways around this problem: for instance, maybe they are producing much more than we know of, although it begins to stretch credulity at the higher end of the scale simply because, were they to be producing let's say 800k shells per month or more, this would be several orders of magnitude more than the entire rest of the world combined. Sure, Russia is an economic powerhouse but we can't get too unrealistic about their capabilities. To me, 500-700k per month could be a high realistic limit, but even then they would need many, many months of stockpiling just to gather enough stock for a high-intensity offensive. Of course, we're only talking about strictly artillery shells here, and Russia is producing much more of other types of systems as well, which will offset the shell hunger.
But this is all just to give a very generalized perspective on why they may be idling their forces for a long time. Recall what Prigozhin said: there is an exact calculation for how much more men are lost when there is a given shell deficit. Half the required shells creates double or triple the losses—something like that. The point being that, for Russia to actively advance without incurring massive losses, they need a healthy amount of shells to be fired to suppress the enemy.
So, how long will Russia sit and stockpile shells? It's impossible to say for certain as no one knows the exact numbers of what they're actually producing. But they could very well choose to stockpile until next year, even next summer if need be. I've said it before, but they may very well spend this entire year simply attritioning the AFU in this low-intensity, low-risk manner of slow-crawl advances under cover of moderate rates of shelling.
There are many other factors. For instance, Russian artillery units are learning to become more accurate, not only through sheer experience and skill, but the advent of better spotting/fire-correction systems, drone integration, etc. Also, much more guided munitions like Krasnopol shells are being produced (Krasnopol was directly quoted as being a system which has 'exponentially' shot up in production numbers). And this obviously allows much less shells to be required as a single Krasnopol can do the job of roughly 50-100 conventional shells, depending on the distance fired and attendant CEP spread.
Of course, Russia may still choose a middle line and launch major offensives earlier with a reduced shell count, if they happen to smell blood. So that's not to say there won't be any offensives this year, I was simply giving a generalized explanatory precis. For instance, should the AFU force be devastated to a high degree after launching its "main" big offensive in the near future, Russia my 'smell blood' and choose to pounce then, as we've discussed here many times before. But I wouldn't be surprised, either, if they continued this low intensity stockpiling mode until next year, all the while attritioning and breaking the AFU's morale, infrastructure, etc. None of this is a revelation though, I've said it all before in previous reports.
On this topic, some officials in the EU are desperately trying to steer production into a 'long term' outlook, due to exactly the reasons I outlined above.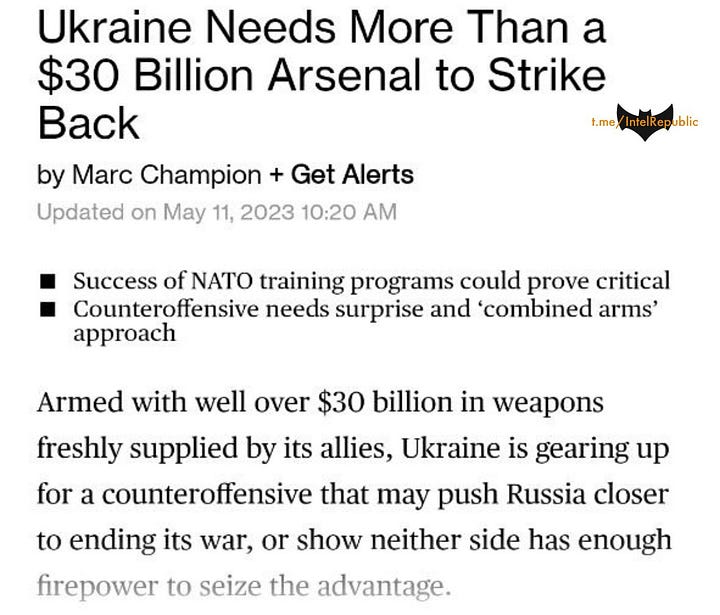 However, the outlook remains very foggy, or even bleak. Days ago, a major Swedish ammo factory blew up. Some cite secret Russian sabotage while others (perhaps more accurately) cite these very desperate 'ramp up' attempts, which are pushing the soggy European infrastructure past its limits and breaking points.
Rybar reports:
There was an explosion at the Swedish military factory in Karlsborg yesterday afternoon. According to media reports (https://apnews.com/article/sweden-explosion-munition-factory-88f2a603cb9878a6c7a4a4091aeca923), the accident occurred already at the stage of equipment maintenance, one person was injured.

The plant in Karlsborg is owned by the Norwegian-Finnish defense holding Nammo and is engaged in the production of small-caliber ammunition for various types of small arms.

🔻Nammo, in turn, is interesting in that it is now one of the largest European manufacturers of various types of shells and ammunition for Ukraine.

At the same time, even such a large company does not have enough (https://www.nytimes.com/2023/04/09/world/europe/europe-shells-ukraine-ammunition.html) resources and capacities to fulfill the wishes of Kyiv customers, who ask for 250,000 155 mm shells every month.

📌 It is not surprising, Nammo, like many other defense companies, cannot increase production rates overnight, since they have been fulfilling much more modest orders for decades. For example, a recent order from the Norwegian government for 35 thousand 155 mm Nammo shells will be (https://www.nytimes.com/2023/04/09/world/europe/europe-shells-ukraine-ammunition.html) carried out for at least three years.

In this regard, the promise of the European Union to provide Ukraine with 1 million shells per year looks unrealistic. However, many companies in pursuit of new orders seek to speed up the process, expand production and increase capacity. It is likely that yesterday's accident was just the result of such decisions, and similar incidents should be expected at other plants.

🔻Given the current situation, Western officials and the media are broadcasting (https://t.me/rybar/46900) with all their might the thesis that the AFU have received enough weapons, everything that is possible has already been transferred, and it would be time to move on to the offensive. In Kyiv, they do not agree with this and continue to delay the day X: today, Vladimir Zelensky, already in an interview with the BBC, said (https://www.bbc.com/news/world-europe-65550427) that Ukraine needs more time to wait for new deliveries.
How to reconcile this with the fact that some quarters of the EU are clearly trying to pull the plug? I think there are several camps: some are the die-hard radicals who are being urged by their globalist controllers to escalate without limit, but others see it as a futile gesture.
For instance, Ukraine's NatSec Danilov stated that Western forces are trying to secretly bring Ukraine to the negotiating table 'on Moscow's terms':
🇷🇺⚔️🇺🇦Oleksiy Danilov, Secretary of the National Security and Defense Council of Ukraine (NSDC) said that they are trying to bring Ukraine to the negotiating table on Moscow's terms with the help of other countries, which Kiev will never do:

"Now there is just such a escalation of the situation in order to quickly put us at the negotiating table on Russia's terms. There is a huge campaign going on right now. A lot of offers from different countries. If Zelensky decides to negotiate with the Russian Federation, "it will be only on the terms of our country. No one is going to give up national interests, no matter how much representatives of some countries would like it, which are actively involved in the situation.

After that Danilov gave another statement(not included in the video):

"We are not going to surrender Bakhmut and we will keep as long as the military deems necessary for the tactical and strategic purposes that the military and military-political leadership of our country has."
In the meantime, amid various AFU 'offensive' talk and false reports, Russia continues striking strategic targets in the AFU's rear quite viciously. The past few days were rife with new reports of Russian missile strikes, destroying all sorts of depots, equipment, etc.
For instance:
There was information about the heaviest losses of one of the detachments of the MTR of Ukraine. Judging by the reports of the death of at least two figures from the 8th detachment of the MTR (CSSO-UA SOF "West" /8 OP) in the Artemivsk region, we are most likely talking about the 8th detachment of the MTR of the Armed Forces of Ukraine, which was ambushed and mostly parts were destroyed.

The Russian air force could wreak havoc on Ukraine's armor and infantry if Kiev launches its much-anticipated counteroffensive without air cover. The Russians "have an almost overwhelming level of air superiority they have not introduced into the war yet," Dale Buckner, a retired US Army officer. #share


It is becoming increasingly difficult for the Ukrainian military to accumulate reserves and equipment on the right bank of the Dnieper, and the price of presence in the region is constantly increasing.

What happened?
On May 10, footage of the use of guided planning bombs UPAB-1500B in the industrial zone in Beryslav, Kherson region, appeared. The strike destroyed several hangars for storing military equipment, equipment and the location of the AFU personnel on the territory of the Berislavsky Machine-building Plant. According to preliminary data, five BMP-1 and BMP-2 infantry fighting vehicles, seven Dingo ATF armored vehicles, at least six YPR-765 armored personnel carriers, three Kozak-7 armored cars and about 45 personnel were destroyed during the airstrike at three warehouses.

Presumably, the equipment was intended for crossing the Dnieper River by units of the 11th Brigade of the National Guard of Ukraine, the 126th Territorial Defense Brigade and parts of the 37th Marine Brigade after conducting an amphibious operation and directing crossings.
A message sent from a Ukrainian soldier to his friend made the rounds, stating that the entire elite unit in question no longer exists, and was completely wiped out, likely in one of such strikes:
Another one:
According to information received from a source in Kherson, an artillery strike on an ammunition depot of one of the units of the 124th Territorial Defense Brigade of the Armed Forces of Ukraine was carried out in an industrial zone in Kherson last night.
Ammunition such as rockets for the Olkha MLRS, 2A65 Msta-B howitzers, shells for firing 122 mm D-30 howitzers, and mortar shells were destroyed.
As a result of the fire damage, the AFU unit suffered losses: 18 servicemen were eliminated, 12 were injured and 7 vehicles were disabled.
And popular correspondent Starshe Edda reports:
Older than the Edda: "More about the enemy's movements. It is not true that on the paths of movement and concentration of Ukrainians Russia does not strike. Yes, the strikes are not enough now, the bridges and roads that are under the control of the enemy are [still] working properly, but only over the past 2 weeks, strikes on the identified concentrations of the Armed Forces of Ukraine in the rear, even quite deep, have [destroyed] several hundred people and several dozen units of military equipment. And by the way, the hum of warplanes over the LPR some time ago suggests that FABs with UMPK, rockets and other things that fit in the bomb bay will soon mow down the next "lucky ones"from the Zbroyny forces."
As many here have likely heard, there's even rumor that Ukrainian supreme commander Zaluzhny, and ground forces commander Syrsky were both liquidated in Russian strikes. Neither has been seen in public or video, nor has been heard from, and crucially, Zaluzhny mysteriously did not appear at a recent NATO summit, not even by video call, reportedly being 'too busy'.
Some believe Ukraine is trying to hide their deaths. Whether that's true or not, it does highlight the fact that Russia did recently strike another top level meeting:
Regarding the rumors about the death of Zaluzhny.

1. Yes, the Armed Forces of the Russian Federation covered one of the headquarters with high-ranking officers of the Armed Forces of Ukraine in the Donbass. This is official information. The Ministry of Defense of the Russian Federation did not report the death of specific officers of the Armed Forces of Ukraine. If they knew for sure that everyone was Zaluzhny, they would certainly have been informed.

2. Who exactly was there - is unknown, in the public field there is no reliable information about the participants in the meeting. The fact that the Ukrainian generals periodically visit the Donbass is not a secret. In addition to Zaluzhny, Syrky or the same Tantsyura periodically flashed there.

3. Ukraine denies the death of Zaluzhny, but due to the fact that he has not been in the public field for a long time, this gives rise to rumors that he could have suffered from such a blow, especially if he was tracked.

4. Exactly the same story with General Tantsyura, who, according to Prigozhin, could have been in the destroyed off-road vehicle near Chasov Yar, but the Armed Forces of Ukraine denied this, claiming that Tantsyura and "everyone else" (about which Prigozhin did not speak at all) are alive. Who they are is not clear. The dance is still not shown.

Therefore, we are waiting - they will show Zaluzhny or not. The long public absence of Zaluzhny will naturally multiply rumors that he could be killed or wounded. But so far this has not been verified.
This is further confirmation that Russia has been increasingly striking command centers, which once again flies in the face of the narrative some are trying to propagate.
One thing this brings me to mention. Due to Putin's soft-handed approach, some have erroneously begun to believe that Russia doesn't have the capability to take out Ukrainian leadership, or pinpoint high-value targets the way that U.S. has often done to high level Al-Qaeda leaders, etc.
But clearly those people have never heard of the famous Dzhokhar Dudayev. Dudayev was the president of the warring Chechen Republic of Ichkeria during Russia's first Chechen War. Do you know what happened to him? I'll give you a clue. Here's his famous final photo:
For those that still can't figure it out, from wiki:
On 21 April 1996, while using a satellite phone, Dudayev was assassinated by two laser-guided missiles, after his location was detected by a Russian reconnaissance aircraft, which intercepted his phone call. At the time, Dudayev was reportedly talking to a liberal deputy of the Duma in Moscow, supposedly Konstantin Borovoy. Additional aircraft were dispatched (a Su-24MR and a Su-25) to locate Dudayev and fire a guided missile. Exact details of this operation were never released by the Russian government. Russian reconnaissance planes in the area had been monitoring satellite communications for some time trying to match Dudayev's voice signature to the existing samples of his speech. It was claimed Dudayev was killed by a combination of an airstrike and a booby trap. He was 52 years old.
You read that right. Russia tracked him by his phone, and eliminated him with precision laser-guided missiles—he even appears to be on his phone in the photo. And that was in 1996. Almost 30 years ago, at a time when Russia was at its weakest militarily, probably in history. What do you imagine their capabilities are now? Do you really think for a second, if they didn't want some of these guys gone, they wouldn't already be long underground?
Now, onto some other disparate updates.
The British have resumed flights towards Crimea, with Typhoon fighter-jet escorts:
🇬🇧 🇷🇺 Today, a British electronic reconnaissance aircraft RC-135W is operating in the Black Sea. However, the special attention of observers was attracted by the escort of the board by two Typhoon fighters at once.

The UK has been resorting to such measures since the fall of last year, when a rocket "unexpectedly" flew near the reconnaissance aircraft of the United Kingdom. In London, they raised a panic, calling the actions of Russian pilots "dangerous and impermissible."

The Russian defense ministry explained the episode as a malfunction, due to which an unforeseen missile launch occurred. In Britain, they did not particularly believe this and began to send RW-135W with an escort of fighters for protection.

🔻At the same time, the electronic reconnaissance aircraft itself is now located southeast of the Crimean peninsula. Most likely, it is moving in the direction of the Kerch Bridge and the coast of the Krasnodar Territory, where the American RQ-4B UAV was working a couple of days ago.

And northeast of Romania, the EP-3E electronic intelligence aircraft has been operating for several hours. The accumulation of intelligence officers from NATO countries may well indicate preparations for the next strikes on the southern Russian territories.
As well as American RQ-4 Global Hawk:
Some believe they are scoping out the Kerch bridge, now that it's been announced that Ukraine has received Britain's latest 'Storm Shadow' missiles, the next 'wunderwaffen' on the long list.
The SS missile (pun intended) has a claimed range of 300-500km, although the opinion appears to be that Ukraine is receiving the export version with 290km limit. This puts it just at the limit of the Kerch bridge from current Ukrainian territory plus or minus 10km.
But now there are reports the missile may have already been used to hit a Lugansk machine plant yesterday. Nearby were found the debris of an American ADM-160B 'Mald' Decoy, seen here. It is believed the decoy may have done its job in distracting the AD while the missile hit. The reason the SS missile was believed to be used was because a Ukrainian jet was seen firing a missile that day near Kramatorsk.
However, further debris were found that appear instead to point to Ukraine's indigenous Grom-2 ballistic missile which has previously been shot down multiple times near Crimea and elsewhere.
But the usage of the American decoy points to the fact that:
Ukraine is using sophisticated attacks, well coordinated with decoys to breach AD

Ukraine has received previously undeclared munitions, and therefore is likely using other secret weapons never 'officially' announced in public
That is all to say: UA should not be underestimated.
But with that said, one must remember that all of these things would be in very minimal supply, relatively speaking. For instance, we saw with the much-vaunted JDAM-ER, they only received a tiny handful. And Britain is said to have less than 900 Storm Shadows for itself, and can likely only produce a few dozen per year, or maybe 100-200 at the most, as that's the upper limit of great power countries producing such advanced cruise missiles without massive production ramp ups.
So it's unlikely that Britain will risk depleting their own stocks of this precious missile too much. Also, it should be recalled that the Storm Shadow was said to be shot down in Syria numerous times by old Soviet AD and proved a giant failure.
Russian air defense systems have already "crossed spears" with the British-French Storm Shadow cruise missiles

**According to military expert Alexei Leonkov, Russian air defense systems have a history of shooting down Storm Shadow cruise missiles during the operation in Syria. However, this does not mean that they should not be taken seriously.

The Western coalition used these missiles during strikes on Syria in 2018, when our air defense missile systems 9K317 "Buk-M2" and 9K332 "Tor-M2" intercepted them for the first time, the expert noted.

📌 He mentioned that the missile itself is a threat because it can move along different paths and bypass the zones where the air defense system is installed.
For those interested, you can see the SS in operation here.
Here it is in Syria:
On the topic of missiles, the Kinzhal saga continues on. Though I've followed it in excruciating detail, I won't bother recounting it all here simply because, ultimately, I don't think it even matters. Even if the AFU did shoot down a Kinzhal, for which there's maybe a 1% chance, it makes no difference as they're not going to shoot down all of them, and Kinzhals are now in rapid production ramp up.
With that said, I highly doubt they shot down a Kinzhal and even more doubtful they did so with a Patriot missile. I'd maybe believe it if they claimed to have used a legacy S-300, simply because the S-300 has proven, in Russia's hands, to verifiably have taken down numerous ballistic missiles. In this case, Tochka-U's of Ukraine and likely their new Grom-2 as well, unless that was S-400 that caught those.
My point being that the Patriot has no track record whatsoever for being able to successfully take down ballistic missiles, despite the fact that that is its literal MOS and main purpose. As a reminder, here's a famous incident where, in 1991, the Patriot failed to protect an American base from an ancient Iraqi Scud. Recall that Russian Scuds are the precursors to Tochkas, which themselves are the precursors to Iskanders, which itself is the precursor to Kinzhal:
So, the Patriot couldn't stop a Scud. The American base was destroyed with ~30 American soldiers killed. If it can't stop the great-great-grandfather of the Kinzhal, how will it stop a Kinzhal?
Americans blamed a "software bug" for the mishap:
A MIM-104 "Patriot" surface to air missile system was protecting that site but a software bug caused the radar computer to loose track of the incoming missile.
But recall that this is the famous go-to excuse for American weapons failure. When Iraqi planes decimated the USS Stark with Exocets in 1987, the Americans likewise blamed some type of error in their Aegis/CIWs system, which "failed to track the missiles." The fact that your systems constantly suffer 'software errors' during critical moments, leading to catastrophic failures is not an excuse. It means your weapons systems are inferior, point blank.
And of course we know that the Houthis managed to easily bypass the Saudi Patriot system guarding their premiere Khurais oil facility when they devastated it with all sorts of low tech drones and missiles. The Patriot could not stop anything there, either. From the actual wiki of the attack:
But this thing is supposed to stop Kinzhals?
Another weapons-related item: we got confirmation that Russia is in fact transferring the recently shipped, older T-54/55 and T-62s to artillery divisions, which means, as suspected, they'll be used only as indirect fire artillery pieces from the rear:
I reported previously that these tanks use 100-115mm cannons, which are different to Russia's premier 125mm barrels used in T-72s, T-80s, T-90s, Armata, etc. That means Russia has tons of ammo for the smaller barrels sitting around from the Soviet times which can be liberally expended.
Famous Russian analyst Yuri Podolyaka confirms:
Yuri Podolyaka: "Shell famine or why old Soviet equipment is being massively used today. The main reason is the "shell hunger" of howitzer calibres of 122 and 152 mm. That is why everything that fires other calibers (115-mm, like the T-62, 100-mm, like the T-55) is delivered en masse to the front.

From myself, I will only add that it is for this reason that 100-mm rapiers are now being massively used, and also not as anti-tank weapons, but as means of suppressing enemy strongholds."
Once again, we have a Western/Ukrainian propaganda psyop debunked. You see how it works? Almost everything they accuse Russia of always ends up being disproven later down the line. But of course, you can't disabuse the stupidity from people who think Russia's out of tanks because they used a lone, symbolic T-34 on the Victory Day Parade only days after Shoigu inspected a row of dozens of brand new T-90Ms on the frontline.
Lastly, on the tank front, an interesting rumor reported by
here states that Western armor (Leopards, et al) was reportedly spotted in the AFU's new Bakhmut attacks.
https://twitter.com/witte_sergei/status/1657130005414182912
He states that one Leopard was even said to be 'knocked out'. We'll give this one low confidence for now as a rumor, but who knows, I'll await confirmation.
I'll leave on one final personal note:
That I would just like to say a big thanks to all the new subscribers, both free and paid. At one point recently this blog hit #4 highest trending on all of Substack, which to me is a huge achievemnt and shows that we're making big waves, and a big difference in accurate reporting of the truth, as truth has a way of being a magnet in these dark and turbulent times, this day and age of ubiquitous propaganda:
Not to toot my horn too much, but just for clarity's sake, what I think separates this blog from that of other analysts/bloggers is my less biased and partisan approach. Not counting pro-Ukrainian blogs/sources, even on our own side, it seems everyone is split into one or the other camp of Koolaid-drinking doomers who take everything the Russian MOD says as 'lies and deceptions' and everything that Strelkov, Prigozhin, etc., say as gospel; or the other fanatically pro-Russian side which completely whitewashes Russia's failings and military faults, and continuously couches everything with various forms of cognitive dissonance 'cope', attributing every failure to some grand strategy.
Though I'm clearly on the Russian side, I don't brush away the failures which have in fact occurred and still do occur. There are many that can be explained away by a grand strategy, that is true. But there are also ones that are simple failures of strategic forethought or capability.
As one example: the dramatics revolving around Snake Island were clearly a failure on Russia's part, ending in an embarrassing 'Good Will Gesture'. How do I know that was a failure and not part of 5D strategy? Simple: Russia knew all along that air defense could not stop artillery shelling. So the fact that Russia took over the island, installing various AD systems and command centers, showed to me that they never expected Ukraine to receive advanced Western artillery systems that could reach them.
And guess what? Ukraine ended up receiving and using the French Caesar SPGs against the island, raining unsustainable hell on Russian positions, wrecking Russian AD systems there which were helpless to stop the over-saturation of artillery shells.
The island is exactly 35km from the Ukrainian coast, a distance too far for most of the Soviet artillery systems Ukraine had, but was just at the limit of the newer Caesars' capabilities.
There are other failures of foresight, for instance Putin's awkward signing of several regions into law only weeks before being forced to abandon them. This appeared to show a clear dissonance between political and military objectives and their timing. Some of the regions, in Kharkov for instance, had already opened Russian customs offices and begun issuing Russian drivers licence plates to cars, only to be suddenly abandoned and taken over by Ukraine.
My point in highlighting this is simply to say that on this blog, you will get the truth. If there are failures, they will not be couched or brushed away, but rather we'll work to understand them and why they happened with an outlook towards understanding how improvements can be made. But this fact lends increased validation to when I do report about Russian successes, readers can expect to know that these reports are genuine and not exaggerations or attempts to cope away secret failure.
And they can be reassured they're reading accuracy rather than propaganda. This of course applies to today's reports about the AFU's so-called offensive.
It is that understanding which I believe drives this blog's readership to new heights, and for that I am grateful.
---
If you enjoyed the read, I would greatly appreciate if you subscribed to a monthly/yearly pledge to support my work, so that I may continue providing you with detailed, incisive reports like this one.
Alternatively, you can tip here: Tip Jar
---