Discover more from Simplicius's Garden of Knowledge
War strategies, geopolitical analysis, SitReps, and discussions.
Over 24,000 subscribers
Let's get right to the biggest news of the day, which will have the concern-troll and 6th columnist mills in overdrive for the next week or so. Big bad Putin released the evil Azov commanders back into Ukraine:
You'll recall callsign Redis, aka Prokopenko, and deputy Kalyna aka Palamar.
Actually, that's just the thing: Putin nor Russia had anything to do with the timed propaganda event. Turkiye and Erdogan released them, not Putin.
Oh, but Putin was the one to initially release them to Turkiye, you say. That may be true, but:
That was 14 months ago, this is now.

There were different realities back then. With selective memory it's easy to forget the situation on the ground at the time. Thousands of Azov fighters were entrenched in a deeply complex underground labyrinth which had already squandered a lot of much needed time and manpower on the Russian side, both in needless losses and in the weeks of added siege time.
At the time, Russian forces were in the middle of the bloody Lisichansk-Severodonetsk assault and desperately needed the manpower from Mariupol to be redirected there as reinforcements. It seemed a reasonable compromise at the time: allow a few top Azov commanders to be indefinitely detained in Turkiye in exchange for the entirety of the Mariupol garrison's surrender and a quick end to the Mariupol Azovstal siege. Given what we now know of Russia's extremely low troop counts at that early part of the war, any competent commander would have made the same wise decision. A tiny handful of men are not worth hundreds or thousands of your soldiers dying.
In fact, Rozhin aka Colonel Cassad has posted an alleged interview with Commander Serhiy Volyna with Turkish media where he states that the real reason for the surrender of the Azovstal garrison was because Americans made a deal with Russia to withdraw their 'high-ranking officers' in exchange for the full surrender:
But now Russia has been betrayed and suddenly that's Russia's fault again, according to the age-old wisdom of 6th columnists.
This isn't 'Kremlin apologia'. I also see the general threat and danger inherent in these things. For instance, the way Russia has acted is certain to lower the morale of some troops who can't understand the strangely opaque way that the Kremlin works 'with the enemy' behind the scenes. There were many instances that led to anger such as the release of Western mercenaries like Aiden Aslin in exchange for what was rumored to be certain sons of high level officials, Medvedchuk, and things of that nature. Not to mention the handling of the Prigozhin rebellion which continues to mystify many—how a man who launched an open revolt is still walking around freely, and the jarringly incomprehensible and contradictory news regarding his situation; for instance, the latest report that he is in fact still "under federal investigation" despite earlier official announcements that the criminal case against him was 'closed'.
This may seem like I'm waffling, but generally the inability to grasp both sides and examine them critically and impartially is the province of the feeble-minded. The fact is, there are two sides to the story and some merit in both. The truth lies in uncovering what is really behind such a well-timed release.
Firstly, we have this statement from Peskov who believes that Turkiye was put under great pressure from NATO to deliver the much needed morale boost for Ukraine:
"In the context of preparations for the NATO summit, Turkey was put under great pressure, and as a member of the alliance, it shows solidarity with it. We understand everything very well, " added Vladimir Putin's press secretary Dmitry Peskov.
And secondly, there's this opinion, which is not without merit, as it's true that Russia has increased the severity of its strikes on Syrian militants in the past few weeks:
The Ukrainian TG channel " Resident " writes that his source in Zelensky's OP told how they managed to pick up the leaders of Azov*:

" For three weeks, the Russian Aerospace Forces methodically destroyed Turkish proxies in Syrian Idlib. Erdogan could not prevent this by military means, which made him very angry with the Russians.

Having learned about this through intelligence sources, the Office of the President came out with a request to hand over the Azov people. The stars successfully converged - and the captured commanders from Azovstal go home to raise Zelensky's rating before the obviously indiscriminate NATO summit. Moreover, under AZOV they launched a campaign of 500 days of heroic resistance, on Bankovaya they are slowly transforming the meanings from the liberation of Ukrainian lands to heroic defense / protracted war.
Another Russian expert believes that this signals a new marked turn for Turkiye towards the West. I don't share that view, at least not without further evidence on this account. We'll have to wait and see how things develop:
🇹🇷 Erdogan's actions indicate Turkey's turn to the West

By handing over the Azov fighters to Zelensky, Ankara is preparing to make a global U-turn towards Kyiv and the West, says Kirill Semyonov, an expert on the Middle East.

📝 "If Turkey really made a decision to supply and, in addition to this appointment, also interned militants of the Armed Forces of Ukraine, then this will indeed indicate a serious turn of Ankara towards Kiev," Semenov wrote in his TG channel.
For his part, Erdogan has stated that he's playing a balancing act against the opposition in his own country:
🇹🇷 Erdogan - after the return of Azov commanders from Turkey:

We have adhered to a balanced policy from the first day. The "military lobby", using the opposition in the country, tried to throw us into the fire. We didn't let that happen. By strengthening our relations with Ukraine, we have not given the opportunity to spoil our relations with Russia. We maintain a close dialogue with Mr. Putin.
With all that said, certainly we cannot deny the fact that this is a very large morale boost for Ukrainian troops at precisely a critical juncture. Just look at Prokopenko heroically announcing his intention to return to the front, in scripted fashion:
On a side note, something appeared to be bothering poor Budanov during the spectacle:
At the end of the day, this is a highly orchestrated and coordinated propaganda event meant to shore up Ukrainian and Western morale at a critical time when the Western effort in Ukraine is actually facing collapse—which I'll get to in a moment.
The two main important upcoming dates are the Vilnius NATO summit of July 11 and the grain deal extension set to expire on July 17. Both of these play heavily into what's going on. But here's what the real issue is: the critical announcement of U.S. supplying cluster munitions to Ukraine lifts the lid on the actual stark reality under-girding everything. Biden gave away the game twice yesterday. First here:
It's unclear if he says we're running out or they're running out of ammunition—but in the end it's the same. Ukraine produces no ammunition of its own, so to say they're running out is the same as the 'we'.
But Biden quickly laid the debate to rest in an interview with CNN later in the day. Listen to the tail end of it:
First, we must admire his attempt to couch and conceal the final revelation for as long as possible. He fronts it with an array of verbal tricks and misdirection by claiming Ukraine itself is being attacked by cluster munitions, then saying the Ukrainians are running out of ammunition. But recall what I just said, this implicitly means it's the U.S. that's running out of ammunition. But after stalling for as long as possible, perhaps hoping his soporific performance puts people to sleep before they can hear the inevitable punchline beyond the mumbling cliffhanger, he finally gives up the plot: "and uh…we're low on it."
So, he could have done away with the entire deceptive preamble and just said: "We're low on regular 155mm and all we have left to give them are the clusters."
You see, the types of cluster munitions they're getting are the ones fired from 155mm artillery units, so this is U.S.'s desperate attempt to tide them over and give them at least something to fire from their dwindling artillery stocks.
🇺🇸🇺🇦 Talk of the US Sending "Cluster Munitions" to Ukraine is a Result of Dwindling 155mm Artillery Shells, Wall Street Journal

A WSJ article (https://www.wsj.com/amp/articles/south-korean-artillery-supply-allows-u-s-to-delay-decision-on-cluster-munitions-for-ukraine-4e41c04b) reveals that recent talk of the US sending "cluster munitions" to Ukraine centers on what are actually 155mm artillery shells with cluster munitions.

This is not to provide Ukraine with some sort of new capability but because of the critical shortage of conventional artillery shells Ukraine is facing and the collective West's inability to meet that demand.

In other words, the 155mm cluster munitions is all that's left laying around.

Ukraine was provided with 1 or perhaps 2 months of artillery ammunition for the intense rates of fire required for Ukraine's ongoing offensive now at the 1 month mark.

The clock is ticking in more ways than one, and Ukraine's dwindling artillery shell supply is not insignificant among them.

Even with a major breakthrough, if Ukraine runs out of artillery ammunition, it will be unable to fully exploit or expand it.
Folks, this is a critical admission. This is an admission by the head of the United States that they're unable to supply Ukraine with regular 155mm, which means the entire Ukrainian war effort is on the brink of collapse. This is the reason the Turkish ploy was suddenly sprung on Russia out of sheer desperation, to cover a catastrophic scenario.
This is all part and parcel of the West's textbook attempt to control the information space as part of their doctrine which states that winning the online war is even more important than the war on the ground. Just look at Kit Klarenberg's latest exposé and get acquainted on the matter. He posts a new Telegraph video that details how the 'information war' is being fought and how we should consider this the more important front:
"If I was a Russian conscript in a trench in southern Ukraine waiting for tsunami of Kiev's counteroffensive to break over me, General Budanov's silence and almost imperceptible smirk at the end of his tweets would terrify me."
From Klarenberg:
Laughable, but British 'defence' doctrine has for over a decade been predicated on winning at psychological warfare over any other sphere of combat. It's why London has constructed a vast global infrastructure for manipulating people at home and abroad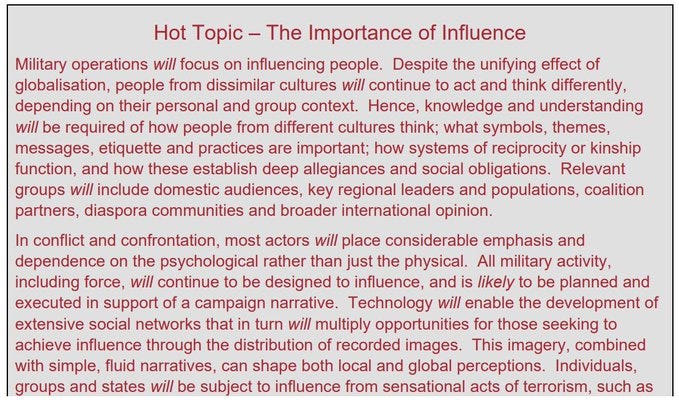 And not surprisingly, this has converged with a large new information campaign by NATO states surrounding an actual in person 'NAFO' summit in Vilnius which is meant to coincide with the upcoming NATO summit there. The NAFO one was even attended both virtually and in person by some key European figures:
And if you've ever wondered what the infamous 'NAFO Fellas' looked like in person, it's pretty much exactly as you'd imagine. Many of them revealed themselves for the summit: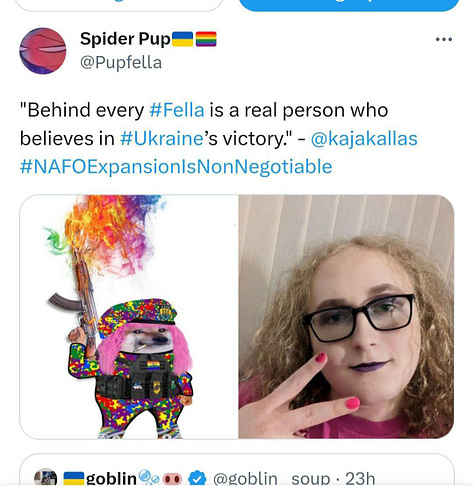 Basically, the very mal-adapted, under-developed, degenerate dregs of society we all expected, sharing the physiognomical defects of their mentally ill Antifa counterparts.
Just sample this video and note the giant shark plushy toy on stage which is meant to lampoon the Russian tourist who was eaten by a shark in Egypt last month. This is the type of low-life, infantile biowaste that Western leaders praised and honored:
You can view the debased spectacle in its entirety here, if you're so inclined:
Luckily, with the appropriate browser extension, one can see the dislike ratio:
Even a Russophobic pro-Navalny activist called the barbarity of this into question, only to be given NAFO's chilling response:
So, what do all these things have to do with each other? It's clear the West is building a pressure front to gain a critical mass of propagandized 'victories' and perception-management of the war effort at all costs. Zelensky even made a pleasure cruise to Snake Island two days ago as part of this desperate new campaign to shore up dying morale:
This has everything to do with the fact that Ukraine's long-awaited counter-offensive was completely crushed without any ability to countermand that fact any longer by their propaganda organs. So now they simply have to shift gears and distract us with other fake 'victories'.
There is simply no way to hide the scale of defeat. News over the past few days even showed Ukrainian forces being booted from the few tiny villages and hamlets they managed to take over the month long gruel. How can you hide this?
So the fact is, the AFU's offensive was crushed, losing thousands of men and hundreds of pieces of armor, and now their own lifeline of the U.S. admits that it's out of 155mm ammo to give them and must begin interlarding the shipments with old cluster munitions simply to stave off the apocalypse. Russia on the other hand is only getting stronger by the day, its economy improving daily (minus the Ruble blip which is not a major deal for a trade surplus economy), its military grows stronger and more advanced daily, its troop numbers are being prepared for an overwhelming advantage. Now there's even rumor that BRICS will accept 5 new members in their August summit, and the inter-BRICS talk of creating their own gold-backed currency to give the final deathblow to the Dollar is heating up as well.
In short, things are going disastrously for the West and they are desperate for any possible propaganda victory. This 'Azov' return is absolutely meaningless, and in fact I welcome it because it gives those Azov 'commanders' a chance to actually get liquidated on the field now rather than safely last out the conflict in captivity. Presumably, the next Russian soldiers to capture them won't take them prisoner for the obvious reason.
The bottom line is that all of the West is signaling "peace talks" to end the conflict by this year's end. This is not a sign of confidence or impending victory. The AFU is staring down the abyss just like their Western masters. They're making a lot of such realizations lately:
There are only cheap gimmicks, falseflags, and terror attacks left as the weapons of use for Ukraine/NATO. For instance, today reports claimed that Ukraine tried to attack Russia's Smolensk nuclear power facility with an unknown missile, which was shot down. Here was Medvedev's response:
❗️Medvedev commented on media reports that the Ukrainian Armed Forces allegedly tried to attack the Smolensk NPP:

"If an attempt to attack the Smolensk (Desnogorsk) NPP with NATO missiles is confirmed, it is necessary to consider the scenario of a simultaneous Russian strike on the South Ukrainian NPP, Rivne NPP and Khmelnitsky NPP, as well as on nuclear facilities in Eastern Europe. There is nothing to be ashamed of."
As can be seen, this is the exactly the type of response Ukraine is hoping to elicit. Their only option left is to very predictably goad Russia into all out nuclear war against NATO.
They apparently tried to attack the Kerch Bridge as well but the missile(s) was shot down by Russian S-400s:
The Armed Forces of Ukraine tried to hit the Kerch Bridge today. The missile was intercepted by the anti-aircraft gunners of the 31st Air Defense Division of the Russian Armed Forces. No damage was done to the bridge.

UKRAINE ATTEMPTS TO STRIKE KERCH BRIDGE IN CRIMEA WITH STORM SHADOW MISSILE DURING HEAVY TRAFFIC OF MORE THAN 500 CARS; MISSILE WAS INTERCEPTED
Given the distance to the nearest Ukrainian frontline, it could only have been a Storm Shadow missile. In fact, some contend that since it's just a bit more than 300km, which is the export version's max range, it means that the UK likely supplies Ukraine with the most powerful domestic versions of the Storm Shadow:
If they only used one or two missiles, then this was clearly a testing strike meant to probe Russian air defenses in preparation for something bigger.
But to get back to the point, it shows that Ukraine is expending its most valuable guided assets on civilian infrastructure. Smolensk NPP, Kerch, endless shelling of Donetsk and other cities. These are not the serious efforts from a country intent on actually winning the war. More and more these actions as a totality demonstrate to us the sheer desperation of the West.
I had thought that the war could last for several years, but given the latest developments, the desperate signals from the West regarding their ammo supplies, etc., it appears to me increasingly possible that without a major black swan event that Ukraine craves so much (like initiating WW3), they could potentially face collapse as early as the end of this year, if not over the course of this coming winter.
This is not opinion. The numbers simply point to this. For instance:
"Our source in the General Staff reports that Zaluzhny briefed Zelensky on the losses of the Ukrainian Armed Forces. On the southern front, we are losing 5-7 units of heavy equipment per day, while on the eastern front, the losses reach up to 4 units. With such intensity of combat, the Ukrainian army will be able to conduct offensive operations until the end of summer, after which we will be forced to transition to a defensive stance along the entire front line. Zaluzhny once again requests to halt the counteroffensive and abandon Sirsky's futile attempts on the flanks of Bahmut."
So, allegedly, Zaluzhny reports they're losing 10+ heavy armor pieces per day; this does not count APCs and combat mobility vehicles like MRAPs which they probably lose even far more of.
Recall that Ukraine was said to have maybe 500-800 total tanks by the start of the offensive and lost by some estimates 100-200 so far. If we imagine out of those 10 daily losses about 3-4 are MBTs and the remainder are things like artillery, that gives us about 90-120 lost tanks per month. Three more months of that would give us about 270-360 lost tanks by early October. Recall they started with 500-800 (the latter number being a very generous estimate), minus 100-200 from the June failures already puts them at anywhere between 300-600 or so. That means an additional 270-360 would potentially put them at 0 and the war would be effectively over.
Here's the interesting part. The West appears to supply them to exactly the tune they need to top up. For instance, it was announced by Germany that they are now expediting the emergency delivery of Leopard 1A5s "by the end of July" on the order of 180 total tanks. I believe it won't be all at once, but the first few dozen will come on an express shipment this month. Note how I just mentioned they lost an estimated 100-200 total thus far in the June 'offensive'. This emergency 1A5 shipment appears to cover that and seems to confirm the total losses.
This is further supported by the new weapons tranche announced by the U.S. days ago. Amongst other things they will be sending a new shipment of 32 Bradleys, ~32 Strykers and ~30+ M777s. Keep in mind ~30+ Bradleys is exactly how many Ukraine was confirmed to have lost in June thus far, pretty much one third of their entire allotment. That means these shipments are aimed at re-upping them to the previous amounts in order to keep their mechanized brigades topped up at full power.
Here's the full list:
- 32 BMP M2A2 Bradley;
- 32 armored personnel carriers Stryker;
- additional missiles for the Patriot air defense system and the HIMARS MLRS;
- MANPADS Stinger, ATGM Javelin and TOW;
- anti-aircraft missiles (air-to-air) AIM-7 for the NASAMS air defense system;
- 31 155-mm howitzers;
— 105 and 155-mm projectiles, including cluster DPICM;
- demining equipment, spare parts, small arms and 28 million rounds of ammunition for them;
– UAV Penguin;
- 27 tactical engineering vehicles;
- 10 tactical vehicles for towing and transporting equipment.
But the problem is this:
Those Leopards won't all come at the same time.

They are 1A5s, the oldest Leopard variants with tiny 105mm guns that stand no chance against any Russian armor.

After them, there is very little usable armor left in the world to send Ukraine. Sure, the U.S. can send them their old M60 Pattons as discussed at one point. But again, these are 105mm barreled tanks from the 1950s that will have almost no combat utility whatsoever.
My point is this: it seems the real reason that all of these critical 'timing' deadlines appear to converge with the end of this year is because the West knows that is when Ukraine will be completely out of heavy weaponry and will be forced to surrender or face total annihilation.
You saw the report above, with Zaluzhny allegedly claiming they will be forced into a defensive posture within months as they will be out of heavy armor. Russia knows this, which is why they're biding their time, slowly building up their own forces until the moment the dam breaks catastrophically. I once thought that the conflict would go on for years, as I said, but now it's very difficult to actually imagine it going past the next year. A wise man will change his calculations based on new data. The new data for me is the gargantuan amount of losses Ukraine is now confirmed to be taking which are simply untenable through next year, even if they were to go into a defensive posture. Defensive posture has little bearing on artillery, for instance, and Russia is attriting them in that category almost worse than the tanks. There is one database showing that 110-120 of the total delivered ~150 M777s are now visually confirmed to be destroyed. A new emergency shipment of Italian M109Ls was quickly sent to stave off catastrophe but the attrition is happening too quickly now that Russian Lancets and FPV drones are in such high production.
Meanwhile, here's the official pro-Ukrainian account of Russian losses for June:
Let's just pretend their numbers are real and not inflated as usual (remember, Putin himself gave the Russian tank losses as ~55 a few weeks into the counter-offensive, though he said a portion of this are reparable losses). The truth is, these are actually reasonable numbers. And for Ukraine themselves to admit to it is a bad sign because their losses were appreciably higher than this. For instance, 62 lost tanks for the month averages to 2 tanks per day. This would give 730 tanks for a 1 year period (and keep in mind June was a particularly intense period of losses). Given that Russia is now producing an estimated 1200-1500 tanks per year, it would mean such losses are easily sustainable indefinitely. You can extrapolate that out to the other categories as well.
That means Russia can sustain its losses for years to come, Ukraine can't even sustain them past the end of this year at current attrition rates. Recall my prediction: Ukraine will be forced to turtle up, which is what Zaluzhny is describing. They'll likely do this much earlier than anticipated so it will allow them to stretch the losses a bit by lowering the daily loss count. Even now, they are said to already be foregoing the use of heavy armor and are doing meat assaults with light infantry only.
A report of their new tactics has recently made its way from what is claimed to be the West Point Veteran's Academy forums, from someone with contacts on the front:
Spirit of the Desert: ... Since the Ukrainians show a remarkable insensitivity to human losses, I see today's change in the tactics of the Ukrainian command as a justified approach in finding the "key" to Russian defense. Classic attacks under our combat regulations involve the preliminary suppression and destruction of enemy defensive positions by artillery and aircraft, as well as the simultaneous destruction of its combat control bodies to the depth of the defense zone and the prevention of the approach of its reserves.

Since the Ukrainians have virtually no aviation and are significantly outnumbered by the Russians in terms of artillery, classic attacks lead to nothing but a massive loss of expensive military equipment on the approach to Russian positions, disorganization and demoralization of the attackers, followed by a retreat. Almost three weeks of such attacks have not been able to break through the Russian support zone, in addition, up to a quarter of our Bradleys have already been lost, as G-3 from USAREUR-AF in Stuttgart told me, and they are now forced to urgently send two Bradley companies and many other equipment for replenishment and the restoration of combat readiness of two brigades of the Ukrainian strike force.

Under these conditions, our guys, together with Ukrainian commanders, developed the tactics of "mosquito" advance – continuous attacks on Russian positions by small tactical groups of Ukrainian infantry. The Russians, who are much more sensitive to losses in manpower, try to avoid close ("contact") battles and, when the Ukrainians go to their trenches, withdraw, leaving the artillery to destroy the enemy. This usually succeeds-Ukrainians die or retreat.

But this tactic has a positive effect. Several such attacks almost completely destroy the Russian position, and most often with their own fire, after which the Russians are forced to withdraw to a new line, where this tactic is repeated. This is how the Russians were pushed back three miles from the strategic position of Makarovka in two weeks. And this tactic is constantly being improved. Our people believe that, with the continued pace of such progress, in two weeks the Ukrainians will be able to overcome the Russian support zone and start storming their main line of defense, while maintaining the offensive potential of their strongest brigades. Perhaps this is what our Milli meant when he said yesterday about the ten weeks of the Ukrainian offensive.

This tactic has another important effect. To repel such "mosquito" attacks, the Russians are forced to spend more artillery shells, which they replenish more slowly than they spend. And in two weeks of such battles, they may well come to the depletion of their reserves.
Allow me to translate the hodgepodge, as I have the advantage of insight from other reports from the Russian lines echoing the above. In short, Ukraine is trying out a new tactic of ditching heavy armor and simply raiding Russian trenches in fast MRAP advances. The Russians, purportedly much more casualty averse, retreat if they are even in the slightest danger of being overrun. Such a fast advance causes them to retreat from the 1st line of trenches to a 2nd position. The AFU troops then occupy this 1st position and await as massive Russian artillery bombardments hit them, destroying this position. The surviving AFU then move away, leaving this trenchline completely destroyed and un-recoverable for Russia. It's a fairly desperate and braindead tactic but they claim it helped them capture a couple insignificant hamlets. And even that is not guaranteed to work as Russian forces are now mining their trenches when they retreat, wiping entire hapless AFU squads like so:
According to the Americans, "meat assaults", when 15-20 APU soldiers are sent wave after wave to our fortifications, justify themselves. After 4-5 such waves, our troops usually withdraw, the APU is reinforced and the artillery works out the abandoned positions.

Then they're back at us, and the meat assaults are repeated until the area is a foul-smelling mess, not suitable for defense.

Thus, the APU managed to capture 5 villages on the Vremyevsky ledge, occupy two forest plantations near Rabochino and make a gray zone out of Pyatikhatok.
Now, Erdogan wants an extension on the grain deal—what happens will be interesting to see and will give us insight into what the real backdoor dealings are and whether Erdogan is truly double-crossing Russia or simply paying lip service and giving NATO a showy concession.
Of course, other more outlandish rumors now swirl: such as that Turkiye is ready to hand S-400s over to the U.S. and also that Turkiye is ready to unilaterally escort the grain convoys even if Russia does not renew the deal, implying that Turkiye would go militarily against Russia. But such rumors are being posted by Visegrad and other Western disinfo sources and are likely baseless, designed to amplify the current information space to give as much wind to Ukraine's sails as possible in light of their disastrous month.
Meanwhile, Russia continues to squeeze Ukraine like a constrictor snake. More advances and captures have been made in Kremennaya, including many POWs and captured positions with endless AFU corpses.
And even in Klescheevka, where AFU has currently shifted their efforts entirely, Russia has booted them out:
The LPR's 4th Brigade reports the following situation in that general region:
In the zone of responsibility of the 4th brigade there are more than 11 thousand enemy personnel, and a large amount of equipment.

The number of the general grouping in this direction is over 67 thousand.

The enemy uses high-precision weapons in the rear areas, conducts counter-battery combat with the help of a wing-type UAV to identify fire weapons, congestion of personnel and inflicts fire damage with Hymars, does not hesitate to shoot them at soldiers in the trenches. It also actively uses aircraft, tanks mainly fire from PDO. The personnel makes rollovers from the squad to the company. But, the steppe terrain does not make it possible to do this unnoticed by us. As a result, the soldiers are advancing very slowly, with heavy losses. They throw everyone into battle, from high-level specialists to untrained mobilized. All of them are killed by artillery and tanks for which there are enough shells.

Keep track of the operational situation and units on the map.
They report 11k AFU in their small quadrant near Bakhmut, with 67k AFU total. If you'll recall, in the last report I likewise gave a Ukrainian army spokesman's own tally for the Russian side as 180k total in the entire eastern front (Kremennaya down to Bakhmut and Donetsk region), with "50,000 concentrated around Bakhmut".
So, clearly, these numbers point to what I had already reported: a decent Ukrainian numerical superiority now that they've rerouted from Zaporozhye to Bakhmut as they saw the futility of trying to make advances in the southern front. However, the Russian troops whom Prigozhin had previously spit on and said were "disgraced cowards" are in fact holding against this sizable force superiority.
Lastly, speaking of Prigozhin, I'll mention a few interesting updates. There have been some misattributed videos going around claiming to show Wagner in Belarus, as well as the famous satellite photo of camps built up near the Ukrainian border. But interestingly, in a new interview, Lukashenko actually said that, thus far, Wagner has not taken up the base he offered to them and further claims that Prigozhin and his fighters are still in Russia and that the 'question of their relocation' has not even been settled:
No one from the Wagner PMC has yet visited a disused military camp that Belarusian President Lukashenko has offered for Wagner's use, an adviser to the Belarus defense minister told reporters on Friday.

Under the terms of an agreement brokered by Lukashenko, Yevgeny Prigozhin was supposed to move to Belarus along with those of his fighters who did not wish to sign up with the Russian Defense Ministry.

But the deal does not seem to be playing out on those lines. Asked if Wagner had come to look at the site, the adviser, Leonid Kasinsky, said: "They have not come, they have not looked."

Lukashenko said on Thursday that Prigozhin was in Russia with thousands of fighters, and that the question of their relocation had yet to be settled.

He said Wagner's fighters were still at the permanent camps where they had been located since they left the front, and that he expected to discuss the matter in a call with Russian President Vladimir Putin.

Lukashenko said Belarus had offered Wagner the disused Soviet-era military quarters near Tsel, but added that "Wagner has a different vision for deployment", on which he declined to elaborate.
If true, this adds an interesting intrigue, particularly given his claim that the fighters are back in their previous camps—which would presumably mean in Donbass. To be honest, nothing of this entire episode yet makes sense. Add the fact that a new report claims that the criminal investigation into Prigozhin in Russia is still active, countervailing the previous reports that the criminal case was closed.
This map claims to have tracked the flights of Prigozhin's personal jet from June 25 to July 6, 2023:
A very busy man, no? On that note, another poll that will come as a disappointment to 6th columnists who were hoping for division:
According to regular polls by FOMA and VTSIOM, the rebellion of Yevgeny Prigozhin and the Wagner PMCs, although noticed by Russians, had little effect on their attitude to power.

Experts believe that, for the most part, Russians did not see any threat to themselves in the events taking place and perceived them as an action-packed series that did not affect their everyday life.
And a new interview was published with Prigozhin's main Bakhmut theater commander, callsign Lotus, whom you may recall. Use an autotranslator to read it. It has some interesting details, though he remains coy about what's next for Wagner, simply alluding to 'a lot of work' left to be done and the continuation of carrying out tasks.
The only thing left to be said is we'll have to wait and watch the upcoming events, most notable of which is the NATO summit on July 11 and the grain deal expiration of July 17. Then, there's also the BRICS summit in August.
For the time being, the signals coming out of the Biden administration and other European 'partners' are that nothing miraculous or earth-shaking will be announced at the NATO summit, but rather Ukraine will simply get its sought-after 'Israeli-style security guarantees'. Which will be nothing more than written promises of continued military support at roughly the same levels as the present, in terms of the expenditures and arms amounts.
This will be an attempt to 'bake in' the support via a signed document so that flagging NATO members who were ready to crap out by the end of this year will be obliged into continued patronage for years to come. But this is not as significant as it sounds because the West's ability to print endless Monopoly money does not equate into the production of raw goods. You can't buy what doesn't exist, even if you have infinite fiat. They can pledge unlimited monetary support but as discussed earlier in this article, they're running out of arms, ammo, materiel, etc.
But ultimately, it sounds like F-16s won't be announced, nor an entry or even a pathway to NATO, which pretty much means Ukraine will get a bare minimum of what they hoped for. Of course, this was obvious given the fact that they will save such 'big guns'—as I predicted a while back—as a last ditch trump card to convince Zelensky to sign a ceasefire. Meaning, later this year if and when they're finally ready to tap out, they can dangle the 'NATO pathway' or even F-16s as the carrot to get him to sign a Khasavyurt Accord-style armistice for the time being, with the secret promise he'll be allowed to restart the conflict much later on, once the U.S. is done with its pesky elections.
Some in the West are showing great worry at that prospect though:
And Politico has outlined another 'idea' of their own:
In the above article, they believe one idea would be to promise Ukraine membership to NATO at the exact conclusion of the conflict. But, they see a small wrinkle with that option:
Thus, some partners are now proposing to offer Ukraine the prospect of becoming a member as soon as the war is concluded instead. However, while this may sound promising, there's a big catch: If Moscow knows that the immediate consequence of a ceasefire or peace agreement would be Ukraine's admission to NATO, it will only agree to a formal end to hostilities when pigs fly. 

NATO would thus indirectly grant Moscow a kind of veto over Ukraine's membership — not a good option. 
They go on to imagine Poland and Lithuania sending troops into Ukraine:
Meanwhile, a few days  ago, former NATO Secretary-General Anders Fogh Rasmussen wrote that some eastern NATO partners, such as Poland or the Baltic states, might be prepared to send troops to Ukraine to assist. Boots on the ground would be quite an audacious solution, and it's questionable whether this would even be a viable option. Apart from the fact that not a single NATO partner has so far publicly declared its willingness to send troops to Ukraine, it's something that could fracture the alliance with potentially serious consequences.  

Let's assume Polish troops were fighting Russia in Ukraine, and Russia responded by attacking military targets in Poland — would NATO partners then NOT be obliged to offer military assistance if Warsaw was to invoke Article 5 of the NATO Treaty, even though it had become a belligerent voluntarily? Could this, in the worst case, trigger a NATO-Russia war? 
Ultimately, they conclude the best option would be to essentially give Ukraine full NATO privileges without the official cachet of NATO membership. This would include full participation in every NATO activity, training, meetings, councils, and to reap the full benefits of such. In short, it can be boiled down to "NATO membership without the Article 5".
The Guardian's new piece goes even farther:
Tisdall argues that Ukraine can be rammed through into NATO and NATO could step in to cover the territory Ukraine currently controls; basically, advocating for WW3.
But there are precedents. West Germany gained Nato protection in 1955 even though, like Ukraine, it was in dispute over occupied sovereign territory – held by East Germany, a Soviet puppet. In similar fashion, Nato's defensive umbrella could reasonably be extended to cover the roughly 85% of Ukrainian territory Kyiv currently controls.
The article also prints Rasmussen's recent quote about Poland potentially deciding to enter Ukraine, should the Vilnius summit not bear fruit:
"I think the Poles would seriously consider going in and assemble a coalition of the willing if Ukraine doesn't get anything in Vilnius," Rasmussen said. "The Poles feel that for too long western Europe did not listen to their warnings against the true Russian mentality."
He ends by rabidly frothing that NATO should 'unleash its considerable power' to stop Putin.
Let's see how things develop.
Now, a last few sundry items.
An interesting report that Ukraine has allegedly been making some dry runs on the Kakhovka reservoir to test its bedding:
💥💥💥

Our sources reported that the Ukrainian Armed Forces were conducting manoeuvres on the dried-up Kakhovka reservoir near Nikopol and that light and heavy military equipment was involved.

So far, it has turned out that pickups and light trucks can drive over the dried out bottom, while BMPs get buried in the silt and cannot move on their own.

Now the khoholes claim that the best time for a landing operation would be mid-August, when the heat will reach its peak in the south and dry out the Kakhava reservoir as much as possible.💥💥💥
Another video of how a part of it is looking:
Next:
Another interesting video surfaced showing a Fab-250 sized version of the new Russian UMPC planning bomb. It burrowed itself into a Ukrainian trench and they are digging out the dirt to remotely detonate it with explosives:
The winged module on the top can be seen.
Seeing as how these 'Orthodox JDAM' modules are put on old Fab iron, their dud-rate is a bit higher than usual. However, the accuracy of the module itself is clearly evident, given that it made it right into the AFU trench it presumably was targeting. The old iron bomb itself simply didn't fuse.
Also, someone made this capture of the previous video I posted, showing the module in flight, unfolding:
Next:
RFK Jr. says his son fought in Ukraine, and so he has it on good authority that the casualty rate is 7 to 1 in Russia's favor:
He also very correctly explains the start of the Russian SMO, which actually concurs with my own historicity of the SMO's opening objectives.
Small update on the Kherson region:
🇷🇺⚔️🇺🇦 The acting governor of the Kherson region, Vladimir Saldo, informed TASS that Russian forces on the Kherson front are eliminating an average of 50 Ukrainian Armed Forces soldiers per day, who are being sent on boats to cross the Dnepr River.

On July 3, (https://t.me/tass_agency/199306) Saldo stated that Russian forces are controlling the situation near the Antonovsky Bridge in the Kherson region. They are strengthening their positions and thwarting attempts by the Ukrainian army to cross the Dnepr in small groups on individual boats.
If even a fraction of the governor's numbers are true, it speaks to massive Ukrainian losses, given that this is by far the quietest front of the entire SMO currently. Imagine their daily total losses from all fronts combined if they're really losing that much here.
Next:
SkyNews announces big 'game changer' that will win the war: British cars which fool hapless Russian snipers because the steering wheel is on the other side. Doh!
Next:
A now-freed Russian POW describes how the AFU uses POWs as de-mining units. They send the prisoners ahead into the minefield to explode so that Ukrainian soldiers walking behind them are safe:
Next:
A report claims that Nepalese Gurkhas are being trained by Wagner to fight in Donbass:
And lastly, I'll leave you with this Russian talk show where a military expert from the front describes the increasingly high morale of Russian troops, with some frontline updates as well:
---
If you enjoyed the read, I would greatly appreciate if you subscribed to a monthly/yearly pledge to support my work, so that I may continue providing you with detailed, incisive reports like this one.
Alternatively, you can tip here: Tip Jar
---