Discover more from Simplicius's Garden of Knowledge
War strategies, geopolitical analysis, SitReps, and discussions.
Over 24,000 subscribers
Heavy things are afoot. I had been busy writing my next unrelated report, when this major situation interrupted, forcing me to delay the regularly scheduled report in order to address the alarming developments.
Prigozhin appears to have initiated a coup attempt. Information is still developing constantly so nothing is definitive or confirmed. That's why I wanted to focus more on the potential causes rather than the speculative and constantly-changing informational noise. But just for those who may be completely unaware of the happenings:
Prigozhin published the following video claiming that the Russian MOD has "bombed" a Wagner rear area with many Wagner dead. The video, however, shows no dead and only what looks like some minor staged burning leaves:
Even Strelkov believes it's fake:
On reflection, I completely reject and consider Prigozhin's statement that the Russian Armed Forces launched a missile attack on the Wagner location this afternoon, and consider it a complete lie. If there was a blow, then only Wagner himself could deliver it (logically) (or rather, a staging). Reason: to eliminate the "Wagner" it is absolutely not necessary to inflict any blows on some camps. Enough to "bang" Prigogine himself. Well, maybe someone else from his inner circle along with him. And that's it. And hitting ordinary soldiers and commanders is utter stupidity - even Shoigu and Gerasimov have enough sense for this. Now, if Prigozhin himself with his "council of commanders" were covered with a rocket, I would still believe it. And so it's a lie. Dot.
Prigozhin followed up with this call to arms:
At first it all seemed a charade, until two prominent Russian generals including 'Armageddon' Surovikin released urgent pleas for Wagner to stand down:
Note the symbolic gun on Surovikin's lap. Another top defense minister likewise released a video but I haven't found a subtitled version yet.
According to the spokesman of the President of the Russian Federation, Dmitry Peskov, the President of the Russian Federation, Vladimir Putin, received a report from the Prosecutor General of the Russian Federation, Igor Krasnov, about the initiation of criminal proceedings against the head of the PMC Wagner, Yevgeny Prigozhin, in connection with the attempt to organize an armed uprising.
One thing that's important to note is the incident appears, on the surface, to have come out of the blue. But in reality, things have been developing for quite a while. Most notably, if you'll recall that the Russian MOD a few weeks back issued a new ruling for all volunteers and PMCs to register under the yoke of the Russian MOD. On the surface, the justification was to give equal 'benefits' to all volunteers that Russian servicemen get for their service.
But clearly there was also an ulterior motive to get Wagner to sign their semi-independence away and conform entirely and de jure under the Russian MOD command structure.
Prigozhin very openly said "no", and that he will not be signing any such contract. Since that point, the MOD has obviously been working out a plan on how to deal with and potentially 'subdue' Wagner should they fully go 'rogue' and refuse to be assimilated into the MOD directly.
Since then, there have been a variety of 'rumors' of things happening behind the scenes, most of which I admittedly didn't pay attention to because they were not only from Ukrainian propaganda sources, but also appeared implausible. Rumors such as, for instance that two weeks ago, Shoigu had given orders for Russian troops to open fire on Wagner 'on sight'. The most recent rumor from only a few days ago was that the MOD was already planning to arrest Prigozhin any day now.
This brings us to the next step in the causal chain. It is plausible that the MOD was planning to finally take action on Prigozhin because he recently released another series of increasingly inflammatory and accusatory videos, one of which I had already uploaded into my next report and was planning on discussing until this exigency took over today.
Watch the video below:
That video was completely unhinged and was the first time, in my opinion, where Prigozhin outright lied (and viciously as well). It was the first time where I truly began to question his motives in a more serious way because I simply could not mentally reconcile how it's possible that he would make up such absolutely wild and objectively false claims. You can watch the video and judge for yourself.
But some examples are, he claimed that the Russian MOD is lying and the AFU have in fact broken through the Russian defenses and reached up to Tokmak. The problem is, the very next day (today) upwards of three separate Russian troop units in different cities of Sadove and Urazhnoe released videos proving that, not only do they control those cities which Prigozhin claimed the AFU had already swept through, but that the front was calm and there wasn't even any fighting anywhere near them, let alone any fantasy breakthroughs of which he speaks.
Keep in mind, this is after already being caught in such lies multiple times which I've reported on recently. For instance, when Prigozhin said that Russian troops had lost Berkhovka at the NW corner of Bakhmut, only to be refuted the very next day by Russian 200th brigade troops inside Berkhovka proving they have not gone anywhere.
In yesterday's video he also said the AFU occupies Piatykhatky which was proven wrong as well, as the AFU was driven out of there and the settlement gone into the 'gray zone'. He goes on to argue that Ukraine's counter-offensive thus far has been disastrous …for Russia. Does he live in an entirely different world?
And in the longer version of the video, he makes other disastrous claims which are likewise not only ludicrous but objectively wrong, and even treasonous. Either that or completely psychotically unhinged:
Prigozhin said that Ukraine has not bombed the Donbass for 8 years, and the Ministry of Defense is inventing facts to show itself in a good light:

• On the borders with Donbass, we hit them, they hit us. This happened all the long 8 years from 2014 to 2022. On February 24, there was nothing extraordinary

• After 2014, Donbass was plundered by people from the Presidential Administration, the FSB, and oligarchs. The generals sawed up the money allocated for the corps of the people's militia "LDNR". Generals received money for "dead souls"

• The Ministry of Defense deceives the public and talks about the insane aggression of Ukraine, as if they were going to attack us together with the entire NATO bloc. "SVO" was started for completely different reasons

• Zelensky, when he became president, was ready for any agreements. All that had to be done was to get off Olympus, go and negotiate

• Badly planned operation. For some reason, a bunch of idiots decided that they are so smart-assed that no one will understand what they are doing during the "exercises" and no one will stop them
Let's go through a few of them.
First, he says that the Russian MOD has lied for 8 years, and that Ukraine has not actually been bombing the Donbass. The Russian MOD made this up to generate a cassus belli to enter into war and start the SMO. Can anyone here seriously support this one?
The other big one not listed above, was that he said the "real reason" for the SMO was that Russian oligarchs need this war. This is so contrary to the truth that even Strelkov had to refute it with a post where he said it's the opposite. The liberal regime and oligarchs in Russia would do anything to end the SMO and continue their merry deals with their favored "partners" of the West. To suggest that the SMO started because "the oligarchs" wanted it is simply preposterous.
The problem is, a lot of his words are tantalizing. They appeal to our greater senses in wanting to believe that some white knight of justice is clearing out the corrupt institutions for the greater good of Russia, all expressed in syrupy, patriotic language. And if it were true, I'd fully back him. But as I pointed out above, the vast majority of datapoints he states are outright, objectively false. He's literally making them up and lying; either that or he's been tragically misinformed.
And the second biggest point is that, if most of the things he says were true, then the actual Russian soldiers, those salt of the earth fighters on the ground would back him and support his words. But unfortunately, I see dozens of new reports each day from actual Russian troops on the ground, and I don't see any of them reflecting anything even remotely approaching what he's saying. In fact, several recent reports directly from the frontline—somewhere Prigozhin is not present, by the way—state the complete opposite of his thesis: they say they have plenty of ammo, good supplies, high morale, etc. No one is complaining about the things he's crying about.
The other biggest thing is the timing. At this most critical of points, exactly when we're at peak terminal madness and Ukraine is teetering on the brink to the point that they're developing major existential falseflags and terror campaigns against Russia—this is the point in time that Prigozhin suddenly chooses his seeming back-stab attack onto Russia? At its most critical and sensitive of times, Prigozhin wants to weaken, demoralize, and leave Russia completely vulnerable to its enemies? It makes no sense at all, and in fact it would appear on the surface as if Prigozhin is in fact working in concert with the AFU/SBU to coordinate their huge terror ramp up against Russia.
How else could you explain the timing of this incident? It feels precisely coordinated with the AFU/CIA's developing campaigns to save their disastrously failed offensive.
The only way the timing would be out of his hands, in a sense, is if my earlier theory is correct in that the Russian MOD was already seeking to arrest him for refusing to register Wagner into the MOD hierarchy. If that's the case, Prigozhin may have felt caged and left without a choice. Knowing his time was ticking, he may have thrown a desperate hail mary.
On that note, though, let's explore a few possible options for what could actually be going on.
Prigozhin is working with AFU/SBU/CIA to backstab and destroy Russia, coordinating his actions with them.

Prigozhin is secretly working with Putin to remove the stodgily entrenched Russian command. Notice, not in a single one of his rants has Prigozhin accused Putin or so much as even mentioned his name. There's a possibility that all this is theater to cause a "conciliatory deal" to be made which will result in the 'stepping aside' of Shoigu. Putin has previously "laterally promoted" (in actuality demotions) several big name siloviki in the past. For instance, Sergei Ivanov who was deputy prime minister and presidential chief of staff was "moved" to head some 'ecological' department. Could we see Shoigu used as a fig leaf to settle the impasse by "laterally" moving him to some other ostensibly 'important' (but actually irrelevant) position?

Everything is actually "as is" and whatever we see on the surface of the conflict pretty much represents what's really happening.
The thing is, despite the actual criminal proceedings being set in motion and various Russian regions going on heightened alert, as of this writing there is no proof at all that Prigozhin is actually marching any "column" of Wagner troops to Rostov or anywhere else. One would think the claimed 50km long column would be visible and documented from a variety of sources at this point.
Instead, Prigozhin continues releasing audio clips while apparently 'on the road' and in hiding. Some believe the background sounds like he's traveling in a car. Here are some subtitled (by @mylordbebo) clips he's released in the last hour or two:
My other theory is that this entire debacle could be an elaborate Russian MOD coup over Wagner. In short, Wagner could have been "set up" by the Russian MOD in order to justify seizing total control of Wagner and absorbing it under the state administration since in their view, Prigozhin had gotten too big for his britches and it was time for a hostile takeover of his firm under new management.
It would explain a lot of the phony antics. For this plan to have worked, they would have already arrested Prigozhin earlier today or yesterday, and all of the released audio would be fake provocations to give a legal justification to seize the legal entity of Wagner entirely. Of course, this is likely a very far stretch, but I figured I'd put the theory down in writing just in case.
Another point about the developed or orchestrated nature of this entire debacle. For instance, this pro-Russian Ukrainian dissident writes:
➡️ Lev Vershinin:

I cannot comment on this statement. I don't think anyone can comment on this statement right now. Even those who at the beginning of May advised me to wait for the last ten days of June, making it clear that the most interesting thing would happen between 22 and 29. One thing is clear to me: this is not a spontaneous step. The rupture broke. One thing is interesting to me: how will the enemy try to take advantage of the opportunity and whether the enemy will be able to take advantage of it.
And others have noted how today, on the heels of Prigozhin's first videos and uprising, several videos of Russian troops were very swiftly released who urged Wagner soldiers not to follow through against the motherland, and that these appeared staged and done in advance. The assertion here is that the Russian MOD was already expecting Prigozhin's opening sally and had prepared their own response videos of Russian troops to give the appearance of MOD support so as not to allow Wagner morale to inflate too high and believe that all of Russia is with them and against the MOD.
If there's any truth to this notion, it would imply that the MOD was already anticipating these events, which would further support my earlier ideas about these escalations being rather a fait accompli situation that was already known in advance due to the MOD's possible plans to arrest Prigozhin as rumored, etc.
There was even a supposed "leaked conversation" between Russian soldiers claiming to prove they got the order to get Wagner. But take it with a huge dollop of salt as Ukrainian channels were posting it:
Some Russian channels are spreading info about the alleged intention of the Russian MoD to detain Wagner's Prigozhin. Channel Goryachie Tochki posts a screenshot of the "conversation" between two soldiers from Rostov. By their words, the command is preparing for a force move to arrest Wagnerites for their refusal to sign contracts with the MoD - a requirement that needs to be fulfilled before 1 July to "legalise" the PMC. The channel suggests those who resist the arrest will be shot. In this regard, Prigozhin's emotional interview from today could be a way for him to deal the most damage. However, aside from this information from several channels, there's currently no indication that any raid against Wagner is actually going to take place.
Now, as of this writing, Prigozhin claims a giant column of Wagner troops is moving into Rostov, specifically Novocherkassk, as that's where the Russian regional command base is said to be (Southern Military District has headquarters there), and where Gerasimov and Shoigu had just recently been staying, according to Prigozhin:
Not only has the Rostov region governor warned all residents to now stay in doors, but checkpoints have been established all over the region and the border with Donbass closed, as well as heightened security and national guard alert.
Now, there have been some videos claiming to show what is possibly the Wagner column moving in:
As well as videos of Russian national guard convoys taking up positions all over the city and region, and many military helicopters patrolling the Rostov skies:
Rostov center:
What appears to be Wagner troops taking control of Rostov HQs: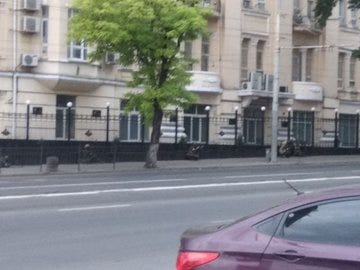 One last thing to mention. There is still the possibility this is all some kind of elaborate psyop. Anything is possible because the situation is simply so 'out of left field'. The reason it's out of left field to me in particular is Prigozhin really did not appear to have any substantive justification for any of this. As I said, Russia was crushing the AFU and has recently been in the best position of the entire SMO. Why would something like this happen now, if it were legitimate? It simply defies belief that Prigozhin would be so incensed about all the "failings" of the MOD at the time of the MOD's singularly greatest glory on the battlefield. The only explanation in that case would be—as I said before—that Prigozhin knew his time was up as the MOD was already planning on canning him, so it was "now or never" for him.
However, on the other side of the coin, there is one unsettling thing about all this to me. Which is that, unless Prigozhin has completely had a mental break and is outright deranged (which I doubt), what he's doing would appear to be suicidal. To march a few mercenary troops into Russia on the fly or on a whim seems utterly lunatic and would clearly result in nothing more than Prigozhin's arrest and long imprisonment if not his death.
So, it's unsettling for that very reason that I don't think Prigozhin—or anyone sane—would make such a move off the cuff unless they had it all planned out many steps in advance and—most importantly—had already secured some kind of significant internal support somewhere. So, does that mean Prigozhin may have actually thought this out, planned it well in advance, and has the secret support of many important figures in the Russian military who will actually back him in this coup? What other possibility could there be for him to make this wild attempt? No sane person would do this unless they've secured secret approval or quiet support from some powerful higher-ups. And if that's the case, that means this situation would be much more serious than it appears.
I fully accept the fact that events are moving quickly and within hours of posting this some huge new development could obviate or refute most of everything I've written here, and certainly tomorrow promises to be an eventful day. So for now I wanted to make this post if for no other reason than to offer up the comments section for people to update and discuss the developments.
I'll leave you with one last interesting analysis some of which underscores the points I made earlier:
It means like this:

1) The Wagner mutiny began clearly prematurely. The front is not broken, ukry do not win. In this situation, rebellion means "stab in the back" and the army will not support it.

2) The prematurity of the rebellion (which was clearly planned in advance) is caused by a simple fact: in the near future, Prigozhin would certainly be deprived of the main part of his troops - to maintain even a 30,000th military group at his own expense, without the support of the state (read - funds and materials from the Moscow Region RF) - he definitely could not have been for more than a couple of months (and even then - hardly);

3) At the moment there are no videos, etc. evidence of the active actions of the "Wagners". There is information that their forces in the rear training camps did not know anything at all and were not ready to act. With a high probability - only a part of the units concentrated in the Lugansk region takes part in the rebellion.

4) "Campaign to Moscow" for "Wagner" is extremely difficult - most tanks simply will not reach Moscow on their own, it is generally useless to drag artillery to Moscow, and attacking in light armored vehicles means risking defeat along the road, which is generally "easier than easy ". Everything rests solely on the presence of loyal units ready to fulfill the order and open fire to kill ("Akhmat" may well execute, for example, and not only "Akhmat")

5) If by the morning (that is, after 5-6 hours) "Wagner" does not achieve significant success (and so far no success has been heard of it) and military units do not openly go over to its side, the rebellion will drag on and every day it the final success will be more and more improbable... well, if the Kremlin doesn't screw up out of habit, of course, and start urgently "searching for compromises" and exposing Prigozhin to use the overworked nose of a well-known VIP official.
---
---
If you enjoyed the read, I would greatly appreciate if you subscribed to a monthly/yearly pledge to support my work, so that I may continue providing you with detailed, incisive reports like this one.
Alternatively, you can tip here: Tip Jar
---