Discover more from Simplicius's Garden of Knowledge
War strategies, geopolitical analysis, SitReps, and discussions.
Over 24,000 subscribers
Because I'm a stickler for getting to the root of things, and will always follow up on important issues as they develop, I wanted to start with a continuation of a previous line. In one of the last reports we talked about the potential mobilizations on both sides, troop numbers, and how that relates to upcoming conflict developments in the medium-term future.
I related how there had been new indication that Russia's newly recruited 300k force would be used to rotate the previously mobilized troops from September-October of 2022.
However State Duma Chairman Andrey Kartapolov has now put speculation to rest with a new decree which states directly that previously mobilized troops will not be "demobilized" as I had thought, and that their term will end only when the SMO itself ends:
"They will return home after completing a special military operation. No rotation is provided. They are entitled to leave for every six months served, and they now go on these vacations, " the deputy said.
However, they are still stating that the newly recruited will be used for ongoing rotations of the normal variety, like wounded people, etc., but simply that the 300k mobilized from last year will not be mass demobilized until the war is over.
This is good news as it means Russia is building up its forces. Interestingly, on this topic, General Milley made a new statement where he referenced that Russia has 200k or "200k plus" troops in Ukraine. Once again we recall that I've repeatedly hammered the point that Russia is using far less troops than people were led to believe. If they have only 200k+ in Ukraine now after mass mobilizations and hundreds of thousands of new enlistments, imagine what they had at the very beginning? That's why I stand by my reporting of Russia only using 70-80k men in the opening stages of the SMO, and not much more than that even by the time of the first year anniversary. Though I should mention that I believe Russia has total 350-450k forces as part of the SMO, but they are not necessarily all in Ukraine or on the frontlines, as a portion is being used for rotation purposes, etc.
Ultimately though there may be some deliberate deception at play from the Russian Duma as they may not want to completely reveal their future war plans. So for all we know they may be building those newly recruited for a huge strike fist while for now downplaying them as reserves of a sort.
Moving on, the other big subject for which we have an update is Ukrainian losses. Yesterday's bombshell came from the head of Poltava region military commissariat:
\🇺🇦⚡️Losses of last year's replenishment of the Armed Forces of Ukraine amounted to 90 percent - military commissar of Poltava

This recognition was made by the acting head of the Poltava Regional TCC, Lieutenant Colonel of the Armed Forces of Ukraine Vitaly Berezhnoy.
So, he is saying that upwards of 90% of all soldiers recruited in his entire large region became casualties. As I wrote in the mailbag yesterday, some have done a back-of-napkin calculation to get a theoretical 400k extrapolated figure for the entire AFU:
So if Ukraine mobilized 700,000 people and had an army of 300,000, a total of 1,000,000 You can project losses of about 800,000: - out of which 400,000 would be wounded, roughly half can return - 400,000 killed
There are unverified reports that Zelensky is now "indignant" and demands the dismissal of the Poltava commissar.
What's more is that a Ukrainian fighter posted confirmation of the Poltava figures from his own unit, on his account:
He even says some divisions have even worse casualty figures. How much worse can you get than 80-90% casualty rates?
The fact is that it's becoming increasingly clear that some of the worst, most extreme predictions on Ukrainian losses could in fact be true. This extends to things like POW captures, for instance with yesterday's new report that already 3,500 AFU soldiers had surrendered since the launch of Russia's new project to have a special "surrender frequency" on all radio channels where Ukrainians can dial in and safely surrender to Russian forces:
Since the launch of the Volga project, where the Armed Forces of Ukraine are invited to go to the frequency of 149.200 for surrender, just over 3,500 enemy soldiers and officers have voluntarily surrendered. In fact, a whole brigade of "counter-offensive".
The problem is, this project is only a few months old. That means 3,500 have surrendered just since July or so when I believe it was launched. That would explain the sudden uptick to 18k total POWs, as the new radio channel made it very convenient for AFU to surrender safely—which had classically been one of the main barriers preventing their surrender. They feared by going out into an open field, etc., they would be shot by jumpy snipers or anyone not seeing their makeshift white flag.
But the new channel allows them to fully coordinate the surrender with opposing Russian forces, who give them instructions where and how to do it and then inform all nearby friendlies not to fire on the Ukrainian troops. You can see it in this video from right around the time when the radio channel was launched:
What's interesting is that we have seen a huge increase in videos of "mass" surrenders in that time, in the form of entire groups of troops. Just yesterday and today for instance:
And even as of this writing, a brand new video came in with the specific caption that this party of Ukrainian soldiers used the special 'Volga' channel to surrender to Russian forces:
A new "party" of Ukrainian Armed Forces militants surrendered to the DPR

🔹The footage shows mobilized Ukrainians who are "tired of fighting." They decided to save their lives and stop pointless resistance.

To do this, they used a special open Russian radio channel.

Let us remind you that in mid-July the frequency 149.200 was named: on it, every Ukrainian who decides to surrender can go on the air and call the call sign "Volga".
Sadly, Ukrainian troops are just getting mowed down at this point. We saw a month or two ago they began their shift toward full-blown "meat assault" tactics because their armor had begun to run uncomfortably low. There is now numerous evidence of this in the form of videos showing either Ukrainian troops on foot simply plying through the open fields, or at most using their remaining light mobility vehicles:
Watch the above, see how the AFU troops were huddled in the grassy strips between the fields? Now, watch the video below which shows the ground level view of an AFU soldier staggering through the desolation. This is a must watch video that shows how much the AFU is paying for every square inch of their meat assaults:
There's also this report which seems to underline the drop in armor:
Here is a small but curious piece of news. The Ukrainian Armed Forces have announced the change of name and therefore the transformation of the 92nd Mechanized Brigade into the 92nd Assault Brigade. What does all this mean? Mechanized Brigade is made up of four mechanized companies equipped with heavy armored support vehicles. An Assault Brigade has only two mechanized companies and another two of veteran infantry without armor. This shows that there is actually a significant decline in the availability of armored vehicles on the Ukrainian side.
And here was a good recent description of the new tactic Ukraine has been utilizing in the Rabotino area:
The Ukrainians and their supervisors realized that we are now facing a trench-infantry war, and therefore they are increasingly using cluster munitions. According to my feelings, two cluster munitions are now used for each high-explosive fragmentation munition. Chewing gum blocks are rushing towards Novoprokopovka. 

As a result, their progress looks like this: they iron the trenches with artillery for several days, while they accumulate in small groups in the basements of Rabochino. At the appointed hour, they run to the assault on foot. If the assault on the next opornik (strongpoint) fails, everything is repeated again and so on until the landing is wiped off the face of the earth."
With this corollary as well:
Despite all the criticism, the Surovikin line still fulfills its task. Yes, the Ukrainians reached it in the area of Verbovoye, but stormed it on foot. Armored vehicles did not break through, which means that even after the loss of the first lines, the "dragon teeth" still perform their function.
As armored vehicles became an auxiliary element on the battlefield, infantry, artillery, drones and electronic warfare came to the fore. Whoever builds the correct construction in this square will gain an advantage on the battlefield in the near future.
And as a corollary to that, I thought this statistic was interesting—albeit I'm not certain how true it is:
During the entire Battle of Kursk, the Soviet side used 400 thousand mines. Now, only between Pyatikhatki and Gulyai - Pole - this is mainly the site of Rabochino - Verbovoe-our team has put 480 thousand mines and this figure continues to grow! It is noted that even in their deep rear, the APU, when advancing to the front line, often run into our mines, in which they made passages back in June.
It's likely true though, given the industrial-scale abilities Russia now possesses in laying mines with RAAM and FASCAM auto-minelaying capabilities which scatter hundreds of mines at a time after being fired from tube artillery.
As a last mention on the topic of losses, in yesterday's mailbag I had discussed partisan forces and mercenaries. Now British mercenaries are fleeing Ukraine because they are terrified for their lives due to the recent uptick in mercenaries being extrajudicially killed, or rather assassinated by their own people:
Read what he says above: "I will turn up dead if I continue."
They are getting backlash for bringing to light the recent killings of mercenaries in the rear, such as the other British mercs found dead with their hands tied behind their back.
The above references another mercenary named Macer Gifford, who speaks on it below and also expresses his wishes to leave:
And here's the British news report about the dead mercenaries recently found:
A Polish mercenary likewise reported how mind-boggling the losses on the AFU side are:
So what is Ukraine gaining for all that slaughter? There continues to be virtually no advancement—the settlements they claim to have 'captured' like Klescheyevka in fact remain in the gray zone and neither side can enter them. In fact, astonishingly, even the settlements "captured"—what is effectively now—months ago, like Staryomayorsk and Urozhayne are not even controlled by Ukraine. They continue to be mostly gray zones with small roaming groups entering from the north then getting chased out by artillery.
It's a testament to what Russia said early on—that artillery wars simply leveled all of these places (which includes Klescheyevka, Andreevka, etc.), now allowing either side to occupy them any further because there is simply no objects behind which to take cover anymore.
New drone footage of Klescheyevka refutes Ukraine's claim of controlling it, as it shows a desolate wasteland with no troops from either side occupying it:
Lastly, there are rumors like the following. Though take it with a grain of salt:
General mobilization in exchange for weapons and refusal of elections

An interesting version of Zelensky's plans for a visit to the United States from the people's Deputy Dubinsky was published by the Ukrainian channel ZeRada.

According to the people's deputy, Zelensky will be given weapons and will stop insisting on the mandatory elections next year in exchange for total mobilization and sending everyone to the front - from women and teenagers to the disabled and the elderly.

To the last...
After all, Ukrainian political scientist Serhiy Datsyuk just said in a video days ago that inevitably even all children will be mobilized:
***
On the other hand, in the Black Sea and Crimea theater, Ukraine has gotten in some licks which allows it to keep its information war afloat. This is not by coincidence of course, but rather that due to its failed offensive, they were forced to reorient resources toward something new which would grant them 'victory points' in the media.
This has resulted in a large-scale new campaign targeting Crimea, which includes the recent raids onto derelict oil platforms which Ukraine is attempting to use as staging areas for DRG units to attempt night-time raids onto Crimean shores. It's claimed these units are also attempting to do surveillance on Crimean defenses, like a Russian S-300 launcher which was allegedly hit in Yevpatoria.
Now they've targeted Sevastopol's shipyards, hitting Russia's Ropucha class landing ship and possibly Kilo class diesel submarine. I say possibly because the photos "leaked" of the submarine appear to be potentially fake as:
they don't quite match the satellite footage

they were first "leaked" / posted by Ukrainian accounts

they are strangely pixelated/censored when the leaked video footage of the ship right next to the sub was clear and uncensored

there's no follow-up / subsequent satellite footage to show clearer destruction when there has been such in every other hit, like on the Il-76, etc.

they also claimed Russian patrol ship Sergey Kotov was hit by naval drones and fully sunk, yet it turned out to be fake, indicating a coordinated information campaign from Ukraine
Many are making a big deal about these strikes, using them to string together a narrative that Ukraine is gaining strength in its strike capabilities, and is "whittling away" Russia's defenses, degrading its ability to protect Crimea, and that this will all lead to Crimea's eventual abandonment and recapture.
But it's a very clever bit of narrative engineering on Ukraine's part. Most of the individual pieces are not correlated. For instance, Yevpatoria's S-300 hit has little to do with Ukraine's ability to hit Sevastopol 70km away given that a radar unit at that distance cannot even see a sea-skimming or low flying target.
Nor are the strikes on Sevastopol's repair facility necessarily indicative of any newfound capabilities. Just like the strikes on Russia's distant Pskov airbase, completely unconnected to the SMO, Ukraine is targeting more vulnerable and potentially neglected areas in order to create a splash.
For instance, nearby in Sevastopol there are entire berths full of the most powerful, expensive, and advanced Russian ships. Why couldn't they target and destroy those? Instead they were forced to hit a repair dock housing two already-out-of-service vessels, which were in fact sitting there defunct for months. It's the same argument I've made before about Russia having entire airfields full of its frontline jets, Ka-52 choppers, etc., and Ukraine has not been able to touch them, instead relying on fanfare-producing sneak attacks on neglected and insignificant areas in the rear.
That being said, though it was only an old landing ship which have no use for the SMO it's still a painful blow, particularly if it's true the submarine was also hit or destroyed. Of course, Russian MOD released an official statement stating both vessels would be repaired, however some experts believe that to be unlikely given the potential damage. We'll have to wait and see—but given that both vessels were already out of order it doesn't exactly detract from Russia's capability in the near term.
The only question will be to see if Russia can tighten the gaps that allowed these (reportedly) 3 Storm Shadows to bypass the net. Russian MOD claimed there were 10 total and 7 were shot down, so it's possible it was a saturation attack which overwhelmed air defenses. It must be remembered that if it was that easy for Ukraine to do, they would repeat it again and knock out all of Russia's ships in Sevastopol. The fact that they were only able to do this once indicates to me a very long planned out action they're only capable of carrying out once every long while.
In general, we can conclude that though these attacks give the appearance of strength and "success" of some sort, they follow a common theme of hitting defunct or derelict objects with little connection to the SMO—which only shows Ukraine's weakness and desperation to create media victories. From striking Moscow skyscrapers to empty transport planes somewhere near the Gulf of Finland, to hitting broken ships sitting in a repair bay—none of these constitute actual decisive or damaging strikes on active Russian military capabilities. That's the most important takeaway and bottom line.
Meanwhile, Shoigu has finished up negotiations with Kim:
And has already swiftly moved onto Iran, to meet with the Iranian defense ministry:
Major things are expected to be signed. The most significant rumor from the North Korean parleys is that Russia has possibly made deals to obtain over 10 million 122mm and 152mm artillery shells from North Korea. If even remotely true, it represents a significant number that represents upwards of 1-3 years' worth of shell useage, depending on intensity. Firing 30k shells a day equals just over 10M per year.
Such a massive shell boost—if true—could give Russia enough to comfortably launch a massive offensive in the future without worrying about dipping into emergency reserve. Recall what I said many times before: one weakness is that Russia always has to maintain a large reserve stock of shells for the contingency that NATO happens to launch some sort of sneak attack, and full scale war breaks out. That means Russia could have several million shells as an emergency reserve it doctrinally cannot touch.
For what it's worth, SBU head Budanov, by the way, said that Russia has already begun receiving the shipments:
There are also talks of potentially acquiring long range North Korean MLRs and artillery systems, but we'll have to see about that.
☄️☄️☄️North Korea will supply the Russian Armed Forces with about 10 million shells of 122 and 155 mm caliber, — political analyst Yuri Baranchik

"A number of sources also report that the DPRK will supply Moscow with such modern and powerful MLRS as the KN-09. Let me remind you that the KN-25 system was introduced by Pyongyang in 2019 and boasts a range of over 400 km. It is a kind of improved version of HIMARS," Baranchik said.☄️☄️☄️
***
Next I wanted to briefly cover the hectic geopolitical events breaking out at the moment.
Not only have the Nagorno-Karabakh hostilities restarted but a fairly significant UN general assembly is convening where Zelensky has flown to New York to make what could be one of his final big cases for support.
The UN meeting falls under the shadow of ongoing Ukrainian grain escalations, which saw Poland, Hungar, and Slovakia ban Ukraine's grain, initiating a lawsuit from Ukraine itself.
It's now created bad blood, where Poland's patience has run a bit low, such that Poland cancelled its planned meeting with Zelensky at the UN assembly:
And the Polish president bitterly issued this nasty statement about Ukraine:
Polish president "A drowning person is extremely dangerous because he can pull you to the depths. He can drown the rescuer. Ukraine is behaving like a drowning person clinging to everything he can, but we have the right to defend ourselves against harm being done to us."
In fact, Ukraine has been under quite a bit of assault in this make-or-break moment. House Speaker McCarthy is stalling further aid, conditionally demanding to first get a personal audit from Zelensky on where American dollars are going:
Two things about the above video:
First, it's likely just grandstanding for McCarthy to project an image of "putting Americans first" before the proverbial blank check to Ukraine.
But even so, on the off chance the above has even a shred of genuineness, I'll say that this is a perfect illustration of what I meant when I explained in the mailbag series why Ukraine is forced to always go forward, even at the cost of mass slaughter. Because the moment they stop providing their sponsors with the illusion or perception of success and triumph, the representatives in each home country will begin to question "where their money is going" as their own constituents' patience sags.
Beyond that, Zelensky's job is to renew as much arms support as possible, and parallel to that there've been reports of some of the new shipments, which include German Leopard 1s. Unfortunately, there's already trouble in paradise, as a new report claims Ukraine rejected the first batch of Leopards because none of them worked…it's almost too comical to be real:
Three major eye-opening admissions in just this one note above:
1. Recall I had reported for months on how Germany was fast-tracking and expediting a small emergency shipment of the Leopard 1s in July in order to plug gaps in the unforeseen destruction of Ukraine's main armor units during the opening stages of the "counteroffensive". Apparently, according to the above, even that emergency shipment was defunct and useless.
2. They admit that Ukraine has no abilities to repair or even maintain any of this equipment, so I suppose it's a one time use disposable sort of thing, like one of those RPGs you throw away after, or perhaps—to be even more apt—like toilet paper.
3. The reason the above is a huger deal than it sounds is because of the next crazy admission: they state that this current batch of tanks is defunct simply from the exertion experienced during the light training they were used for. Put the two ideas together: on one hand the tanks are unusable and break down after only light use, and on the other hand—Ukraine admits they have zero capability to maintain or repair these tanks whatsoever…
What are you left with?
In short, it's a complete fiasco and just goes to support my assertion that these latest stopgap measures are nothing more than terminal stage propaganda boost attempts of sheer desperation. Same goes for ATACMs, F-16s, etc.
But that doesn't stop Zelensky from not only begging for more, but disingenuously using the fearmongering tactic of claiming that Russia aims to conquer all of Europe. Listen here to his answers when the host asks how much more money will it take?
Furthermore, he states that Ukraine cannot stop the offensive even for Rasputitsa, which is already starting. This is because he fears allies' support will begin to wane, as it already appears to be doing—which is exactly what I've been harping on about:
In light of all this begging, the most recent American package has been noted as 17 times smaller than previous assistance funds:
In the 46th package of military assistance to Ukraine from September 6, the United States included weapons and military equipment worth only $175 million. This is 17 times less than the largest at the moment, the 29th military aid package, which was announced on January 6, 2023.

It is also noteworthy that at the end of the first month of the offensive, the US Armed Forces had to spend more than $2 billion unplanned. After the first significant losses in the Zaporizhia and South Donetsk directions, the Ukrainian Armed Forces needed substantial compensation for the lost military equipment and equipment, for which the United States allocated a total of more than $2 billion in four tranches — on June 13 and 27, and on July 7 and 25. A significant part of these sums was spent on additional supplies of American M2 Bradley infantry fighting vehicles and Stryker armored personnel carriers. (Military chronicle of TG)
***
I'll likely comment more in full on the Armenia situation another time, as I didn't want this post to get too long after the previous hyper-long one. But for now I'll simply say that the situation is very complex and there are clear provocations happening against Russia on the Armenian side, like the following paid crowd chanting nasty Russian epithets towards Lavrov and Putin:
This one is a DOOZY:
Everyone by now knows that Pashinyan can't be trusted:
It's looking more and more like flare up of the provocations are a deliberately orchestrated campaign by Pashinyan and his CIA handlers to push Russia out of Armenia, after blaming Russia for the collapse of peace. This so U.S. can then sweep in and offer a resolution, then begin a new American stewardship over the region to begin activating this flank against Russia.
This is evident by the fact that even days and weeks prior to today there have been increasing "provocations" against Russian peacekeeping troops, like this one from last week:
Such provocations never happen "organically" but are coordinated efforts from NGOs and intel agencies in every instance.
Now it's clear that the U.S. is trying to "activate" all regions around Russia to destabilize Russia as much as possible as a continuous effort to weaken the Ukraine campaign. This follows other such announcements:
And it further follows increasing attacks on Russian and Russian-allied forces all over the globe, from Syria to Africa. This includes recent attacks which have killed Wagner soldiers after reports that French intel agencies are now training rebels to hit Wagner:
🇲🇱🇫🇷 The connection between Tuareg rebels in Mali and France

Russian channel Rybar got an interesting, but an expected information. Apparently, French foreign intelligence agency DGSE has a close connection to the Azawad movement in northern Mali.

The attack on the town of Bourem was a test of the militia forces and the capabilities of the Malian army and the remaining units of the PMC "Wagner". At the moment, Tuareg rebels under the leadership of French operatives are preparing for an offensive on the city of Gao.

France promised a support to Tuaregs in their attempts to make an independent state and against the jihadist militants.

All this is done to weaken pro-Russian influence in the Sahel and at the same time to motivate other terrorist groups to intensify attacks on Mali's armed forces.
But though the U.S. and allies are desperately trying to set the world on fire to weaken Russia around its peripheries in any way they can, all these efforts are little more than chaff in the wind and will have no effect on the SMO. And as always we must remember that this pales in comparison to Russia's own much more successful hybrid/asymmetric warfare conducted against the Atlanticists in Africa and elsewhere.
I'll end this section with these posts. First RussiansWithAttitudes' thought-provoking post about the Armenia situation which brings up a lot of good points:
One final thought on the Armenia/Karabakh question: a huge percentage of the Armenian people, perhaps the majority, has no desire to defend Karabakh and fight for it. They wished for someone who would rid them of this troublesome problem. They have found this someone: Pashinyan.

They wanted a politician who'd sell out the Armenians in Karabakh, but in a way that wouldn't make the Armenians in Armenia feel bad about it. That is, he would need to create a false narrative in which it's actually Russia's fault. The imaginary "Russian support of Azerbaijan" has been the key political myth in Armenia (and even more so in the diaspora) in recent years.

Armenia is a democracy. They elected a person who would save them from the Karabakh problem. They reelected him after he shamefully lost a war that they had 30 years to prepare for (& didn't dig a single trench). If the people of Armenia were opposed to Pashinyan, they would throw him out. They haven't and won't. Because he is this savior they've been waiting for.

Pashinyan will surrender Karabakh to the Azeris. He will do it in such a way that he can blame it on "the evil Russians who stabbed us in the back". He will do exactly what he was elected to do: to get rid of Karabakh, and save the Armenians in Armenia from the guilt of having betrayed their countrymen.

Currently, the Armenian government & society are working much harder on building a narrative that would explain why it is Moscow's fault that the entire population of Artsakh was raped, tortured and killed with farm instruments than they're working on their military readiness.

They don't want Russia or Iran to protect Karabakh. They don't want to protect Karabakh themselves. They just want a moral excuse for their betrayal of their fellow Armenians. It's a pity, because the people of Artsakh are very brave, and they are ready to fight and die for their land. But Russia cannot help them if Armenia doesn't want to.

From the point of view of geostrategic logic, the only thing that matters to Russia in Armenia right now is the Zangezur corridor that connects to Iran. Russian diplomatic efforts saved Armenia from a complete military catastrophe in 2020. Russian peacekeepers made sure that at least a part of Artsakh would remain Armenian.

But Russia simply cannot commit to the protection of Artsakh if the Armenian state isn't committed to it. The Armenian state hopes that it can sell out its countrymen as Danegeld to the Azeris and keep limping along, perhaps on Western life support. This is wishful thinking, of course. But it's what they've decided. You can't save people against their will. Thus, Russia shouldn't get involved at all, unless to safeguard its own direct interests.
And then what Dmitry Medvedev wrote about Pashinyan today:
One day, one of my colleagues from a fraternal country told me: "Well, I'm a stranger to you, you won't accept me," Dmitry Medvedev said about the Armenian Prime Minister.

"I answered what I had to: "We will judge not by biography, but by deeds." Then he lost the war, but strangely stayed in place. Then he decided to blame Russia for his incompetent defeat.

Then he gave up part of his country's territory. Then he decided to flirt with NATO, and his wife defiantly went to our enemies with cookies. Guess what fate awaits him ..."
***
A last few sundry and interesting items.
Russia's drone war is heating up. Below is a video showcasing how deadly Russia's FVP drone usage has become—infantry is no longer safe anywhere; the drones chase them into every nook and cranny:
And here's an example of a small Russian boutique drone assembly shop which produces 1000 pieces per month:
More and more the Western narrative is that Russia wants Poland and/or the Baltics next, and that U.S. will have to join the war soon. Not only was that Zelensky's main pleading line in the video I posted earlier, but both Nikki Haley and Mike Pence chose the threat as their campaign's main angle of attack:
Next:
Wagner is claimed to be coming back to the frontline sometime soon, though under what banner no one knows:
It was initially claimed that Wagner was somehow going to be involved with Russian Rosgvardia forces but that remains uncertain.
Speaking of Wagner, a crazy episode occurred in Syria. This is a long post I'll paste so those not particularly interested can skip it, but if true, it shows the type of real animosity and hostility that exists between Wagner and the Russian MOD, which led to all the nasty business which transpired this year.
It involves the Russian general Yunus-bek Yevkurov who Prigozhin likewise antagonized when he took over Rostov:
From knyaz_cherkasky:
I apologize in advance to my subscribers if I didn't answer anyone, but words cannot describe what was going on here at night. I don't even know if it's possible to describe it so as not to sow panic (you should ask the stern people with shoulder straps under their jackets), but the Syrians are in shock, and everything was within a hair's breadth of a mess between the Wagners and our Defense Ministry, and according to rumors both in Syria and in Libya, amid of which the so-called. A "march for justice" (Prigozhin's Wagner uprising) would be a child's walk.

Actually, because of this, my transfer of the second group of archaeologists to Palmyra to work in the theater was disrupted, since the passage through T4 to Palmyra was blocked.

But, it seems, everything worked out - Wagner got through to Moscow, the helicopters were canceled on time.

The Syrians talk excitedly and say that everything was like in the film.

In order not to write a separate post and at the same time, answering numerous questions, I will add that half of Syria is already being discussed east of Furukulus.

Yesterday's incident is as follows: Wagner, after being banned from flying through Khmeimim and the cancellation of permits from the Russian Foreign Ministry, agreed with the Syrian Ministry of Defense and arranged flights for rotation to Africa, through the Syrian T4 airbase. As the plane took off, Russian helicopters were raised into the air, and fire trucks were driven onto the runway to prevent it from landing. The Syrians were told that if this plane lands, fire will be opened on it. Moreover, the Syrian soldiers, who had their order to accept the plane, for some time resisted the actions of the Russian Defense Ministry on the runway itself, but when they saw the hovering helicopters, they considered it best to retreat. Since the fuel in the circling plane (a cargo plane from Libya) was running out, the question arose, since it might not make it back to Libya.

At Wagner's place, those who were preparing for the meeting contacted Libya and, according to rumors, they said that if this plane was shot down, then Wagner in Libya would strike the MoD base in response.

But at the last moment, the leadership of the Syrian Wagners got through to Yevkurov and the order was canceled, the plane landed. The funniest thing about this (if it can be funny at all) was that there were 170 Syrians on board, Wagner contractors, who were flying home after a contract in Libya).

The Syrians told me about this excitedly, with their eyes wide open, waving their arms and asking - what is going on there?
It's clear that Russia created a monster with the Wagner group, but it was a necessary one for the time.
On that note, Surovikin was now spotted leading a Russian military delegation to Algeria, which means he's now back in the fold: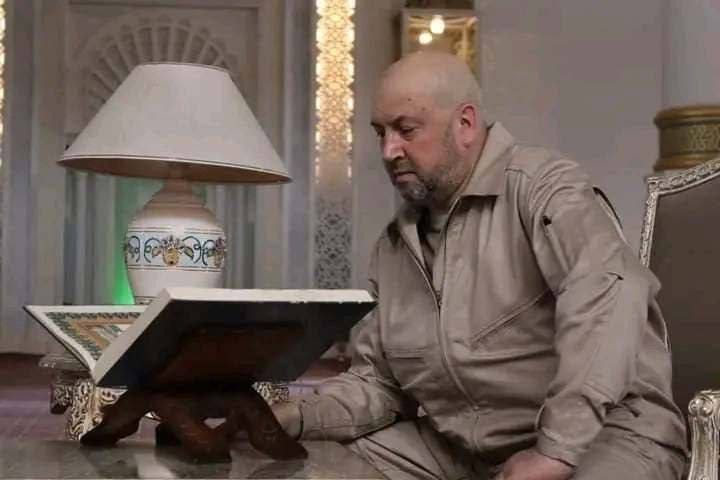 In what capacity, though? No one knows yet.
Next:
A very strange and interesting incident. Russia released footage of a new variant Lancet-3M drone with extended range, hitting a Ukrainian Mig-29 jet at the Dolgintsevo airfield near Krivoy Rog:
There's a wealth of things to say about this, as it opens up a whole topic for discussion.
Firstly, the good news is it shows that Lancets can now go upwards of 70km+ or more behind enemy lines, which is the distance of the airfield from Russia's side of the Dnieper.
However, it brought up a lot of questions regarding how it's possible that an airfield seemingly full of functional planes can be left unperturbed so close to the frontline, as you can see several other planes in the video. Some have suggested some of them may be mothballed donor planes for parts. Also based on this photo showing a stack of tires, some further suggested that Ukraine was readying to cover the planes with tires as Russia has recently done, or to burn the tires to create concealing smoke, sensing an upcoming attack—which could point to the fact that the planes had only just arrived prior to the hit:
I've covered Ukraine's airfields at length before. The bottomline is that they move their planes around a lot in order to keep Russian strikes guessing. Their remaining few planes jump from airfield to airfield, as well as to ad hoc highway runways and hangars literally built into offramps. Scroll down to the middle of the page here to see my in depth coverage of it:
Nevertheless, it still brings up other questions. 70km from the frontline is well within range of heavy MLRS (Smerch) as well as a variety of other systems (Iskanders, etc.) which could flatten those planes. One thing is we know days ago, Russia announced destroying 5 planes at that very field:
Since we don't know the exact date of the Lancet video, it could have happened before or after that. Which means the Lancet may have very well just been the opening strike after having first reconned the planes there, and the subsequent missile attack followed soon after. This is the most logical explanation.
However, since this has stirred a wider discussion amongst other experts, I'll paste a few of the most cogent ones because I think the debate around why Russia can't just "annihilate" all Ukraine's airfields at once is an important one. To this day, most lay people can't understand this and believe it's easy to just launch a mass "strike" of some sort to wipe out entire airfields making them completely unusable, as well as destroying anything parked there.
But that's not quite how it works. The main reason being some of these Soviet constructed fields like the Starokonstantinovka one are so gargantuan it's difficult to imagine or quite appreciate the size for the average person. There is no type of strike that can completely wipe such a thing out, short of a nuclear one. But I'll allow the following expert to explain:
After another successful raid by Ukrainian Su-24Ms with Storm Shadow missiles, taking off from the Starokonstantinov airbase, they again began to raise the question of "why don't we destroy enemy missiles, aircraft and their bases?" .

The answer, as always, is quite simple and banal: because we can't.

This is not a matter of some behind-the-scenes agreements that many invent to explain what is happening. The fact is that the bases of enemy missiles and bombers are well protected by both shelters and air defense systems, and timely receipt of information from NATO satellite reconnaissance allows them to withdraw their aircraft several hours before the strike, which we have also written about several times.

At the same time, we simply do not use cluster warheads for the Kalibr or X-101 cruise missiles, which could immediately cover entire Ukrainian aviation sites (if it were possible to catch them in the open) or landfills of non-flying specimens that are taken away to spare parts for those still flying. And missiles capable of effectively hitting strong reinforced concrete shelters are few in number and extremely expensive.

On the other hand, as practice shows, our attempt to play passive defense ends with the enemy having the initiative and, having accumulated only a few difficult-to-kill missiles, simply breaking through the air defense in one specific place and causing serious damage that cannot be resisted.

Military Informant

Rybar:

"Why can't we take and destroy Ukrainian airfields, ports and railway junctions?"
A good answer to this question was given by the American military theorist Edward Luttwak in his recent article.

According to him, only for one raid of the British Air Force on Germany during the Second World War, aircraft could drop 2560 tons of ammunition.: This is more than the total tonnage delivered by Russian cruise missiles to targets on Ukrainian territory since the beginning of the CDF.
The nature of the fighting has changed dramatically since then. If then 700 (!) bombers could have participated in one attack, now there is not even such a large number of aircraft and flight personnel. Today, this approach, if the enemy has air defense, will lead to the fact that the already scarce boards will simply run out in a month or two.

Both "Kalibry" and X-101 are effective means of pinpoint destruction. But it is certainly not worth waiting for the fact that a salvo of 10 missiles is capable of demolishing some large Soviet factory that Ukraine has inherited, for objective reasons. And this is true for other similar products, be it Tomahawk or Storm Shadow.
This is clearly seen in the example of the US attack on the Syrian Shayrat airbase in 2017: with the launch of 59 missiles and accurate hits, no "moonscape" happened there, and planes from the airfield began to take off the very next day. (Rybar)
One point the first one brings up is that if Russia had missiles specially designed to hit runways, it could at least do a somewhat better job of potentially negating runways (though they would still be fixed). There are special missiles for this some countries have, for instance France's Matra Durandal:
The Durandal is an anti-runway penetration bomb developed by the French company Matra (now MBDA), designed to destroy airport runways and exported to several countries. A simple crater in a runway could be just filled in, so the Durandal uses two explosions to displace the concrete slabs of a runway, thus making the runway much more difficult to repair.
Russia has bombs that do this, for instance Betab-500ShP but they have to be dropped from a jet, which counts them out. The P-270 Moskit and a few other missiles are said to have secondary anti-runway functions, though I don't think they're specifically tailored to that like the Durandal, with the dual explosion, etc. But I'm not sure if Russia has attempted to use those on runways.
Ultimately, runways can still be fixed and even filled in relatively easily so it's not the hugest deterrent and I'm not sure how good the trade off is between what time you gain versus the cost of the missiles you use. It's good for something like a third world country, where you can disable their only runway, but against a military power like Ukraine it may not create much of a hindrance.
And speaking of that, here's a new photo of a Russian Su-34 in flight with Fab-500M62 UMPK glidebombs attached.
Next:
Russia has released a new military ad which seems to "hint" at the future takeover of Kiev and Odessa:
Next:
In "everything's going well in Ukraine" news, we have the following report:
🇺🇦🤡 The Ukrainian government proposes that prisoners generate electricity by pedaling bicycles.

Such a bill was registered by People's Deputy Sergei Grivko (Servant of the People).

He proposed allowing prisoners to produce electricity using bicycle generators in exchange for a shorter prison sentence.

"If within a month they comply with the standards determined by the Ministry of Justice, then the term of imprisonment will be reduced by 3 days, but not more than 10 months per year. That is, over the course of a year, a prisoner can reduce the term of imprisonment by 30 days. This will directly affect the savings on his content – up to approximately 8% (up to 200 million in UAH)," writes Grivko.
Interesting, concept. So, prisoners can reduce their sentence by being electricity-generating hamsters.
Only in Ukraine.
Lastly, I'll leave you with this very edifying sampling of Ukrainian vs. Russian populations in the street, as to the question of whether they enjoy the opposing side being bombed. As always, draw your own conclusions:
---
If you enjoyed the read, I would greatly appreciate if you subscribed to a monthly/yearly pledge to support my work, so that I may continue providing you with detailed, incisive reports like this one.
Alternatively, you can tip here: Tip Jar
---