Discover more from Simplicius's Garden of Knowledge
War strategies, geopolitical analysis, SitReps, and discussions.
Over 24,000 subscribers
Momentous things are setting into motion geopolitically all over the globe, most notably in Africa. A coup took down the president of Niger, a country of critical importance to France and the NATO bloc. The Atlanticists are extremely worried now:
France is the #1 country in the world for total percentage of nuclear use for energy generation, and #2 in total number of nuclear power plants. I've seen figures that Niger supplies upwards of 40% of France's Uranium, though some have it in the 15-25% range, as well as 25% to the EU itself.
Now, the coup leader Abdourahamane Tchiani has reportedly banned Uranium and gold exports to France, which could devastate their energy industries, though it could be just a tactic for renegotiations:
Naturally, Ukraine blames Russia:
What Podolyak is referencing is that Mali, Burkina Faso, and Nigeria immediately issued statements coming to the defense of Niger, stating that any attempts from other countries to intervene against Niger's 'transition government' would be a declaration of war:
Note: the autotranslate meant to write Niger not Nigeria above.
Many have previously asked what Russia does or will do against the U.S. or West in general as a tit-for-tat for things like the Nord Stream bombings. I had said that Russia has many 'asymmetrical' programs in motion.
Now it's being reported that Mali has dropped French as an official language in the country, leading to another big step toward decolonialization.
French is excluded from the official languages of Mali. Thus, Mali officially withdraws from Francophone Africa. Please note that in addition to Mali, French influence is reset in the Central African Republic and Burkina Faso. Niger's falling out of this structure will mean the final collapse of the former French colonial system that existed in northwestern Africa from the 50s-60s of the 20th century. For the region, these processes are tectonic in nature. It is from here that such attention is paid to Niger, although it would seem - who cares about some kind of Niger.

The decolonization of Africa continues.

Our country is an important player that helps to speed up the ongoing changes that are aimed at forming a new multipolar world order. Hence such hysterics in the West about Russia's actions in Africa. After all, these actions undermine the mode of exploitation by the West of its former colonies and dependent countries. At the same time, we do not impose our diktat on Africans, but, as in the days of the USSR, we act as liberators who help the local population get rid of the colonialists. We are on the right side of history.
At the same time, China is slowly putting the crimp on the West's supplies of critical precious metals and rare earths essential for chip industries. New reports state the following:
Chinese export controls on germanium and gallium have stepped into effect amid fears that this will mean more expensive microchips, solar panels, cars, and even weapons. More significantly, the restrictions threaten to sink the Biden administration's ambitious domestic microchip manufacturing goals, says China-US trade expert Thomas Pauken II.

China's rare earths restrictions officially stepped into force on Tuesday, with the measures, announced last month after Beijing said it needed to protect its "national security and interests," expected to cause a sharp jump in the cost of an array of advanced manufactured goods, particularly electronics.
"China produces upwards of 80 percent of the world's gallium, and 60 percent of its germanium, with experts predicting that it could take "generations" for the US to replace lost Chinese capacity."
This represents a one-two punch from both sides as Russia and China are whipsawing the West asymmetrically. I've already written at length about how the West likes to portray themselves as independent with Russia as the one reliant on their 'electronics', yet it's the West themselves who are hugely reliant on the natural resources that Russia/China produce, as well as those found in Africa.
For instance, a small sampling:
This is a relevant chart as well:
We've also explored long ago how Russia has already taken control of most of Ukraine's vast rare earth resources as well, the majority of which lie in and around the Donbass region.
The way things are developing could lead to absolutely dire circumstances for the West, particularly Europe, ending with its eventual collapse or dissolution. One other shrewd writer has outlined exactly this scenario in a new article I encourage you to read:
He has an interesting, albeit perhaps slightly optimistic angle. But nevertheless, it's important to add to these developments the ongoing grain saga. Russia is now putting the cinch on grain supplies as well. When you consider the African developments together with the ongoing grain corridor saga, it has potential to be a resource coup d'etat against the West, although the dire consequences may not be immediately felt or seen.
A wave of pro-Russian and anti-Western sentiment is sweeping across Africa just in time for the upcoming BRICS summit. Eritrean president Isaias Afwerki summarized things perfectly. Please watch:
His words are echoed by the new Foreign Policy article which states that America is eroding its power and the reach of the global financial system by its addiction to sanctions:
The article conveys the grave fear in the West that every country is beginning to hop on board the Russia-China led bandwagon which is creating a 'parallel financial system' to compete with the Western/American one:
These Chinese-led parallel financial arrangements bring significant systemic risks for the United States and its allies.

One is the rising number of non-sanctioned countries in the global south that are joining a parallel anti-sanctions world economy. Returning from his April trip to Beijing, Brazilian President Luiz Inácio Lula da Silva repeated his support for a trading currency among the BRICS countries (Brazil, Russia, India, China, and South Africa). In raising the initiative, Lula cited his concerns about a dollar-dominated global economy, where the United States leverages the dollar's dominance for its punitive foreign policy.
The movement is now unstoppable: The anti-imperialist forces are gathering, emboldened by Russia's successful blunting of the previously-much-feared Western financial terrorism tools. The Ukraine war will be a truly watershed moment that will mark the bisection of eras like BC and AD before it. The entire world has already awakened to the fact that the war is not just about Ukraine, but that Russia is fighting for everyone, for the liberation of the entire disenfranchised and colonized world from the grips of the Western-led banking cabal octopus. This war is the final rebellion against the Atlanticist West's hegemony and empery, and more specifically the financial cartel—to use G. Edward Griffin's words—which controls the West.
🌏🇷🇺 Patrushev stated that the special operation marked the beginning of a phenomenon – a global majority showing readiness for sovereignty, free from Western hegemony.

The victory of Russia over the West in Ukraine will serve as a powerful impulse towards further shifting the global balance in favor of a multipolar world order, highlighted the Secretary of Russia's Security Council.
There are still many asymmetrical tricks and delaying tactics that the West itself has up their sleeve to employ as a counteracting response to these latest forays, so we shouldn't be overly optimistic about immediate results. But like I said, the momentum is clearly gathering and is already unstoppable—the West can only throw sticks and twigs in the path of the rolling boulder, hoping to marginally slow it down.
Ukrainian 'Offensive' Enters Phase 2
Now, I wanted to move onto a new discussion of Ukraine's ongoing catastrophic losses, in light of some recent new revelations to that account. This will then segue into a few battlefield updates.
Firstly, let's acknowledge the fact that days ago, after spending a couple weeks doing preparatory work, which included various attempts to strike Russia's rear and degrade logistics, Ukraine began the official Phase 2 of their offensive. It was even announced by MSM.
Ukraine has launched the main thrust of its counteroffensive, throwing in thousands of troops held in reserve, many of them Western-trained and equipped, two Pentagon officials said on Wednesday, hours after Russian officials reported major Ukrainian attacks in the southern Zaporizhzhia region.
Ukraine has now thrown its 10th Corps into battle, after having previously depleted the 9th Corps in the first phase of the offensive. The first days of the battle are described by some as the single largest armor losses for the AFU since the start of the conflict. They came brazenly into prepared positions, hoping to prove some modicum of success to their Western handlers, but were brutally rebuffed as before.
⚡️⚡️⚡️There were rumors in the Ukrainian lobby that the loss of the Armed Forces of Ukraine after the first 50 days of the summer offensive campaign was over 11,000 soldiers and officers. More than 25,000 people were injured.

Such data is provided by the Ukrainian telegraph channel "Woman with a Scythe".

In his view, this is still the most positive figure. Many call numbers much worse⚡️⚡️⚡️

👉 An example of this is that, the enemy has lost 81 out of the 185 BMP Bradleys' which were supplied to them; or 66 out of 145 of the Leopards that were supplied to them. The list could go on and on.
They took a little new territory in Rabotino but as of this writing it was already taken back. Staromayorsk near Velyka Novoselka is the only place Russian forces had to retreat. The artillery war simply destroyed the entire small village, leaving no place to hide, so they were forced to withdraw. However, the good news is, the soldiers themselves say they had little to no losses in doing so. Just listen to the report from this Kaskad Ballation fighter, which includes the revelation that Ukraine was using a chlorine-like chemical weapon in the area as well:
Staromaiorske was the only right decision to leave. After weeks of shelling, there isn't a single complete house left there. This village can no longer be defended. Because it almost doesn't exist anymore. Our forces carry out smaller counterattacks, but these do not serve to recapture the village, but to keep the enemy busy and not let him rotate. Yes we have casualties, but enemy casualties in the last few days are really brutal. I've already lost count of armored vehicle losses. Not to mention the loss of staff. Luckily there are some UA soldiers surrendering instead of dying these days.

The enemy is trying everything and at all costs to reach the first (!) real line of defense before August. He's running out of time, slowly but surely. August is coming, and so is the end of summer. Soon there will be a lot of rain again and make offensive actions very difficult. That's why the Ukies don't care about the losses at the moment. They (must) achieve significant successes before the end of the summer in order to be promised further western support.
Ukrainian reports that they 'captured' Staromayorsk are lies, though. The village is now in a grayzone with both sides incurring with small groups just for positional clashes without establishing control. When Ukrainian forces try to enter, they get hammered with artillery.
On that note, there's an important aspect I'd like to cover. There has been a lot of talk from pundits about Russia not having enough "counter-battery" capabilities, whether it's in lack of barrels or lack of CB radars on the front, or the claim that Western artillery is simply superior in range and accuracy to the Russian variety. There are a few reports here and there to give it some credence, but it's then amplified to absurdity by 6th columnists and schizopatriots to make it seem like Russia is completely overmatched in this regard.
Here's one account on this topic straight from the front which gives quite the contrary view, sent by a soldier to the respected Russia 'Two Majors' military channel:
Our comrade, a front-line soldier, writes to us:

🖋" Briefly about the situation in the Orekhovsky direction in front of Rabotino.

It's no secret to anyone how heavy fighting is currently going on in this area.

The enemy is trying with all his might to make a breach in this direction in order to get to the Melitopol-Chongar-Dzhankoy highway, but so far without success.

In a couple of days, the enemy lost more than 30 pieces of equipment, not to mention losses in personnel.

▪️I will tell you through the eyes of the artillery of this direction, which is held by one of the best and combat divisions of the army, the howitzer division of the 71st regiment.

From the first days of the counter-offensive of the Armed Forces of Ukraine in the Rabotino-Verbovoye sector, this division stood rooted to the spot, not allowing the enemy to pass even a single step, while pointwise breaking any enemy equipment and infantry.

For two months there were a huge number of counter-battery battles with similar enemy guns, in which he did not win a single victory.

The enemy opposed our Msta-b 2a65 with the American M-777 howitzer.

Due to the impossibility of winning the artillery duel, the enemy rolled back their guns to a distance of more than 40 km, using the new Excalibur NATO shells. What makes these guns inaccessible to our Msta-b, with a maximum range of 28 km.

But even here, of course, there was a super solution in the form of our heroic Lancets.

Having destroyed all the enemy's howitzers in this area, we began to work out the enemy's equipment.

Speaking today about the situation in this area, the enemy began to use cluster munitions en masse, which did not help him much. Our guns can easily withstand these cassettes without causing much damage.

But the enemy today went even further and began to use American Himars against howitzers, which is actually a problem for any kind of equipment and shelters.

Watching these actions of the enemy, I want to say that these are extreme desperate steps to break through our defenses.

Our guys are in fighting spirit and keep full throttle, and anyone who tries to break through will find refuge among the hundreds of dead and lying in the fields in front of Rabotino of their brothers."

The letter was handed over: Two majors
So, to summarize. In pure counter-battery battles between Russian frontline 2A65s, 2A36s, etc., against American M777s, they did not lose a single such battle. However, it validated some of the concerns to a degree by describing how the AFU withdrew and began to use guided Excalibur rounds, which have an inbuilt 'base bleed' option that expels some propellant out the rear, allowing them to fly much farther, about 40km+.
But the problem is, these shells are $75,000+ or so, and there's not a lot of them. Secondly, they require precise GPS coordinates and therefore very good ISR of the target, which isn't always possible. Russia has its own base bleed shells and rocket assisted RAP with over 40km range for the 2A36 howitzers. Russian 2S7M Malkas have a range of nearly 40km unassisted, and nearly 50km with assisted projectiles. And by the way, the Malka is a massive 203mm projectile, exponentially stronger than NATO artillery.
So, no—Ukraine doesn't have any real artillery advantage. The only advantage is in the ISR capabilities of finding targets, as they have all of NATO's and the West's considerable satellite powers at their disposal.
That's not to say there aren't problems, yes there's a shortage of counter-battery systems, but Ukraine certainly doesn't have an advantage there, as they have their own even worse shortages of every variety.
Now, a little on Ukrainian losses. There have been a few interesting 'oblique' reports coming from different sectors of society, which have given us some new insight, like the following:
⚡️⚡️⚡️The terrible truth about Ukraine's losses

I thought, knowing the Ukrainian language, you can get obituaries through social networks. I put the search on tag words like "dead for Ukraine", "buried" ... I brought it to the programs so that there was a calculation on the Internet. And it quickly became clear that a lot of soldiers are dying in Ukraine. On average, about 400 obituaries per day, - said military expert Ruslan Tatarinov.

- November last year was the peak. There, about 1100 obituaries for soldiers of the Armed Forces of Ukraine were posted in one day. There were 900 a day... In total I counted 284,000 dead. This was posted a week ago.

- Obituaries are published separately. As a rule, in local media and social networks. They are always visible. And it was enough to merge these sources. Everything is clearly visible.

But how many others are lying in the fields, how many are missing, how many are not identified⚡️⚡️⚡️
Here are two new Ukrainian reports from their own internal channels. The first describes a new AFU assault unit that was destroyed in Klescheyevka, south of Bakhmut/Artyomovsk.
And here is another, from the 35th Brigade of the AFU, desperately pleading for help after they were slaughtered in Staromayorsk:
Wallstreet Journal reports that there are upwards of 50,000 servicemen with limbs blown off:
In fact, this number is likely much higher as a leak already from last year had it at nearly 60,000, but this is a good confirmation.
A last very interesting oblique account of corporeal losses is the following fascinating report:
🇺🇦🪦DEAD SIM CARDS

Interesting information was published about the number of "dead" SIM cards in Ukraine, which can indicate the level of losses:

🔸At the beginning of the summer, Ukrainian providers estimate their "irreparable losses" at 1.1 million SIM cards.

🔸Until March 2022, there were 1.2 SIM cards per person in Ukraine, you can calculate the rest yourself. These are not those SIM cards that are in roaming, these are phones that are forever silenced.

🔸A representative of one of the operators in Ukraine said, "Since the beginning of July, every week we lose 5.5 thousand SIM cards in the east of the country, other operators have the same numbers.
Now, to the more interesting losses data. I have begun piecing together Ukraine's likely heavy tank losses, just to see how much longer they can possibly last with the current level of attrition.
This new Sputnik article covers it in detail. But one critical mistake they make is that they misattributed a quote by Ukrainian ground forces commander Volodymyr Karpenko, who says Ukraine lost up to 50% of equipment, to the present day. However, his quote is actually from a June 2022 National Defense interview, which makes it all the more interesting.
Here is even a tweet from a pro-Ukrainian account showing the timestamp just to make certain this is in fact an old quote rather than an article from last year which has been stealth updated with a new quote, or something like that.
The significance of this can't be understated. Recall the popular notion often espoused by the likes of Douglas MacGregor and much ballyhooed by Ukrainian supporters, that Ukraine is already on its third army, and Russia has destroyed its entire previous army or armies.
Here we have the Ukrainian ministry of defense admitting in June 2022 that they lost not only 50% of all initial equipment in only 4 months of fighting at that point, but staggeringly, they had lost 400 tanks. Also, as an aside, at that point, Oryx had only listed 116 tank losses for the AFU. This clearly shows the laughable bias in Oryx's accounting as the official AFU count of their own losses was 4x higher than his.
This is important because Ukraine is said by some sources to have started out with 1,200-1,500 total operable tanks, with another batch mothballed. But some experts believe the operable starting number was much closer to 800. That means we can extrapolate that if Ukraine had already lost 400 tanks by June, in only 4 months of fighting, by the end of 2022 they should have lost somewhere around another 600, which would put them at ~1000 for the year. So if the 800-1200 figure for their starting number of tanks is accurate, they would have completely depleted those by early this year, which in fact confirms the folklorish claim that they had lost their entire starting army.
But let's crunch the numbers deeper to see what they may have left now, and how much longer they can hold out.
The Sputnik article from above quotes a 'London-based thinktank' with the figure that Ukraine started with 720 T-64s and 750 T-72s, with about ~1000+ extra of both mothballed and in storage, of uncertain quality. These can possibly be written off for the reason that Russia likely disabled most repair/refurb facilities and also may have entirely destroyed these storage sites. Sure, Ukraine hides their active stuff well, but you can't really hide mothballed tanks which can't really be moved around. Russia would have known the storage sites and destroyed them.
Thus, the low starting figure as I said can be ~800 according to some, with a high of just under 1500.
Next, we know from the ground commander's own words, they lost 400 of these tanks by June 2022. That's a rate of 100 per month. If we extrapolate that straight, we can say 1000 total by end of 2022, or to be generous to them, we can estimate lower due to the fact that the end of 2022 had lower intensity due to Russia going on the defensive and becoming inactive while they called up their mobilization.
Furthermore, Ukraine captured a certain amount of Russian tanks, which hypothetically could be around ~200.
Next, how much did the West give them? Here's a Lost Armour chart showing some figures. The loss figures on top are—I believe—a little out of date, but only by a couple weeks or so. For instance, it shows 6 total Leopards destroyed, which is 25% of the total. However, this seems to be the number from the first phase of the 'counter-offensive', as some reports indicate in the new phase which started days ago, they now lost an additional batch of Leopards and a giant new batch of Bradleys. Total Leopard losses may now be something like 15-20 from what I recall.
For now though, look at the deliveries below instead:
There is a total of 727 delivered, according to them. The Sputnik article from above has it as follows:
An undisclosed number of T-72M1s from Bulgaria;
More than 170 T-72s of various modifications from the Czech Republic;
31 T-72As from North Macedonia;
over 250 modernized T-72s and 60 PT-91 Twardy tanks from Poland (the Twardy is a modified version of the T-72M1);
28 M-55S tanks from Slovenia (the M-55S is a modification of the Soviet-made T-55 tank)
Which is 539 plus an 'undisclosed amount' from Bulgaria which could put it at 600-700 total, which would be in line with the Lost Armour amount.
Now, let's take it back to the beginning and work through it. They started with a hypothetical 1200-1400 total or even less (I'm being generous by using the higher figure, to play devil's advocate). They lost 400 of those in the first 4 months of fighting, which can be extrapolated to minimum another 600 by the end of the year at the pace of 100 per month. That would be about 1000 by end of 2022, so we'll subtract that from 1200-1400 and are left with 200-400 total.
Then they were injected with the above assorted ~700 from Western allies, so they were back up to 900-1100. You might think that by now, there's just so much guess work there could be no way to close in on the real figure. However, the next data point which confirms the numbers comes only a month or two later.
In early 2023, we had the Pentagon leaks, and one of the pages actually showed the exact number of remaining Ukrainian MBTs (main battle tanks), which according to them was 802. Given that the leaks were, I believe, from February and March, this could have given another 2-3 months of attrition at the same rate of, let's say, 100 per month. Which means it would have conceivably went from the 900-1100 figure at end of 2022 to the 802 number in the leaks.
Now, we move toward the present. Since then, Ukraine has taken a delivery of a new batch of the latest tanks, this is the Leopards, Challengers, etc. The total for these was only somewhere in the 150-200, as I understand it, as there were only 30+ Leopard 2s, 14 Challengers, some M55s, etc. There are a lot more earmarked, like the Abrams and upcoming Leopard 1A5s, but they haven't begun arriving yet.
Using the number above we get around ~1000 total by early this year. However, if we continue applying the roughly 100 lost per month throughout the rest of this year to present, we get at least 5 months worth of losses, or a hypothetical ~500 tanks. Minus that from the above ~1000, and basically they could have had around 500 tanks as of last month or so.
But the issue is, since the start of the 'counter-offensive', they took massively and disproportionately more tank losses. Shoigu gave a report yesterday:
According to the MOD, Ukraine lost 31 tanks just in the last few days. Putin had reported ~160 tank losses around June 16th, two weeks after the start of the offensive, and ~250 tanks in late June. Oryx's own AFU losses since the start of the offensive is at ~40, but since I had just proved earlier that he undercounts Ukrainian losses by at minimum a factor of 4, we can assume that Russian MOD's numbers approach accuracy. The Russian MOD's total loss count for the entire offensive from June 4th to date is 415 tanks.
Ukrainian formations suffered heavy losses during the counteroffensive: 415 tanks were disabled by the Russian Armed Forces, 2/3 of the equipment lost in the battles was western.
Perhaps the number could be exaggerated, but it's plausible because we know even in moderate intensity combat, Ukraine was averaging at least 100 tanks lost per month. The offensive is now about 2 months old and was of a highly elevated intensity. That means it's not out of the realm of possibility that their losses were double the rate at 150-200 per month, which would put us at 400 after 2 months.
Finally, given that we had come to the ~500 number earlier, subtracting the new ~400 losses would mean that the AFU would be at an absolutely dire state of only 100 remaining tanks. Even if we give them the benefit of the doubt and say perhaps it's a bit higher at 200-300 left, this is much less than it sounds given that it represents as little as two weeks' worth of losses in current high intensity combat levels.
If my numbers are even remotely close then that is disastrous. It would mean the AFU is on the verge of collapse. The reason is, I obviously focused on tank losses alone, but they generally correspond to a similar loss ratio to other systems like APCs, artillery, etc.
If the numbers are close, it is likely why the West is now desperately trying to ram through the German Leopard 1s as fast as possible. They were delayed before, but now the first batch is said to be arriving this month of August, with videos showing a few of them already on the road via HETs from Denmark to Poland:
The problem is, the first batch is said to be something very small, like a dozen or less, basically a token number that won't even make an appreciable dent in stemming the disastrous losses. Not to mention, given that the West has run out of decent armor, these are the oldest Leopard 1s with laughable 105mm barrels which were hardly considered powerful even by 1950s standards.
Now, the U.S. too is desperately trying to expedite some Abrams, but the earlier order has been drastically downgraded to M1A1s rather than M1A2s, not to mention that a likewise tiny token batch is supposed to be sent.
Keep in mind, I could be wrong in my estimates. For instance, the earlier Sputnik article estimated that Ukraine has 1,500 total tanks remaining, which would be wildly off from my number. Granted, I had ignored the considerable reserve stockpiles, and maybe these could have been activated. But for what it's worth, the Pentagon leaks from earlier this year listed the total reserves as ~400+ tanks, on top of the 802 active ones at the time. Even if they're capable of utilizing those reserves, they don't represent a game changing amount but rather another month's worth of high intensity fighting.
But the truth is, signs of collapse are now everywhere. Take this letter from an American militar instructor:
From a letter from an American military instructor after his trip to Ukraine: "...Even the best Ukrainian brigades that a year ago fought successfully and were determined to defeat Russians, today, differ little from ordinary infantry brigades, which almost do not have heavy weapons and are equipped with all sorts of rabble, which Ukrainian military registration and enlistment offices literally grab on the street, like during the centenary war in Europe. carried Ukrainians for these months. personal composition, and some have already changed their combat strength twice. and combat command and control, which themselves do not enter into battles and only control combat actions from well-protected command posts. bicycle because the command of the brigades has lost its sense of responsibility for its soldiers and considers them solely as expendable material for the execution of toy or other task. And it only reinforces the loss. The general mood in the Ukrainian headquarters is despondency and anger. And the faces of those people who planned to storm Seva stopol, have the seal of hopelessness. In frank conversations, many Ukrainian senior officers now more and more often admit that they do not see any prospects for a successful completion wars. The only hope that, oddly enough, but many of them, is hope for a direct intervention in this war. But, again, many people here add that this hope is like faith in Santa Claus."
Yesterday, we saw unbelievable footage of Colombian mercenaries mutinying against the AFU after being attacked and pepper sprayed by Ukrainian officers:
Are things truly starting to unravel?
The Armed Forces of Ukraine have at least a month and a half left for active hostilities (then - autumn and thaw), and if during this time Zelensky and his team do not achieve at least some results, they may be cut off from funding and military supplies.
Vostok Battalion commander Khodakovsky also has an insightful take on recent developments along this tack:
Khodakovsky: The opponent behaves as if his time is running out. During the war, we somehow forgot that there is also internal politics in Ukraine, and there is a high probability that Zelensky has already pretty much tired out his Western partners. I have no reason to say that it will be demolished tomorrow. But in general, the picture looks like Zelensky is no longer perceived as an uncontested favorite. Strange alliances have also emerged in Ukraine that were previously impossible to imagine: for example, Kolomoisky has begun to cooperate with some of his traditional opponents in certain sensitive areas....

Any internal changes are possible only when the intensity of passions at the front is reduced to the maximum limit. Zelensky is extremely unprofitable in this situation, and he would not mind playing at canceling the elections, but judging by the fact that his office has now begun active preparations for the political struggle, there will be elections. This suggests the conclusion: the situation is gradually being brought to a truce. Therefore, it is extremely important for Zelensky to enter the election campaign on a military positive, otherwise the military "case" will turn against him. By the way, according to rumors, Zaluzhny refused to join Zelensky's" party of power".
In light of what he says about the West possibly tiring of Zelensky, it's interesting that such headlines appeared today:
My immediate thought was that the U.S. is conditioning the public for the possibility that they may have to "take out" Zelensky due to his recalcitrant refusal to enter negotiations later this year, once time has run out and the U.S. has no answers left for Russia's increasing annihilation of the AFU. I predicted such a possibility months ago in one of my earliest articles where I said that once things had begun to turn 'terminal' later this year, Zelensky and his controllers would find themselves at increasing loggerheads to the point that Zelensky likewise would begin threatening his 'partners' with some of the dirt he has on them.
The West may find that Zaluzhny is ultimately more amenable to peace talks given that he has previously clashed with Zelensky over AFU losses and repeatedly wanted to put off the offensive until the AFU was properly supplied, as well as withdraw from Bakhmut early this year in order to preserve the lives of his soldiers. But each time, Zelensky chose to sacrifice his men like cannonfodder. In the end, perhaps the West will find a willing dance partner in Zaluzhny for their planned armistice, and Zelensky, being in the way, will have to be summarily 'removed'.
Interestingly, along this tack came news today that Ukraine is beginning negotiations with the U.S. on those long sought-after 'security guarantees':
🇺🇦🇺🇲❗️ Ukraine will start negotiations with the United States on security guarantees next week, head of the Office of the President of Ukraine Andriy Yermak said.

"These guarantees are valid until Ukraine acquires NATO membership, which is the most reliable guarantee of security," Yermak said, adding that it was a bilateral document.

The guarantees are "specific and long-term commitments that will ensure Ukraine's ability to defeat and deter Russian aggression in the future," Yermak said.
Russian reserve colonel and analyst Anatoly Matvychuk believes this is the start of the process towards peace negotiations and settlement. From the above article:
"Zelensky is ready to conclude a peace treaty, he needs to specify the "price" of this agreement and the red lines beyond which he has the right to go in the context of territorial concessions, " the expert shared.

Matviychuk believes that the "probing" of the possibility of concluding a peace treaty is beginning. He stressed that at the moment we are only talking about the preliminary conditions of a possible peace agreement. In this regard, the expert believes that the Russian side will not be invited.
And from another source, Matvychuk reportedly stated that Russia and the West are in 'secret preliminary talks' about same:
Moscow expert: The West and Russia are already having preliminary discussions about negotiations COLONEL ANATOLY MATVYCHUK: IF MOSCOW AND WASHINGTON AGREE - KIEV WILL NEGOTIATE.

The WEST is discussing with Russia the possibility of dialogue on ending the conflict in Ukraine, but wants Moscow to make financial concessions, said military expert and former intelligence officer and special forces retired colonel Anatoly Matviychuk.

He stated: "Behind the scenes, negotiations are already underway between Russia and the West." If Moscow and the West reach the necessary agreements, then Ukraine will also be allowed to hold a dialogue with Russia. Matvijchuk is convinced that the difficult concessions of the conflicting parties should be made. He emphasizes that the West is trying to "register Moscow's defeat" and arrange material benefits for Ukraine.
Take it with a pinch of salt as I do not believe Russia will enter any peace talks, though it's always a remote possibility, but I'm simply reporting what's out there, not only what is my opinion.
I'll post it again but if you'll recall last week Ukrainian propagandist Dmitry Gordon had stated that his sources tell him the West has given Ukraine until the end of the year to keep any gains they make, then it's peace talks.
I'll end this section with the following powerful take from another analyst, which summarizes the sentiment succinctly:
Lawyer in the South: The government in Kiev now consists of two types of people: PR people and terrorists. To achieve real success at the front and does not work. Soon 2 months, and the result is unsatisfactory. It was necessary to use the reserves that were planned to be used for the development of the offensive after the breakthrough of the defense.

Therefore, it is necessary to keep your population in good shape, not allowing them to turn sour, feeding them every victory day, even if they are not there. On the other hand, it is necessary to reduce the will to resist on the defensive side, accumulating more and more the effect of "war fatigue", hoping that society will either start a riot, or, at worst, demand peace, which will also benefit Ukraine and its authorities. True, the Russian authorities regularly spoke about their readiness for negotiations, but when we were ready to go to them, the Ukrainian curators refused to do so.

However, if the Ukrainian Armed Forces continue to kill themselves against the defense of the Russian Armed Forces, then by mid-September there may not be enough forces left even for effective defense. Therefore, the Armed Forces of Ukraine will need time for new recruitment, training, and replenishment of equipment and ammunition losses. They will need a Minsk-3 agreement, figuratively speaking. Respite for a new round.
Sundry Important Updates
Now, let's move onto a few other disparate updates.
One piece of interesting news is that Russia has in fact gone ahead with protecting the Kerch bridge with floating anti-sabotage booms:
🇷🇺❌🇺🇦 The Crimean bridge was additionally fenced with special anti-sabotage booms - in case of new attempts by Kiev to commit a terrorist attack. According to our information, in the future, the structures will protect the bridge from attacks throughout its entire length.

Such barriers are designed to protect against surface and underwater drones, which Ukraine has been increasingly using recently. These are both equipment supplied by NATO, and jet skis converted into kamikaze drones.

Recall that recently Zelensky called the Crimean bridge a "target" and said that it should be neutralized. And on July 26, the head of the SBU, Vasyl Malyuk, publicly admitted that it was Kiev who committed the terrorist attack on the Crimean bridge on October 8, 2022, although this fact had previously been denied.
If you'll recall, I had proposed this as the only possible method to stop the attacks but was doubtful about it being done for the entirety of the 18km length of Europe's longest bridge; but the report above claims they will cover the whole length. Should that happen in a timely fashion, Ukraine will be left with little recourse to attack the bridge.
Continuing on the naval front, Ukraine attempted another drone attack on Russian ships. Most interesting though is the new dimension of advancements these escalating naval attacks have revealed. For instance, naval experts have noticed Russian ships now deploying special anti-saboteur sonars:
Both Zelenyy Dol (Buyan-M) and Burya (Karakurt) have their MG-757 Anapa-M anti-saboteur dipping sonar deployed in the port side.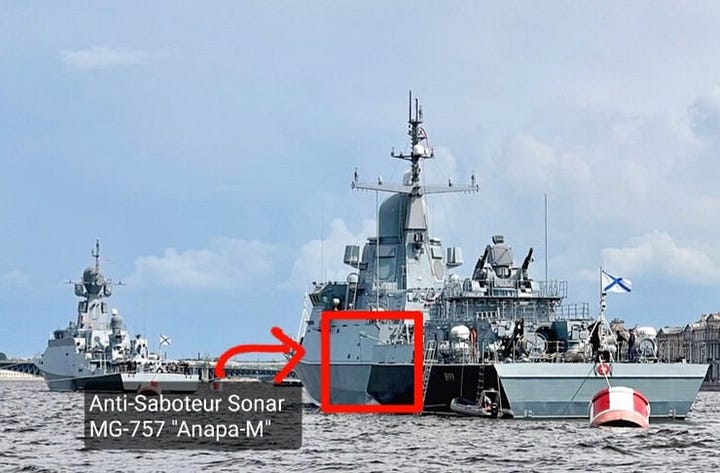 The Anapa-M is used to detect saboteurs / combat divers while the ship is anchored or docked in hostile areas. Once detected, crews would engage such combat divers using either the double-barrel DP-64 or the ten-barrel DP-65 grenade launchers.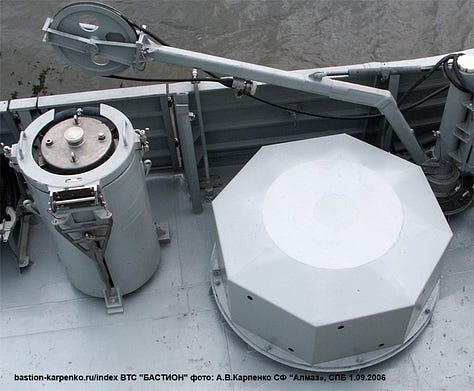 The first set of photos shows the small crane over the side of the ship which lowers the sonar into the water.
And from NATO's side, a Ukrainian channel reports that AI is now being used to detect Russia's newly camouflaged warships:
Disguised Russian ships in Sevastopol discovered with the help of AI Satim has created an artificial intelligence capable of finding camouflaged ships and submarines using radar satellite images. The developers claim that the accuracy of their system reaches 90%. AI managed not only to detect camouflaged ships, but also to distinguish them by class. To do this, the algorithm used images from the Umbra Space radar satellite. Satim artificial intelligence can work at night and sees through the clouds. Night smoking in the wrong places is just around the corner?
It's a cat and mouse game with both sides vying to outdo each other with innovations, just like during the Cold War.
Russia continues to be one step ahead, though:
💥💥💥According to French resources, over the past few weeks Russia has been deploying its Harmony underwater acoustic listening network in the Barents Sea, in conjunction with the Main Directorate of Deep Sea Research (GUGI), carrying out the underwater work required to install the extensive listening network.

The aim is to interfere with the reconnaissance, surveillance and reconnaissance operations of the US Navy's Seawolf SSN23 Jimmy Carter submarine, which regularly penetrates the waters of this bastion of Russia's Northern Fleet. The network will also protect the Northern Fleet's strategic infrastructure, including top-secret testing and trials of weapons such as the Status-6/Poseidon intercontinental torpedo project.

The new network is to be linked to the acoustic monitoring and listening centre, the Northern Fleet's Underwater Situation Centre, which is currently being set up in the settlement of Belushya Guba on Novaya Zemlya.

This location is becoming the epicentre of Russian electronic intelligence interception equipment for the Arctic zone. According to the French, the data collected by the Harmony network will be compared with information from the Liana constellation of maritime surveillance satellites. The monitoring network is the core of Russia's plan to secure its maritime borders, similar to the U.S. Acoustic Surveillance System (SOSUS) and the network deployed by China in the South China Sea.

Many experts considered the ambitious project unfeasible, especially given budgetary constraints and shifting production priorities related to the ASW. Russia is enlisting its key players in the military-industrial complex for the project, including many engineers and technicians from the Malakhit Central Design Bureau.

Underwater acoustic intelligence-gathering stations are being manufactured at plants in Okolnaya Bay near Severomorsk on the Kola Peninsula. Surface buoys responsible for relaying information collected from depth are manufactured by Kometa Corporation, a satellite transponder specialist, part of the Almaz-Antey Concern.💥💥💥
In other news, Gerasimov has visited the Zaporozhye front to get a first hand update from Colonel-General Alexander Romanchuk, who is the commander of the entire Russian Zaporozhye frontline grouping:
Next:
An interesting report on Ukraine's missile defense status:
Our sources in the OP said that Ukraine has lost most of the Soviet air defense, and the number of missiles for the rest is at a minimum. The number of Western air defenses in the Armed Forces of Ukraine has grown, but does not allow covering the entire country, and the price of one launch is ten times more expensive than Soviet systems.

This is the main item of expenditure of the Western allies, and they are increasingly demanding to save missiles. Therefore, arrivals at infrastructure facilities have become commonplace. Russian troops, for their part, have learned to suppress air defense: its effectiveness has sharply decreased.
Tonight this has proven true for as of this writing, the Izmail port on the Danube was again massively hit by Russian drone strikes, with reports of major fires burning at facilities. The first video below is filmed from the Romanian side:
Kiev was hit as well. Podolyak even admitted days ago that this winter is expected to be the worse ever because of the huge damage Russia has done to their power grid:
On the topic of grain, here was an interesting update:
♨️♨️♨️

🇺🇦 Ukraine can't find export routes for grain — Das Erste

🔹The Romanian port of Constanta is an important transshipment point for Ukrainian grain - from here it is sent to the Middle East and Africa.

🔹After the collapse of the grain deal, Ukraine hopes that Constanta will take over part of the cargo turnover of its own ports.

However, the capacity of Constanta is limited - the port is already full of ships and barges with Ukrainian grain.

♨️♨️♨️
Russia in the meantime continues to shoot down Storm Shadows—a new video of a Pantsir S1 doing the job has appeared:
And the remnants of a shot down SS missile were filmed somewhere not far from Crimea: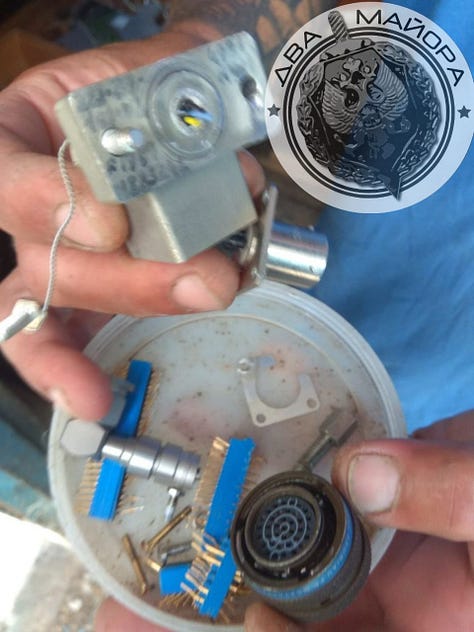 Russia has also captured a fully intact Swedish CV-90 IFV. This is widely claimed to be the current best and most advanced IFV in the world—now it's headed to Moscow:
And some believe the CV-90 is the same one that was hit by this heroic camouflaged Russian soldier in the video here.
And speaking of captured NATO armor, here's what Russian specialists have found in studying the already-captured specimens:
The study of captured NATO armored vehicles by specialists of the Russian defense industry showed that they are distinguished by "mediocre mobility" and excessive design complexity, which is not always rational, a source told RIA Novosti. According to him, because of this, Western equipment has low maintainability, and its maintenance requires a lot of resources.

At the same time, the level of armor of NATO equipment is "acceptable", although it has many weak points due to the distribution of protection that does not meet the requirements of modern combat, the source added.
Recall my earlier article on this topic, where I explored the chief design philosophy differences between Russian and Western equipment, and why the West will never understand Russia's way of war:
Next, a few of the choice samples of combat footage from Phase 2. Three Ukrainian M2 Bradleys are attacked, with two being destroyed:
Destroyed Bradleys now litter every square inch of the front, as well as other sundry armor:
An AFU column gets destroyed by Russia's 42nd Motorized Rifle Division near Orekhov:
This last one is from the first phase earlier on, but new footage appeared showing the now famous Russian tank crew which alone engaged a large convoy of 2 Ukrainian tanks and 8 MRAPS, helping to destroy some of them as friendly artillery mopped them up:
The above is likely the new angle of this previously seen much closer footage: Video Link.
The crew was interviewed about their heroism:
Now they're up for the Order of Courage award:
Not to mention, two of them are mobilized (so much for stereotypes that mobiks are inferior), the commander (left) and gunner (right), while the driver (center) is contract.
For those who can't get enough, here's a couple other ones as well, showing the brutal destructions of entire AFU armored columns: Video 1, Video 2.
Now, onto the Ukrainian theater of the absurd. A top propagandist makes a fantastical and stomach-turning claim, and straight-faced at that—Prigozhin is not only Putin's chef, he actually cooked human brains for him:
And another top propagandist, Dmitry Gordon, explains how aliens will save Ukraine by bombing Russian cities from the sky:
Onto a man in some ways no less ridiculous, but who was in fact a prophet with a proven track record. Here, in one of his final prophecies, Zhirinovsky gives his assessment of the world by 2030, and how Russia will become the global leader:
Here, he portends that Ukraine will not only not have any elections in 2024, but that the country will cease to exist:
And from this unearthed interview from the early 90s, he predicts that in the future Ukraine will be left with only 6 provinces, that of Transcarpathia, Lvov, Ternopil, Ivano-Frankovsk, Volyn, and Rivno, also foreseeing the entry of Polish troops:
For those who haven't seen, Gonzalo Lira reemerged to post three videos from the Hungarian border, where he was on the brink of making a mad dash toward freedom in order to claim political asylum to escape a prison sentence. Here's part 1, but you can click his account to see 2 and 3:
And finally, keeping with the earlier theme of the grand spectacle, I'll leave you with the following:
North Korean singers performed a piece from popular patriotic Russian singer Shaman for Shoigu, ending the performance with a medley of popular Russian military songs like the classic 'Den Pobedy' (Day of Victory):
And, Russia celebrated its annual Fleet/Navy Day on sunday, here's an inspiring compilation:
---
If you enjoyed the read, I would greatly appreciate if you subscribed to a monthly/yearly pledge to support my work, so that I may continue providing you with detailed, incisive reports like this one.
Alternatively, you can tip here: Tip Jar
---