Discover more from Simplicius's Garden of Knowledge
War strategies, geopolitical analysis, SitReps, and discussions.
Over 24,000 subscribers
Well, there's been a bit of a lull like a post-manic-high comedown after the events of Prigozhin's Revolt. Partly, it's owed to what Western press is claiming to be bad weather on the frontlines this week, which has hampered further Ukrainian attempts to make renewed advances. They've made them in spurts which have been mostly rebuffed with large losses, as usual.
In hindsight, so far most of my predictions about the 'offensive' were quite accurate. A couple months ago, once I felt comfortable with my feeling for the AFU's true troop dispositions and conditions, I said that most likely there will be no true offensive at all, nor will they achieve any kind of breakthrough whatsoever. This was while other Russian-sphere personalities understandably conditioned their audience for at least major breakthroughs up to the second or third echelons. I ended up concluding that there will be no real offensive because they will call it off after being destroyed and claim that it was all just 'probing' all along.
Now, as expected, they're shifting the narrative to one of needing an airforce. Not only did I post Arestovich's interview recently, where he ridiculed NATO's hypocrisy for expecting Ukraine to make huge advancements without air cover, counter to NATO's own doctrines, but now a new interview with the resurfaced Zaluzhny echoes the same sentiments:
The Commander-in-Chief of the Armed Forces of Ukraine, Zaluzhny, complained in an interview with The Washington Post, saying that Western partners are driving them forward for meat assaults, without giving aviation and supplies:

"...Western allies expect quick successes, although they themselves would never start without air superiority - while Ukraine has not received modern fighters."
But since obtaining fighter jets is not realistic in the near term future, the dialogue continues shifting to one of negotiations. German broadcaster ARD stated that a secret international meeting on Ukraine was held in Copenhagen days ago, on June 24th, where diplomats of various Western countries met with BRICs representatives in an effort to figure out a way to convince Russia on how to settle the conflict peacefully. ARD concludes that official negotiations on resolving the conflict could occur as early as July:
Official negotiations on resolving the conflict in Ukraine could take place as early as July, ARD TV channel reported.

According to him, an international meeting on Ukraine was held in Copenhagen on June 24 "in the strictest secrecy" with the participation of diplomats from Western countries, as well as representatives of Brazil, India, China and South Africa.

The TV channel noted that the West's goal was to enlist the support of these BRICS countries, which still remain neutral in the situation around Ukraine. The talks were held at the initiative of Kiev⚡️⚡️⚡️

Official negotiations to resolve the Ukrainian conflict will begin next month, according to the German TV channel ARD.

Particular attention in this context is paid to the participation of the BRICS countries, which have so far remained neutral in relation to the situation in Ukraine. It is reported that one of the main goals of the West at this meeting was to obtain support from these countries.

According to the ARD TV channel, the negotiations were initiated by Kiev. This gives some hope for progress in resolving the Ukrainian issue, because official negotiations between the parties may take place as early as July.

At the moment, the details of the upcoming negotiations and the specific timing of their holding remain unknown. However, apparently, both sides are demonstrating a readiness for a productive dialogue and a desire to find ways to resolve the contradictions that exist between them.
It's impossible to know how true this is, however it does align with my previous predictions so I give it a fairly high confidence. Right now, the stage we're at is the dawning of the harsh realities on Western publics and their administrators. They have already begun to see the futility of Ukraine's attempt to win back territory and likewise, they see the growing threat of a major nuclear catastrophe.
Not that I agree with it, but just to give a sample from the other side, here's what Ukrainian dissident Leonid Vershinin says about the above. He claims that Moscow is holding secret negotiations and is willing to give the ZNPP away as another 'goodwill gesture'. However, he says such an agreement was not reached, and thus Ukraine is ready to attack the ZNPP:
"In early May, I do not remember the exact day, I actually wrote that I would write rarely until June 22, and so it happened. I wrote seldom, and I simply threw the most interesting things I agreed with into my cart, seeing no point in repeating the obvious over and over again. Now I'll explain.

The thing is that about a month and a half ago people I trust told me that there are very close negotiations at the very top between Moscow and its partners and Moscow is ready for the broadest concessions, while the partners demand as a good will gesture to cede the ZPP to Kiev promising that in this case Kiev will look upon the return of Energodar as a "victory" and will change from anger to mercy and will agree to talk. According to their data, the deadline was defined as June 22nd. And in case if the Muscovites refuse from this goodwill gesture, the West will "volunteer" the second wave of the "counterattack" - all the forces of "Ukraine", aiming at the Crimean strait and Energodar, and in parallel organizing blows to the Kherson Region and the border regions of Russia. By now, I believe, it is clear that no agreement was reached, and the coming two weeks before the NATO summit will be, shall we say, not easy.

Just by my feeling, I may predict the main events on June 26-29, but I cannot predict their outcome, although I believe in Russian army. If it is not betrayed at the very top, it will stand. But I am afraid that if it does hold out, the Muscovites will use it to make a disastrous bargain.
But recall, there are two opposing camps in the West—the hardliners and the 'sane' crowd. The hardliners will continue pushing for escalation because their masters at the top of the elite pyramid will never allow Russia to secure any type of decisive victory, no matter how many people die, because for them it is existential. With Russia's victory will come the eventual collapse of the entire Western order, which means the hundreds of years old banking cabal that has ruled the globe with an iron fist. Those ancient families at the top cannot allow Russia to win.
However, contrary to conspiracy theorists, these elites are not 'all powerful'. They can be thwarted and their voices overwhelmed by the outcries of the 'sane' guard. I don't mean that in some schmaltzy tinfoil QAnon "the Whitehats/Forces of Light will overcome evil!" type of way, but rather in a realpolitik, logical one. The 'bad guys' are somewhat hampered by the fact they have to play along and can't go fully 'mask off' in revealing their true intentions. Thus, when backed into certain ideological corners, where going against the grain exposes their truly evil agenda, they can be made—at least temporarily—to back off and regroup.
Unfortunately, for now, the hardliners, at least within Ukraine, are still pushing for total escalation. The Zaporozhye nuclear falseflag scenario is still rolling along, stronger than ever with a spate of new developments.
Firstly, there are said to be nuclear drills now conducted in Nikopol by the Ukrainian regime, right on the other side of Energodar and the ZNPP area:
Not to mention that Polish officials now too are handing out radiation safety flyers, in clear preparation for 'something':
And the following report:
💥💥💥Some Ukrainian telegram channels received information that servicemen from the 124th and 126th brigades of the Teroboron Defense Brigade, as well as the 406th Independent Artillery Brigade of the AFU conducted radiochemical and biological protection exercises on the territory of the right-bank part of the Kherson region.💥💥💥
Ukrainian health minister Viktor Lyashko went on TV to gentle the Ukrainians' concerns by telling them that Kiev would not be affected by a ZNPP nuclear disaster, but still cautioning them to be careful and follow guidelines:
Not to mention it was announced that new radiation detectors were installed around Kiev to monitor the potential situation—as if that's not foreboding at all.
Additional sensors have been installed in Kiev to measure the level of radiation. Two new devices were installed in Goloseevsky and Svyatoshinsky districts, said Alexander Vozniy, director of the Department of Environmental Protection of the Kiev City State Administration. Thus, seven sensors are currently operating in Kiev, which transmit information about the level of radiation in real time to the Kiev Digital application.
These evacuations were reportedly ordered in the Nikopol area opposite the ZNPP on the basis of a radiological event: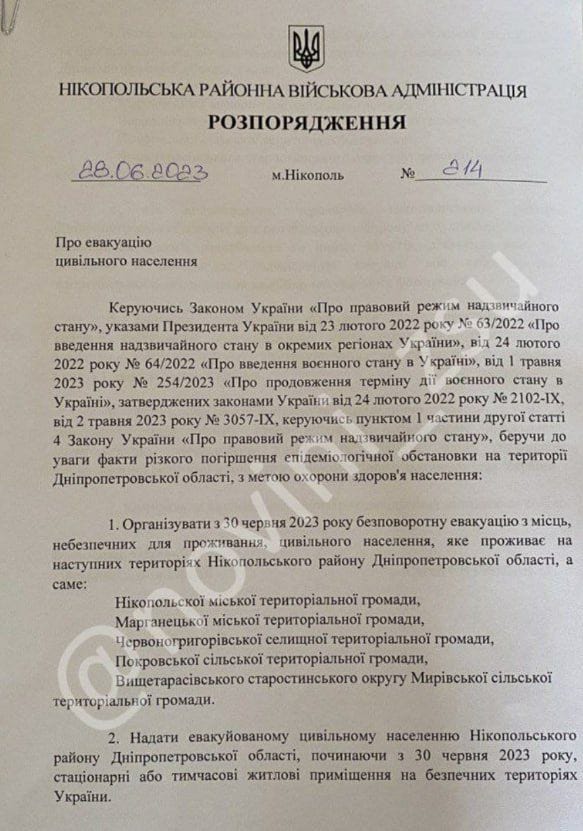 Zelensky also had a telephone call with Canada's Trudeau where he warned him about Russia's impending attack:
☢️🇺🇦📞🇨🇦Zelensky discussed the situation around the Zaporozhye NPP with Canadaian Prime Minister Trudeau

"I had the first of a series of important telephone conversations with Canadian Prime Minister Justin Trudeau… I drew the Prime Minister's attention to the threatening situation that ... was created at the Zaporozhye NPP ... Ukraine's partners should demonstrate a principled reaction, in particular, at the Vilnius NATO summit," Zelensky wrote in his telegram channel.
For its part, though, the U.S. has stated they have not yet seen any such signs that Russia intends to attack the ZNPP:
The United States does not see any evidence that there is a threat of undermining the Zaporozhye NPP by the forces of the Russian Federation, as Kiev claims. This was announced on Monday at a briefing by the coordinator for strategic communications at the White House National Security Council, John Kirby.

"We have not seen any signs that this threat [of undermining the NPP by Russian forces] is imminent, but we are watching it very closely," he said.

Kirby also said that the United States has the ability to monitor the radiation situation near the NPP, but did not inform about the current state of the radiation background. At the same time, on June 23, he also said that "the United States is not currently recording an increase in radiation levels in the area of the Zaporozhye NPP."
This could be their attempt to defuse and/or distance themselves from the situation in the similar way they tried to do with the Nordstream attacks. But it could also be a signal to Ukraine that "we don't have your back, don't do this". As I wrote about before, I believe that Ukraine could be going rogue on this plan and in fact using it to 'blackmail' the U.S./EU/NATO into the arms supplies and security guarantees it wants by holding the nuclear dagger over them like a sword of Damocles, with the threat that "if you don't give us what we want, we'll force you into WW3 against Russia."
With that said, don't be fooled by my statement that U.S./Ukraine are necessarily at odds in this. It's much more complicated than that. You see, there are many different factions within the U.S. itself, much of whom operate in complete isolation and with independence away from the overt top level and ostensible 'governing' bodies. The CIA and all the various compartmentalized SCIF groups within the U.S. government, which represent the 'deep state' in the truest sense of the word, are likely in on such plans, either facilitating, coordinating, or outright designing them, without the approval or oversight of the top level superficial governance apparatuses.
Perhaps this is what was discussed in the recent trip?
It's the same way that 9/11 was carried out and ISIS was created—by such groups buried deep within the folds of the U.S. intelligence state in total secrecy and seclusion away from the top level officials.
And as my readers will recall my warning about Western MSM enablers shilling for the regime and helping them to cover for the upcoming nuclear falseflag. We've finally seen our first true effort in this vein, as Sky News made up a fraudulent report to condition the masses that Russia has a flimsy hold on the ZNPP, and its troops are already starting to retreat from it—which is completely false:
Sky News

Russian forces starting to leave Europe's biggest nuclear power plant, says Ukraine

Russian forces are starting to leave the Zaporizhzhia nuclear power plant, according to Ukraine's main department of intelligence for the defence ministry.

Moscow's troops have occupied the facility since March last year, and Ukraine has recently carried out nuclear disaster response drills in anticipation of a potential attack.

Concerns have been raised about the security of the plant throughout the war, with both sides blaming each other for attacks on its building.

A number of workers have been instructed to leave the plant by 5 July, Kyiv's main intelligence directorate said in a Telegram post.

"According to the latest data, the occupation contingent is gradually leaving the territory of the Zaporizhzhia nuclear power plant. One of the first to leave the plant were three Rosatom employees who were in charge of the Russians' actions.

"Ukrainian employees who signed a contract with Rosatom were also advised to evacuate. According to the instructions received, they should leave by July 5."

It also emphasised that the number of military patrols are "gradually decreasing" around the plant
You'll recall how I explained that such tactics would be used by the Western press to sell a distorted narrative of Russia's increasing "desperation" as their grasp on the power plant weakens, which will set up the obvious conclusion of Putin's "desperate strike" to destroy the plant he can't have in a bid of "if I can't have it no one can".
As can be seen, they're already laying that conditioning ground work.
‼️☢️The enemy is preparing a nuclear provocation: the Ministry of Health of Ukraine began to prepare the population for a possible accident at the Zaporozhye nuclear power plant.

The Ministry of Health clarifies that the information concerns residents of the 50-kilometer zone around the ZNPP. Prepare a first aid kit with the following contents:

▪️Potassium iodide - reduces the negative effect of radioactive iodine on the thyroid gland;

▪️Aluminum-antacid sorbents - to accelerate the neutralization and removal of radionuclides from the body;

▪️ Sodium alginate - creates a protective barrier on the surface of the liquid contents of the stomach and prevents the absorption of hazardous substances by the body;

▪️Mask - to reduce the ingress of hazardous substances into the body.
It's gotten to the point that Russia's permanent UN representative has filed an urgent appeal to the UN, stating that Russia under no circumstances intends to destroy the plant. Read it to get an idea of the serious tone:
One other bit of good news is that the IAEA has also issued a de-escalatory statement stating that they have seen no such signs of Russia "mining" the ZNPP:
🇺🇳☢️🇺🇦🇷🇺The IAEA( International Atomic Energy Agency) experts have not yet recorded signs of mining of the Zaporizhia NPP - head of the IAEA Raphael Grossi.

Experts of the International Atomic Energy Agency (IAEA) as of today have not recorded any signs of mining of the Zaporozhye NPP. This is stated in the message of the agency's director General Rafael Grossi, published on Friday on the organization's website.

"The IAEA experts have not yet found any visible signs of mines or other explosives currently installed at the Zaporizhia nuclear Power Plant <...>, but they still need additional access to conduct further such inspections at the facility," Grossi said.

According to him, the agency's experts over the past week also did not record any shelling or explosions in the area of the station.

some ukrainian news saying russia already retreating from znpp area
And here's the updated view of the reservoir from the Ukrainian side:
These developments converge with the ever-tightening pressure on Ukraine to generate some results before the offensive season is wrapped up this year. According to some, there are upwards of 4 months remaining, though it may be much sooner as October could bring another mini-Rasputitsa that will begin hampering all offensive operations.
As can be seen by the selection of MSM headlines above, the implausibility of Ukraine's victory is now becoming fairly accepted in Western circles.
🇺🇦🇵🇱 "Ukrainians have 3-4 more months to demonstrate progress in the counteroffensive," - Polish MEP Witold Waszczykowski.

"If after 3-4 months the counteroffensive fails, Europe will start pushing you to freeze the conflict and start negotiations with Russia, as it was in 2015. This is my pessimistic thought ... Most European countries, such as Germany and France, do not need Ukraine. They need Russia to return to the world economy. They need Russian gas," Waszczykowski said.
But the flipside to that coin, is that Russia, too, has only a few months left this year to make any dent or 'decisive' blow that may really drive the final nail into the coffin and make Ukraine or the West consider peace. Don't get me wrong, I believe that during winter, Russia has a far larger arsenal of capabilities that will continue gravely damaging Ukraine. Rasputitsa and winter simply mean immobility—which is crippling for Ukraine but not for Russian strike complexes. So even through the winter I expect Russia to lean more on their long range strike capabilities and continue pummeling Ukrainian infrastructure. In fact, Ukraine has already signaled fear of just that, and are making preparations:
💥💥Ukraine is preparing for possible energy strikes as early as the fall. This was reported by Vadym Skibitskyy, a representative of the Ukrainian Defense Ministry's State Control Department.

"In the first such campaign, they did not achieve their result, because our power supply system (thanks to the USSR), power generation has withstood. We, in fact, survived the winter normally.

But we are getting ready for it. That is why all measures are being taken to strengthen our air defense system and get new air defense systems. This was also the goal of the Ramstein conference," Skibitsky says.💥💥
So, they expect that in the fall, Russia will again resume major decapitation attacks on their power infrastructure to stress the system over the winter. But apart from long range strikes, if Russia intends to make any major territorial inroads, it also has passingly little time left for the year.
Personally, I don't believe Russia intends to make any major big arrow offensives anytime soon. Not only because it finds it profitable to destroy Ukraine's counter-offensive attempts, but also because of the numbers I crunched in previous reports, which to me shows that Russia does not have enough troops to go "all out" in major blitzkrieg attacks, particularly if it's true that Shoigu plans to use the 150k+ newly mobilized troops as a reserve army.
Thus, for now I'm expecting Russia to keep the status quo and continue their strategy of constant overwhelming pressure on all frontlines, rather than seeking one major breakthrough. This is heavily stressing the AFU's logistical systems and for now appears to be an acceptable strategy to Russian command.
Next year, perhaps, is when I can see Russia finally putting pedal to the metal and launching large offensives because as I've outlined previously, by then is when I expect they may have stealth-mobilized enough new troops to have real second echelon break-through reserves.
Russian state Duma deputy Konstantin Zatulin said yesterday that another mobilization could be required in the future:
🇷🇺⚔️🇺🇦 "Defeating Ukraine will require new mobilization," - State Duma deputy Konstantin Zatulin

"I do not exclude at all that some more efforts, some more mobilizations will be required. I am not at all convinced that we will cope with the forces that we have today, and no more sacrifices will need to be made on our part," - Zatulin stated.
I don't disagree with the sentiment. Perhaps Russia could choose to do one this fall again, which would give them the winter months to train the troops to be ready for next year's offensives. Personally, I doubt it will happen as Russia likely won't mobilize unless the situation turns dire in some way, but it's not out of the realm of possibility.
For now, I think Russian command is satisfied with the types of massive losses they're inflicting on the AFU. And Prigozhin's feckless lies about Russian shortcomings gave people a temporary psychosis, resulting in a warped perception of the current battlefield realities where Russia is effecting such massive attrition on the AFU that they had to launch a whole new country-wide rules-relaxed mobilization.
That all being said, there is a growing storm on the horizon. There continue to be new developments regarding NATO's buildup of Poland and other Russian-hating ex-Warsaw Pact/USSR orbit states. Let's run down a few of the latest.
First, here's a persistent rumor around on Twitter, though this one is extremely low confidence as I tried to dig into it and found no real attribution. But it has cropped up in several iterations over the past couple weeks:
Take it with a large grain of salt. However, even if the above specific rumor is fake, there are some more high confidence goings on. For instance:
🇵🇱🔝 Poland is actively building a powerful tank force in the Belarusian/Kaliningrad direction, becoming the country with the strongest land army in Europe.

• Currently, their first echelon includes 366 Abrams, 230 Leopards, and up to 180 K2GF tanks, with a total of 1000 K2GF tanks contracted.

•In the Polish army, a tank battalion consists of 58 tanks, and a motorized infantry battalion has 58 infantry fighting vehicles. To create strike formations, Poland forms brigades of four battalions.

•The 19th brigade of the 18th Polish Motorized Division was the first to transition to this new structure. As a result, the Polish divisions now have 348 tanks each.

Today, the shock divisions in the eastern direction in Poland have six tank battalions each, increasing the number of tanks near the Belarusian and Kaliningrad borders to almost 1000. Under international treaties, Poland is allowed up to 1,730 tanks, but these contracts are rapidly being nullified. Hence, it won't be difficult for Poland to build up a second echelon of strike forces in the east to another 1,000 tanks. Stay tuned for their next move!
This thread details the massive, unprecedented militarization that Poland plans to enact:
Poland's military transformation is mind-boggling:

- Military expenses as a % of GDP: 2,4% in 2022
- 4% in 2023 probably 5% in 2024 (~$40bn)
- Personnel: from 110K to 250K professional soldiers
- Ordered equipment: $85bn!
Keep in mind, though, this is highly idealistic. Some have correctly speculated that Poland may not achieve even a fraction of that; we'll see.
But for now, reports continue unabated. Russian military expert and editor of a national defense magazine believes the following:
NEWSFLASH #Pologne Journalist and military analyst Igor Korochenko announced that "Poland plans to occupy #Kaliningrad and Belarus . For this, an army of 500,000 men is being prepared."

"The Belarusian and Russian general staffs have precise information that Poland has drawn up an operational plan for the conduct of the war. It provides, according to various scenarios, the occupation of the Kaliningrad region and the Republic of Belarus. They plan to do this after deploying their group of 500,000 men," noted I. Korochenko.

Good! This declaration will certainly lead the Wagnerians to return to this new theater of military operations on the Belarusian side. If this materializes then the Russian Army will have to launch its big offensive and start by cutting Ukraine in two, and in fact blocking all NATO-Ukrainian supply lines on the #Zaporozhye front. In the process, Odesa will be annexed. Ideally, if this scenario really takes shape then the Russian Army should logically settle on the Ukrainian-Polish border side with the support of Belarusian military troops supported by the Russian air force
In light of such rumors, the decision to deploy Wagner to Belarus begins to look increasingly strategic.
The fact is, the deep state masterminds who sit atop the pyramid I referenced earlier are most definitely designing a 'long term package' for Russia, which will include the contingencies of tying off one conflict into the next as part of the RAND-style strategy of unrelenting pressure like a boot on the neck, to stifle Russia's potential growth. They will take the current Ukraine conflict to its limits and when Ukraine is wrung out like a used washcloth they will initiate the provocations from the countries which are planned to be the next vectors of war against Russia.
Of course, it's not certain it will come to that. I believe there's still good chance Russia will defuse these plans, but make no mistakes about the fact that these plans are being engineered every day, piece by piece. Kaliningrad in particular is a pressure point which can be thumbed at any time into forcing Russia to react whichever way the 'designers' want. But that doesn't mean Russia will sit idle. For now, these moves remain as distant threats to pressure Russia into relaxing its maximalist goals, as if to say: "Give up now or this is what you'll face down the line."
It's one of the reasons that some Russian hardliners are increasingly advocating for Russia to use its nukes before they lose all deterrence potential. You'll recall that last time I posted the Karaganov-penned article making waves, where he advocated for using nukes. Now he's written a new follow up article where he cuts the dithering and makes it even more clear: if things continue escalating, Russia should consider nuking not Ukraine, but Europe.
There's one small tidbit that makes me mistrust his intentions:
Karaganov has been a member of the Trilateral Commission since 1998, and served on the International Advisory Board of the Council on Foreign Relations. He has also been Deputy Director of the Institute of Europe at the USSR (now Russian) Academy of Sciences since 1983.
Anyway, my last note on these developments is that, in the absence of military potential, Ukraine will likely go into the "turtling up" mode I forecasted earlier. Some expect them to make another large new offensive foray soon, as the weather clears up, and we continue to hear loud Western proclamations about how "only a tiny fraction" of Ukraine's new NATO-trained offensive potential has been squandered thus far since the start of June. And I do expect them to make another big try or two, but ultimately it will have to boil down into static, positional warfare as they reconstitute their battered brigades.
Yuri Podolyaka believes they are now regrouping to launch one more major try by the time of the big NATO summit in Vilnius in the middle of July:
In the beginning or middle of next week, on the eve of the NATO summit, the Armed Forces of Ukraine will try to break through our defenses. Now there is a reconnaissance battle, regrouping. 10 corps moved from the Orekhovsky direction presumably to Kamenskoye, they are trying to confuse us where the main attack will be. As soon as the soil dries out, they will go.
Other sources have stated July 5 will be the date of another large offensive push. The objective is to make at least one major capture by the time of the NATO summit as a negotiating chip, so that Ukraine can show the summit attendees that they are still worth fighting for, and worth funding to the tune of hundreds of billions.
But the West is now in a major quandary, and can't for the life of them figure out how to strategically guide Ukraine to victory. A slew of new articles and official statements confirm this. From NYTimes, which decries Russia's unfair usage of defensive forest belts and minefields:
This tongue-in-cheek report from New Resistance humorously captures the spirit of the kvetching:
💢 FLORESBERG - "Trees" : The New York Times uncovers the reason for the failed Ukrainian counteroffensive:

The latest Russian hide-in-trees technology escalates the conflict to Vietnam levels of madness and confusion in the heat of battle.

While Ukrainian sappers are neutralizing mines, they face intensive artillery, tank and even helicopter shelling on them, all made possible by the cynical and criminal use of trees.

"Hiding behind trees certainly stretches any interpretation of the rules of war, of fair engagement, beyond anything we've seen before", said retired US Commander General Benjamin Hodges.

A Biden administration working group plans to make a report to the UN on Thursday.
While this new Forbes article expresses disbelief at the scale of the failures:
Read the above article if you want a good rundown of how the failed offensive went. It includes such gems as the admission that the West's fabled and "superior" mine ploughs are infact subpar:
But the British-made plows on the Leopard 2Rs and Wisent clearly missed more than a few mines. Three Leopard 2Rs and a Wisent struck mines, as did several M-2s. Trapped and under fire, the battlegroup fell apart. Crews bailed out of their disabled vehicles, dragging their dead and wounded with them. A rescue force riding in M-2s scooped up many of the survivors.
NATO planners are essentially out of ideas. Their thinktanks are now churning overtime in trying to figure out how to overcome Russia's famed defense-in-depth.
This new piece, for instance, proclaims the end of offensive assaults, lamenting that 'NATO doctrine has run into reality':
💥🇺🇸🇺🇦 "Ukraine's vaunted counter-offensive failed."

American Greatness columnist Christopher Roach writes that the loss of the Armed Forces of Ukraine during offensive attempts will be an "important lesson" for the United States.

He noted that the Ukrainians "not too skillfully" use Western equipment, and the command constantly makes tactical mistakes.

According to Roach, the alliance has little experience in conducting this kind of hostilities, the crews of tanks and armored vehicles trained to NATO standards do not maneuver well, so the Ukrainian forces "can hardly advance."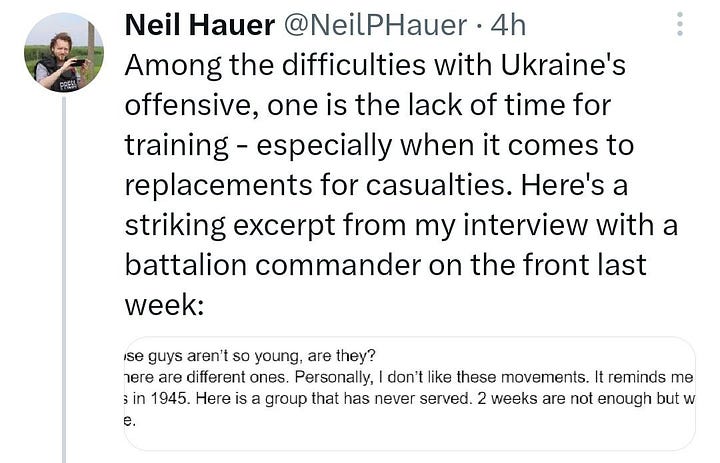 In fact, a new Washington Post article states that Ukraine has little time left before stalemate occurs:
If Ukrainian forces are no more successful in the weeks ahead than they have been so far, Ukraine will not recapture all of its territory for 16 years.
And Seymour Hersh said he was told it would take 117 years for Ukraine to win back their territory at the current pace:
Though Mark Milley still contends that it will take a few more weeks:
"The UAF counteroffensive is slower than predicted by "computer calculations or different people," said Mark Milley, head of the US Committee of Staff "I told you it would take 6 to 10 weeks, it would be very difficult and very long and very, very bloody," he recalled."
Keep in mind it's already 4 weeks in, so I guess there's not much time left.
The point is to say that NATO is completely stumped. Weened on their 'Air-Land Battle' doctrine privileging airpower and deep strikes to the rear, they have no clue how to fight this kind of war. This is why it's inevitable that Ukraine will soon turtle up and resume more of the political and psychological aspects of the hybrid/4gw side of the warfare. This will of course mostly revolve around new terror attacks and falseflags like the planned ZNPP strike.
One other new vector I'll mention is the Sumy direction. There is much news revolving around AFU troop concentrations there, as well as Russian counter-build-ups. After having been rebuffed in the Belgorod region, which is now protected by an increasingly sizable force, Ukraine will try a new incursion in the Kursk region, farther northwest. They have even begun evacuating villages in preparation for this.
Rybar reports:
The statement of the commander of the joint Forces of the Armed Forces of Ukraine on the evacuation of residents of the border areas of the Sumy region is another clear indication of the plans to activate the Armed Forces of Ukraine in this area. At the beginning of the week, Ukrainian formations were deployed in the area of Seredina-Buda, Znob-Novgorodsky and Krasnopol, along with armored vehicles and artillery. The enemy constantly conducts reconnaissance by drones, and its DRGs operate near the border.
At the moment, it looks as if the Ukrainian Armed Forces intend to launch a diversionary strike in the Kursk region before the next phase of their offensive. Most likely, the Ukrainian command will again use the GUR militants operating under the legend of Vyrusya from the so-called "Russian Volunteer Corps". (Rybar)
And there have been interesting rumors from Russia's side, like one pointing to Russia's first ever usage of the S-70 Ohotnik stealth UCAV strike drone.
Channel "Legitimate":

Our source reports that the Russians recently tested some kind of heavy attack/reconnaissance stealth drone.

He was observed in the Sumy direction.

At the moment, there is no understanding of what kind of UAV it was, but according to the versions that are circulating, it could be the S-70 "hunter" UAV or a "modified copy" of the Shahed 171 Simorgh.

It has long been known that the Russians are also conducting significant tests of new weapons in the context of the Ukrainian crisis.
As well as:
🇹🇷🇷🇺 Turkish media announced that tonight for the first time a Russian heavy drone S-70 "Ohotnik" was used, which hit a target in the Kiev zone with a high-precision bomb

▪️According to those allegations, there was a strong explosion in the city tonight without an air danger alert being sounded. Turkish media mention that the Russians used this aircraft in a reconnaissance mission over the Sumy region in the past few days to test Ukrainian air defense equipment that did not detect the "Ohotnik":

📌It is a drone that is made according to the aerodynamic concept of "flying wing" and is invisible to enemy radars (applied "stealth" technology).

* Official Moscow has not yet confirmed this information
Here's the S-70 for those unfamiliar:
To do some housekeeping on other news, I'll mention some of the other updates of lesser urgency. By the way, there remains a lot to potentially say on the Wagner/Prigozhin saga, but perhaps I'll save it for next time.
For now, the largest news was Russia's successful strike on a Kramatorsk mercenary gathering, reportedly with Iskander missiles, which gave the targets no time to react or be forewarned by their precious CIA ISR.
Russian MOD's official figures included two Generals, as well as 20+ mercenaries:
⚡️Russian Defense Ministry:

Two generals, up to 50 officers and up to 20 mercenaries and advisers were eliminated in Kramatorsk as a result of the strike on the temporary deployment point of the AFU

The ministry also reported that the losses of the AFU during the day amounted to up to 530 servicemen killed and wounded in the Donetsk direction (SMO Zone).
There were many American flags witnessed on helmets, including various patches from American units like the Rangers and Screaming Eagles. The most interesting was this:
It's claimed to be the patch for the 1st Battalion of the American 1st AD regiment of Okinawa, which implies that American specialists are manning the NATO air defenses in Ukraine. Though it could be the 'instructors'.
I don't know about the patch heraldry itself, but the Primus Inter Pares motto does line up with the real battalion.
Speaking of Iskanders, another development is that Ukraine has continued entrenching under the Antonovsky bridge on the Russian side:
However, Russian forces let them build up there for a while, as it was hard to uproot them from under the bridge span where they were hiding by the shore. But once they had built up to somewhere around 50-100 people, Russian units ordered a pinpoint Iskander strike, which hit exactly on target:
Once again, they had no forewarning. Here's the aftermath:
An important adjacent thing to note: recall that Ukraine spent months battering the Soviet-built Antonovsky bridge with HIMARs, striking it perhaps hundreds of times, only to make small holes in it. This shows us that a purported Iskander strike can mostly take down the entire span, or at least half of it in a single strike. This is important to note as per potential future decisions to take out all the bridges on the Dnieper. We now have our first inklings of how much firepower it could take. My earliest readers will recall I once calculated it to be upwards of 200-400 cruise missiles and maybe even much more, but it appears that Iskanders can do it much more expediently.
Also, as some might have seen recently, a new video was released showing the full bore devastation and horror of AFU's failed Zaporozhye assault on the Orekhov direction. It's one of the more graphic videos of the war thus far, but it's extremely enlightening in terms of how Russia's now-famous minefields truly wreaked havoc on the elite 47th brigade. Warning, it's brutal but shows the intractable horror of mine warfare and how even their precious M2 Bradleys couldn't help them: Video Link.
A last point, there was one report that Putin's popularity has ironically skyrocketed after the events of last week. No one seems to know why precisely, given that Western commentators and 5th columnist shills claim that Putin "lost power" and was gravely weakened. I myself put forth the idea that he could theoretically be weakened only if things transpired under the surface in a certain way. Unfortunately, we're not yet privy to what exactly transpired, and what the deals were with Prigozhin, but one new report claimed that Putin's popularity had risen to 90%.
And though it's unsourced, it's quite easy to believe when watching the new footage of Putin's visit to Derbent, Dagestan for Eid several days ago:
How many Western leaders can garner such a reception, and in their country's hinterlands to boot? A place the CIA invested a lot of money in trying to gin up hatred and division against Russia and its leader.
Certainly not Trudeau, these were his two most recent receptions: Video 1, Video 2.
This 2001 Time cover was prophetic:
And this new interesting poll result dovetails with that:
🇷🇺 Poll Russian Field: if Vladimir Putin announces an attack on Kyiv tomorrow:

64% of Russians will support him
39% will definitely support him
25% will rather support him.

And if the President of the Russian Federation signs a peace agreement tomorrow and stops the NWO:

73% will support him
47% will definitely support him
and 26% will rather support him.
Though the above poll was conducted by a pro-Ukrainian group, the results are nonetheless interesting. It also stated that 74% of the population considers the course of the SMO thus far to be 'successful'.
On the other hand, here is a new Ukrainian poll:
Ukrainian Foreign Minister Dmytro Kuleba said that Kiev is ready to continue the military conflict with Russia for many years. The Minister of Foreign Affairs of Ukraine noted that a survey was conducted, according to which 58 percent of Ukrainians expressed their readiness to resist Russia for years.

"Ukrainians have understood that war is an existential issue," Kuleba said, adding that he works every day to end the conflict as soon as possible. He also refused to make predictions about the end of hostilities.
Well, if those results have any merit, it seems the populations of both sides are in for the long haul. So dig in, this could take a while.
---
If you enjoyed the read, I would greatly appreciate if you subscribed to a monthly/yearly pledge to support my work, so that I may continue providing you with detailed, incisive reports like this one.
Alternatively, you can tip here: Tip Jar
---