Discover more from Simplicius's Garden of Knowledge
War strategies, geopolitical analysis, SitReps, and discussions.
Over 24,000 subscribers
There's now somewhat of a lull in the Zaporozhye fighting due to the mass amounts of losses the AFU has taken in their now fully failed bid to achieve tactical breakthroughs. Putin explains:
Russian forces of the 429th regiment of the 19th motor rifle division of the 58th army from the southern military district have even knocked out the Ukrainian 128th mountain assault brigade from Pyatikhatki entirely, which means on that Orekhov front Ukraine was literally pushed back to the starting line, and didn't even achieve the minimal gains that the eastern grouping around Velyka Novosilka managed.
One of the reasons for that is likely because the western grouping is defended by the aforementioned 58th Russian Army proper. I have repeatedly emphasized the difference in quality between the units of the actual Russian army, and the various patchwork auxiliary and paramilitary units that make up the tapestry of the SMO.
On the eastern side for instance, one of the main units holding the lines which were pushed back in Makarovka-Blagodatne were the 'Storm-Z' battalion, which is a penal battalion of ex-convicts, a far cry from the army proper. No one yet seems to know exactly what the Storm-Z are, they are variously called a 'special contingent' a 'volunteer corps' and a private military company (PMC) "owned by Shoigu".
They experienced relatively high losses in the Novosilka direction as the AFU sicc'd the elite 68th Jaegers on them, who released videos of grounds strewn with bodies from this Storm-Z unit as they retreated. They weren't huge losses, maybe a few dozen, but still comparatively more than nominal Russian units suffer.
Interestingly, I've discovered that Storm-Z is being used in all the most 'high-risk' areas just like Wagner was previously. For instance, they also now operate in the meat-grinder of Marinka, as well as in the Kremennaya direction.
Even so, the fact that one of Ukraine's most elite units was only able to scrape out a couple small hamlets from them is also telling, but my point was simply to differentiate the unit types by showing that the Russian Army proper did not lose a single inch on the western end.
The reason such clarifications are important to me, is because they reframe a lot of the past propaganda into a more correct light. For instance, how similarly in the 'Kharkov offensive' which Ukraine claimed to have 'overrun' Russian units, which was equally a lie as the Izyum salient at that point was only being held by a small patchwork of DPR/volunteer units, with real Russian Army forces only coming in at the end to facilitate the already ongoing withdrawal. I have yet to see a front where the units of the real Russian Army have been driven back or 'defeated' in any way.
This all goes back to yesterday's article where I noted the difference in equipment (and training, etc.) between distinguished districts of the Russian Army proper, and the various adjacent units that operate under the Russian 'umbrella' but are not actually/traditionally/historically part of the Russian Armed Forces.
But as for Putin's video, the amount of losses he quotes are interesting: ~250 tanks and almost 700 other armor/vehicles. I outlined recently how even at the highest Western estimates, Ukraine is said to have 600-800 total tanks remaining (as per Pentagon leaks, etc.). If Putin's numbers are even remotely true, it would mean the Not-Offensive has potentially wiped out upwards of 30-45% of Ukraine's remaining heavy armor which would put them in dire straits. Recall, that even remaining armor is misleading as much of it is older tanks with 105mm or 115mm cannons that are no match for Russian MBTs, and the majority of remaining 125mm'ers are likely T-64s, which likewise is not promising.
Meanwhile, Shoigu has recently visited the Russian Omsktransmash factory which produces the latest T-80BVM Obr. 2022 models.
It shows a new batch of 15 of these tanks being delivered out of 150+ total scheduled to be produced this year. This gives us an inkling of Russia's production. 150+ total T-80BVMs for the year—add that to hundreds of other types like T-72B3s, T-90Ms, etc. As you may recall, Russia's goal for the year was reportedly anywhere between 480-600 newly produced tanks with an additional 600-800 being 'refurbished' or upgrades, for a total, according to Medvedev, in the 1500 range for the year, though perhaps realistically it's a bit less than that.
Now, let's move on to the meat of the developments. The most important of which is that things are afoot on the northern front. Russia is said to be advancing in the Kupyansk direction, now only 2.5km away from the city itself and this dovetails with several recent statements from key Russian figures like Gurulyov which indicate that Russia may soon be activating the Kharkov front.
Some believe that the next 'big vector' will in fact be for Russia to retake and secure the Kharkov region, and that Wagner's fatefully announced 'August 5th' return will coincide with that, with Wagner being sent to Kharkov. I'm not convinced of this rumor yet, but recall that Putin did mention in his recent statements that not only is Russia actively working to secure the border areas, but that a cordon sanitaire may infact be created in order to deal with the problem of Ukrainian terror attacks on the Belgorod region and outlying areas.
Medvedev also recently added that a 'buffer zone' should extend all the way "to the Polish border."
Writing on Telegram, Medvedev responded to remarks by President Vladimir Putin, who on Tuesday suggested that Moscow could consider establishing a "buffer zone" in Ukraine to prevent Russian regions from being shelled.

"Taking into account the enemy's decisions to supply the Kiev regime with weapons with an even longer range, this line should pass in the area of Lviv… so that it could play a real defensive role," Medvedev said, referring to the large city in western Ukraine, not far from the Polish border.
We know the Chechen Akhmat forces have already been sent there, as well as a new border legion being mobilized on the Kursk border. In short, there appears a lot of activity in this direction.
Recall that I previously predicted that it may be necessary to activate the Kharkov front next in order to facilitate the logical next step of the SMO, which would be the capture of the Slavyansk-Kramatorsk agglomeration. The reason being is that, Slavyansk is nigh un-captureable from just one direction, i.e. approaching it from only the easterly direction of Bakhmut.
That was the whole point behind Russia's original goal, where they approached Slavyansk from the Izyum (NW) direction as well as from Lyman to the NE. This is how it looked before the Kharkov offensive of last Fall:
Maybe it's possible to gobble it up slowly from the south, by taking Konstantinovka, Druzkhovka, then Kramatorsk, but it would appear much simpler to use the original method which would allow the remainder of the area to fall into a giant cauldron. Going from the south would merely be a meat-grinding march through the densest and most heavily fortified of AFU regions.
But now, Russian units have made some notable advancements in both the southern end of this front, in the Kremennaya direction, and the aforementioned northern end near Kupyansk. Kremennaya to Torskoe shown below:
Ukrainian 'deputy minister of defense' and propagandist Anna Malyar reported on it with alarm:
And ISW:
As of this writing, there are reports that Russian forces are even approaching a crucial cut-off point at Petropavlovka, pictured here:
There are reports that a fight has begun for the settlement of Petropavlovka (this is north of Kupyansk), with Russian forces bearing down from the Sinkovka direction.
This cut-off point feeds the entire AFU grouping east of the Oskil River, in the Svatovo-Kremennaya region. And I get goosebumps thinking about it because it's a personal vendetta I've been waiting to see fulfilled for a long time.
You see, the cross-roads at the center of town in Petropavlovka (49.721065567721496, 37.70792585824342) is where the famous last stand of a heroic group of Russian forces took place that will go down in history. It's where a Russian unit on a BMP-2M Berezhok module was ambushed by American/Western mercenaries.
The unit made a heroic stand witnessed on drone footage and surviving Russian forces were chased into a house a block away, where they were treacherously killed by the mercenaries while negotiating a surrender. The story is that they had negotiated it and were coming out with their hands up but were shot dead.
However, they were able to give their coordinates before dying and the mercenaries were slaughtered by a Russian artillery attack, with only a few of them making it out. So for me, and for a lot of people I'm sure, it will be extra meaningful to see Pavlovka get recaptured.
And for anyone interested, here's the entire incident from the mercenaries' perspective, including up to the end where they were hit by Russian fire: Video Link.
Though this incident took place last year during the 'Kharkov offensive', it was only recently that one of the last surviving of this mercenary group was killed in action in Ukraine, I believe a few weeks back. Another survivor is one of the 'famous' Taiwanese mercs who I believe fled back home.
And here is Rybar's full analysis of the situation and what to expect, in particular the highlighted portion:
⚠️🇷🇺 Russian experts: after defeating the upcoming Ukrainian offensive on the stretch of Kupyansk-Urazovo in August, we are starting to definitively liberate Kharkiv

* Russian military analysts indicate an increased concentration of Ukrainian forces on the front around Kupyansk, Svatov and Vovchansk (northern front).

These forces have the task of achieving a breakthrough of the Russian defensive layout on the Oskol River, more precisely on the Kupyansk-Urazovo-Valujki line, with the aim of cutting the key communication through which the Lugansk People's Republic is supplied.

▪️Zelensky and his generals are trying to find a way out of the unsuccessful campaign on the Zaporizhzhya Front and around Bakhmut. Estimates are that they will strike precisely on this front, where a group of special forces has been testing the strength of the Russian defense for months. Russian experts believe that this operation could begin at the end of this month.

▪️ We can expect its beginning in the last week of June. Brigade-level special units of Ukrainian security forces and volunteer detachments are present in this area. Armored-mechanized and motorized units are slowly being added to them. They are well armed and ready to attack. Here they are additionally "psychologically motivated" because this is the part of the front where the last great success of the Ukrainian army was recorded.

▪️According to the words of Russian experts, the Russian army will succeed in breaking this offensive in 10-15 days. And not only that, there are plans to go into a broad counter-offensive and create a "sanitary corridor" along the Russian border at a depth of up to 100 km. This corridor also includes multimillion-dollar cities such as Kharkiv, which is only 20 km from the border.

📌 The fact that these forecasts coincide with the development of events on the ground is also indicated by the arrival of rested and replenished troops of the "Wagner" infantry regiment led by Prigozhin, who are expected at the beginning of August exactly on this front. In the meantime, units from the Caucasus also arrived there.
In summary: Ukraine itself is building up units on this northern front and wants to cut the direct supply link between Russia and Lugansk—specifically, the Svatovo front—which runs just east and parallel to the Oskil River. This would be another distraction tactic to take attention away from Ukraine's failed main offensive. But Rybar suggests that Russia is preparing a powerful counter-offensive in this area by the end of the month, as soon as they thwart Ukraine's attack, which will be snowballed into a broader development of the cordon sanitaire for the entire Kharkov region.
More info on the AFU buildup in this area:
In the vicinity of Liman itself, formations of the 1st presidential brigade appeared, and near Balakleya. In the area of Slavyansk, on the second line of defense of the AFU, units of the 115th Mechanized Brigade of the 10th AK of the AFU were noticed.

Together with the intensification of shelling of Ukrainian formations in the Valuysky district and the concentration of the group in the Kupiansk and Svatovsky areas, there is a more complete picture of what the next step of the AFU may be.
It will be interesting to see if the recent tactic of utilizing PMCs for high-risk advances does become pretty much a de facto doctrine of Russian offensive operations going forward. It would mean that we could theoretically determine where Russia's next offensive will be simply by observing where Wagner is deployed, for instance. At the end of the day, though, recall what Putin said about having different contingencies depending on what Ukraine does, and what I wrote about Russia's strategy of 'exploitation'. I think things may still be up in the air depending on what Ukraine chooses to do.
And for the time being, the mood continues to sour. In a new interview, Poroshenko says Russia is stronger than ever but Ukraine can 'still win' if they get the next wunderwaffe of the F-16s:
And Zelensky finally admitted in a BBC interview that the offensive had bogged down:
While Arestovich outright admitted that Ukraine can't be expected to win at all without air superiority.
Recall, I had recently posted an interview of his from early June where he stated that 10 days would be required to make big breakthroughs. The offensive, which began on June 4 is now nearing its 20th day.
Now, owing to the failure of the main push, Rybar amongst others believes that the West may be heating things up between Poland/NATO and Belarus:
This ties into a lot of recent developments regarding the Belarus situation. For instance, not only has Lukashenko made several provocative statements recently regarding using nukes against any attackers, but he's also acknowledged that Polish forces are trying to stage a coup in his country.
[Lukashenko] went on to allege that "in Poland, Lithuania and, unfortunately Ukraine, illegal members of armed groups are being trained." The operatives, according to Lukashenko, intend to create "sleeping extremist cells" in Belarus.

Appearing on Poland's Polsat TV channel late last month, retired general Waldemar Skrzypczak called on authorities in Warsaw to "prepare for an uprising in Belarus," insisting that "it will happen."

"We must be ready to support the troops that will carry out the operation against Lukashenko. We have reasons to help them, just as we help Ukraine," the general, who was formerly Poland's deputy defense minister for armaments, argued.
And it also follows Ukrainian parliament registering a bill to declare Belarus as an 'aggressor state':
Member of the Verkhovna Rada of Ukraine, Yaroslav Yurchyshyn, announced the registration of a bill in the parliament, according to which Belarus will be recognized as an "aggressor state".
And Belarusian General Kasinsky stated:
Assistant to the Minister of Defense for Ideological Work, Major General Leonid Kasinsky, answered all those who are worried about the deployment of tactical nuclear weapons in Belarus.

Leonid Kasinsky also added that by deploying tactical nuclear weapons, we confused the plans of the Polish authorities, who are preparing militants on their territory to overthrow the government in Belarus.
All of these odd developments dovetail into what seems like a real covert subversive action underway against Belarus aimed at destabilizing Russia's SMO further and possibly pulling NATO into the conflict.
Here's a full report on the subject with more details and speculation:
🇧🇾🇵🇱 British publications began to massively report that Poland is preparing former Belarusian security forces for an armed uprising.

I talked about the fact that such work is being carried out (and by no means only in Poznan back in February, and it was known about the assistance of the Polish authorities to the fleeing oppositionists for a very long time.

The organization BYPOL, which the British are talking about, has changed its pole of opposition to violent resistance. This happened after an internal conflict between the participants.

It is clear that journalists were given the go-ahead to write about what is known to almost everyone who in one way or another observes the special operation in Ukraine. Moreover, a military uprising on the territory of Belarus was especially actively talked about about a month ago, including Polish generals, amid of obvious failures of the AFU at the front.

I repeat: there is certainly a need for a military coup in Belarus among the Polish elite. Moreover, the Poles will benefit from any situation with the destabilization of the situation on the Belarusian-Polish border, and the main thing for them will be an increase in the contingent of NATO troops. Poland intends to achieve it at the next NATO summit in Vilnius, which is scheduled for July 11-12, so it is likely that an aggravation is planned in the near future.

In addition, this is not the first time that the Anglo-Saxons are trying to open a second front for Russia, seeking to deplete the country's human and military resources. That is why the borders that the Russian Federation has to defend go far beyond the state borders of the country.
We've said over and over before that 'the West is getting desperate' almost to a cliché degree. But the truth is, in light of the now-failed offensive, we can only assume the Western planners are more desperate than ever for some un-balancing wildcard with which to hamstring Russia.
For instance, recently certain publications have outright called for Western intervention:
In the above article, ex-RAF 'Air Vice-Marshal' Sean Bell writes that:
The only credible way to provide Ukraine with the air capability required for this year's offensive would be for the West to intervene and commit Western assets - and crews - to the conflict.

There is no sign of any international appetite for that level of escalation, despite the critical importance of this Ukrainian offensive.
There is a confluence of these developments which appears to point towards major escalations with NATO involvement. In a recent interview, for instance, Zelensky appeared to telegraph his intentions for the ZNPP nuke plant by pre-blaming Russia for an attack on it, as I reported last time.
Now, the newly 'revived' Budanov has come out with a video similarly projecting a terrorist falseflag event at the ZNPP:
He brazenly puts forth that Russia has outright "mined" the basement of the nuclear plant and a disaster may soon create a 30km wide exclusion zone, which, according to the map, conveniently goes up to Melitopol through which Russia's Crimean land bridge main artery runs:
As a brief aside, Budanov's Robocop-like return is clearly suspicious. Someone who's been missing for a month after a reported strike on his headquarters suddenly reappears with a highly changed appearance—there's something very fishy there. And people have had a field day with it: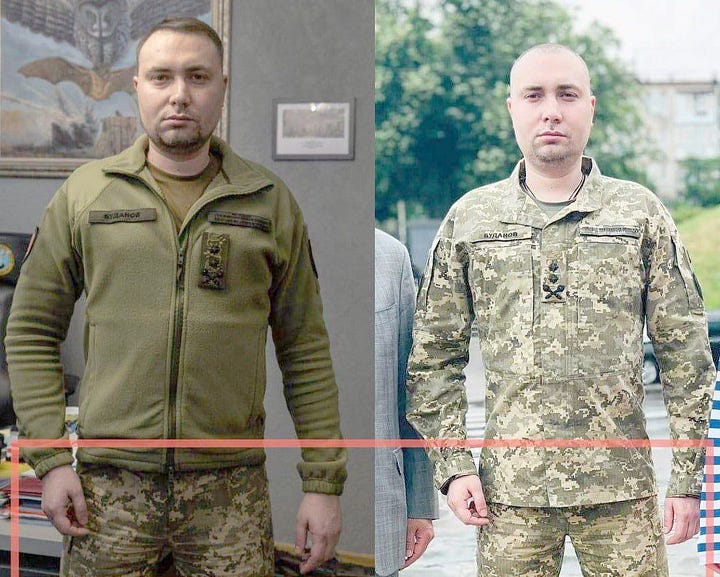 Including showing how easy it is to make a deepfake:
But back to the story.
Clearly, Kiev is still eyeing the ZNPP. And it could be facilitated by the ever-clearing reservoir, of which we have a new video:
I know there was a lot of discussion about the feasibility of crossing the drying reservoir, many agreeing that it's likely far too mucky. But one must admit, it sure looks alarmingly dry here. With that said, that's at a different area, perhaps further down by Kherson rather than up near Energodar or Kakhovka, so the jury remains out.
Here's Rybar's take:
Now, stay with me because I'm going to tie all of these developments together into a grand overarching point. But first, there is one last important development to add to the mix which will comprise one of the main fundaments of my thesis.
The other big threat is that Ukraine now is signaling a series of major attacks on Crimea. Note that Crimea is actually not really a military target. Yes, there are military bases there, but they do not really constitute the 'rear' of the SMO as real brigade level 'rears' are all at the deep end of Zaporozhye. For instance, not only major forward supply areas/depots like the one blown up recently in Rykove, near Melitopol, but even as an example the big rotary wing airfield in Berdiansk I recently wrote about. All of these are strategic forward deployed areas which are not in Crimea. The point being that any attacks on Crimea would really be more psychological in nature, akin to attacking Belgorod or Moscow region, rather than the actions of a military power actually trying to win a war militarily.
So, in light of these developments, Shoigu has issued a statement that such long-range strikes on Crimea would constitute involvement of the US/UK and would result in immediate strikes on Ukrainian decision-making centers:
Shoigu said that the use of such weapons outside the zone of the special military operation would induce immediate Russian strikes on "decision-making centers in Ukraine" and would "mean the full involvement of the United States and the United Kingdom in the conflict."
The reason being that Ukraine promised their masters not to attack 'Russian territory' with any newly-provided long range precision weapons, but US/UK do not officially recognize Crimea as 'Russian territory', therefore their own personal proscriptions for UA strikes are only against Russian territory like Belgorod region, etc.
Now, adding to this mix of rising tension, we have a recent swell of voices calling for Russia to use nuclear weapons in an effort to dissuade the Atlanticist forces from their endless escalations. The most ominous was Putin's erstwhile advisor and Russian defense council member Sergey Karaganov, who wrote an entire Op-ed exploring the idea that perhaps Russia should nuke Ukraine in order to draw a final red line:
He argues that the West may not stop escalating because the classical nuclear deterrence inherent to nuclear weapons appears to have eroded due to Russia's refusal to actually use them. The only way to make the West fear Russia and back off is to give them a proper 'showing'. I urge everyone to read the article, as it is extremely powerful in elucidating the historical spiritual cross-roads that Russia is at, and the eschatalogical danger of the moment humanity currently occupies as a dying, writhing West attempts to take humanity down with it in its death throes. In fact the article is so rich and nuanced I'll be tempted to dedicate an entire separate piece to its full break down. But for now, use auto-translate: https://profile.ru/politics/primenenie-yadernogo-oruzhiya-mozhet-uberech-chelovechestvo-ot-globalnoj-katastrofy-1338893/
I'll post a couple excerpts:
And here I come to the most difficult part of this article. We can still fight for a year, two or three, sacrificing thousands and thousands of our best men and grinding tens and hundreds of thousands of residents of the territory that is now called Ukraine who have fallen into a tragic historical trap. But this military operation cannot end with a decisive victory without imposing a strategic retreat or even capitulation on the West. We must force the West to abandon its attempts to turn back history, to abandon its attempts at global dominance, and to force it to take care of itself, to digest its current multi-level crisis. Roughly speaking, we need the West to just "fuck off" and not prevent Russia and the world from moving forward.

But what if they don't back down? Have you completely lost your sense of self-preservation? Then you will have to hit a group of targets in a number of countries to bring those who have lost their minds to life. This is a morally terrible choice – we use the weapon of God, condemning ourselves to heavy spiritual losses. But if this is not done, not only Russia may perish, but, most likely, the entire human civilization will end.
He goes on to theorize that the Chinese would perhaps publicly condemn such a move, but secretly permit it or even rejoice in it, seeing such a powerful blow be dealt to their arch nemesis.
He ends on a slightly more hopeful note:
But in the end, the winners are not judged. And the saviors are thanked. European political culture does not remember well. But the rest of the world remembers with gratitude how we helped the Chinese to free themselves from the brutal Japanese occupation, and the colonies to throw off the colonial yoke. If we are misunderstood at first, there will be even more incentive to engage in self-improvement. But still, there is a high probability that it will be possible to win, to bring the enemy to reason without extreme measures, to force him to retreat. And in a few years, take a position behind China, as it now stands behind ours, supporting it in the fight with the United States. Then this fight can do without a big war. And we will win together for the benefit of all, including residents of Western countries.

And then Russia and humanity will go through all the thorns and traumas to a future that I see as bright-multipolar, multicultural, multicolored, enabling countries and peoples to build their own and common destiny.
This brings me to next point, which is that several readers mentioned Gilbert Doctorow's new piece about the fact that U.S.'s supply of F-16s to Ukraine will be a major nuclear escalation due to the fact that the F-16s are "nuclear capable". I suggest reading this article also for anyone who's interested in fully following the tapestry I'm weaving here, as Doctorow further ties together all of the aforementioned data-points about Lukashenko and Belarus nukes, Poland's planned coup attempt, etc.
He notes that a retired Russian colonel who's 'in the know' has stated the Kremlin is already definitively making plans for destroying NATO bases from which the F-16s operate, and that the vector would be nuclear:
However, yesterday evening's edition of the Vladimir Solovyov talk show indicates that the Republicca reporter was closer to the truth than I. A patient and knowledgeable Russian colonel in retirement who is a frequent guest on the talk show explained  that the Kremlin is now considering exactly with what means to destroy such a NATO air base, not whether to do it.  And the likely means will be use of tactical nuclear weapons on a Ramstein or whatever NATO base is involved. We may say that Germany  is placing itself in the bulls-eye of any escalation in the Ukraine war if it proceeds with the F-16s to Ukraine program.
Recall Shoigu's quote I had just mentioned above, and also recall Putin's recent statement from the roundtable discussion that Russia would look at way to strike F-16 deployment points should Ukraine begin using the jets from foreign airbases.
Why all the fuss over the F-16s, you may ask. After all, Putin has said loud and clear that Russia will destroy the F-16s in the air just as it has been destroying the Leopard tanks and America's Bradley armored personnel carriers while pushing back the ongoing Ukrainian counter-offensive.  To understand better, we have to thank the good colonel once again. He alerted us to an important detail that you will not find mentioned in The New York Times: the first F-16s scheduled to be supplied to the Ukrainian Air Force are from Belgium and Denmark, and are all nuclear-capable, which is not a necessary feature of these planes.  Since the Russians are unable to determine what kind of munitions the "Ukrainian" F-16s will actually be delivering to the war zone, they must assume that they are carrying tactical nuclear bombs intended to be dropped on the Russian Army troop concentrations. The effect of such an attack could be devastating, hence the Russian threat to the air bases from which such planes are launched.
Now, let me first say that I'm not really that convinced by this angle. It sounds 'scary' to see it written on paper: 'nuclear-capable F-16s'—as if they are capable of launching some kind of unstoppable nuclear missiles which can reach Moscow. But in this case 'nuclear-capable' merely means that they can carry the infamous(ly old) U.S. B61 gravity bombs.
Gravity bomb means it's a free fall "dumb bomb". That means the F-16 has to literally deliver it to the target. In parachute mode, the F-16 would have to release it from very high altitude to give it enough time to escape and not get blown up in the ensuing nuclear blast itself. However, there is a tricky 'laydown' delivery mode where the bomb can be dropped on the ground from low altitude with a timer of 30 seconds so the jet can escape. But then it would have to pretty much fly directly over a group of troops who would likely shoot the jet down anyway.
Either way, due to these limitations I'm not quite convinced of the nuclear threat angle from F-16s. All this was to bring you up to speed in order to make my conclusory thesis point.
Which is that I believe there is one chief point everyone overlooks when making an argument for nuclear war between NATO and Russia. It is the China factor.
You see, NATO, and particularly the U.S., cannot risk being neutered by Russia without China taking any damage in the ensuing exchange. If U.S. goaded Russia into some kind of nuclear exchange, it could destroy both the U.S. and Russia, and then leave China to become the ascendant global superpower.
Even if we take away the less realistic "full nuclear exchange" or MAD scenario and focus only on a more limited scenario of European continental tactical exchange, for instance Russia nuking NATO bases in Poland/Germany/etc., with perhaps some limited reciprocal U.S. response. The problem is, this still weakens U.S. drastically, as it too will take inordinate amounts of damage from such base hits.
U.S., in my eyes, cannot risk being mortally or critically wounded by Russia on the eve of their own fatefully perceived showdown with China. This same argument is even stronger in regard to satellite warfare—and I've made it before. The U.S. absolutely cannot overstep and risk goading Russia into destroying its space recon fleet. Because if Russia and the U.S. each exchange blows and destroy each other's satellite capabilities, it will leave China as the sole space hegemon which would give the Chinese immediate global domination over the U.S. and spell the end of the U.S. empire. Forget the arguments of 'space Kesslerization' on this account as I don't think the limited destruction of E/O and SARs satellites would snowball into full Kesslerization as there is a limited amount of such prestige satellites on each side.
The point is, the U.S. has to be very careful in not escalating too much, as it could inadvertently induce Russia into terminally hamstringing it against China. So it's because of this, that I'm very skeptical that U.S. will dare escalate the situation high enough to even risk having Russia cripple them in this way. They may talk tough on the surface, but internally they know the score. U.S. is aware that China is the real, main, final goal, and no amounts of personal enmity towards Russia can distract from that. Ultimately, the U.S. needs to come out of this conflict unscathed so that they are not gimped against the even much more daunting proxy war in Taiwan looming ahead.
Remember, I've said it before but contrary to popular opinion that U.S. is acting 'wild and reckless' in Ukraine, my personal heterodox view is that U.S. has actually been immensely restrained in Ukraine and palpably fearful of Russian reprisals. Given the amount of systems, hardware, and capabilities the U.S. has, what they've given to Ukraine could not, to me, be characterized as U.S. going "all out" without "caring for Russia's red lines". If that was the case, they wouldn't have literally de-programmed Ukraine's HIMARs to lock out Russian territory from strikes.
To prevent them from firing on targets in Russia, the United States secretly modified "hardware and software" of the HIMARS rocket launchers bound for Ukraine, the Wall Street Journal reported Monday . HIMARS trucks were also modified to ensure that Ukrainian forces could not fire non-GMLRS rockets sourced from other countries.
Does that sound like the audaciously reckless U.S. we hear so much about?
So, personally, I don't see a threat of nuclear war of any kind just yet. But what I do clearly see are threats of a lunatically unhinged Zelensky and his unstable controllers wanting to blow the ZNPP to cause a nuclear accident in order to blame it on Russia and have NATO "step in" in some shape or form. From the point of view of Zelensky and his Frankenstein cretin Budanov, blowing the ZNPP can accomplish any number of perceived strategic positives:
It could create a radioactive exclusion zone which restricts Russia's Crimean landbridge as illustrated by the earlier-posted map, and additionally irradiate a large area of Russian-controlled territory in order to complicate and hamper Russia's logistics, lower population morale and generate outrage against the SMO

It could simply muster solidarity between the waffling NATO members and global countries in general in order to build an even more formidable coalition to fund and supply Ukraine ad infinitum

My personal pick: it could force NATO to declare a global emergency 'civilian evacuation corridor' which would "require" NATO rapid response "peace keeper forces" to occupy Odessa and/or other regions for the sake of "evacuating radiation-stricken civilians from the Putin regime's evil nuclear attack"
And of course, were it to come down to that, the corrupt IAEA would support Ukraine in whatever fake cover story they'd come up with. Just watch this Rossiya 24 journalist's account of Rafael Grossi's recent visit to the plant. She confirms that the IAEA had no interest in actually evaluating the ZNPP reactors, but were in fact occupied with taking secret recon/surveillance photos of Russia's military positions around the plant for the AFU.
This had already been confirmed by Russian troops on the ground, who if I recall correctly even confiscated one of the official's cameras or at least made them turn them off. Just like the vile OSCE before them, these organizations are there only to further Ukraine's terrorist cause, nothing more. Any actual impartial 'inspections' they pretend to carry out are all fraudulent performances. They are nothing more than the Ukraine's version of the insidious OPCW, responsible for Syria's fake chemical attack charade.
All in all, the main panicked point of argument behind closed doors of the West and NATO's upper echelons can be summarized as follows: "We know we can't beat Russia on the battlefield using Ukraine as a proxy, so we must find some black swan event that can turn the tables in our favor."
They know they can't compete with Russia in the industrial war, so they need an underhanded gimmick of some sort. Not only did Stoltenberg state their arsenals are almost empty:
But Germany confirmed that they only have 20,000 shells left for themselves, which is enough for one day's moderate usage for Russia.
For now, let's move on to a few other sundry updates:
Some new footage of the recent battles includes a large AFU storm attempt which was driven back by Russian strikes and tanks of the 3rd battalion of the 60th brigade, 5th combined arms army, eastern military district. After taking losses the enemy units fled:
And here is ground footage of a wild incident which took place after Russian Lancet drones ravaged a Ukrainian assault grouping during the 'offensive' days ago, one of the T-72 tanks backed up over its own MaxxPro MRAP. The original Russian drone footage is attached at the end of the video:
An interesting story was shared about how a Russian soldier got captured in Zaporozhye then tricked his captors into themselves becoming POWs:
Interesting story.

The Armed Forces of Ukraine launched an offensive operation in one of the directions in the Zaporozhye region.

During this offensive operation, a group of the Armed Forces of Ukraine managed to reach the position of the Armed Forces of the Russian Federation and after a short battle they managed to capture one soldier of the Armed Forces of the Russian Federation.

After a captured soldier of the Armed Forces of the Russian Federation spent a day with the group of the Armed Forces of Ukraine, he offered them a safe way out of the area.

After receiving approval, he led a group of the Armed Forces of Ukraine to the positions of the Armed Forces of the Russian Federation, as a result of which a group of the Armed Forces of Ukraine (12 people) was captured.
We talked before about Budanov's return. Interestingly, here the Ukrainian official for the first time admits that the GUR HQ was in fact struck, but he claims that "the objective was not achieved" by Russia—whatever that means. He says he can only divulge more info on this strike "after the war is over."
Russian photoshoppers had a ball with Budanov's bizarrely stiff return photos: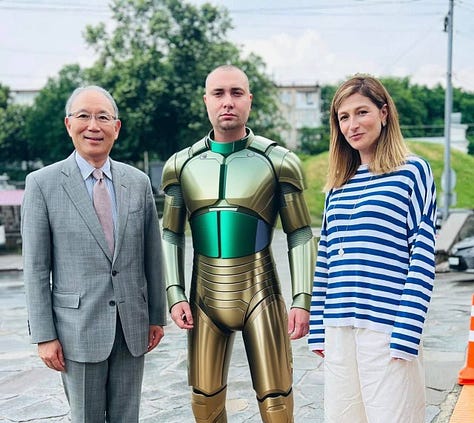 Next is a good analysis of what went wrong for the AFU during their 'offensive'. Hubris with a dash of stupidity?
🇷🇺🇺🇦 As the Ukrainian offensive begins to culminate well short of its intended objectives, Ukrainian channels have begun to analyze their failures and it provides an interesting insight into the operational difficulties the AFU now finds itself in. ZeRada has this to say:

1️⃣Complete absence of surprise effect. The APU went where they were expected. Why the hell did the speakers of the OP announce an offensive there in six months? The question is open.

2️⃣Mistakes in the general planning of the operation. Kharkov relaxed. The command expected that the battle of the Sea of Azov would be the same easy walk. There are no tactical surprises at all‼️

3️⃣Underestimation of the engineer-sapper training of the enemy. Conspiracy theorists even wrote that the Russian Armed Forces carried out mining covertly. This, of course, is nonsense. It's just that even theoretically SUCH total mining was not calculated, although the Tsar trench was visible even from space.

4️⃣The RF Armed Forces were able to produce and accumulate a sufficient amount of guided weapons, both ground and air based. The equipment of the Armed Forces of Ukraine that passed the first minefields was met by Kornets and their counterparts.

5️⃣Echeloned EW front cover by the defenders. Combined-arms systems are also operating, and, which was completely unexpected, trench EW of the RF Armed Forces, which were not often seen before. The Armed Forces of Ukraine faced a loss of communication during the offensive, and FPV drones were ineffective.

6️⃣Massive use of guided bombs. Even at the stage of preparing the offensive, the Aerospace Forces knocked out warehouses and accumulations of equipment with UABs and KABs, preventing them from concentrating normally for a full-fledged strike. Residents of Berdyansk and Primorsk say that after the start of the Sushka offensive, they began to fly even more often. The Aerospace Forces do not spare for the key targets of planning bombs.

7️⃣ Alligators. Ka-52 are back in the game. Since the beginning of the great war, they have been written off by drone aficionados. But during the offensive, they were able to fully cover their troops, as if in a shooting range, knocking out the armored vehicles of the Armed Forces of Ukraine with impunity. Arestovich's stories about 6 downed Alligats are not confirmed by anything at all, except for his and Malyar's statements.

8️⃣Deficiency of air defense. A couple of months before the start of the offensive, the command of the Russian Federation declared the main priority of the radar and air defense systems of the Armed Forces of Ukraine. During this time, they managed to knock out a large number of complexes and their components. Therefore, when the offensive began, the infantry of the Armed Forces of Ukraine, on the contrary, was left without cover. During the Battle of the Sea of Azov, not a single helicopter was shot down.

9️⃣ The human factor. One and a half years of war are beginning to affect the quality of personnel. Mariupol and Bakhmut, Lisichansk and Severodonetsk, Marinka and Vuhledar - the Armed Forces of Ukraine have lost a huge number of military personnel, volunteers and ideological fighters. Tankers and attack aircraft, even trained in the West, but consisting of mobilized citizens simply do not want to die. They sometimes break and abandon equipment (as the world press wrote about), refuse to follow orders.

Any subsequent offensive actions of the Armed Forces of Ukraine MUST take into account the above factors. Otherwise, this will continue to be not an offensive, but the destruction of our own troops.
And lastly, 82 years ago today, at 4am on June 22, 1941, the largest invasion in the history of humanity kicked off the greatest and most lethal war ever, the Great Patriotic War, as it is known in Russia. So for that I share the following post and video dramatizing what it must have been like on the USSR's western border during that opening morning of June 22. And just like the USSR suffered early setbacks to later roar back and snatch victory, so too will the descendants of those Russian heroes destroy the 4th Reich of the Atlanticist powers waging their existential last ditch bid to destroy Russia.
♨️♨️♨️ MEMORIES ‼️

82 years ago, on June 22, 1941, at 4 am, the Great Patriotic War began.

82 years ago, not just Nazi Germany, but the entire European Reich treacherously attacked the Soviet Union.

The Great Patriotic War began, claiming 27 million lives of our fellow citizens, of which 8.6 million were combatants, the rest were civilians in the territory occupied by the enemy, blockade survivors, victims of concentration camps.
---
If you enjoyed the read, I would greatly appreciate if you subscribed to a monthly/yearly pledge to support my work, so that I may continue providing you with detailed, incisive reports like this one.
Alternatively, you can tip here: Tip Jar
---