Discover more from Simplicius's Garden of Knowledge
War strategies, geopolitical analysis, SitReps, and discussions.
Over 24,000 subscribers
Well, the chef has delivered his finest cuisine yet.
None of the tricks worked. All the endless distractions, diversions, deflections, and myriad attempts to pry our eyes from the inevitable, massive humiliation for NATO forces in Bakhmut—or is it Artemovsk now?—using every tool in their possession, from diversionary strikes on civilians on Russian border towns, to outright political assassination to steal headlines and steer public attention: none of it worked.
Bakhmut today has fallen on the exact one year anniversary of the fall of Mariupol on May 20th, 2022. And not surprisingly, the posture adopted by the UA supporters is the same exact energy as before: cringe, cope, excuse-making. "Bakhmut's mission is accomplished," they say, swallowing sobs.
As above, so below:
Here's the vast, incalculable list of units which were broken over the Wagnerian rock:
Why is Bakhmut called a Meat Grinder?
Who was decimated in Bakhmut:
Brigades:
45th Brigade
43rd Brigade
26th Brigade
28th Brigade
62nd Brigade
63rd Brigade
53rd Brigade
60th Brigade
24th Brigade
57th Brigade
30th Brigade
Advance Rubizh Brigade
Advance Azov Brigade
Advance Uragan Brigade
Advance Spartan Brigade
109th Brigade
116th Brigade
119th Brigade
241st Brigade
93rd Brigade
77th Brigade
46th Brigade
4th Brigade
17th Brigade
61st Brigade of Jaegers
Special Forces and Spetsnaz Regiments:
5th Assault Regiment
8th Regiment of Special Forces
Kraken Battalions:
122nd Battalion
68th Battalion
214th OPFOR Battalion
49th Rifle Battalion
15th Mountain Assault Battalion
Omega
Border Guard Donetsk
8th Regiment of the UDAR UAVs:
Shershen
Adam
Karlsen
Terra
Skala
Madyar
Khartia
Kep
Seneka
WASP Legions:
Dudaev Battalion
Georgian Legion
Mansur Battalion
Shamil Battalion
Gonor
Normandy Legion
Most of these battalions have suffered more than 70% casualties just against PMC Wagner.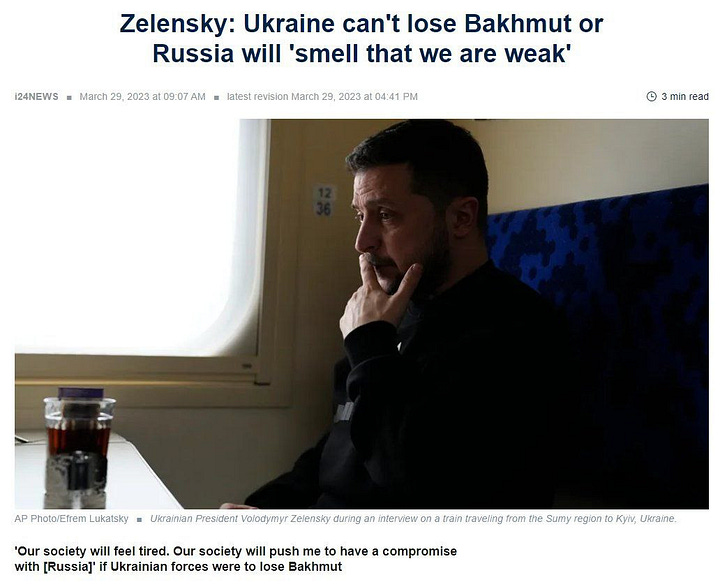 The big question on everyone's mind now is, what next? There are many potentialities for this, both in short and long term, so let's try to break it down piece by piece. First, for the known factors.
Prigozhin has announced, that after some sweeps of the city, on May 25th, Wagner will be handing the keys of the city over to some presumable Russian motorized unit, and Wagner itself will withdraw for R&R. Or more like R&R&R&R: rest, recreation, refit, reconstitution. Of course, it's difficult to take anything Prigozhin says at face value, and there's good chance that Wagner will instead continue assaults.
A while back I had predicted that the next general move would have to be to Seversk. However, there are some reports that the next vector will in fact be to take Krasnoye aka Ivanovske in order to flatten and secure the frontline as a shaping measure, and also Khromove. But there's now word that Khromove has already fallen, though I haven't seen full 100% confirmation yet:
Khromove in red above, Ivanovske/Krasnoye in blue. The big problem with Ivanovske is the huge forest belt on its flanks which has proved a major challenge for Wagner forces previously. In order to approach the suburb, you're forced to take raking fire from well dug-in Ukrainian positions inside the forest. And they're difficult to root out because under the forest cover, it's hard to conduct accurate ISR to hit them as they are well concealed inside the forest. The only way is to root them out by hand by assaulting the forest itself, but to do so, you have to cross open fields from which you take massive fire from their positions. Forest seen below circled in white, with Ivanovske to its right/northeast.
And of course to take Ivanovske itself, would also mean to likely control the forest, as who controls the town can control the forest much more easily. And to control both means an extremely favorable envelopment of the Chasov Yar urban agglomerate (and various smaller suburbs around it).
Basically, it gives a way into Chasov Yar under convenient cover:
It's interesting that one connected channel had this little hint:
Bakhmut's downfall is no longer the main focus. Something bigger is coming soon⚡️⚡️⚡️
We can only muse at what that might be. But we'll get a much truer indication of what new directions may develop after it's confirmed which units, exactly, are going to remain, and whether Wagner is actually going to withdraw or whether it's just more bluffing from Prigozhin.
The other consideration for the short term, is that following this humiliating loss for the AFU, there are new indications of late-stage preparations being made for the big southern offensive:
‼️🇺🇦🏴‍☠️The enemy has completed preparations for an offensive on the Zaporozhye front, - Khodakovsky (Vostok Commander)

"Today, May 20, the preparation of the enemy for an offensive in the Zaporozhye direction was to be completed. All the previous days he was concentrating forces, coordinating, strengthening air defense - in general, he was engaged in the military work required in such cases. At the same time, the epic with Bakhmut was coming to an end , at the end of which, according to Prigozhin, the enemy will inevitably go on the offensive. Two circumstances coincided, there are no visible reasons not to attack - we begin the countdown."
So—several things here. Firstly, we know that Zelensky appeared to be using Bakhmut as a stopgap to delay Russia from perhaps launching anything of their own, until he can finally gather his forces for his main last hurrah offensive. Now that Bakhmut has fallen, we can expect that he may have to launch something
Secondly, in the Pentagon leaks, on the pages that showed all the new Western-trained brigades, for those who've seen it, they had given timelines for the readiness of each brigade in the various categories like when training would be completed, when the equipment deliveries would be completed, etc. Everything was said to have been completed by end of April at the latest, though we know recently Zelensky has complained that he still doesn't have enough arms. But this likely has more to do with the fact that Russia has been destroying all of these arms in their warehouses in major strikes for the past month. But late May was also the time given by various sources as the final ending of mud season and the point at which there could no longer be meteorological excuses for the AFU.
It is now a critical crossroads for Zelensky's regime. Bakhmut has fallen and he stands to now either allow Russian forces to push further, requiring him to deplete his precious new reserves by shoring up the defenses of Ivanovske, Chasov Yar, etc., or he can launch the offensive to try to conversely take Russian resources away from every other frontline and pull them toward the southern direction.
More info from Rybar about AFU's seemingly finalized preparations:
Among the members of the Ukrainian formations, they talk about the imminent intensification of hostilities-from a couple of days to a week. In the 108th theroborona brigade, identification signs ("white cross" on the roof of vehicles) are being removed. At least 16 tactical aircraft, some of which are carriers of Storm Shadow cruise missiles, and six Mi-8 helicopters are based at the airfields in Dnepropetrovsk and Dolgintsevo.

In the south of the Dnipropetrovsk region, excluding TRO, forces of 116, 117, 118 ombr 10 AK, as well as 1 otbr, 71 ebr of the Armed Forces of Ukraine and 82 odshbr DSHV are concentrated in Oboyanovsky, Sinelnikovo, Vasilkovka, Chaplino, Pavlograd and Pokrovskoye.

Units of the 33rd and 47th mechanized brigades of the 9th Army Corps of Engineers arrived in Volnyansk in the Zaporizhia region. Formations of 128 ogshbr and 15 obr NSU, 65 ombr, 46 oaembr and three TRO brigades took up positions on the front line.

In addition, forces of the 44th separate mechanized brigade from Nizhyn were observed in the direction, and the transfer of 14 obr of the National Guard from Vinnytsia and 81 separate control battalions of the 9th army Corps from Kirovohrad region began.

Also, members of the Ukrainian formations report on the possible transfer of paratroopers of the 10 ogshbr from the Soledar direction to the area of the Vremyevsky salient.

And the 309th separate battalion of the 48th Engineering Brigade of the Armed Forces of Ukraine has also been moved to the Gulyai-Pole site, which can be armed with mobile bridge-laying machines of American and German production. (Rybar)
The region that Rybar describes, where all these units are being moved forward into is shown in red:
Interestingly, they're about 80km from Russia's contact line, putting them outside of reach of Russia's artillery, glide bombs, kamikaze drones, etc.
Another prominent Russian analyst has the following:
Voencor Kitten Z. What we have in the moment:
1. The enemy has concentrated a strike group of about 65 thousand troops in the Zaporozhye direction, which was chosen as one of the main ones during the planned offensive operations.
The forces of approximately two army corps and amphibious assault troops have been assembled.
2. The main units and formations of the group are located 80-100 km from the line of contact.
Combat readiness group. The enemy is waiting for an order.
3. Before attempting a breakthrough, a massive rocket and artillery strike is planned on positions, locations, KP, ppu, headquarters, warehouses, bases of the Russian Armed Forces and civilian objects both in the Zaporozhye, Kherson regions, LDNR, in the Crimea and Sevastopol, and on the "old" territories of the Russian Federation.
4. There may be an attempt to launch a diversionary strike in the direction of the Belgorod region of the Russian Federation.
5. In the Kherson direction, engineering works were noted for preparing the offensive with the crossing of the Dnieper — in a number of areas, mine clearance of approaches to the water barrier is being carried out.
However, it should be noted that a recent report said Russia too has accumulated massive amounts of troops on this line now. I've heard numbers as high as 150-200k just in this southern region alone. If that's true, it's difficult to imagine an AFU breakthrough of any kind. In fact, Zaporozhye governor believes the AFU already missed their chance at an offensive in the region when Russian presence was thinner:
ACTING Head of Zaporizhia region Balitsky: Ukrainian troops missed the chance for a counteroffensive in Zaporizhia region, they have no chance of success. There is no need to evacuate residents of Energodar and employees of Zaporizhia NPP.
The problem is, it appears Ukraine is being heavily pressured into this offensive, when internally they all know that the results will be catastrophic. Ukrainian ambassador to UK intimated as such yesterday:
🇺🇦⚔️🇷🇺Ukraine ambassador in London expects the onset of a "terrible summer" in Ukraine.

Vadim Prystaiko also said that in the West there are inflated expectations from the Ukrainian counteroffensive, and this puts pressure on the AFU.

Ukrainian Ambassador to the UK Vadym Prystaiko said that the upcoming counteroffensive of the Ukrainian Armed Forces could lead to heavy losses among Ukrainian servicemen.

"I know it could be a very terrible summer and the price [that Ukraine will pay] is terrible," the diplomat said in an interview with ITV on Thursday. Prystaiko also said that in the West there are inflated expectations from the Ukrainian counteroffensive, which "puts pressure" on the Armed Forces of Ukraine.

At the same time, Prystaiko refused to disclose information about the losses of the Ukrainian army. "At the internal level, we understand how many of our people have already died or gone missing," he said. - We understand that more than 8 million people are outside the country, so we understand the losses. We understand that it will be extremely difficult to fight with a country that is 16 times bigger than us."
So only now, Ukraine is finally acknowledging the size disparity?
This is the main reason that I've espoused the idea that there are two potential strategies for the 'upcoming offensive'.
The first is that simply, there won't be any real 'offensive' at all. Ukraine will merely play cat and mouse, more of their 'asymmetrical' warfare which will revolve around psychological attacks to constantly maintain a winning posture in the media, online, social media, etc., rather than on the ground. This will include things like:
More overstated strikes on Russia's rear. Notice they like to strike things that create flashy optics but have no real strategic value. For instance oil containers in Krasnodar. Everyone knows that the least weakest part of Russia is its energy/fuel supplies and there are no amount of strikes on their oil facilities that can even make Russia flinch. But they sure look 'pretty' on camera, with their black fumes cinematically filling the sky.

Train derailments, which, like the recent Crimea one, are fixed in literally hours.

Assassinations of various figures, whether LDPR officials or Russian media figures.

Fake, glorious 'shoot downs' of more Russian hypersonic missiles and other 'wonders'.

Feint attacks on Belgorod and other Russian regions which they'll try to sell as Ukraine 'capturing' some small parcel of Russian territory, proving their might.
All of these things will be used in conjunction with various recon-by-fire strikes along the Zaporozhye line to give the appearance of movement and activity, which in reality will just be local positional give and takes, leading to no real gains.
The entirety of that is what I'd classify under the first strategy. The second would be for Ukraine to try to seize one very key psychological victory which they can slickly move the goalposts and proclaim as a successful offensive. The types of objectives which could justify that are limited, which is why in the past I've set my eyes on ZNPP Energodar nuclear plant as the likeliest possibility, simply owing to it being the easiest to achieve compared to anything else.
Other possibilities I've previously verbalized include things like getting close enough to put Melitopol in artillery range and/or capturing some neighboring settlements. Or at least getting close enough to put Mariupol/Crimea under the range of some form of weapons system, whether it's artillery, or new long range systems like Storm Shadows, JDAMs, etc. For them to put Mariupol/Crimea under such range would be a big psychological victory to them because they can use the bombardment of these zones as proof that future liberation is 'imminent'.
In fact, just last night they bombarded Mariupol for the first time in a long time. Reportedly upwards of 11 long range munitions of some unidentified type were used. It appeared at least 9 were shot down but there were 2 large explosions in the old airport to the southwest of Mariupol.
On this topic, let me say one thing, which I've been asked about recently several times in comments. Regarding the potential for AFU's storming of the Dnieper, whether to gain a foothold near the Kherson region or to take ZNPP plant. People are wondering how likely/possible such an operation is.
The most important and basic thing to understand regarding this is: to get to the other side of any river in general is the easy part. Anyone can do this, whether they sustain losses or not. The hard part is subsequently resupplying that new foothold, forward position, etc., to such a degree that you can actually hold it indefinitely. Recall that this was the main reason Russia withdrew from all of Kherson region in general was the very tenuous supply situation which could be cut at any moment.
So if AFU launches a mass operation to cross the river in Kherson, even if they get a sizable group across to establish a beachhead, how exactly are they going to supply that grouping indefinitely for continuous combat in a highly contested zone? You need massive logistical infrastructure capabilities to keep a real beachhead going and growing into a FOB that can actually accommodate an eventual large brigade-sized or higher unit, etc.
So it's highly unlikely in Kherson. However, in ZNPP the situation is slightly different. If the objective is simply to capture ZNPP, they can do so without worrying about resupply too much simply because the plan would likely include some sort of major provocation where they would in effect hold ZNPP 'hostage', in order to make Russia back off and eventually/ideally sign some agreement to give up possession of the plant to the AFU under a massive international pressure campaign. The way they'd do this is threaten to blow the plant and blame it on Russian retaliatory strikes, which the media would of course cover for.
So with that operation, they wouldn't have to worry about any long term logistical solutions. It would be predicated on just one main, risky operation to capture the ZNPP and immediately launch into an internationally manufactured 'crisis'-standoff that would put pressure on Russia to halt all attacks and hand over the plant to UA, perhaps under the guise of some 'international team' like the compromised IAEA agency, etc.
Future Arc
Okay, so we're done with the short term for now. Let's look at the long term arcs that are currently being signaled to us.
The most important development is that the West appears to finally be moving closer to pulling the trigger on F-16s for Ukraine.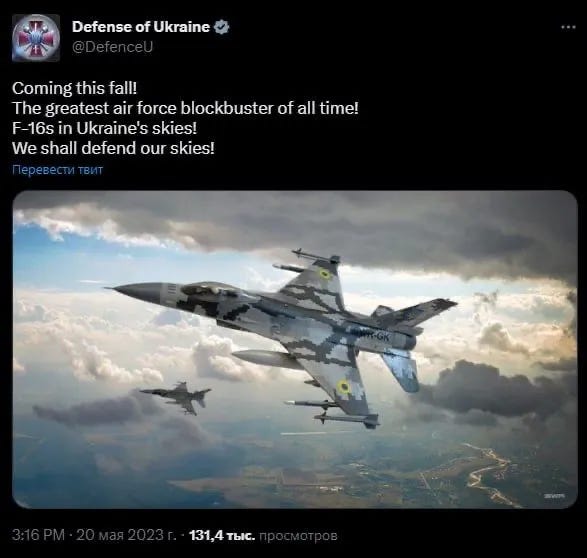 They have magically discovered that it actually only takes four months to train an already-capable pilot, rather than the previously estimated 'several years'.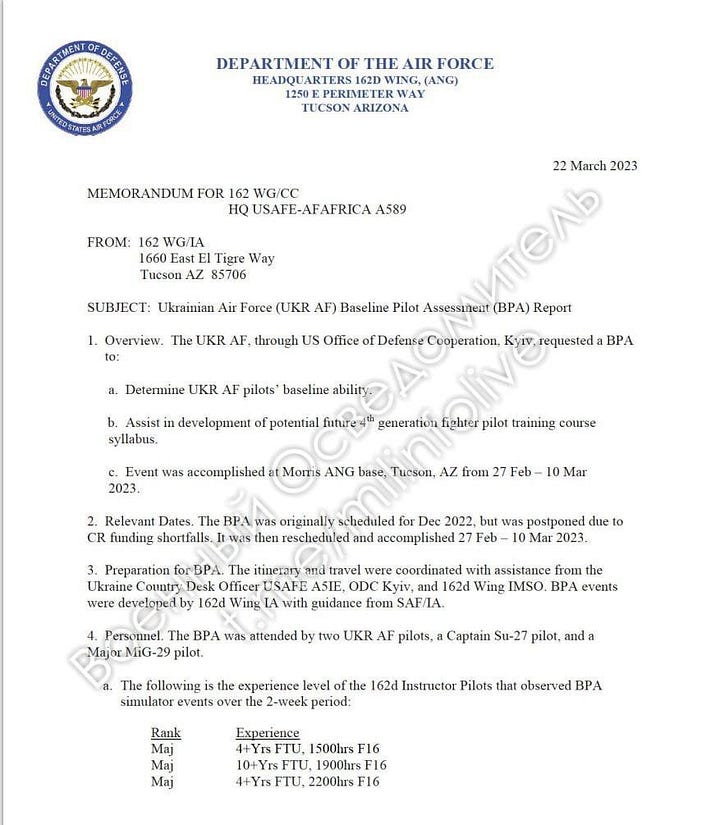 But here's where it really gets interesting. The thread that I think most people have missed is that this timeline very mysteriously (I say that tongue in cheek) corresponds to new timelines recently given to us regarding the amount of Western patience remaining for Ukraine to 'prove they're capable of fighting back' or basically 'show them something'. There have been several recent statements on this account, one specifically delineating that some Western officials believe Ukraine has until about September of this year, which would roughly correspond to the end of Summer, to prove they stand a chance against Russia.
I don't believe in coincidences. So the fact that this sudden F-16 lightning bolt from the blue is making headlines in exactly the timeline described to be Ukraine's "last call", makes the narrative throughline seem quite obvious to me.
The above article quotes a Euro-official as stating that:
"It is important for America to sell this war as a successful one, as well as for domestic purposes to prove that all of those aid packages have been successful in terms of Ukrainian advances," a European official told
And most critically:
According to FT sources, Washington believes the next five months are critical to the outcome of the conflict. "If we get to September and Ukraine has not made significant gains, then the international pressure on [the West] to bring them to negotiations will be enormous," another source told the FT, on condition of anonymity.
It appears to me that Ukraine's final deadline is being positioned for another timely rejuvenation deus-ex-machina style with the addition of a new 'wunderwaffe' to tide over the sagging skeptics for another few months. As you've probably figured out by now, there are two camps in the West. One whose support is waning, who sees reality written into the Ukrainian blood spattering every inch of their soil, and knows it's only a matter of time. This group believes it's best to just pull the plug and save everyone the headache. But the other, likely smaller 'vanguard' group, which are the true die-hard globalist nomenklatura tied to the most insidious 'higher authorities' who run the world, is desperate to continue the conflict at all costs, as for them, defeat to Russia would be catastrophic. This group is fighting to string along a series of continuous morale-boosters like the F-16 (and the Patriot, JDAM, HIMARs, etc., before it) to convince the first camp to continue feeding Ukraine with money and arms.
Their job is to create an endless 'power creep' of wunderwaffe to act as continuous defibrillatory 'shock paddles' to the flatlining Ukrainian corpse. So now, they desperately try to accelerate the F-16 program to save Ukraine from total support cut-off at that final eleventh hour by the end of Summer. Why Summer, you ask? Well, besides the recent statements I alluded to, where several figures mentioned a 4-5 month remaining time span of support, Summer is a natural period for which any realistic Ukrainian offensive or gains can be expected. Not only have Ukrainian officials previously made statements to that effect—for instance, Budanov's statement that Summer will see the key, climactic battles that will determine this entire war:
But also the logical assumption that as things head into Fall, we begin another whole new cycle of Rasputitsa, Winter, etc., which will preclude the AFU from doing anything of note for another 6-8 months until Spring/Summer of 2024, at which point many would conclude the AFU would likely already be long irreparably destroyed. October and November, I believe, have heavy rains, which once again will create impassible conditions. So, Summer appears the last chance for any significant offensive. And since offensives can last a long time on paper, that would mean launching one at the end of Summer would likewise not make sense, as it would bleed over into Fall. So the sooner the better.
The Netherlands is canceling a deal to sell 28 F-16 fighter jets to Draken International.

The first part of the contract for the supply of 40 aircraft was completed last year, the second part was canceled, just against the backdrop of increasingly persistent rhetoric about sending fighters to Kyiv.

At the same time, a number of Western analysts believe that the first F-16s may be in Ukraine by August. For the same purpose, there are active injections, which will take 3-4 months for Ukrainian pilots to master new equipment. In fact, this is a preventive legalization of Western "retirees" at the controls of fighter jets.
So, as you can see, once September comes, and any long-awaited Ukrainian gains to turn flops, there will be the F-16 booster to inject new life into the flagging Eurocrats. A token force of F-16s can be used to create new psychological propaganda operations, where some token strike deep in Russian territory will be hailed as a stupendous achievement and a 'sure sign' that the renewed AFU is on its way to defeating Russia, retaking Crimea, etc., etc. At this point, you know how the game works—it's both repetitive and predictable.
The fact is, the Block 50/52 F-16s which are rumored to be on the table have no particularly superior capability to that of what Ukraine has already been using. They are able to hoist Storm Shadows, JDAMs, etc., just like their jury-rigged Mig-29 and Su-27 Ukrainian counterparts. This is all theater simply to give the semblance of capability and forward motion.
One could argue, that the Block 50/52s can also carry Aim-120 Amraams which could give Russian jets problems. But there are many issues with this. First of all, the F-16s would still be massively outnumbered in a contested space which is unfavorable to them in every possible way. Not only do Russian patrol craft like the Su-35 carry missiles superior to the Aim-120 Amraam, such as the Vympel R-37M, but they're backed by a variety of long range Russian assets which aid them, like the S-400s, A-50U AWACs, etc. This gives them every conceivable advantage over Ukraine's lone F-16s in contested space. Not to mention the fact that the Aim-120s were already said to be ad hoc'd onto the Mig-29s anyway, and they haven't done anything with them.
For instance, click on exhibit A and B below, from a Western source: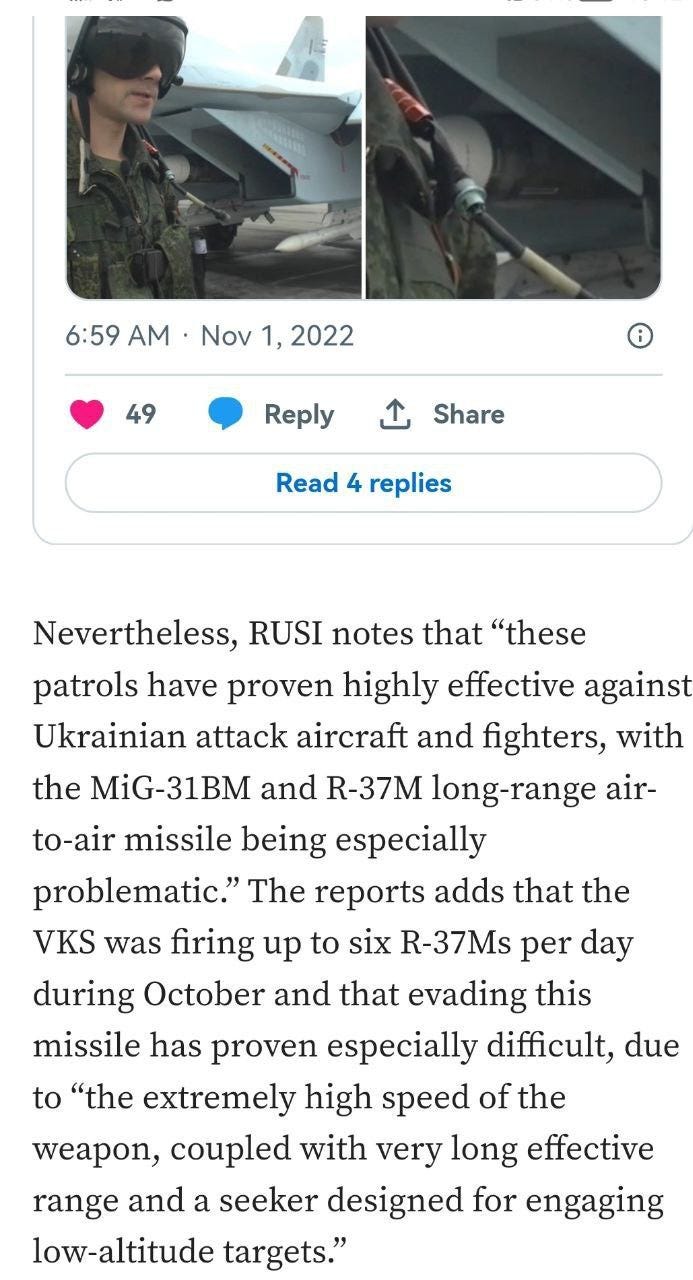 Some might argue, they recently blasted an entire Russian 'special air group' near Bryansk. But to be honest, the more time goes by, the more I'm personally leaning towards the explanation that that air group was destroyed by friendly fire. The prominent Russian 'FighterBomber' channel seems to agree, stating that Russian IFF (Identify Friend Foe) systems have known problems, and it would explain a lot of very untenable anomalies of the shoot down; like why the EW choppers did not appear to be engaging the threat at all with their automated systems which disperse flares/chaff and why they wouldn't have been able to jam the system in question to begin with, as is their role. Keep in mind, Ukraine itself denied that they were responsible for this shoot down, officially, though that's not necessarily saying much.
It's simply too improbable, and they have no real systems that can reach that far into Russian space, have never done it before or since. So personally, my senses tell me that was a catastrophic case of blue on blue. Wouldn't be the first or last time—most of the shoot downs of Russian Su-34s over Donetsk last year were confirmed to have been by friendly fire. And most shoot downs in general throughout history are friendly fire, which includes the majority of NATO/U.S. shoot downs in the various conflicts like Desert Storm, etc. It's a simple reality of air operations.
But back to the F-16s. The fact is, in almost every daily Russian MOD report recently it's become routine to announce the destruction of several Storm Shadows, including in today's report one GBU-32 i.e. JDAM, as well as several HIMARs missiles. In short, Russian AD has already quickly adapted to these weapons and they pose very little real danger. Sure, Storm Shadows did in fact hit a couple Lugansk objects earlier in the week, and some will naturally get through, here and there. But they are picking weak targets in LDPR, steering clear of Russia's own actual rear lines, whose AD networks are too powerful.
So the F-16s can potentially lob more Storm Shadows, big deal. They're already largely nullified. With that said, all of these deliberations are based on the current war posture where Russia largely remains defensively dug in for now. Things could change were Russia to launch their own offensives, and thus 'open up' their logistics lines, making them more vulnerable to potential F-16s in the future. It's always far easier to fend off all these wunderwaffen when you're on the defensive, but going on offense you always make yourself more vulnerable.
The Big Underlying Question
The really big logical question for all of this, though, is what's the point of all these delaying tactics that string the conflict along indefinitely? These wunderwaffen like the F-16s which even their purveyors know would essentially be useless? What eventuality or final goal are they stringing Ukraine along for if they know the obvious trajectory of the war, which is one of inevitable collapse for the AFU?
Do these people actually think Ukraine will eventually win, and if so, how exactly? This is a very good and big question that underlies everything currently happening. What is it they really hope to gain with all this if it's clear to anyone with even the remotest military knowledge that there's simply no way possible for Ukraine to win?
There is no exact or clear answer to this, but there are some possibilities I'll offer.
The first idea is that the small 'vanguard' of the Western elite I mentioned earlier hopes to indefinitely prolong the conflict to buy enough time for them to engineer various socio-political upheavals inside of Russia, so that they can foment a coup against Putin which would create a WW1 - 1917 style scenario to collapse Russia and remove them from the war.
One idea, for instance, revolves around the fact that Russia has its own presidential elections in 2024. In fact, Russia's elections are much sooner than those of the U.S. which happen in November. Russia's are on March 17th, 2024. That means, if the war can be prolonged in as unfavorably a light for Russia as possible until that point, the West can hope to engineer various provocations to create major problems for Putin and his prospective re-election campaign (Putin hasn't officially announced he's running yet).
Just like I've expounded on the problem of the war for the U.S. Democrats' 2024 election cycle, similarly this can be turned into a thorn in Putin's side for his own campaign, or used as a lightning rod to create some form of mass societal upheaval in general. If they can manufacture an image of the war as catastrophic and unfavorable by that time, they can attempt to rally their 5th/6th columnist revolutionary forces in Moscow to take to the streets and create various nasty provocations.
As you've seen, they've already glommed onto Prigozhin's disputes with the MOD to use that as a wedge they can drive further into Russia's political elite. Even if 'overthrowing Putin' might be too lofty a goal, they can still hope for more realistic but no less devastating options like creating some larger political-military tension that could undermine the SMO. I'm not saying these things have a high probability of happening, I'm simply saying this is what that fanatical vanguard would be desperately hoping for.
The next possibility is that they're simply hoping to extend the war as long as possible with the similar hope that eventually Russian society's support for the SMO will sour. So, even if Russia is actually winning handily all the while, devastating Ukraine's military and infrastructure, the West could hope that eventually Russia will exhaust itself both militarily and societally/psychologically, growing tired of the war. Thus, the point would be to create this endless escalatory spiral of wunderwaffe to continuously shore up Ukraine's morale and that of Western supporters until such time as Russia becomes ripe for weakening. Many reasons could contribute to this, like long term economic conditions which could get tedious for citizens to endure, etc.
The Wind Down
But what forces is this radical vanguard up against? The other biggest news recently surrounds the talk of such a 'wind down' to the war as I referenced earlier. For instance, Seymour Hersh recently dropped another 'bombshell' that, according to his private sources, several countries led by Poland are considering pulling the plug on Ukraine, even urging Zelensky to resign if he must, in order to end the war:
But something else is cooking, as some in the American intelligence community know and have reported in secret, at the instigation of government officials at various levels in Poland, Hungary, Lithuania, Estonia, the Czech Republic, and Latvia. These countries are all allies of Ukraine and declared enemies of Vladimir Putin.

This group is led by Poland, whose leadership no longer fears the Russian army because its performance in Ukraine has left the glow of its success at Stalingrad during the Second World War in tatters. It has been quietly urging Zelensky to find a way to end the war—even by resigning himself, if necessary—and to allow the process of rebuilding his nation to get under way. Zelensky is not budging, according to intercepts and other data known inside the Central Intelligence Agency, but he is beginning to lose the private support of his neighbors.
Alex Krainer, who I know from previous comments, many of you read, expanded on this in his recent article:
There, he says that his own sources in Europe attest to the above. In fact, his article outlines the 'two groups' I alluded to earlier, the fanatical vanguard of the ultra-elite who run the 'cabal' behind everything, and the other milquetoast pawns who are getting cold feet. Krainer concludes:
"I believe that in the near future we might see an abrupt change in Ukraine, perhaps a coup against the Zelensky regime and a capitulation of Ukraine's military."
In short, he foresees a sort of 'black swan' event which will render all of our previous prognostications moot, as it will result in a swift and sudden end to the war, likely with a military coup or something of that sort.
But the interesting part is how this all converges with the rash of recent reports which demonstrate that a 'consensus of the unwilling' is starting to truly build against Ukraine. This particularly revolves around a topic I've written much about already, which is specifically that of the 2024 election cycle, and how the American ruling class will have to brush Ukraine under the rug by then in order to keep it from becoming a major festering wound to be utilized as ammo against them by political opponents in debates, etc., similar to the failure of the Afghanistan debacle, but much worse.
Just two days ago, Politico dropped their own bombshell article outlining the likely heading of the war:
The article opens with a gut-punch:
U.S. officials are planning for the growing possibility that the Russia-Ukraine war will turn into a frozen conflict that lasts many years — perhaps decades — and joins the ranks of similar lengthy face-offs in the Korean peninsula, South Asia and beyond.
And that officials have already been busy briefing mummy-in-chief Biden on how the Korean-War-Style DMZ zone would look in Ukraine:
The options discussed within the Biden administration for a long-term "freeze" include where to set potential lines that Ukraine and Russia would agree not to cross, but which would not have to be official borders. The discussions — while provisional — have taken place across various U.S. agencies and in the White House.
But in only the third paragraph, they deliver the kicker as to why the mood has soured so:
It's a scenario that may prove the most realistic long-term outcome given that neither Kyiv nor Moscow appear inclined to ever admit defeat. It's also becoming increasingly likely amid the growing sense within the administration that an upcoming Ukrainian counteroffensive won't deal a mortal blow to Russia.
They even exhume the idea of an international peacekeeping force:
Other questions to consider in such circumstances include whether it is worth bringing in a multinational peacekeeping force.
And clearly, they're softening on any hard-fast objectives, as I mentioned earlier, of capturing Crimea, Mariupol, etc:
"There's a school of thought that says, 'Oh, the Ukrainians have to have [the city of] Mariupol and Azov Sea access.' There's others less hung up about the placement of the lines as long as Ukraine is secure going into the future," the former administration official said, describing the internal conversations.
The way to reconcile these disparate reports is what I said earlier, that there are multiple camps. One side sees the rationale in winding down and freezing the conflict Korea style, the other are the fanatical hawk vanguard at the direct command of the banking cabal who are pushing for endless escalation. Which side will win will be determined by how big of a defeat Ukraine is dealt in the next few months, whether they throw an actual offensive or not.
If Russia deals a decisive, crushing blow to the AFU from which it can never recover, then one can imagine that the weight will fall on the side of the 'freeze' consensus. If Ukraine has some successes which spark a light of hope then the hawks may have their way.
With that said, here's Ukrainian presidential advisor Podolyak's blistering damage-control response:
The Final Consideration
The final consideration in all this is a question many people have voiced in the comments recently. Which is: how/why does the West think they can actually succeed in 'freezing' this conflict at the snap of a finger? What gives them the hubris to believe they can simply call the entire war off at any point of their choosing?
I've mentioned before that the belief stems from the great economic leverage that the West still holds over key Russian allies which the West will attempt to rally for a huge international 'peace' coalition. There are a variety of financial/economic instruments they have to do this with. For instance, there's the threat of imposing new sanctions on everyone from Iran to China. And then there's also the offer of relieving already-held sanctions, in exchange for pressuring Putin to 'come to the table'. For instance, the U.S. can wave the postponement of arming Taiwan in front of China's face, or something along those lines. There are many such potential vectors, and U.S. knows all of them well.
Does that mean they will succeed? No. I'm only saying this is what they're banking on. However, there are many that believe, for good reason, that Putin does stand a chance in acquiescing to the coming 'push for peace'. Some reasons include not only previous soft-stepping to Western demands, but even recent things like the grain deal extension, which some have called an outright humiliation for Russia. Many believe that, if pressed strongly by his allies, Putin would agree to their offer. And given that Russia continues to refrain from so much as outlining the concise goals of the SMO—resorting to vague utterances from Peskov and such about needing to 'push back Ukraine's forces from Russian borders much further—there is perhaps some reason to fear such a conclusion.
Do I personally think that's what will happen? No. But as I've said in the past, nothing is a full-on 0 or 100 on the scale. Everything is some form of non-zero sum of probability. So while I personally still do think Russia will continue on, I would be a liar to suggest there's not a part of me that puts the possibility of capitulation at 10-15% or so.
Sundry Items
Some other news to catch up on:
While Kiev continues to deny Zaluzhny is dead, despite his not having been seen in public since early April now, new 'leaked' reports make a devastating claim on that account:
The above ends with:
Information about the wounding of Zaluzhny is indirectly confirmed by the fact that on May 10, his wife Elena was seen driving up from Novospitalnaya Street to the Kyiv military hospital, where she spent more than four hours.
The famed DPR Joker hacker collective which has previously leaked many important documents, including the big Delta Leaks, reveals the following:
So the consensus from these leaks appears to be that Zaluzhny is critically wounded and is receiving serious medical intervention, and is unlikely to ever return to his post. Personally, I'm not holding my breath, but it's possible.
Here, Prigozhin rather humorously recounts his version of what happened to Zaluzhny. He states that on May 11, 12, and 13, Zaluzhny was in fact within Wagner's striking range, and that Wagner did in fact carry out 'certain tasks' toward that count. But he does not know how successful those 'tasks' were. More and more it's starting to seem like perhaps something did happen to him.
With that said, Syrsky was also said to have been 'killed' yet a new video appeared showing the UA ground forces commander. Though one can also use that to argue the opposite point, if videos have appeared of Syrsky, then why hasn't Zaluzhny been seen in over a month, cancelling an important NATO summit because he was 'too busy'?
There does appear something fishy there.
Update: There even now appears news from a Ukrainian MOD spokeswoman that 'Russia is preparing an assassination attempt on Zaluzhny'. If this is true, it's clear that he probably is going to be unplugged in the near future, and they are just setting the ground for the announcement of his death.
A new Wallstreet Journal article revealed that British SAS are operating 'very close to the front lines':
This is something I've long reported already as there were said to be SAS crawling all over Odessa region and other areas, teaching AFU to operate Brimstones, Neptunes, and Harpoons.
But the broader bent of the article was about how UK/US are at odds regarding the war:
The U.K. and the U.S. are great allies, but on Ukraine there's a disagreement brewing. The Brits would like the Americans to be more aggressive, and the U.S. wants the U.K. to be more cautious.
This issue can only be difficult to understand, however, for those deluded by years of propaganda of 'America's might'. It's very simple to explain: the Brits have no real assets to speak of which are at risk, so they're able to gamble more and incur Russia's wrath. Russia doesn's have much options in 'escalating' or responding to Britain. Thus, Britain is like a small pesky mouse dancing around and nibbling at Russia's toes.
But the U.S. is the one that actually has tangibles on the line: the U.S. has gone 'all in', cards on the table. They have things to lose if they cross too many lines. There are assets all over Europe, and even ones in the Middle East, Africa and elsewhere which are at risk of asymmetrical response by Russia. If the U.S. goes too far on their gamble, they can incur massive reputational costs from Russia destroying something of theirs, whereas Britain has no such worries so they have the luxury of putting on a tough front.
A last few notes on Bakhmut.
Now that it's over, there are several facts we musn't forget nor allow the propagandists to sweep under the table. Firstly, recall that AFU launched a 'massive counter-attack' that was meant to do all sorts of things, from liberate Bakhmut itself to take all of the flanks or surround Bakhmut. This "counter-attack" was a massive failure, a flop. And we must hold the propagandists who were wrong to account, as well as elevate those who were right.
For instance,
correctly saw what was happening:
Meanwhile, don't forget that the 2D Bloggers' favorite mouthpiece, Strelkov, in fact predicted that Russia would not capture Bakhmut. Then he changed it to Russia would not hold Bakhmut after winter, Ukraine would definitely recapture it from an 'exhausted' Russian force:
This is in addition, of course, to his infamous prediction (check date of article below) that Russia would lose catastrophically in Syria, Assad would be deposed, Putin would be overthrown at home, and Russia would thenceforth collapse.
I'll never tire of reminding people of this. How can someone possibly trust an 'expert' with such a predictive track record?
But after today's historic events, Strelkov predictably attempts to save face:
Sure, Igor.
With that said, it's true that there are new preparations, it appears, for the AFU to try to save face themselves with assaults on Bakhmut's flanks:
🇺🇦 ⚔️ 🇷🇺 The enemy continues to advance trying to take revenge for Bakhmut on the flanks

This is reported in the reports by Ukrainian military propagandists / analysts.

On the southern flank of the AFU, they are storming a large strongpoint at an altitude near the village of Kleshcheyevka – this is the last strongpoint in front of the village.

The Russian Army has been transferring reinforcements to Kleshcheyevka itself and nearby fortifications for several days in a row.

The AFU is attacking Wagner's landing positions in the canal area and in the Ivanovske(Krasne) Forest area.

South of the Seversky Donets-Donbass canal, the AFU is trying to dislodge the PMCs forces behind the canal.

"Probably, the AFU will try to close the "cauldron" with the group in the landing," Ukrainian military propagandists summarize.

The Russian Army is daily pulling reinforcements to the flanks and is already successfully counterattacking the enemy in a number of areas.
Including this Azov advance destroyed by Russian 200th motor rifle boys from Murmansk: Video (alt link)
But interviews with Russian correspondents on the front there seem to indicate at the moment that the flanks are quite secure and it's not possible for AFU to advance much further.
Also ColonelCassad reports large losses for AFU there, with a garrison in Khromove being 'completely destroyed':
A post from a top Ukrainian channel:
👉 Legitimniy

Our source reports that in the last month alone, more than 2,000 soldiers of the Armed Forces of Ukraine are considered missing in Bakhmut itself.

This is due to the fact that most of the soldiers remain buried under the ruins of houses.

Many of them remain alive for a long time, being under the rubble, but no one will "dig them out", since the battles there continue constantly.
Yikes.
And also, some people have asked whether Russia ever conducts 'rear operations' against Ukraine. A couple days ago, a Ukrainian military channel wrote this, about a recent Russian SpecOps attack on their rear which wiped out 11+ Ukrainian border guards:
The gruesome 18+ video can be seen here.
On an offbeat note, here's a quirky but fun video to toast the glory of Bakhmut's capture liberation, set to the music of Wagner PMC's namesake, Ride of the Valkyries: Video.
I'll leave you with this poignant note from a respected Russian channel about today's historic achievement:
Brussinf:

On the capture of Artemovsk

I watched the Bakhmut meat grinder from the inside from its very first days, feeling the nerve of the events taking place to a sufficient extent for a reporter.

And you know... Personally, I have no joy for the new liberated territory. Just as there is no Bakhmut itself, which has turned into ruins in 224 days and is unlikely to be restored in the coming years.

But there is joy for the fact that the Wagner assault troops, not thanks to, but in spite of, crushed the huge grouping of the Armed Forces of Ukraine that outnumbered it - there is. Because this is a real feat of Russian weapons, which should be included in the textbooks on the military history of our state.

The guys went on the assaults in their usual prudent, but energetic and assertive manner and outplayed the enemy in a fair short fight. At the same time, the Ukrainians and the mercenaries who joined them were also good, this is recognized and respected by the navigators of the musicians themselves.

About the exit of the Wagner to the rear areas. I consider it fully deserved and necessary. For all the time they participated in the SMO, they had one task - an assault. Everyone needs rest.

True, something tells me that this rest will not be long and the Motherland will again call its Orchestra to a new battle. And Wagner will accept it. But let's see how events develop.
Is it too early to hope for Slavyansk 5/20/24?
---
If you enjoyed the read, I would greatly appreciate if you subscribed to a monthly/yearly pledge to support my work, so that I may continue providing you with detailed, incisive reports like this one.
Alternatively, you can tip here: Tip Jar
---