Discover more from Simplicius's Garden of Knowledge
War strategies, geopolitical analysis, SitReps, and discussions.
Over 24,000 subscribers
Firstly, let's get the leaker out of the way. One interesting thing that's come to light is that Jack Teixeira, the air national guardsman from Massachusetts who leaked the documents, did in fact have a TS-SCI clearance—which is Top Secret Sensitive Compartmented Information. This is beyond a simple top secret clearance, as the SCI portion would enable him to view far more sensitive types of information.
But what's more interesting is that he worked for the infamous and highly-storied 102nd Intelligence Wing. This unit was in fact embroiled in some major controversy and coverups, now deemed "conspiracy theories", particularly in relation to 9/11, where it appeared to be complicit with the plot to withhold U.S. air response in order to allow the hijacked planes to carry out their functions.
Some further shocking revelations include one report which said that Teixeira had actually been sharing secret files for over a year already, from as early as March 2022 because he was disillusioned with the U.S. government, regretted joining the service, and also thought that Russia and Ukraine should reconcile. Gateway Pundit reported that he first transcribed documents himself and merely posted the text online, but then started taking the documents home and photographing them to upload them fully to the net. The fact that he could get away with slipping these highly classified docs from the secure facilities and take them home is very surprising.
What apparently happened was that he initially posted them only to close friends in one Discord group he was a member of, but eventually other people from that group re-posted those documents in other groups, like Minecraft servers, etc., and that's how the docs inevitably leaked to a larger audience and garnered attention. But prior to being posted in secondary chat groups, he was allegedly posting these docs to the first primary group since early last year. And that whole time it had gone undetected.
My prediction is, though he'll be charged gravely, there's a chance if Trump or someone similar is elected, he'll be pardoned. After all, this isn't the first time, or even the second. There's quite a precedent for it: Chelsea Manning famously leaked the classified data that led to the troves of Wikileaks data which popularized Assange's outfit. She was charged with the Espionage Act and imprisoned but later had her sentence commuted by Barrack Obama.
Lesser known is Daniel Ellsberg, who released the infamous 'Pentagon Papers' in 1971, which exposed the scale of lying that the U.S. government employed against the American people in the lead up to the Vietnam War. He was also charged under the Espionage Act, amongst other things. But his charges were eventually dismissed after fierce backlashes.
So, depending how strong the Republican party influence is after 2024, there's a chance Teixeira could see freedom, particularly given that Republicans like Marjorie Taylor Greene have already sprung to his defense. With that said, others like Snowden have clearly been chased out of the country so there's also a good chance the charges stick and Teixeira is screwed for life.
Meanwhile, mainstream media has even been trying to spin the leaks into something beneficial:
In fact, there are more and more signals from the West and their MSM lapdogs that Ukraine's mighty offensive will be rescheduled to next year. The public-conditioning operation is already in full force, with NYTimes and other outlets carefully preparing and pre-shaping public reception by slowly introducing lowered expectations.
It's difficult to truly tell how much coming from the West is genuine as opposed to deliberate disinfo to sidetrack Russia in preparation for Ukraine's true offensives.
There are many such games going on, as reported by Russian forces on the frontlines. For instance, from Russian Two Majors channel:
About radio games and misleading Russian agents in Ukraine.
Two Majors touched upon a rather important topic: the leadership of the Armed Forces of Ukraine is conducting a large-scale disinformation campaign against our troops in order to keep both the leadership and military personnel on the ground in suspense.

Since the spring-summer counteroffensive of the Armed Forces of Ukraine is only a matter of time, it is expected, it is being prepared for, and currently the enemy is solving the problem of opening Russian countermeasures and counter-measures and lulling vigilance.

At the same time, in numerous Ukrainian chat rooms — both closed and open — at the level of lower-level employees, rumors about various informational actions are replicated. Roughly speaking, a system of "controlled leaks" has been organized, which in the future will allow localizing the channels of information extraction by Russian law enforcement agencies and using them to their own advantage.

Therefore, you should be skeptical about all messages that indicate the exact time frame, as well as events that look strange and incomprehensible. Alas, the days have passed when you could intercept a document or hear someone else's conversation, and then immediately take some proactive actions.
This is in addition to major radio games, mentioned above, where Ukrainian forces are now deliberately 'projecting' and telegraphing various plans and movements in order to mislead and trick Russian forces. RYBAR reported on how sophisticated these methods from the AFU have gotten in recent times:
The main part in the process is taken by specialists from the 83 center of information and psychological operations, along with volunteer organizations, such as Yuzhnenskoe OTG from Odessa.

They buy working and non-working mobile phones, and then send them to the electronic warfare units for re-flashing. For example, in the south of Ukraine, the 306th electronic warfare battalion in Chornomorsky is engaged in this particular task.

After that, all mobile phones are taken to a certain area near the front line and left either in separate tents in the forest or in the field, or at civilian infrastructure facilities (schools, camp sites, hospitals) in settlements.

❗️At the same time, the same 83rd center provides information support for the alleged transfer of reinforcements to the font, transmitting fake data (https://t.me/dva_majors/13005?single) under the guise of a verified one from a "source who saw everything with his own eyes" . And in the VHF band, the radio game is activated.

🔻 How should this confuse the Russian command?

In such false positions, the enemy creates the appearance of activity. He leaves only a few people there, and sets up mannequins at the rest of the points. They are also purchased with the funds of volunteer organizations obtained through collections in social networks and instant messengers.

Electronic intelligence units or UAV operators of the Russian Armed Forces mark the functioning of a particular object by technical means. A blow is struck at the pseudo-position, and reinforcements are transferred to the site to strengthen the lines.

Meanwhile, the AFU, meanwhile, are concentrating forces in a completely different direction and creating a shock backbone for the offensive.

🔻 How to determine the false activity of the enemy?

To some extent, sending UAVs or advanced reconnaissance teams for direct observation can help. However, in conditions of poor visibility, it is very problematic to determine the accumulation of manpower and equipment.

A comprehensive analysis of the situation in the area should be carried out on the basis of combined reconnaissance, including drones, advanced reconnaissance groups, maneuverable electronic reconnaissance units and a satellite constellation.

The concentration of resources or the demonstrative accumulation of forces in one area does not mean that the strike will be there. As a rule, such actions have the opposite effect. Therefore, an attack should be expected somewhere else, in addition to the visually visible one.
So, as can be seen above, the AFU are purchasing old mobile phones with sim cards which their electronics units re-flash and prepare. Then these phones are planted in various 'false positions' like tents, forests, facilities, etc., all over the frontlines, particularly near Zaporozhye. This works in conjunction with 'radio games', where AFU deliberately uses open or easy to intercept channels to make false transmissions of military movements, units moving to those areas, etc. As well as using chat rooms where someone who claims to have had a 'source' leaks information about some major military movement to that precise region.
These three things work in conjunction to create a believable climate of troop movements that are meant to deceive Russian forces into believing that offensive preparations are being done in that given region. Presumably, based on RYBAR's report above, Russia is already one step ahead of the game in this.
Every day they are pretending to project strength, like the recently shared videos showing a huge brigade moving around that was exposed as being old 2022 footage.
Russia is taking things slowly and patiently. The signaling coming from Russia is that this conflict can go on for a long time, and Russia is concentrating on equipping its economy in a sustainable way that will allow it to successfully conduct the war while simultaneously enjoying economic growth and prosperity.
Ex-Russian General and now State Duma deputy Andrei Gurulyov said the following yesterday:
State Duma deputy Gurulev said that the conflict in Ukraine will end by 2030. According to him, by that time Ukraine will basically cease to exist: "We see how Orthodox priests are being bullied, hatred for Russia is being hammered into children's heads, this is done by people who used to live in Russia – a country that was once called the Soviet Union. If they are going to drown the whole Crimea in blood, then we have only one way out - by force. No monetary hubs of Poland will help, or thoughts that there will be another Ukraine somewhere. She won't. Basically, it won't. This project will be closed one way or another, this is clear to all sane people. There are questions about the time it will take: a year, two, three, five. The deadline is 2027-2030." I agree with Gurulev that Ukraine will cease to exist. Moreover, it will cease to exist not "in principle", but in reality. Ukraine will disappear from the world map. And until this happens, the war will not end. How long it will take no one knows. The Russian leadership today says that it does not want to destroy Ukraine. Therefore, first the Russian leadership must rethink its position and declare that the Ukrainian state will be liquidated. And continue to work on resolving this issue.
He states the deadline to eliminate Ukraine is 2027-2030. This is a realistic timeline and I see little fault with it. Only young, wet-eared followers of the conflict could balk at such a date. Russia fought in Afghanistan for 10 years, prosecuted the Chechen Wars for a combined 3 years of intense conflict, or over 10 years if you count the insurgency period of the second war. Why should a country far more powerful than Afghanistan and Chechnya combined, and supported by the full force of NATO, take less than those?
I've outlined before that barring any big black swan events which could always occur at any time and completely reshape the conflict into an unexpected direction or conclusion, I could see it developing in roughly this way: Bakhmut falls in April-May. Then is Seversk and other areas around it which could take months just to get to the precipice of the large Kramatorsk-Slavyansk agglomerate. That huge agglomerate itself could take very well into the middle of 2024 or even later to capture. One of the reasons is that in order to fully capture them, you'd likely have to come in from the north, capturing everything in the Kharkov region and Izyum.
That could take a very long time to do. Realistically, I wouldn't even expect the battles for the agglomerate to begin until sometime in 2024. The capture could take most of the year or even until 2025. Then we haven't even gotten west of the Dnieper yet. If you've read my previous articles that go into this operation in much more detail, you'll know that a massive re-orientation of Russian forces from Belarus-Kiev area would likely have to happen to begin marching on Odessa, due to the fact that should everything east of the Dnieper fall to Russian forces, the AFU would likely blow the bridges across the Dnieper, and there's no real way to move an entire army of 500k+ troops (and resupply them) by way of pontoons only.
This is an unprecedented scale operation which itself could take another two or more years. Depending what shape the AFU is in by that point, then maybe 2026-2027 the battles for Odessa could begin.
But that's just to give a rough example of a potential timeline to inculcate in your mind the idea that these large scale movements take time. Of course, it could go a lot quicker depending on the AFU's morale and how much of their forces they squander or, conversely, are able to save in the coming battles of this year.
Some will balk and say well, if it takes Russia til 2030 to beat Ukraine then that means Russia is weak. To that I say, so be it. Russia will be 'weak' then, and NATO will have been even weaker for losing to it over the course of 10 years. The juvenile banter about 'weak or strong' is not what this war is about. For Russia it's about survival. If Russia has to take 10 years to maximize its strengths and win in the way that serves its interests best, then that's how long it will take.
At the end of the day, if Russia was so 'weak' for its handling of the current conflict, then NATO would likely have already pounced and finished Russia off. But instead, NATO is shiftily waffling around and acting really nervous—that should tell you something.
As I've mentioned before, for Russia the purely kinetic side of this war is not even the most important. More important than that are the larger economic shifts, societal reorientations in terms of a society finding itself, a people re-discovering their collective destiny and place in the world: a grand awakening. The movements which are taking place beneath the surface of the minor kinetic trifles are far more profound and long-reaching. Russia's goal is to emerge in 2027-2030 not as a mere 'victor' standing over the ruins of some already-forgotten country, but as a state that has re-connected with its historic arc, has found itself, re-established its principles, its courage in defending its vision of the world. The societal shifts and intangible developments currently underlying the purely kinetic aspects of the war are bridging Russia towards a true civilizational rebirth, and this will take time. But it's best to take it slow and gradual.
Anyway, I realize the 2D Bloggers will read that as hardcore pro-Russian 'cope'. But the truth is, we're now coming up to the six month anniversary of Ukraine's last victory. That's right—the Kharkov Counter-offensive ended in early October 2022, and Russia's Kherson pullout was in November.
That means we are now already six months past the Kharkov counter-offensive, and in just a few more weeks will be six months past the Kherson pullout. Which means: Ukraine has not had a single even semi-significant 'victory', whether morale, psychological, or physically tangible, in six months. Meanwhile, Russia is set to stud its crown with a major victory in Bakhmut—another in a long line of hard-fought urban wins.
It must be hard to be a 2D Blogger these days.
Ukrainian supporters are crying now that the U.S. apparently approved a sale of ATACMs to Morocco, while claiming they're too low on missiles to send to Ukraine.
Firstly, the key word there is "sale". Does Ukraine understand what that word means? Ukraine wants handouts. Those missiles are expensive. Do the math.
Secondly, the things in that tweet don't have to be mutually exclusive. You can sell missiles to one customer, but still be 'low' in regard to another type of operational requirement. 40 ATACMs missiles is a tiny amount and would do next to nothing for Ukraine.
Lastly, it's still surprising how little Ukrainian supporters understand about the true dynamics of behind the scenes compromise that exists between the superpowers of Russia and the U.S. vis a vis the conflict. Many people like Paul "Mighty Mouse" Massaro have been in fantods over this, yet they puerilely refuse to acknowledge the cold, hard facts of the U.S. having many behind the scenes compromises and 'unspoken agreements' with Russia in regard to weapon allowances for Ukraine.
I've written before about how there are many subtle deals and concessions that Russia continues to allow in exchange for secret agreements and red lines regarding the supply of key weapon systems. Both U.S. and Russia retain many types of pressures and 'levers' they can still use against each other. The grain deal is one of them, and there are many others. The supply of ATACMs is clearly part of such deals.
The reason these dull 'Westoids' refuse to acknowledge this is because it shatters their idealized ivory tower conception of the U.S. as monolithic superpower which only dictates and never compromises, particularly not against the ostensibly much 'weaker' Russia. But the reality on the ground, the realpolitik of the situation is far different. The U.S. infact compromises heavily and has many secret deals for the very reason that they fear Russia's response and escalations in certain key areas.
This is a paradigm too difficult to bear for many Ukrainian supporters, because to shatter their image of the U.S. as mighty, unstoppable ally would be to shatter their entire worldview. For them, they can't conceive of the U.S. as being weaker than it portrays because that would mean to consider the unthinkable. If the U.S. is not all-powerful that would mean Russia stands a chance, Russia could actually win; and for these people, this is an unfathomable, unallowable thought.
So they retreat into their comfortable cognitive dissonance that the U.S. is all powerful, that it dictates all the rules of the game, and the entire Ukrainian theater is totally under its control, etc., etc. But this creates a heavy mental friction then when they're unable to reconcile how it's possible that the U.S. will not fully arm Ukraine with everything it needs; how it's possible that the U.S. won't give F-16s and Abrams and ATACMs and nuclear missiles.
It's akin to a child finding out Santa Clause isn't real. Akin to a teenager's painful realization that his dad isn't the toughest dad on the block, and that a friend's dad might in fact be able to kick his ass. That the U.S. isn't all powerful, isn't completely in control of the situation, isn't able to guarantee their victory, and—most shockingly—isn't able to fully stand up to Russia, is an extremely difficult and painful pill to swallow for Ukraine supporters.
One day, when they realize that for over an entire year, everything they've been told was a lie, that they've been fed nothing but phony propaganda about Russia and its putative 'weakness', and conversely, U.S. and its putative 'strength'. When that house of cards comes down, there will be a collective psychic undoing on the Ukraine-supporter side that will be awe-inspiring to witness.
Yes, Billy, your dad isn't as tough as you thought he was—Bobby's dad kicked his ass. Cue the existential angst.
As an example of the type of mental leaps and insane constructs they're now forced to shore up their disastrous losses with, we have this brilliant exhibition of 'cope'.
And with that we transition to Bakhmut. There's nothing revolutionary to say here, other than that Wagner continues to advance, capturing several more blocks since last time, still inching forward to the inevitable conclusion.
They advanced a few blocks from the north as seen here:
With the general map looking like so:
It's really down to one last small section of the city. And many of the advances are made under increased usage of Russia's new glide bombs. Much larger explosions are seen and heard all around the city, and new evidence has emerged showing massive mushroom clouds, funnels, and huge depressions in the ground where 1500kg-sized bombs apparently have hit.
Like this one: Video Link. "Arrival of a very powerful bomb (apparently a FAB-1500 with an UMPK) at a military target in Orekhov, Zaporizhia region"
An interesting interview with a Russian Su-34 pilot was released by VZ.RU which confirms the usage of such 'planning bombs' as they're being called, after the 'universal planning and correction module' name (UMPC). The interview can be found here: https://vz.ru/society/2023/4/15/1207573.html
He states, for instance, that Ukraine has no answer to this and the bomb is virtually invisible to their radars.
Some other excerpts:
"Ukrainian troops have nothing to shoot down such a bomb with, and its effectiveness is the highest." The pilot of the Russian Aerospace Forces told the newspaper VZGLYAD about new types of ammunition used by Russian combat aircraft, about awarding flight personnel for defeating enemy targets and how they managed to knock out the best Ukrainian pilots.
The pilot also makes some interesting statements regarding Ukrainian air and anti-air capabilities. Firstly, he emphasizes the huge difference between flying in Syria and Ukraine, and goes on to praise the Ukrainian foe:
The Ukrainian army is a strong opponent. We are confronted by professionals of the Soviet school, who studied in the same academies as us. At first, we also met highly motivated fighters. And in war, the main thing is morale. The most dangerous ones were those with crosses and swastikas on their chests and brainwashed heads. These butted heads very hard. But now the staff of the Armed Forces of Ukraine is gradually being ground up. The initiative is on our side, and it is important not to lose it.
He also makes the following interesting statement regarding Ukraine's pilot attrition:
As far as I know, last year there was a third-year graduate from the only Ukrainian military aviation school in Kharkiv. And you're supposed to study for five years. What is the third year? This is when they taught takeoff and landing in an abbreviated course – and that's all. Until you work for 10-15 years as a real military pilot and learn how to perform combat tasks automatically, you are just a flying target.
Therefore, the period of flight activity of Ukrainian pilots has been greatly reduced. Now we see that in fact the Ukrainian pilot is a suicide bomber.
The most interesting section is where he discusses Russian airforce tactics in combating Ukraine. He confirms exactly the conclusions I made in this article:
Which is that Ukraine is forced to 'loft' its bombs by flying low then making a high altitude 'jump'. But as soon as their planes go above 50-100 meters, they are spotted by Russian radars which send two missiles 'into their forehead'.
Forbes also released a new article bemoaning the 'usefulness' of new American Avenger missiles—the same ones that failed to protect America's own troops in Syria recently.
The article makes a few eye-opening, but predictable, admissions:
The U.S. Army decades ago grew overly comfortable with the U.S. Air Force's assurance that it would control the sky over any conceivable battlefield. The Army ceased developing new armored air-defense vehicles and consigned most of its hundreds of unarmored Avengers to National Guard units.

But Russia's wider war on Ukraine has underscored how tenuous air-superiority can be, even for the bigger air force in a lopsided fight.

"The current air-defense organization is a relic of the past two decades of static, theater-level, defensive deployments and needs to be seriously reevaluated in the face of new threats," U.S. Army captain Peter Mitchell wrote for West Point's Modern War Institute.

The U.S. Army has rushed development of a new armored air-defense vehicle based on the hull of a 20-ton Stryker fighting vehicle.
Once again, the naive U.S. military learns a hard lesson from this war.
The article ends with another stunning admission, that due to their vulnerability—quelle surprise!—the Avengers may never actually see true combat:
If this all seems like a giant headache—well, that might explain why the Ukrainians so far have consigned their Avengers to a sector of the country where there's no major ground combat.

They might never deploy the Avengers to do what they were designed to do: escort front-line brigades.
Truth is, the U.S. has to get its own house in order. Just yesterday a score of U.S. troops were injured in a major accident, when their Stryker vehicle collided with a MaxxPro MRAP in Germany: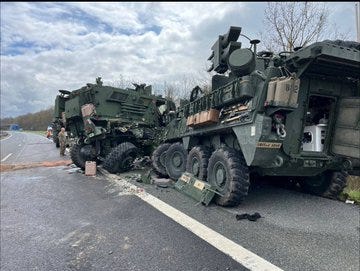 And this comes after news broke that Ukrainians have already lost their first one or two Leopards in a training collision.
In this video, a Polish officer can be seen describing what he saw, and his quite frank estimation of Ukrainian tankers:
"I'll be honest, I've never seen such clumsy [tank] control anywhere before."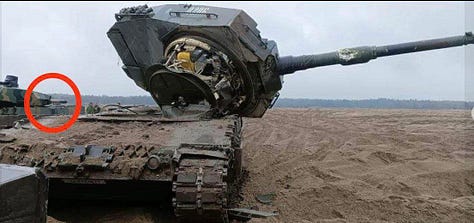 So that's one confirmed, and possibly a second Leopard already heavily damaged or destroyed, seeing as how some photos seem to possibly show a damaged barrel of another tank.
But how can one be surprised, seeing Ukrainian tankers train like this: VIDEO.
And this comes after reports from the Russian side that Russian saboteurs have already destroyed their first Leopard in the wild by drowning it in a swamp:
A Russian sabotage group captured and sank a Leopard tank supplied by the Armed Forces of Ukraine in a swamp. This was told to RIA Novosti by an officer of the volunteer battalion "Falcon", the commander of one of its units with the call sign "Bull".

"There is a story from colleagues, we communicate with them when a sabotage detachment captured a Leopard tank. They could not drag it to the rear, they took it and drowned it in a swamp. This fact already exists. The Leopards are here, they are already visiting," he said. serviceman.

The officer noted that Russian fighters also recorded the use of German air defense systems by the Ukrainian side. Presumably, they were controlled by German mercenaries.
I don't know how believable it is, but it's worth a reprint in the case it turns out to be true. There is a video of the soldier who recounted this tale on the frontline, so it's not just some Telegram fantasy someone typed up, but for now it remains impossible to corroborate.
So, out of only a small handful of about ~30 Leopards delivered to Ukraine, there's upwards of three, representing 10%, already out of action before they even saw combat. Not too shabby. Another 10-30% will likely have mechanical problems before they see action, leaving probably a dozen or so to do the actual "fightin' and dyin'".
The above jape characterizes the absurdity of the coming AFU 'offensive'. Even the allies no longer believe it will bring any results.
Days ago, a Canadian outlet released a damaging report highlighting the complete chaos inside the AFU. 'The White Papers', as it's called, is a report written by three retired NATO officers who spent the last nine months fighting in Ukraine.
The lengthy report outlines a Ukrainian military command structure that, at times, is in disarray and a crumbling military communication system that could result in losing "generations of Ukrainians" if intervention in military tactics isn't taken.

Two of the authors are former high ranking members of the U.S. Special Forces. The third, who spoke to CTV News on the condition of anonymity, is a former major with the Canadian Armed Forces. In an effort to conceal his identity, CTV News has agreed to refer to him as Matthew.
The officers relay that Ukraine has had massive losses of its officer corps:
"They (the Ukrainian army) have had huge losses with their junior officers. It's well documented." He's also points out by releasing the White Papers, "We're striving for the better outcome. We're not striving to criticize the Ukrainian military."
Another report from Dutch newspaper De Volkskrant goes off on a similar beat:
You can read the jaw-dropping highlights for yourself:
"The army of Ukraine is bursting at the seams"!

Honestly, I'll tell you, I have never seen such a report in the Western media about the situation on the Ukrainian front! The Dutch newspaper De Volkskrant writes in three pages about the miserable state of the Armed Forces of Ukraine. The author talked with a number of wounded Ukrainian soldiers and concludes: Ukraine sends completely unprepared soldiers to the front. One of them, named Oleksiy, said that all his "combat training" came down to one evening with a drunken instructor and a Kalashnikov assault rifle with three rounds!

This Oleksy says that there were 27 people in his detachment, of which, after 8 hours of battle, eight remained alive! According to him, the whole "battle" came down to the fact that after each arrival of Russian shells, he and his friend shouted to each other in the trench whether they were alive or not. And so it continued until the friend stopped answering.

The author of the material questions the ability of Ukraine to launch a serious offensive with the army in such a state.
I've previously written about how many Western publications are softening their readership up for the inevitable down-scaling of Ukraine's offensive. Headlines like those below continue to pour out from the mainstream press:
Ukraine is really in the furnace; the pressure for an offensive is higher than ever, to produce some tangible results for their masters. Ukraine's own GUR head Kiril Budanov recently stated that:
"Without victories, sooner or later, questions will be asked whether it's worth continuing to support Ukraine," he told ABC News." Budanov said.
But some officials in the AFU have said that the only thing holding them back is the weather. They have even begun blaming Russia for conducting secret weather modification programs in order to hamper the Ukrainian army. This is based on the fact that it has rained "like never before" in the current time period of the year, and Ukrainian forces find themselves increasingly bogged down in historic levels of mud and slog. They believe Russia is causing this to deliberately delay their offensives.
As ridiculous as it sounds, it's at least plausible. Cloud seeding technology has existed for a long time and is not difficult to do. In fact, I've previously written on how Russia could employ this to counter U.S. C4ISR due to the fact that one could put perpetual cloud cover over the theater of operations, completely nullifying most drones, satellite capabilities, etc. The only problem with that is, it nullifies your own as well.
Notice how the media talk around Ukraine's upcoming counteroffensive has gone from "They'll breakthrough to Crimea" to "The goal is Melitopol" to now "At best modest gains"... Reality is the Pentagon knows Russia is dug in on every front and has large reserves and fire support.
The above Tweet references some of the recent reports, like this one from Bloomberg:
According to sources, the counteroffensive is supposed to be aimed at Melitopol in the Zaporozhye region, but, according to Bloomberg, Ukrainian forces are unlikely to be able to capture the city.

A more realistic goal is to advance 30 kilometers in the direction of the city in order to take up positions from which Ukrainian artillery can bombard the main supply routes of Russian forces in the Zaporozhye and Kherson regions.
With that said, Russia is taking threats of the offensive seriously. There are reports like the following:
Rumor goes on Russian forums that everything that can shoot Into air and is in storages is sent towards Zaporozye, ZSU-23s on trucks and MTLBs, all kinds of trucks with DSHKs etc. Because there is growing fear of Ukraine preparing big swarm drone attacks with help of companies from Taiwan and US.
Although, in reference to the infamous 'Taiwanese drone swarm' news we've already reported on, it must be said that Taiwan itself has officially denied this:
Not that we'd necessarily expect for them to admit it, but it's worth mentioning.
A report posted by the AFU's 35th Brigade on their channel stated that they will have absolutely no remorse for cowards and quitters. Not only did they openly say anyone who turns back will be shot:
Ukrainian army threatens to kill any soldier who deserts or refuses to fight.

"Those who are afraid to go on offensive, we will kill onspot. In new and strong Ukraine there is no place for cowards." -Ukraine Army 35th brigade on Telegram.
But they even admitted that they will weld cold-footed tankers into their tanks to make sure they don't run away at inopportune times:
In the 35th brigade of the Armed Forces of Ukraine, skeptical soldiers will be brewed in tanks

"Those who are afraid to go on the offensive, we will kill on the spot. In the new and strong Ukraine there is no place for cowards. We will weld the doubters in tanks so that they do not run away at a difficult moment. Time requires such actions," the Ukrainian telegram channel says.
Striking as that may seem, it has already been a well-documented tactic of the AFU. Not only do we have videos like this one, of Russian soldiers describing seeing this at the front:
https://twitter.com/i/status/1603865701332181017
But there is even a direct video showing a Ukrainian tank captured with its hatch welded shut and its surrendered crew trapped inside by Ukrainian blocking officers:
https://twitter.com/i/status/1601866882356846592
It is a pretty crazy and inhuman tactic, but at this point nothing less is to be expected from the savage AFU.
And a Ukrainian channel published this desperate plea from a soldier:
The Ukrainian writes about Starlink and Russian electronic warfare against it. The text below is a translation from mova:
"Important! I didn't want to write about it openly for a long time. But a month ago, I saw an intercepted directive from the Russian EW unit from the command on this topic and realized that the Russians already know everything.
Starlink is not vulnerable to electronic warfare on satellite frequencies, but it turns out that there is a GPS inside it, which unfortunately is vulnerable to electronic warfare.
When the GPS signal is suppressed, the Starlink cannot register, and even after registration, it loses speed until the channel completely disappears. For techies, I will explain that the reason for the failure of starlink is not in the problems of determining the location of the terminal, but in the loss of synchronization coming from GPS.
If to suppress the UAV, the Russians hid the GPS EW in the lowlands so that we would not find it, now they are pulling it to the heights to suppress Starlinks. Pilots immediately noticed this: drones can't see GPS signals even on the ground.
For example, in Bakhmut, they installed GPS electronic warfare systems on residential high-rises. Don't forget also about my recent post about the Field-21 complex, which is mounted on mobile communication towers and even connects to the operator's antennas.

How to fight:
1. You can make a protective "Faraday cage" around the starlink. Any metal mesh with a cell less than 5-7 centimeters will do. It is advisable to ground the grid (drive in a couple of fittings and securely connect to the grid).

2. But the easiest way is to dig a starlink half a meter below ground level. At the same time, the pit should be wide so that the starlink can see the satellites. If the Starlink isn't working properly, drop it in your trench. If it helps, then dig a hole."
In the Zaporozhye direction, there are some tensions on the frontline regarding a possible offensive. Particularly because the recent top secret leaks showed that Ukraine's new brigades would be ready for the offensive by late April. And if you recall, one of Vladlen Tatarsky's final posts said he expects the offensive to come sometime between Russian Easter and May 9th or so, and Easter just passed days ago.
Now, new rumors abound about an offensive beginning on April 20th in the Tokmak-Pologi direction. One report claims that Russian police are driving between the towns of Tokmak and Vasilevka shown below, and telling civilians to 'evacuate' via loudspeaker.
However, this remains unconfirmed. But Rybar reports there is a large increase in AFU activity in this region, with 71st Jaeger Brigade arriving in the direction, as well as 46th Airmobile paratroopers and others. It goes on to say:
There is talk of an impending April 20 attack on Tokmok and Pologi at the same time as NATO exercises near the Russian borders.

🔻The high activity of Ukrainian information centers and the concentration of significant reserves in the Zaporizhia region indicates an imminent intensification of hostilities, probably in the period from April 20 to April 25.

With a high degree of probability, the AFU will make several local attempts to break through the defenses of the Russian Armed Forces in the Pologovsky and Orekhovsky sectors to assess the state of the defense of the Russian army before conducting a full-scale assault in early May.
So, their conclusion is that April 20-25 will be a large Recon-By-Fire along this direction where the AFU will do their final probing to determine Russian defenses, and then "the big one" may come in early May.
And as of this writing, a breaking news bulletin has it that Ukrainian forces have begun shelling and have possibly launched a probe attack on nearby Orekhov just as the above Rybar report predicted:
In preparation, new M2 Bradleys with Ukrainian camo schemes were seen: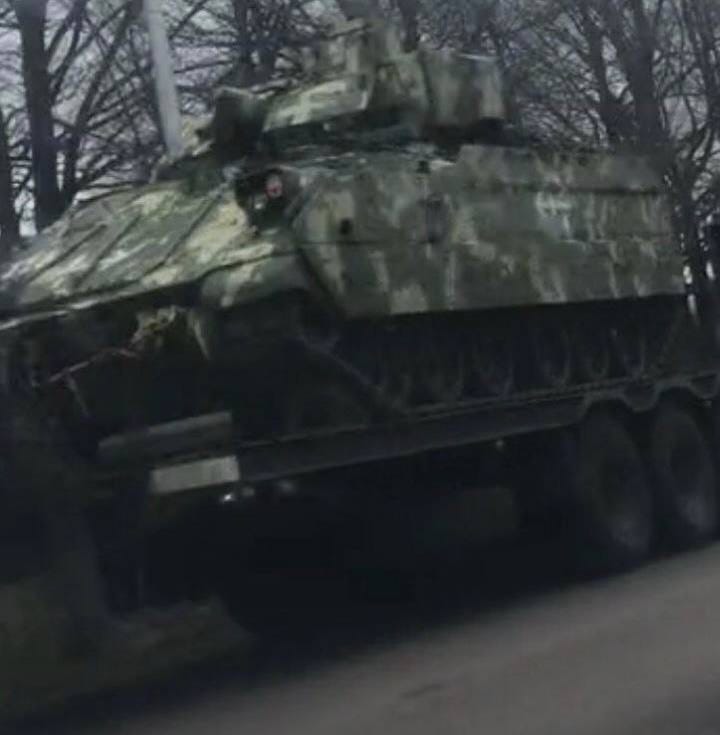 One report states the following:
MI-6 suggests that the General Staff of the Armed Forces of Ukraine repeat the experience of "Operation Neptune" - the Normandy landings, when the main effect was achieved due to surprise and a massive strike in bad weather. Given the experience of disinformation operations under the code names "Glimmer" and "Taxable", which were intended to mislead the Germans about the real direction of the invasion, for these purposes, various variants of operations are now being thrown online, as well as the timing of its implementation, in order to confuse the Russian special services.
British intelligence suggested creating 5 real counteroffensive plans, so that no one could get information about the main strike and only at the time of implementation will the real one be presented. Now they are discussing the option of launching a counteroffensive in rainy weather, when the strike and landing of troops in the entire Dnieper will not be expected, this will allow the APU to gain an advantage on the left bank and create a springboard for further counteroffensive.
And a further Rybar report claimed that last Fall, the AFU modeled and gamed a large assault towards the Crimea/Azov Sea direction. In the wargame test they received 40% casualties and found that Russia needed to only hold Melitopol and Berdiansk for a maximum of two weeks until the AFU completely loses steam.
It should be mentioned that not everything is necessarily rosy on the Russian side. For instance, new videos and confirmations have streamed in to show that Russian T-62M upgraded tanks are streaming to the frontlines, as well as even some ancient T-55s. In fact, one video from the Romanov Lite channel showed him next to a T-55 reportedly on the Zaporozhye front:
I've mentioned before that most of this ancient armor is meant for LDPR and volunteer battalions. However, some of it could be used by Russian forces as well, it's difficult to say for certain until we have absolute confirmation of it on the frontlines.
But there is a lesser-known reason for the usage of these old tanks that most aren't aware of, and it actually has less to do with Russian armor shortages and more with ammo depletion.
The fact is, T-62s have a 115mm barrel, and T-55s a 100mm barrel. Which is a completely different system than the standard 125mm barrel that all other tanks Russia currently uses have, like T-72s, T-80s and 90s, etc.
This means that massive old Soviet stockpiles of 100mm and 115mm ammo can be used without letting it simply sit and go to waste, instead of putting all the load on 125mm ammo production, which Russian factories are currently churning out. It doesn't need to be said that these tanks are also likely meant for in-direct fire roles, i.e. mostly lobbing H.E. (High Explosive) rounds—basically used as artillery from the 'rear', rather than frontline action against other armored vehicles.
For those interested, here's Russian State Duma deputy Andrei Gurulyov showing off Russia's T-62M modernization program in a Far Eastern facility for expressly that purpose: https://www.bitchute.com/video/2bAOajJNTOhe/
Another thing I wanted to address, is there's still been continued talk about the alleged NATO base destruction by Russian hypersonic Kinzhals. This topic has gotten renewed interest after a Greek publication released a new report on it with some big claims: https://www.pronews.gr/amyna-asfaleia/enoples-sygkroyseis/ektakto-tromaktiko-ktypima-se-120-metra-vathos-me-rosiko-yper-yperixitiko-vlima-kinzhal-sto-kentro-dioikisis-tou-nato-stin-oukrania/
The article also has a lot of good videos.
And recently Gilbert Doctorow made a video also attesting to this strike, where he said hundreds of NATO officers were killed in the strike:
https://twitter.com/i/status/1648382149874032642
I'm still fairly agnostic as to this strike. It could be possible, but ultimately it's meaningless to speculate without actual hard evidence. However, it must be said that there are many such strikes that go under the radar. For instance, most have probably not heard about how a Ukrainian training camp in Lvov was recently blown away by Russian missiles: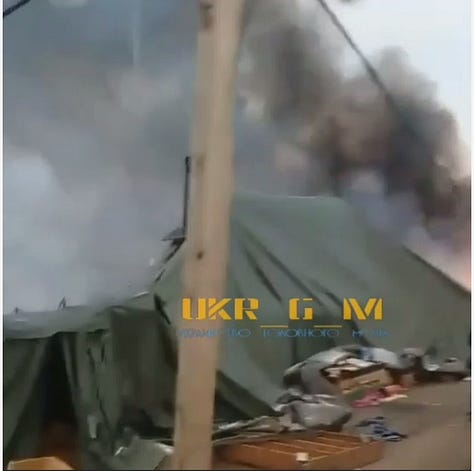 Video can be seen here: VIDEO LINK.
*On the morning of April 14, Russian forces struck Ukrainian military training camp in the Lviv region. A servicemen of the Armed Forces of Ukraine filmed the aftermath of the Russian missile strike. According to the Ukrainian servicemen, they came to the training camp the day before, which confirms the high level of Russian reconnaissance means in the Western Ukrainian regions far from the front lines.
So why would some NATO HQ in the same region be out of the question?
Glenn Beck even covered the specter of hypersonic missiles as he discussed the threat they now pose to completely nullifying all U.S. carrier groups, and how China's new hypersonic missiles can easily destroy these carriers with impunity:
https://twitter.com/i/status/1648105279480016899
Even Musk was forced to agree beneath Beck's video:
Also, due to the prevalence of the Kinzhal-NATO base rumors, even SNOPES was forced to 'debunk' it, a fact which might be telling in its own right: https://www.snopes.com/fact-check/nato-command-center-strike/
A couple other odd bits of news regarding Ukraine's armaments:
This report came out recently, but the more startling part of it is the seeming admission that Russia has in fact shot down over 100 Bayraktar drones. 'Oryx's' official list only has 17 confirmed, which is telling.
On that note, Slovakia has reportedly concluded its new deal in transferring 13 new Mig-29s to Ukraine:
And Rybar has done a report illustrating how the AFU continues to utilize civilian roads to fly their remaining jets, with locations of some of them:
However, it was quickly noted that Russia apparently 'sabotaged' these Slovakian Mig-29s:
Russian technicians, who were present at the Slovak air base in Sliač until last year, may have deliberately damaged Slovak MiG-29 jet fighters that Bratislava recently supplied to Ukraine.

"They were able to fly, but that doesn't mean they were also capable of combat," Slovak Defense Minister Jaroslav Nad said after opposition leader Robert Fico criticized the transfer of the jets.

"The defects appeared only in those parts accessed by Russians," Nad said.
And:
However, Svoboda showed suspicions about their intent in an interview with Denník N: "They gave us an engine that was meant to work for 350 hours. It lasted only 70 hours."
Well, good luck to the Ukrainian airforce.
Meanwhile an interesting graphic shows how active Russia's own airforce is over Ukrainian skies, by way of contrails:
On the Sudan situation, all I have to say is the explanatory 'story in four parts':
Thesis:
Anti-thesis: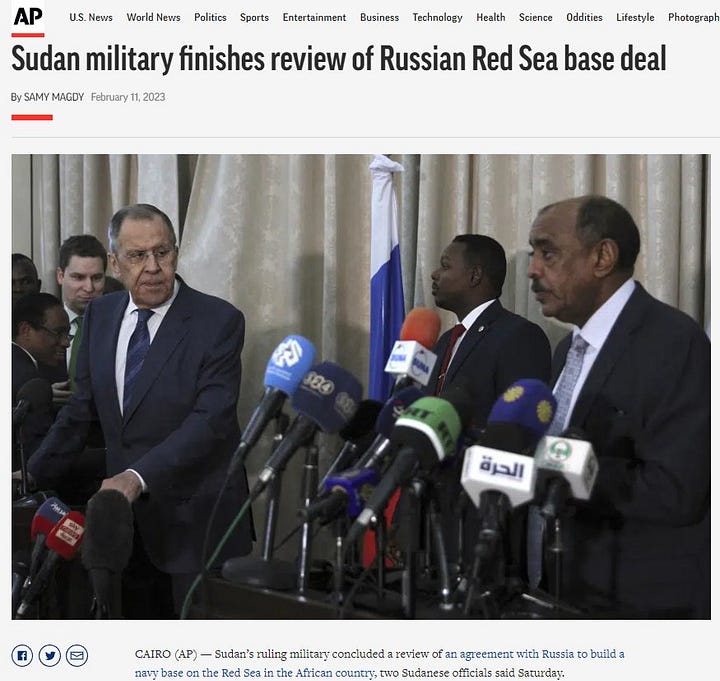 Synthesis:
And of course, it should be mentioned that Blinken had just tweeted days earlier, before the outbreak of hostilities, that he was sticking his nose in Sudan with the usual pre-coup spiel about 'freedom and democracy' and the need for a 'transitional government'.
You can draw your own conclusions from the above.
Well, that's all for now—things are certainly due to heat up soon as the period of the AFU's grand offensive watch is now beginning, with the mud season due to start coming to an end soon. A higher intensity period is likely to begin as the dregs of Winter wash away.
I leave you with these last few headlines as a reflection on the state of things: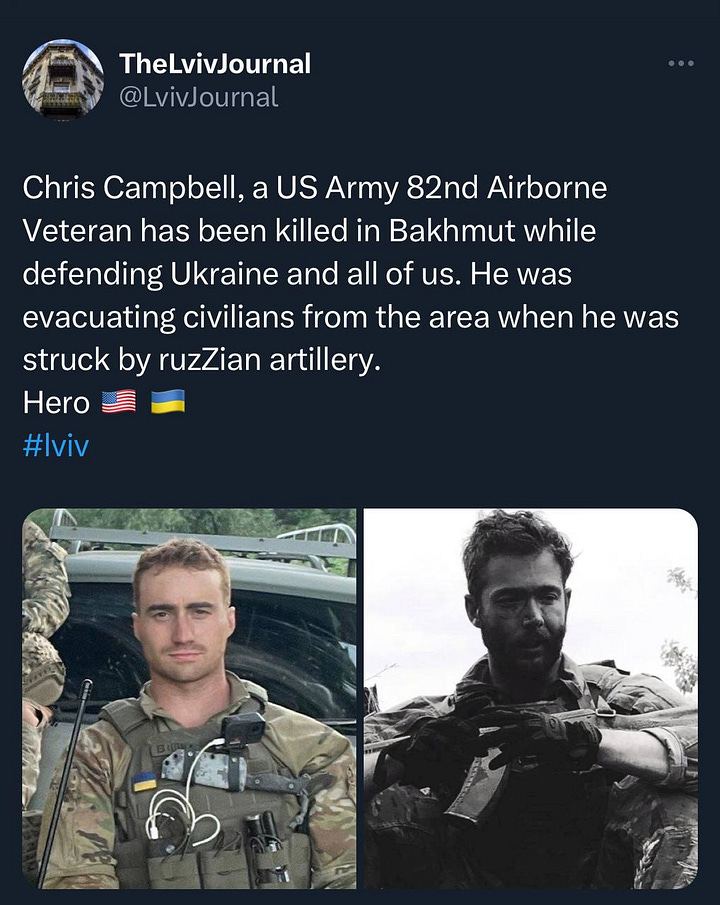 ---
If you enjoyed the read, I would greatly appreciate if you subscribed to a monthly/yearly pledge to support my work, so that I may continue providing you with detailed, incisive reports like this one.
Alternatively, you can tip here: Tip Jar
---