Discover more from Simplicius's Garden of Knowledge
War strategies, geopolitical analysis, SitReps, and discussions.
Over 24,000 subscribers
There's not any one particular big update today, but things continue heating up everywhere, on every global front.
Israel steams ahead but still tiptoes around Gaza City without entering its heart. Expert commentators have noted how Israel sticks to their armored vehicles and has very few patrolling foot soldiers to guard them—the exact 'amateurish mistake' that Russian mechanized forces were accused of making in the early part of the war.
But we see now that in many ways it's a necessity because soldiers become targets for snipers. For instance, one illustrative story was the following—an IDF tanker who stepped out for just a second to get supplies for his unit, and was instantly taken out:
This has led to speculation that the IDF is terrified of engaging in firefights with Hamas units, preferring to bomb everything into dust prior to moving their huge armored columns forward, inch by inch.
This is standard NATO doctrine but we're seeing the limitations of it. Huge armored columns are sitting out in the open, doing 'nothing' but waiting while the airforce clears the path. Against a competent enemy they would be targeted and taken out en masse.
We have to recognize the fact that in the first month of the SMO, Russia had already incurred hundreds of kilometers into Ukrainian territory while using only 70-80k total men against a highly NATO-trained and NATO-funded AFU force of 250-700k (depending which source you trust). In only a week and change, Russia had captured the major city of Kherson, surrounded Mariupol and Kiev, etc.
The IDF—with a total force of now over 500k against a Hamas force of as little as 5,000, barefooted soldiers—has advanced a couple kilometers in a month of war, and has shown no serious evidence of having eliminated even an appreciable number of enemy combatants.
Sure, this is a bit of a tongue-in-cheek comparison but the point has to be made that the double standards and hypocrisy when it comes to anything Russia is off the charts. If it was any NATO army doing what Russia is currently doing, they would be celebrated and wreathed with glory, Hollywood titans lining up their scripts to do mega-blockbuster reenactments starring Tom Hanks as Shoigu. And if it was Russia in IDF's present place, it would be globally panned and ridiculed as an absolutely inept farce-force unable to take out a tiny amount of unshod hayseeds with small arms, who have already been totally blockaded with no ability to receive outside assistance.
"Oh but they've got underground tunnels! That's why IDF is having problems!" And what do you think Russia is up against in Avdeevka? Except the underground tunnels there are funded by $200B from NATO, and receive daily shipments from the most powerful alliance in history. While Hamas's tunnels are lucky to have some stagnant water and stale bread.
Imagine if Russia and China began providing Hamas with full satellite ISR, as well as shipping mass artillery, tanks, and stand-off missiles like Iskanders to them? How long would IDF last?
As for those who think Israel is taking its time—many reports indicate that Israel's economy is facing massive shocks from this war. They're bleeding over $600M per week—6% of GDP—from a combination of war costs, lost tourist revenues, as well as a lot of agricultural operations reportedly completely shutting down as settlers and workers flee particularly the north near Lebanon.
Israel's economy is at a steep peak. The mobilization of 360k reservists took 8-10% of the workforce. Incomes fell by 1/3, construction projects rose. Tourist flow has almost stopped. Meanwhile, spending on the army increases. Economy is predicted to drop by 11% this quarter.
The above is straight from Bloomberg:
Another one from Bloomberg states:
Bank of Israel Governor Amir Yaron said the war with Hamas is a "major shock" to the economy that is proving costlier than initially estimated.
As well as
"…the debt-to-GDP ratio is likely to rise somewhat more than 65% (from 60%) by the end of '24, as costs are larger than it was initially projected."
So how long can Israel afford to "take its time" and tiptoe around the perimeters of Gaza City, without ever actually entering it to do the real, hard work of weeding out 'Hamas'?
Of course, the U.S. will do its best to bolster its 'greatest ally' with unlimited funding, as usual—but thus far, major funding continues to be held up in U.S. Congressional deadlock.
By the way, Ukraine's economy reportedly only shrunk 30%+ after a year plus of onslaught in its far more intense war. So an 11% economic destruction is quite massive, and could potentially increase if the Arab nations actually show some solidarity in carrying out one of the proposed punitive measures, like joint embargoes on Israel.
Now as of this writing, another major and unprecedented meeting is taking place, with both Assad, Iran's Raisi, and the Emir of Qatar all landing in Saudi Arabia for what some described as an 'emergency meeting' on the Gaza situation.
The truth is, it's not any major expected action itself that is the big story here. It's the continued reconciliations and birth of a new Middle East hierarchy and [geo]political and security architecture; in short, the steady realignment and establishment of an Arab/Muslim 'pole'—as Dugin calls it—in the nascent multipolarity sphere.
Many anticipate one flashy "big arrow" event, like a total Hezbollah declaration of war and invasion of north Israel. But in fact, the slow needling strategy of tension from the Iran-aligned side is doing great harm to the West and its political fabric. There are renewed rumors of huge, unprecedented 'mutinies' within the [deep] State Department of the U.S.
Yesterday a report hit the newswires that American diplomats and consuls in the MidEast, acting as canaries in the coalmine, are signaling alarm from their milieu that an entire "generation of Arab support" is being lost by what the U.S. is helping perpetrate in Gaza:
American diplomats conveyed a "sharp warning" to the Biden administration about "growing rage against the United States in the Arab world," CNN writes, citing a telegram received by the editors.

In it, diplomats write that because of Washington's support for Israel's military campaign in Gaza, the United States is "losing Arab society for a whole generation."

"We are losing badly in the messaging department," said a cable sent Wednesday from the U.S. Embassy in Oman, citing conversations with "a wide range of trusted and clear-headed contacts."

Active US support for Israel's actions is seen "as material and moral guilt for what they consider possible war crimes."

And the embassy in Cairo relayed to the White House a comment from a state-run Egyptian newspaper that President Biden's "cruelty and disregard for the Palestinians surpassed all previous US presidents."

There are reportedly growing concerns within the administration about US support for Israel, and Biden is also facing "growing frustration at home."

CNN recalls that at a recent summit with Blinken, Arab leaders called for an immediate ceasefire in the Gaza Strip, and the secretary of state reiterated US opposition, saying it would give Hamas time to regroup and launch a new attack on Israel.
Meanwhile, U.S. bases in the region have been getting hit almost every day while MSM continues trying to downplay it. Now it's come to light that over 50 U.S. troops have again suffered severe 'brain trauma' after being rocked by "Iranian-backed militia" strikes.
One gets the sense that it's actually the U.S. now desperately fighting off the backfoot, trying to keep from being cornered into too aggressive a response. The reason is: they know they're being baited into enflaming ever more resistance and insurgency around the region. By goading U.S. into making flashy strikes, it foments a surging bloodlust amongst agitated resistance-sphere fighters in the entire region. And the U.S. senses it's beginning to wade into something that can snowball into a conflagration which would undo decades of Western imperial control.
Does this sound like a man over-eager to go blow-for-blow with Iran?
That video was from yesterday. Many of the 'rah rah' persuasion say in the past, the U.S. would have "annihilated" any country openly striking its troops. Now it's happening daily and Biden sheepishly murmurs that they'll only be hit "if they keep hitting us."
To me, this represents a declining Empire trying desperately to keep the situation from spinning out of control. But if they're so timid, why the massive armada and carrier groups towards Iran, you ask?
Firstly, there are factions in the gov't which are likely split on what to do. The Zionist/Neocons of course will throw their considerable weight around and make sure the U.S. military is backing Israel at the least defensively, to create a shield around them 'just in case'.
I've already opined before that all this may be a bluff, however there are certainly factions within the deepstate that are likely pushing for the situation to escalate, particularly because their top-echelon financial cabal globalist overlords demand for them to incite a major global war in order to reset the spiraling monetary system. But those voices would still technically be the minority and for the most part drowned out by the vast fear presently being conveyed from the bowels of the entire establishment. For the most part, much of the force posture may simply be brought about by pressure to act within an understood role, so as not to appear weak—but in reality, much of the U.S. establishment fears potential escalations.
This 'fear' is not only of 'losing support' of the entire MidEast, as referenced before, but the fear of embroiling the U.S. into a quagmire which will see it nearly defenseless on the dual Russia and China fronts. The insiders sense U.S. can't take on 3 fronts simultaneously, so why risk regional war with Iran, only to lose Europe to Russia and Taiwan and the west Pacific to China?
On that count, one line of reasoning is that U.S. is trying to foist Ukraine off on Europe, sticking them with the 'bill'. This is most recently evidenced by EU's announcement they're now discussing ways to bypass Hungary's veto and give Ukraine a massive $50B subsidy, which is almost exactly the amount shortfalled ($60B) from Biden's planned budget, now bogged down in Congress.
In short, the U.S. isn't a monolith—it's being torn from the inside out by disagreement and partisanship. The sailing of its giant armadas to the MidEast represents a sort of absent-minded, reflexive action of a bygone superpower whose senses push it into making a 'show of force' for no better reason than mimicking its own perceived stereotype, like an old Alzheimers patient going through the foggy motions of something he 'feels' he should be doing, but no longer quite knows why.
That doesn't mean there still isn't danger for major things to erupt, but simply that for the first time, it appears Iran and its axis are in the driver's seat.
Now let's cover Avdeevka, as it's the only real front worth covering in depth at the moment.
There are reports of major breakthroughs by Russian forces. The most notable is on the northern front where, according to some reports, RF forces have finally lodged into Stepove itself, while others even claim they've fully captured Stepove—though this is unlikely, for now.
Some believe the map now looks as follows (Stepove pictured):
While others like Romanov have it a bit more conservatively:
Even yesterday, Ukrainian accounts confirmed Russian footholds, but this was before today's even larger breakthrough:
In fact, we have video confirmation of fighting to here: 48.19722, 37.6849 geolocation.
So Russian forces are definitely occupying at the minimum that first portion of Stepove outskirts, as they are seen in the buildings there being shot at by an M2 Bradley.
Here's a longer Ukrainian post from a day or two ago. It too precedes the full breakthrough but it has some interesting information, particularly given the strategy the AFU is attempting to employ:
Avdiyivka

The situation remains difficult. The fighting is very intense in all directions.

In the direction of Stepovoy, the enemy was still able to gain a foothold in two areas west of the railway. For the last week, they have been constantly crossing it, but they have not been able to establish themselves due to our fire influence.

Now the situation has worsened a little, but it is not critical yet. The enemy still does not have a bridgehead of sufficient depth and width for a powerful strike on the Steppe itself.

In the area of AKHZ, the enemy still did not manage to gain a foothold on the outskirts of the plant. The subterfuges are controlled by our fire.

In the area north of Vodyanyi, the situation is no easier. The enemy is actively pressing from this village both on Severny and on Pervomaiske.

For the time being, the enemy is keeping reserves, not rushing to bring them into battle, because they are waiting to cover Severny from the east and west.

The same - in the Krasnohorivka district. The occupiers are waiting for the creation of a stable bridgehead to the west of the railway, at least 2 km deep and 5 km wide. And only then will reserves be introduced.

But it is still far from that.

"Avdiivka for a week" did not work as expected.

In the current configuration, the city can be held for a long time, if critical mistakes are not made.

The main thing is that there are no problems with cassettes on enemy infantry and m31a1 - on the rear.

I think we will force the enemy to bring in reserves prematurely, as they have done many times before. Then the stakes will be as high as possible, but at the same time there will be a great chance to stop the enemy in the direction.

But time will tell. Let's not think about coffee grounds.

👉👉👉 Ukrainian Post
So they're saying that Russia is waiting to enlarge its salient at least to something like below, before they introduce breakthrough reserves which they've been accumulating in the rear:
AFU believes they can wait them out, attrit them enough to force the introduction of reserves early. This is what Russia famously did to them in the Rabotino counteroffensive zone, if you'll recall. When the famed 9th Corps was exhausted, they prematurely brought in the 10th, which was meant to be introduced only after the 9th broke all the way through toward Tokmak, so that the reserves could potentially punch down into Melitopol or beyond.
But RF forces have reportedly made headway even farther north as well. One report claims the capture of Tokmash dacha villages, which is here, north of Stepove:
Avdiivka, the enemy reports that the Russian army has occupied the dacha village "Sadovoye Tovarishchestvo Tochmash", which is located on the north-west of Stepovoye. The enemy is trying to stop the advance with artillery.

Our ground attack aircraft report that the enemy is retreating, leaving 2-3 "suicide bombers" in the trenches, which should be defended by a platoon or even a company.
I haven't seen that confirmed anywhere else yet, so we'll have to wait and see.
But the south is also seeing advancement. It's murkier as to where they're at exactly, as there are conflicting reports. Some have said they've proceeded through the fields seen in yellow below:
To such an extent that one report even said that the next order of business in the near future will be storming of the 'Palace of Culture & Technology of Sports' complexes seen below:
Meanwhile east of there Russian forces also are making incremental progress on several fronts. One of them near the 'Royal Hunt' at the southern tip of Avdeevka, the frontline fighter Vozhak Z describes as follows:
⚠️ URGENT! On the situation in the Avdiivka direction.

Northern flank.

After 4 hours of artillery preparation our assault groups attacked the enemy in the forest belts east of Stepovoye and went on the offensive, the enemy suffered heavy losses and was thrown back, thanks to the quality fire support of our storm troopers with no fatalities, which is an indicator of the highest level of professionalism of our infantry.

Believe in the Russian warrior, with proper support it is superhuman.

Also, while the summary was being compiled, we received a report that our assault groups sold out the enemy defenses on the outskirts of Stepovoye and entered the territory of the settlement, they are currently securing their positions, the information requires confirmation, we are working on it.

Heavy fighting continues along the Avdiivka front, the front line is unstable, one position can move from side to side several times a day, beware of premature reports, it is too early to celebrate the closing of the cauldron.
Recall that this is the same account a week or two ago that pro-UA commentators quoted as having a 'doomer' out look about how bad things were going, just because he complained about a shortcoming once. Now it's clearly the opposite: he says the artillery is working perfectly, the latest advance saw no losses, etc. Of course they will conveniently omit such updates from their biased reporting. Unlike them, you see I often give you both sides, including the Ukrainian reports which sometimes paint Russian forces in a bad light.
In fact in the previous report to that one, Vozhak described how Russian forces are systematically dismantling UA defenses in Avdeevka:
DAY TWENTY-NINTH

To say that there are no changes on the Avdiivka front would be untrue. These changes are simply not visible to the naked eye. The systematic unwinding of the AFU's defensive orders continues, artillery, tanks and aviation strikes are carried out on a daily basis.

Fixing on the occupied positions. Detection of firing points, warehouses, antennas, communication towers, transportation, repair shops, places of permanent and temporary deployment. And, of course, point assaults in the direction of Stepnoye and north of Vodyanoye. The work does not stop.

The Germans are no longer moving in the daytime on the postcard, almost no response to the work of artillery, even stopped processing our front line from mortars and AGS - save ammunition. This does not mean that completing the encirclement will be easy. It does not mean that we will not have losses. It only means that the heat will not subside, and Avdeevka will be taken. The enemy group has no chance to survive. And the fact that they will not lay down their arms, I'm 90% sure. Our price. will be made into a movie someday.

My call sign is Leader.

Victory will be ours!
Note that he states their artillery hardly works now, as they appear to be conserving ammo now that their Main Supply Route is under fire control—which I'll get to in a moment.
Now, for those who haven't seen: as evidence of this beginning collapse the 110th Brigade of the AFU in Avdeevka released a video yesterday pleading with command to save them:
For those who want to skip the video and read the transcript, it goes as follows:
"We, the soldiers of the 3rd battalion of the 110th separate mechanized brigade, are in Avdiivka and are defending it from invaders.

Our appeal to the President of Ukraine and the Supreme Commander-in-Chief. Mr. President, we are not traitors or deserters, but in the conditions that have developed in our area, we are not able to carry out our tasks.

Why did it happen so? Let me explain: Every day we are sent to storm the TERRICON (Slag Heap), our commander is not able to provide us with the necessary amount of ammunition.

Every day, dozens of soldiers die in senseless assaults because the assault units do not have adequate artillery support. The entire area around is under fire, there are dozens, maybe hundreds of corpses of our comrades lying all over the area, which no one is evacuating.

The command doesn't care about this, no one is dealing with this issue, besides this, please explain to us, ordinary guys, how it happened that at night, secretly from the personnel, the entire composition of our command was evacuated from the city. We ask you to intervene in this situation."
Well, that confirms quite a lot, doesn't it?
There was even another video where Ukrainian soldiers confronted their political officer in Avdeevka about the corruption and treason of their command, which throws their lives away.
Now, a video from inside the actual city of Avdeevka itself, taken by a pro-UA correspondent, gives another glimpse:
And here was a video showing Ukrainian troops staggering out of their positions in Avdeevka:
However, the one illuminating and somewhat concerning video was this one, which showed for the first time that actual MSR running from Orlovka to Avdeevka, dated November 9th:
Asphalt road from Orlovka to Avdeevka

(road turn near Lastochkino)

09.11.2023

There is no damage from artillery along this logistics route.

The trees in the plantings along the roads are not cut by fragments.
You see the caption says that it's the road turn near Lastochkino, which would be about here:
Note the further troubling commentary that the road does not yet look particularly shot through, although one burned vehicle is visible. This seems to point to the possibility which I've outlined previously, that fire control is not yet direct enough on this MSR.
The reasons for why that would be are obvious:
I've shown before how the view from the Slag Heap is blocked by the tall structure of the AKHZ Coke Plant

The MSR has trees/shrubs on the side, blocking the way even defoliated. Only heavy artillery fire can blast them apart enough to perhaps 'prune' the whole roadway

You can see clear elevations in the road, which speaks to the fact that there are a lot of topographical deviations there which could mean hills and natural obstructions that would preclude having that MSR in direct LOS even from one or two kilometers away
Just for comparative purposes, here's what the main Bakhmut supply route to Chasov Yar looked like around April of this year:
Literally nothing was getting through and it was a horror show of wrecked Ukrainian vehicles and NATO gear. But note how 'open' the road is on the sides, with no obstructions blocking the line of sight.
That being said, it's not a binary—I believe the Avdeevka MSR likely allows some very restrictive and brazen passage, but it's not something you'd want to move several slow tanks across, and things of that nature as they'd likely be picked off. I think only some small, fast traveling Bukhanka can slip through. And the earlier Russian report said how they're not moving much during the day anymore. That being said, it clearly shows that Avdeevka is not completely cinched up yet, and more territory needs to be captured to gain true LOS.
Right now everything is being thrown at Avdeevka. The second of these two new LMUR missile videos is geolocated to 48.134700, 37.63333, which is here:
So one can see Russia is even firing its most advanced stuff at Ukraine's logistics points on this front.
It's clear the noose is tightening and the offensive has not 'stalled' as so many people presumptuously argued after the first large assault. It's only a matter of time as Ukrainian positions deteriorate.
To end, here's a video of DPR's Pyatnashka (15th) Brigade on their way to battle in Avdeevka—I believe they're situated on the eastern side, in the forest clearings south of the Slag Heap:
Sundry News
In the most ironic of updates, one British researcher has unveiled that the large radioactive plume generated by Russia's destruction of British depleted uranium shells in Khmlenitsky earlier this year, in fact reached the UK in a big way.
The graph in Fig 1 shows that the Uranium in air in South East England went up by about 600ng/cubic metre from particles released by the Khmelnitsky explosion. What does this mean? The mean size of a Uranium particle is below 1 micron. An individual inhales about 24 cubic metre a day. So, if the particles were there for a month, or 30 days we can average the lung intake as 0.432mg. Doesn't sound much, does it? But it converts into 200 million particles per person in the area, and of course in the track of the plume in the UK. Not good, given the effects we found in Fallujah.
Well, isn't that a memorable case of reaping what you sow?
Next:
We've been following the developments of the Lancet drone here for a while. Now apparently a new variant with LIDAR light sensors has arrived, which allows the Lancet to bypass anti-drone nets/barricades/mesh by 'sensing' the distance to the target, then exploding the cumulative jet several meters away, cutting through the barricade but still penetrating the armor.
The new Lancet kamikaze UAVs have received additional cameras that enable LIDAR, a system for obtaining data on distant objects by reflecting light and dispersing it in transparent and translucent environments. With this technology, the drone's warhead detonates remotely from the target, and after the explosion, the cumulative jet reaches the object and hits it. A few meters does not reduce the penetrating properties of such ammunition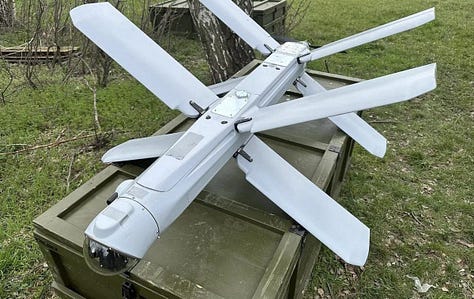 As soon as this news hit, we were gifted with this footage that appears to show this variant in action, as the explosion clearly happens several meters away from the target Ukrainian Bradley:
For those that might be confused how the cumulative jet can still penetrate, recall Javelins and NLAWS function, as well as various Russian munitions like the SPBE 'sensor-fuzed' which all explode from "above the target" sending a penetrator into it, rather than hitting it directly (well the Javelin has two modes).
Like this Russian PTKM-1R mine, for instance, which clearly destroys the armored target by 'firing at it' from many meters away:
But what's interesting is that almost every new Lancet video that now releases appears to be showcasing the new advanced AI variants. For instance this from today where you can see the autonomous tracking / image recognition reticle following the target:
And for those wondering what difference that makes, it can function autonomously or with operator override. We don't know for certain what they actively use, but there was one video today, which unfortunately has slipped my grasp, which showed another Lancet hit where some type of EW jamming appeared to mess up the Lancet's signal or video transmission feed as it was still acquiring the target with the new tracker. However, when it switched to the secondary Zala drone's view, we saw that the Lancet still hit its target. This appears a clear demonstration that the new AI successfully tracks and hits the target autonomously even when there's signal loss to the operator.
There's only one real, final step left for these innovations, which is the new Izdeliye (Product) 53 Lancet evolution shown before:
That is the ability to integrate and network a whole swarm of them together and give them an autonomous group brain, allowing targets to be allocated to the appropriate drone in the swarm, based on its unique function/capabilities, position, etc. This is already in late stage development and potentially even being quietly deployed on the battlefield in early forms.
Next:
The U.S. flew its new stealth B-2 Spirit replacement, the B-21 Raider for the first time publicly from Edwards Airbase:
Next:
The following is a very interesting video because it represents a new Russian assault tactic that has been written about in several outlets and sources. At first it appeared like one of those 'hearsay' things spread around, more like a mythical rumor, but then we got actual first hand proof via video.
In short, Russian assault troops are now coordinating FPV-kamikaze drone launches on the fly to eliminate enemies in trenches right in front of them. In case you don't quite grasp the significance of it right away, another way of describing it would be that they've basically gotten to the incredible level of dexterity and coordination as to use the drones like hand grenades. I.e. as they're actively assaulting a trench, dugout, or fortification, in the midst of the firefight they throw a drone into the air and eliminate the enemy right in front of them. The level of dexterity and training this requires to do under the intense pressure of an active firefight cannot be understated.
The video is taken around Priyutnoye-Staromayorskoye at 47.75547, 36.73387 geolocation. As a preface, the voice you hear is the drone-op scout team who is watching the ongoing assault and relaying the critical situational awareness down to the assaulting troops via radio:
Watch carefully below. Right at the opening 0:20 second mark you can see they try to send the first drone, but it appears to not explode for whatever reason, at least not visibly. But then at 1:05 you see them launch another successful one, which hits its target.
At the 2:00 mark, you can see Russian troops slowly approach with a drone leading them forward right into the enemy trench, which it blows seconds later.
But besides the drones, what's equally impressive is the level of coordination with the scouts and spotters who are giving timely commands as to the enemy locations, providing them with critical situational awareness that can make all the difference in the battle. Also, you can see just the sheer number of drones they're able to field in a single small fight. Every few seconds they're launching a new batch. At 5:15 is the critical moment when their drone strikes the main enemy concentration and the spotter urges them on to take the enemy by surprise at their moment of disorientation. It's like a well-coordinated ballet, but still extremely tense and full of danger.
At the end you see once they've chased out the enemy from the trench, the tables are briefly turned as now FPVs are sent towards the advancing Russian forces. Imagine being an infantryman in this day and age, eh?
And if you didn't get your fill for the day, here's another video of Russian 2nd Army Corps (LPR) forces storming AFU strongholds in the Seversk direction. The ones with the red colored boxes around them which say BCY (VSU)on the bottom are AFU, the others are Russian/LPR. At 2:06 you see a Ukrainian tank working on Russian soldiers from a covered position. But a Russian T-90 arrives at 2:18 and sends the Ukrainian tank running for the hills. At 2:58 the screen reads, "due to a close hit the mechanical drive of the tank is damaged", which causes the Ukrainian tank to run into a tree—but they're scrappy fighters those VSUshniks. At 3:30 close quarter combat breaks out as RF fighters enter the AFU trenches and start slugging it out—white box: Russian, red box: Ukrainian:
Episode of the battle in the Seversky direction A group of Russian 2nd Army Corps scouts of the Southern Group of Forces stormed an enemy stronghold in the forests in the direction of Seversk
The end says that the stronghold has been captured.
Next:
Many were shocked by the new video of a Ukrainian pregnant female serviceman being captured by Russian forces. Some believed it might be fake, judge for yourself:
But is it really so hard to believe? This video was released by the AFU themselves just a couple months ago, showing the preparation of pregnant AFU fighters for the frontline:
It's just par for the course for late-stage Ukraine.
Lastly:
Famed Austrian Colonel Reisner has finally had enough. Showing uncharacteristic anger he states that either the West must go "all in" and push everything into Ukraine, or sue for peace—it's over.
Confirming this, the Economist's new piece yesterday finally announces the Ukrainian counteroffensive as officially over:
Using NASA imaging of heatmaps they tracked the entire offensive, registering over 1000 daily 'fires' related to the offensive at the peak around August. However now they claim there's under 300 and end with the conclusion that Ukraine's partners should "prepare for a long [war]":
---
If you enjoyed the read, I would greatly appreciate if you subscribed to a monthly/yearly pledge to support my work, so that I may continue providing you with detailed, incisive reports like this one.
Alternatively, you can tip here: Tip Jar
---