Discover more from Simplicius's Garden of Knowledge
War strategies, geopolitical analysis, SitReps, and discussions.
Over 24,000 subscribers
When Russia began its large strikes on Odessa, we all wondered how far the Russian MOD would take things. We saw maps like the following, showing all the container ships heading up the Danube toward Ukrainian ports bordering Romania, and wondered whether Russia would strike those, being so close to the borders of a NATO state:
Those questions were answered today as Russia struck a major blow on the Ukrainian port of Reni a near-literal stone's throw from Romania.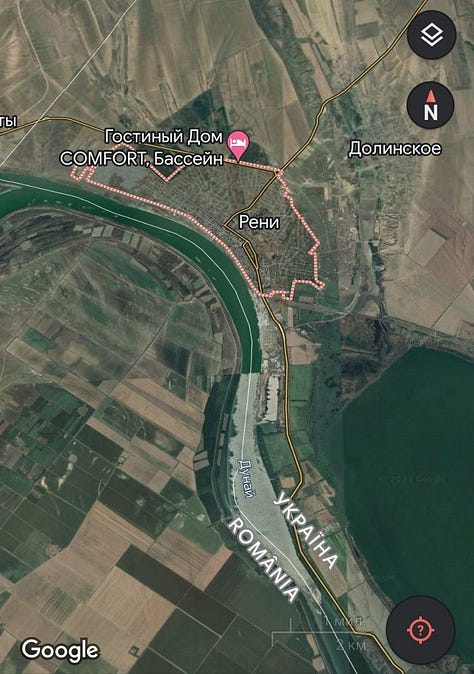 This is a major deal because it demonstrates a new hardline posture from the Russian MOD. Not only did they strike objects literally right on a NATO border, but even seemed to damage grain ships, which may belong to NATO countries.
This was clearly done to send a strong signal meant to convey Russia's seriousness in rejecting the grain deal.
As you can see below, what appear to be entire grain silos themselves were flattened at the port: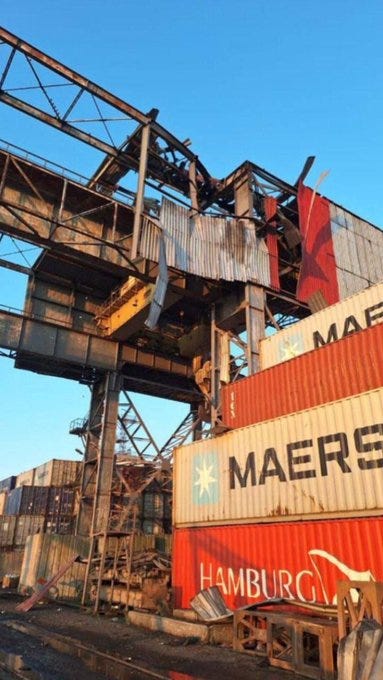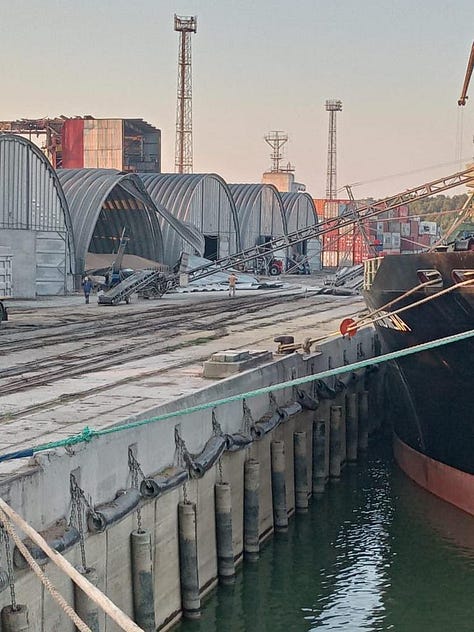 I can only assume that one of the reasons for doing this—which had already been predicted by other commentators—was for Russia to make it unfeasible to insure any vessel that attempts to circumvent the previous corridors with the new Danube passage. It's meant to show that this is truly the middle of a warzone, and no one should be passing without the express approval of the warzone's chief administrator.
Recall that this was the official Russian list of requirements which would need to be fulfilled for Russia to reinstate the grain deal:
List of official requirements of Russia, the fulfillment of which will make it possible to resume the grain deal.

1. A real, not a speculative conclusion from the sanctions on the supply of Russian grain and fertilizers to world markets.

2. All obstacles for Russian banks and financial institutions that serve the supply of food and fertilizers must be removed.

3. Deliveries to Russia of spare parts and components for agricultural machinery and the fertilizer industry should be resumed.

4. All issues with the charter of ships and insurance of Russian export food supplies must be resolved, all logistics of food supplies must be provided.

5. Unhindered conditions must be provided for expanding the supply of Russian fertilizers and raw materials for their production, including the restoration of the operation of the Togliatti-Odessa ammonia pipeline.

6. Russian assets related to the agricultural industry should be unlocked.

7. There must be a restoration of the original humanitarian nature of the grain deal. It should work for countries in need, not make rich countries richer."

In recent weeks, the list of demands has expanded from 5 to 7. The West looks extremely unlikely to fulfill them. Erdogan does not have the resources to influence the West on these issues. Therefore, the probability of extending the grain deal on the same terms is vanishingly small.
Ukraine is desperately trying to keep the deal alive by making up all sorts of byzantine technicality-riddled proposals like the following:
💥💥💥Ukraine has circulated a letter through the International Maritime Organization with information on the creation of alternative sea corridors (green - shallow water, red - deep water) within the Ukrainian territorial sea and exclusive economic zone for use by vessels to export agricultural products from Ukrainian ports or to exit vessels that have been stuck in ports since last February.

This is apparently a reaction to the imminent increase in insurance or insurers' refusals to provide services to ships travelling to Ukrainian ports.

It is stated that compensation is provided for "damage caused while vessels are in Ukrainian territorial waters when such vessels are travelling to/from Ukrainian open seaports to transport cargo".

In context, this phrase most likely means that the condition for receiving compensation is damage to the vessel caused within the territorial waters of Ukraine.

However, the red (deep-water) corridor passes almost entirely outside its territorial waters.
To further complicate matters, one plan is to ship the grain by rail to Izmail, but that takes the grain over the oft-targeted Zatoka bridge:
"Ukrainian grain will be delivered by rail through Izmail, where a large commercial seaport is located. As part of the US USAID program, specialized railcars have already been purchased.

At the same time, the city is connected with the rest of Ukraine, including the strategic bridge across the Dniester Estuary, located in Zatoka. It has been regularly attacked in recent days, there is no reliable information about its condition, now traffic on the bridge is closed."
In the Odessa strikes last week, some reports claimed Russia struck the bridge and damaged the railway portion. There was no confirmation but Russia has targeted this bridge numerous times before, including with naval drones. And days after last week's strikes, there were more reports that Russia will soon strike it with naval drones again to demonstrate its own new naval drones in the wake of Ukraine's naval drone strikes on the Kerch.
Either way, Russia has the ability to destroy this bridge or continuously take it 'off-line' such that consistent and timely grain shipments via rail would be disastrously complicated if not completely nullified.
Moreover, there was one report that European countries do not want Ukraine to ship its grain directly to them via rail and are set to disallow this. Admittedly, I don't yet understand the exact reason for why that is—maybe my intrepid readers know and can inform us in the comments. I can only speculate that it could have something to do with Europe not having the required infrastructure to handle that much grain by rail or perhaps further insurance issues, like with the shipping routes. One must remember that trains would theoretically carry far less than a cargo ship and would therefore require a disproportionate amount of trains to carry the same load as a ship, making logistics far more inefficient—or so I assume.
Also, here's another perspective on the various strikes:
According to the night strike in Odessa and Nikolaev, you need to understand the following. Boris Rozhin:

1. The Armed Forces of Ukraine have long stationed and stored weapons and ammunition in ports and, most likely, were confident that these stocks were safe because of the grain deal.
2. Night detonations in Odessa allow us to conclude that everything brought to the ports, probably, for the group "South" of the Armed Forces of Ukraine was stored as tightly as possible. Some warehouses in the port area are still on fire.
3. The volume of destroyed ammunition and equipment is still difficult to understand, however, if weapons and BC were critical for the Armed Forces of Ukraine, Kiev will urgently request more in the near future.
4. To compensate for the supply of destroyed weapons, you will have to spend a significant amount of time. Given that a significant part of the 152-and 155-mm shells, as well as other weapons, go to the area of the Ukrainian offensive literally from the wheels, the APU will have to change the scheme and method of delivery, and this is an additional time that is not available.
Meanwhile, Zelensky begged NATO to convene a Ukraine-NATO council on the grain situation to salvage it:
Now that we're all grained out, let's comment some more on the developing Polish situation. Earlier, Putin met with Lukashenko for a tour of the St. Petersburg area. Lukashenko had some interesting things to say. Here is the must-watch full subtitled video of their informal public talk:
My own main points:
They state that over 15 Leopards and 20 Bradleys were destroyed in a single recent battle, when the AFU made a new incursion attempt near Rabotino yesterday

Since July 4th, the AFU suffered "much more" than 26,000 KIA

Polish brigades are being transferred toward the Belarus border

The plan is being developed for Poland to annex Western Ukraine in exchange for Ukraine joining NATO

The big point: Partition of Ukraine is unacceptable to Belarus. And if necessary, Belarus is ready to 'act' to keep Poland from enveloping it from the southern direction

Wagner begs Lukashenko to let them invade Poland. This is likely a semi-tongue-in-cheek threat to keep Poland on its toes

Lukashenko instructs Putin to do an official overview with the Russian MOD about Belarus's decision to act—potentially militarily—against Poland should they attempt to annex western Ukraine
A few things to unpack here. Firstly, one must remember that these 'front-facing' interactions are pretty much theater. They are stage performances meant to convey to the public what has already been discussed and decided on behind closed doors. Anything Lukashenko brought to bear was chosen very precisely to be spoken and understood, not only for the public audience, but specifically for Polish and NATO leadership as well.
The most significant take away is the fact that he appears to imply that Belarus would be forced to react militarily to any Polish annexation of western Ukraine. The stated reason is that Belarus is already surrounded by the Balts and Poles on east and west, and he cannot allow the state to be strategically compromised from the south as well.
This is not just lip service, we can see from a map that Poland on Belarus's southern border puts all of western Belarus, most critically the city of Brest and surrounding regions, in a potential pincer should Poland choose to attack in the future:
They can easily cut off Brest entirely in one fell stroke.
Of course, Lukashenko couched this threat by saying that they would only take action if western Ukrainians 'requested it' from Belarus. However, there are many ways to generate such 'requests' whether they actually exist or not, should you need to.
The other biggest point was that Lukashenko formally requested for Putin to review this plan with Russia's military, implying that there will be a coordination on this account between the militaries of the union state.
As I said, much of this is expressly done to send a message to Poland and NATO as a deterrence. However, as I mentioned in recent reports, the simple fact that these plans are now being so openly and candidly discussed at the highest level, by the state leadership of Belarus and Russia means that the Polish/NATO plan must be both real and fairly progressed into its actualization.
We've discussed these things for months, yet they were often seen as speculative or dubious rumors. Now, times have changed because Ukraine is left with no options and is failing catastrophically on the battlefield.
Just today, another Polish unit of 200 armored vehicles and equipment reportedly arrived near the Belarusian border:
#BREAKING 🇵🇱 Poland has just started transporting another 200 units of equipment in Podlaskie Voivodeship near the border with Belarus.
And the following report hit the newswires as well:
🇵🇱🇱🇹 Poland will create a new sapper battalion, which will specialize in conducting operations in the Suwalki corridor along the border with Lithuania , reports ERR.

The first soldiers will be invited to the new formation by the end of this year.

The Suwalki Corridor is a section in northeastern Poland, located between Belarus and Kaliningrad. Control of this corridor cuts the Baltics away from other NATO countries.

They are clearly concerned about this corridor and it would be a potential target for Wagner / Belarus if this becomes a Russia v NATO war.
Now, as for the other thing Lukashenko and Putin discussed. The past few days has seen a renewed Ukrainian offensive effort in the Rabotino-Orekhov direction. You know it's a "serious" try when they begin to once more use the top NATO gear like Leopards and Bradleys, rather than the probing strikes with MaxxPros and such.
The attacks were again repulsed by Russian forces with horrific losses to the AFU. There are literally dozens of videos of armor losses with many confirmed new Leopard 2s and Bradleys destroyed. Here's a sampling:
Leopard 2A4:
Leopard:
Fully intact M2 Bradley captured by Russian forces:
More destroyed Bradleys:
Huge compilation of new Leopard 2A6 hits by Lancet drones, as well as FPV hits on Bradleys:
Here two out of three Bradleys are destroyed, while the last manages to escape:
And another:
Mass Ukrainian POW captures:
And there are endless more graphic videos showing fields of dead AFU, like this one, and this one, and this one, as well as many other videos of destroyed non-Leopard/Bradley armor just from the past day alone, like here, here, here, and here.
In short, the losses are astronomical.
Even Ukrainian officers are beginning to admit the uncomfortable truth. Here one candidly states that they're simply 'running out of men':
More Ukrainian brigades are mutinying, like this one which operates in the Antonovsky bridge area of Kherson, and has been bombarded by Russia for weeks now. They state that only 20% of their battalion is left alive due to the criminally negligent actions of their commanders:
With that said, Ukraine is having some success only in the Bakhmut-Artemovsk area, but at great cost. There, they've sent the elite Azov units to scrabble for gains and have managed to push Russian forces back again. It culminated in a particularly bad loss today where Russian VDV were ambushed in the southern tip of Klescheyevka, with upwards of 5-10 of them killed.
But I said before that AFU is pouring everything into this area, and every inch is coming at great cost to them, which shockingly, has even been memorialized in the Kiev Post:
As some have pointed out, if even the Kiev Post is making such admissions, then things must be really bad.
In general, news and leaks continue to filter out that suggest much worse losses for the AFU than many had calculated. Here's one recent claimed Ukrainian leak which states that the AFU has 310k dead:
In support of that is another new release from a team which actually granularly tracks Ukrainian personnel losses and has adapted a mathematical model to extrapolate their 'confirmed' losses into an estimated projection. Here's what they found:
You can actually view their long and complicated equation-based methodology here if you're so inclined.
Interestingly, to compare numbers, if you'll recall I had previously estimated that the AFU currently must have somewhere in the area of 200-250k troops. It's plausible that there's 395k+, particularly since recently there's been a wave of exceedingly heavy-handed forced-mobilization, though I'd still err on the side of the less generous estimate.
But what I wanted to add to the ongoing calculations, was that Ukrainian presidential advisor Podolyak had recently stated that according to Ukraine's internal data, Russia currently has 360,000 total forces as part of the SMO. This is an interesting number given that is close to my own estimate as well, not counting the newly raised 150-180k being mostly reserved for Shoigu's new reserve armies. Though admittedly, this is a low conservative estimate, with 450k+ being also possible—it all depends on a few things we don't have data on, such as how many total servicemen left the service last year.
Anyway, in light of these things—and the massive AFU losses being uncovered, I found this new video quite interesting. Russian talk show host Soloviev visited the front and interviewed the erstwhile 'deceased' Russian general Mordvichev (one of those "killed Russian generals" I previously mentioned which were debunked).
Mordvichev is the commander of the Russian Central Military District and the 'Group Center' in the SMO—which means he's very high up, not just some pencil-pusher or brigade staff sergeant. He's asked on his views about how the conflict will develop from here on out. Listen to his response:
Main points:
He confidently states that the AFU offensive will peter out by August. Then there will be a big pause, during which they won't accomplish anything, including over the course of the winter. He finishes with the prediction that the war will end by spring.
Of course, the big question is what will Russia do afterwards. And when asked, he appears to demur in a way I can only assume is simply professional silence in that he obviously won't give Russia's own offensive plans away.
But it is very enticingly insightful that one of the top army grouping commanders of the SMO believes it will all be over by spring. What could possibly give him such confidence? On one hand, it's clear he must be speaking from the basis of the disastrously unsustainable losses the AFU is currently experiencing, and must further know that NATO doesn't have much armor and heavy weapons left to send, not to mention ammunition.
Will his prediction prove to be a hubristic one? Could be—anything's possible. But if you study his manner and deportment, he doesn't strike you as a man of hubris but rather like he knows something we don't.
I believe the full interview will be released on Russia's Channel 1, if I'm able to get it I'll upload it in its entirety in the future. But the slightly more extended video offers up a few more clues.
Note, the autotranslation is off in the first. He's actually talking about Ukraine faultily using cluster munitions to no effect against Russian forces, though it reads like he said "we" used it. He actually confirms what I've said previously, that clusters are mostly useless and used only out of desperation.
He further states that his group alone took 31 prisoners just yesterday.
But the biggest clue which I spoke of is what he says at the beginning. He states that Russia is conducting an 'active defense' whereby it allows Russian forces to maintain certain tactical initiatives and, in general, be in such a posture as to be able to seize the initiative at any given point when one is inclined.
He goes on to explain that the current defenses will snowball into a sort of 'cooperation' of such initiatives which will lead to what we can assume to be an active Russian offensive on all the fronts. He says more time is still needed but that this will happen 'in the future'.
Given his other statement about the 'spring' collapse of the AFU, we can infer and extrapolate this to mean that he believes Russia's active defense will continually grow into major breakthroughs of the UA lines, as is currently happening in the Kharkov-Kremennaya direction. And perhaps, over the course of winter and next spring, he envisions this avalanche as finally overrunning the AFU entirely.
The way the current heavy weapons losses are going, I give this the stamp of distinct possibility, barring any major NATO announcements, like that the U.S. will just go all out, hail-mary style and give Ukraine all of its thousands of mothballed Abrams tanks, or something over the top like that.
Though truth be told, the tanks are the least of the concerns. Most important by far is the artillery, and that's been suffering massive attrition. I'm not sure how much NATO has left to scrabble in that department, though recently I continue to see new shipments of Italian M109Ls. But this new Lancet graph of confirmed Lancet kills tells a story:
🔥 🔥 Russian roving ammunition "Lancet" showed an efficiency of 96 percent. In DNR, out of 150 launches, no more than ten kamikaze drones did not hit the target. 🔥 🔥
Note the roughly ~50 confirmed hits per month for the previous months, with the huge shoot up to the ~90 range for July. We know Lancets love to—perhaps disproportionately—hunt artillery, as their main feasts are the rear areas, while FPVs handle the front. By the way, these are just visually confirmed ones which happen to have their videos released, there are likely many more.
If you're interested, here's an interview with DPR's Kaskad (Cascade) battalion's commander on their wide-spread usage of Lancet drones. He reveals things like the AFU moving away their artillery from frontline areas where they know Lancets operate.
Russian drone production is going through the roof right now. I gave the number before: the AFU themselves claim 10k produced/acquired drones, while Russia does 45-50k per month. A new photo from Russia's Sudoplatov battalion shows a single delivery of FPV drones that they just took, to give you an example:
Noted Russian analyst Starshe Edda summarizes it as follows:
Older than Eddy: Observing the trend of using FPV drones by our army, I come to the conclusion that we will soon see an avalanche-like increase in enemy defeats with this type of weapon. Lancet will be the far arm and flagship of kamikaze drones operating at operational depth, while FPV drones will take over tactical depth. But the most important thing is not even this, but a geometric progression in the growth of professional drone calculations.
Russia is taking frontline drones extremely seriously now. Some of the latest developments include the following:
UAV production in Moscow has increased fourfold - Mayor Sobyanin

⚡️A network of scientific and practical centers will be built throughout the country.

⚡️In 2025, about 40 thousand students will study at universities in the field of unmanned aircraft systems, in 2030 — about 180 thousand people, the press service of the department told RIA Novosti.👏
This includes, in general, the latest updates about Russia's industrial production:
The number of purchased weapons and equipment has increased 1.8 times since March 2022, and more than 5 times in 2023

▪️ Deliveries of UAVs of the "Orlan" type increased by 53 times

▪️ "Uralvagonzavod" increased the supply and overhaul of T-72 and T-90 tanks by 3.6 times, "Kamaz" - deliveries of vehicles by 17.6 times

▪️ Deliveries of BMP-3 increased by 2.1 times, BTR-82A - by 4 times, "Tigr-M" - by 2 times

▪️ Deliveries of Ka-52 helicopters increased by 2 times, Mi-28 by 3 times

- Russian MoD
And the following shocking numbers from Russia's Deputy Prime Minister:
The production of ammunition in Russia has increased by more than 12 times, Manturov said

Manturov said that the monthly volume of ammunition output exceeded the annual volume for 2022

The volume of monthly production of weapons of destruction by Russian defense industrial enterprises per month exceeded the volume of output for the entire past year, Deputy Prime Minister, Minister of Industry and Trade Denis Manturov said on Monday.
He goes on to state that any disruptions in supply are quickly substituted:
"Since the beginning of this year, many types of weapons, military special equipment have already been produced much more than in the whole of last year. And if we talk about weapons of destruction, we are now reaching a level at which deliveries in just one month exceed the total order of last year," he said at the council on the smooth functioning of defense industry enterprises in the Volga Federal District.

Manturov stressed that almost all enterprises, with rare exceptions, maintain unprecedented schedules in terms of terms and volumes.

"Individual disruptions are quickly caught up or compensated by similar products," the minister added.

The production of ammunition in Russia in July 2023 alone has exceeded the figures for the entire last year, according to Russian Minister of Industry and Trade Denis Manturov at a council on operations of defense enterprises in the Volga Federal District.
In fact, the production is gearing up so much that Andrey Gurulev believes it could spur another mobilization in the future. This clearly implies something we've discussed here before, which is that one of the key things holding back a potential second mobilization for Russia was simply the fact that they didn't have enough quality equipment and ammo to arm everyone. Recall that the first mobilization created Russia's single largest force since WW2, and they were playing catch up all this time to even properly equip them. Now, with war-time production soaring it could open up the gateway for another troop call up which could bring the SMO toa much quicker end:
A new partial mobilization is possible with an increase in industrial turnover in Russia. This condition was called by a member of the State Duma Committee on Defense, Lieutenant General Andrey Gurulev
:"Partial mobilization comes from completely different parameters. From the ability of our industry to provide the group that is currently performing combat tasks. Today, our industry is able to provide the grouping that is on its own. If something is more than that, then it will be considered, " he said.
As you can see though, he appears to state that the current production levels are just good enough to provide the current grouping, if it ramps up even higher then 'it will be considered'—of course, at this rate, it's expected to continue increasing.
I've actually posited before the possibility that Russia could perhaps reenact last year's schedule by calling another mobilization sometime in the fall, then using all of the dead period of winter to train those new troops just in time to have a massive new force ready for spring offensives of next year, to finish off the AFU. Mind you, I don't think it will happen yet, but it's just a possibility to consider.
Anyway, all of this was to say that with these developments, we can see how general Mordvichev's projection could be plausible. After all, connecting back to Lukashenko at the beginning—there's a reason that Poland/NATO are now champing at the bit to such an extent as to warrant high level responses from Lukashenko/Putin. They must know that Ukraine's end is nigh.
This also ties into the fact that the AFU themselves are expecting Russia to begin mass energy infrastructure strikes for this winter just like last time:
Excuse the wonky translation, but he basically says that Russia is doing the preliminary intelligence prep work in reconning the targets which will cause the most damage to the energy infrastructure, etc.
When you add these things to my previous long ago projection that with the 2024 election cycle coming up, if Ukraine doesn't show major victories to their handlers by the end of this year, the U.S. will have to dump them, it all converges on very bad prospects for the AFU come the first two quarters of next year.
With all this said, Ukraine may be getting ready for one last hurrah in their 'counter-offensive'. The new strikes on Crimea are seen by some as the preparatory work in trying to cut out Russia's 'rear' supplies, while the attacks of the past few days could, in light of that, be the probing actions, looking for weak points for the main force.
South Wind: It is necessary to consider the Storm Shadow missile strike in a single key with the use of drone strikes in the Crimea within a few days. There are attempts to disable the logistics support system of the Russian Armed Forces group on the eve of the offensive. And taking into account the strike of unmanned boats on the Crimean Bridge, it is also necessary to isolate the area of combat operations. In addition, today near Orekhove, for the first time in recent weeks, the Ukrainian Armed Forces used a fairly large number of Bradley infantry fighting vehicles compared to the previous three weeks.

Thus, as of today, there are clearly signs that allow us to conclude that Kiev has begun the second phase of a strategic offensive operation (or, at least, pretends to have begun).
As can be seen, the above analyst begins the second phase attempt is being signaled.
And by the way, since others have asked about the above, and are wondering how Ukraine was able to reportedly hit Crimea with Storm Shadows in the past two days, here's Rybar's writeup which gives some explanation. The basic idea is that they launched a mass drone swarm which presumably overwhelmed air defenses and allowed SS's to 'sneak in':
🇷🇺⚔️🇺🇦 Combined Attack by the Ukrainian Armed Forces on Crimea - @Rybar Report

➡️Early in the morning, Ukrainian forces once again launched an attack on the Crimean peninsula. Initially, more than a dozen drones were shot down by the air defense systems of the Russian 31st Airborne Division over Kirovskoye, Krasnoperekopsk, and Dzhankoy.

According to the Ministry of Defense, 17 UAVs were destroyed.

➡️This airstrike is highly unique in terms of its route. The drones took off from the Dolgintsevo airfield near Krivoy Rog and flew along the Nikolaev Region to Odessa before being directed towards Crimea.

The UAVs covered a significant distance of over 500 km. Choosing such a path indicates the elaboration of new, more complex routes to deceive Russian forces.

➡️ Shortly after, Ukrainian Air Force Su-24 aircraft fired four Storm Shadow cruise missiles: three targeted an ammunition depot near Volnyansk, and one hit a repair base near Novostepnoye. Unfortunately, all four missiles hit their targets.

➡️Together with Saturday's attack and another one a few days ago on an hangar in Stary Krym (where Storm Shadows were also used), the Ukrainian Armed Forces have now employed British-French weaponry against the Russian peninsula three times.

⚠️ The increased attacks on Crimea with different types of weaponry, coupled with intensified counter-battery actions along the frontlines in the Zaporozhye direction, confirm preparations for a new phase of offensive.
Not only that, but as you can see the attack had uncommonly sophisticated vectors, with drones flying odd routes. As you can see at the bottom, Rybar also concludes that this signals the new phase of the offensive.
So, in the coming days we may see another large push attempt in the southern corridor.
Also, I think the ZNPP threat may restart anew in August, as well. That was the month given the Kakhovka reservoir to be at its driest during the summer heat. And yesterday the IAEA began playing new provocation tricks by announcing they've discovered Russian anti-personnel mines "on the perimeter" of the ZNPP plant. Well, duh. With Ukraine salivating to rush the plant any moment over the reservoir, of course Russia is going to mine the perimeter.
Anyway, the reservoir currently looks like this, with some people apparently having already planted a potato farm on it:
Click on the above to see it in ultra high-res.
I'll leave you with this last analysis which nicely ties into all the earlier points:
Our troops have broken through the defense of the Armed Forces of Ukraine in the Kharkiv region and are moving towards Kupyansk. The enemy writes that the Russian army actively uses a powerful lead in artillery. They shoot packets at any rustle. All forces of the crest in other places. We stretched them well. Remember how they stretched us at the beginning of the NWO, forcing us to rest against the "fortress"?
There is none of this anymore.
The enemy has full strength in Zaporozhye, in Kherson and on the border with Belarus, and we have gone on the offensive where it is necessary to close the problem of the Belgorod region. The enemy has few forces there, we have the advantage.

It is important to understand this: as soon as the front begins to move strongly, the Armed Forces of Ukraine lose their advantages in terms of technology, intelligence and accuracy. It doesn't matter: active defense, or offensive, it is important that they come out from under the "umbrellas".

Everything else is strictly according to military science: find a gap, collect a powerful punch there with an overwhelming advantage of artillery and aircraft, break through the artillery, roll it over and roll the enemy to other defensive lines.

The same thing didn't work for the Armed Forces of Ukraine in Zaporozhye. There is no overwhelming superiority in art, there is no aviation either, it was not possible to break the linear parts. Bottom line - Mykola's cry for the whole world.

The enemy is gradually succeeding in certain areas of Donbass, but even there, every centimeter is given to him at the price of a feat. In general, the Donbass issue can only be closed with a boiler or a semi-boiler. The movement has started from the north, not yet from the south, we are waiting for the results of the counteroffensive.

In general, our situation is now more profitable than the enemy's. Now they have Wagner's sword of Damocles hanging over the center and west of Ukraine, in the north they pushed forward, in the south we counterattacked successfully. We can stretch them, they can't stretch us. From a military/political point of view they have only one or two real points of attack, we have 4-5.

It's too early to rejoice, but the theater of operations looks promising. Losses still useless to reduce⚡️⚡️⚡️
And some final footage. Firstly, of Putin and Lukashenko's recent visits to Kronstadt area:
Next: work starting on the Kerch Bridge:
And finally, two interviews. They are auto-translated by A.I., so unfortunately there are some infelicities and wonky text here and there, for which I apologize—it's the best I can do for now. But hopefully, it's enough to understand most of the gists.
The first, with a mobilized Russian soldier from the 58th army which is holding back the AFU in Zaporozhye:
And the second is an exclusive new interview with the legendary Russian Marine commander of a unit from the 810th Guards Naval Infantry Brigade of the Black Sea Fleet, callsign 'Struna' (String) but better known as the 'Red Backpack Man'. His team blitzed Azov in Mariupol, where his heroism was on display in daily reports. But until now, his face and true identity was always blurred. Now, he's fully revealed for the first time.
A brief intro as reminder:
The hero of the assault on Mariupol showed his face. Struna - FULL INTERVIEW

Originally from Kirov. In the war from the first days, he held the position of commander of an amphibious assault platoon of the Marine Corps, although he dreamed of getting into the Airborne Forces. "String" is a call sign that is linked to the unit commander.

In the battles of the entire period of the assault on Mariupol in the spring of 2022. "Struna" became known for its heroism and was remembered by many thanks to Filatov's reports and a red backpack that stands out vividly against the background of the green uniform.

In fact, Struna's first big interview without a mask. Previously, the whole country knew him only as a masked man with a red backpack, who became one of the symbols of the liberation of Mariupol. During the fighting, he lost a leg. Now he is already walking with a prosthetic leg.
---
If you enjoyed the read, I would greatly appreciate if you subscribed to a monthly/yearly pledge to support my work, so that I may continue providing you with detailed, incisive reports like this one.
Alternatively, you can tip here: Tip Jar
---