Discover more from Simplicius's Garden of Knowledge
War strategies, geopolitical analysis, SitReps, and discussions.
Over 24,000 subscribers
One of the most interesting updates today was a televised press conference Putin held with the top Russian frontline correspondents, many of them familiar names and faces from whom I and other analysts take daily reports. Guys like Poddubny, Pegov of Wargonzo, Sladkov, Murad Gazdiev, and even popular Youtube analyst Yuri Podolyaka, Alexander Kots, and many more.
To give an idea of the journalists present:
This was designed as a session to allow the journalists to ask Putin himself the most pressing frontline questions, some of which were delivered directly from frontline troops revolving around certain issues. For instance, Pegov delivered the complaint that some troops are not being paid the promised bonuses for destroying prized AFU equipment like planes and tanks. Putin said he did not know about this and that he will immediately take action to correct it and make sure they get paid.
If you're wondering how it's possible Putin didn't know of such an oversight? Well, that leads me to the next main point. Which is that Putin made many interesting admissions during the chat, including ones about the ongoing deficiencies of the Russian side and MOD.
For instance, he said that the SMO has revealed that the Russian army had many useless (my wording) 'parquet generals' which were not up to the task and who were replaced.
There were a lot of "parquet" people in power before the SMO

"It's like with the pandemic. After the pandemic, heroic medics began to appear. In the army environment as well, very quickly it began to be understood that there were a lot of such parquet generals everywhere, but people who had been sitting in the shadows began to appear, and it turned out that they were effective and very necessary. Such people should be sought out and dragged to the top."
He also admitted that the SMO revealed Russia's lack of many much-needed modern systems like drones and guided weapons. However, the latter point is being used by pro-Ukrainian accounts to misinterpret Putin's statements to mean that Russia still lacks these. However, Putin in fact rounded off the statement by saying that Russia is now producing 10x the number of drones as previously, as well as 3x in certain regular weapons and similarly 10x in specific types of much-needed systems like guided munitions.
There were many other interesting revelations. The most interesting were hints regarding the overall SMO plans and what Russia intends to do in Ukraine. Let's unpack some of these.
Putin did not reveal anything too specific, but he gave hints like the following (translations by Donbass Devushka channel):
Putin - to the question "How far are we ready to go forward when the offensive of the Armed Forces of Ukraine ends?":

I can only tell you this face to face! In general, everything will depend on the potentials that will be formed at the end of this so-called counter-offensive. Here is the key question. I think that, realizing the catastrophic losses, the [Ukraine] leadership, whatever it may be, the head, that is, should think about what to do next. And we will see what the situation will be like. And based on this, we will take further steps. We have plans of a different nature, depending on the situation that will develop when we consider it necessary to do something.
First, to contextualize his words above, let's add the fact that he also revealed that Ukraine's losses are 'catastrophic' in the 'counter-offensive'. Some of the numbers he gave were around 500+ total destroyed armor/vehicles, which includes 160+ destroyed tanks and 20-30% losses of Western supplied equipment. He said that Russia in turn lost 54 tanks and has a 1 to 10 ratio of losses compared to Ukraine. It's unclear if he meant actual "tanks" or total armor/vehicles as some reported his statement as total armor, which would make more sense with his statement of 1:10 losses as ~50 is 1:10 to the reported 500+ destroyed UA armor. Though he did mention that many of the Russian losses will be 'repaired' and therefore are not total, irrecoverable losses.
But getting back to the quoted statement above. He is basically saying that Russia's potential movements after Ukraine's 'offensive' will depend on what the ground realities are at the end of this offensive period. On one hand, we can assume he's being deliberately cagey so as not to give away the Russian MOD's obviously secret plans. But on the other hand, he is likely revealing some truth in that Russia's plans will depend on how much of Ukraine's offensive potential is destroyed. This is something I myself have already written about in one of the last reports where I highlighted how if Russia is not able to destroy a substantial amount of the AFU's potential in the next month or so, then the next phase could simply devolve into more "stalemate-y" and positional warfare where Russia will continue creeping forward while using artillery to decimate the AFU's rears.
However, if UA were to overcommit their forces in the current ongoing offensive and give Russia the opportunity to decimate a large portion of them, that would give Russia the chance to finish off the wounded animal by launching a large offensive of their own. But doing so against a foe that hasn't been appropriately weakened would lead to unacceptable losses which is why Russia is unlikely to launch such a massive offensive unless UA is substantially degraded in the coming weeks.
This is my 'reading between the lines' of Putin's statement. And this dovetails with his next comments regarding mobilization. First let me say that Strelkov yesterday claimed that Russia will be forced to launch another massive mobilization by August at the latest. Clearly, this is something still on many people's minds and thus Putin was forced to address it:
Vladimir Putin:

Is additional mobilization needed? I don't follow this closely, but some public figures say that we urgently need to raise another million, two million. It depends on what we want. At the end of the Great Patriotic War, we had almost 5 million in the armed forces.

It depends on the purpose. Our troops were at Kiev. Do we need to go back or not? I am asking a rhetorical question, it is clear that you have no answer to it. I can only answer it myself. But depending on what goals we set for ourselves, we must decide on the issue of mobilization. Well, there is no such need today.

We have started work since January of this year - we have recruited over 150,000 contract servicemen. And together with volunteers - 156 thousand. And our mobilization was 300 thousand. Under these conditions, the Ministry of Defense reports that, of course, there is no need for mobilization today.
Read that very carefully: Putin reveals much more here than may appear at first glance. Initially, it seems he's just temporizing as usual, but it's not the case. He tells us several major things:
Firstly, he makes it clear that mobilization is dependent on the goals that will be chosen. This can be read as an admission that Russia has not yet decided on the full goals of the SMO, however it's not as it seems. Russia and Putin has in fact decided on the goals, but what Putin is implying is that there are several ways that these goals can be achieved, and those methods rely on how things will play out and what Kiev itself will do.
What do I mean by this? Plainly speaking, it means that Russia's goal is to defeat Ukraine but capturing Kiev is not necessarily required to achieve this goal. I've written many times before that the way I personally envision the war ending is by an unconditional surrender (with likely simultaneous coup) of a battered armed forces that simply cannot take anymore and whose generals and/or officers have finally mutinied and are ready to take amnesty deals offered by Russia. In such a case, Russian troops would simply ride into Kiev like they did into Paris at the end of the Napoleonic war.
So what Putin is saying here is that, if it turns out that the above scenario does not work out, and Russia continues to attrit the AFU horrifically but for whatever reason, the AFU manages to hang on without ever falling apart, then Russia would in fact consider mobilizing many more troops for a much broader required conquest of taking Kiev and/or other territories until full capitulation. However, as it stands for now, to Putin the situation does not call for this because he believes Russia can still effect a total destruction/surrender of the AFU with the current forces Russia has.
And for those skeptical, Putin reveals some more numbers that give us an idea as to why he's so optimistic. He said that 150,000 contract soldiers joined the RuAF since January of this year. Then, an additional 156,000 volunteers likewise joined, 10,000+ of which only in the past week alone.
Now, recall that Russia was said to have anywhere between 150-200k troops in the early part of the SMO. If we count all troops like LDPR and paramilitary/PMC, let's just say it was 150k. Then Russia carried out a mobilization for an additional 300k in September-October of last year, 2022. That would have put them at 450k total.
Now, Putin says an additional 306k have joined, not to mention that Prigozhin says Wagner is getting tens of thousands of new applicants per month, though they are whittled down in intense training to maybe 2000-5000 new eligible recruits per month. This would put Russia's armed forces at upwards of 450k + 306k = ~750k+.
Prigozhin has multiple times called for growing Wagner to 200k troops and in the future it's possible it may grow exponentially which could add even more men. Of course, we have to consider that many soldiers may have left service, ended their contracts, etc. Plus, there are anywhere between 35-50k from all the different factions likely either dead/maimed enough to not be able to fight. So this could realistically put Russia's current force to anywhere in the 600-700k range. Recall, that Shoigu implemented a new decree that Russia's armed forces would be expanded to 1.5 million with 695,000 of them as contract soldiers, and these numbers appear to match, which tells me that all of these mobilizations have been part of this decreed expansion of the RuAF.
So, the fact is, if these numbers are close to accurate, then I don't see how a new mobilization would be 'necessary' for Russia to continue successful offensive operations as Strelkov and others seem to think. Considering the fact that the AFU itself likely has less than 200k usable troops at this point, I don't see why Russia's numbers are not more than enough. The only question is where are all those troops and what is Russia saving them for? I'll get to that in a moment.
First let me say: how do we know some of these numbers are accurate? Well, for one, some of it is confirmed in the Pentagon leaks. For instance, one of the pages has the direct numbers for total Russian battalions in Ukraine, which it gives at 544. If we take a battalion to be about 800 troops, 544 x 800 gives us 435,000. Though, battalions can be smaller or larger but that could be an average. Note, the leaks were from early this year, that means this is before the new mobilization that Putin spoke of even occurred. That mobilization added 306k as we've demonstrated. So, if we take the leaked strength shown above and add it to the newly mobilized from this year, we can get somewhere in the neighborhood of 700,000 troops as I've said. Maybe Russian battalions are much more undermanned, plus in the leaks they are broken down into regular, reserves, and auxiliaries, the latter two perhaps being smaller. So, it could conceivably be less troops but it would still likely put us somewhere north of 600k, give or take.
(edit: an intrepid reader has pointed out I made a mistake in adding a 150k contract + additional 150k volunteer recruited. The true number is actually 156k
total
, both contract and volunteer.
However, since Russia is now averaging ~15k per month recruitment as stated, and that number is claimed to be exponentially rising each month, that means by the end of 2023, and early months of 2024, an additional 100-150k would already have been enlisted. So for the time being, despite my error, we can operate under the assumption that my calculations are for a time 6-8 months in the future. And either way, even now, 150k troops less still should put my calculations at a total of 600k for Russia, which should still be much higher than UA's current operable figures)
By the way, the leaks had UA at 34 total regular brigades, 13 fires brigades, and 27 territorial defense forces (often considered cannonfodder that was never meant to be used in frontline assault roles or on the frontline at all). Taking a max brigade to be 5,000 men, these 74 total brigades would be 370k. However, we know virtually every single Ukrainian brigade at this point is much closer to 50% strength, with many of them even lower. This would put Ukraine's total troops at less than 200k, which is actually where I put them. Even if we give them the benefit of the doubt and assume that their brigades average at 70% strength, that would put their total numbers at 259k, and much of that being 'territorial defense forces'.
And recall the important thing: Putin said 10k troops joined last week alone. This means, as Colonel MacGregor for instance had argued long ago, that Russia has an ongoing stealth mobilization that continues at all times. So why need a massive new mobilization when you have tens of thousands joining per month anyway?
This could reveal that Russia is in fact slowly building a mammoth force that by the end of this year, or next year could run into the 800k-1M range, which would slowly overwhelm the AFU. Recall, the stereotypes about the Russian bear being slow to harness but quick to ride, or the general tropes about a bear being slow to wake and anger. You can argue Ukraine is mobilizing also, and much more 'coercively', but those troops are being attrited at a much faster rate as well. So their mobilization is likely just barely keeping their numbers steady rather than actually expanding the total force.
The truth is, many people have their own preconceived notions about how a military campaign "should go" based on video games, TV, movies, or the fake hologram "wars" that U.S. waged against Middle Eastern countries. Russia does not need to follow any of these concepts. It's very plausible that Russia will simply sit and attrit UA forces via artillery/strikes for months as it slowly grows in enormous size via this stealth mobilization, and as such, the conquest will happen more as a giant boulder beginning to roll down a small hill, but picking up increasing speed until it's an unstoppable force.
In some ways, it can also be compared to a sort of boa constrictor analogy. Ukraine may feel like things are going OK, all things considered, but little by little the pressure is mounting as Russian forces appear to grow everywhere, on every frontline, strikes coming with increasing intensity (as they are now, with nightly missile/drone attacks all over the country), until it gets to a crippling point where the 'dam breaks' and the AFU simply can't resist anymore.
So the main point is that, contrary to what some people believe, Russia may never need to launch the long-awaited "big arrow" offensive, but rather continue building up their strength and slowly crushing the UA on every front little by little until the pressure builds beyond the point of no return.
However, as Putin implied earlier, there is still a chance for more aggressive Russian actions depending how much damage Russia can deal to the AFU in the current 'counter-offensive'. Putin actually underlined this point several times in the talk by stating that it's 'very good for Russia' that UA is attacking. In fact, he expressed regret that the Kakhovka dam was broken, stating that the flooding prevents UA from attacking on the Kherson axis, and that Russia would have much preferred for UA to attack there as they would have been utterly crushed with enormous losses.
Putin - about the explosion of the Kakhovskaya hydroelectric power station:

I will say a strange thing, unfortunately, this thwarted their counteroffensive in this area. Unfortunately, why? Because it would be better if they were advancing there. It's better for us, because it would be very bad for them to attack there. But since such a spill occurred, the offensive did not take place.
He likewise was very happy that UA is currently attacking on the Zaporozhye front because it gives Russia the chance to completely crush them in the open.
Another interesting comment he made:
We must respect the existence of Ukraine, but this is no reason to treat Russia without respect, Putin said.

Ukraine should not exist at the expense of the Russian Federation and in the historical Russian territories, if normal relations are not built, the president noted.

The defense industry of Ukraine will soon completely cease to exist.
This sounds to me like he is saying that if the surviving rump state of the Ukraine cannot be remolded into a nation which respects Russia and treats Russia cordially, then Ukraine "should not exist" at all as a state. This interestingly echoes recent sentiments I've already written about which were expressed by other high ranking Russian officials.
And in fact a new one was expressed yesterday by state Duma deputy Elena Panina, who stated:
Denazification of Ukraine means de-Americanization of Ukraine.

Elena Panina, director of the Institute of Russian Strategic Studies: "Nazism in Ukraine is a product carefully cultivated by the United States and its entire state machine. Nazism is an American tool for turning apolitical and good-natured Ukrainians into brutal fanatical Russophobes. The tool is precisely American, because the special services of England, Germany, The Vatican and Austria played a supporting role in this matter, they were, as they say, "on the hook."

Therefore, the denazification of Ukraine is, first of all, its de-Americanization. The denazification of Ukraine means the complete military defeat of all its institutions created by the United States for the war with Russia. There can be no denazification without the de-Americanization of Ukraine. No denazification is possible in that part of Ukraine that will remain under US rule. It was for the sake of growing Nazism that the United States came to Ukraine. Money is not their main goal. They will pay any price for the destruction of Russia.

Russia is fighting in Ukraine primarily with the United States, which has turned Ukraine into a Nazi reserve. Freezing, cessation of hostilities under any pretext means the cessation of the denazification of Ukraine and the abandonment of the goals of the SMO. To solve the problem of Nazism in Ukraine, the United States must be expelled from there. If the de-Americanization of Ukraine is not brought to an end, Nazism in it will always seek to destroy Russia.

We have no right to allow this. The goals of the SMO must be fully fulfilled."
How's that for maximalist?
Another of Putin's statements from the talk:
Putin - about the "response to overcoming the red lines":

They tell us all the time: "So you started the war, Putin is the aggressor." No, they are the aggressors. They started this war, and we are trying to stop it. But they have to do it with the help of the armed forces. But isn't this the answer to overcoming some red lines?

Not everything, perhaps, is in the mass media, although there is nothing to be ashamed of. Strikes on the entire energy system of Ukraine - is this not a response to overcoming the red lines? And the actual destruction of the headquarters of the Main Directorate of Intelligence of Ukraine in Kiev - is this not the answer? Answer!

We will continue to be selective. Let's not, as these idiots hit civilian objects, residential areas. Of course, we will not do this. We will selectively continue.
In short, he is addressing the common complaint of why Russia continues to allow Ukraine to 'cross the red lines' without any response. Putin states that Russia did respond. The strikes on Ukrainian energy grids was one such response, and the strike on the GUR HQ was another. Also, he hints there were other presumably covert things that were done, which are not 'in the mass media'.
I'll leave this section with a bullet point summary of many of the other points:
—The goals of the special operation are changing according to the current situation, but in general they remain the same.

—Russia is still determined to have the kindest relations with the former Soviet Union and with the West.

—The West is trying to use Ukraine to destabilize Russia.

—We thought we were we were part of the club, and I even floated the idea of joining NATO, but we were not even considered.

—About the events in Donbass in 2014: We did not touch [the situation] even with a finger, but we were forced to stand up for the people. We tried to negotiate sincerely.

—About Zelensky: I am surprised that a person who has Jewish blood in his veins can support neo-Nazis.

—Ukrainians "threw away" all agreements reached in March 2022 after the Russian troops withdrew from Kiev.

—Lenin is being thrown off his pedestal in Ukraine and the fascist Bandera is being placed in his place. He has been elevated to the rank of national hero.

—What is happening now in Ukraine will never suit Russia. [In Russia] there will never be anything neo-Nazi.

—Russia is gradually and methodically demilitarizing Ukraine.

—Ukraine's military-industrial complex will soon cease to exist at all.

—About the Ukrainian offensive: This is a large-scale counteroffensive, but it has had no success in any area.

—Summarizing the results of the first almost ten days of the Ukrainian offensive: According to the president, the AFU is suffering losses, the [ratio of] irretrievable losses of Ukraine [to sanitary] are "almost 50 to 50", 1 to 10 in favor of Russia.

—Of all the losses, they are approaching an estimate that can be called catastrophic, in terms of personnel.

—Our personnel losses will be voiced by the Defense Ministry, but we lost 54 tanks.

—About the destruction of the Kakhovskaya Hydropower Plant: Unfortunately, it thwarted the [Ukrainian] counterattack [in this area], it would have been better if they had attacked.

—The Dnepr flood disrupted the offensive of the AFU in the area, which is bad for us, because for the AFU it would have been even worse.

—Polish mercenaries are fighting on the Russian border area and are suffering heavy losses.

—Livestock graveyards and cemeteries ended up under water after the destruction of the Kakhovskaya HPP, but the problem is solvable, the chemical protection troops will help to solve the problems.

—About drone attacks on Russia: The same happened in Syria, we quickly learned how to fight, the problem here is also solvable.

—Russia will consider creating a "sanitary zone" [GB: "buffer zone"] on the territory of Ukraine in case the shelling of our regions continues. A "sanitary zone" will be created on the territory of Ukraine. Such a zone is needed in order to secure our regions. Work on this issue will soon begin.

—About Russia and Ukraine: We have a country, they have a regime.

—Overall, there is no need to introduce martial law in Russia, it is necessary to work more thoroughly on some issues.

Putin on the counteroffensive of the Armed Forces of Ukraine in the Zaporozhye direction:

▪️The Ukrainian counter-offensive is large-scale, using strategic reserves, it began on June 4 and continues right now.

▪️ Unfortunately, this disrupted the counteroffensive, it would be better if they attacked.

▪️ The goals of the NWO are fundamental for us, they change in accordance with the situation, but in general remain the same.

▪️ The enemy did not have success in any of the sections.

▪️ The structure of losses of the Armed Forces of Ukraine is now unfavorable, they are approaching catastrophic.

▪️ During this time, Ukraine has lost over 160 tanks and over 360 armored vehicles, there are still losses that we do not see.

▪️ Our losses of personnel may be voiced by the Ministry of Defense, but we lost 54 tanks.

▪️ The ratio is 1 to 10 in our favor, our losses are 10 times less.

▪️Putin on the aggravated situation in the border area:

There is a problem, it is mainly connected with the desire to divert our forces and means to this side - to withdraw part of the units from those areas that are considered the most important and critical from the point of view of a possible offensive by the Armed Forces of Ukraine. We don't need to do this, but of course we have to keep our citizens safe.
But now let me address another important point. Many might be asking, if Russia really has 600-700k troops and growing, and Ukraine only has 200k or less, then why hasn't Russia easily swept the AFU aside by now? And more importantly, where are all these supposed Russian troops? The frontlines always seem to appear like it's Russia that has fewer soldiers.
Well firstly, on the last point: it depends who you ask and which frontline you look at. According to a newly posted Western analysis of Marinka, for instance, from just today, they claim Russian forces outnumber Ukrainian 4:1 in Marinka. But either way Russia moves slowly because it has adopted a strategy of extreme risk casualty minimization, at least for now and prefers to grind the AFU down from a distance.
But as to the larger point, it's a good question as to why Russia is not making use of all the purported huge amounts of mobilized troops. There are a few possible theories mixed with a few known realities.
Firstly, unlike Ukraine, Russia is utilizing its troops responsibly, giving a lot of rotations and making sure they are healthy and well for the long run. Even in today's talk Putin mentioned the frequency of rotations. So that means if you have 600k troops, you can keep nearly half of them or more on the sidelines and make the war as 'comfortable' for the frontline forces as possible by repeatedly rotating them and giving them rest. Ukraine on the other hand doesn't have that luxury and it results in mass demoralization, desertion, mutinies, and just mental/psychic disintegration of much of their forces. These are people that will be ruined for life, even if they survive, from the sheer stress of non-rotated combat, whereas Russian troops are treated with dignity and in a manner that is based on long term preservation of their physical and mental health.
So despite potentially having twice the troops, on the frontlines Russia could still have rough parity simply because it is using the excess troops to rest and rotate forces properly.
Secondly, the other big idea is that in light of recent growing concerns about a potential NATO entry into the war or some kind of major NATO sneak attack, I believe that Putin may be holding a lot of his forces back "just in case", and refraining from committing them all into the Ukrainian frontlines at once for fear that they may be bogged down when NATO decides to open up a second front.
I've posted it before and will post it again here: there's a speech by Mitt Romney from last year where he specifically said that NATO can catch Putin's troops with their pants down because they're bogged down in the conflict:
Other top officials like Lindsay Graham have repeatedly echoed those words in different ways. So, if you're Putin and you've heard people like Mitt Romney literally say on national TV that "if NATO were to "get activated" into Ukraine, Russia's troops would be caught in a weak position" would you really commit the entirety of your forces so that all your flanks are now exposed to a NATO ambush attack? No, a smart leader would keep a few hundred thousand troops at the ready if for no other reason than to simply deter such an attack from even happening, so as not to give the feral, salivating hyena of NATO even the idea of trying it. And ultimately, I believe this is the main reason Putin hasn't committed the entirety of the force.
And many other indicators recently point to such a possibility. We've discussed it last time but there appear to be more warnings. For instance, just today Lukashenko released a statement that he "wouldn't hesitate to use nukes" if Belarus is attacked, referring to the Russian nukes soon to be stored in Belarus. Clearly, he believes that the possibility of such a provocation is rising, which is why he addressed it.
Rybar also released a new report today, speculative as it may be, that points to such possibilities:
Fwd from @rybar

🇱🇻 Interesting news comes from Latvia: overhaul of roads and railways has urgently begun throughout the country. Work is underway even on newly built highways, such as the Riga-Pskov highway.

At the same time, the main focus is on the Rail Baltica project, a standard European gauge railway with a European train control system, which should connect the Baltic States with the rest of Europe. On the frames you can see the process of construction of the railway track and the station.

Now there is a construction of concrete structures of very large thickness - from 1.5 to 2 meters of solid reinforced concrete. As our readers note, the grand restructuring is taking place amid of the biggest inflation in the Eurozone and the lack of money in the country.

🔻We have already said (https://t.me/rybar/48257) that the Baltic countries and Poland are preparing to intervene in the armed conflict in Ukraine. One of the main problems of NATO in the event of a full-fledged war with Russia and Belarus is logistics.

The appearance of a railway line of standard European gauge and new roads will reduce the time for the delivery of weapons, equipment and ammunition to the Russian border, and the construction of fortified buildings and structures is associated with preparations for hostilities.

Indirectly confirms the ongoing activities in Latvia, who began the mass recruitment (https://rus.delfi.lv/news/daily/latvia/molodezh-prizyvayut-zapisyvatsya-v-dobrovolcy-na-sluzhbu-v-vvs-latvii.d?id=55649816) of young people until July 15 in the ranks of the Latvian Air Force for the specialty of an assistant operator of the short-range air defense system RBS-70. Training is scheduled for January 2024.
So, Rybar claims that infrastructure is being prepared for a possible future war against Russia. Latvia also began a mass recruitment drive for the air force and air defense services.
It could be speculative nonsense, but the Resident channel reported the following today as well:
Our source in the Presidential Office said that Zelensky is preparing a new trip to Poland, where he will discuss the format of the Warsaw Union. On Bankovaya, they want to insure against negative scenarios of a counteroffensive and are ready to involve Polish troops to protect the border with Belarus.

The Ukrainian source "Resident" reports that the joint Lithuanian-Polish-Ukrainian brigade is preparing to enter the territory of the western regions of Ukraine as an "experiment". This will be the first test for the entry of NATO contingents. If this test is judged to be successful, it will be increased.
And Colonel Douglas MacGregor appeared to agree with this new statement:
The United States and NATO may decide to conduct an "operation" on the territory of Ukraine, not wanting to admit the defeat of Kyiv.

Douglas MacGREGOR noted that after the failure of the Armed Forces of Ukraine in Artemivsk, the White House started talking about the impossibility of Ukraine's victory.

He believes that the situation that has developed in the war zone may prompt the West to open intervention, which threatens with catastrophic consequences.

"Moods remain in Washington in support of Kiev. I fear that American air and ground forces, along with NATO forces, may be introduced into the territory of Western Ukraine at the last moment in order to try to somehow save the Ukrainian government from complete destruction," – said a former Pentagon adviser.
So, speculative or not as some of this may be, if even a hint of such a threat existed, wouldn't it be smart to hold back a good portion of your forces to deal with this threat or deter it? I certainly think so. But it should be said that there remains a chance that my calculations are wrong. For instance, perhaps many more Russian servicemen left service than we think and so there are far fewer troops than I've calculated. But, I simply would find that hard to believe due to the fact that last year Russia put all contract terminations on hold, making SMO service a permanent obligation for the time being, at least as I understand it. So the only real servicemen that may have been leaving their contracts are Wagner with their famed six month contract service. But we know Wagner gets plenty of new sign-ups as well, so there shouldn't be an issue there.
Now, let's turn to the current ongoing 'offensive', if it can even be called that anymore. One important thing to note is something I had brought up last time, which is that, not only was the offensive said to be accoutred for somewhere in the region of 10-15 days, but there are certain doctrinal underpinnings that even support this in terms of how fast an offensive is supposed to move.
For instance, Arestovich, who is a knowledgable military strategist and was a Lt. Colonel in the GUR, stated the following at the beginning of the 'offensive', to calm people who were 'overreacting' to the loss of Leopards and Bradleys:
So, according to him, the standard for offensives of this type is to breach the enemy's first line of defense by the 10th day of operations. Well, I have bad news for Arestovich. The "offensive" started on June 4th. It's now June 13th. Tomorrow is the 10th day and Ukraine hasn't even gotten close to Russia's first line, and by the looks of it may not get there at all:
The red box above shows where the current fighting is near Makarovka. The red lines on the bottom is the first line of Russia's main defenses, just south of Starolmynovka. Another view:
And that's just on their good axis. On the other side near Orekhov they've completely abandoned even trying it seems. Particularly after the humiliation of losing all those Leopards and Bradleys, of which we now have the first full video of Russian troops seizing them (warning 18+ content):
By the way, there's been some updates from Western press as to how that particular Leopard battle went down with some interesting details:
🇺🇲🇺🇦🇷🇺 The offensive of the Armed Forces of Ukraine through the eyes of Western media

Wall Street Journal : "According to the 28-year-old soldier, as soon as the regiment crossed the road beyond Malaya Tokmachka, the Russians began to fire at them from Grads. "The fields were mined. Russian helicopters and jet fighters were buzzing overhead," the fighter said.

According to the soldier, one of the Leopards was hit and put out of action. "They were just waiting for us ... positions were prepared everywhere. It was a steel wall. It was terrible," says the military.

"The plan was to move south towards the Russian-occupied city of Tokmok... The other two units would also be advancing towards Tokmok from different directions," one of the soldiers said.

A fighter with the call sign "Finn", who is fighting near Velikaya Novoselka, says that because of the rains and in the swampy terrain, the MaxxPro armored vehicles lose their effectiveness.

"They were made for urban combat and the desert. In our reality, they can get through, but this is a fight," he said.

AFP : A mechanized unit of the Armed Forces of Ukraine that took part in the recent attacks near Orekhovo in the Zaporozhye region lost six of its nine American Bradley infantry fighting vehicles.

Only one BMP was able to avoid any damage. Probably two more were damaged, but could be repaired and returned to service.

Answering an AFP question about the results of the offensive on this sector of the front, one of the Ukrainian servicemen pointed "zero" instead of answering with his fingers .

WSJ : "There were more of them than we expected," said a 35-year-old platoon leader in Ukraine's 21st Mechanized Brigade, who took part in the assault near Orekhov in southern Zaporizhia.

Successes near Orekhov "turned out to be less than expected." The first Ukrainian attacks failed when an armored column ran into a minefield and was hit by return fire.

Kyiv's task is "to confuse the Russians about where the main attack will take place," said Ben Hodges, a former commander of NATO forces in Europe. In his opinion, such a blow has not yet been dealt.

"When the main thrust of the Ukrainian offensive comes, it will probably involve formations with several hundred tanks and infantry fighting vehicles," the article says.
Another report actually claimed that one of the Leopard tanks was destroyed because a nervous tank gunner fired his gun accidentally while the barrel was pointed straight ahead toward another Leopard directly in front. I kid you not.
Rybar, by the way, has mapped most of the high profile losses:
But another WSJ article wrote a comedic face-saving account of how the Leopards were lost, clearly desperate to paint it in as glorious a light as possible for damage control purposes:
His German-made Leopard II tank cut down Russian infantry, but another line of soldiers stepped in to replace them, and then another, he said. Rocket-propelled grenades whistled past. Some bounced off the tank. The fields were covered in mines. Gains were smaller than hoped for.
So, according to them the valiant Leopards cut down endless rows of orcs doing their normal human wave tactics as RPGs bounced off the flawless German armor. Sheesh, if the battle really happened with such comic-book flourish one wonders why there're mounds of dead Leopards and no photos of any destroyed Russian armor or the mountains of cut down infantry they describe.
German Stern magazine claimed that Russians laid a trap:
Stern magazine writes that the euphoria in anticipation of Ukrainian success from the use of German tanks quickly evaporated - "Compared to the high expectations that Western experts aroused, it was a shock ... It seems that the Ukrainians fell into an obvious trap.  The Russians did not initially destroy the damaged vehicles, but left them as traps.  While trying to save them, the next Ukrainian group came under fire"
And this defense analyst from the previous WSJ article also stated something I've been telling people for a long time:
"Ukrainian forces are attempting to do something no other European military is currently capable of: conducting sustained combined-arms operations at scale against a peer-adversary in a state-on-state, high-intensity war," said Franz-Stefan Gady, a London-based defense analyst.

Among Western militaries, only the U.S. is capable of the sort of complex offensive Kyiv is attempting—but Ukraine lacks the U.S.'s air power, Gady said.
Meanwhile, there are indications of the heavy losses Ukraine is actually taking in the region:
Beznosov: New information is being received from the territories controlled by Ukraine. In Zaporozhye, over the past 4 days, almost all medical institutions in the city were filled with Ukrainian soldiers. Only in the 5th hospital, about 1,500 wounded horsemen were taken. At the same time, the active movement of tow trucks in the amount of 200-300 units is recorded in the city. These are just some facts of the consequences of the offensive actions of the Armed Forces of Ukraine in this sector of the front.

The Ukrainian Armed Forces ' bases in Orekhov were hit hard with smart bombs. In this city are the bases and control points of the AFU brigades advancing on the Zaporozhye front. Yesterday it was reported that in the area of Orekhov, the control point of the 47th mechanized brigade of the Armed Forces of Ukraine was hit-the same one that has already lost almost all the Bradleys and lost a bunch of Leopard tanks.
And reports like this, although they should be taken with a grain of salt, just in case:
Panic is growing in the ranks of the Armed Forces of Ukraine due to high losses during the failed counteroffensive. More and more appeals from the Armed Forces of Ukraine are leaking into the network, who complain about the high losses in their units and the terrifying activity of the Russian troops. In one of these appeals, a fighter of the Armed Forces of Ukraine, located in the Kharkiv direction, stated that "hundreds of the wounded and killed are evacuated from their positions every day."

The situation is now so deplorable that the General Staff of the Armed Forces of Ukraine for the first time since the beginning of active hostilities had to admit colossal losses on the front line. The West also acknowledged that the Ukrainian army faced huge unforeseen losses, which caused panic in the command of the Armed Forces of Ukraine.

"Their panic is visible, and lies in the fact that they do not know in which direction they will be able to achieve visible success. After all, if the Ukrainian government does not show at least some results to supporters in NATO, support for Ukraine will begin to fall, "said Daniel Davis, an American military expert. New details about the state of affairs in the Armed Forces of Ukraine appear from captured Ukrainian soldiers, who are becoming more and more every day. They blame their command for the numerous deaths. According to one of the captured Ukrainian officers, high-ranking commanders are increasingly giving inadequate orders, which have already killed thousands of soldiers.
It should be mentioned though that there are reports the AFU have licked their wounds in the Orekhov direction and are preparing another mass attempt to penetrate:
Also, the enemy finishes forming a strike group, for a second attempt to break through the defense line of the 58th army. Udarny kulak has 8 brigades, some of which are breakthrough development brigades.

Judging by the configuration of the grouping, we should again expect the main attack on the 42nd division and the auxiliary one in the area ofMaly Shcherbakov-Pyatikhatok.The beginning of the next wave of" counterattack " can begin any day, including today.The enemy is all set.
By the way, Strelkov actually had some further praise and insight as to Russia's strategies implemented in the ongoing Novosilka direction:
Strelkov: The counterattack by the 127th Division of our troops at the Vremev Salient, supported by artillery and aviation, has been reported.

According to the reports, our troops knocked the enemy out of the Makarovo settlement and continue to push them northward, inflicting strikes by aircraft and artillery.

If this is true, then it is a confirmation of a tactic that has been successfully used many times before (during this enemy offensive)—our units do not "stand their ground [to the death]" under the enemy's artillery and armor strikes and pull back to the rear, giving them the opportunity to "get out from under the umbrella of the airforce and air defense."

The enemy is then subjected to air strikes, and UAVs correct artillery fire on the strike groups. Then—when the enemy has been sufficiently battered—follows a counterattack by Russian tanks with dense air support to prevent the AFU from pulling their SAMs into the area and securing themselves on the ground. This leads to the defeat of the enemy assault units and their retreat.

The tactic is old and practiced back in World War II - "flexible defence" [GB: Russian strategists are the pioneers in the theory and practice of "mobile defence"] and it seems to be working successfully.

We can also assume that our commanders are not trying to hold or regain all the territory they have left, preferring to wear down the enemy on the battlefield between their original positions and our main defensive lines (which the enemy is still far away from).

And, yes, this is exactly the same tactic that our enemy periodically used earlier during the defense of Bakhmut. Now he has to experience all the delights of an offensive on pre-prepared positions with complete lack of surprise.

However, I repeat - the battle has not yet reached its apogee and the enemy still has strong reserves (5-6 brigades), which he can throw into battle in any direction.
And the AFU is preparing a large new grouping in the Kharkov region for another attempt to incur into the Belgorod region. This time however they are also preparing a large provocation by dressing the troops in Russian uniforms to create utmost chaos and panic.
There are reports from several sources as follows:
According to the latest information received, the enemy has produced 1,200 sets of Russian-style military uniforms for the Ukrainian Special Operations Forces.
The symbols, stripes, insignia, patterns, as well as the material are completely identical to their Russian counterparts.
These kits are planned to be transferred to the following destinations: Sumy, Kharkiv, Kherson, Zaporozhye.
Among the kits: the uniform of the FSB, Rosgvardiya (there are kits with the insignia of the Akhmat regiment), the Armed Forces of the Russian Federation.


Also, for the MTR of Ukraine, dry rations were delivered to the Kherson direction, in particular, their own Ukrainian production ,as well as (MRE-14) made in the USA, and IRP-P, IRP-B of Russian production.

At the disposal of the special services of Ukraine there are explosives manufactured in the Russian Federation, in particular: TNT blocks and packages with RDX, cumulative shells. In the Kharkiv direction, there is a concentration of equipment previously captured in the battles with the Russian Federation. Wheeled trucks: "KAMAZ", "URAL", as well as a certain number of BTR-80.

The enemy is preparing to conduct sabotage, which will be covered as an act committed by Russian law enforcement agencies. (Boris Rozhin)
And another:
Older than Edda: "Now I'd like to say something really important without joking or making jokes. The activation of the enemy on the Belgorod border continues and will not decline yet. Yes, there was less shelling for a couple of days,but this is more likely due to the regrouping of the enemy and the fact that he decided to use other methods (the thoughtless loss of many expensive combat vehicles,including Western-style ones,did its job). I saw in the news feed that Khokhol is going to commit a provocation in the form of Russian troops and I will say that good people confirm this information.
Khokhol actually formed two assault groups to break through the state border,including reinforcing them with fighters from the so-called "Sheikh Mansour" battalion, under the leadership of M. Cheberoloevsky.

The militants are stationed in Kupyansk (up to 300 people), as well as up to two hundred people in the Pechenegs of the Kharkiv region. All this gang will operate under the cover of the flag of Vyrusya from the RDK, the Ichkerian militants want to use the uniform of Rosgvradiya and Akhmat units. Moreover, the Russian uniform was made by order of the special services of Ukraine at the factories "Brevi" and "Ekotets-3" in the Poltava region."
This report claims that the infamous Sheikh Mansour "evil Chechens" battalion will be used here while dressed in the uniforms of Russian Chechen Rosgvardia and Akhmat. But what makes this most interesting, particularly in light of what Putin said in today's talks about a new plan to strengthen the border regions, is that there's now confirmation that the actual Akhmat Chechen forces have been sent to Belgorod to take over the defense.
Here's a photo of Akhmat's Delimkhanov meeting with Belgorod governor Gladkov to hash out the deal:
The fighters of "West-Akhmat" battalion will deal with the decision to prevent attacks by Ukrainian DRGs in the border regions of Russia.

This was announced by Ramzan Kadyrov following a meeting between State Duma deputy Adam Delimkhanov and the governor of the Belgorod region Vyacheslav Gladkov.
And a new video purporting to show Chechen units already arriving in the region:
One commentator even extrapolates this into the theory that this is developing into a new Kharkov liberation objective/offensive for Russia:
Maybe not yet, but it certainly is interesting in light of Putin's other comments that "if the AFU continues its provocations on the border, then Russia will have no choice but to create a cordon sanitaire" on the border. So, could this be the first preparatory step towards doing that? We'll have to see.
With that out of the way, let's turn to a few final sundry items as usual to round out the updates.
We talked a lot recently about the possibilities for NATO's big Vilnius summit in July. Zelensky is virtually begging for a full NATO admission, whereas 'allies' are being more cautious in simply hoping to hash out some kind of 'guarantees'.
Earlier, Stoltenberg very unequivocally shot down Zelensky's hopes with the following statements:
"I understand that he[Zelensky] insists on a clear timetable for joining NATO. At the same time, I believe that it is impossible to name the exact dates WHEN WE ARE IN A MIDST OF WAR. And I think that all allies will also be very clear that the most urgent task now is to secure victory for Ukraine as a sovereign, independent state if we need to provide more military support. Because if Ukraine does not win, then there can be no question of any membership, because only a sovereign, independent, democratic Ukraine can become a member of NATO"

"If Ukraine does not win, then there can be no question of any membership, because only a sovereign, independent, democratic Ukraine can become a member of NATO," Stoltenberg said.

"The fact that the Ukrainians are making some progress [on the battlefield] is very encouraging, but wars can be very unpredictable. So of course it is impossible to say when and how this war will end and what the result of the Ukrainian counteroffensive will be."
He says very directly that if Ukraine does not win, there can be no question of membership to NATO. Of course, this is also part of the carrot and stick psyop used to push the Ukrainian leadership into even more harshly pressing their own cannonfodder on the battlefield.
Josep Borrell, meanwhile, made an odd statement that seems to comport with my own theories about the 2024 election cycle playing a major role in the cessation of Ukrainian hostilities:
Josep Borrell: Peace talks on Ukraine won't start until US elections scheduled for 2024
An interesting story emerged from Russian troops in the Zaporozhye direction who watched via drone as a unit of the AFU Azov brigade executed their fellow AFU crew who were stuck in a damaged tank south of the Malaya Tokmachka direction where the Leopard offensive had commenced:
In the Zaporizhia direction, Russian special forces units are celebrating the work of Ukrainian detachments. A unit of the 12th brigade of the NSU "Azov" finished off the crew stuck in a damaged tank south of Malaya Tokmachka: the militants drove up in a pickup truck and executed the wounded.
The motives in this case are not entirely clear, because usually the bodies are taken away — as well as equipment. Maybe there were some personal scores. There is a version that in this way they do not allow the Armed Forces of the Russian Federation to replenish the exchange fund. (Rybar)
They theorize that the motive may be either a personal score or because they didn't want Russian forces to take more prisoners for their prisoner exchange fund. Of course, it's only the latest in a spurt of such incidents, like this recent one where a Ukrainian blocking detachment in a BTR-4 executed their own retreating troops on video.
Next:
The second day of major exercises of the NATO Air Force Air Defender-2023 has ended

The exercise includes activities at the operational and tactical level, organized mainly in Germany, but also in the Czech Republic, Estonia and Latvia.

Various types of aircraft were involved in the maneuvers over the past day.
Also, here is how the 47th brigade are hiding their Bradleys on the Zaporozhye frontline. You can see the metal frames above which are likely also covered with camo nets and vegetation to create perfectly untraceable housing for the vehicles:
This follows the release of the first close up photos of the 47th's Bradleys in action on that frontline. This is for military gear fans who might appreciate checking out the sensors and details on these M2A2 ODS-SA variants: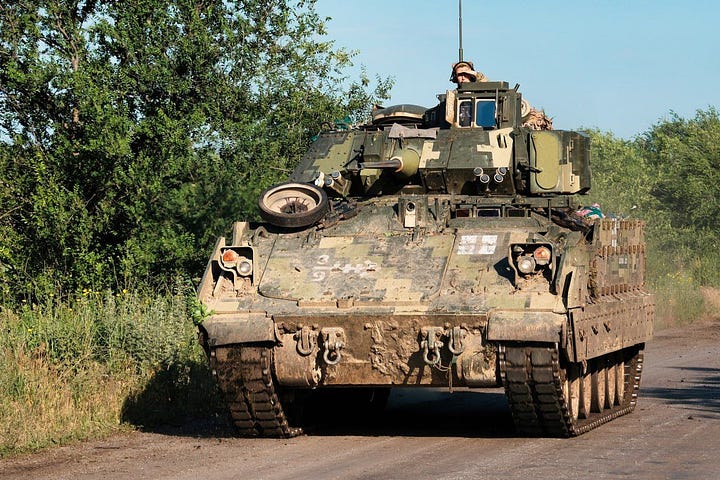 Next:
Interesting new satellite footage of Russia's airfield in Berdiansk shows a huge increase of rotary attack craft brought up just before the start of UA's June offensive:
To combat the Ukrainian offensive in the Zaporozhye region, significant aviation forces have been deployed to the Berdyansk airfield - at least 29 helicopters.

According to satellite images, more than 20 military vehicles of the Russian Aerospace Forces were seen at the Berdyansk airfield:

- 13 Ka-29 helicopters

- 9 Mi-8 or Mi-24 helicopters

- 5 Ka-52 helicopters
Here's the before and after:
One very interesting video has also given us one of the first ever glimpses of a possible production model of Russia's now famed UMPC converted Fab-500 'glide-bomb'. Previous photos and such were of a stocky, hand-soldered-looking prototype. But now one of the bombs appears to have crashed in a field without detonating, and Ukrainian soldiers have recovered the JDAM-like wing package:
You can see a much more streamlined and full-production quality look than the older trial copies: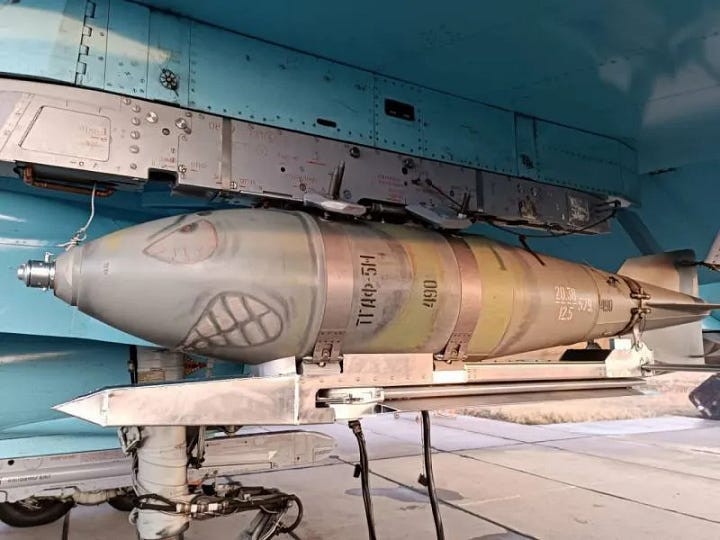 Ukrainian sources state Russia is now launching 50 of these per day.
Lastly, I'll leave you with a few final subtitled videos of Putin's talk today, with some further interesting insights and commentary.
Here, he talks about how Russia's armed forces are improving in every facet daily and will soon become the most powerful in the world:
Next, he repeats a statement which had confounded me last time and which I still don't quite understand, but I'll leave for you to judge. As some may know, today the U.S. announced that it will be supplying Ukraine with depleted Uranium ammunition for its tanks as well (Britain having long ago taken this step).
Putin responds to this announcement by stating that Russia too has plenty of DU and may use them in retaliation. This makes no sense for the obvious reason that why would Russia want to poison its own ground with DU just because NATO is doing it?
Here, Putin states that the recent Ukrainian naval drone strike attempts on the Russian recon ship was directed by an American RQ-4 drone.
This is presumably the drone in question, tracked days ago:
And for those who haven't seen it, this was the new naval strike attempt from several days ago as well:
In this video Putin explains that NATO can end the war immediately by stopping the supply of weapons, which would lead to Ukraine having no choice but to take whatever terms Russia offers, as Ukraine has no factories and produces nothing of its own to be able to sustain their military adventure without NATO's help:
Next, Putin wonders how a Jewish president like Zelensky can glorify Bandera and Nazism:
Here, Putin is asked about Russia's future offensive plans. He jokes that he would only be able to tell such secrets in private:
And lastly, Putin explains the difference between Russia and Ukraine, and why Russia cannot adopt the same terror tactics and indiscriminate killing of civilians that Ukraine uses:
---
If you enjoyed the read, I would greatly appreciate if you subscribed to a monthly/yearly pledge to support my work, so that I may continue providing you with detailed, incisive reports like this one.
Alternatively, you can tip here: Tip Jar
---