Discover more from Simplicius's Garden of Knowledge
War strategies, geopolitical analysis, SitReps, and discussions.
Over 24,000 subscribers
The situation can only be considered urgent as Ukraine has now made their full intentions crystal clear. If before we suspected with high confidence, now it is plain fact. They intend to destroy the ZNPP plant as a last ditch attempt to 'activate NATO' by blaming Russia.
A completely coordinated campaign over the last few days has affirmed this. Not only was Budanov's maiden speech after reappearing from his Kalibrated cranial trepanation centered on Russia's alleged 'mining of the ZNPP' basement, but now several new instances of highly coordinated messaging have been released by Ukraine and its Western controllers.
(I re-post Budanov's video just to have them all here in one place for easy reference)
In fact, since that video from days ago, he's released a new, even more urgently threatening message:
🇺🇦🤡 "The 4th and 6th power units of the Zaporozhye NPP were mined by Russia," – Kyrylo Budanov

"The situation has never been as serious as it is now.

The plan of the terrorist attack at the ZNPP has been fully developed and approved. To accelerate the catastrophe, they can use technical means," Budanov stated
Now, Zelensky has made two separate videos where he plainly states that Russia is preparing a massive terrorist attack at the ZNPP plant "just like they did at the Kakhovka dam". He goes on to sternly warn the world and charge them with the responsibility to act with utmost severity in response to this upcoming Russian attack. He specifically invokes the threat of radiation crossing the borders into other NATO countries for obvious effect.
And a day later, in coordinated fashion, Lindsay Graham threatened Russia with massive NATO retaliation should Russia use any type of "nuclear" aggravation:
He even put forth a new resolution which specifically quotes the 'destruction of a nuclear facility' and 'dispersing radioactive contaminants' as an attack on NATO itself:
Obviously, this is quite ironic and hypocritical given that it was the U.S. and UK that just announced the supply of radioactive DU ammunition, which does exactly what Graham here describes in spreading radioactive contaminants.
The official Russian embassy account, quoting Russian envoy to the U.S., fired back, stating that in the event of a conflict between Russia and NATO, the U.S. would not be able to "hide behind the ocean", clearly referencing nuclear strikes:
Western press is already running with the narrative:
What can one say, the West's leaders are clearly psychopathic. They have already destroyed a major pipeline in the Nordstream in an obvious terrorist attack and now they are planning one on Europe's largest nuclear power plant.
Ukrainian presidential advisor Podolyak added to the orchestrated release with his own statement, slowly conditioning the narrative that Russia is losing its grip on Energodar and will blow the plant to "stop the Ukrainian counter-offensive".
Intrinsic to his statement is the clear threat to Europe, contributing to the theory that this ploy is in fact a part of Ukraine's nuclear blackmail.
By the way, it should be mentioned that the IAEA reportedly released a statement denying Budanov's claims, so that will be interesting to watch. Despite the agency's corruption perhaps they're not entirely suicidal and psychopathic:
But I'll post this again to show the corrupt IAEA has already been exposed as a surveillance arm of the AFU:
However, to begin building the groundswell of the narrative, the Ukrainian health ministry even released these preparatory safety alerts for citizens to stay safe during a nuclear radiation accident: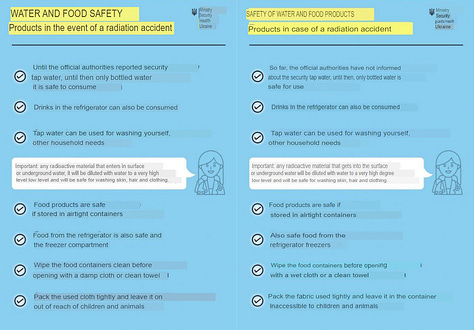 Russia even arrested saboteurs with Cesium-137 on them:
🇷🇺The FSB detained five people who were trying to smuggle 1 kg of radioactive Cesium-137 worth $3.5 million abroad.

It's reported that it was intended for use in the SMO zone in order to discredit Russia.

The suspects have been arrested and are making confessions. A case has been initiated on the illegal handling of radioactive substances and preparations for their smuggling.

/Izvestia/

I'd say sooner or later we can expect some sort of Nuclear incident in Ukraine
But, can they really do it? Firstly, a potential ZNPP attack invokes images of Chernobyl, vast exclusion zones and thousands poisoned and dead. But there are very large differences.
Firstly, Chernobyl exploded with an unprecedented force after its pressure vessel reached immense pressures due to a concatenation of highly improbable events. The explosion was so powerful as to generate discussion amongst experts to this day whether the reactor had actually gone 'critical'—meaning, fission had actually occurred thereby creating a mini nuclear explosion at the reactor.
My point is that such an explosion is hardly possible at the ZNPP. For one: the power plant, as I understand it, is in some form of cold shutdown. This means that the rods have been retracted and the danger of any sort of mass catastrophe of this sort is very low. You're not going to recreate the power of the Chernobyl blast with manmade means. I don't know how many tons of TNT you'd have to put there, but it would be a lot—and where would you put them? Underneath the containment vessel itself? A lot of the prospects don't make much sense.
Much of the disaster and ensuing contamination from the Chernobyl incident was due to the power of the explosion and how far it sent all the radioactive pieces of the core. There were chunks of Uranium being found tens of kilometers or more, and the radioactive dust, etc. had plumed everywhere. This would be extremely difficult to achieve at the ZNPP, particularly with any "ordinary" strike. Even a severe cruise missile strike on the reactor itself, as an example, would not achieve anything even remotely resembling the Chernobyl incident, and in fact would only create a 'localized' disaster.
With that said, we should not ignore the fact that it doesn't matter how bad the disaster actually is, the West will 'manufacture' the scale which suits them. So even if a minor blast were to occur, with a minor release of radiation, the West and its corrupt lapdog agencies will manufacture whatever false 'data' is necessary to push the agenda that, for instance, 'massive plumes of radiation have gone into Poland/Europe/NATO', etc.
Thus, one idea for the falseflag is that it doesn't actually need to create the catastrophe itself, but rather the appearance of one.
Next, how would Ukraine conceivably do this? What precise plan or storyline could they concoct for the falseflag? Well, I believe Budanov himself already gave up the goods on this one in his 'return' speech. After stating that Russia mined the ZNPP, he specifically implied that Russia may blow it while retreating "just as they did to the Kakhovka last year"—referencing the destruction of the roadway (which we still don't know who was actually responsible for) on the dam last November.
So one possible angle is that as Ukrainian forces make an attack to seize the plant, the plant could somehow be blown via strikes which would be blamed on Russian forces having mined and sabotaged it so that it doesn't fall into Ukrainian hands.
This is one falseflag contingency that works even if Ukraine doesn't necessarily capture the plant itself—just the specter of its capture can facilitate this. However, it's more difficult to pull off because how exactly would they blow it if they don't have full control of it yet? They can attempt to strike it but this is very risky as any sort of missile/bomb/drone strike can be tracked and filmed with the proper culprit established. It's safer to blow it by actually taking control of it then mining it from the inside.
So that brings me to the only other possibility. If they were to seize it, they can then claim that Russia attacked their positions out of spite, or simply blew the pre-laid explosives that Russian forces setup prior to retreating from the plant, etc. This is more doable because it allows Ukraine to blow it from the inside without any type of evidence being possible to pin them to the crime like in the previous example.
The truth is, they likely have contingencies for both, because they'll settle for whichever one they can get. Capturing it would perhaps be preferable, but if their forces get repulsed in a mass attempt to capture it, they can very likely also activate Plan B, which is to strike the reactors and claim that their heroic forces had already expelled Russians from the plant and the Russians blew it as they were retreating.
The thing you have to understand is, Western MSM will shill and cover for whatever "the plan" is. And when there is an ongoing battle happening, the 'fog of war' creates a scenario where establishing exact details is impossible, particularly when the entire Western propaganda organ will be pumping false information. So that's all to say that, all they really need to do is launch an attack to generate a few videos of Ukrainian forces somewhere near the plant.
Russian forces could very well repel them but the simple appearance of the AFU being somewhere near the plant and fighting will be presented in Western media as "heroic Ukrainian forces gloriously recapturing the ZNPP as the Russians flee and retreat!". Russian forces may very well fully repel the attack and not take one step back. But as long as there is an appearance of a fight near the plant, the MSM will easily convince Western audiences that Russians have already "fled" from the plant and Ukraine has in fact "seized it", and then blowing the plant with an attack can easily be sold as "Russian forces sabotaged and blew it as they retreated".
It would be very easy to pull this off because we see it pulled off daily in a variety of battles all over Ukraine. Even in the recent offensive there were some battles where the AFU got completely demolished yet a few hand-selected videos of combat showing them in a favorable light is sold to the Western audience on every major MSM headline as a huge Ukrainian victory, with hundreds of Russian troops fleeing, killed, etc., etc. A complete warping of reality, and there's no way to stop it.
For instance, just take two case studies to understand my point: Mariupol and Bakhmut. When the Azovstal surrender happened, it was sold to Western audiences as some kind of "big victory for Azovstal defenders." All the headlines presented it as a deal which favored Ukraine where the Azov forces were simply being 're-oriented' to another direction and not actually captured. It was extremely bizarre to watch it happen yet Western audiences bought it hook, line, and sinker.
In Bakhmut, we see to this day that a large part of Ukrainian supporters still don't even know that the city has fallen. The MSM is selling a narrative that the AFU is actually still entrenched somewhere in the southwest portion of the city and are advancing deeper into it each day. This is verified by the fact that even on wikipedia, the "Battle of Bakhmut" page shows the battle as still 'in progress' and refuses to denote it as a Russian victory.
They can easily pull the wool over credulous Westerner's eyes in the same way when it comes to the ZNPP. In fact, it's so easy because these people have already pre-made their judgments. Take one glance at social media and you'll see that without it even happening yet, they've already convinced themselves and each other that it's Russia who destroyed the ZNPP even though it hasn't happened yet. So no matter what evidence will eventually be given to the contrary, they will never stray from their initial belief.
The only way Russia can combat this is by putting up a lot of sensors and cameras at the ZNPP so that if and when they do repel a potential AFU attack and Zelensky decides to strike the plant, the chosen strike vector could be recorded in some way so as to present indisputable proof that it came from Ukraine.
Of course, this will still be sold as 'fake Russian lies' to the West, but at least Russia will have covered its bases with its own allies, and will have credible proof for them to know who is the true culprit so that they have Russia's back in case things escalate to a real WW3 scenario.
Recall that prominent Ukrainians have previously openly advocated for the targeting of nuclear plants. For instance, here's far-right Ukrainian political leader Dmitro Korchynsky advocating for just that:
He says the only way to stop Russia is to strike the nuclear plants even if it creates a lot of collateral casualties it's still worth it.
We should also mention that recently Russian SVR director stated the following:
⚡️⚡️⚡️Information has appeared that Kiev may continue to work on the creation of a "dirty nuclear bomb" - director of the Foreign Intelligence Service of the Russian Federation⚡️⚡️⚡️
And Arestovich again made a new statement in an interview days ago that Ukraine can acquire nuclear weapons "very quickly" should they need to.
Also, new videos from the reservoir floor appear to show the lake bed drying out perhaps much faster than many people expected. It's difficult to tell the exact soil consistency but judge for yourself:
But as far as the ZNPP: The only question that remains is when would they do this? Are they desperate enough to already enact such a plan, or is this a warning, and they're saving it for much later when things get really terminal for the AFU?
It can partly be interpreted as a threat against NATO/EU as well, because it's Zelensky and the SBU's way of basically using nuclear blackmail to beg for more assistance. In short, saying, "If you don't help us win, we'll have no choice but to blow the plant and force you into WW3 against Russia."
It's difficult to know the answer, but one thing that's certain is that things are getting critical for the AFU in terms of overstretching fronts. They've suffered grave losses in the southern direction, and now they're being unexpectedly stretched in the north Kharkov region, for which they're reportedly sending large amounts of patchwork reinforcements.
To highlight this, news came a couple days ago that Ukraine is calling for a mass-scale mobilization throughout the entire country. Some have mistaken this for a mobilization only in the Ivano-Frankovsk region, as a document from that region was being circulated. But in fact, the link above confirms it's for every region, they just each release their own separate documents. The new mobilization appears to give 10 days for all males over the age of 18 to report to their nearest recruitment office.
This follows a new Ukrainian television report that over 20,000 draft dodgers are being sought just in the Chernigov region alone. That appears to be a gargantuan amount for a small region:
There are now two separate reports claiming that anywhere upwards of 90k to 300-500k new troops are intended to be mobilized:
🇺🇦 Recruitment centers in Ukraine have been instructed to mobilize up to 90,000 people to conduct accelerated training under NATO programs and send them to the front.

The reason is the huge losses during the counteroffensive.

Mass mobilization in Ivano-Frankivsk and Kiev is connected with this.

According to Turkish sources, the Ukrainian Armed Forces are urgently planning to recruit between 300,000 and 500,000 people as part of a new mobilization effort. This comes after significant losses in Bakhmut and Zaporizhia, where both elite NATO forces and untrained recruits suffered setbacks. These losses must be quickly addressed. Ukraine's population was once 44 million, but 17 million have since left the country. With about 1 million in losses and over 2 million wounded, deserters, and fleeing criminals, the pool for mobilization is dwindling. Additionally, a portion of the Ukrainian population now resides in Russia. As a result, Ukraine's capacity for further mobilization is nearly exhausted.
Two problems with this:
Firstly, I don't think they can actually mobilize even a tiny fraction of any of those numbers. Secondly, whatever number they do mobilize will clearly be on a highly accelerated training schedule for the reasons I'm going to talk about next, and these will basically be the lowest possible level of cannon-fodder of the barest possible usefulness on the frontline.
I'll also mention that recently some have propounded the idea that Ukraine can't run out of manpower because a constant stream of troops are being trained in NATO countries to replace what they're losing on the front. I've already stated that these amount to only 2-3k per month or less, yet Ukraine is losing upwards of 5-10k per month, so they're still in a large deficit. But now there's been a new confirmation, as the EU has released a statement that they plan to train a total of 30k new UA troops for the entirety of 2023:
This is even lower than my estimate, as it amounts to 2,500 per month trained. Recall, that losing even 100 men per day is 3,000 lost per month. Ukraine is losing anywhere in the 250-700 rate per day, particularly during heightened intensity periods of fighting.
In fact, Russia's latest numbers are 10-13k casualties for the AFU since the start of the offensive on June 4th. Thus: the measly 30k per year trained are a drop in the bucket and not enough to make up losses. For those who don't believe Ukraine is suffering that many losses, note how a regional governor in Ukraine has added electric scooters to his cemeteries because they have grown so large that people can't even walk from one end of the cemetery to the other anymore:
Not to mention, as seen above, it's been now reported that Ukraine is digging up old WW1 graves in order to make room for new ones because they're literally running out of room.
Troop Numbers Redux
This segues into my next point. Russia, too, has made new announcements about it's ongoing 'stealth mobilization'. Shoigu further clarified some of the numbers, stating the following:
⚡️⚡️⚡️A reserve army will be formed by the end of June, and in the near future - a corps, they will receive more than 3,7 thousand pieces of equipment – Shoigu⚡️⚡️⚡️

💥💥💥

❗️ The main theses of Shoigu's report :

🔴 There is no need for new volunteers for the NWO;

🔴 On average, 1336 people sign a contract per day in Russia, i.e. every day 'we take a regiment';

🔴 The supply of weapons to Kiev will not significantly affect the course of the special operation;

🔴 The Ukrainian armed forces suffered significant losses, reduced their activity, but still had forces for the offensive.

The main theses of Patrushev's report:

🔴 The Russian army destroyed more than 13 thousand soldiers of the Ukrainian Armed Forces;

🔴 Also destroyed were 246 tanks, 13 of which were Western, 595 armoured vehicles, 443 armoured fighting vehicles.
The first take away is that the Russian MOD sounds very confident. He says there's not even need for any more volunteers. Recall that last time he said 10k people signed up for service per month, which was rising to 15k, causing me to extrapolate that this would continue rising ever higher. Well now we have confirmation as Shoigu says Russia is now averaging 1,336 signups per day. "An entire new regiment added daily."
Note, this is over 40k per month. Six months of this would mean 240k new people by the end of this year. However, this leads me to another thing.
A few reports ago, I gave a breakdown of what I believed the AFU vs. Russian numbers were, with some people highlighting I had made a mistake on comprehending Shoigu's original numbers, and basically added an additional 150k+ troops to Russia that didn't exist. In general, I wanted to re-calculate this one more time because I'm a perfectionist and always seek accuracy, and believe my last calculation suffered from a few other possible oversights. The new calculation could shed an important light on a few big questions people have regarding the SMO, such as why Russia appears to be sitting idle and playing defense.
As for the AFU, let me repeat that the Pentagon leaks had them at about 60 total brigades. Data has shown most of their brigades are under-manned so taking anywhere from 3-4k as a base average, we can get a figure of around 180-240k men. However, this was from the beginning of the year, prior to most of the brutal Bakhmut slaughter as well as the recent offensive losses. They could have lost upwards of 40-60k more men in that time. Thus, even if you take the higher brigade denominator of 4000 men = 240k, then currently the AFU total would be well under 200k.
My personal estimate for the AFU is anywhere between 150-220k remaining men. This is one of the main reasons they're now launching an even more desperate mobilization. Also, keep in mind that even as per the leaks, 27 out of those 60 brigades were listed as territorial troops which are basically glorified border guards. So even out of the remaining ~150-220k the actual number of capable fighting men that are fit for assault and maneuver brigades is probably less than 100k. This is evidenced by the "special brigades" created for the big offensive which were said to only total 40-60k troops. Most of these are the cream of the crop and Ukraine likely does not have much 'cream' left beyond that.
Now, onto Russia where I wanted to make the biggest corrections. I had hypothesized that Russia could hypothetically have as high as 700-800k men. But there were a few critical flaws in my reasoning beyond the magically added 150k that doesn't actually exist.
Firstly, in regard to losses, the entire Russian-allied side, likely has 35-50k KIA, but obviously another 50-75k wounded, a portion of which can't return to combat. That means that the allies could theoretically have, let's say, somewhere in the range of 75k total "casualties"—meaning people who should be subtracted from the total count. It could be lower, but let's just use this number for argument's sake.
As anyone who's read my maiden post knows, I've been the chief proponent of the idea that Russia used under 100k troops in the opening part of the war, contrary to inflated Western numbers. That means the total allied forces prior to last year's mobilization were only in the 130-150k range. So let's substract the previous 75k casualties away from this number. We get somewhere around 55-75k remaining. Now add the mobilization's 300k and we're at 355-375k.
This is not taking into account troops that simply left service, which I had already explained to some extent may not be possible after last year, as the MOD put a moratorium on contract extensions, but for argument's sake, let's just say 20-30k happened to somehow leave. We're left in the range of 325-350k, give or take.
Now, Shoigu has announced a total of 155k+ new enlistments and volunteers as of this year so far. This puts us at 480-500k+ total. But, here's the first big wrinkle: it was announced that Russia is creating:
an entirely new army

a new corps

five new regiments to be added into existing armies
The RF Armed Forces are actively forming reserves, both for defense and offensive purposes.

Today, at a meeting of the president with permanent members of the Security Council of the Russian Federation, an important issue was raised about the active formation of reserves in the Armed Forces, both in terms of equipment and personnel.

According to Defense Minister Sergei Shoigu, 114,000 people and 52,000 volunteers have been recruited under a direct contract. In addition, reserves are being formed as part of the army corps, the army, five regiments in the 1st and 20th tank armies.

"In fact, by the end of June, we will complete the formation of a reserve army and in the near future we will complete the formation of an army corps. Five regiments have also been formed by more than 60%. In this case, I am talking about personnel and equipment," the head of the military department emphasized. .

Such data inspire confidence in the resilience of our defense in the NVO zone, especially against the backdrop of off-scale losses of the Armed Forces of Ukraine. In addition, the following phrase flashed in the minister's speech: "Preparations are underway for further offensive actions ... On our part as well."

We have repeatedly said that victory is achieved only by an offensive. We hope that, having exhausted the enemy in defense, the Russian army will proceed to conduct large-scale offensive operations - to liberate the still occupied territories of the Russian Federation and deep into Ukraine.
An army can be comprised of 2-3 corps of ~90k troops and a corps upwards of 45k. Five regiments would be about 5k+, so these combined make approximately 150k, which is exactly the new number Shoigu just recruited this entire year. There is no exact statement or indication that the newly recruited are to be used for this purpose but the numbers add up and seem to indicate this.
The point is that, Shoigu stated that these new formations are to be reserves. That means they are not for the SMO but are to simply fortify and reinforce the two newly planned military districts of the Moscow and Leningrad region. Further, they can be used for rotations of units in the SMO, but not concurrently with the SMO units.
So what does this tell us? If the newly recruited 150k+ are not for the SMO, it means we're left only with the previous total of around ~350k as being Russia's total SMO troop count. And though that number could be higher, it could also be lower if I'm wrong on things like how many Russian troops left after contract expiry or even total casualties.
And while ~350k is clearly higher than Ukraine's ~200-250k or so, it's not several orders of magnitude higher. Furthermore, with constant rotation, that becomes more like 250k or less on the actual field at any given time. Which would mean that Russia's actual troop numbers in the theater could be at rough parity with that of the AFU. This clearly explains why Russia is not yet gearing up for some mass overwhelming big arrow attacks. Also, the newly mobilized 150k might be split with some going towards the new army/corps while the rest going directly to the SMO.
And let me just state for the record one more time that the Pentagon leaks list total Russian battalions as 544, which, if we use 800 men as the battalion strength would give us exactly 435,000. However, using a 100% average battalion strength is unrealistic as many of Russia's units, too, are undermanned just like Ukraine's.
In fact, just days ago, the AFU claimed to have recovered a set of burned documents of a motor rifle company from Russia's 136th brigade in the Zaporozhye battles which appear to show that the company is staffed with only 64 men. If the docs are real, it simply gives us a glimpse of the fact that Russian units too are sometimes at 60-70% strength.
So, using a hypothetical 70% modifier to the 800-man battalions, we get 560 x 544 (from the Pentagon leaks) = 304k, which is not too far off from my ~350k estimate. Let's say a lot of Russian battalions are closer to 80-90% staffed—the point is that, it's easy to arrive at the roughly 350-380k number by using more realistic assumptions of unit strengths.
But, here's one final important point which is the reason for my recalculation: if Russia has already raised the 150k+ needed for Shoigu's new army + corps, that would seem to mean that any new recruitment from this point forward would be "extra" that can be utilized for the SMO. There's no direct confirmation of this, as there seemed to be a strange statement from Shoigu seen above that said "no further volunteers are needed". It's impossible to know whether he's referring to volunteers rather than enlistments, as they can have different meanings/connotations (enlistment meaning a direct contract with the Russian armed forces / MOD, whereas volunteer goes to volunteer units without a contract, has different benefits, etc.) OR whether he means that Russia will stop all recruitment from this point forward. That obviously would make little sense, but I'm simply admitting we don't know.
However, if they do continue recruiting at the same rate as given earlier, i.e. ~1,300 per day, and if Shoigu has already gotten his allotment for the new army/corps, that means Russia can gain 40k new men per month for the actual SMO and as I outlined earlier, can bring a hypothetical massive total of 240k men by the end of this year alone.
The importance of this point is to give an idea for Russia's long term plans and why they may choose to be passive for now. With rough parity for the time being, they could very well choose to continue grinding and attriting the AFU. But imagine, for instance, they build up and recruit until next summer, that would be an additional 240k at the current rate. By next summer they could have the massive ~350k + 240k + 240k = 800k - 1M man army I originally envisioned, which would completely overrun the AFU.
For now though that remains hypothetical and we'll have to wait and see future updates and whether Russia continues recruiting at the same rate. But hopefully for the time being those new numbers clarify my stance around the current troop dispositions.
Also, from the report quoted above, note this last part:
In addition, the following phrase flashed in the minister's speech: "Preparations are underway for further offensive actions ... On our part as well."
There is rumor that Russian counter-offensives are being prepared as well:
Russia is preparing for a comprehensive offensive operation along the entire front line, military commander Marat Khairullin said. According to Khairullin, the big offensive should end with the liberation of Kharkov.

"I think a serious offensive operation is being prepared ... Here, in the third echelon in this direction, is the 5th Guards Tank Division. And it is armed, among other things, with T-90 tanks, new, "Breakthrough".

To make you understand, tanks have their own specialization. The T-90, the newest, is our tank and was awarded the "Breakthrough" stamp there. It has a very high survivability, rate of fire - this is exactly the tank for the offensive. And I'm only talking about one unit, which is hiding in the nearby area, and there are actually a lot of them. That says a lot," the military commander said.

"That is, we are waiting, we are waiting, like a tiger lurking in the bushes, patiently waiting for the victim to get involved ... One of the most promising for our offensive is Kupyansk, the exit to Kharkov. So far, progress has been made in this direction… The capture of Kharkov will most likely mean the end of the whole war," Khairullin said⚡️⚡️⚡️
Rumor like the above of course are fueling the frenzy of speculation that yesterday's Wagner spectacle was in fact a re-orientation campaign:
Not that I buy it. The likelier theory is that Lukashenko may now utilize the proven Wagner services to protect himself against the previously announced Polish-Lithuanian coup attempt that's said to be imminent. Though, of course, he should be careful that it's not Wagner that ends up couping him instead.
Especially given my numbers break down above, there is no way I can see any attempt on Kiev anywhere in the near future. Kharkov on the other hand appears a strong possibility.
Interestingly, Lithuanian president released these words:
"In the event that Yevgeny Prigozhin and the Wagner PMC appear on the territory of the Republic of Belarus, they will have to strengthen the entire eastern flank of NATO - Lithuanian President Nausėda"
So it's very possible that Wagner's presence will infact give them the false pretense to launch their expected coup attempts. This follows other reports on this tack:
💥💥 Belarusian opposition Kalinouski Regiment announced it is preparing for active operations against Lukashenko against the backdrop of the rebellion in Russia, adding that their units are waiting for the green light. 💥💥
As well as:
❗️ The KGB of Belarus knows Western intelligence officers who are preparing militants to seize power.

Such activities are carried out in Poland, Ukraine and the Baltic countries, but the department has the ability "to eliminate this threat in a timely manner," said Konstantin Bychek, deputy head of the Investigation Department of the State Security Committee of Belarus.
By the way, speaking of Wagner, yesterday's siege is now said to have utilized only 8,000 of Wagner's 25k+ men. Here are a few other interesting new details:
Out of the 32,000 personnel of the PMC "Wagner", only 8,000 participated in the "rebellion." They were told that they are defending Belgorod under the backdrop of "protecting border areas", from there, Prigozhin and his uninformed men marched on Voronezh. The furthest the convoy reached was Tula Oblast. The men of the PMC "Wagner" were mislead.

Employees of the PMC "Wagner" have already begun signing contracts with the Ministry of Defense, under which, they will work similarly to how they previously did. The Commanders of PMC "Wagner" did not side with their financer, Prigozhin. In total, 33,000 personnel are expected to sign contracts with the MOD.

👉 Employees who I spoke to confirm this information

⚡️Mash claims that several dozen fighters of PMC "Wagner" troops surrendered to the police during the withdrawal from Rostov-on-Don and other regions. They reportedly "did not want to return to their own, and handed over their weapons."
The reason the above is important is, yesterday many rightly brought up the fact that Wagner was basically a GRU creation. All the top commanders are ex-GRU, like Anton Yelizarov codename "Lotus" which I've written about before and even Dmitry Utkin. So this brought up the question of how is it possible they could revolt against Russia, unless perhaps this was an internal GRU revolt against the Kremlin. However, the above seems to confirm that the top commanders, likely the GRU people, did not participate.
Utkin obviously did, but he seems to be the outlier and was always Prigozhin's personal right hand man. In fact, some believe Utkin is the real founder of Wagner and Prigozhin was just his associate or co-businessman. It's no surprise that some top Russian leaders don't appear to be blaming the other commanders or GRU but rather Prigozhin and Utkin alone as co-conspirators. For instance, here's Duma state deputy and prominent ex-General Gurulyov stating that both Prigozhin and Utkin should be executed:
🆘🆘🆘State Duma deputies of the Russian Federation are recommended to be in Moscow tomorrow, reports Oleg Tsarev.

Also tomorrow, according to some rumors, a meeting of the President with the Ministry of Defense on the situation around the Wagner PMC and Yevgeny Prigozhin is scheduled🆘🆘🆘
And interestingly, a new prophetic video showed Pegov of Wargonzo asking Prigozhin only a few weeks ago about his ambitions regarding marching on Moscow. He makes the revelation that the reason Wagner was kept on a leash as far as ammunition supplies is due to this very fear that giving them too much ammo would stoke Prigozhin's dangerous ambitions for power:
Recall that at one point Prigozhin was demanding the Russian MOD to allow Wagner to have 200k troops. In retrospect, we now see how disastrous that would have been, and even the ammo supply situation begins to take on a new light.
And for those who take Prigozhin's side and believe that he would not have acted on such 'ambitions' were it not for the MOD's putative 'corruption' in "forcing him to cleanse the system", well there are a few new revelations about that as well.
For instance, Sladkov has some insider info that one of the other main impetuses behind Prigozhin's mutiny is that recently the Russian MOD had canceled the contracts of many of Prigozhin's other business ventures. You see, Prigozhin has long been an entrepreneur and business magnate of sorts, having his fingers in dozens of cookie jars. We all know he rose to power with major stakes in grocery chains, then catering businesses as well as various businesses he co-owns with his wife, like spas and beauty works.
But he also appears to own many other ventures which supply the SMO with military accoutrements and was apparently greasing his palms with billions of rubles from these highly lucrative contracts. Now, in the month leading up to this, he's been slowly choked off his earnings, not to mention the MOD was obviously stripping him of Wagner by forcing them to sign MOD contracts which would effectively mean the termination of his reckless independence and roguery.
Sladkov: First. I have information that the final impetus for the rebellion was the refusal of the Ministry of Defense from the contract (billions and billions) with Prigozhin's firms for the supply of products for the military.
This is partly why it's now openly admitted by the CIA and their mouthpieces that the "rebellion" was seen well in advance and was not a 'spontaneous act' like Prigozhin would have us believe.
As stated above, they've known since at least mid-June. Some even believe that Prigozhin was 'led by the nose' from some of his Western intel contacts in that they had promised him there were certain internal Russian officials and state security members who will 'rise up' in support of his siege after he starts it. Recall, it's no secret that Prigozhin has contacts with Western intel services. Not only did the Pentagon leaks reveal the following:
Prigozhin reportedly made the offer to sell out Russian forces in late January, a period of heavy losses for Wagner fighters in Bakhmut, to contacts he has secretly maintained within Ukraine's intelligence directorate, or HUR, including in-person meetings with HUR officials in an African country. Two Ukrainian officials told the Post that Prigozhin had offered HUR the Russian troop positions more than once, but that Kyiv rejected it because Ukrainian officials don't trust Prigozhin or his intentions. Moscow was likely aware of Prigozhin's secret communications with Ukraine's HUR, the Post reports.
But if I recall correctly, Prigozhin himself once even bragged that he has his own 'contacts' with intel services of the other side. It could just be one of his famous lying braggadocio episodes, but it's something to consider.
So the point is that, the rumor is plausible that Western intel contacts told him people in the Kremlin would rise up to join him, all he had to do was light the match to spark the fire. German SPIEGEL now reports the following:
‼️🇩🇪 Germany believes that E. Prigozhin did not receive the expected support for his rebellion inside the country, so he stopped moving towards Moscow, - Spiegel.

The German Foreign Ministry and the Ministry of Defense on Saturday evening informed the heads of the Bundestag committees on foreign affairs and defense about the current developments.

▪️According to Spiegel, during the briefing, Foreign Ministry Political Director Terven Bellmann and Parliamentary Secretary of State for Defense Zimtje Meller expressed the opinion that Prigozhin did not receive the support he hoped for from the Russian state forces in the coup attempt, and therefore stopped the march on Moscow.
You see, they mention he didn't receive the support "he hoped for". And why did he hope for it? Likely because he was given assurances that certain powerful elements within the Kremlin would rise up.
But they didn't.
Which leads me to this next analyst's take. It may be long but very powerful, so please read it. Pay particular attention to the very plausible theory that Prigozhin staged all the lies about ammo in order to secretly stockpile ammo for the very task of taking the Kremlin, not to mention the stunning angle that he specifically waited for this very moment to strike just when the Russian army would be at its most bogged down during the AFU's offensive:
Prigozin tried to size power. He prepared for this for months. He lied about the amount of ammo provided so he can stockpile for his coup. He waited for the offensive to start, so all the Russian army is concentrated on stopping the enemy. Then he struck.

He spread the news that the Russian army is collapsing - because that is what he wanted, a retreating Russian army and a nation looking for some one to blame. If the defensive lines were rolled up, we all would have been outraged here, and many people would be thinking whom is responsible. In this situation, Prigozin steps in and leads his Wagner heroes to stabilize the nation. A saviour. A man that rescues the day.

But the Russian army held. As the Ukrainian hordes struck, the Russians fought, dug in, and refused to retreat or break. The airforce worked around the clock. The intelligence was good and high ranking Russian generals were in the forward observation posts exactly where the Ukrainians attacked, commanding the battle and the defense. Russian reinforcements were ready, they countered where needed and the Ukrainains were smashed. Again and again.

So why start a coup?

Pregozin was already committed. He was afraid of leaks from his people, he was afraid the Russian FSB would smell him out. So he had to move. He had to start his grotesquerie. He struck at the precise moment when all the fatherland defenders were holding back the enemy. Behind their backs. He made that fake video. Some stupid trampled forest that was supposed to be a missile strike, but the forest was green and not scorched. Another missile strike was presented, but the crater was not round, but a square. With 2 fires lit up at the bottom of the square. It convinced almost no one.

But at this point there was no turning back for Prigozin.

He spread the information about a pogrom on the front lines. that the Russian army had lost enormous territory that the Ukrainians were advancing and winning. That the truth is being hidden from the Russian people - a disaster was happening!

We were confused, we could not understand why he would say things like this. Some believed he is just emotional, some that he has PTSD. but the viper was working according to his plan. He struck . His men were already in the back of the RUssian army, they moved to size the Russian command center in Rostov-on-Don and the airfields. Then they moved north to Moscow. Fast. Wagner had done this many times in Africa. Size power, move quickly, take key objectives under your control. overrun the capital. Have government people and institutions join your side.

But no one rallied to Pregozin cause. The millitary refused to side with him. Unit after unit repudiated what he was doing. The Police in Rostov refused to go on his side. The governors of the regions did not join his side. The intel services refused to participate in this. The politicians refused to side with the snake. Khadirov refused to support him and instead sent units to retake Rostov by force if need be. Not one opposition party joined the coup.

Without any support Prigozin played his last card. No more violence in exchange for the safety of his skin. He would call Wagner off if his hide is protected. That is whom Pregozin is. He was not emotional or with PTSD or because he had a beef with one or another Russian general.

He is just a villain.
Quite an interesting take, no?
I do sympathize with the idea that in many ways this debacle proved the strength of the Russian state, simply because it showed unity like never before.
In fact, something very interesting is happening inside Russia. There is an energy, a vitality and solidarity that's rising like never before. People are animated with a renewed sense of purpose, patriotism, and love for their country. Patrick Lancaster's new report captures some of this:
It may seem confusing to the outside observer at first, because Russia has always been the infamous mystery wrapped in an enigma. But listen to the people's voices, they are cheering for Wagner while simultaneously praising Putin and Russia with a newfound optimism for destiny, rather than the fatalism of the 90s. It's captured even in the spirit of the lonesome street sweeper, who intimates that everything is going exactly according to plan for Russia, in the midst of what appeared like an armed rebellion:
Can Americans understand such things? Perhaps only those who've read Dostoevsky.
This is a new Russia being born before our very eyes, with each hitch, like that of yesterday, merely serving as the birthing pangs of a new actualization of Russia's historical purpose. These are a people that, despite the highest amplifications of Western propaganda, could not be shaken or split yesterday. They came into the streets in support of both Wagner and Putin, and all the heroes, because the narod now understand who the true enemy is and what the country is fighting for: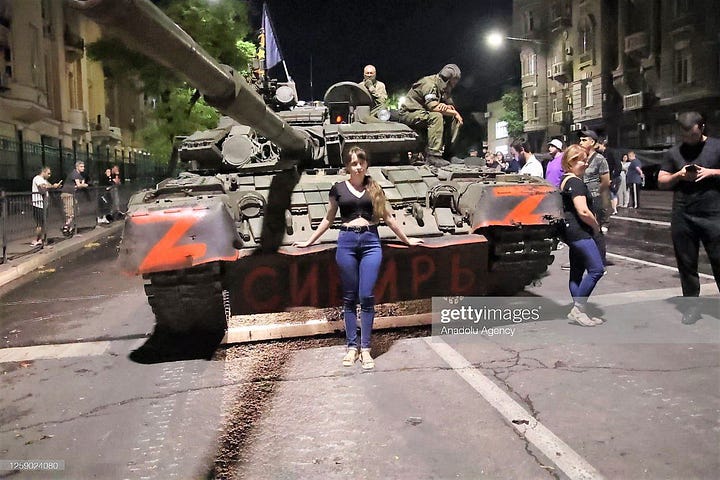 A mawkish take you say? But it's the truth. Something is being awakened in the Russian people, and those with unclouded eyes can clearly see it.
Just take a look at yesterday's annual Scarlet Sails celebration in St. Petersburg. One commentator noted the difference, how in previous years Western degenerate rap was performed, now patriotic music, and the people, even the youth were in raptures. Watch to the end:
"It's the Scarlet Sails graduation party. They used to listen to Morgenstern (vile, Westernized rapper who was booted from Russia), but now it's Mark Bernes as played by Shaman. In ten years, we'll have the most patriotic young people.

Congratulations. You have awakened something new."
The lyrics to the song above:
Where does the Motherland begin
Where does the Motherland begin?
From the picture in your primer
With good and faithful comrades
Living in a neighboring yard.
Or maybe it starts
From the song that our mother sang to us;
Since in any trials
No one can take away from us.
Where does the motherland begin?
From the cherished bench at the gate;
From the same birch that is in the field
Leaning under the wind, it grows.
Or maybe it starts
From the spring singing of the starling
And from this country road,
To which there is no end in sight.
Where does the motherland begin?
From windows burning in the distance;
From my father's old Budyonovka,
That somewhere in the closet we found.
Maybe it starts
From the sound of wagon wheels,
And from the oath that in youth
You brought it to her in your heart.
Where does the motherland begin?
And on that note, a final message from a Russian soldier in the trenches on the Orekhov line:
"I write off with the guys from the Orekhovo front, how, I ask, look at all this. But they don't care at all: "While you are swearing there, we are holding back Ukrainians. But what is happening with you, we don't understand. Yes, I can be dissatisfied with the leadership of mo, but in the army there is a concept - commanders are not elected and orders are not discussed. And there is an oath, and now the enemy is opposite us, and not in the rear. The fact that in the rear is political games. "

The opinion of this person is important to me, I was sitting with him in the same trench under the blows of enemy aircraft from the cabriolet on the Zaporozhye front. And Wagner became familiar to me during the months of the Artemov epic. I am proud to have worked with them shoulder to shoulder in Soledar, Krasnaya Gora, Bakhmut…

But I can't accept what's happening now. When we are literally fighting a war of survival, when every bayonet, every copter, every "loaf" counts, when we lose the best of us, Wagner attack aircraft could become the vanguard of our future counteroffensive.

Instead, they are drawn into a dirty political game that threatens with disastrous consequences for the state. Today, to put personal grievances and ambitions above the common goal is to work against the interests of the country.

I repeat, now there is no side of Shoigu or Prigozhin's side. Now there is the side of the enemy and the side of Russia, headed by the Supreme Commander-in-Chief. And I am on the side of Russia and the president."
As the soldier states, while the lurid tales of intrigue swirl around the rears, the Russian servicemen continue plowing ahead and serving their country. Even under the smoke of yesterday's travail, the soldiers continued to decimate the enemy, beating back another offensive attempt aimed at taking advantage of perceived demoralization.
I'll leave you with a last few glimpses of that.
First, one of the top videos of the war so far. A $7M French Caesar just barely dodges a Russian Lancet drone, only to catastrophically wipe out, and then be droned anyway by a second unit:
A Russian T-90M mercilessly destroys two Ukrainian IMVs (Kozak and Kirpi), then turns around and finishes them off with a double tap:
A rare glimpse at Russian Ka-52s destroying a Ukrainian column filmed both from the internal chopper cam and an outside drone observing the proceedings from a different position:
A Polish soldier who complains that the Ukrainian troops he trained not only injured themselves but purposely damaged Polish tanks in order to appear mentally handicapped so as to get out of having to go to Bakhmut and elsewhere:
Zelensky announces that there will be no scheduled presidential elections next year, thus essentially making himself the dictator:
Captivating first person footage of British and Western mercenaries getting destroyed by a Russian strike:
Lastly, showing the power of the Russian multi-ethnic state, this video shows the Chechen SOBR special forces from the 249th brigade who came to guard Moscow's highways from Wagner. The glimpse of an Orthodox church's onion-dome behind them is, shall we say, symbolic:
---
If you enjoyed the read, I would greatly appreciate if you subscribed to a monthly/yearly pledge to support my work, so that I may continue providing you with detailed, incisive reports like this one.
Alternatively, you can tip here: Tip Jar
---