Discover more from Simplicius's Garden of Knowledge
War strategies, geopolitical analysis, SitReps, and discussions.
Over 24,000 subscribers
Let's talk about Ukraine's new terrorist attack on the Kerch Bridge before diving into other updates.
Why does Putin specifically call it a terrorist attack? Because, as he states, the Kerch Bridge is actually no longer used for military supplies and has not been for many months, and is therefore exclusively a civilian corridor. This is an interesting admission on his behalf because it appears to possibly point to a secret agreement with the West/Kiev, perhaps as part of the Grain Deal and other such backdoor handshakes that go on all the time, both explicit and implicit.
Ukrainian foreign minister Kuleba disagrees:
This new attack was carried out by naval drones, that much was obvious to me even before the attack happened. Given the new security measures the bridge implemented after the first attack, which includes extensive x-ray facilities for all large cargo trucks to scan them for explosives, there remained no realistic way to attack the bridge other than by sea.
From the air is very problematic for the following reasons:
Ukraine does not have much that can reach the bridge from its territory

The only thing it does have, like newly acquired Storm Shadow missiles, are not really powerful enough to take down the bridge without a massive swarm attack, which itself has many technical challenges. One of them is that Russian AD is too active/powerful there and shoots down everything Ukraine sends, which has already been proven many times before.
You see, in the much more complex terrain-scapes of the inner country, you can disguise missiles by designing flight paths which take advantage of geographical and terrain features, like going behind hills/mountains/buildings, etc. But in the wide open flat sea-scape of the bridge, it creates a fairly ideal environment for AD to function.
If you recall the HIMARs attacks on Antonovsky bridge, they didn't achieve much even after dozens or hundreds of hits. To take down the spans of a massive bridge like the Kerch you need a lot of pure tonnage of explosives which simply is not feasible for airborne platforms which carry relatively small warheads. A naval drone on the other hand can be packed with massive amounts of explosives, all depending on how large you want to make the drone. Furthermore, you can sync several drones together to explode next to each other at the same time.
Lastly, the Kerch Bridge is the longest bridge in Europe, and one of the longest in the world. It's very difficult to monitor its entire length effectively for what may be surface or subsurface (underwater) drones.
So that is all to say, I expected the next attack to be via some type of naval drone and it appears that's what we've got, at least on account of early reports like this:
According to incoming information (at this stage it is difficult to assert its reliability), the attack on the Crimean bridge was carried out using the British underwater autonomous robot REMUS 600 with an additional load of explosives.

Thanks to its ability to move under water at a depth of up to 600 meters and easy control from a laptop, it was launched from a civilian ship in the Black Sea, it has a flight duration of about 70 hours at a speed of up to 5 knots.

With increased cargo capacity, it has a range of 286 nautical miles, almost 500 km.

Vladimir Rogov
❗️Ukrainian unmanned kamikaze boats that attacked the Crimean bridge tonight are believed to have been captured on satellite imagery.

On July 16 at 23:59, four high-speed objects, located at a distance of 75 km southeast of Zmiinoye and going in the direction of the Crimean coast, hit the lens of the Sentinel-2 L1C satellite.

Coordinates: 44.787000, 30.905000

Apparently, the launch of surface kamikazes is carried out from the side of Zmeinoy, and either the drones themselves or their carriers, which bring kamikazes to the launch area, got into the frame.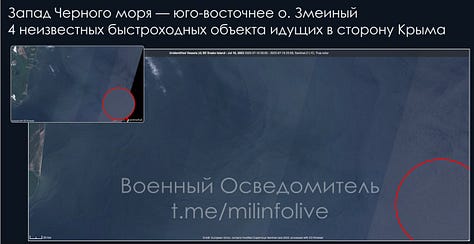 Recall that Russia itself has previously demonstrated use of a naval drone in attacking Odessa's Zatoka bridge last year:
Here is a graphic showing different drones seen in both countries:
Keep in mind, just the day before, naval and air drones attacked Sevastopol in Crimea as well, and were all repulsed by a Russian hail of gunfire:
In this case, all drones were destroyed. But what was most interesting was that it showed a new type of drone in use that appeared to be a modified jetski:
Here are the photos of it after being destroyed and captured: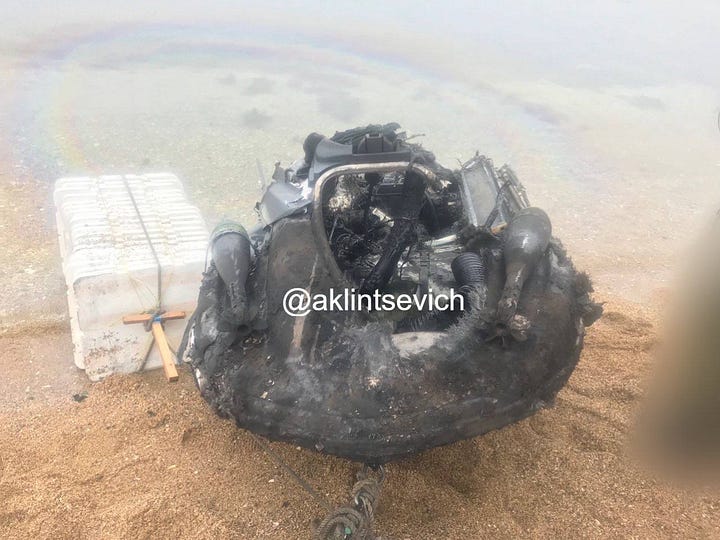 So, could it have been the same or similar one used on the Kerch? Hard to know. One thing that's dubious about the underwater submersible theory is that submersibles are difficult or impossible to communicate with or control. One of the graphics I posted above says the British Remus can be 'controlled via laptop'. I'm not so sure about that, unless they mean the initial guidance can be programmed thus.
Underwater communications are mostly impossible as the electrical conductivity of saltwater does not allow radio waves to pass through it. You could perhaps program the sub to go autonomously by way of some type of inertial navigation or have the sub travel just under the surface with a small, nearly invisible antenna that stays above the water which can receive communications.
Either way, unless there were actual human frogmen involved, like British Boat Service or SAS folk who might've set the demo charges on the bridge, I'd be more inclined to believe it was done by simple fast-traveling surface drones of a similar variety to the ones used on Sevastopol repeatedly. The satellite photos I posted earlier which claimed to have picked them up appear to confirm this.
If you recall, in this article I had previously written about how The Grayzone uncovered documents showing that British intelligence was involved in the planning of the Kerch Bridge attacks for a long time:
https://thegrayzone.com/2022/10/10/ukrainian-kerch-bridge/
Check the article above, it goes into detail and even publishes the transcripts of email conversations between British operatives discussing the strategies of how best to undermine the bridge, which includes diagrams of where explosives can best be placed for maximal effect, etc.
Now, Putin is convening a council in order to field proposals of how to beef up security to stop such attacks.
Some assume by that initiative that no previous defenses were active, and so the standard concern troll vector of attack is to criticize Putin/Russia for only now "reactively" considering defenses after an attack had already succeeded.
The truth is, if there was no defenses for the bridge previously, then such attacks would have already happened since last year and would have brought down the bridge in its entirety. Why do you think it's only possible for Ukraine to successfully carry out such an attack roughly once per year? Clearly, if the bridge was totally undefended they could attack at will. But, as I said earlier, it is the longest bridge in all of Europe and it's very difficult to monitor the entirety of its length at all times for tiny surface drones which hardly appear on almost any type of monitoring equipment, and indeed are specifically made to be low-observable (to Infra-Red and many other bands). Also, the fact that Ukraine has NATO's entire satellite-ISR capabilities means they can design attack plans to bypass Russia's defenses.
Now, quickly, on the bridge's prospects:
Only one roadway was destroyed, the other side functions: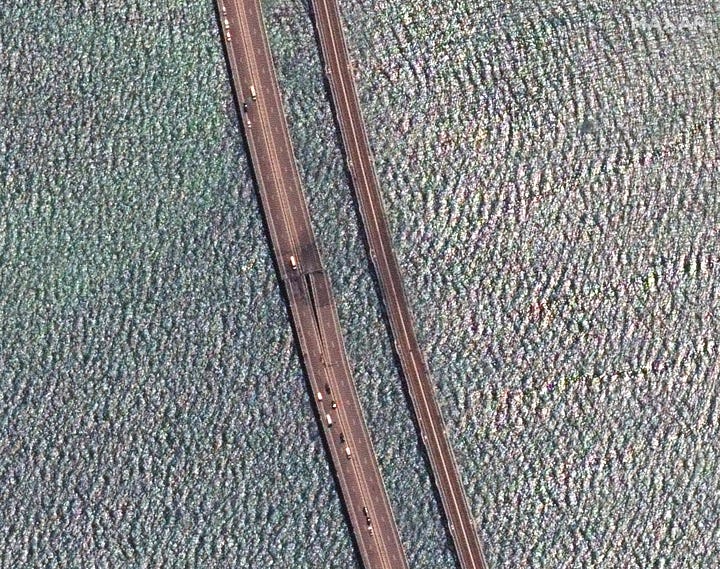 Also, the railway bridge that runs adjacent to the roadway is fully operational and trains are still running on schedule. The current reports state that Russia will construct a temporary roadway over the destroyed span while the final span will be lifted into place later on, some reports claiming September. However, as early as tonight they are planning to make the bridge operational to one way traffic on the intact roadway.
Also, it should be mentioned that as of this writing Odessa is being heavily bombarded in a possible retaliatory strike, with facilities on fire:
Though there is rumor that a much larger attack is planned within the next 72 hours as a true response, once the appropriate targets have been fully configured.
So, what are the consequences of the second Kerch attack?
Apart from the fact that two civilians died in the terrorist attack, with a fourteen year-old Russian girl named Angelina from the Belgorod region now orphaned after losing her parents. Russian troops are already writing her name on shells in her honor: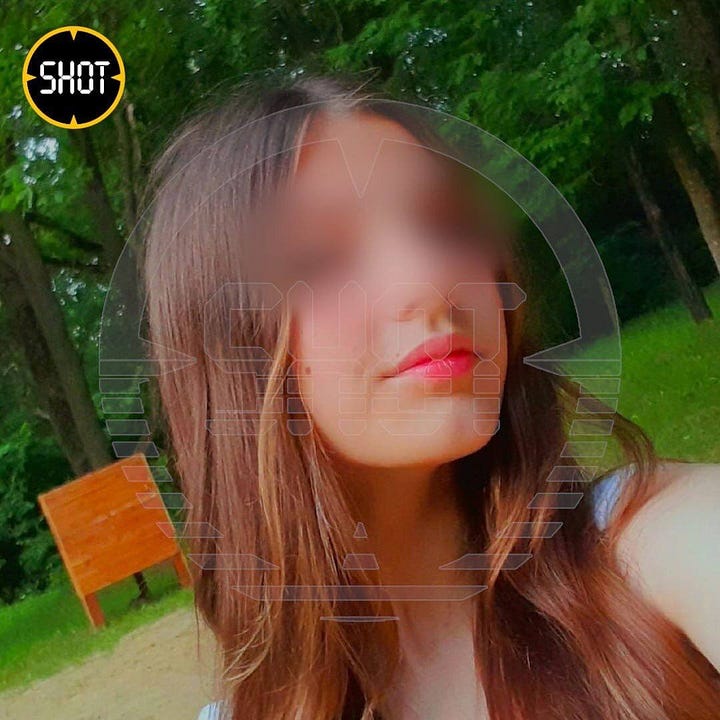 🇷🇺🚀🇺🇦 Angelina, the girl who survived the terrorist attack on the Crimean bridge!

Today, Russian artillery is taking revenge for you. And tomorrow, we won't be surprised if your name is written on our "Daggers" and "Kalibr".

The enemy will be punished and defeated!
The other biggest consequence is the apparent final termination of the grain deal:
The humanitarian corridor though the northern Black Sea has been terminated. The joint coordination center in Istanbul will be closed. Russia no longer guarantees safety of navigation in the region.
Peskov claims it is permanent, and that the coordination task force with Turkey has even been closed on this account. Personally, I'm doubtful, but we'll see. There are always high emotions after such an event and rash decisions are made to either grandstand or give the appearance of strength, but ultimately more negotiations will likely happen down the line, the only question of how soon.
The below live ship traffic map shows no traffic at all coming to or from Odessa anymore as of today:
Russia needs to save face and show strength first, for instance some reprisal attacks, afterwards it can slow-walk back towards the deal—but we'll see.
US insists grain deal be extended as soon as possible, Blinken The West and Kiev will consider options for exporting food from Ukraine to world markets in connection with the withdrawal of the Russian Federation from the grain deal, he added. World markets = the West.
Many Russian officials are hardlining it, for instance Alexei Zhuravlev:
🇷🇺❌🇺🇦 After the terrorist attack on the Crimean bridge, Russia should stop "any trade relations with Ukraine, including pumping gas," as well as cut off from the sea, Alexei Zhuravlev, the first deputy chairman of the defense committee of the State Duma.
And Medvedev, who released this message:
The most important thing to note, though, is that the timing of this attack happened on exactly July 17th, which was the long awaited grain deal expiration date, if you'll recall. That is not by coincidence.
It means this attack was specifically done to try to stymy Russia as much as possible in terms of putting it between rock and hard place in making its decisions. In essence, it's designed to erode Russia's stature with its allies, particularly Turkey.
Russia wants to give the appearance of interest in grain deal talks for the sake of its allies. This puts Russia in a position of two weak moves. Either they continue talks and look doubly weak because now it shows that even large-scale terror attacks on their infrastructure have no effect on their red lines; or: they completely discard the grain deal but now take a big prestige hit with their allies like Turkey and even China which recently signaled it greatly favors the grain deal extension.
The ultimate question though will be who stands to gain the most from the actual practical realpolitik effects of this, rather than the 'appearance' of having gained something. For instance, we know that Ukraine loses upwards of $500 million per month:
The corruption of the grain deal explained:

- 🇺🇦 transferred 63,000,000t agricultural products to 🇪🇺

- 🇺🇦 received $26 billion from the 🇪🇺

- 🇪🇺 has sent 23,000,000t back to 🇺🇦 in solidarity

- 🇺🇦 has paid $48 billion to the 🇪🇺 for the solidarity

-> Ukraine has lost $22 billion!
Russia has nothing really to lose as far as I understand, and everything to gain, to the extent that not allowing Ukrainian grain to flood the markets only means that Russia's own grain becomes far more valuable all over the world.
Of course, the West is now expectedly screaming bloody murder. UN Secretary General Guterres made the alarmist statement that "millions" of starving people will pay the price now that the grain deal is off. They are predictably shifting the blame onto Russia, completely ignoring the mass terrorist attack their own security services in conjunction with Ukraine just carried out.
For instance, this new Politico article accuses Russia of pulling out of the grain deal on monday, and incredibly doesn't mention the word bridge even once:
Russia on Monday pulled out of the Black Sea Grain Initiative, a U.N.-brokered accord that has made it possible for Ukraine to export tens of millions of tons of grains and oilseeds over the past year even as the war rages on.

The deal was vital to keeping food flowing from Ukraine — a major breadbasket — to the wider world. But Russia, claiming that its own food and fertilizer exports were being hurt by "hidden" Western sanctions, had already effectively strangled the deal before finally killing it off. 

Hours later, the Kremlin warned that it could no longer guarantee the safety of shipping in the northwestern Black Sea.
Note how they attempt to reframe the pull out as revolving around Russia's complaints of its own grain exports being 'hurt' by Western sanctions. It's incredible that a day after such a large terrorist attack which blew up two civilians and sent a young girl into a coma is now completely ignored with the standard yellow press lies by omission.
Typically such articles are filled with 'contextualizing' fodder; they didn't think it even remotely contextually relevant to add in the bridge attack?
Of course, we know that only a measly 3% of the grain actually went to Africa or 'countries in need', the lion's share gobbled up by greedy Europe. Even the above Politico article's attempt to contradict this falls flat on its face, as their "proof" lies in a URL to some claimed study which doesn't work, and leads to a log in screen. What a 'professional' outfit.
Here are some more graphics about the breakdown of the grain distribution by crop: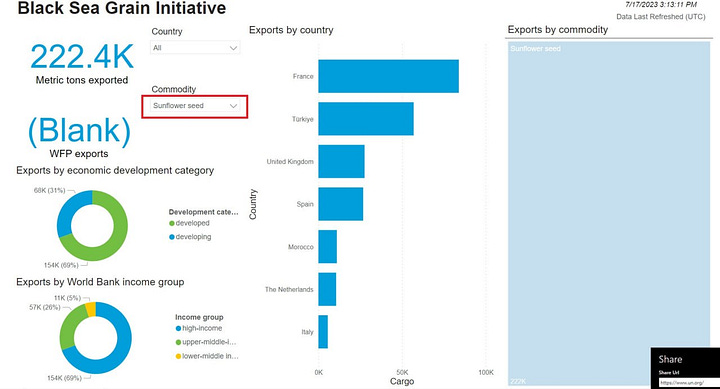 🇷🇺❌🇺🇦🌾 Nothing but outright fraud came out of this - Deputy Representative of the Russian Federation to the UN Dmitry Polyanskiy about the grain deal and "efforts" to comply with it on the part of the international community
The bigger thing to watch for will be what Russia does with the Black Sea corridor in that region. Will they really attempt to retake Snake Island as rumors suggested earlier, or beef up their naval presence there in some way as I had reported last time?
Ukraine for their part claim that ending the grain deal means that the Kerch Bridge will be targeted. For instance, Kiev Independent's Ponomarenko:
This appears to imply that not attacking the bridge was part of the grain deal, and that Kiev attacked it on the exact day of the deal's expiration as a 'message' to Moscow.
If you'll recall, there were previous rumors that Turkey or even the U.S. would strong-arm the deal back into place by escorting the grain ships through the Black Sea, even without Russia's permission. However, two new statements from both appear to suggest the opposite, for now at least:
The US is not considering the possibility of a military blockade of the Black Sea due to the suspension of the grain agreement, according to the coordinator of strategic communications of the White House, John Kirby. They are not even considering easing sanctions on Russia for its return to the agreement. He pointed out that Washington does not see that the terrorist attack on the Crimean bridge affected Russia's military capabilities. At the same time, the US is not ready to attribute responsibility for the attack on the Crimean bridge to any party to the conflict in Ukraine.
And reportedly from Turkey:
🇹🇷🇺🇦🇷🇺 - Turkish source told GIW that Turkey and NATO would NOT confront a possible Russian blockade on Ukraine with its own warships, explaining that WW3 wasn't the goal.
Now, Zelensky is desperately begging Erdogan to militarily intervene, which seems to effectively give away his plan all along, which is to drive a wedge between Turkey and Russia:
Where does that leave us then? Likely, Russia will await the West to 'crawl back on its knees' with some concessions in hand. Putin had already made the statement last week, if you'll recall, in light of the upcoming grain deal's expiration, that Russia will no longer make the initiative themselves but will wait for the West to 'come bearing gifts' in the form of their own concessions first. There is the possibility perhaps that Putin will now take a fully 'hard line' and refuse to renew the deal in the future under any circumstances in light of the Kerch attack. Perhaps Russia has gamed out the scenarios and with the upcoming fall and winter seasons, plans to again bring Ukraine to its knees with full-on economic-infrastructure multi-vector attacks, which will include destroying Ukraine's economy and renewed missile attacks on the power infrastructure.
This is likely because I believe that next year will be the year we all expected 2023 to be, in terms of big Russian offensives. I don't say that in a wishful thinking manner, simply moving the goalposts of this year to next. I've already been building up a volume of theory-crafting over the course of the past few months comprised of reports about how Russia is slowly building up its offensive potential this year, in terms of the ongoing stealth mobilization, Shoigu's huge new expansions of the armed forces into two new military districts compromising one new army and one new corps. Now that we finally have good data on Ukraine's own massive losses and attrition over the course of the last few months, it's more obvious than ever that next year will be the year for Russia to truly put the pressure on to collapse the AFU, while the remainder of this year will be the continuation of the preparatory work.
One of the reasons, by the way, which I failed to explain in my earlier exegeses on the matter, is that all these new 'stealth mobilized troops' Shoigu is putting together likely require a much longer amount of training time. The 'official mobilization' from last fall was for reservists who already had their compulsory year's worth of training. But the new volunteers, we have no real data on what they are. If some of them are just outright 'enlistments' straight off the street, these are people that would require training from scratch before they're even combat ready. A minimum of one year training would be required for such people, though they could do "basic" training in 3-5 months and then be processed to the 'rear' of some combat zone for further onsite MOS training. I assume though that many of these new 'volunteers' are reservists who weren't on the roll-call of last year's mobilization, so they would be re-trained and re-certified in 3+ months give or take.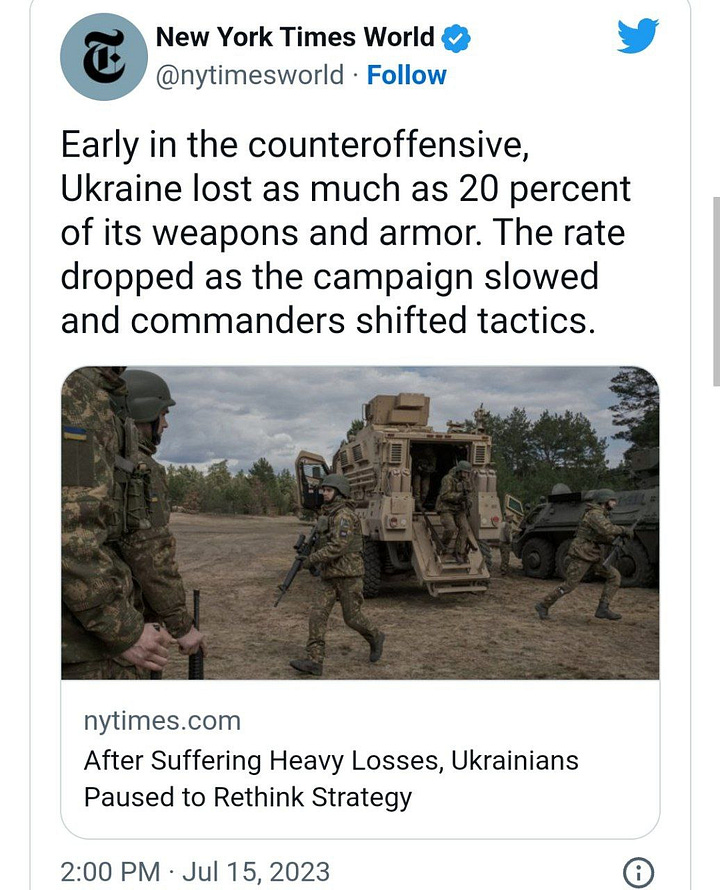 But make no mistake, the biggest difference by far will be the simple fact of the huge expected drop-off of Western support. If Western support continued on in the same way as it was at its peak, then admittedly I think Ukraine can last potentially several more years. But at the current attrition rates, they can't even make it past the end of this year without enormous changes to their battle doctrine, which are already underway—but I'll get to that in a moment.
Now, you're probably wondering: well, what if the West does continue to support Ukraine with maximum force? The problem is, that's not really conceivable or possible. They don't have the stockpiles to do so.
Even if the monetary support were to continue in the same way (and even that is heavily dropping off), they simply don't have the ammunition and armor stockpiles left to continue giving at the same frequency.
Rezident channel reports the following:
❗️UKRAINIAN POST❗️

Our source in the OP said that the Office of the President received a draft from the Biden Administration on the future funding of the Ukraine. Military assistance will be reduced by 7 times, and financial assistance by 5, but the Americans assured us that the EU will continue to support the Armed Forces of the Ukraine in the same volumes. Meetings are already being held at Bankovaya to discuss how to reduce budget spending and find funds to continue the war in 2024.

REZIDENT
Now, even the emergency injection of German Leopard 1A5s which were meant to backfill the losses of the past month are mysteriously 'delayed', as per new rumors. Recall that this was meant to be the most expedited of the deliveries, with a new large round of tanks meant to arrive by the end of July at the latest. One report claimed the delay is until "August" but the tenor of it seemed overly hopeful.
Meanwhile, Russia continues to heavily attrit these arrivals even in the rear, like this new report:
As ukrainian_guide (https://t.me/ukrainian_guide/8611) has learned, two echelons with military equipment were hit by two Iskander missiles last night in Kharkov on the territory of the depot of the Osnova railway station

The echelons were carrying German Leopard tanks and American M113 armoured personnel carriers. There is information that three Leopards were seriously damaged as a result of the strike.

For the information, the sources asked to thank the AFU men from the 32nd brigade, who were discussing the news in one of the closed chat rooms.
Apparently these were tanks that were being re-positioned to other fronts.
And reportedly many mercenaries were once again hit in the attack as well:
🚨Foreign mercenaries hit in Kharkiv. That explains the unusual airplane activity today.

Report:

"Last night in Kharkiv, two missiles hit the dormitory of the Law Academy of Yaroslav the Wise (Dinamovskaya St., 4)."

The facility was a temporary accommodation for foreign mercenaries. Immediately after the strikes, several ambulances arrived on the territory of the building.

It is claimed that up to 30 mercenaries were killed or wounded."

— source Ukraine guide
Flighttracker showed a plane flying back and forth from Rzeszow to Ukraine under a decoy transponder, which was likely transporting dead and wounded.
The high effectiveness of yesterday's strikes on Kharkiv, during which Western mercenaries were also killed and wounded, is confirmed: an unknown flight has just arrived in Rzeszow from Ukraine, and an Airbus A330-243MRTT transport plane has been brought to them from Berlin. A flying ambulance of the specialized airline ASL FLY MED arrived in Rzeszow today and spent an hour there.
More and more, the absolute intractability of the situation is percolating on down through the various Western think-tanks and intel agencies. For instance, here's US Defense Intelligence Agency Chief of Staff John Kirchhofer:
And even Arestovich was forced to admit that Ukraine taking the 80% of land it currently controls as a consolation for being given a NATO membership/pathway is a 'good deal':
This is owing to the fact that he believes trying to retake Crimea without the type of air power and amenities that the U.S. military enjoys would result in 200,000 Ukrainian casualties:
This of course is telling; after all, if just retaking Crimea would cost 200k Ukrainian deaths then how many deaths did they suffer thus far in the entire war?
And now, Russia is putting its pedal to the floor in the north, ramping up a large offensive there that is starting to really worry the Ukrainian command:
Ukrainians are very worried about the Kupyansk direction. They write that we have gathered a powerful fist and are moving forward.

Verbatim:

Now a very powerful group is concentrated in the Limano-Kupyansk direction. More than 100 thousand personnel, more than 900 tanks, and 370 MLRS. They say that with these forces we plan to defeat their battle formations and go deeper.

crests have interesting thoughts, but I think this is not the last unpleasant surprise for them. More to come soon...
From a very worried Ukrainian source:
Last time, I reported that Russia had pushed the AFU out of the town of Novoselovske, near Svatove. Now—though it may not be fully confirmed yet—as of this writing reports claim that Russia has in fact seized the entire town.
❗️The RF Armed Forces have taken control of the settlement of Novoselovka in the Lugansk People's Republic, our sources from the field report. This village already passed under the control of Russian units in November of this year, but then they were driven out.

Also, our subscribers from the scene specify that the Armed Forces of Ukraine are urgently transferring reserves to the recently taken Novoselovka in order to counterattack. This information is also confirmed by Ukrainian officials, casually mentioning the difficult situation for the enemy army in this region.

"War Informant"
If Ukrainian reports are accurate that Russia has a fist of 900 tanks in that area, then that is more tanks in that one sector alone than Ukraine has in total on every front.
Seymour Hersh also claims the following from his own sources:
⚡️⚡️⚡️The Russian army will easily "face" the Ukrainian forces and launch its "large-scale offensive" probably in August, Pulitzer-winning journalist Hersh (USA) said, citing his source.

According to his interlocutor, an American "official", it will be then that the Ukrainian Armed Forces will have to face the "real problem". Cluster bullets, the source said, "have no chance" to change the course of the conflict, and the White House "wrong" with its assessment of the situation, writes RIA Novosti.

Americans can judge the unsuccessful course of the "counterattack" for Ukraine by the fact that stories from the war zone have disappeared from the front pages of major newspapers, Hersh said
I do think a larger Russian counter-offensive is possible in August, but it won't be the end-all-be-all big arrow thing some expected this year, like a new major vector opening up from the north, in Kharkov or Sumy, etc. I think it will be more of a gradual pressure on the current fronts, including renewed strength attacks in Avdeevka, Marinka, etc.
In short, right now Russia doesn't have to rush. Time is for the moment on their side as we've gone over the 'hump' of the major milestone events like the Vilnius summit, and they have yielded nothing. The U.S. now has an all-important presidential election on their plate soon and attention will have to shift away from Ukraine. So all the cards are in Russia's favor for the next half year and more. As long as they keep grinding Ukraine down as they're doing now, Russia will be laying the correct groundwork for next year where Ukraine's situation will turn critical.
To cap this section off, I'll post this Russian analyst's take which sums up a lot of my points and extrapolates what will happen next based on the current battlefield calculus, with which I fully agree:
Ramzai (Vladislav Shurygin, @Ramzayiegokomanda) writes about the transitional nature of the current situation at the front in the Ukrainian war:

The Ukrainian offensive has obviously run out of steam without achieving any results. Almost forty days of continuous fighting did not lead even to the breakthrough of the screening line.

At the same time, the Ukrainian Armed Forces put into battle up to 60% of the reserves at their disposal, losing up to 25% of their personnel, up to 30% of their tanks, 20% of their artillery, and up to 20% of their armoured vehicles. Further attempts to attack in all strategic directions, using the remaining reserves, have been accepted by the AFU command as futile, both from a military point of view and from a propaganda and political point of view. The success of the "offensive" planned for the NATO summit in Vilnius could not be achieved, and now the AFU command intends to focus on local offensive operations to improve their positions on different parts of the front and to wear down the Russian troops.

The AFU command retains up to eight "fresh" brigades (brigades that have not participated in the offensive) at its disposal. The combat capability of another eight brigades can be restored within three to four weeks. U.S. handlers have already become actively engaged in the process of remedying the losses by sending battalion-sized sets of Bradley IFVs and Stryker APCs, as well as artillery systems and ammunition from their forces in Europe. But it is not possible to recover losses in tanks. There is simply no place to get new tanks now.

The process of reviving the German Leopard 1 tanks from Rheinmetall warehouses is being delayed, and the first batches may arrive in Ukraine no sooner than the second half of August. In addition, the replenishment of the "worn down" brigades with personnel by means of urgent recruitment through yet-another mobilisation does not restore their combat capability. The mobilised men are nearly universally untrained, untested, and have zero motivation. They are joining companies and battalions that have suffered heavy losses, lost a large part of their most experienced fighters and, in turn, are equally demoralised. To consider such brigades "rebuilt" is a big mistake.

As a consequence, the strategic initiative is gradually shifting to the Russian side. The Russian command is increasingly moving from hard defence to offensive actions and has managed to squeeze the AFU in a number of directions.

There is every reason to believe that, after the AFU's final loss of offensive capabilities, the Russian forces may launch an offensive in several directions. It can hardly be expected to have strategic goals—the Russian Armed Forces still do not have enough forces for that—but we can conduct at least two offensive operations at an army scale.
We can see, by the way, the AFU's new tactic in action yesterday in assaults on Staromayorsk. It's the tactic which has been talked about for a couple weeks now ever since the AFU was utterly destroyed in the Orekhov-Zaporozhye direction. Now, they are utilizing mainly MRAPS/IMVs only, with all the heavy armor having been retreated to the rear for fear of losing it. Here's yesterday's Staromayorsk assault with nothing but a huge line of MaxxPros, Huskies, Cougars, Kozaks, etc., most of which ended up being destroyed like disposable waste:
In light of all this slow descent, Zelensky reportedly is ordering major mobilization ramp ups:
💥💥💥A source in the nit's office said that Zelensky had instructed the General Staff to step up mobilisation and increase the number of the AFU by 200,000 people.

The nit's office will push Zaluzhnyy, who opposes the continuation of the Azov operation and the second stage of the counter-offensive, through the bet.💥💥💥
There have been a variety of disturbing developments in this direction, from videos showing women now being recruited into frontline roles, to increasingly heavy-handed recruiting methods, like this video of a commissar firing a gun and threatening to shoot the 'recruit' in the legs, to reports from a German news station that some of the new recruits being trained in Germany on American Abrams tanks are… 71 years old.
The most interesting development to me, which stands to deal the biggest deathblow to Ukraine, is Russia's mass ramp up of drones and drone technology in general.
In Ukraine, they complain about the superiority of Russia in drones Ukrainian volunteer Maria Berlinskaya said that there is a threat of defeat for Ukraine due to Russia's advantage in FPV drones.

According to her, cited by the Ukrainian media, at first Ukraine "effectively used drones," but Russia concentrated resources on this direction and pulled ahead. Now Ukraine produces 10 thousand FPV drones monthly, and Russia, according to Berlinskaya, 45-50 thousand each.

"If we don't do it technologically, we are going into defeat, which will be called a truce. I want to be wrong, but at such a pace we will have to sit down at the negotiating table not later than in a year," says Berlinskaya, who heads the so-called "Air Intelligence Support Center".

She wasn't the only one who started talking about such a problem. Her colleague Lyubov Shipovich said that Russia is investing heavily in the production of UAVs.

"They import components from China, they just give them to engineers by trucks, they say:" Collect! "Russia quickly launched a standardized ammunition for UAVs. There is no need for the Russian military to collect ammunition with their hands: they took it out of the box, attached it, flew away, "Shipovich said.

In addition, the Ministry of Defense of Ukraine "does not purchase FPV drones at all" , only the Ministry of Digital Transformation does this. "It helps manufacturers to get permission to operate (which allows them to officially buy a specific type of UAV from the company). But even to get this permission, some manufacturers go through a commission for three months," says the volunteer. They are only now beginning to reach. It seems that the defeat of the Armed Forces of Ukraine in the Zaporozhye direction has sobered up some people in Ukraine. ukraina_ru
So, the numbers from the Ukrainian report above claim that Ukraine produces or acquires 10k FPV drones per month, while Russia does 45-50k.
This is corroborated by a new Russian-sourced report which states that a single company of Oko Design Bureau from St. Petersburg does 3000 FPVs per month:
💥💥💥Mass production of kamikaze FPV drones has also increased in Russia.💥💥💥

In November 2022, the Oko Design Bureau from St. Petersburg created the Hortensia combat drone, which became the first mass-produced FPV drone sent to the front on an industrial scale.

Today, the production capacity of KB "Oko" is 120 pcs/day, 3000 pcs/month 🔥
And to cap it off, the most interesting thing by far was this full report released from the bureau which manufactures the famed Lancet drone. I urge everyone to watch the full subtitled report below in its entirety, as there are tons of revealing gems:
To summarize, Russia has several Lancet variants, and is developing a new one which is specifically designed to be used with AI drone swarms. For those that may recall, I did a special report on future tech evolving in the SMO where I specifically predicted that the conflict's face will very rapidly change as it goes on, and we will see an entirely different war that won't even resemble that of the opening:
But more specifically, I did another report that highlighted major new findings in Russian Lancets—that they in fact had autonomous capabilities and were already tested and used in the SMO in autonomous mode.
In the manufacturer video above, they actually confirm this fact. The translation on that portion is slightly wonky, but what the designer, Zakharov, states is that this was tested not on the polygon—i.e. testing range—but in actual combat. He describes how a human operator gave the initial command for which sector to scan and what type of target to hunt, and the drone does the rest.
In the previous report, I had outlined how the Lancet has an inbuilt library of all NATO equipment which it 'checks' against the objects it detects in the field, comparing them and then identifying what the target is. So if you set it to hit only tanks and it scans a Grad MLRS, it will identify it from the stored database and ignore it.
Now, this new generation variant they have already developed does the same, however it does it in swarms. The Lancets are fired in large batches from batched containers rather than slingshot-launched one by one. In the air, they scan a much larger zone independently and relay all the target information amongst each other, even coordinating the decision tree of which unit should strike the target based on their individual capabilities, as some may have a warhead suitable for heavy armor penetration and others for something else.
The new Lancets are also larger and are meant for a longer combat endurance, so they can go deeper into the enemy rear. Clearly, with this development, Russia now jumps ahead into pole position in the world of AI combat given that no one else can make a claim to having already utilized such systems extensively in real-world situations.
The only one that maybe comes close which has also experimented with such systems is Israel:
Also notable was the concurrent announcement that Lancet production is now going at 50x rate since the start of the SMO and 3x production since last year.
The Ukrainians are clearly worried just from the sheer volume of drones seen in the production warehouse video:
One quick note: many people have been erroneously passing around the quote that 200k Lancets were produced with 1M on the way. This was a tongue in cheek response from the manufacturer that was quoting a famous Star Wars line about clone production. The production is high but not that high. They didn't actually give real numbers but one 'hint' was that they said for every tank Ukraine has, including all the Western delivered tanks, there are already 'several Lancets designated for them'. So, hypothetically taking a number like 500-800 AFU tanks, we can take this to mean that there are at least something like ~1000-3000 Lancets currently available or being produced at any given time.
Now, a few last big updates.
Firstly, in the arena of Russian MOD reshufflings. Last time we heard of General Popov's putative dismissal, as well as many other rumblings like that of Surovikin, etc.
Firstly, there are now competing reports, one stating that Popov has been reassigned to a post in Syria, which would clearly indicate moving him as far away from Russia as possible, seemingly in mitigation of any potential danger he may pose in the way of armed insubordination.
However, another contradictory report from Slavyangrad stated on good authority that Popov has infact not even been dismissed at all:
According to Roman Donetsky's (whom I trust completely) @DonRF22's sources, Major-General Ivan Popov is fine. He has not been "purged," and will continue to serve at his rank in the Russian Army.
Who to believe?
With that said, there are now reports of other Russian commanders being purged.
Also add to that pile Major General Seliverstov:
⚡️⚡️⚡️ 🇷🇺❗️Shojgu, in addition to the commander of the 58th Combined Army, Ivan Popov, also replaced the commander of the 106th Guards Parachute Division (VDV), Major General Vladimir Seliverstov, and the commander of the 7th Guards Mountain Assault-Landing Division (VDV).

🔻Tensions are growing between the commander of the VDV Mihailo Teplinsky and the Russian military leadership itself, it is assumed that the same scenario as with the Orchestra (but without rebellion) may occur, and if the VDV leaves Ukraine (which is unrealistic, but it can happen), it will be a huge blow to the Russian Army on the battlefield, because that is where the most elite and best Russian units are located.

General Aleksandar Kornev, commander of 7th paratrooper division, and Colonel-general Mikhail Teplnski who has served as commander of the Russian Airborne Forces since June 2022 were dismissed from their positions.

Both of them were respected commanders.⚡️⚡️⚡️
None of this is confirmed so it's difficult to make a true analysis until we get further information. But if this is the case, then it clearly points to an ongoing Russian MOD purge of anyone showing even the slightest insubordination in the wake of the Wagner rebellion. The MOD clearly wants to build a strong military hierarchy based on a foundation of loyalty, all the old guards who are used to the corrupt ways of the 2000-2010 era, where feuding warlord Generals carved out their own fiefdoms and could do or say anything they want because they had major leverage against the MOD command simply from the fact that they aligned their soldiers to themselves, and not to the then-weak MOD—those days are gone. The MOD is now designing a professional, futuristic force with a strong central command, and anyone of the corrupt old guard who doesn't like it is getting the boot.
The problem is, many of these generals had gotten lax and comfortable with the status quo of the 'good ol' days'. Remember those days? The RuAF of the Serdyukov era where weekly reports about soldier 'hazing' played on CNN, showing Russian troops brutally abusing and sometimes even killing each other in dungeon-like conditions. Shoigu has reversed all that and is designing a modern armed force based on respect, leadership, and proper chain of command. Many of the 'old guard' generals were so used to having their little sinecures and acting like mafia bosses that they take this as an affront. You see, in the old days, threats and violence was how you got things done and the armed forces were run more like a mafia, with each general controlling his own private little 'brotherhood' cell. Like I said, the ones who can't handle being reformed into a modern force can go off to the pastures. Some people may not like to hear it but an effective armed force is built on a strict system of loyalty and subordination.
The jury is still out on the Surovikin case, however there is a new report that Putin will be meeting with him personally next week, so we'll see what happens.
⚡️⚡️⚡️Sources confirm that Vladimir Putin will receive Surovikin next week.⚡️⚡️⚡️
In other news, a new photo of a UMPC planning module for Russia's glide-bomb has been seen on the wings of an Su-24M, which proves that Russia has revived the Su-24s and is now using them in conjunction with Su-34s to launch these bombs:
This is good news as it greatly increases the number of total platforms that can launch these all over the country.
Next:
An Italian newspaper has estimated that Ukraine's population has fallen to as low as 28-31 million:
"Ukraine is empty. Many people don't come back, it's a disaster." Italian newspaper Corriere della Sera published an article about the demographic devastation of Ukraine. The authors estimate that the population has fallen to 28-31 million.
"There are no children, middle-class women with good education have left. And most importantly, more than half of them are not going to return to Ukraine.
The policy of European hospitality first seemed to us a miracle of generosity, and now it turns out to be a curse, " the newspaper quotes the Ukrainian demographer.
Here's another quote. Says the owner of an IT company: "Most of my employees quickly found jobs in Poland and France. Our production facilities are closed, and there is no market. None of them will come back."
And here is the story of a 40-year-old Ukrainian officer who is now in positions near Bakhmut: "My wife and two children aged 5 and 7 left for Germany in the first days of the war. Since then, we've been communicating less and less. And now I've discovered that she's already found a new companion there."
The reason that's interesting is this interesting thread by Armchair Warlord—an ex-U.S. army artillery officer.
The short of it is, he compares Ukraine to Germany of WW2 and calculates that the critical mass of losses which Germany was able to sustain before their society 'collapsed' was about 3.75% of its population of 80 million.
Based on that, he concludes that Ukraine would need to suffer about 750,000 losses for the country to tap out. Though he used a much lower assumed population. For 28M the number would be around 1 million. But given that Ukraine has lost upwards of 400-600k already by some estimates, which includes irretrievable wounded, then one can see the current pace of the conflict not being as sustainable for them as some people predict, given that some believe they have an 'inexhaustible pool' of manpower and can continue trucking along at this attrition rate 'for as long as it takes'.
I know there are many arguments to the contrary, and I'm not saying this one is correct for certain—for instance, some reports claim 50% of the fleeing refugees have already returned to Ukraine. But this is just one perspective and food for thought.
Next:
A Russian Storm-Z unit recovered one of Ukraine's famed battlefield management systems, where reconnoitered intel is distributed to a variety of units/systems for targeting:
As of this writing, one way traffic on the Crimean bridge has resumed on the working span:
A Ukrainian channel described how a Ukrainian DRG-sabotage group was destroyed by its own side:
Next:
🇷🇺 Russian schoolchildren brought five gold medals from the Physics Olympiad in Tokyo.

Vyacheslav Bobkov from Moscow School No. 1589, Roman Burtsev, Vsevolod Dolya, Alexander Ershov from the Kapitsa Phystech Lyceum and Yegor Potapov from the School of the Center for Pedagogical Excellence. 💥👏💥
This is another olympiad where Russia is up there at the top:
Next:
A most heinous Ukrainian attack was caught on drone cam, and @mylordbebo did a great play by play breaking down every detail exactly as it happened. Warning, disturbing material which shows—albeit not in graphic fashion—Ukrainian soldiers executing a family trying to flee Ugledar in cold blood, then trying to cover it up:
I'll leave you with two last items. First, Russian Duma Defense Committee chair hints that the true role of Wagner in Belarus is to recapture the Suwalki Gap:
Given that he's a high ranking defense insider one can only assume this means that Russia is anticipating the type of future Polish-Lithuanian military actions we've discussed here before.
This follows a French LCI TV channel report which re-iterates the growing threat of Poland itching to enter the war:
🚨BREAKING:

French LCI TV channel claims that Poland and the Baltics are preparing to send their troops to Ukraine!

LCI: "Anonymous sources in the Polish government report that the Poles are now waiting for the final result of the Ukrainian counter-offensive and the offensive actions of the Russian troops.

If it becomes clear that Russia is winning the war in Ukraine, the Poles may introduce the first division this year, which will include Poles, Balts, a number of Ukrainians."
A Russian sergeant gives a lively look at the morale of frontline servicemen repelling the NATO offensive in Zaporozhye:
I'll leave you with Aleksandr Dugin's thought-provoking statement regarding the Kerch Bridge attack:
Alexander Dugin: "About a new attack on the Crimean bridge. Notice the rabid stubbornness of the enemy. This is a distinguishing feature of the Malorossians. But now it looks ominous. They started shelling Donetsk in 2014 and do not stop for a day. They attacked the territory of the old Russian regions - Belgorod, Kursk, Bryansk - and continue to. They began to kill Russians with terrorist attacks, and they do it again and again. They attacked nuclear facilities, and they do it again and again.

The same with the Crimean bridge, as long as Ukraine exists with its gone mad population and manic regime, it is simply foolish and irresponsible to think that anything in its behaviour will change.

We are dealing with a completely insane, extremely aggressive, deranged enemy. And behind him is the West.

Rabies has no cure."
---
If you enjoyed the read, I would greatly appreciate if you subscribed to a monthly/yearly pledge to support my work, so that I may continue providing you with detailed, incisive reports like this one.
Alternatively, you can tip here: Tip Jar
---