Discover more from Simplicius's Garden of Knowledge
War strategies, geopolitical analysis, SitReps, and discussions.
Over 24,000 subscribers
Let's break down in depth exactly what happened on the night of the Patriot attack and catch up on the known facts and speculations. Here's what is known so far:
Russia was said to have conducted a layered, multi-vectored attack which came from various sides including north, east, and south, which included both Geran drones as screening cover, Kalibr missiles, Kh-101s, and finally the Kinzhals. The attack also likely included other cheaper types of drones as decoys to saturate the air defense, and in fact Kiev does attest to that, as in their official 'shoot down' graphic they include several drones they comically ID'd as Orlan 'Supercum' which was later changed to 'Supercam'.
First, let's break down how such an attack happens. Most logically, the cheaper decoy drones are sent in first to see if they can bait out any of the air defense into opening up on them. Kiev would try to use only its less important SHORAD (Short Range AD) systems against them, such as German Gepards and any Tunguskas/Shilkas and such that they might have.
Next would come the cruise missiles in order to bait out the true high value AD that may have held back with the first wave, and which Ukraine's SHORAD systems may be useless against. Once the Patriot/SAMP-T/Iris-T/NASAMs/Crotale, etc., start opening up on the cruise missiles, Russia will be watching as closely as possible, with a variety of methods, in order to try to identify the air defense positions. I'll get to those methods a little later.
It should be stated that there are certain positions Russia already knows are likely, and are prefigured into their search matrices. For instance, Mim-104 Patriot system is an extremely complex and large system, you can't just set it up anywhere, like in the middle of an apartment building courtyard or something like that. These systems not only require a lot of room but also, since they are much less mobile than drivable units like Gepards and such, they are preferably situated somewhere that doesn't have a lot of civilian 'eyes' in the area, so that no one films or rats them out, whether accidentally or not.
This leaves only a few real, solid choices where you can put such a system. And they are almost always put in airports, as an example. It comes as no surprise then that during the attacks on 5/16, word now has it that two of the Patriots were located at Zhuliany airport in Kiev and one at or near the Zoo, as per the following from Rybar:
About the destruction of the Patriot air defense system in Kyiv

Last night, the Russian Armed Forces destroyed at least one launcher of the Patriot anti-aircraft missile system in Kyiv. Rybar's team managed to establish the exact location of the anti-aircraft battery. In total, there were three launchers in the positional area at the Zhuliany airport, where the "Kinzal" hit.

Coordinates: 50.404161, 30.443186

Another place where the work of the Ukrainian air defense was noticed was the vicinity of the Kyiv zoo, where the fragments of the fired missiles fell. The complex itself worked in close proximity to the Kyiv Polytechnic University named after Sikorsky.

Coordinates: 50.452699, 30.459805

As for the airfield "Zhulyany", footage from the surveillance camera got into the Network. In the video, you can clearly see the launches of 32 missiles (a total of 16 for each launcher), as well as the work of barreled anti-aircraft artillery - apparently, the Patriots were covered by the Gepard.

After the ammunition load was used up, an explosion was heard: the Russian "Kinzal" managed to hit the positional area, despite "Patriots" and one "Gepard".

One was destroyed, the second was seriously damaged, but survived. The third launcher escaped damage.

Two installations stood side by side, and the third - behind the building. The Russian "Kinzal" flew between the installations, but closer to the first: there was a detonation of the fuel.

Pieces of the first installation and pieces of soil / asphalt riddled the second.

Why the third installation in Zhuliany was not involved and did not participate in repulsing the strike (or, at least, its launches were not caught on video) is a question to which we have no answer.

If you, your loved ones and relatives have information about the affected objects, enemy movements or any other sensitive information that can help our troops, feel free to write to our bot @rybar_feedback_bot.

We guarantee confidentiality.
I left in their request at the end, for anyone with information on the Patriot's destruction to 'come forward' confidentially, as that will play a role in later information that is being received.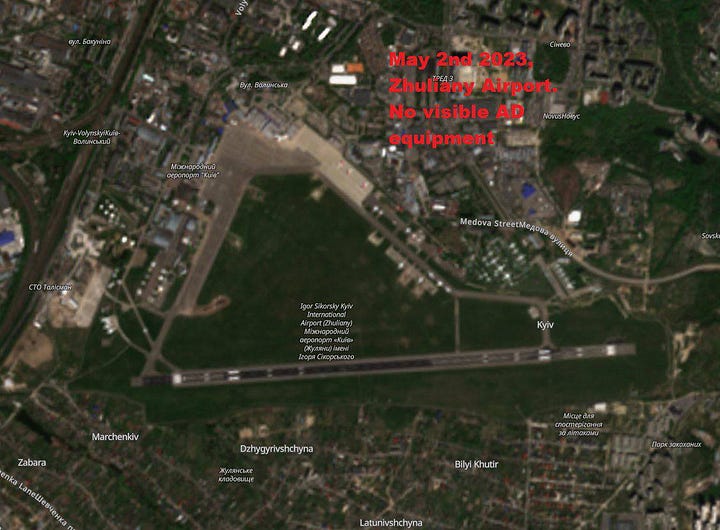 The above appears to confirm a large Patriot setup in the airport added between May 2nd and May 16th.
A quick primer on the system: the basic unit of a Patriot system is a 'battery' which is said to consist of up to 8 launchers. These launchers can have 4 missiles each, although there are newer ones with 8 and 16 missiles like that pictured below. Ukraine was said to have received 2 batteries of Patriots total, one from Germany and another from the U.S., but it is uncertain if they're both deployed in Kiev or even both deployed at all.
It's almost universally recognized now that the Patriot system fired 32 missiles in the videos seen on May 16. This corresponds to either a full battery of 8 launchers firing all 4 of their missiles (8 x 4 = 32), however there's now evidence that they in fact had two of the 16-count launchers, and fired off both of them, which I describe a little further below.
Next: how do we know for certain they were Patriots that fired that 32 missile salvo? Firstly, we know it's all one missile type as the salvo came from the same place on video, which appeared to be at least 2-3 separate launchers positioned relatively close to each other.
Secondly, the Patriot famously fires its missiles at an inclined angle as can be seen below:
The launches of the missiles are carried out on an inclined trajectory, which is due to the technical characteristics of the launcher. The launch angle of the rockets is fixed – 38° from the horizon line

Thirdly, launchers, as a rule, are placed compactly at the starting positions (in a row, square, semicircle, circle). This placement is again due to the TTX of the AN/MPQ-65 multifunctional radar, in which the tracking sector in the missile guidance mode is from +55 to -45 degrees in azimuth.

At the end of the video, after starting all the batteries, you can observe two consecutive explosions in the battery location area. Apparently, the defeat of the radar and KP, which are always placed together with the launcher, was carried out.

Therefore, the scenario of a night attack on Kiev looked like this: two waves of UAVs and "Calibers" caused a strike from the SAM battery, which, thus, discovered its location, where the "Kinzhal" arrived"
In the May 16 attack videos, you can see the missiles firing at exactly this roughly 45 degree angle:
Many other missile systems like Ukraine's Iris-T and S-300s for instance, fire straight up, and would be easily identifiable on video:
The other smoking gun of course is that now several apparently failed Patriot missiles have been recovered from the ground and have been identified as the variant which is fired from 16-count launchers: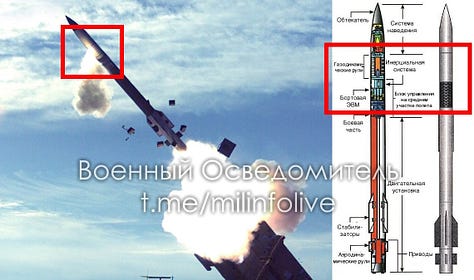 And also about "Patriot". On the use of the latest American anti-aircraft missiles by the Ukrainian
Armed Forces, footage with fragments of ammunition made it possible to accurately determine the type of missiles that the Ukrainian formations used that night: they turned out to be the American PAC-3 Cost Reduction Initiative (CRI), as indicated by the characteristic design elements.
These high-speed interceptors were first tested in 2011 and are used from 16-charge M902 launchers of the American MIM-104 Patriot complex. The remains of these items found on the streets of Kiev objectively confirm the transfer of the latest missile defense systems to the Ukrainian Armed Forces.
The delivery of these missiles, along with the transfer of other Western-made air defense systems, indicates the serious intentions of NATO countries to "close the sky" over the Ukrainian capital.
This brings up the next issue: a lot of the Patriot missiles appeared to fail. These fallen pieces are not 'discarded rocket stages' or anything like that, but the actual missile heads themselves. In fact, we have photo proof that several of them "failed" mid-flight and did the famous 'Patriot maneuver' caught long ago in Saudi Arabia:
Here's a variety of angles showing the Patriot missile infamously doing the death loop and hitting the ground near its own launcher:
And here are photos from the night of May 16th when at least 2 separate Patriot missiles looped their trajectory back down towards the ground: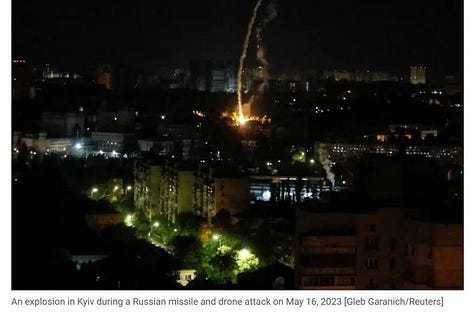 The Patriot appears to have some kind of critical problem with a very high failure rate. It's no surprise that the following findings were delivered to the U.S. Congress after the Gulf War:
One author:
To me it appears that: 32 Patriot missiles were fired by the patriot battery, of these 2 were catastrophic misfires that fell down almost immediately after launch, probably landing inside Kyiv, several others appears to be guidance failures that went off in random directions, and 1 failed to fire at all. It appears like the full load of 2 launch units with PAC-3 missiles…

Point defense, is the mode in which an anti air system defends it's own location, it is the optimal mode of engagement for an anti aircraft missile. If 32 attempts in the optimal mode for an anti aircraft missile fails, it should tell you that in area defense mode (defending targets in an area away from the launcher against targets not coming at the launcher) the system will perform far worse. 
Recall how in a recent article I highlighted the infamous event of 1991 when the Patriot failed to intercept an Iraqi Scud which hit an American base, killing 28 troops. They blamed that incident on a 'software failure' where the Patriot's radar failed to properly track the missile due to a bug. The fact is, when you add them all up, the Patriot has an absolutely catastrophic track record, arguably worse than the F-35 as far more lives count on the Patriot succeeding than any single F-35 craft.
In the Abqaiq–Khurais attack in Saudi Arabia the Patriot failed to stop any missiles, and again, excuses were manufactured:
The Houthis even managed to destroy an entire Patriot system:
One of the chief issues is the Patriot radar has huge blind spots as it's not a 360 radar, and can only function well amid a highly layered AD network, combined with other medium range and SHORAD options: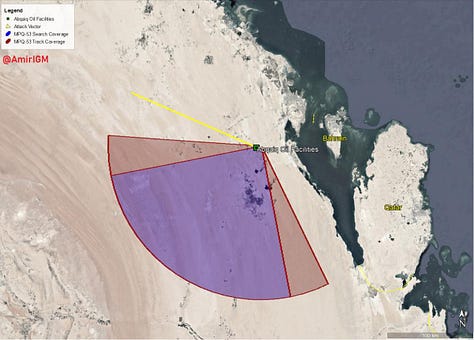 From PlutoniumGeneral:
MPQ 53/65 series radars has serious blind spot issues

Abaqiq attack scenario by Iran ,completely caught it off guard

You need 2 radars to cover 240 degree field of view and engage - Qatar setup with the newer 65 .

So far evidence of one system = 1 radar was Kiev (120 degree frontal cone view) now u you can see what problem it leads to when under attack from multiple direction

2 Kinzhall running from near opposite directions can pincer it = 100 % certain , no if

(dropped at about the same from air carriers )

https://missiledefenseadvocacy.org/defense-systems/anmpq-5365-radar/#:~:text=%5Biii%5D%20The%20radar%20can%20detect,range%20of%20over%20100%20km.

US and Kiev regimes made a serious gamble to put this system (designed to fail in limited numbers against peer foe ) into "very hot waters"

There is a new LTAMDS radar with 360 degree view but its side radar elements are much weaker performance compare to the main dish , and only entered service in 2022 . Even that wouldn't helped much against pincer HGV attack

https://www.militaryaerospace.com/sensors/article/14284931/radar-hypersonic-upgrades
Now that we've covered the rudiments of the Patriot, let's return to the attack. Apart from the Pentagon confirming at least a partial hit, and Russian MOD confirming full destruction, how do we know the Patriot was hit? This is only for those who haven't followed the events at all, but the following video shows the arrivals: Video Link.
This is a truncated version of a longer video which shows many Patriot missiles firing from that location. But at the 0:30 second mark you can see two massive hits land exactly where the missiles were firing from. After the first hit, you can even see what appears to be two random missiles shoot out, likely ammo cooking off and shooting away violently in the fashion we've seen many times before when Russian strikes have hit Ukrainian MLRS units, etc.
Some have even attempted to geolocate the camera location:
Not long after the strikes, at around the 1:30 mark you can see thick dark smoke rising in two separate spots exactly over where the launchers had been firing from, indicating the likely destruction of both launchers and/or radar systems.
A separate video was published from a different location where a shocked male voice is heard stating on camera that the explosions happened right where the AD was firing from, confirming that there appeared to be a direct hit.
I had mentioned that Russian MOD would have opened up the defenses with a sophisticated attack layered with decoys. They would have then monitored Kiev from a variety of observational platforms. This includes possibly drones, as Kiev AD would be very busy with the missile barrage, there could be drones with electronic suites (like Orlan-30s or Orions) somewhere north of Kiev, close enough to observe signal readings, IR signatures, etc. Recall, that just a week or two ago, Kiev shot down their own Bayraktar TB2 drone, which appeared to not even be identified or engaged until it was well over the central districts of the capital. There is good chance Russia could sneak in a drone to within 50km or less of Kiev from the north and allow observation. Particularly, this could be done with the new Orion drones as they have good thermal cameras and very high altitude that, with clear conditions, could allow them to observe from a very distant range of at least 50-100km. And there have been recent videos released showing that the Russian MOD has in fact been using these Orions in precisely this role. You can see in this recent video how MOD is using them precisely to watch cities from afar, with its superior IR optics.
Secondly, the monitoring can be done with satellites. Geostationary satellites which work on signals can possibly pick out radar signal locations, whereas low earth orbit (LEO) optical satellites can try to take images, including SARs radar readings of likely positions. This is trickier because these satellites take upwards of an hour or more to circle the globe though several of them can be chained together, depending on how many you have, to circle at brief intermittent periods. Russia has at least 4-5 electro-optical spy sats and other signals/SARs ones as well.
The final and most useful method is AWACs. A Russian A-50U can fly comfortably deep in Russia's border north of Kiev and still get a powerful reading from its rotodome radar. AWACs can have 400-600km+ range, though that's for higher flying objects. The Russian border is only 80km north of Kiev. A basic calculation for radar horizon from this site gives us the following figure:
The A-50U's service ceiling is 39,000ft. At this altitude, the AWACs radar can see or detect objects which are 1ft from the ground at a distance of up to 570km. Now, if this was a small plane, drone, etc., even though radar horizon allows it, the detection would likely not be possible, or at least difficult, due to the object's small size. However, since the Patriot's AN/MPQ-53/65 radar is a massively powerful emitter, it would glow like a nuclear explosion for the A-50U even at that distance. Like I said, the AWACs can fly just over the Russian border at 100-150km, and this would only be a fraction of its potential range. So in short, seeing powerful radar emissions from Kiev would not be a problem at all.
As can be seen by the rough chart above, the A-50U can detect something like an F-16 at 98 nautical miles or 180km. But this is a small RCS target it's detecting with its own radar waves. The Patriot battery would be giving off massive radar signals probably equivalent to several gigantic RCS bomber planes, if not more. This would give it the equivalent detection range of the absolute end of the spectrum.
Most likely, Russia utilizes all three of the previously stated methods to monitor Kiev during the attack. There are likely even other more obscure methods we don't know about, such as HUMINT on the ground assets, even hacking into Kiev street cameras or watching open source ones. There's truth to this as it was announced soon after the May 16th strikes that Kiev was ordering the closure of most of its street cameras. It is very likely that Russia also has some moles on the ground in standby mode, reporting locations of AD missile launches, not to mention communications interceptions (rather than radar wave/signal interceptions) from other airborne and satellite assets which could clue them in to the sites.
These methods all work in unison in identifying the location of the missile batteries. What comes next is the following:
Firstly, there could be Russian Sukhois armed with Kh-31P anti-radiation missiles which do have a range of 110km, and even 160km+ for the latest PK variant. They could safely fire these missiles from over the Russian border onto the most powerful radiating source which would be the Patriot's AN/MPQ-53/65 radars.
And then of course is the Kinzhal. If we take its alleged Mach 10 value, a Mig-31K / Tu-22M3, flying approximately 100-150km north of Kiev over the Russian border, could fire the Kinzhal and it would take a mere 90 seconds or so to arrive in Kiev.
This means that, using the above methods of monitoring, tracking, and observation, once the Russian MOD homes in on a Patriot battery / radar location, it can transfer the coordinates to the Mig-31Ks already in the air, and the Patriots would only have 90 seconds, which is no where near enough time for them to move or do anything to really save themselves.
So, on that note, let's break down the Kinzhal. There are many misconceptions floating around about hypersonic missiles in general, and I've been requested multiple times to treat the topic at length.
Let's begin with the basics on hypersonics. One thing that should be understood is that every rocket that leaves earth's orbit is 'hypersonic'. There is nothing inherently special about being 'hypersonic' in general. In space, there is no atmosphere or resistance and thus everything achieves hypersonic speed quite easily, so all ICBM's and space rockets carrying crews to space stations, etc., are all hypersonic when they enter space. The trick of hypersonic missiles is to do that within the constraints of earth's atmosphere.
Next, there are three primary types of hypersonic vehicles: the basic rocket-propelled variety like the Kinzhal and Iskander-M. These are the most basic solid state rocket motors with no moving parts. They are typically called ballistic missiles because they follow a ballistic missile arc, which has a specific trajectory like so:
In the above graphic you can see the next variety of hypersonics which is called HGV or hypersonic glide vehicles. These are ICBM rockets with a glide vehicle on top instead of a nuclear warhead. It accelerates into the atmosphere and releases the glide vehicle which has no motor whatsoever of its own. It's simply a streamlined 'wing' design that can use some subtle control surfaces to 'glide' to its target after it has achieved the rocket-propelled hypersonic speed. The Russian Avangard is said to be of this HGV type:
The final type is a hypersonic cruise missile which is an actual cruise missile with a liquid fuel engine rather than solid fuel rocket motor. Typically, for hypersonic speeds these engines must be ramjet or scramjet. These follow the basic, more flat cruise missile trajectories rather than tall ballistic arcs. The Russian 3M22 Zircon missile is said to be of this variety, and reportedly has a scramjet engine although no one knows for sure as it's highly classified and even videos of the missile launching have been pixelated/censored by Russian MOD in order to hide its true propulsion type. But it's 'imagined' to look like this:
Russia is the only country in the world that has all three types of hypersonics already deployed and in full service, while the U.S. has not a single one.
Now back to the Kinzhal:
First, to clear up a few misleading figures from the above graphics. The Kinzhal's range is not actually 1000km-3000km—that is the range when added to the ferry range of the actual missile carrier (Mig-31K or Tu-22M, etc.). The missile's own range is likely similar to the Iskander-M's 400-500km, though it could arguably be more due to the momentum advantage of being air launched and not having to expend all that fuel accelerating and getting up to altitude as the Iskander does.
The other important thing to note is that no one actually knows how fast the Kinzhal or any hypersonic weapons system goes at the point of terminal impact, however it is almost certainly not hypersonic at that point. Yes, you heard that right: no hypersonic weapon on earth actually impacts the target at hypersonic speed.
No where is it actually stated it hits the target at hypersonic speed; this is merely a misleading assumption that people make. In fact, the official description for most hypersonic vehicles like the Kinzhal is that it hits hypersonic velocity at burnout speed. Burnout speed typically means when its engines finish firing during the peak of its 'ballistic arc'.
People wrongly assume that the point of a hypersonic missile is "to hit the target at a hypersonic speed". That's actually not the main advantage. The real point of a hypersonic vehicle is to get to the target as fast as possible, and faster than any other conventional munition, which gives your enemy very little chance to react, such as trying to scramble or hide underground, etc.
The fact is, no manmade object can travel at hypersonic speeds at ground atmospheric levels. The atmosphere is way too thick and any object going such a speed would quickly heat up to astronomical levels and then vaporize. How do space rockets hit hypersonic speeds then, you ask? They accelerate very slow and don't actually cross the hypersonic threshold until they're basically already in space.
Most missile types like ballistic missiles and even air to air missiles fired by jets actually shoot up to a very high altitude for most of their cruise, and then come down only as they're nearing the target. The point is to fly where the atmosphere and air resistance is much thinner to get maximum fuel mileage and acceleration/speed. Cruise missiles are an exception as the exigencies of needing to be 'below the radar' require most of them to fly very low.
To my knowledge, there's only one known video of an object accelerating to hypersonic speeds roughly in atmospheric conditions. In the 60s, both the US and USSR had ABM (anti-ballistic missile) systems whose purpose was to accelerate at ungodly rates to protect their respective countries from the most existential of threats: nuclear MIRV re-entry vehicles.
The US created the Sprint missile which was supposed to have accelerated to Mach 10 in only 5 seconds, which you can see below:
As the RV (re-entry vehicles) would be traveling at about 5 miles per second (8,047 m/s; 26,400 ft/s; Mach 24), Sprint had to have phenomenal performance to achieve an interception in the few seconds before the RV reached its target.
Now here's where we begin to get to the meat of my argument:
Sprint accelerated at 100 g, reaching a speed of Mach 10 (12,300 km/h; 7,610 mph) in 5 seconds. Such a high velocity at relatively low altitudes created skin temperatures up to 6,200 °F (3,427 °C), requiring an ablative shield to dissipate the heat. The high temperature caused a plasma to form around the missile, requiring extremely powerful radio signals to reach it for guidance. The missile glowed bright white as it flew.
You might say, well the Sprint missile did it. But this missile is flying upward, out of the atmosphere. It may have reached hypersonic in 5 seconds, but at that point it would already be reaching very thin atmospheric levels. And on top of which, it was expected to have arrived at and intercepted the object roughly in that time span or a little more, so it was never designed to sustain that hypersonic pressure on its frame/skin for more than a short time.
If that same missile were to fly in a straight line near ground level, it would likely disintegrate in 10-30 seconds or less.
The second most important thing is that hypersonic vehicles, as noted above, generate a plasma shield around them. This has been by far the biggest reason behind the 'difficulty' of creating hypersonic weapons. To accelerate something hypersonically, especially with a basic rocket motor, is easy enough. The problem is then communicating with the object. The plasma shield completely negates all electromagnetic waves, making the object completely impermeable to waves which means you can't send it any signals to 'guide' it to a target.
Everyone here has likely heard about the infamous spacecraft reentry problem:
As you know, any NASA space capsule during reentry undergoes a completely 'radio blind' period where no communications are possible. This is precisely the reason why: the vehicle is going hypersonic speeds as it tries to decelerate down, and during this time a plasma bubble completely encompasses it, blocking all signals.
Many different exotic ideas have been tested to overcome this problem for missiles. For instance, they've tried creating a towing cable of sorts which hangs behind the vehicle, protruding through the 'plasma bubble', and acts as an antenna. Even more exotic methods included things like squirting jets of water at a certain point which 'opens up' a pathway for radio signals to get through the plasma. And also using magnetic interference to create some type of powerful magnetic field which can 'shape the plasma bubble' in a way as to create an opening in it.
No one knows which method Russia settled on and uses for the Kinzhal, it's all classified. However, the likely fact is that the Kinzhal, as well as the Iskander, simply are no longer hypersonic by the time they reach the target, which allows radio signals to give them mid-course correction to the target. The reason is, once they accelerate to their hypersonic 'burnout speed' at the top of the ballistic arc, everything after that begins to bleed speed. No one actually knows for certain, but it is likely that by the time of target impact they may be going somewhere in the range of Mach 3-5.
This is still very fast, but keeps them from the 'plasma field' problem. How do we know this? Well, there are some videos of Iskander impacts, and while Iskander is said to top out at Mach 6-7 at burnout speed, its impacts do not look hypersonic, though they do look much faster than any other conventional missile types.
Keep in mind, I'll be focusing on the Iskander in this section because of its close relation to the Kinzhal. The Kinzhal is 'said to be' based on the Iskander, to varying degrees. Some believe them to be completely identical, with the Kinzhal merely being an air-launched variant of the Iskander-M. So, studying the Iskander can likely give us the clearest insight into the Kinzhal's potential capabilities.
There is one video here showing a firing at a test range:
At the end of the video you see an impact. If the missile was going Mach 7+ you would likely not even see it on camera. With that said, what's interesting is that there is a slowed down version, which we can only assume is 60fps, and even out of 60 frames taken in only 1 second, the missile appears in only one frame. Someone much better at advanced mathematics than me can likely calculate that into some semblance of a speed.
By the way, as an interesting comparison, check this Iskander-K version of the R-500 cruise missile and its impact, which is a standard subsonic missile like a Kalibr:
But note how that missile can be clearly seen impacting even over the course of several frames. The R-500 is reportedly based on the 3M54/3M14 Kalibr and Kh-101 missiles, all of which have roughly Mach 0.8 subsonic terminal velocities. The earlier Iskander-M ballistic strike looks clearly several orders faster than this, just eyeballing I'd say at least 2-4 times faster. This would put the M at that Mach 3-5 zone I hypothesized. In fact, maybe with some crude math you can even say that, since the cruise missile appears in about 3 frames and the ballistic missile in only 1, then perhaps the ballistic is about 3 times faster at terminal impact phase. Since we know the R-500 goes about Mach 0.8, this would put the Iskander-M at nearing Mach ~3.
The other piece of evidence, and one of the only other Iskander strikes ever caught on video, was the infamous hit on a Kievan mall which was hiding some AFU MLRS systems:
https://twitter.com/i/status/1506260095675498503
In the video, you can see the Iskander come down in the typical ballistic arc, straight down, onto the target. It's very fast for a normal missile, however you can calculate the speed very crudely by estimating the height of the building and using a few other available parameters. I once calculated it as closely as I could and got something like Mach 1.5-2, though it could admittedly be more. This was based on using the height of the building from google maps, extrapolating the speed based on how fast the missile traverses the length of the building, etc.
What is interesting though is that this is a thermal camera footage and the missile does appear to glow white hot, though that's not out of the ordinary on a sensitive thermal camera.
However, this is backed by the fact that another non-thermal camera angle caught one frame of the missile coming in at night, and it appears to possibly be glowing hot even without the aid of IR: VIDEO.
The other interesting evidence in line with this is, from the previous test firing footage of the Iskander, if you pause the only frame on which the missile appears, you see the following:
Compare this to the missile going up:
It becomes immediately obvious that the missile looks charred. It's completely blackened at the front half of it. The white rings are erased, the green color is gone and is replaced with a tarnished, dull coal color or ashen metal look. Some in the West have questioned whether the Iskander/Kinzhal are even capable of truly going hypersonic at all, burnout or terminal phase. This is understandable, given the fact that the U.S.'s Iskander equivalent, the ATACMs, cannot even go hypersonic at all, maxing out at Mach 3+. But the clear degree of charred metal on the front of the missile there does infact indicate that it likely was hypersonic for a significant amount of time, heating up the skin to extreme temperatures.
With that said, crucially, it's not currently glowing at the time of the impact, which clearly indicates it no longer is hypersonic and has not been going so for quite a while, confirming all my statements on its velocity profile.
Compare it to the heating pattern on the front nose cone of the Sprint missile as it hits hypersonic:
But it still stands, there has never been a manmade object constructed that can withstand hypersonic at ground atmospheric levels, that I know of at least. It is possible that Russia cracked some type of magic formula of special cladding and ceramics, but it doesn't seem evident from the missile construction.
Furthermore, yesterday the Russian MOD themselves referred to the Kinzhal as a glide vehicle:
This is an interesting distinction because although it's not a traditional HGV as noted earlier, the fact is, the Iskander/Kinzhal does appear to have a profile where it reaches full 'burnout phase' during the ballistic arc, as I explained before, and then glides down to the target, with its engines no longer firing or providing thrust. This can in fact be seen even in the test video which I screenshotted: the Iskander-M does not appear to have firing engines as it hits the ground.
Why is that important? Because clearly, if it's no longer being propelled by thrust, and is merely a 'glider' after the zenith of its ballistic arc, then the hypersonic speed it reaches from that point on will be slowly bled little by little. This is likely naturally timed such that the missile is no longer creating a plasma shield or disintegrating itself, such that it's still going faster than anything else, but can receive course-correction data. This is why my best guess is these missiles actually impact at something like Mach 2-5 at the most.
Also, note that during the May 16 attack, on the night camera footage there was no "glowing objects" descending in the sky. If a Kinzhal was actually traveling Mach 5-7+ when it hit those Patriots, it would have streaked down like a meteor, glowing and throwing plasma. And yes, that means that those infamous videos purporting to show a Russian Kinzhal 'going hypersonic' are likely all fake:
https://twitter.com/Aguibou04/status/1656445629701267462
But there's one other important aspect not yet mentioned. A plasma bubble absorbs all electromagnetic signals, making the vehicle impervious to them. Guess what that means? That's right—a hypersonic vehicle is essentially 'stealth' and cannot be detected by radar. The radar waves are simply absorbed and ionized by the plasma bubble, and in fact there have been many long years of stealth research in this field.
So the point is that, apropos the argument of whether the Patriot can intercept the Kinzhal or even the Iskander, the fact is, these missiles are likely completely stealth to the Patriot radar for the majority of their ballistic arc. Once they hit the arc and go into 'glide mode' and begin slowing down, they slowly come out of stealth, but the problem is, at that point they are already likely over the target and only 15-30 seconds at most from impact, maybe less, and still going a very fast Mach 4-5 at the beginning of the slow down.
If we take the earlier example, that the Kinzhal is fired from across the border at around 100-150km from Kiev, let's assume that the top of the ballistic arc happens at roughly the midway point. That means roughly the remaining 50km or so could be spent on the downward trajectory of that arc, coming out of stealth. But even at Mach 4-5, 50km will be covered in about 28 seconds. It may begin blipping into radar screens at some point during this but it will leave very little time to react for all but the most finely honed/trained crews.
Secondly, the Iskander-M's famous feature, which presumably the Kinzhal inherits, is the ability to maneuver wildly during the terminal phase, as well as release decoys. The 9B899 designation decoys have previously been confirmed as having been found from several Iskander hits on Ukraine: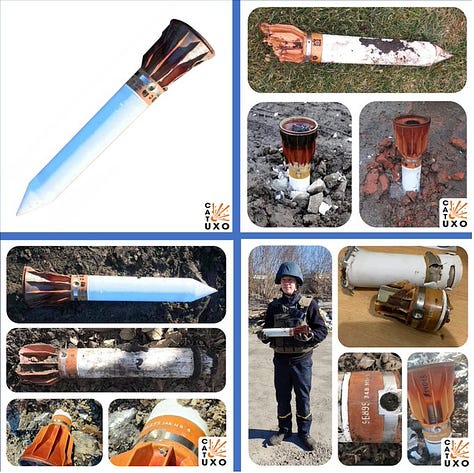 As you can see the bottom shot of the Iskander missile shows circular ports from which the 6 decoys likely release. The decoys themselves are said to be highly advanced, not only acting as anti-radar decoys but also have advanced electronics/jamming capabilities built into them.
Watch this segment below:
Not only do they have jammers but even burnout heat sources akin to flares to mislead IR guided missiles. There is very good chance that this sort of 'jamming' was responsible for the highly disproportionate amount of Patriot missiles going 'haywire' on May 16.
We've seen in previous videos that Russian advanced Kh-101 cruise missiles have made Ukrainian air defense go haywire in similar ways, as the Kh-101 too comes with electronic jamming capabilities.
Also, note that the Pac-2 Patriot missiles were blast fragmentation types, but Pac-3, which Ukraine is confirmed to have been using, is a completely different design than all previous Patriots. It's a "hit to kill" technology which means the missile attempts to directly impact the target rather than sprays it with shotgun-like buckshot from a slight distance.
The 'hit to kill' method is least believable to be able to intercept an Iskander/Kinzhal which specializes in terminal high-G evasive maneuvering as well as EW countermeasures. It's highly unlikely a hit-to-kill missile can track and impact a Kinzhal going potentially hypersonic (depending at which stage of its arc it's being intercepted) while wildly juking. That's like trying to hit a crazily wobbling bullet with another bullet.
By the way, the Iskander has some other special features unknown to most, including being highly re-targetable and a hidden optical guidance, which is likely only deployed at the terminal phase by popping off the front nose cone or a small porthole where a camera sensor can view from.
Targets can be located not only by satellite and aircraft but also by a conventional intelligence center, by an artillery observer, or from aerial photos scanned into a computer. The missiles can be re-targeted during flight in the case of engaging mobile targets.Another unique feature of Iskander-M is the optically guided warhead, which can also be controlled by encrypted radio transmission, including such as those from AWACS or UAV. The electro-optical guidance system provides a self-homing capability. The missile's on-board computer receives images of the target, then locks onto the target with its sight and descends towards it at supersonic speed.
Also, note the above: "descends at supersonic speed"—not hypersonic.
Like I said, this is for Iskander-M but we can only assume the similarities were ported over to the Kinzhal as well. After all, why wouldn't it? It's not like the Kinzhal suffers from a lack of space compared to the Iskander—if anything it should be the opposite. Given that the Kinzhal has the advantage of being air-launched, it would need less comparative fuel and internals to reach the same performance characteristics as the Iskander, which has to fight gravity to first get up to altitude/velocity, etc. This means the Kinzhal would hypothetically have even more internal space for special 'goodies'. After all, their dimensions are listed as almost identical: both 7.3m in height.
So, suppose the Kinzhal has the decoys as well. It's re-entering atmospheric conditions, slowly losing its plasma stealth as it glides down, giving the Patriot operators 20-30 seconds at most as it begins to blip on their screens. But suddenly it releases its 'penetration aids', i.e. decoy countermeasures and the screen fills up with numerous blips all over. The 'jamming' in fact also creates false returns and phantom missiles on the screen, which as others have noted, is very likely responsible for Kiev claiming they shot down numerous Kinzhals. They likely do think they actually shot them down but in fact their AD missiles were hunting the radar 'ghosts' that the Kinzhal released in the form of jamming countermeasures.
In fact, in today's statement Shoigu made an interesting admission when he said that Kiev claims "3 times more shoot downs" than actually occur. Zaluzhny has typically claimed they shoot down 70-80% of Russian missiles, here Shoigu appears to be implying they really do shoot down about 25%. However, he also specifically stated that Kiev 'shot down' more Kinzhals than Russia even fired. Kiev claims they shot down 6, Shoigu appears to be implying Russia really only launched 2-3 on May 16. Those 2-3 all seem to have impacted the Patriot sites as that's exactly the number of explosions and destroyed launchers that are being reported.
Shoigu commented on the destruction of the Patriot air defense system in Kiev:
1. The Russian Federation has not launched as many "Daggers" as they allegedly shoot down with their statements every time

2. The number of these "Ukrainian interceptions is three times more than we allow"

3. " And they always make mistakes with the type of missiles. That's why they don't get it"
On the 3rd point above, Shoigu appeared to have been referring to Ukraine not 'identifying' the missiles properly, which is why the missiles get through. It's hard to be certain but he may be referring to the decoy problem here, as he is implying their systems are basically mis-identifying missile types.
So what do we know about the actual results of the Kinzhal strikes? The Pentagon has now officially admitted to one Patriot being 'damaged', but they claim that it's reparable on site. They made this interesting admission:
So they admit that Russian signal gathering which I described earlier did in fact allow Russia to track the Patriot system and hit it.
Recall earlier how I mentioned that Rybar was collecting anonymous insider info from Ukraine regarding the attacks. It's impossible to say how accurate any of these 'insider' feeds are, but it's worth noting anyway:
#Inside

Our source in the OP said that the Patriot system was damaged, 2 Patriot Launching Station -3 and a Patriot Radar Set were destroyed. 5 soldiers were killed, of which two were foreign instructors, all Western air defense systems are supplied to Ukraine with technical personnel who help our specialists use the anti-aircraft system.

🇺🇸🇺🇦🇬🇧 According to unconfirmed reports, the Pentagon has banned Ukraine from using the MIM-104 Patriot air defense system until the American side receives all the information about the circumstances of the recent missile attack on the American air defense battery. Washington sent a special team to Ukraine to assess the state of the affected Patriot air defense system and the reasons for the destruction of the air defense battery by Russian missiles.
Another:
❗️According to reliable data, on May 16, as a result of a strike by the Kinzhal hypersonic missile system in Kiev, a multifunctional radar station was hit and completely destroyed, as well as 5 launchers of the PATRIOT anti-aircraft missile system manufactured by the USA - Russian Ministry of Defense
And now there's a rumor that NATO has launched urgent meetings because these strikes have just exposed the U.S./NATO's most powerful strategic defense systems, which bodes very badly for NATO's security. This is the first time in history that the U.S. now has absolute proof that Russian systems can penetrate the most advanced U.S. defenses. Recall, that reportedly Ukraine was armed with the latest Pac-3 missiles, not the older Pac-2s, etc. This has dire consequences for all European security as it proves that Russian missiles can now penetrate any NATO base in Poland and elsewhere with full impunity. In fact, these are the types of tectonic moments that create entire generational doctrinal shifts and change the calculus of defense postures entirely.
An urgent meeting was held in NATO on the state of the air defense/PRO systems that protect the main military bases and logistics hubs located on the soil of Poland and Slovakia

** Turkish well-informed sources note that the meeting was initiated after 🇷🇺 Russian H-47M2 "Kinzhal" hypersonic air-to-surface missiles penetrated the air defense/PRO zone of the city of 🇺🇦Kiev and regardless of the large number of interceptor missiles fired , destroyed the MIM-104(F) Patriot units that participated in combat operations.

📌 The atmosphere with the meetings was assessed as alarming, which led to a series of conclusions that foresee the immediate undertaking of specific measures, with the aim of further strengthening the capacities of PVO/PRO in these areas.
This should come as no surprise. Just a few months ago a Russian Kh-55 missile was reportedly found in far western Poland. These are the oldest, slow and highly non-stealth missiles which Russia typically rolls out as decoys, to screen for their newer and much more advanced Kh-101s.
If an ancient Kh-55 can bypass all NATO defenses, including the Patriot batteries and AEGIS Ashore that Poland is confirmed to have, then they definitely stand no chance at stopping the Kinzhal or similar.
Another unconfirmed report:
According to information from the General Staff, today our air defenses were forced to fire a salvo of 32 Patriot missiles in order to prevent detonation and massive destruction in the residential sector. The entire battery was destroyed by the arrival of a hypersonic missile, and the SBU is looking for the source of the video leak, which shows the launch of the missiles and the explosion. All information about the mass strike on Kyiv was launched specifically to explain the mass launch of missiles and not a single explosion in the sky.
This may be a low confidence report, but the second part is true. The SBU has launched an unprecedented campaign in the wake of these strikes to capture all people who were recording the arrivals. They've already captured half a dozen such bloggers:
This coupled with the fact that the SBU has already started taking offline all street cameras, desperately trying to keep any future arrivals from being recorded:
🇷🇺🚀🇺🇦In Ukraine, they want to ban the broadcast from webcams during rocket attacks - so that no one sees the arrivals and the work of the air defense.

The operation of street cameras installed everywhere can be regulated so that the enemy cannot use them to track the work of air defense. This was stated by the speaker of the Ukraine Air Force Yuri Ignat on the air of radio НВ.

"Such cameras work all over the world, broadcast online on Youtube channels. But in our situation, when there is martial law in the country, I think that certain adjustments will be made with the military administrations. When there is an air defense operation, when there is a threat of information leakage, I think that the bodies of military administrations will adjust in order to somehow prevent the enemy from being able to observe the combat operation of our air defense systems online," Ignat explained.

He said that it is also necessary to "work" with those private institutions and entrepreneurs who have also installed street cameras.
This appears to be a highly desperate and extreme tactic in the wake of what they claim is a successful series of shoot downs of all Kinzhals where the Patriot was not damaged at all. It clearly points to something having gone majorly wrong, as an escalation of this type is unprecedented, as they've never done that before after any of the previous, even larger strikes.
Lastly, if the 'leaks' are accurate and 2-3 Patriot launchers were destroyed, with possibly one radar, it still leaves another battery and a half operational, as Ukraine was said to receive two. However, if it's true that a radar was hit, that could be far more devastating as they're much more valuable and expensive.
In the recent Khmelnitsky strikes, Russia was said to have destroyed hundreds of millions of Patriot missile ammo as well, so the two events combined should be fairly devastating to the AFU, particularly given the prices involved:
There aren't that many of these systems nor missiles that U.S. can keep feeding to Ukraine. However, for now they've been covered with the announcement of a new delivery of Italian SAMP-T systems.
In the meantime though, we are entering the stage of late May which the Pentagon leaks marked as the latest, final period towards which Ukrainian AD ammo would last. S-300 and NASAMs were specifically marked as depleted by May 2023. So we'll see how well the new deliveries can shore up Ukrainian defenses.
On the other hand, Kinzhal was stated as being massively ramped up in production, at least 7x or more in number, so it remains to be seen if Russian usage of Kinzhal will now become a more commonplace occurrence.
As of this writing, another strike appears imminent as Russian Tu-95s have taken wing, and there are mass air alerts all over Ukraine, so let's see what happens next. This may very well be the clean up strikes to hit the remaining Patriot batteries.
For now, the West is left with goal-post-moving cope:
---
If you enjoyed the read, I would greatly appreciate if you subscribed to a monthly/yearly pledge to support my work, so that I may continue providing you with detailed, incisive reports like this one.
Alternatively, you can tip here: Tip Jar
---