Discover more from Simplicius's Garden of Knowledge
War strategies, geopolitical analysis, SitReps, and discussions.
Over 24,000 subscribers
The biggest news of the past few days was a revelation that Putin made to the visiting African delegation which was trying to mediate a peace talk between Russia and Ukraine, after some of them had just met Zelensky in Kiev.
For the first time, Putin revealed never-before-seen secret negotiation documents which were reportedly hashed out over the Istanbul peace talks which took place in late March of 2022. Many are professing surprise that Putin tied the proposed Istanbul accords to the Kiev withdrawal, but this was in fact reported at the time, for instance here on RT from a 3/29/22 article:
But we're going to unpack this in detail and also explain why I believe Putin was not entirely honest in his admission. First, here's the video of Putin addressing the African delegation:
And a big thanks to @mylordbebo for always providing the best and timeliest translations, go follow him on Twitter/Telegram.
So, the most important revelation were the actual copies shown of some of the pages which depicted the exact number of troops and arms that Kiev would be allowed to maintain as part of the ceasefire agreement:
The column of numbers on the left is what Kiev wanted to be able to maintain, the corresponding numbers to the right of Kiev's number is what Russia demanded each system to be brought down to.
The stated list is as follows:
Apparently, we are talking about a draft document, which includes the positions of Ukraine and Russia. Bold type indicates the number of troops and equipment defende(wanted to have) by Kiev, and italics - Moscow's version(demand how much military equipment Ukraine to have).

Russian offers, as a rule, are 2-3 times less. For example, Ukraine wanted 800 tanks, while Russia offers 342.

Ukraine wanted 2400 armored fighting vehicles, Russia - 1029.

Kiev also planned to keep 1900 artillery pieces, Moscow - 519.

In terms of personnel - Ukraine offered 250 thousand, Russia - 85 thousand people, not counting the National Guard(National Guard up to 15 000 people).

It follows from the passage that the parties did not agree on this issue.

But it is generally confirmed that Ukraine was ready to discuss with Russia the size of its armed forces. If, of course, this document is genuine(which it looks it is geniuine).

Ukraine has not yet confirmed its authenticity.

▪️ Tanks - 342

▪️ BBM(Armoured fighting vehicles ) - 1029

▪️ Artillery pieces - 519

▪️ Mortars - 147

▪️ MANPADS - 608

▪️ Combat support aircraft - 102

▪️ Number of combat troop(soldiers) up to 85,000 people

▪️ National Guard 15,000 people
In short: Russia demanded that Ukraine can only have a maximum of 85k combat troops total, a maximum of 342 tanks, etc. This is all obviously fairly small as Ukraine was said to have 2000-4000 tanks depending on how you count them.
As Putin stated, Kiev's representatives were said to have signed this document, however the going theory is that Boris Johnson at the time came to bring Zelensky his new marching orders which were to nix the deal.
And in fact, we have some evidence that this is the case. ArmchairWarlord has a good thread on it here which shows the following:
Warlord writes:
NATO seems to have promised Zelensky not just unlimited support but a war-winning superweapon to get him to denounce the agreement.

This led directly to the provision, starting in late April 2022, of vast quantities of Western precision weapons linked to the full glare of NATO's intelligence and surveillance apparatus. No other escalation in Western support has remotely approached this one in significance.

This explains why HIMARS - America's most dangerous surface-fired weapon and an enormous leap up the escalation ladder from the previous shoulder-fired missiles - arrived in Ukraine so early and when the AFU still had substantial rocket and missile forces remaining.
In short, he links the sudden failure of the Istanbul agreement to the immediate influx of mass amounts of the latest U.S. gear such as HIMARs. This seems to logically point to the fact that in exchange for nixing the agreement, Zelensky was secretly promised unlimited funding and military support as bait. Stuck between two paths of peace or the chance to go down in history as the one man who could do what Genghis Khan, Napoleon, and Hitler couldn't, Zelensky chose to put his faith in NATO's invincibility.
And, Ukrainian journalist Diana Panchenko confirmed what happened:
💥💥💥Ukrainian journalist Diana Panchenko about the Istanbul Peace Treaty last year: "I know for a fact that the war could have been stopped back in March. A man from Zelensky's inner circle told me: We simply ditched the Russians in March. He boasted about it... Friends, I know them all personally.

I appeal to Ukrainians. You are ruled by sociopaths. Who do not understand the consequences".💥💥💥
Also, someone mentioned that the title page of the draft agreement was dated not long after the Bucha massacre, which they suggested was likely responsible for Ukraine pulling out of the agreement. This suggests the possibility that some internal death squad of the SBU carried out the Bucha massacre on the orders of the CIA to deliberately scuttle the agreement.
But let's back up now and touch on why I think Putin was perhaps being slightly underhanded. Not in a malicious or devious way, per se. But I believe that Russia's withdrawal from Kiev was obviously not just part of some 'benevolent' agreement but was already a fait accompli. We know this because Putin has previously re-classified other such withdrawals in a positive light, most famously the 'goodwill gesture' of giving up Snake Island, which the Russian leadership pretended was part of their benevolent grain deal and Odessa corridor. In reality, Russia had gotten outfoxed in the Snake Island gambit—it's just a simple fact we can't ignore. They would have withdrawn from it anyway because it was indefensible. So, what better way to withdraw than to re-characterize the withdrawal in a positive light that makes it appear more a deliberate parlay than a strategic reorientation?
The fact is, the Russian MOD knew that the Kiev operation had become untenable due to the failure of the original objective and a complete military reorientation towards the Donbass was now essential to consolidate lines. They would have withdrawn anyway, so it was best to recolor the event in a different light for publicity's sake. Everyone does it; it's not really a surprise.
However, don't mistake my words. Russia wasn't "beaten" in or around Kiev. They simply knew that future advancement was unfavorable due to the force disparities and lack of Russian troop numbers at the time. But in terms of who was winning around Kiev, I've demonstrated before how we have ample evidence that Russia was quite handily dominating the AFU there at the time. One of those pieces of evidence is the fact that Russia had captured an unprecedented amounts of AFU literally several days before they withdrew.
For instance, check this video's date of March 26th and this one from March 22.
These were huge batches of something like 150-200 troops captured right on the outskirts of Kiev, where Russian forces were still dominating and advancing. At the time there was hardly anything but poorly trained territorial defense forces there.
Now check the date that Russia withdrew from Kiev:
So, they captured hundreds of troops on March 26th, then withdrew on April 2nd only days later. The fact is, the withdrawal had nothing to do with any sort of military defeat. Russia controlled the situation. The problem was, the Russian MOD simply saw that "controlling the situation" was just about all they could do there as they simply didn't have enough troops to make any greater progress such as totally encircling Kiev or outright taking it.
Thus, like I said, they would have withdrawn anyway for simple military reasons but Putin wisely flipped a lost situation into a potential political coup de grace by making it appear that Russia was offering a bountiful gift in exchange for their demands.
What I will say though about the revelations of Putin's meeting in general, is that it does cast an interesting new light on the thought processes inside the Kremlin and more importantly the MOD at that time. It seems plausible that Russia may have been much worse off than we thought, in terms of preparation and long-term economic potential for a major conflict. Because the confirmation that they actually considered putting an end to the entire SMO then and there could only mean to me that the Russian MOD did not think favorably or was not confident of continuing on.
The biggest unresolved question that would cinch the above hypothesis for me, is what territory, exactly, was part of the agreement. I haven't been able to find any definitive confirmation of this. One MSM article claims that Russia agreed to go back to its February 23 position. This would mean giving up all of Mariupol and the Crimean land bridge corridor that Russia had already captured by early March (not to mention Kherson). I would find it difficult to believe Putin would give that up. However, let's say that was in fact part of the deal, then it would confirm my above hypothesis that Russia felt itself to be in a pretty poor position militarily.
If, on the other hand, the deal would be to keep at least the taken corridor, then it's far more understandable, as the brief "SMO" incursion would have in fact garnered Russia a spectacular achievement in only a short week or two of fighting, since the Crimean landbridge is indispensable. But here's where it gets complex: on one hand I don't see how this would be possible given that they had 'surrounded' Mariupol but not captured it by that point. Thus to "keep the landbridge" would mean to own the territory around Mariupol while the city itself was Kiev-controlled—that would make no sense.
BUT, here's the kicker: Putin had just decreed the complete independence of both DPR and LPR the day before the SMO began. And Mariupol resides inside Donetsk People's Republic. So, judging by that, I can't possibly conceive how—according to the MSM—Russia was willing to "go back to pre-Feb 23 lines" when that would violate the constitutional decree Putin had just signed. It would mean that Russia had legally recognized the Donetsk People's Republic as a sovereign state, yet at the same time, an important city of that Republic was in fact occupied by an enemy regime.
I don't know how they planned to have resolved this issue and maybe we'll find out more information.
But the important point to remember from all that is the following: some will scoff and say that Putin was ready to sell out without accomplishing the SMO and all the other ballyhoo. But recall what I just said: Putin had already accomplished literally the most significant part of the entire SMO days before the SMO itself even began:
He gave full legal independence to Lugansk and Donetsk on February 21. Most people probably forgot about that little fact. This means that from this point on, in the eyes of the Russian constitution, not only would Lugansk/Donetsk be sovereign states with whom Russia can now sign any number of military/economic/civil agreements, but it also opened up the path to the eventual full annexation of these republics into Russia anyway, SMO or not.
The only big wrinkle in this is of course the fact that not all of the Lugansk/Donetsk territory was actually under the control of these republics, like the aforementioned Mariupol. But nevertheless, the fact that he gave them independence would have been more than worth it for the entirety of the brief SMO even if it had come to an end as per the Istanbul agreements. And obviously, Russia knew that Kiev's future provocations would have led to a renewal of hostilities later down the line anyway, and Russia would have later recaptured the remainder of LDPR territory, but it would have given the Russian military time to build up now that they saw what they were truly up against.
The last thing to say on this, is that on one hand some may bring up the possibility that, since Putin has now clearly demonstrated that he was willing to end the SMO by way of negotiation previously, that means the likelihood of him doing so in the near future to 'freeze the conflict' is therefore high. I would counter that thought with the fact that, ironically, Putin was actually using this exposé and documents as a deliberate and well-prepared refutation of the African delegation's peace proposals. So, in some ways, his presentation actually proved the opposite: that the Russian position is solidifying into one of indomitable commitment to staying the course.
Putin knew that the delegation was there to bring a peace offer, and so he deliberately prepared the most powerful rebuttal of that possible, which entailed the substantial maneuver of declassifying secret agreement documents all for the sake of very boldly declaring that Russia will not be signing anymore agreements because Kiev already broke the one Russia previously signed. And in fact, this is the main reason he used the Kiev withdrawal as 'goodwill gesture' ruse, to drive home the point more emphatically that Russia had already shown its most charitable hand and will not be falling for that 'trick' again.
Now, let us move onto the ongoing 'offensive'. Kiev made another major attempt to breach Russia's forward screening lines. Various frontline correspondents were apoplectic with reports last night that the assault was one of the most brutal defeats of AFU forces of the entire war thus far. Casualty figures are reportedly extremely high as Kiev's forces were thrown head-first into battle without much heavy armor support, this time apparently counting on their light armor to race across the gray zones.
They utilized some new tactics, like using smoke as well as the aforementioned. Of course, the Ukrainian side claims the push succeeded, as they did manage to capture the small hamlet of Piatykatki just on the outskirts of Lobkove, southwest of Orekhov.
But judging by the new flood of photos and videos it does seem like the reports of 'monstrous losses' are in the right ballpark. Most notable was a huge uptick in POW captures, more than any recent day (slight 18+ warning):
In fact, reports claim a total of 300 POWs were captured just yesterday alone, though a different report said 150.
Recently, there has been a mass surrender of militants in captivity in different directions. Not only in the zone of "that same offensive", where ours captured the marines from the 35th brigade, as well as several dozen soldiers and officers of the Armed Forces of Ukraine. In the Seversky sector, attack aircraft from the Edelweiss brigade decided to increase the chances of survival. Also in the Novobakhmutovka area, 20 militants laid down their arms. The main reasons for the rapid growth of the exchange fund are the use of Nazi methods by the Ukrainian command not only in relation to civilians, but also to their own soldiers. Especially, against the backdrop of huge losses in insane attempts to take the extra 100 meters in the gray zone.
And interestingly, it followed reports, once again, of mass desertions and mutinies, including one that stated that UA troops sabotaged their own Leopard tanks in order to get out of fighting:
💥🐽💥Ukrainian tank crews "cower" from counterattack by faking tank damage to avoid going into battle

Der Spiegel

The Ukrainian army tankers involved in the offensive of the Ukrainian armed forces in the Zaporizhzhya direction are using various tricks not to participate in the counterattack. They fake tank damage and do not want to engage Russian servicemen.

In a conversation with a German publication, the AFU tankers told about heavy losses of the Leopard tanks provided by Germany.

Here. I recognize the Khokhlovs. Their cunning is starting to show through their stupid bastard obedience to their master.💥🐽💥
No confirmation so take it with a grain of salt, but another report is even wilder:
📞 "... my brother was calling, a tanker on a Leopard. We are trying, he says, to break tanks. Sand is poured into the filter, it is driven backwards into the mine, and so on.

Quote:

🗣...Muscovites have gone crazy , they only see the leopards - they make fun of what they can. Arta(artillery), hails(Grad), lancets, drones. They only shoot a Leopard . T-62, T-80 are almost not touched . That's why guys don't want to ride them. On a leopard - a suicide bomber without options. They say that Muscovites have some kind of stupid money for leopards, they get into fights over who took the leopard. Therefore - well, fuck him, it's better to break it yourself...". 🇺🇦🤡🇩🇪
So, apparently Russian soldiers are Leopard-mad for those bonuses and are prioritizing Leopards over anything else, leading to it being very dangerous to be a Leopard crewman.
Another compilation of UA losses from Piatykatki:
Here's a detailed writeup on how the AFU began to utilize new tactics to try to advance:
Judging by the way the Armed Forces of Ukraine have been advancing in Zaporozhye and in the South-Donetsk direction for the past few days, the tactics of the ground forces of Ukraine have changed significantly.

If in the first days of the Armed Forces of Ukraine they actively created the illusion of a mass offensive with forces of more than a battalion, then at the moment only small platoon groups, up to 30-40 people maximum, are rushing into battle. This is especially noticeable in the battles in the triangle of Pyatikhatki - Stepovoye - Malye Shcherbaki. In this direction, the Armed Forces of Ukraine have the biggest losses at the moment.

A significant part of the heavy equipment, including Leopard tanks and Bradley infantry fighting vehicles, is assigned to the rear for regrouping, repair and, apparently, drawing up a new attack plan.

Significant losses of senior commanders, capable of daring breakthroughs to the front line, affect morale: among the mobilized Ukrainians, there are more and more refuseniks and "crossbows", as was already the case in Artyomovsk.

The history of field repair problems is repeating itself: it is almost impossible to quickly fix malfunctions of infantry fighting vehicles and tanks. There are practically no evacuation vehicles (BREM) - serviceable equipment arrives at the place of the damaged equipment, and the whole group is covered by artillery fire from the rear of the Surovikin Line.

Apparently, the Armed Forces of Ukraine received an order to protect foreign armored vehicles, so mobile groups on MaxxPro and Mastiff armored vehicles, unsuitable for frontal attacks, are increasingly being introduced into battle. Due to the imbalance in the use of light equipment, the losses of the Armed Forces of Ukraine over the past 72 hours have increased to 880-930 killed and wounded per day.

Territorial advance is zero. As soon as the Armed Forces of Ukraine occupy certain positions, the entire square is covered with artillery, and at night the positions are worked out by Ka-52 and Mi-28NM helicopters. After that, the Armed Forces of Ukraine roll back to their original positions without the opportunity to gain a foothold.

👉milchronicles
The report makes mention of some of the losses. Some reports claim upwards of 1000 total casualties, including KIA and wounded, with upwards of 200-300 total vehicles knocked out, of which 50-100 are tanks.
Dmitry Rogozin said this of the losses just from one small front:
ROGOZIN: "So that you understand how fierce and bloody the battle is on the Zaporozhye front, I inform you that in the positions of only one 9th motorized rifle company of the 70th regiment of the 42nd motorized rifle division of the 58th army, 27 enemy armored objects, including 4 Leopards, are burning out after a night battle. It is difficult to say how many soldiers of the Armed Forces of Ukraine who stormed the positions of this company died, or rather, it is difficult to calculate."
These may be from several days ago, but new videos showed Leopard 2A6 tanks not only being hit (as well as Bradleys) and retreating while on fire, but even a panicked 2A6 ramming into a burning vehicle then setting itself on fire as well. It's hard to tell whether that was intended, as the Leopard was afraid to go off the mine-ploughed track, or whether the NATO "training" (or lack thereof) is simply not up to par, and the tank crews operating these Western wunderwaffen are barely competent:
Above is a photo of a destroyed 2A6 Leopard whose cannon completely fell off.
The first close-up images of destroyed Bradleys were likewise seen: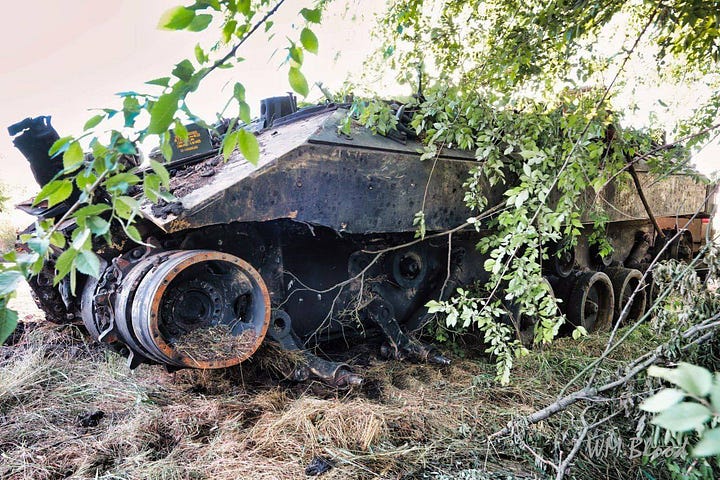 Remember the time when these 'prestige systems' looked so invincible? U.S. tried to sell them as unstoppable war machines which could even defeat any Russian tank, given that their "superior optics" would allow them to outrange the tanks, and the modern Bradley variants have TOW ATGMs. These things were the heroes of the Gulf War, as they were said to have destroyed more Iraqi armor than even Abrams tanks.
Now look at them. Exposed as the same old pathetic, overhyped junk.
On that note though, and speaking of the Gulf War, we do have the first internal footage showing the 47th brigade utilizing the famed nightvision optics of the Bradleys in one of the battles. Anyone who's followed Gulf War footage will be familiar with such sights:
Popular analyst Yuri Podolyaka, who was in attendance at the Putin press conference for correspondents, was uncharacteristically histrionic in his report of last night's assaults after claiming to have received sensitive data of AFU's losses:
Yuri Podolyaka:

The massacre near Orekhovo - even experienced officers did not see this.

What happened today near Orekhovo was a Slaughter!!!

One gets the impression that the NATO members put the Kiev regime on a very "hard stretch".

Time is limited (NATO summit July 11-12), goals have been set (victory in the Battle of Azov). The enemy (that is, we) is strong, but this should not become an obstacle to the implementation of the plans of Washington and London.

I received data on enemy losses near Orekhovo (without the right to publish). I think tomorrow or the day after tomorrow there will be new videos of damaged equipment that are terrible for the population of Ukraine. There is a lot of it there - dozens of units.

But the worst thing is not even that. The worst thing is the loss of personnel. The enemy could not even pull out the wounded from there.

And experienced officers (ours) are shocked by what they saw today. They have never seen such a massacre (according to them), and such a disregard for the life of their soldiers (on the part of the Armed Forces of Ukraine). And they said all this ... with respect for the courage of the enemy (soldiers, not command), capable of carrying out such an insane order.

P.S. It is a pity that only today many hundreds of essentially Russian (even Ukrainian) guys paid with their lives for British and American interests.

PP.S. And yes, ours have already restored their positions near Orekhov !!!
Another analyst had the following cogent thoughts:
"Watching the ongoing battle in Zaporozhye, you once again come to the conclusion that the enemy will break down when (primarily society) when losses in personnel reach a critical level. Funerals in every entrance of a multi-storey building, or on every street of a small village, all this at a constant, or better, at an increasing pace. Until this level is reached, the Ukrainian has a lot of cannon fodder, but right now he is moving by leaps and bounds to the point of war we want."
There's something interesting to note in that regard. Recently, some Ukrainian pundits have posted 'satellite photos' of cemeteries in Russia claiming to show large Russian losses. Banal stuff like this:
But the problem is, the cemetery crisis in Ukraine itself is so bad as to be unspeakable. I've reported a while back that people were literally being paid to take out corpses from the morgue and hold them in their homes for a set amount of time, because the morgues are simply overflowed with AFU. Now, there's been new confirmation of this from two separate angles.
Firstly, read this Ukrainian woman's note:
She says her grandmother died on June 10th, and the morgue refuses to take the body and properly treat it. Cemeteries deny burials as there are "not enough graves" for soldiers killed at the front, which have the priority on fresh cemetery plots. She's begging for help and doesn't know what to do.
Meanwhile, a letter from the Kharkov city council to a director of the Red Cross was leaked online:
The document states that at the moment the hospitals of the Kharkov region are ALREADY working beyond their capacity, however, in the near future, an EVEN BIGGER increase in casualties among the military and civilian population is expected in connection with the offensive actions of the Armed Forces of Ukraine.

The official begs to build a field hospital in Kharkov with the latest equipment and asks to send highly specialized medical specialists, including plastic surgeons.
And in relation to such vast losses, there's also been a reported new full mobilization announced in the Western regions of Ukraine:
🇺🇦⚡️General mobilization with the mobilization of all vehicles has been announced in the Ivano-Frankivsk region

▪️The military registration and enlistment office issued a decree on the mandatory appearance of all those liable for military service at the city recruitment center within 10 days.

▪️Also announced the mobilization of vehicles and a ban on changing the place of residence without the permission of the military commissar.

▪️All firms, organizations and citizens are instructed to ensure the delivery and transfer of vehicles and equipment on time, in volumes and at the addresses specified in the orders for the supply of equipment during mobilization, the decree published by the media says.
On the heels of this 'counter-offensive', another slew of MSM articles have continued conditioning people's expectations for a soft landing.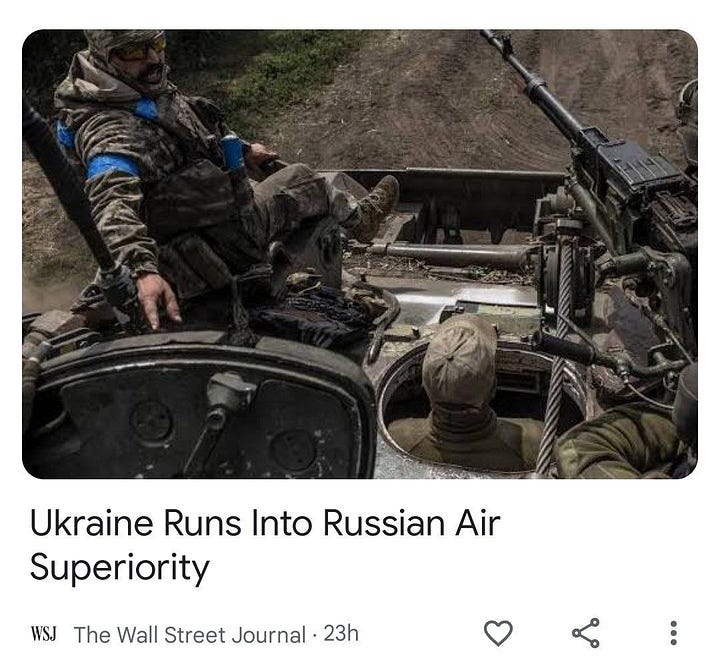 🇺🇦🇬🇧 "Prepare for Ukraine's counter-offensive to falter", - writes Richard Kemp for the Daily Telegraph (https://www.telegraph.co.uk/news/2023/06/17/prepare-for-kyivs-counter-offensive-to-falter/)

"NATO needs to brace itself for the prospect of Ukraine's counteroffensive failing to achieve major success. Indeed, so far, Kiev has attained only limited gains. But those who expected a lightning breakthrough were always going to be disappointed. This is not German panzers against Polish horse cavalry, nor is it American shock and awe against demoralised Iraqi forces in antiquated tanks with no air cover".
The new narrative continually being reworked is that Russian Ka-52s are decimating Ukraine's armor and that Ukraine's lack of air cover is unsustainable in light of having any offensive success.
This, of course, is simply going to be pushed into the next agenda of providing the F-16 wunderwaffe as the panacea to buoy sagging Western support for the next arc of the year. Eurocrats and their slavering constituency will simply be reprogrammed into believing that airpower is all that Ukraine lacks in achieving victory.
It will be complemented with the recent announcement that Biden intends to supply ATACMs in an upcoming arms tranche.
But as others have calculated, at $1.5M per missile, the $80M procurement would buy about 50 missiles. Will that be a 'game changer?' The U.S. itself reportedly only owns about 500 of the missiles, as ~1,500 or so were ever built in total, and those for many foreign customers. And the U.S. can only build a tiny amount of these per year, likely not even 100 at the most. If anything, the ATACMS would likely be a one-time use mass surprise attack on the Kerch to try to disable it.
Personally, I consider regular HIMARs missiles to be bigger threats because of their saturating factor and much smaller and harder to detect profile. The same thing goes for the Storm Shadow, which continues to cause some problems for Russia, at least if Ukrainian reports are true.
A new alleged Storm Shadow strike on a Kherson railway juncture at Rykove where Russia was said to have stored arms for the Zaporozhye frontline reportedly leveled the entire railway by blowing a mass amount of ammo. This one, unfortunately, is hard to refute. The alleged before and after photos:
The explosion was reportedly so massive it blew apart several of the buildings seen there, adjacent to the railway.
I said previously why Storm Shadow could be a much bigger threat than JDAMs, which require the planes to 'loft' to high altitudes and expose themselves to Russian AD. Since the SS has its own propulsion it can be fired from relatively low altitudes without putting Ukrainian jets in harm's way.
The bigger question is why Russia is having trouble with them—provided that it's even true that Storm Shadows have been responsible for a string of recent hits. You never know with AFU as they lie in a large amount of cases. One clue is this thread which shows the low radar cross section of the SS missiles:
Seen from the front angle, which is likely where radars would be viewing it, the missile would have very low RCS not to mention low altitude flight which, by virtue of radar horizons, would make it undetectable until it's fairly close to target.
Of course, Russia still claims to be shooting them down regularly, but some appear to slip through. Ukraine on the other hand claims the following:
The Ukrainian Defence Minister, Oleksii Reznikov, has said of missile: "I can say that of the total number of Storm Shadow launches that have taken place, all 100% have reached the targets determined by the General Staff 100 out of 100, absolutely impeccable."
But, we can also infer for a fact that Ukraine is only able to pick out certain unprotected areas here and there, so this lets us know that the missiles can only targets where AD coverage is sparse. One of the ways we know that is, at Berdyansk in the same region as this very hit, I recently posted how Russia has setup a huge forward base of attack helicopters that are decimating Ukrainian armor on the Zapo front. We know this airfield is likely well protected by AD. So, if the Storm Shadows were as impeccable as Reznikov claims, Ukraine would have already long obliterated these choppers which are savaging their offensive.
Instead, they focus on small backwater areas where AD is stretched to cover certain logistic points perhaps not deemed super critical for extended coverage. With that said, according to this report they're planning on changing that:
🇺🇸🇬🇧🇺🇦💥 NATO is preparing a missile attack on our aviation bases with the hands of the Armed Forces of Ukraine

The Ukrainian TG channel Resident writes, citing a source in Zelensky's office, that the General Staff of the Armed Forces of Ukraine, together with British intelligence MI6, is preparing a series of Storm Shadow missile attacks on military airfields where Russian helicopters are located, effectively destroying the Nazis.

Actually, what was required to prove.

The day before, I wrote that American satellites are monitoring our attack helicopters at the Berdyansk airport and there is no doubt that all available target designations have been transferred to the militants of the Armed Forces of Ukraine.

They are looking for approaches to our air defense, waiting for the most convenient moment for themselves, when most of the Russian aviation equipment will be concentrated in one place.

Vladimir Rogov
But, as you can see, the fact that they have to really plan it out and take their time means that they know the Storm Shadows can't just penetrate the AD there willy-nilly.
Now, onto other things. We spoke recently about how Zelensky may be left with no choice but to create some kind of falseflag of a severity that could somehow activate NATO. Here, in a new NBC interview, he in fact appears to telegraph his intentions with the usual oldhat tactic of pre-blaming Russia for 'blowing up the ZNPP' plant:
Others have mentioned that he looks positively unhinged in the clips. And just for reference's sake, here's another photo that's been released showing the reservoir currently:
This is apparently looking from Berislav on the Ukrainian side toward the town of Kakhovka itself:
And another even more detailed satellite photo:
One thing to note is that presumably Zelensky would keep that as a last resort after giving the offensive a full college try. Also, he would likely use the ZNPP destruction to potentially blackmail NATO as well. Once the offensive has gone off the rails completely and it's determined there is no chance left, then Zelensky may begin signaling to his masters that if they don't offer all the things he wants, such as NATO guarantees, F-16s, much more tanks, etc., then he may blow the ZNPP to force NATO to act. Of course, he would signal this in the practiced way, as these things are usually done, with subtle hints. In fact, the interview I posted above could be one of them, though the tone towards his masters is not accusatory or derisive enough yet for it to be the full monty that I'm expecting. But we may get to that point in the near future, judging by the level of losses UA is sustaining recently.
The truth is, the ZNPP may be Zelensky's final and only card left to play once his army is destroyed to the point of combat ineffectiveness. The chorus from the West will likely rise to slowly usher him into accepting a ceasefire with Russia. It's at that point he will become most dangerous and will "risk it all"—that's when we should worry about the ZNPP.
But we may still be a month or two away from such a point, if not more, depending on how aggressively Kiev continues to use its troops to "probe" Russia's lines (and incur massive losses).
And on that topic of NATO possibly being activated. We spoke last time about NATO's decision to increase its rapid response force from 40k to 300k. Now, there are persistent rumors that strange things are afoot in the U.S. as people all over the country claim to be witnessing 'mass amounts' of military gear being moved throughout many states/regions. I managed to compile a video of all the clips people are releasing, though there are even more than this:
Not only many different types of vehicles (Strykers, Humvees, artillery, etc.) but B-2 Spirits flying around:
In the US, there is a massive movement of equipment.

Something is happening in the US. B-2 Spirit bombers have been sighted over Minnesota, and military sources say missile defense systems are moving to positions on the US West Coast.

Americans! What's your take on this?

"US citizens are concerned about unusual military activity that's been reported in 26 states.

The Secretary of Defense added to these concerns by stating that these were not training activities."

💥🇺🇸💥Something is happening in the US. B-2 Spirit bombers have been sighted over Minnesota, and military sources say missile defense systems are moving to positions on the US West Coast.💥💥💥
Here's another one:
And another in San Diego:
According to news reports, military transport movements are being seen in 27 US states, with large numbers of tanks, helicopters and drones.

While in 15 states, internet is also reported to be closed or slow.

Rumors are there are some claims that it's just exercises, but the question is, why is the internet disturbing ?

Some claims are, these military moves related to conflict with Russia.

Air defense systems also seen

Is it only for exercisees?
This is all reportedly inside the U.S. Could it all be normal movements or some type of Army exercises? Could be, but it's worth keeping an eye on.
Now, for some sundry updates:
Firstly, on the saga of Budanov and Zaluzhny. A slew of new [unconfirmed] reports have raised increasing suspicion towards Budanov being truly incapacitated in some way, or even dead.
There were a series of reports going around on Twitter and Telegram that the second largest German magazine, Stern, claimed that Budanov was in a coma.
Budanov in a coma reports the German edition of Stern

According to the publication, they managed to communicate with doctors from the hospital where Budanov was delivered on condition of anonymity. According to them, the head of Ukrainian intelligence has brain damage as a result of a head injury. The outlook is bleak.

Probably, Budanova was covered with debris of the wall, as a result of a strike by the Russian Aerospace Forces on the GUR building in Kiev on May 29, 2023.

Ukraine denies the fact that Budanov was wounded, but no one saw him after May 29.
However, luckily for my readers, I actually attempt to do due diligence in verifying reports, unlike the vast majority of 'analysts'. And having done so, it turns out Stern has issued a refutation that they never published such a report.
But there are further reports:
"Employees of a military hospital in the Berlin district of Mitte, where the head of Ukrainian intelligence Kirill Budanov may be, did not discuss this information with a RIA Novosti correspondent and forbade filming the building."

❗️Head of the Main Intelligence Directorate of Ukraine Kirill Budanov died without regaining consciousness.

This was stated by Ukrainian politician Ilya Kiva (Former People's Deputy of Ukraine), who, according to him, received this information from the Ukrainian embassy in Germany.
And Putin himself added fuel to the speculation fire about Zaluzhny, cryptically intimating that Zaluzhny is in fact 'not in the country':
Given that Putin previously confirmed that the strike on GUR headquarters was one of Russia's 'red-line-crossing' punishments, here is some information regarding a new strike last night, which was said to have hit another 'decision making center' in the north of Kiev:
The attack on the decision-making centers was inflicted on the military headquarters several kilometers north of Kyiv - Readovka source in the Ministry of Defense of the Russian Federation

According to a Readovka source on Frunzenskaya Embankment, the attack on decision-making centers, which the Russian Defense Ministry announced today, was carried out several kilometers north of Kiev. The military headquarters of the Ukrainian Armed Forces was located there - at the time of the strike, high-ranking employees of the Armed Forces of Ukraine and the Main Intelligence Directorate of Ukraine were in it.

Note that the Ukrainians themselves did not comment on the defeat of their military headquarters. Apparently, the commotion in the Ukrainian media is connected with this after the statements of the press secretary of the President of South Africa, who said that, being in Kiev the day before, he did not see or hear the explosions. At the same time, nothing was reported in the media controlled by the Zelensky regime that the strike was actually delivered in the vicinity of the Ukrainian capital.
And speaking of Putin, I wanted to add something to the last report's analysis of the correspondent roundtable. I've now finished watching the full two hour meeting and there are two particular things that struck me.
The first, is that I realized one of the most critical points (for me personally, the most critical) of the entire talk was misunderstood/misinterpreted by most due to slightly faulty translations.
In regard to the issue of what comes next after Ukraine's 'counter-offensive', the translations made it sound like Putin waffled and said "we have plans of a different nature", which was strange and sort of nonsensical. But in fact, I realized that's not what he said. What he in fact said made a world of difference, and now makes me more clearly understand Russia's future plans.
What he actually said was along the lines of "we have plans of a different character depending on [how Ukraine's offensive goes]." What he means by this is clearly that the Russian MOD has designed various contingencies based on the options I've previously outlined; such as: whether Ukraine ends up over-committing and getting a large part of their combat potential destroyed, or whether they turn coy and 'turtle up' to try to freeze things into a positional stalemate.
This is along the lines of what I said last time, but this new understanding simply confirms it for me and now gives me the confidence to truly believe unequivocally that Russia is employing a strategy of 'exploitation'. Rather than an inelastic, rock-like strategy of simply chipping away in one direction no matter what happens, Russian MOD instead intends to 'exploit' whichever weakness Ukraine gives them. In short: the Russian MOD is utilizing Sun Tzu tactics like "never interrupt your opponent when he's making a mistake." The Russian MOD will allow the AFU to stumble into a blunder, and then will exploit it with devastating potential.
Next, on a more downer note, there was one new segment towards the end which was a little eye-opening for me. Here, Putin was asked about the West's ISR overmatch that we've so often talked about here. His response left a little to be desired, in my view. He admitted to the West's advantage, but with a sort of shrug proudly said that Russia currently fields the 5th largest space asset fleet in the world. Sorry, but I think I speak for most people when I say that's not good enough. The country which was the #1 space superpower in history should not be relegated to the #5 spot, and its leader should not be 'proud' of this fact.
In fact, Russia's space program of the last two decades has in some ways been an outright disgrace. Many have blamed the putatively 'incompetent' Rogozin, who famously spent his time engaging in puerile Twitter trolling against Musk rather than building up Russia's space potential. Some may not know this, but in the first decade or so of the 21st century, Russia dominated commercial space flight and total space launches:
But particularly after Space-X came on the scene, the U.S. and other countries ate Russia's lunch:
Russia had something like 40-50% of global market share, and was pushed down somewhere into the teens. As it stands, Russia's space industry appears to lack vision and real leadership, and I would say a major part of that falls on Putin for not energizing it with any goals in the same way Kennedy once did for the U.S. Where's Putin's version of this:
We choose to go to the Moon in this decade and do the other things, not because they are easy, but because they are hard; because that goal will serve to organize and measure the best of our energies and skills, because that challenge is one that we are willing to accept, one we are unwilling to postpone, and one we intend to win, and the others, too.
Anyway, the point is in the roundtable, Putin made another—to me—devastating revelation. He admitted that no one in Russia foresaw any of the precipitant events and as such, no one thought to prepare Russia's space industry and ISR capabilities. For obvious reasons this is an outrageous admission. It means that all those years since the events of 2014, when anyone with a brain knew things were heading towards a headlong clash with NATO, no one in the Russian general staff thought to bring the C4ISR capabilities up to snuff, and Russia in fact found itself caught with its pants down by NATO's vast ISR overmatch.
Watch and judge for yourself, and if you believe my interpretation is perhaps off, then let me know in the comments. In fact, I wish it were wrong because this does not give one optimism about some of those 'parquet generals' running Russia's MOD:
Look at the lady's face when Putin says brightly, "We're #5 in space." Even she's clearly unimpressed, and perhaps a tinge horrified, causing her to respond with, "Well, uh…we're up against the #1 guys."
But, this wretched tale does have somewhat of an optimistic ending. Not only have I repeatedly reported on an unprecedented amount of satellites being launched by Russia since last year, but there is even now rumor that Russia plans to build a whole new plant for mass-producing satellites to pump them out like never before:
А new plant for the mass production of space satellites will be built in Russia.

Since 1957, each satellite has been assembled by hand; there has never been a serial production. But now there is a need not only for scientific or military, but also for commercial launches. The request is massive, so it is necessary to automate all processes.

In total, all Russian enterprises produce 15 satellites a year, given some modernization, this number can be increased to 42, but Roscosmos says that demand is much higher. The medium-term goal is to collect one satellite per day.

Now a site is being selected, the first plant will be built either in the Moscow Region or in the Krasnoyarsk Territory. 🇷🇺⚜
So, the future is bright and the SMO has certainly served as a massive wake up call and cleansing of the Russian administrative system. But, when all is said and done, one day after the SMO there needs to be a huge reckoning for all the top bureaucratic brass and corrupt parquet traitors who pilfered Russia for years through the 2000-2020 period, lying about 'advancements' while in fact being responsible for huge stagnation in certain choice sectors.
Maybe Putin himself was responsible for some of it, I don't know. But in the end he's only one man. There are many other pressing exigencies he was knee-deep in handling. There are plenty of other subordinates to whom such tasks are delegated that likely reported yearly 'progress' to him in a not-so-honest fashion.
But on the topic of Putin cleaning things out, here's a couple other reports from the front, this time from Vostok commander Khodakovsky. First he says that the shell 'shortage' appears to have been overcome for now:
Khodakovsky: "The situation with shells is stable and positive - there is no shortage. Still, our main enemy is the range: in the future, we will have to take this into account and "lengthen". The number of people in general is sufficient - in some places there is a lack of motivation. Volunteers - personnel - conscripted-the motivation scale is roughly arranged in this order. But motivation is not the business of political deputies, it is the business of the whole country."
Then, about Putin's commitment to frontline info-gathering:
Khodakovsky: As far as I was able to verify, the president has created an effective system for monitoring what is happening on the LBS. Some channels write: the president does not like negative reports and those who make them, moves away from themselves and stops listening to their opinion... Military officers who were present at the meeting with Vladimir Putin had the opportunity to understand how much he was immersed in the process. He is not at all satisfied with official reports, but he can even call the brigade commander, if it is on an acute site, to understand the situation.

Of course, few military leaders want to attract suspicion of incompetence with their complaints, and there is always the possibility that they will embellish the situation - but I know experienced generals who were commissioned by the president to conduct an audit of the military situation and our combat readiness. Such generals, as a rule, are not included in the pool and have the right to report directly, and regularly use this right. So you don't need to imagine the country's leader as an ostrich with his head in the sand - he is well aware of all the military circumstances.
And this is coming from a guy who's often pessimistic or has been labeled a 'doomer'.
A few last random points. Firstly, rumor that Wagner's 'vacation' may in fact be cut short:
Information comes from various sources that the Wagner PMC will not wait until August 5 (the deadline announced by Yevgeny Prigozhin during a trip to Ulyanovsk), and will appear somewhere in mid-July in a new direction. Most likely, it will be Zaporozhye
An uncanny story about how GPS beacons were allegedly found secretly sewn into AFU soldiers' uniforms so that their 'compatriots' can strike their place of capture, should they be taken prisoner:
According to belarusian_silovik, "GPS beacons are reported to have been found on captured AFU soldiers near Pyatikhatki today." Another war correspondent,  Синяя Z Борода claims: "There are reports that the AFU command hangs GPS beacons on their servicemen to be sent for slaughter in order to strike at their place of confinement when captured. Those on the prisoners taken today near Pyatikhatki were found in time", he adds. Join Slavyangrad chat. Your opinion matters.
That's right up there with confirmed reports we've seen of such things as AFU being welded shut in tanks so they cannot run away.
Also, last time I reported the photo of 'Syrian troops' possibly in the ranks of Russian VDV. I followed up and found an update from one of the Syrian war Osint guys:
So, the 25th, aka the famed 'Tiger Forces', have been in Russia since early June, partaking in airborne military training that will last two months. Here they are:
So, the photos posted by the 76th boys are probably from that training, not of frontline combat. Not to toot my own horn, but this is one of those circumstances where I have to say that this is what separates my reports from the other guys: I actually follow up and bring the facts. I say this because I got a headache from the amount of drivel I saw spewed online over this one specific issue, with analysts and OSINT accounts just posting random information with zero sourcing. This just underscores the point I made long ago, that the reason I give people for inviting them to read my reports is that when I print something, it's typically cross-referenced and triangulated so you can be sure of actual honesty, quality, and adherence to facts. I print plenty speculative things too, but in that case I openly preface with a caveat, then try to follow up later on when there's more info.
A few last small things. We spoke about Russia's advanced ISDM Zemledeliye minelayer which was credited with blunting Ukraine's offensive in the Orekhov direction. But here's another interesting look at the much less advanced systems Russian forces utilize as well. Two separate videos here show a couple ad hoc jury-rigged minelayers being used in Zaporozhye, as the ISDM is not very widely available:
Of course, these things appear to have a range of only a couple hundred meters whereas the ISDM can launch the mines over 10 kilometers.
Lastly, I mentioned last time how most people aren't aware that Russian soldiers get a base pay of around 200k Rubles per month. Given that the average salary in Russia outside of Moscow ranges from something like 30-70k Rubles per month, this salary would be the equivalent of U.S. grunt soldiers making over $150-300k a year.
And as confirmation, I happened to see this video today, of a joke told by a Russian soldier, which I'll leave you with:
---
If you enjoyed the read, I would greatly appreciate if you subscribed to a monthly/yearly pledge to support my work, so that I may continue providing you with detailed, incisive reports like this one.
Alternatively, you can tip here: Tip Jar
---