Discover more from Simplicius's Garden of Knowledge
War strategies, geopolitical analysis, SitReps, and discussions.
Over 24,000 subscribers
US/NATO ISR Addendum: Deep Dive Into The Delta Leaks
A detailed overview of how NATO's integrated C4ISR really works in Ukraine.
In two previous articles I've mentioned not only the overwhelming C4ISR that the West commands in Ukraine, but also specifically the series of leaks which corroborated this, and gave us the insight into how their systems actually operate, and to what granularity they are transmitting the essential data to on-the-ground Ukrainian forces.
So let's take a small deep-dive into exactly what type of information they're providing just so that you can get a general picture of:
1. Why Ukraine has been so 'successful' at times, for instance in certain abilities to ambush Russian forces, or effect 'withdrawals' like the 'grand Kharkov counter-offensive' of last September.
2. Why Russia is forced to fight in a very 'smoke-like' fashion, never committing too-large of a force anywhere.
3. How the remnants of the Ukrainian airforce are able to survive this long by evading Russian counter-strikes, and vice versa—how the Russian airforce must remain quite limited in its operations.
Delta Program
So what is the Delta program? In the previous articles I've outlined several of the main Ukrainian networking systems in use, from the GIS Art, Nettle, and Delta, some of which are homegrown, the others developed mutually in tandem with NATO.
So, as a brief general primer—what do these programs do exactly? In short, they allow the full network integration of the battlefield, providing digital maps of Ukraine with all active Ukrainian units, Russian units, etc., in real time. They are then able to digitally and instantly distribute targeting coordination data to the best positioned units (artillery, etc) to attack a given target.
Further, with the addition of Starlink, it allows command centers to distribute live, real-time drone camera feeds to any other positions in a way that even most Russian units do not have.
In practice this means the following:
Let's take the Bakhmut theater as an example. A frontline Ukrainian drone unit in the southeast of Bakhmut can put up his drone and get a clear view of Wagner positions further to the east. His Starlink then sends that video feed in real time to a command center which distributes it to an artillery system that may be 20km away in the west, near Kramatorsk; i.e. in the 'rear lines' of Bakhmut.
Here's one video, as an example, that shows exactly such a HQ distribution center in Bakhmut itself:
You can see dozens of screens here linking the live-views from drones in various sectors around Bakhmut. Here they can redistribute these feeds as needed to sector artillery guns and other units via Starlink.
So, for the laymen, what advantage does this have? Very simple: typically, a standard unit will put up a drone in the sky, then give rough grid coordinates to the artillery unit by way of radio. As the artillery shoots off some rounds (perhaps in 'bracketing fashion'), the drone operator will simply give corrections over the radio, in a crude fashion like, "A few clicks to the left, five degrees to the north," etc. This method is all right, but far less effective compared to the integrated version.
With Starlink instead, the artillery unit based all the way in Kramatorsk many kilometers away will have an exact, live video feed of their own strikes in the Bakhmut theater. They will fire off, and literally see their strikes via the drone footage and be able to correct them instantly, on the fly, with their own visual perception, without having to listen to the vague and possibly inaccurate radio instructions of someone telling you "a little more to the right".
Now, Russia does have systems of their own as I've also outlined in the previous, more comprehensive article. However, they are not in full, total adoption and widespread use yet, and some lower, non-elite units still use the most basic, slower forms of artillery correction.
For those interested, here's one example of a Russian system called the ESU TK. Once again, if interested you can read more about the other Russian systems of this sort already being used in the ISR article, like the ASUNO, Planshet, Strelets-M, and Andromeda-D systems. However, none of the systems offer real-time live video feeds of this sort, but rather network-integrated targeting coordinates on a digital map.
So with that explanation out of the way, what is the Delta program?
It's a battlefield management system which works in the following way: U.S./NATO analysts comb through endless troves of satellite-data and send the exact coordinates of all Russian units, unit movements, potential movements/directions, etc. This is all inputted into the digital system which is then distributed to all Ukrainian C3 HQ's, which can decide how to address those targets/threats.
But the purpose of this was to actually show to a fine level of detail how this process works in a way which was too discursive in the last long article.
Here are the actual leaked docs you can access for yourself. Let's highlight a few pages just to demonstrate the nitty-gritty of what goes on behind the curtain.
These documents are transmissions from US intel to Ukrainian C3 networks of all the various Russian positions and units which they are detecting 24/7 via the US/NATO/Five-Eyes satellite networks. Here are a few examples: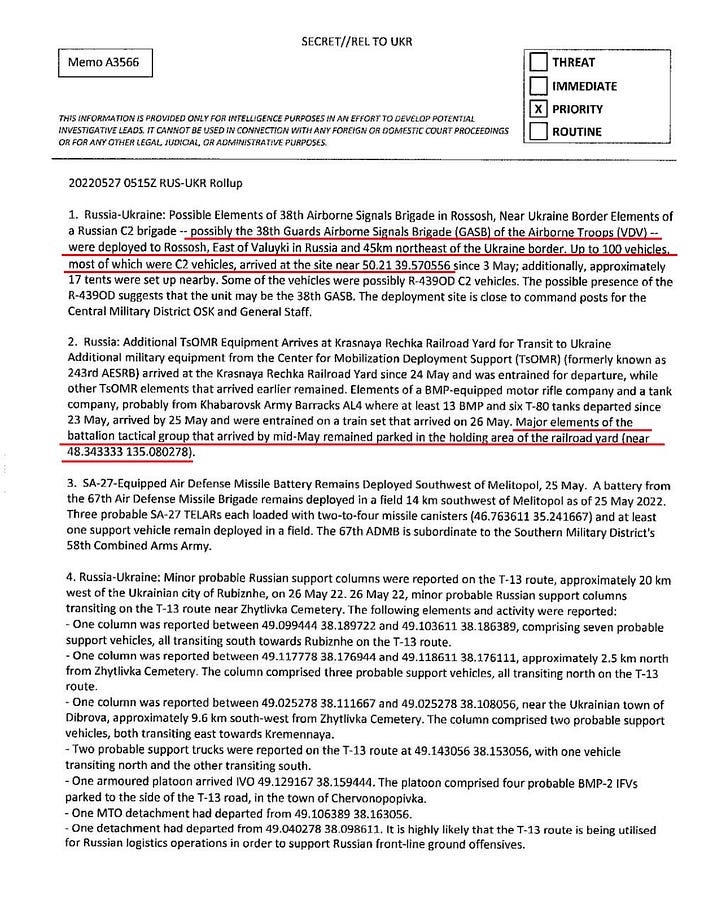 As you can see, these are highly specific dispatches sent with exact geo-coordinates of every conceivable Russian military movement, from the seemingly-trivial supply repositions, to major Russian strategic systems' (bombers, etc.) movements, to the movements of all Russian naval assets, and everything in between.
Another example: the exact positions of every single highly-advanced and secretive Russian Zhitel and Zoopark EW (and counterbattery) systems:
Same thing for Russian Satellite Navigation and GPS Jammers:
There are even analysis/extrapolation on likely HQ positions with provided maps:
And many exact satellite photos showing thermally enhanced views of even the most 'hidden' Russian positions with full coordinates:
There are various attempts to understand employed Russian systems, like spec-sheets, diagrams on Russian loitering drones and their 'assumed' characteristics, explanations of how they operate, etc. The US analysts attempt to understand the Russian loitering drone threat. Here, they make it obvious that these drones are very problematic for them, and that their systems cannot detect them. Note specifically the mention of their signatures being 'difficult to collect from overhead assets'.
Since Ukraine has no 'overhead assets' whatsoever of its own (since this refers to both AWACs and satellite recon), they are here referring primarily to the vaunted US/NATO assets. And they are admitting these assets can't detect these drones.
Also, note the reference to the famous Russian Reconnaissance-Strike-Complex which I wrote about in detail in this previous report. It's clear that NATO understands and respects Russia's famous RSC/RFC.
One of the most eye-opening things about the reports is that a huge portion of their computational power is dedicated to unveiling various Russian 'jammers'. This corroborates the fact that Russia is in fact actively jamming everything on every frontline, to the great dismay of the many skeptics who claimed Russian EW is not active in the SMO.
There are warnings of upcoming strikes like this one:
And even advance word on precise river crossings. What makes this following one so interesting is—if you'll recall—one of the early Russian 'disasters' was a particular Seversky Donets River crossing which happened in exactly May:
This was where dozens of Russian armor units were basically ambushed in a narrow chokepoint / kill-box by artillery. And lo and behold, this transmission also from May in the Delta leaks shows:
And there are several other such advance warnings of precisely geo-located river crossing spots for VDV and other units. So for all the people who wondered, how is it possible the AFU could set up such precise artillery hits on Russian battalion crossings in the past, look no further than this.
River crossings are particularly tricky because there are usually only certain easily identified areas where a particular river can be forded or pontooned effectively, or in a timely manner. It seems the US is able to identify these points by tracking Russian recon/advance engineering units which are first sent to recon the best crossing points, to measure them for the suitability and safety of the battalion crossing.
Then US reports back via Delta that a Russian battalion is setting up preparations to cross at that exact spot, giving exact coordinates and estimated timeline. And voila—AFU units are able to covertly position artillery/MLRS (and likely HIMARs with the exact given GPS geo-coordinates from the Delta feed programmed directly into them) to hit that crossing RIGHT at the moment the battalion is transiting.
And people wonder why Russia might now have developed the new small unit 'Assault Detachments' as outlined here.
By the way, this partial/incomplete Delta leak is comprised of over 130 pages of densely small-printed, highly granular intelligence data that only corresponds to a couple choice weeks in July and May. Dozens of identified positions and movements on each page, for over 130+ pages: literally tens of thousands of intelligence data points in only a few short weeks' period. Imagine the absolutely gargantuan amount of analysts and data-crunchers it takes to compile these 24/7?
I alluded to it in the past article, where I stated that tens of thousands of Western and NATO analysts are involved in this whole procedure. Some of the granularity of the data is breathtaking. In one report they list the exact types and counts of ammo crates on a given airfield position, noting there are 78 crates of a specific type of ammo-variant, etc. They know when and where the ammo is coming from, exactly how much there is, and exactly when and where it's going next. In light of all this, it's shocking how well Russia has even been able to do so far—and I believe it's a testament to the power of Russian EW and AD systems that continue to successfully safeguard the forces.
Also, if you've seen this recent interview with an American mercenary who defected to Russia from the AFU, at some point he mentions how there were special mercenaries in the Foreign Legion he was a part of, which had CIA contacts (likely deep-cover CIA plants). And these guys had special satellite phones which they used to call their analyst/handler, who would feed them coordinates and Russian positions. It makes sense for the US to plant an operative like this into every Foreign Legion detachment, to maximize their effectiveness by basically handing them all the needed info about Russian positions on a silver platter.
Another interesting tidbit included information about Russian tanks. What was most interesting was that by May, Oryx and other infamous lists, showed upwards of 600-750 Russian main tanks had already been lost (destroyed, captured, abandoned, etc.) However, this leak notes that up to May, Russia had only begun tapping a total of 124 tanks from their reserve inventories.
So this gives a very interesting 'under the hood' insight that appears to point to real Russian tank losses by the May period, which would be only a little over 100. This perfectly chimes with my own analysis, as I've outlined in the previous article, that Russia has in fact likely lost a total of 400-500 tanks up to now, since Oryx's list not only inflates the numbers through fraud and misattribution, but also doesn't distinguish between DNR/LNR. So his current 'total' of 1600+ lost Russian tanks represents really only 800 Russian and 800 DNR/LNR, which means the real 'Russian only' tank losses would be a good measure less than even that.
So it's conceivable that by May they had lost 120+, and since that was about the 1/4th mark of the SMO, you can multiply that number by 4 to get a likely realistic present loss count.
And by the way, a top youtube analyst (and pro-Ukrainian to boot) did a very thorough deep-dive, including tons of purchased, 3rd party satellite photos he funded himself, and he came to similar conclusions and found that Russia was only tapping maybe 10% of its reserve tank inventory.
One major reserve depot had gone from 800 tanks before the SMO to 700. Another went from 400 to 380, another had no change whatsoever to its tank inventory, 350 remained out of 350. Another major depot with over 1000 tanks in storage had a small change with ~900 remaining. Another site had 700, now has 600. Another went from 215 to 180. Another from 350 to 250. And another from 700 to 500.
He estimates that from all the sites combined, there are 700-800 less tanks than a year ago, although he admits some of them could simply have been moved to garages, as many of the sites have extensive garage/shelters/hangars/etc. And on top of that, most of those un-mothballed tanks were likely also going to the DNR/LNR and various volunteer brigades. So the total number of Russian 'lost tanks' it may represent, is actually even far less.
But that's a digression.
So—imagine all those tens of thousands of data points from the leaked docs now being inputted into this digital networked system, which gives access, to the entire AFU, basically every single conceivable position, movement, hidden unit, etc., of the Russian army, at the touch of a button. Every unit in the AFU with a corresponding tablet or computer can log into this, and know exactly where every Russian system is in their vicinity, where they're moving, how they're moving, what they're planning to do, etc. Can you see the problem this presents for Russia?
As I've shown in the previous article, this granularity even extends to the Russian airforce, whose planes can be tracked in real time and transmitted to AFU systems like so.
The tablet shows a Russian plane being tracked over a map somewhere. This can be fed to forward AD units which can then figure out how to position themselves and respond to it.
I've explained before that the reason Ukrainian AD is very difficult to fully destroy/degrade by way of SEAD/DEAD, is because they no longer operate in 'hot' mode with the radars turned on, just blindly scanning the skies hoping to catch a Russian plane. If they did that, Russian Su-30mk's, Su-34's, Su-35's armed with anti-radiation Kh-31P's would 'wild weasel' them out of existence.
But with these systems, Ukraine can operate its AD with radars 'cold', i.e. turned off, and use a combination of forward observers to notify them if/when a plane is in the area, or some other detection system like US AWACs, fed directly to their networked tablet. And only then, the Ukrainian AD can turn on its radar—now that it knows exactly where the Russian plane is already—and line up a shot, not having to fear being countered because they will turn the radar off again right afterwards.
In the above video, however, I'm not sure how they're tracking the Russian plane on the 'Nettle' system. It depends where on the map that happened, as AWACs' range does not permit them to see into Donbass from Poland/Romania. However, judging by the date of the video, the environment, and what little of the map I can make out, it appears to possibly be near Nikolayev/Kherson, and that is within range of NATO AWACs operating in Romania, as it's only about 330km, and AWACs can do at least a good 400-450km, and longer for high-flying, large strategic bombers.
I hope that gives you a better understanding of how these systems work, and what massive advantages Ukraine has in some sectors of the fight. Be sure to peruse the documents yourself here so you can get an idea of what they're doing 'behind the scenes' to engineer a Russian loss in this war.
However, despite the unprecedented C4ISR effort entailed therein, it is clear that Russia continues to rebuff and overmatch NATO, even while at a great numerical disadvantage. That has to say something about Russia's own systems, and there is good chance that Russia's own C4ISR and satellite capabilities are far more extensive than many people believe. And on top of which, there's evidence that China is providing a similar help to Russia as NATO to Ukraine.
Several days ago it was outed that Chinese satellite firm 'Spacety Inc.' has reportedly been supplying Wagner forces with satellite photography.
But most interestingly of all, Prigozhin himself refuted the alleged report, stating:
"There is no need for us to purchase satellite imagery. PMC "Wagner" for 1,5 years has almost two dozen satellites, some of which are radar, and the rest are optical."

He claims that his own system of satellites allows Wagner to observe all points of the world.
Now what could that mean?
If you enjoyed this article, you can now also
support me with a Tip
at: https://www.buymeacoffee.com/Simplicius