Discover more from Simplicius's Garden of Knowledge
War strategies, geopolitical analysis, SitReps, and discussions.
Over 24,000 subscribers
Welcome back, everyone. It was a long one, but here's the grand finale of the latest mailbag series. I want to thank everyone for their great and insightful questions, which made me think and which hopefully produced some illuminating and discussion-stirring answers.
As always, the comments for the answer portion here are open to all subscribers, free and paid, so feel free to discuss away.
Hope you enjoy, and let's get to the answers.
---
34.
First and foremost, I would like to thank you again for the service that you provide myself and others. In the days that we live it seems like it is so difficult to find actual facts and without any "woke" narratives (or outright omissions) so I value your insights and integrity.

I apologize since my question might be a little out of the ordinary, but this is for my son who is now 18 years old. It certainly appears that the Fascism is growing stronger in Western/NATO dominated countries in respect to government and private institutions colluding together. Each year, I see individual liberties of ordinary citizens curtailed and speech being silenced especially in the cases that those freedoms and/or speech do not align with the "woke" narrative of the ruling elite.

What other countries in the world in your opinion might provide more freedom and economic stability in the future other than United States especially considering the probability of one or more states seceding from the union which I believe is a likely scenario to happen.
Unfortunately, one of the issues currently going on in the world is that there is an ever-deepening creep toward control of information in every sphere and in every country. This is partly due to the fact that, when you have a totalitarian world hegemonic system like that of the West, who have managed to completely colonize the media institutions by which the world is fed its information, then once other countries begin getting hip to the manipulation, they have no choice but to begin various curtailments themselves, even if it's from an initially reactionary standpoint.
So it's with this in mind that even Russia has been forced to increasingly curb certain types of things that many of us would deem 'liberties'. For instance, the fact that right now during war time you cannot publicly criticize Russia's SMO/soldiers/military to the extent that it can be perceived as a criminal debasement. It's not quite as bad as it sounds due to the fact that there needs to be a sort of objective outright lie that you're telling, so it's not a total Orwellian censorship as some have in mind.
But the point is that, such things are creeping slowly everywhere, even in countries of the patriotic 'resistance sphere' because their governments are left with no choice but to clamp down on information from the West perceived as harmfully manipulative and destructive. This includes recent initiatives in India, China, and many other places.
My point is that, within reason, most countries in the world will now be entering an era of increasingly heavy-handed repressions and censorship. Now, personally, I happen to agree with the ones carried out in Russia given the context of what's going on, and the reasons behind them. But this is a full disclosure, impartial and non-propagandistic attempt at guidance.
Another example is that Russia has obviously been cracking down on LGBT propaganda heavily. First, several years ago, was the law against subjecting minors only to LGBT propaganda. But then, Russia began to increment it towards banning all LGBT propaganda for any age at all. Similarly, China is said to have recently proposed or already imposed a ban on all LGBT content on TV screens. Personally, I obviously don't mind these bans as I believe the content stems from malicious Western organizations intent on societal subversion and cultural engineering. But, I'm simply giving an example because for people who are dyed-in-the-wool free speech absolutists, such 'restrictive regimes' may not sit well with them.
My point is that, for people wanting to emigrate to places like Russia, there are a few uncomfortable realities they will have to digest and get used to. But that being said, Russia is likely the only place I can really recommend as per your question, because I see no hope elsewhere. Particularly for people from the West/U.S. not wanting a complete culture shock and the burden of having to fit in to a completely alien society, Russia is a very Euro-centric place where Americans would likely fit in much better than they realize.
I could sit here and name a few other countries resisting the encroaching WEF world order, like Hungary for instance, but such countries are far too small and impotent to withstand the onslaught for long. Their hold on 'freedom' is precarious at best because they're beset on all sides and could be subjugated at any moment in the future, with a color revolution, etc. Russia is the country that stands the greatest chance, owing to its size and strength, of resisting indefinitely and creating its own pole in the world away from Western decay and decadence.
Furthermore, contrary to popular belief, Russians are much more welcoming to Americans than they have reason to be. This may be counter-intuitive to what most people think, but in many ways I think that Americans have more in common with Russians than with Europeans. Americans think of Europe as their natural cousins, or extensions of their Western culture, but in fact Europeans differ greatly from the 'heartland' Americans, in my opinion. Whereas Russians are very close in spirit to the heartland Americans of the south, midwest, etc.
One of the reasons for that, in my humble opinion, is simply the geography and territory. Russia has the vast expanses, the frontiersmanship, and love for the outdoors and exploration that doesn't exist in many European countries due to their small size and relatively uniform environments. Thus, many Russians outside of the big cities at least, live a lifestyle far closer to that of heartland Americans, with the love of freedom, the comparatively non-existent regulation (in terms of civic rules and statutes), etc.
There could be other places people can recommend in the comments, but the only one I personally feel comfortable recommending myself in as unbiased and impartial a manner as possible, is Russia. And this is particularly because I've been following developments around Western emigration to Russia and can speak on it with much more authority in terms of available information.
Firstly, I'd recommend for interested people to watch some videos of many of the new Westerners who've recently or semi-recently migrated to Russia, to see how they're living there. There's a bunch of channels of this kind I follow, such as the American Marine Corps veteran who moved to Siberia here: https://www.youtube.com/@WildSiberian
The unconnected Australians who moved to Siberia:
https://www.youtube.com/@Siberian_Freedom
https://www.youtube.com/@BackyardRussia
The American Floridian who moved to Moscow with his family:
https://www.youtube.com/@expatamerican3234
The Texan Orthodox priest who moved to Moscow area Russia, Father Joseph Gleason:
He can also be found on Substack here:
And for anyone seriously interested, Tim Kirby is an Ohioan (is that how you refer to a resident of Ohio?) who moved to Moscow over ten years ago and now works with the Russian government on a project called 'The American Village' project. However, the name is misleading as it's open to all English-speaking foreigners/Westerners. Tim can be found on Bitchute and Telegram where he answers questions about migrating to Russia.
He also works with Father Joseph in helping Westerners get there:
This village project he's building on the outskirts of Moscow is a way to expedite Westerners who want to come to Russia into getting their paperwork and documents. It includes special gov't sanctioned 'golden visa' deals and such, i.e. if you donate a certain amount of money, they will fast-track your residency and/or citizenship.
But the key thing to note is that the Villages project is not just for people who want to live in this village-for-Westerners that Tim is building. You can contact him and through the purview of this project, he can help get your foot in the door to settle into Russia wherever, be it in Moscow, etc. He works with one of the top immigration lawyers as well as members of Russian parliament on these issues.
One of the other expat channels I listed, Expat American, also teamed up with Kirby to tour the proposed site of the village project, you can see it here:
So, to circle back to your original question, as I said, Russia may have a few problematic areas but ultimately, if the chief concern is regarding traditional values and the fast-creep of degeneracy in the West, then I believe no place on earth will be as safe as Russia in safeguarding those traditional values. This is one area where Russia is absolutely serious on and which will not change.
You can argue that certain other countries like China are even more radical in this sense, but they have major comparative downsides—for instance, China is maximalist on things like compulsory vaccination and I'd hate to be stuck there during another 'outbreak' or pandemic. Russia on the other hand had one of the world's lowest vaccination rates during the Covid fraud—in fact, the lowest in the Western world, if you don't count African countries, etc.
Sure, they started with some aggressive attempts from certain institutions but these were quickly rejected by citizens and the restrictions and heavy-handed coercion was removed. That is a good sign to me.
35.
Sergei Shoigu was quoted, on or about June 20, threatening that if the West continued attacking Crimea with HIMARS and/or Storm Shadow missiles, it would entail that the United States and Britain would be fully dragged into the conflict. This would result in immediate strikes on decision-making centers in Ukraine.

Subsequent to the statement of this "Red Line", Ukraine continued the missile attacks on Crimea. But so far the promised retaliation has not materialized.

What is the explanation for this? Why does Moscow issue idle threats without any follow-up? "Rolo" has an explanation, but I am perplexed.
I presume this is the video you're talking about, as it is exactly from June 20th.
Here Shoigu states that if Ukraine continues striking Crimea with Storm Shadows, etc., then decision-making centers in Ukraine would be hit.
You went on to say that the promised retaliation has not come. Actually, it has—and multiple times. Russia has now struck three different headquarters of the SBU. The first time was after a previous red line and was when the Kiev HQ was struck, at the time when Budanov initially disappeared.
Since then, they struck an SBU HQ in Sumy on July 2nd, which Zelensky himself confirmed:
And which in fact there were rumors about a lot of dead high-ranking officers:
According to the latest data, as a result of a strike on the building of the regional department of the SBU in Sumy, several high-ranking officers of the department were liquidated, among them those who directly worked with militants from the terrorist RDK (* an organization banned in the Russian Federation), who penetrated the territory of the Belgorod region on Western armored vehicles. In the Sumy region, there are also training camps for these militants, who acted under the complete control of the Ukrainian special services.
And now, after the recent strike attempts at Crimea, they have completely obliterated an important SBU headquarters in Dnipro with precision Iskander-M strikes this past friday: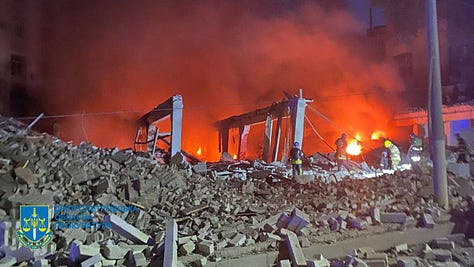 So, as you can see, the 'promised retaliation' not only materialized, it did so in devastating fashion, wiping out three entire SBU headquarters thus far.
In fact, the very same day it was announced that a U.S. army general was 'killed in a plane crash':
Many, for good reason, suspected that it was quite 'coincidental' that a U.S. general happened to die in a random accident on the same day that a Russian Iskander visited a Ukrainian SBU HQ where a convocation of prominent people was said to be gathering.
Of course, some will ask, "Well, why haven't they struck Bankova and eliminated Zelensky/Zaluzhny/etc." To which I answer: Why would Russia destroy Bankova for a tiny insignificant drone attack on Crimea that did no damage, or another one that might've hit a small irrelevant ammo dump used for training purposes?
That would characterize Russia as quite desperate and weak. The last, end-all-be-all strikes like on the very leadership of Ukraine itself must be held back in reserve as trump cards up your sleeve for the real red lines. If you waste them now, then it would be like the boy who cried wolf, you leave nothing as an escalatory gesture for later, which is actually dangerous insofar as national security. Because once you've used up all your cards, then your enemy knows he has nothing to fear in crossing your red lines.
Thus, Russia smartly keeps the final "big ones" in reserve to use against real line-crossing actions. So far, Ukraine has not crossed any major lines to necessitate such attacks. Minor strikes that hardly do anything and most of which are shot down do not warrant the highest level of escalation, for now I think most would agree that wiping out several entire SBU HQs, with their attendant staff in some cases, far exceeds the damage of a few shot down missiles or drones that may have hit a tiny ammo dump.
36.
Simplicius, what is the current state of 'backpack [suitcase] nuke' technology?

If there are viable devices, on either side, how likely and where might they be deployed?

I apologize; obviously I'm dating myself: As the surprisingly useful Wikipedia article on this topic notes, '[this] concept became a staple of the spy thriller genre in the later Cold War era.'

https://en.m.wikipedia.org/wiki/Suitcase_nuclear_device

Still, we know for sure that the US tested such devices. There was a big US hullabaloo in the late 1990s over claims many of the Soviet variants might have gone astray.

Like many Americans, if mysterious low-yield nuclear explosions simultaneously took out Washington, Hollywood and Silicon Valley, I wouldn't complain very much.

But I'm not naïve enough to think it would stop there. Supposedly there's a radiation signature that can be traced. But that hardly matters, it would be blamed on Russia regardless.

Do you know whether these devices still exist? If so how useful might they be for targeting NATO sea / land transport lanes and other key targets? How might US/UK deploy such munitions against Russia (throwing Kirillov and / or Zaluzhny's long-dead corpses under the bus again?

Sorry: I think you can see that though there are three question marks, this is really just one question ;)
Firstly, I don't think UK/US would deploy such things against Russia given that nuclear signatures are fairly simple to detect and that's one escalatory path they really don't want to go up as Russia holds all the cards as the world's strongest nuclear power.
One thing of interest I can say in this regard, was that in the recent Wagner rebellion during June, Ukraine's SBU boss Budanov made the claim that Wagner was in fact heading towards a specific facility known as Voronezh-45 that's right along the route they were taking towards Moscow. He states that this facility houses "nuclear backpacks" and Prigozhin was trying to seize them:
Western media picked up on this at the time with a firestorm of headlines:
Keep in mind though, that this is the second time the SBU has used such a propaganda angle, so take it with a grain of salt. For instance, during some of the Ukrainian incursions in Belgorod region, they kept trying to drum up a scare about how Russia was "urgently" rushing nukes out of a storage facility known as 'Object C'. Though it is true, that is one of Russia's storage sites, as you can see on this map, along with the one in Voronezh, south of Moscow which Budanov claimed Wagner tried to seize:
The more interesting historical thing in this regard is the famed story of Soviet KGB defector Stanislav Lunev. I spoke about it before on another article long ago. I'll paste his claims in full, from the above wiki source:
Nuclear sabotage operations

Lunev is mostly known for his description of nuclear sabotage operations that have allegedly been prepared by the KGB and GRU against the western countries. It was known from other sources that large arms caches were hidden by the KGB in many countries for these planned activities. They were booby-trapped with "Lightning" explosive devices. One such cache, which was identified by Vasili Mitrokhin, exploded when Swiss authorities tried to remove it from woods near Bern. Several others caches were removed successfully.

Lunev asserted that some of the hidden caches could contain portable tactical nuclear weapons known as RA-115 "suitcase bombs". Such bombs have been prepared to assassinate US leaders in the event of war, according to him. Lunev states that he had personally looked for hiding places for weapons caches in the Shenandoah Valley area and that "it is surprisingly easy to smuggle nuclear weapons into the US, either across the Mexican border or using a small transport missile that can slip undetected when launched from a Russian airplane.

US Congressman Curt Weldon supported claims by Lunev but noted that Lunev had "exaggerated things" according to the FBI. Searches of the areas identified by Lunev, who admitted that he never planted any weapons in the US, have been conducted, "but law-enforcement officials have never found such weapons caches, with or without portable nuclear weapons."
So he basically states that there's a variety of methods by which such a suitcase nuke can be smuggled into the U.S., whether by small submersible like cartel drug runners use, or by a plane firing a very low surface skimming missile which goes under all radar nets and deposits the item somewhere on the shore, after which an agent/mole can retrieve it and drive it to wherever it needs to go.
And by the way, you mentioned in the 90s there were claims of Soviet ones which have gone astray. According to Lunev in his testimony, he claimed that the numbers which were secretly deposited in the U.S. almost exactly matched the ones which were said to 'go missing'. It's impossible to know if he was telling the truth so take it for what it's worth.
With that said, I personally don't believe there's much threat in those anymore because security services on all sides have developed far more powerful means to disrupt and destroy countries which are much more untraceable, like biological weaponry and the most powerful of all—culture psyops.
I do think it's possible that the main powers could still maintain the 'backups' in each other's country as per Lunev's outlined plan above, i.e. in case a war breaks out. But barring a major full-scale war, I don't see much threat of these being used. Russia now has its Poseidon nuclear sub to target any sea lanes as you mentioned, as well as the nuclear-powered Burestvestnik cruise missile which can fly pretty much indefinitely, with a limitless range due to having nuclear propulsion as well as a nuclear warhead.
And like I said, there is simply far more subtle yet still effective methods to be used nowadays to subvert and destroy populations, given the arrival of the internet, mass social media, etc. Hell, just look at the official recruitment ad for the U.S. Army's '4th Psyop Group' which released last year, this is really all they need to achieve their goals nowadays:
37.
With all the discussion of the 're-industrialization' of the EU with regard to any future pushback against Russia, how much does this rely upon access to Russian fossil fuels?
I think it relies on it a lot given that the world financial system is in a very precarious state right now. If it was any other era, they might be able to pull it off by simply racking up the debt as usual. But they've 'kicked the can down the road' for so long now, the system is unraveling and so they can't really continue to soak up the hugely disproportionate prices of having to use much more expensive energy, while inflation is sky high and their economies are in turmoil.
The part that most people miss though is the fact that, ultimately, it doesn't much matter. Meaning, with or without Russian fossil fuels, the global economic situation was already heading toward a collapse. It's been that way since 2008, and they had been desperately shoring up the situation with massive "quantitative easing" and creating an unprecedented culture war as a distraction by introducing the radical LGBT/Transgender movements. These movements came precisely at the moment that the Occupy Wallstreet movement in the U.S. began to spur similar mirror movements in Europe.
The people were finally rising up against the banks and financial system so they had to create something to distract everyone. Then, as the system was again ready to collapse, they created the Covid fraud pandemic to shore it up one last time, which allowed them to slide in another stealth $4-5 trillion into the system to urgently keep it going.
The other biggest factor is that the West began to decouple from China as a way to try to slow China down from completely surpassing them. Trump accelerated it and began a trade war of both sides launching various tariffs and bans on each other's goods which had the opposite effect and began to crack the system as the West relied on a lot of cheap Chinese parts, resources, etc.
Ultimately, the Russian energy issue is just the final cherry on top to a systemic issue that had already doomed the West. But the problems are so deeply rooted, they go way beyond any of these surface issues. For instance, the biggest problem of all is demographic. It's the reason that Europe has been importing migrants so rabidly for a while now, because their shrinking workforce lacks the personnel to expand as globalism and liberalism have together destroyed Western civilization by completely uprooting the foundations on which families, children, etc., can exist.
These problems run so deep that no amount of Russian energy can 're-industrialize' Europe—it's completely doomed by the virus of globalism/liberalism. There is no way to reverse that without the EU first being broken apart, Westphalian sovereignty restored to each state, and a new class of nationalist/populist leaders like Orban taking charge of every single European country then changing all the laws to immediately curtail the virus of globalism/liberalism in the way that Putin has done; which include things like making all foreign NGOs register as foreign agents and be subject to complete oversight, audit, inspection or be booted from the country entirely; laws on banning the most virulent of the propaganda like radical LGBT movements and things of that nature. Only that can restore traditionalism and begin to make people even want to have families again, let alone worry about fossil fuels.
But very few of the above has much chance of happening any time soon so Europe will continue de-industrializing.
As a last note, the other big aspect is the natural resources, precious metals, rare earths, etc., in addition to the fossil fuels. This war is heating up now even more so, apropos the Nigerien situation, China's new bans on selling rare earths critical for much of Western industries, etc. Things will likely only continue getting worse for Europe. However, as Alex Krainer wrote in his recent piece, which I discussed in my last report, the EU can potentially face disintegration in the wake of a 'shocking' and decisive Russian victory in Ukraine. Such a turn of events could eventually precipitate into a situation I outlined above, where a new sort of anti-EU/US movement begins to slowly take over each country, leading to a new wave and era of sovereignty, economic autarky, anti-globalism, etc. But the shockwaves of such a thing would take time to ripple through and we likely wouldn't see noticeable results until the 2030s.
It's very impractical to pull supply chains out of China, says Raytheon CEO Greg Hayes.
38.
Do you foresee Russian return to Cuba, this time with few hypersonic missiles in tow?
As you may know, the Russian warship Perekop recently docked in Havana on July 11, then visited Venezuela afterwards. I think Russia will gradually continue building up its presence and relationships in both Cuba and Latin America in general. However, I don't really see them doing anything major and provocative like what you mention simply because there is no need.
Russia is winning against the combined West in Ukraine, is winning the economic war, is achieving literally all of its goals without really major setbacks at the moment. So there is no need to 'stir the roost' and provoke the US in such a way in the near future particularly because Russia has already just made a major move of placing nukes in Belarus, as well as previously placing nuclear-capable Iskanders in Kaliningrad. From these spaces, it can launch nuclear missiles at Europe without the need of larger ICBM launches from Russia proper, which can be detected much more easily from space via orbital anti-missile defense satellites.
With that said, Russia has been trialing its Poseidon submarine in particular lately, and in recent times deployed the Belgorod submarine which carries the Poseidon nuclear submersible. I can see the possibility of something like that or a Russian ship armed with new Zircon hypersonic missiles docking in Cuba in the future as a 'suggestive' show of force. But in terms of actually deploying nuclear-capable hypersonic weapons (well, they're all pretty much nuclear capable, truth be told) in Cuba, that I don't see happening any time soon for the simple reason, as stated before, that there's simply no need to currently be that provocative when Russia is already getting everything it wants and is winning the wider global conflict.
39.
Hello, Simplicius. I would love to get your insight into the military cooperation between Russia and Iran, and the evolving strategic relationship between the two nations. Thank you
The thing most people aren't aware of is that the majority of Iran's development throughout the last few decades, particularly all their much-vaunted missile technology that we constantly see demonstrated as a threat against the West, is all due to Russia.
During the 1990s, Russia sent a horde of scientists and missile technology to Iran, which quickly helped build up a missile industry from the ground up for them. There are innumerable articles you can find detailing those years. As an example, here's a Washington Post article about one specific Soviet scientist who was literally called 'the father of Iran's nuclear program'. There were 'freelance' scientists that went to work with Iran on their own, after they lost work in the wake of the Soviet Union's fall, but also official Russian programs to assist Iran in various military-technological developments.
For instance from this source:
Despite Russia's adherence to the Missile Technology Control Regime since 1995, Russian entities have continued to help Iran develop missiles. In October 2000, the Central Intelligence Agency reported to Congress that Russian assistance had "helped Iran save years in its development of the Shahab-3." And in its report covering missile proliferation during the first half of 2003, the CIA observed that Russian assistance was also supporting "Iranian efforts to develop new missiles and increase Tehran's self-sufficiency in missile production."

In July 1998, the State Department imposed sanctions on seven Russian entities for "proliferation activities related to Iran's missile programs." They were the INOR Scientific Center, Grafit Research Institute, Polyus Scientific Production Association, Glavkosmos, MOSO Company, Baltic State Technical University, and Europalace 2000.
As another example, Iran's premier missile program was the Shaheb-1, which later spawned variants like Shaheb-2 and 3. This was Iran's first short/medium range ballistic missile which laid the groundwork for their missile industry. The Shaheb-1 is almost an exact copy of the Russian R-17, also called the Scud. It's claimed that Iran used an R-17 supplied by North Korea, but it was Russia that gave them to North Korea:
This was a common practice of the Soviet Union earlier in supplying Iran with weapons during the Iran-Iraq war in the 80s. From wiki:
However, during the war, the USA imposed an arms embargo on Iran, and the Soviet Union supplied arms to Iran via North Korea.
Later on, Russia built Iran's first ever nuclear power plant, the Bushehr Nuclear Plant, as well as launched Iran's very first satellite into space, kickstarting their space industry as well.
Russia also played a small part in Iran's drone development to the extent that when Iran downed the Lockheed RQ-170 Sentinel in 2011 and reverse engineered it to make its own Shahed 171, it was brought down with the use of a Russian-supplied 1L222 Avtobaza EW jamming platform.
By the way, Russian-Iran relations and even military cooperation goes back a long way, here's a good article detailing much of it. The article goes into the military collaboration throughout the 1990s as well, for instance:
As he visited Moscow in 1989 prominent Iranian politician Ali Akbar Rafsanjani signed an agreement on "cooperation in strengthening Iranian warfare potential". As a result, between 1989 and 1991 the USSR and Iran concluded four major inter-governmental trade agreements  to a total value of 5.1 billion dollars, which transformed Iran into a principal recipient of Russian weapons in subsequent years.

Iran was thus supplied with long-range anti-aircraft missile systems S-200VE, MiG-29 fighters, Su-24 bombers, Mi-17 helicopters, three modern diesel-electric submarines of 877EKM Project, armoured personnel carriers, as well as tanks and tank kits to be assembled in Iran, various types of ammunition for all kinds of troops.
It goes on to note that: "In a period from 2000 to 2007 Russia enjoyed the status of top weapons supplier to Iran accounting for about 85% of Iran's military imports. Iran went on number three among recipients of Russian weaponry, with a total volume of supplies amounting to nearly 2 billion dollars."
In short, Russia and Iran have a long history of military cooperation dating back hundreds of years. Russia helped them modernize throughout the last few decades and now Iran is returning the favor by helping Russia with its drone program. Iran is critical to Russia for a reason I've written at length about here:
Read this article to understand the critical role Iran plays in safeguarding the final gateway into the Heartland so long sought-after by the Atlanticist West. This makes Iran a key geopolitical component in protecting the entire East from the West's grasp.
I believe Russia and Iran's relationship will only continue to grow as Iran itself grows in power with the weakening of the West. Iran has been held back to a large degree—just as Russia and North Korea—due to the economic terrorism, not to mention regular kinetic terrorism, in the form of endless sanctions, embargoes, blockades, etc. But as the West slips from power and its dollar hegemony slowly dissolves, Iran will only grow in power both economically and geopolitically.
Iran is positioned to be a major Great Power on the world stage. For instance, they have a population of 90 million, which is higher than any European country, not counting Russia, and is near the top 20 in GDP PPP. Imagine where its economic ranking will be once all the artificial bounds imposed upon it are lifted.
I don't know if it was a real quote from Ebrahim Raisi which I once saw, or simply attributed to him, which read roughly: "In the future, Russia will be the military center of the world, Iran the scientific center, and China the economic center."
40.
About a month ago, a somewhat strange Swiss professor came to the public with a thesis according to which the blowing up of the Nordstream pipeline was supposed to have been done by means of a mini-nuke. (Link to a video of Dr Braun's presentation here: https://rumble.com/v2w8r6k-nordstream-bomb-was-not-125kg-but-2.500.000kg.-it-was-a-mini2-nuke..html and link to the presentation here: https://drive.proton.me/urls/P8WDAVHXK0#nK4Q5FMg52HI)

The story did not get much traction and only a few press products mentioned it. However, it has not been unequivocally debunked as nonsense anywhere to my knowledge. The guy is a bit odd (but what scientist isn't?). And the claim sounds completely insane at first. But the arguments he puts forward look quite coherent, at least superficially. However, I lack the knowledge in most areas to really assess the correctness and credibility. What's your take on the story?
This is the first time I've heard of this story. I tried to skim his presentation to get a sense for the assertions being made. I don't really mind his perceived 'oddness', but I simply don't understand the point of using a nuclear device so the entire claim makes no real sense to me, though he does present a convincing argument in terms of the various detected properties.
What would be the reason to use a nuke, even a very small one, on a pipeline that's extremely easily accessible? It was well known that that section of the Nordstream was in extremely shallow water, easily reachable. Secondly, we have numerous pieces of footage of the destroyed pipeline like here and here and the visible damage is simply incommensurate with a nuclear explosion of any kind, even the absolute smallest variety. He claims it was 2.5kt, that is actually extremely powerful and the pipeline would not even exist, yet we see in perfectly intact.
One of his given secondary reasons for use of the nuke was to 'send a shockwave' to Kaliningrad, yet I didn't hear of any such reported shockwaves nor any consequences from such a thing—so what could possibly have been the purpose for that?
Lastly, one of his chief points of evidence was the rise in sea water temperature in the area. I'm no expert in this, however I do recall that the Nordstream explosion was known to have released a vast amount of gas to the extent that it's been dubbed 'the greatest manmade ecological disaster of all time', with one source stating "300,000 tons of methane" being released. But my point is that—and here's where experts can chime in—I was under the impression that gas gets highly compressed when it's sent through the pipelines for the sake of efficiency: the more you compress it, the more of it fits in the pipe and can be sent faster at a higher volume. But when you compress gas, it heats up. On a cursory search I was able to find a range of temperatures as high as 200-500 degrees fahrenheit for gas compressed in some pipelines. I don't know how true this is for Nordstream, but if you put two and two together: you have one of the biggest releases into the ocean in history, and the gas is potentially at a very high temperature, you can deduce that perhaps it could have raised the surrounding water temperature significantly which would lead to the readings that the Swiss professor ascribes to a nuclear blast.
But like I said, I see no possible logical reason to use nukes on a shallow pipeline that can be easily taken out with a variety of other methods.
41.
These questions are related in my mind, so I'll combine them:
Simplicius, thanks for your work! Keep up the good fight!

What is your take on the rumors that Biden's administration set conditions for financial/ military help for Ukraine based on this performance on the battlefield? How real is that? Is that a face-saving ramp out of the conflict, realities of dwindling political US support internally or the realization that Ukraine is continually feeding the West with lies/propaganda? Another aspect of this is that both US and Europe are growing annoyed by the "tail wagging the dog" Ukraine's public games, and the fact that they can't rely on managing escalation (since Ukraninan functions resorted to terrorist actions). Thanks in advance
and:
Do you think that if Ukraine had used it's Western supplied aid to defend the current line rather than launch an offensive they could have kept the situation in some form of stalemate for a fairly long time?
As to the second one, they definitely could have prolonged things as you describe. Just from the standpoint of losses, it would have led to far fewer losses in manpower and materiel. In my last report I had discussed the vast amount of armor losses they're experiencing in the offensive due to having to come 'out into the open' and basically creating a turkey shoot for Russia.
But, you must remember that time is very critical for them and they are running out of support. All the signals are indicating that if Ukraine can't make a big triumphant 'showing' for their masters, then the plug will be pulled and they will be forced to either sign a ceasefire or surrender. This relates to the first question about conditions based on Ukraine's performance.
So that means that it doesn't really matter whether they defended the line or not, the situation gets critical for them either way. In short, they're between a rock and a hard place, a sort of zugzwang or lose-lose situation for them—they could have just turtled up and saved themselves the mass slaughter to an extent, but they they would have lost their support and likely been forced to surrender anyway.
Let's say they just defended the line until late this year, not allowing Russia to advance much but likewise not advancing at all for themselves. They would pretty much look hopeless and no Western official or military leader would remain optimistic about their chances. Ukraine has only survived previously on a very carefully choreographed series of periodic 'triumphs' time-released to the public to keep mainstream headlines 'overlapping' with positive spin. These must be strung together to keep Western hopes from flagging, as well as morale of Ukraine's own troops up. Should the interval of these periodic releases be broken, it can be catastrophic for Kiev's campaign to maintain the West's financial support.
Remember, Western leaders have to sell their support of Kiev to their own publics. These aren't just blank checks being written endlessly no matter what happens in the field. There is some accountability that Western leaders fear and are constantly being questioned about in their own mainstream press and their own public. It's a constant challenge for them to justify sending their citizen's hard-earned money away to some foreign war that has nothing to do with them. That means these Western leaders need a consistent parade of perceived victories to show their constituents to say "see, your money is being well spent! It's creating major battlefield victories for the poor Ukrainians, who are getting closer and closer to democracy and freedom each day because of your support!"
That is my answer to the first question regarding the conditional provisions. Most people forget about how this relationship works between public and official because the officials who consign their public's money to Ukraine put on a very practiced and rehearsed 'show' of false optimism to feign success when in reality, behind the scenes they're terrified of every aspect of the war: from how poorly the AFU are doing and how detrimentally that will reflect on the politician, to how constrained the time-tables are in terms of public the weariness of public support as contrasted with the politician's promises of victory, etc.
If they don't get that consistent string of triumphs to have something to show for, then things turn sour fast, as their citizens begin getting the pitchforks out, major uncomfortable questions and challenges begin to appear in the media for which the politician has no answer.
Ultimately, though, I believe Biden and the West impose harsh internal conditions on Ukraine because they know how utterly poor the morale of the AFU is and only maximum pressure, formed under duress and the threat of various negative consequences, can marshal the troops to the extent necessary to have any chance of winning. The West believes that if left to their own devices, the AFU would likely wilt in the face of Russia's absolutely overwhelming firepower and combat capability. But when you put them to the whip with conditional threats, then the middle managers of the armed forces are much more likely to drive their herds at maximum pressure in order to do as much damage to the Russian armed forces as possible.
You've likely seen the video I recently posted several times of Ukrainian propagandist Dmitry Gordon stating that his own 'sources' have relayed some of those conditions to him, for instance that Ukraine has only til the end of the year to gain as much territory as possible.
Lastly, I believe one of the main reasons for this is that the West never expected Russia to last this long and grow stronger each day, both economically and militarily. So they knew from the outset they themselves had a certain time limit for which they can maximally support Ukraine. One of the key factors of that timelimit in terms of the U.S. of course was always the prospect of the upcoming 2024 election cycle.
Maybe they wouldn't have minded barging into the election cycle on a triumphant note, if Ukraine was doing really well, but given that they now know, should the war drag into next year, that Ukraine will be in absolutely dire straits, it becomes an unconscionable dilemma for them, as a losing, unpopular war will be the equivalent of an open, festering sore on the ass of the ruling class which will be a low hanging fruit for the opposition figures to use as ammo against them on the campaign trail.
As for Europe showing their annoyance, to me it's a clear and simple sign of their frustration: the conflict has turned into their worst nightmare. They've put down all their cards, doubled down and went 'all in', only to be humiliated with their favored horse losing on all counts, their best equipment exposed and tarnished on the world stage, untold amounts of public cash squandered and wasted, with no ready excuse available for their increasingly weary populace. Eurocrats hoped that this conflict would be one of those things you just "throw some money at" then wring your white-gloved hands and be done with it. They never imagined inadvertently awakening the sleeping giant of the Bear in the way that they have. Now they're frustrated with increasingly mounting pressure and inner turmoil as all their plans come to naught. I believe in-fighting and frustration will only increase and we may even be witness to some unexpected surprises in the not-so-distant future.
42.
As this is a proxy war between two superpowers with NATO as an intermediary on a 'neutral ground'- winning on the battlefield is not as important as getting the economy running and humming.

Are there any useful websites you can provide that shows analysis on the economic side of things?

Especially since Russia suspended its participation in the grain deal- it would be interesting to observe how things develop in Europe, especially if this winter is particularly cold.

As a neutral observer, while it is useful to analyze information, just want to remind folks that 'all war is deception'- i.e. that we don't really know if the US / NATO is running out of ammo, we don't really know if Russia's economy is doing well, we don't really know if Prigozhin/Popov 'rebelled' etc.

In fact, if it is true that the US/NATO is running out of ammo, it can be worrisome because it means that other countries might want to join the US/NATO side. After all, the USD will still hold its place as one of the more important currencies- so the US/NATO can still dangle the carrots for countries.

On the flip side, if Russia is not doing as bad as the MSM makes it out- does it mean that Russia is gearing up for an offensive? To where? And how would the Europeans react- send troops on the ground?

This is a really unnecessary war- parties have to talk. Europeans have to start standing up for their own interests.

Could you also comment a bit on the killing of ex-sub commander Stanislav Rzhitsky?

Any chance that the Ukrainians might have broken the codes that Russia uses domestically to deploy troops/manpower that resulted in the successful assassination?
As to the first question about an economic website, I don't have a good answer, as I usually turn such questions to the readers and see if someone can post some potential sites in the comments section. Off the top of my head, one good one recently recommended is Michael Hudson's site and columns which appear in a lot of places. I can't personally vouch for him too much as I'm not an avid reader of it but I've seen his articles here and there and they do appear to be insightful. For instance, here's one I recently enjoyed: https://geopoliticaleconomy.com/2023/05/24/debt-michael-hudson-oligarchies-greece-rome/
Personally, there's no one source that I get economic information from, as I've more of an omnivore that absorbs a little from everywhere. For instance, sometimes I watch Greg Hunter at USAWatchdog as he often has interesting dissident economic guests that discuss where things are headed, people like John Williams of Shadowstats fame or Jim Rickards, Martin Armstrong, etc. Or read Zerohedge which also aggregates top articles from a variety of writers/places.
As for the other things you wrote, not sure if some of those are more rhetorical questions.
But as for the killing of the sub commander Stanislav Rzhitsky—firstly, he was an ex-commander and was not commanding any subs at the time of death, but rather working as a mobilization officer in Russia.
Secondly, there is no intricate intrigue to his killing, like hacking of codes and things of that nature which you implied. He was simply using a popular jogging app to jog the same route every single day and stupidly posted this route online. Here's his own personal account with the exact route shown, with the date of July 5, 2023:
He was killed only 5 days later. In fact, it's said that Ukraine's chief of intelligence Budanov even "liked" the above public post, which tells you everything you need to know.
The Strava app even has the very last known activity, from July 9th, of Rzhitsky saved: https://www.strava.com/activities/9416503801
The killer Sergey Denisenko was captured and detailed how he followed his victim:
By the way, the dangers of the Strava App have been well known for a long time. Years ago there was a big scandal in the U.S. army because so many soldiers were using the app to post their jogging routes around a secret base perimeter, they were publicly exposing the exact coordinates and dimensions of the base:
According to this article, the app even marked a cyclist's route through Area 51 which could be seen on a heat map in the app. Apparently someone at the secret base (maybe an alien?) was cycling around the dry lake bed of Groom Lake and absent-mindedly posting it to the app. 👽
43.
Where will Russia stop? The Dnieper? The Dnieper plus Odessa? Poland?
Of course none of us can know for certain, but I believe it to be the Dnieper plus Odessa, more or less. Something like this is possible:
The above takes on a few extra regions like Sumy and Chernigov, but Russia may be forced to take those in order to protect its own border, as Putin continually stated Ukraine needs to be pushed back. The longer range systems that they get which can strike Russian territory, the further back they need to be pushed.
Some even see a possibility of something along these lines:
The map is helpful at least in seeing the oblasts. You'll note that in order to control Odessa, Russia will have to take Nikolaev and Kherson as well, to create a contiguous corridor and land bridge. The only real questionable ones above will be Kirovgrad (Kropyvnitsky), Cherkasy, and Poltava.
Anyway, first let's start what we know for a fact. Putin has already signed into law the annexation of Donetsk, Lugansk, Kherson, and Zaporozhye regions after those regions completed successful referendums for joining Russia. That means constitutionally speaking from the standpoint of the Russian Federation, these regions are now legally part of Russia, even though Russia doesn't control the full territories in each one:
There is very little chance that Russia can ever "un-sign" those territories from its constitutional state borders. That means no matter what happens going forward, those regions must be considered forever Russian from this day forth. No type of concessions, compromise, or 'deal' during any potentially forth-coming peace talks would ever release those regions back into Ukraine or even some sort of 'neutral' state. You have to understand the finality of writing something into the Russian constitution with the entire senate voting on it. That cannot and will not be undone.
So we must proceed forward from the standpoint of those regions being permanently Russian, with the only question remaining as to what other regions will potentially be acquired?
On that front, we know that Russia has already signaled strong intentions towards annexing Kharkov as well. Not only have several Russian lower officials stated this flatly, but documents were said to be 'uncovered' by Ukraine late last year showing fully developed plans on holding the Kharkov referendums which were supposed to happen not long after the other regions held theirs. But at the time, the big Ukrainian counter-offensive pushed Russia out of Kharkov and foiled the plan.
I believe it's clear that it only delayed it, and Russia most definitely plans to recapture Kharkov and fully annex it.
Odessa is in my eyes a must, geopolitically speaking as its existence in Ukrainian and soon-to-be NATO's hands will threaten Russia's national security existentially, as it will allow a NATO port and fleet to unconditionally challenge Russia in the Black Sea. Thus, it's almost definite that Russia has to annex it, and as I said earlier, Nikolayev necessarily must come with it to create the land bridge.
But your question of 'where will Russia stop' could be interpreted militarily, not simply where they intend to stop annexing land. And the answer to that is it all depends on how long the AFU can keep fighting and retreating. The more Russia captures the further West the AFU will retreat, eventually being forced over the Dnieper into the Western regions—or so we can presume.
If such a time comes and the AFU has not yet collapsed and capitulated, we can assume that Russia will be forced to chase the AFU over the Dnieper into the Western part of Ukraine. Why not just stop at that point, you say? Well, because the chief goal of the SMO would not be accomplished, which is the demilitarization of Ukraine. If Russia were to simply be satisfied with capturing everything east of the Dnieper but letting Ukraine's military and leadership continue existing, then all it would do is lead to Ukraine's eventual accession into NATO and the hyper-militarization of Western Ukraine into an anti-Russian and potentially nuclear-armed force that will be an absolutely existential threat.
That is unacceptable to Russia and therefore the only way they can conceivably stop the war is if the AFU effects a total surrender, at which point Russia will have to purge the entire leadership of the country and military and install all pro-Russian/neutral figures who won't be under the West's control. These figures will be tasked with major ideological reforms of the country, instituting constitutional laws (the entire constitution will likely be rewritten) which expressly forbid almost everything that currently allows Ukraine to be completely controlled by the West. Forbidding Nazism, NGOs, setting limits on military capability just like the allies did to Japan, Germany, or any other defeated force in history, etc.
But my point is, if the AFU continues to scrappily survive and retreat further and further west without surrendering or falling apart, then Russia will likely be forced to continue chasing them all the way to the Polish border if need be until the full collapse, destruction, or surrender of the AFU structure. However, were Russia to chase it to the Polish border, it would likely not 'keep' those territories, but rather put them under permanent guard of peace-keepers in order to maintain the new laws described above—i.e. to, for instance, monitor and regulate all passage of goods from the borders of western Ukraine to make sure illicit arms and other things are being smuggled in from the West. This peacekeeping force may even be made up of some international coalition of Russia-friendly countries, etc.
In short, Russia would allow the rump state to exist but probably under an occupation force in the same way the U.S. occupies Iraq or any other country it has 'liberated'. Russian bases and 'Green Zone' embassies and the whole nine yards, in order to supervise and regulate all the new restrictions in perpetuity. The most important being, of course, to continually enforce the strict demilitarization laws to make sure that Ukraine is not covertly developing any arms programs beyond whatever will be allowed in the surrender treaty, perhaps some token force, etc.
We've already had a peek at that, as Putin showed us the paperwork from the April 2022 ceasefire talks which showed exactly the amounts of forces Russia was going to allow Ukraine to have. Of course, back then was a 'compromise' so Russia was being far more generous in what it would allow compared to the potential future surrender, at which point Russia is liable to not allow any, or very little.
The point is: Russia cannot allow Ukraine to exist in its current form irregardless of which arbitrary line or border Russia reaches. So it's not about stopping at the Dnieper, or Odessa, or the Polish border. Russia can only stop when Ukraine has fully capitulated and surrendered and ceased to exist in its current form. Ultimately, though, this has a high chance of happening much sooner than such time that Russian forces would physically reach Odessa or the Polish border. The most likely scenario would be that the AFU collapses before hand and a possible military coup overthrows Zelensky's regime and signs the surrender with Russia in order to save the senseless loss of further lives of the soldiers of the armed forces.
44.
I understand putin speaks German. Do you think it would be useful for him to record a series of short videos, in German, explaining his views. He could for instance do a brief history of the Ukraine crisis focussed on Victoria nuland. Eg from her picking the next Ukrainian president to talking about blowing up nord stream. Ie utilise social media to bypass the censors.
I'd say there's a few factors to this. On one hand it may seem like a good idea, but as you implied, the EU has such vast censorship on anything coming from Russian authorities that there's very little chance of a "directed message" of gaining a wider distribution to German citizens. And if Putin were to go 'above and beyond' in utilizing subversive methods to spread the message, then it could be construed or perceived as a rather desperate tactic.
Putin likely doesn't want to appear as desperate, as that's how the media would spin it: "Look at him! Desperate despot disseminates deceptive drivel in Deutsch!"
It would appear like he's trying too hard, and Putin likely wants to maintain his air of moral superiority. A person who's groveling and going out of his way to tap the other side has the appearance of someone dishonest and desperate, sort of like what Zelensky does every day all over the world.
With that said, Putin has penned several Op-eds aimed at the West in the past, including one aimed at German citizens on the eve of the war. The article appeared in Die Zeit in June 2021 on the exact 80 year anniversary of Germany's invasion, just as things were heating up.
Either way, what you suggest could still be a good idea, and who knows, maybe Putin will consider it in the future. I was merely listing some of the potential downsides, which include 'appearing weak' by giving the undignified appearance of going 'out of one's way' to reach or beg the other side. But the positive benefits could outweigh those downsides.
45.
From observing the battles, at the moment the AFU seems to be making minor advances here and there - nothing at the level of what anyone expected, but as time drags on they are advancing by several hundred meters here and there, and in some cases a few km

RuAF seems to only be conducting offensives in the North at Oskil, and to some extent at Avdivka & Marinka, but those have been more or less ongoing for a year

My question is - do you think the "offensive has failed" is being oversold? Is the AFU making more progress than we think?
One of the most important things about this dynamic is a very subtle trick that the pro-Ukrainian side uses to obfuscate the true state of the war. You see, the normal response to the situation you're describing above is that the real progress in the war is happening not visually via territorial changes but in the attritional sense. Ukraine is taking massively more losses and is losing its combat potential.
But Ukrainian supporters have used a reverse psychology trick to try to co-opt this narrative for themselves so many times, that it ends up sounding like a feeble 'excuse' when we use it to genuinely describe the battlefield dynamic.
It's a technique they use in other sectors like for instance to deflect Russia's accusations of Nazism in Ukraine. They say, well Russia has Nazis too, despite the fact that their ratios are no where near comparable as Ukraine is nearly an entirely institutional Nazi state, which can't be compared to a few loose Nazi hooligans in Russia. But the point is, by obfuscating things like this, they create a sort of fog that fatigues people from seeing these disparities. The average person just ends up dismissing claims from both sides, when they find they can't verify who is more right.
So pro-Ukrainians disingenuously state that it's actually Russia being attritioned so often, that when we genuinely give the accurate depiction of the battlefield as a massive attritional depletion of the AFU, it ends up sounding false or somehow cheapened, in a sort of boy who cried wolf kind of way. They diminish the genuine assessment by co-opting it as a strategy.
But there is no equivalency there. The fact of the matter is, Ukraine is objectively taking massively more losses which can be and has been proven by visual confirmation every week since the start of the offensive, there is no argument that can be made against that. They are drowning in blood, losing all of their best equipment, while Russia recently has taken relatively few losses—and that's not 'propaganda from Putin' but taken straight from the soldiers' mouths themselves, like the video I posted in the last report right from the frontline where Kaskad battalion said they didn't have a single death in withdrawing from Staromayorsk while the Ukrainian 35th was "drowning in blood" according to their own words, which I also posted.
My point is that, it's a tried-and-true but also tired false-equivalency tactic for Ukrainian supporters to simply dismiss Russia's claims of mass-attrition as invalid because "both sides are being attrited". Yes, both sides suffer losses, but at vastly disproportionate scales to the extent that AFU may be on the verge of collapse by the end of this year if not sooner. It's gotten so bad that articles from Western publications like this one from this morning are becoming increasingly more common:
Not to mention NYTimes new piece which says that Ukraine has now completely abandoned Western/NATO tactics and reverted back to "its old tactics", whatever those are:
So to answer your question, is the AFU making more gains than we're being told? Not really, the only even somewhat appreciable gains they've made is in one direction on the Vremevske ledge. Here is the entire gain they've made: They started at the bottom of Neskuchne at the beginning of the counter-offensive, as Russia did not control Neskuchne itself:
They went south to capture Makarovka and have now ended up at the north outskirts of Staromayorsk, representing an advance of about 4km. Staromayorsk itself is now a gray zone and as of last night, Russian VDV troops were still moving around inside of it, in and out.
On the Western end near Rabotino, their gains are even less and hardly worth looking at, as they only captured some wide open fields and not a single real settlement of note:
With that said, they're now regrouping and refitting and will likely attempt another large push in the near future so they could potentially gain a little bit more. But the losses they're incurring is gutting them out and Russian forces are happy to give up a tiny bit of land for the irreplaceable losses the AFU is experiencing in return.
There is the common thought that AFU may have inexhaustible reserves as they can continue recruiting men from the streets forever to keep pushing inch by inch, even if it takes rivers of blood, they can eventually find their way down the needed strategic objectives. But I believe that Russia is growing stronger at a faster rate than Ukraine can make those replacements. With the stealth mobilization figures of 40k sign-ups per month, the Russian army is growing in size, its old weapons systems are being destroyed and replaced with the latest most advanced ones fresh off the production line. Units that used to drive BMP-2s are now getting BMP-3s delivered to them. Meanwhile, Ukraine is experiencing the opposite effect, all the new equipment scheduled to arrive is a downgrade of what they had before. Leopard 1s instead of Leopard 2s, old junky BRDMs from the 60s in place of all the Bradleys now being destroyed.
In the future, it will be more tiny 105mm howitzers like the M119 to replace the far more powerful 155mms which are being depleted, etc.
The other side will argue that Russia was seen shipping T-55 tanks and other ancient equipment to the front as well. Yet we haven't seen any of them actually being used in combat and in fact several videos were released showing the T-55s being used as VBIEDS—what does that tell you?
Ultimately, there remains the possibility on the Vremevske side at least, that Ukraine could continue pouring reinforcements and ultimately eke out a breakthrough toward Russia's true 'first line of defense', which is just south of Staromylanovka, but beyond that there's virtually no chance they can continue further.
In the map below, the blue represents the previous line before the start of the counter-offensive. The red represents the current line—albeit drawn too generously for the AFU as they are north of Staromayorsk, not south of it—and the purple way at the bottom is where Russia's first true defense line begins:
Here's what they would still have to go across to reach their objective:
I do think people who say it's completely over are over-selling it, as Ukraine will still continue desperately trying to scrounge up some gains at least for another month or two, which represents perhaps another two large push attempts, but I don't believe they'll get much farther than they already are and in fact don't be surprised if Russia takes back some of the territory in the near future as yesterday there were Russian forces already pushing up through southern Staryomayorsk.
But stay tuned for my next report as I will be doing a bigger strategic deep dive into what I actually believe the next 6 months and onward may look like, given new reports and indications which are coming in from both sides.
46.
Hi Simplicius - after reading your answers to readers' questions, I want to ask how long can the US (and Europe) afford to keep this war going? Reading straight talking financial analysts it's clear we have crossed the rubicon of interest on our debt vs tax receipts and the economy is slowing/declining. Mathematically the US has no way out. Col MacGregor remarked that the reason the Brits left India is that they could no longer afford to be there. So the combination of running out of money (or print to hyperinflation levels) and our decayed industrial base, and our unfit military personnel (physically, emotionally and intellectually) suggest to any rational thinker big trouble. As a corollary to that what if China/Russia/others 'nuke' the US financial system by selling their treasuries en masse? Foreign central banks have been buying gold at the fastest level in modern history. Makes one wonder.
Recall that there are two separate schemes of financial support to Ukraine. The first is economic or governmental. Forget all the military aid for a moment and consider just the fact that Ukraine has had upwards of 10-20% of its population fleeing the country, as well as another large chunk that's been completely cut off from them by Russia's annexations of various regions, which means that's a huge tax base that Ukraine is now missing. So their budget shortfall is massive. I believe the figure was somewhere around $25 billion last year and has ballooned to $38B for 2023, which needs to be given to them just for balancing their budget and paying for basic state services to keep the country up and running.
This figure alone is already a very hefty sum the West is forced to fork over without even going into paying for tanks, weapons, ammo, training, etc. That said, many will argue that those figures are still a drop in the proverbial bucket of the West's vast money printing capabilities. And since true de-dollarization of the world is still a long ways away, maybe they can keep it up for quite a while, if they really wanted to.
The 'nuke' option of selling off treasuries is probably unlikely barring any sort of major provocation like war in Taiwan, simply because as you've probably already seen, Russia and China are both civilizational states which simply do not act in such rash and unpredictable manners. Their modus operandi is more along the lines of patience and temperance to the point where they allow the adversary to cross several red lines in order to really make the consequences known to the entire world so that the inevitable response can appear as justified as possible to their partners, etc.
But my understanding is that China has gradually been dumping the treasuries over the past decade anyway, particularly recently:
I can only assume that trend will continue. As the world decouples financially more and more, China will need U.S. treasuries less and less because instead of using them to convert to Western currencies via foreign exchange reserves the various countries China trades with will use their own national currencies in settlements with increasing regularity. There are many other benefits for China holding U.S. treasuries which become obviated once you imagine a world where countries are trading in their own currencies and the U.S. dollar loses primacy and relevance. On that note, U.S. just got downgraded by Fitch:
Ultimately, I'll put it this way: to me, the outcome of this war and how much longer it drags on is more reliant on what Russia does and what Russia's true hidden capabilities are, which they may be holding back for a much broader offensive in the future, than on anything the West does.
The reason is that, even if the West continues to fund Ukraine, the most they can do is keep up appearances at a bare minimum level, status quo. This means a functioning government and civil services, just enough ammunition and armor to keep things from completely falling apart, and that's it. There is no possible way for the West to 'escalate' or switch to a higher gear to the point where the conflict suddenly changes in Ukraine's favor. The reason for this is the simple objective nature of the fact that the West doesn't have enough main staple arms like tanks, etc., for Ukraine that would constitute a 'game-changing' amount.
So my point is: even if the West continues funding Ukraine at the minimal possible level, which is what it's looking like currently, Ukraine will never be able to do much more than defend, or 'pretend' to launch small inconsequential attacks disguised as major 'offensives'.
This means that the conflict hinges entirely on what Russia's true capabilities are and what Russia plans to do. If Russia is struggling with the same sustainment issues, then it could drag out for a long time. But if the numbers coming from Russian officials are not exaggerated—about various things like the massive production increases to Shoigu's 40k/month stealth mobilization—then Russia could stand to ramp up the conflict in the future in a way that would simply overwhelm a 'barely hanging on' Ukrainian state.
To summarize: the West doesn't have enough to change the outcome, only enough to keep Ukraine hanging on by a thread. The entire fate of the conflict lies in what Russia has and how well their own manufacturing and recruitment surge translate into offensive potential in the next larger phase of the war.
There are many questions because some believe Russia likewise exaggerates its numbers to an extent and paints an overly rosy picture of their military-industrial rebirth, so we will have to wait and see. But I believe the ball is now in Russia's court as to how and when this conflict ends.
47.
May be too late for this round of questions, but I was wondering what you made of the UK's recent claims that the RF were likely running low of counter-battery radar systems. Did Popov really complain of this? I'd file it under all the other claims of them running out, but would be interested to hear your view.

https://english.alarabiya.net/News/world/2023/07/17/Russians-suffering-from-critical-radar-shortage-while-artillery-central-in-war-UK
It's a complicated topic as there's no exact yes/no answer. First, with the facts: according to Oryx figures, Russia 'lost' something like 8-9 Zoopark counter-battery radars by way destruction/capture with 2-3 being 'damaged' and likely repaired. The problem is no one knows how many Russia had prior. Some claim as low as 20 total but I find that unlikely for a country and armed forces the size of Russia.
Secondly, Russia has other types of counter-battery radar systems as well, like Penicillin and Astyonok, but for some reason everyone focuses on Zoopark I think because it's the only one that was visibly destroyed so the propagandists have the footage to point to and make their claim, while Russia has many other systems that haven't even been touched.
Also, there was rumor that Almaz-Antey, the manufacturer of Zoopark received a new order for them last year. Though this is unconfirmed, we can only assume Russia is actively manufacturing more of them and could have already more than made up for the claimed losses.
Secondly, Ukraine is taking more losses of its own CB radars, here's one from just days ago of a AN/TPQ-50
And from an earlier Newsweek article, as an example:
The destruction of the Zoopark-2 system came two days after the Kremlin reported "obliterating" three AN/TPQ-37 "Firefinder" radar systems in a 24-hour span. The three purported strikes occurred in the Donetsk, Zaporizhzhia and Belozyork
I've seen literally dozens of videos of Ukrainian CB radars being destroyed over the course of the war, whereas Zoopark gets hit once in a blue moon, a few times per year. Not to mention, that same Newsweek article admits Zoopark is in some areas better than the American counterpart:
Bryan Clark, a senior fellow at the Hudson Institute, told Newsweek that Zoopark operates at a lower frequency, about 6 gigahertz, compared to the 10 gigahertz of the Firefinder. He said that gives Zoopark "a potentially longer detection range due to lower attenuation, but also less precision."

"Both radars advertise about the same detection ranges for artillery and missiles, but the Zoopark likely sees further and is limited in translating detects in tracks by the quality of the operator," Clark said. "That is because its processing capability is less advanced than the Firefinder, which can automatically identify tracks the Zoopark only catches if the operator is proficient."

Both systems are vehicle-borne, he added, though the Zoopark is self-contained on one vehicle and is faster to set up and take down while the Firefinder requires a couple of vehicles and is not as fast to make road-mobile.
My point in pasting the above is that given the slant of this discourse from the Ukrainian side, it's important to note the following:
Russian counter-battery radars are better than the American counterparts given to Ukraine

Russia has far more CB radars than Ukraine

Russian loses far less CB radars than Ukraine does
This is to contextualize the conversation properly. Does Russia likely have a 'shortage' of CB radars in terms of operating less of them than the commanders on the front line would ideally like? Sure, that's likely the case—commanders always want more of everything. But does Russia have far more of such radars than Ukraine? Also, resoundingly yes.
My point is, Ukraine has a much bigger shortage of everything compared to Russia. Russian commanders complain because their standards are much higher. To a Russian commander, losing 5 troops in a single day could be catastrophic, and he will rouse up a storm about not having enough CB radars or other things. But a Ukrainian commander will lose 500 men a day and not even blink. They're operating on two completely different levels expectations and ideals.
Did Popov really complain about the radars? Well, he did according to the official audio which I've posted before. However, he spoke about not good enough counter artillery in general, which to me means ISR in terms of target identification. Counter-battery radars are a part of that, but it includes things like drones and other forms of reconnaissance as well (satellite, etc.). Russia's drone problem—not counting frontline FPV/strike drones—has been well known for a long time. So he's complaining about all of it, the entire system, not specifically just counter-battery radar.
That said, I'm sure Russian troops would love to have more such systems, more of everything is always desired. So when we say, does Russia have a shortage, it's important to contextualize it properly. A shortage compared to what? Compared to their ideal, then yes, because troops are still dying to Ukrainian artillery more than any other system, thus Russian commanders want that enemy artillery to be identified and taken out and it's not happening as well as they'd like. But this is also a general training and efficiency problem, not just equipment.
But is there a shortage compared to Ukraine? No—Russia has exponentially more counter-battery systems than Ukraine and it destroys exponentially more Ukrainian systems than the reverse. Just a cursory search on Telegram for instance gets me a few killed in the last month alone of both AN/TPQ-37 and AN/TPQ-49 systems, and Newsweek already reported 3 of the premier '37s' destroyed in March; and there's many in between those dates as well.
I'll end with this video from just days ago (7/27) showing one of Russia's Zooparks working on the frontline:
48.
How do you think Russian military thought and doctrine post Serdyukov and, specifically, the public fundamental debates at the end of the past decade among high-ranked officers (active and in reserve) as expressed in the Journal of the Academy of Military Science, Military Thought, Armeiskkiy Sbornik and other military publications, have fared in practice in the Special Military Operation? What philosophical and theoretical trends in those debates do you think have been initially or potentially validated and which have not?
I'd like to mostly direct you to this article below which I wrote a month or two ago that actually deals with much of what you're asking, covering much of this material:
In fact, in the article I even quote a paper or two from Military Thought, in particular the one from Generals Bogdanov/Chekinov called The Nature and Content of a New-Generation War, but also American papers like this one which talk about future war developments from the perspective of Soviet doctrine.
You asked specifically about more recent debates, but I'm not as well versed in them as I'm more of a student of history in that regard and find the earlier treatises more interesting to study from the perspective of seeing how two epochal periods connected to each other; i.e. the Soviet and post-Soviet period and transition period into the 'modern era' where computers, internet/networked capabilities, etc., began to take over and completely change all military approaches.
Also, I find it interesting to see how prescient a lot of the much earlier ideas were, such as the ones I outlined in the above report. Like for instance the fact that they foresaw the atomization of conflict into numerous isolated frontlines:
Another way of saying it is, the 80s and 90s appear to me as a period that set in stone new revolutionary ways of thinking, like the above. And the current period, which includes the last two decades, had no real revolutionary developments or advancements of their own, but rather these periods are characterized by the 'refinement' and streamlining of the previously prescient thoughts of those earlier theorists.
Much of Soviet/U.S. doctrine of the 80s/90s remains the same—for instance Air-Land Battle and Recon-Strike-Complex, which Russia is still refining. Sure, the U.S. moved onto 'Full Spectrum Dominance' as the chief post 'Air-Land' doctrine, however in my view, this only reflected U.S.'s ambitions towards the new PNAC era of Middle Eastern conquest where they knew that much of the 'hybrid' battles therein would include a disproportionate use of non-kinetic means of warfare. In short: a shift from peer conflict to COIN and conflict against guerilla and non-peer forces.
But if U.S. were to ever fight Russia for instance, it would be much closer to the old Air-Land doctrines than 'Full Spectrum Dominance'.
Thus, the point being that those doctrines which came at that crucial time of transition to the modern era are still the most relevant and simply continue to be refined now.
And to some extent, we can say that the developments of the 'post-Serdyukov' era you speak of support that, particularly given how Russia appears to now be moving back toward the "big war" doctrines of the previous eras, i.e. reforming back toward divisional structures in preparation to fight peer conflicts rather than periphery policing actions which characterized the last few decades.
The above may seem contradictory to an extent. Because on one hand, the trend has been back toward 'big war' doctrines yet at the same time supporting the fractionalization of strategy, like the earlier quoted 'isolated frontlines' and prominent usage of independent small units. I believe the modern era is a combination of both simply owing to necessity. On one hand, you need to have strong divisional structures to be able to proficiently support large scale deployments against peer level adversaries, but at the same time, once you're actually fighting, you need to be able to protect your units from the mass ISR saturation of the modern era by way of drones, satellites, etc. And the only way to really do that is to fight in a very atomized fashion, using small units.
One of the ways of reconciling this is that the switch to divisional structure is not some mystified doctrinal change per se, but rather simply represents turning a bunch of older motorized rifle, airborne, and tank brigades into divisions by vastly expanding them in size. So it's more of a quantity thing rather than a change in operations. The change in operations occurs more in the doctrinal line going back to some of the documents I listed, where Russian theorists from the 90s already foresaw the coming erasure of frontlines and a more ambiguous, fractured style of fighting.
Ultimately, things like the 'Gerasimov Doctrine' have likely not fared that well in Ukraine given that those ideas were designed for smaller non-peer conflicts and the Ukraine war represents a return to the 'big battle' old school style of warfare where hybrid techniques can only go so far because the enemy is just as advanced as you and is therefore immune to much of those techniques compared to some small despotic banana republic.
For instance, it's widely accepted that Russian intelligence and 'hybrid' style opening operation against Kiev failed, as Russian intel was not able to penetrate Ukraine as well as they hoped, leading to what many believe to be poor intelligence in regard to how viable Russia thought Ukraine's leadership would be toward subversion and internal collapse following a coup de main style takeover. Russia was then forced to give up on the more 'hybrid' type of effects and refocus on old school 'total war' with all its trappings of a powerhouse economy supporting major military mobilization.
That's one of the reasons I stated earlier that U.S.'s "Full Spectrum Dominance" is not something that would be focused on against Russia as much as the previous Air-Land Battle.
But as a last note about the post-Serdyukov era you spoke of, as I understand it most Russian generals and interior circles hated the changes and wanted to preserve the old Soviet structures and systems. Thus, in some way the current developments mark a kind of victory for the old stalwarts and the 'tried and true' doctrines.
In many ways, I believe the last few decades of American doctrinal developments have also been thrown in the gutter as the whole world slowly came to terms with the fact that the era of the 'big war' is back, and the newfangled techniques of the past few decades don't quite hold water in peer conflict, which instead relies on pure manufacturing potential rather than a small number of choice 'precision systems' as all of NATO had imagined would be key to most victories, given their misleading results in the Kosovo and Iraq conflicts.
49.
Going back to the start of the war, what was the purpose of the attack on the Gostomel Airfield and could it be called a success?
The purpose was to seize the advance forward base in order to facilitate rapid and safe delivery of materiel and special forces to first effect a spec ops infiltration of Kiev in order to try to capture the leadership, but also—should that fail—to basically create a forward bridgehead that would allow the road-marching force to arrive uncontested from the Belarusian border.
In short, the Gostomel attack was the opening phase of an 'Operation Storm-333' type of attempt to quickly capture Kiev's leadership. We know this from a variety of factors, but most notably a Russian official has previously let it slip that the point was to remove leadership and install their own.
What's interesting is that I began to immediately cover the events in depth from the moment of arrival on Saker's site, and revisiting some of my 'on the fly' updates and analysis may be enlightening as I still stand by exactly what I reported at the time. But more importantly, those initially granular reports give us some insight into what was happening in those early moments which is now missing in the long view, a year and a half removed from those fateful events.
For instance, you'll note that late on February 25th, on day two of the conflict Russian special ops troops were already working their way down Peremogy Avenue, bee-lining toward Maidan Square and Bankova St. area where Zelensky was holed up:
(for those who missed my announcement long ago and may be confused, I am Nightvision below)
I still remember it like it was yesterday, and specifically recall fighting near the Kiev zoo being reported which is right on that street along the way toward Bankova. In fact you can still confirm this with a search:
Here's how close they were:
The zoo is circled, the red arrow is Peremogy Ave down which Russian forces were advancing, and the red X is Bankova, presidential HQ. Right next to Bankova, a block or two away, is Maidan Square—and here you can see on the same night of 2/25, I was already reporting the following:
Unfortunately, as can be seen above, I was a little too hopeful. But given that fighting was literally blocks from the presidential palace, his capture did seem imminent at the time.
As can be seen I saw it as a redux of Storm-333 even back then:
Most of these developments are now lost to history, as Ukro-supporters pump the narrative that Russia never got close to Kiev, or wasn't close to achieving anything etc.
The fact is, the airborne created a bridgehead for special forces to make a lightning strike at Bankova, but ultimately their light forces faced too much resistance on the Peremogy Avenue battles. How it played out was for a few nights in a row, Russian forces would retreat during the day and then at night time push down Peremogy with renewed strength, each successive night advancing a bit further but they were never able to make it all the way.
But we must remember that there wasn't just one objective. Russian military planners have the foresight to plan with contingencies; plans B, C, D, etc. If Russia only wanted to seize Kiev and its leadership, they would have sent its entire army down to Kiev and foregone doing thunder-runs in all the other directions like Kherson, etc.
The fact is, there were many key objectives Russia had to seize in a very timely fashion. For instance, there were 'sensitive' sites like biolabs, the nuclear power plants, etc., which if given too much time, would have allowed Kiev and their Western black ops specialists to evacuate a lot of their secret materials, programs, etc., which were operating from those locations. For instance, being Europe's largest nuclear power plant with potential secret programs running there, as recently admitted by the U.S. when they 'warned' Russia not to touch their 'sensitive' secret equipment there, Russia had to very swiftly seize ZNPP before things could be exfiltrated.
Secondly, Russian planners did hedge their bets to an extent, and thus opened up on many vectors as a 'fixing/pinning' action to freeze Ukrainian reserves in various places to facilitate the seizure of other strategic areas.
But getting back to Gostomel, the ultimate point is that, if they relied only on the road marching force, they would have given far too much time for Zelensky and top leadership to not only potentially escape, but for Kiev itself to become highly fortified and impenetrable at the borders of the city. By seizing Gostomel early, it allowed them to setup a FOB and bridgehead that allowed the spec ops to operate nightly from there in an attempt to push into Kiev before all the various reserves and regional TDFs were called up to flood the city, as well as heavy armor/weapons.
Lastly, do I think it was a successful operation? Speaking of Gostomel specifically, which is what I believe you're asking about rather than the wider Kiev operation—then yes, I believe it to be one of the most successful and professionally done air assault operations in history which will be studied in future books, doctrines, etc.
There were many lies from Kiev at the time about Russian VDV losing control of Gostomel and being 'pushed out', but this was later disproven. The VDV of the 31st brigade, 106th airborne division, 45th spetsnaz brigade and others all held the airport entirely and never lost it until the command to withdraw from the entire northern front in early April, 2022. So as far as the specific VDV air assault operation for the airport, it was an astounding success and I don't think there's any country in the world that currently fields a force that could have pulled it off. Recall U.S.'s 'Seal Team 6' which had its choppers shot down and were almost SOL in the Bin Laden raid.
Also, I'd like to note that just like the infamous Russian 155th marines "catastrophe" in Ugledar which were debunked by confirmed MediaZona obituaries, showing they actually lost only a few dozen people or less, similarly MediaZona posted figures for Russian VDV losses during the Gostomel days and they were likewise very low, particularly compared to Ukraine's claim of the VDV being "completely decimated" and basically "ceasing to exist".
For instance, here's the VDV specific chart:
You can see they peaked in those late february Gostomel battle days with ~120+ casualties per week, which represents ~17 killed per day. During the most intense breaching-style fighting, 17 KIA per day is hardly 'catastrophic'. Recall that the AFU averaged 500-1000 KIA per day during hotter times. And that's only for the two weeks of late Feb. to early March. After that, when the road-marched force of Rosgvardia and Kadyrovites arrived, the VDV losses dropped to a mere 20 a week, which is like 3 a day.
50.
If I may Sir... similar to other guys here, I wish to see a broader mil/geopol retrospective of Your previous ideas, any necessary assessments, Your most probable path for the future. (like a geopol OODA)

I know that speaking of future is always... risky but You are sure better than me and us to try and see such path... I think that noone would be going to bash You for any mistake... :)

Long story short... Your coffee bet? :)
I surmise you're asking for the general trends and directions where the broader conflicts and geopolitical developments seem to be heading.
In general, I believe that the Western financial system is at its most dire and critical point in history. For the first time, a rival bloc/system is arising which threatens to completely cut off the West and immunize itself of all their most valuable instruments, like SWIFT and various banking interconnections. Just look at the list of current top 10 banks in the world by total assets:
What does that tell you?
So my point is, facing this critical inflection point, the Western power centers—which are controlled by the financial elite who run this banking cartel—are left with only two choices: either allow themselves to be completely bypassed and ultimately consigned to irrelevancy, or create a major world war to effect a series of force majeur situations as well as, preferably, destroy, absorb, or majorly degrade the other side's systems to retain primacy.
Add to this quandary the fact that they're running out of time: the East is rising far too quickly while the West wallows in stagflation and societal degradation, swallowed whole by the myriad intractable problems of mass migration, liberalism, social decay, etc.
Every year that goes by, China alone becomes increasingly unstoppable. The further they wait the less are their chances of ever preserving their hold on power.
But here's the major problem: currently, they're on a war path with Russia. But this is an untenable situation for them because should a wider war break out, they could very well degrade Russia, but only at the cost of massive degradation or destruction to their own economic and financial systems, whether it's nuclear exchange or just a wider conventional war where Russian conventional cruise missiles take out Europe's productive capacities all over the continent.
That means pushing too hard against Russia would leave the West equally destroyed, but China untouched. This is a very troubling position as it would put China even further ahead of the West. Thus, their options are limited. The only conceivable solution is to create a giant world war or two fronted war where they attempt to degrade both Russia/China simultaneously but that's very risky because it can push Russia-China into a true military alliance, rather than the current loose partnership. And such an alliance could prove utterly unstoppable as there would be no limits on their cooperation. China could provide endless military supplies to Russia and vice versa. Imagine, for instance, if China cut the rest of the world off from their drones entirely but only shipped them to Russia. The Ukraine conflict would instantly end. Or even if China handed over all of its satellite capabilities to Russia for ISR, to similar results.
And there's no telling if the West even has anywhere near the capacities to wage a two fronted war against both. Just look at today's headline:
My guess is that the West will try to 'thread the needle' by initiating a conflict between China and Taiwan with the hopes that the U.S./West can help 'from the rear' without taking much damage themselves, while facilitating for Taiwan to destroy as much of China's economic and productive potential, to set them back as much as possible while also creating force majeur financial events allowing the Western financial institutions to sneakily write off all sorts of debts.
Furthermore, if they can create a long protracted conflict, they could aim to keep China busy and the entire South China Sea area as a cordon sanitaire which would embargo China and restrict its trade and port access, crushing its economy.
WashPost just published an article days ago about the U.S. airforce general who's convinced war with China will come in 2 years and has 'ordered the 110,000 troops under his command to prepare for war'.
"My gut tells me we will fight in 2025," he casually announces. Of course, he's telegraphing the U.S.'s intentions here. The U.S. is who controls the ignition switch for the war, not China. China has stated previously they are seeking a political reunion with Taiwan, but U.S. will 'trigger' the war as always, like they did for Russia and Ukraine, but pressing the appropriate buttons and puppeteering their Taiwanese marionettes to create planned provocations at key times.
It's difficult to predict how it will turn out though because China's is a very untested military that looks great on parade and exercises, but that is not very telling. Unlike US/Russia, China has not had much conflict experience to cut its teeth on and refine its equipment, techniques, etc.
Ultimately though, even if China should stumble during the Taiwan episode, it would only delay the inevitable. Both Russia and China will in the end win their respective conflicts, and barring the West triggering an all out WW3 with a nuclear exchange, I don't see the West coming out on top as it's simply 'too little too late'.
Most likely though what will happen is by 2030, Europe will reach levels of degradation where far-right/conservative/traditionalist political parties will take over most of the key countries and greatly limit the U.S.'s meddling. The EU may die and slowly these countries may re-establish some semblance of sovereignty, resuming normal relations and trade with Russia, China, etc. By then they will be vastly weakened and will become once more dependent on Russia/China for energy and economically. Russia and China are very forgiving, so they will welcome all the countries back into the fold, as well as the Independent Republic of Texas, Florida and a few new other independent nations which will likely begin their own trade and relations with Russia-China, despite the uproar from 117 year old Nancy Pelosi and some member of the Bush or Clinton dynasty still ruling the dying nominal U.S. at that point.
---
If you enjoyed the read, I would greatly appreciate if you subscribed to a monthly/yearly pledge to support my work, so that I may continue providing you with detailed, incisive reports like this one.
Alternatively, you can tip here: Tip Jar
---