Discover more from Simplicius's Garden of Knowledge
War strategies, geopolitical analysis, SitReps, and discussions.
Over 24,000 subscribers
What's in a name?
We start today with an interesting angle to ongoing global developments. The G20 assembly in India was a 'quiet' watershed moment that will go down as another mile-marker on the now inexorable march toward the collapse of Western hegemony.
India for the first time has reverted to using its ancient name of Bharat, with Modi sitting behind a placard with the new name at the summit:
This is a powerful decolonization move that marks an ascendent Eastern and 'global south' world which is finally awakening en masse to repudiate the bonds from the West, both physical, psychological, and spiritual, which have shackled them for so long.
In 2014, famed yogi Sadhguru perfectly explained the significance of India needing to adopt its true name over the one forced onto it by colonists:
"When someone conquers you, the first thing they will do is change your name. This is the technology of dominance, the technology of enslavement."
He states that Bharat is a mantra of power:
There are some detractors, though, who believe the new posture change is a dangerous shift in the Hindu nationalist movement, and may spark repressions against ethnic minorities.
But this encompasses a wider movement of the liberation of people around the globe, finally witnessing the downfall of the West, and no longer afraid to embrace their own historical realities, taking control of their agency and destiny.
This of course comes not long after Turkey similarly shed its Westernized veneer and declared itself as Türkiye, officially changing the name of the country.
All of this falls under the shadow of the historic decolonization sweeping through Africa, where Francophone countries in particular are standing up against their erstwhile occupiers once and for all. These shifts mark a major turning point in the global consciousness. The West has never looked more frail, more "out of ideas" for the future leadership of the world. It has never looked more "on the wrong side of history" than today, with its utterly inhuman and ubiquitous economic terrorism, where 1/4 to 1/3 of the world's countries are currently under sanction by the U.S., not to mention its even more inhuman social engineering, pushing vast unnatural changes on humanity's social fabric in the most coercive ways possible.
These tectonic shifts have not been lost on some of the world's most incisive thinkers. Alexander Dugin was amongst the first to notice the seachange. In a new post, he describes the new emergent world 'eschatology'. I'm no hardcore Duginist, per se, so I can only assume he's using the term not in a theological but rather Heideggerian way (he was a follower of Heidegger, after all)—which is to say, eschatology as a sort of human manifest destiny, or true being. In short, he's saying that countries around the world are throwing off their previous imposed facades and false mantles, and are going back to their roots by re-embracing their historical essence.
Dugin links it to the final refutation of Francis Fukuyama's fallacy—that the "end of history" had come with the fall of the Soviet Union, and that "liberalism" would be the final eschatological fabric to enshroud humanity for all time. But the new global shift represents an awakening of the world's oldest cultures, having finally realized that the pseudo-religious cult of Western 'liberalism' is in fact a dead end.
Lastly, to return from the lofty and abstract back to the concrete developments on the ground, we note that the other major ground-shaking demarche occurred when the West, and the U.S. in particular, got a big slap in the face rebuke when the entire G20 refused to declare the Ukrainian conflict as an "aggression" by Russia, wording it as a "war in Ukraine" rather than a "war against/on Ukraine [by Russia]", a sharp departure from the Bali summit in November of last year, where most countries condemned Russia's "aggression".
From BBC:
Desperate to bolster its fading influence, particularly in Africa, the West invited the African Union to the G20 as a permanent member in its entirety, all 55 members of it. But the luster simply wasn't there, as G20 leaders even refused to take a group photo with each other for the first time, some sources claiming it was due to the "presence of the Russian delegation."
Just another example how little the West has left beyond desperate ploys and infantile posturing.
Ultimately, this Russian analyst described it best—that despite Putin not even being present, Russia "won G20":
⚡️⚡️⚡️There is such an opinion.

Sergey Markov:

Russia won the G20 summit in Bharat India. The declaration was adopted. And in it, Russia and the Global South imposed their formula on the Collective West. The West conceded.

The West wanted the phrase "Russia's war against Ukraine.". She was thrown out and put the phrase "war in Ukraine".

The West wanted there to be support for a Grain deal only for grain access from Ukraine. But in the declaration, the formula is "grain from both the Russian Federation and Ukraine."

The Global South has defeated the Collective West in these formulas, because the Global South and Russia have become stronger and more consolidated.

They expanded the BRICS, and now the West is giving in, leaving, gnawing its tail like a wounded wolf.

In Bali there was a year ago "aggression of the Russian Federation against Ukraine" and it was then our defeat. And now our formula is "war in Ukraine". Will there be "SVO" next year? Or the liberation of Ukraine?⚡️⚡️⚡️
All that being said, it's fair to say that Ukraine won't be getting an invitation any time soon:
Weapons news
The other section I wanted to cover today revolves specifically around some of the latest weapons development updates. There has been a particularly interesting spate of recent news on this account, so we might as well explore them all in one go.
1. A Russian source has announced that Russia has now tested, for the first time, a Fab-1500 version of the UMPC glidebomb and it's said to have hit its target accurately. Reportedly, Su-34s can carry upwards of 2 such bombs.
FighterBomber (Russian airforce-linked account) gives the details on why it took longer to develop this variant:
After many months of trial and error, a couple of days ago the first UMPC FAB-1500 M54 accurately found its combat target with a direct hit.

The countdown of hohlofrags has begun!

For certain reasons, the designers were unable to simply increase the UMPCs that were used on the 500 and 250 kg calibers and attach them to the lorry. Therefore, we can say that everything had to start almost from scratch. New airframe, new mechanisms. Everything is solid, but everything is new.

And finally everything worked out.

At the same time, they were able to increase the release range by ... times compared to UMPCs of smaller calibers. That is, this is our longest-range UMPKashka that exists.
With a stated accuracy of 5 meters, only the crater from the bomb explosion reaches fifteen meters in diameter, and the affected area is more than two square kilometers. Only the explosives in this bomb are under 700 kg, while the Su-34 carries and can already operate with two such UMPCs, and in the future it will be able to operate with three ammunition, at one or different targets in one pass.

There is still a lot to be completed, a lot to improve, to go through the inevitable process of shrinking and shaking, but successful combat work has begun in one and a half hours.

Let me remind you that crests currently have no protection against UMPC.

Yes, so far the cases of using UMPCs of this type are isolated, there are still few of them, but I think within a month the industry will organize their production at the calculated volumes and they will fly, just as UMPCs of more modest calibers fly today, up to a hundred a day in all directions.

And in light of the fact that recently UMPC have learned to throw not only Su-34 and Su-35 of the latest series, but also Su-34 of the first series, I think this is great news.

Oh yes, and today they will fly by taxi. Perhaps in those very seconds when you are reading this text.
This is a huge deal. Recall that in a recent Forbes article the AFU themselves admitted that the new glidebombs are the single weapon they fear most:
The Fab-1500 is 1500kg compared to the 500kg size of the ones most commonly using the UMPC "Orthodox JDAM" attachments presently. That's on top of the fact he indicates that the range on this one is actually much larger. A 1500kg bomb is massive in power, with an explosive warhead of I believe somewhere near the 700kg weight.
Most cruise missiles have warheads in the 450-500kg range, as an example. This would be much more powerful than a large cruise missile yet inordinately cheaper to use. It's like having an "on call" Kalibr cruise missile to use on the frontlines on a daily basis, for close-in air support and other situations, rather than having to conserve them as is currently done with expensive cruise missiles.
If they can truly get it to work in decent numbers this could turn into the most terrifying weapon of the war.
2. Another big piece of news came with the revelation that Russia has used the Kinzhal missile fired from an Su-34 platform for the first time:
The reason this is bigger news than it sounds is because not only does this open a huge amount of new platforms that can use the missile, but more importantly it allows Russia to 'mask' the use of the missile far more effectively.
You see, one of the chief issues of the Kinzhal's use thus far is that, operating primarily from the Mig-31 platform, it allowed the U.S. to track potential strikes much more effectively, giving Ukraine advance warning which goes against the entire ethos of what the Kinzhal is supposed to represent: namely, lightning fast decapitation attacks that take away your ability to anticipate or defend against it.
But since Russia has a limited number of Mig-31s which likewise operate from a smaller number of designated airfields, it's much easier to anticipate an impending Kinzhal attack when you see one of the Mig-31s taking off, which the U.S. can do by watching just the airfields they operate from, whether by some sort of satellite or forward observers on the ground (easy to have an agent renting an "apartment" nearby who can literally watch them take off from his window and immediately report on it). Just read this Rybar report from about a month or so ago:
It's resulted in a known situation where the mere take-off of a Mig-31 sends the entire country of Ukraine into lockdown, as they expect a Kinzhal strike on some sort of decision-making center (as that's the only type of target a Kinzhal would normally be used for).
But now, if Su-34s can carry the missile, there's no real way to track that because they operate out of a much wider array of fields, flying far more sorties in general. That means a Kinzhal attack can happen at any time, completely unexpectedly, which puts all of Ukraine's most sensitive targets on notice.
3. Speaking of planes and airfields. A curious update on the 'tire' saga. Many have laughed after Russia apparently began to place tires on the grounded fuselages of strategic craft like the Tu-95. This culminated in a new photo showing Su-34s have fallen victim to the tire campaign as well:
The photo spawned a frisson of jeering laughter and ridicule around the net: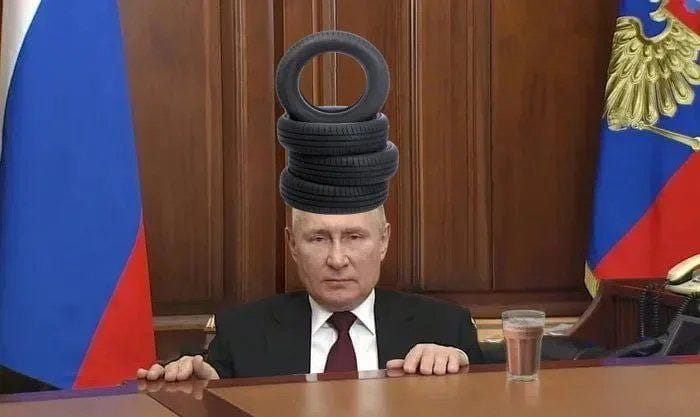 But it quickly subsided after it was revealed that the tires are not just a desperate 'cope' ploy against drone-dropped grenades, but rather they interfere with the synthetic aperture radar (SAR) satellites which scan Russia's airfields on an hourly basis:
It seems Russia has once again used the cheap "wooden pencil" to foil the West's billion-dollar efforts.
This comes after a series of naval tricks Russia continues to utilize which throw off Western OSINT detection of their ships, like the ongoing repainting of ship hulls to create optical illusions that mess with accurate identification and tracking of Russia's vessels:
4. I wrote long ago about how the U.S. announced a sudden impending cancellation of the F-22 program shortly after Russia's SMO began, clearly reading the tea leaves of modern conflict and realizing how old and obsolete their vaunted 'stealth fighter' had become in light of Russia's air-defense supremacy.
Now, there's been another such u-turn: this time in the form of an announcement that the U.S. will be cancelling its much anticipated Abrams tank:
The Army announced Sept. 6 that it will no longer upgrade its old Abrams Main Battle Tank and that it will build a new fighting vehicle instead.

The Army will close out the M1A2 System Enhancement Package version 4 effort and develop M1E3 Abrams, "which will focus on making the capability improvements needed to fight and win against future threats on the battlefield of 2040 and beyond," an Army statement said.

Initial operational capability is anticipated in early the 2030s, the statement said.

Maj. Gen. Glenn Dean, program executive officer for Ground Combat Systems, said: "The war in Ukraine has highlighted a critical need for integrated protections for soldiers, built from within instead of adding on."
Add that to the growing list of abandoned U.S. projects from the realization that they can't compete on the modern battlefield. Not to mention that after the destruction of 2 Challengers, the delivery of the Abrams to Ukraine is said to again be "mysteriously delayed":
5. However, U.S. isn't the only one making major changes after the 'harsh lessons' of Ukraine. Russia has now announced that its previous designs for the long-awaited Kurganets-25 are no longer adequate.
As you can see the Kurganets is a giant compared to the old BMP models. After seeing how poorly Western behemoths like the Bradley performed in real action, Russia apparently is scaling things back, and reverting to smaller more streamlined designs. Interestingly, the Abrams decision also revolved around the desire to make the platform much "lighter" and smaller for "future conflicts."
In short: both sides are clearly identifying that large hulking armor is nothing but a sitting duck to modern detection systems, ATGMs, and attack helicopters.
The Armata is also reportedly getting an update on its "electronic systems" after experience in the SMO, and is set to reportedly begin mass production next year.
6. The next item is what those "electronic updates" may be about. Russia has recently shown a new anti-drone system to be rolled out and installed on tanks:
They are already being reportedly installed on tanks in the field:
Thus we can only assume the Armata will be slightly redesigned to have some sort of system like this natively built-in. It already has an automated hard-kill defense system against RPGs/ATGMs and such, but I'm not sure if it was designed with much slower traveling drones in mind. Plus you wouldn't want to waste hard-kill shots on drones if you can potentially just jam/zap them instead.
7. ATACMs:
There's been rumor about the U.S. leaning toward sending ATACMs to Ukraine in the near future, particularly ones with the cluster munitions warhead. Another rumor however claimed they've already secretly sent them very recently.
You'll recall that in a previous report I had posted a video of a frontline Russian soldier who recounted how they were hit with cluster shells weeks before the official announcement came that cluster munitions would be shipped to Ukraine. So it's possible ATACMs could already be handed over.
One reason I believe it's being considered is that Russia has cinched up all avenues of attack on the Kerch bridge. The key strategic bridge remains Kiev's only real chance at creating one big "victory" in a single fell swoop. A week or so ago, three new naval suicide drones were sent toward the Kerch but this time were easily repulsed by the new defenses Russia set up there, including barges placed at regular intervals, sunken ships to create obstructions, and potential anti-mine nets, as well as, presumably, spotters stationed on the barges.
So now Ukraine's only chance at attempting to hit the bridge may lie in this long range ballistic missile system, so this could be the impetus behind their desperation to get it.
***
Let's move on to the final regular sundry updates.
I wanted to issue a small update on the artillery war as a natural extension of the big artillery rant I did in this last report.
As you know, when new information corroborating some important throughline comes about, I like to update it to give people real complementary data to prove a point.
My position was that Russia is winning the artillery war despite the contrary complaints from 6th columnists, in both total attrition and the simple mathematics of things like range.
Here's a new video I happened to see of a Russian artilleryman describing a captured 2A65 Msta-B. He plainsly states it has a 28km range; recall the M777 with basic round is listed at 23km and change.
It may not be groundbreaking stuff but it constitutes one of the first clear confirmations from actual Russian artillerymen, rather than relying on wikipedia stats. And though this video depicts a captured version, the 2A65 is one of Russia's most standard deployed field pieces, not to mention uses the same cannon as in the 2S19 Msta-S, which means they should have about the same range.
Building on that comes a new Ukrainian post which gives us unique insight into the situation:
👉 Ukrainian Post

In connection with the constant defeat of 2c4 "tulip" and 2c7 "peony", the enemy is forced to compensate for the losses of 2c5 "hyacinth-s", which is reflected in their ability to conduct counter-battery combat.

If we maintain the rate of destruction of 2c4 and 2c7, as well as enemy UAV control points, our artillery will feel a little more free and will already gain an advantage not only in counter-battery, but also as infantry support.
They claim that Russia is losing 2S4 Tulips and 2S7 Peonies, and is forced to compensate with 2S5 Hyacinth-S systems. But notice what he says. That only by continuing to attrit these systems can Ukrainian artillery gain any breathing room to work in counter-battery and supporting their infantry.
The conditional is "if" we maintain this attrition, our artillery will be able to breathe more freely and survive counterbattery warfare. So what does that tell you?
Remember how last time the 2S7M is precisely the system I listed as being the bane of any and all NATO artillery systems. It's a 203mm powerhouse that shoots nearly 40km with unassisted shells and even much farther with assisted ones. The AFU are confirming that the 2S7 doesn't let them breathe and only by further attriting them (with drones, HIMARs, etc.) can their artillery be able to come out of hiding and be effective in supporting frontline troops.
Also, note how he states IF we maintain destroying the 2S7s, we will "gain an advantage" in counterbattery warfare—this clearly presupposes that they don't currently have this advantage. i.e. he's admitting that Russia fields the counterbattery advantage at present.
To wit: it simply confirms everything I said last time. Unfortunately, despite destroying a few Russian systems recently, the AFU in turn suffered even worse attrition of their own systems, such as this new French Caesar:
Moving on to the area of potential mobilizations and troop dispositions. There have been a few interesting and enlightening new statements on this front.
Firstly, Putin reiterated and confirmed the latest reports about 270k new Russian enlistments for this year thus far:
Then, State Duma Defense Committee Chairman Kartapolov issued the following statement:
🇷🇺⚔️🇺🇦 Russia does not need a new mobilization for the rotation of servicemen in the special military operation zone, says the chairman of the defense committee.

➡️According to the chairman of the State Duma Defense Committee, Andrey Kartapolov, they have already enlisted more than 200,000 contract servicemen, and it is through them that the rotation of mobilized personnel in the special military operation zone will be carried out.

💬 "Today, we have over 200,000 contract servicemen just for this year, so by the end of the year, it will practically be one to one or maybe even more," explained the deputy.

🇷🇺🇷🇺 In the State Duma, there was talk about the rotation of contract soldiers at the expense of the mobilized

In Russia, no new mobilization is needed to rotate military personnel in the zone of special military operations. The chairman of the State Duma defense committee, Andrey Kartapolov, spoke about this. According to him, contract soldiers will be used for this.

"That's why they were recruited." They have already recruited much more than 200 thousand, and because of them there will be rotation. As part of the partial mobilization, 300,000 people were recruited. Today, there are more than 200,000 military personnel under contract for this year alone, so by the end of the year it will be almost one to one, and maybe even more," explained the MP.
This is very interesting because if you'll recall, I had previously reported that there was a "rumor" Putin was going to use the newly mobilized to merely 'rotate' last September's partially mobilized 300k, rather than adding them to a much larger continual force.
There has been a big mystery surrounding what these newly 420k+ enlisted Russia plans to have by the end of this year are for, exactly. We speculated they would be either reserves for Shoigu's newly created military districts and army corps, and/or also new forces to add onto the existing formations in the SMO.
Now, Kartapolov appears to have confirmed that the chief purpose for the new cadres is to rotate the previously mobilized 300k, seemingly validating the earlier rumor. He said by the end of the year they will be more than "one to one", meaning they will match the 300k mobilized last year. The big question is, what does this "rotation" entail exactly? Is it temporary or a permanent demobilization of last year's numbers?
While many will balk in fury at the thought of permanently demobilizing them, due to the desire for Russia to amass as many men as possible for a huge breakthrough fist that can end the SMO quickly, it seems more likely to me that last year's men will be demobilized. Why?
Because: firstly, the new recruits from this year are volunteered enlistments. Meaning, they actually walked into a recruitment office and wanted to join the SMO. Last year's mobilized are technically drafted against their will—to an extent, so it only makes sense to replace them with actual fully willing contract servicemen.
Why did I say "technically" drafted against their will? It's a little more complicated than that. The mobilization last year was conducted from Russia's pool of reservists. However, almost every adult male in Russia is technically a reservist, at least all the ones who served their compulsory conscription. But the mobilization called up only those reservists who were in a special category that specifically earmarked themselves for future call-up. So on one hand they are in fact willing, as they actually volunteered to be the reservists at the top of the call-up list. But at the end of the day, they were still reservists living their normal lives and didn't really "need" the SMO to come about and suddenly wrench them from their families, jobs, lives, etc.
The enlistments from this year on the other hand literally walked into the recruitment office with the full intention to serve, so as I said, it only makes sense that they should replace the mobiks who in some ways were more of an emergency "stopgap" measure to staunch the unexpected territorial losses of late last year's Kharkov/Kherson offensive.
I don't know for certain—there is still a chance that this "rotation" entails merely sending the mobiks on an extended R&R, then perhaps rotating them merely to the 'rear' lines rather than completely demobilizing them and letting them return to their previous lives. I'm just saying that logically it would make sense if that happened. It all depends on how many men Russia feels it needs to beat Ukraine, and that itself depends on what the actual military plans for Russia's general staff are.
If Russia foresees this conflict as a very long term one, it may simply choose to continue enlisting the 30-45k per month, which would net them an additional 500k+ men by end of next year. So even if they demobilized all of last year's mobiks, it would still eventually get them enough men to conquer Ukraine.
The only question is: who are these enlistments exactly? If a large portion of them are just sign-ups off the street with little previous training then they may require long amounts of training to even be moved to a frontline unit, let alone be capable of doing offensive assaults. But as I said another time, few Russian men should have no training at all since there is compulsory service at 18 in the country.
Reports still abound from the Ukrainian side that Russia will mobilize some kind of giant new force soon:
However, in the same article above a Ukrainian military intelligence rep named Vadym Skibitskyi states he doubts such an overt mobilization will take place, given that Russia is set to undergo elections, and that Russia will instead continue the covert mobilizations.
Skibitskyi is also quoted in a new Bloomberg article which reports that Russia has 420k total troops in Ukraine, as per this military intelligence directorate.
Recall it's been an ongoing thread here to deduce how many total troops Russia has. Many figures like MacGregor believe Russia has 700-800k total current forces. I've been one of the few who contend the number is far lower. The last time I calculated it out in a report, I estimated Russia could have as few as 370-450k forces or so. This is based on the fact that they only used under 100k in the first year of the war, added another 300k mobilized, however likely lost anywhere from 50-100k in both casualties and contract expirations or those who simply left the service.
If we add to the above the fact that tens of thousands of the newly enlisted from this year have been sent to the frontline rather than placed in Shoigu's new corps, then we can arrive at somewhere around the 400k range give or take. Of course there are now 200-300k in reserve that can enter at any time, but the 420k number quoted in the article states that's the number participating in the SMO.
The fact that the Ukrainian intel rep is quoted as saying this is a very impressive number seems to indicate to me that Ukraine's number is similar if not lower, rather than the 800k-1M troops Zelensky would like us believe he currently has.
And on this question of conflict length, we have the following new statements. German Brigadier General Christian Freiding said they're ready to support Ukraine until 2032:
Another top Russian figure also recently said the conflict will likely last another 2-3 years.
A new Washington Post Op-ed by Fareed Zaharia says that in Kiev, where he wrote the story, some "unnamed" officials quietly told him they'd be willing to consider a 'temporary ceasefire' in exchange for security guarantees. He also writes that loss has become an accepted status quo in the life of Ukrainians.
He isn't kidding. Numerous videos and stories continue to pour in of Ukraine's losses. Here head of Ukrainian medical services admits the losses are "massive":
Putin reports that 71,000 Ukrainians have been killed in the counteroffensive so far:
Also, in bullish news, Putin seemed to indicate that he's prepared for a long conflict, rather than capitulation to a Khasavyurt Accord style armistice, when he stated at the same Eastern Economic Forum talks that peace talks would only lead to Ukraine rearming themselves. That he signals his understanding of this is favorable news.
Meanwhile the Ukrainian 4th Reich is very much beginning to resemble the 3rd toward the end of WW2:
Here's a candid update from a British Foreign Legion mercenary on the war's progress:
One AFU rep from the "elite" 47th brigade angrily recounted how they suffered 13 KIA (200) and 63 WIA (300) per day.
If we're to extrapolate that for an offensive running into 90 days x 13 = 1,170 KIA for that one brigade. And not surprisingly, that's exactly what I reported here, from an official report that said the 47th's casualties had run "into 4 figures."
Extrapolate those 13 KIA per day losses to the 10-15 brigades operating just on the western Rabotino front, then add the Donetsk/Bakhmut fronts, Staryomayorsk front, Kupyansk front—it's easily 500-1000 KIA per day.
Russia on the other hand has been suffering the lowest KIA spread of the entire war thus far. The latest from MediaZona which meticulously tracks obituaries:
It shows that for August, Russia is averaging ~70 casualties per week, with September seeing even a fraction of that. That's about 10 casualties per day they're picking up. That's for the entire Russian armed forces. Ukraine is seeing more casualties from a single brigade out of their 50-70 remaining ones. It's gobsmacking levels of disparity. This is why Putin said honestly that during the "counteroffensive" Russia maintained even much more than a 10:1 kill ratio.
Russians are literally sitting back and shooting ducks in a barrel as Ukraine fruitlessly trucks across open fields and gets annihilated by artillery.
There are larger and larger batches of captured Ukrainian prisoners:
In fact last week the largest batch in months was taken near Klescheyevka:
Dozens of Ukrainian POWs in one catch are frogmarched out. So much so that panicked UA supporters tried to spread disinfo about these being Russian POWs since Ukrainian channels had also posted the video. Unfortunately for them, the top Ukrainian channels subsequently took the video down after it was geolocated and proven to be Russian forces moving Ukrainian POWs into Russian controlled territory:
In fact, a new report claims Russia again has over 18,000 Ukrainian POWs currently housed in detention:
The number of prisoners of war of the Armed Forces of Ukraine in prisons and colonies of the DPR and the Russian Federation has approached the figure of 18 thousand... The Verkhovna Rada prohibits their exchange and return to their homeland, because such a number will tell that everything is not sweet in the Armed Forces... well, the Azov people are exchanged instantly, they even they can get a Nobel…
Such that the new AFU spokesman had to issue an emergency refutation:
Sorry, "Sarah", but just the Donbass republics alone had nearly half that at the beginning of 2022.
And early this year, Russia was said to have had over 10k:
There are droves and droves taken daily. Just from the past few days alone, along with the above videos, we have this, and this, and this, and this, and this.
But despite all that, the AFU continues to advance bit by bit for now, so one can't feel too celebratory.
Russia has reportedly built new trenchworks behind the first line near Verbove:
This new CBS report shows how closely the U.S. continues to coordinate with the AFU on a daily basis. This is a must watch:
There was rumor that Russian strikes have already wiped out a Ukrainian brigade command center based on the geolocations of the maps shown in the above video.
Others have pointed out how the U.S. military is getting most of their intelligence from open source 'brOSINT' maps:
Apparently this is General Milley being briefed off a brOSINT terrain map rather than a real tactical map.

I sounded the alarm about this very early in the war - that US decision-makers were going to use trash internet OSINT sources for critical decisionmaking because they're far more convenient than actually gathering and analyzing intelligence inhouse. And here we are, with the CJCS being briefed off an intelligence product that floated out of the black box of the internet.
This is something that has been pointed out before as potentially causing the disaster of the counteroffensive. The U.S. military lazily used amateur open source OSINTers on Twitter to track Russia's 'Surovikin line' fortifications and then helped Ukraine plan an entire offensive around that data. When the first Ukrainian armor columns pushed through and realized the actual fortification placements were much different than their "maps," it quickly turned into a catastrophe. It was said that Russia knew they were using open source satellite data and amateur armchair OSINT collators and so they simply created new fortifications, obsoleting the older data.
By the way, the video above talks about minefields. I mentioned last time how Ukraine has resorted to demining fields simply with meat assault troops. Some probably thought that was gross exaggeration for effect. Now there's proof.
First a video from a Russian sapper officer who describes how it's done:
Now here's a new video showing Ukrainian meat assault squads wading through a minefield and getting blown up:
This is backed up by a new detailed report which reveals that Ukraine is suffering from a mass shortage of capable sappers. Read the section on "live mine clearance"—it's nearly back to the days of Chernobyl's "biorobots":
The Ukrainian Armed Forces are faced with a shortage of sappers in Zaporozhye: analysis of the Military Chronicle

The situation for Ukrainian troops in the Rabotino-Verbovoe sector is complicated for several reasons.

Firstly, all active movement of Ukrainian units is limited to an area of 105-110 square meters. km in the triangle between Novodanilovka, Orekhov and Malaya Tokmachka. However, it cannot be called safe: the entire area is covered by cannon and rocket artillery of the Russian Armed Forces.

Secondly, minefields are still an unsolvable problem for Ukrainian Armed Forces units. Remote mining systems continue to allow the Russian Armed Forces to complicate the entire logistics of Ukrainian ground forces in the area. It is impossible to clear the newly installed barriers: regular military sappers of the Armed Forces of Ukraine are eliminated by reconnaissance groups and artillery of the Russian Armed Forces. It is impossible to train new sappers and quickly send them to the battlefield. As a result, key formations of the Ukrainian Armed Forces' vanguard in this direction, including the 46th Airborne Shock Brigade, the 82nd Airborne Shrift Brigade and the 47th Mechanized Infantry Brigade, faced a sharp shortage of sappers.

The situation with minefield clearance is partially resolved through so-called live mine clearance, when mobilized recruits are sent to an unexplored offensive area in pickup trucks. The experienced sappers remaining at the disposal of the Armed Forces of Ukraine often work without fire cover and equipment, which is why they quickly die from artillery fire or during incursions by special forces units of the Russian Armed Forces.

Thirdly, the terrain features also affect the losses of sappers. The entire attack vector of the Ukrainian Armed Forces in this area is built to bypass the main heights occupied by the Russian army. As a result, Ukrainian troops are forced to advance in the lowlands (mainly only along the remaining part of the asphalt roads), which is under the fire control of the Russian Armed Forces. Due to the peculiarities of the terrain and the well-built surveillance system of the Russian Armed Forces, any activity of Ukrainian troops, including attempts to clear mines, is quickly discovered and stopped by Russian troops.
Let's move into the final few disparate items.
At the Eastern Economic Forum, Putin recounted the tale of the Ukrainian sabotage raid into Russia's Bryansk region that was brutally stopped recently by the FSB. The most noteworthy thing is he states that during interrogation the captured saboteurs revealed they were going to damage Russia's nuclear power plant by bombing power transmission lines feeding it:
I'll link the video rather than post it directly as it's a bit graphic (18+), but for those that want to see the aftermath of the failed AFU cross-border raid, with impromptu FSB interrogations, you can do so here: Video Link.
Next:
The official Russian MOD website quietly removed Surovikin as head of the aerospace forces days ago:
However, a new rumor claims that the general is being given a sort of hinterland sinecure as head of some coordination committee for the CIS:
☄️☄️☄️Information appeared online that Russian General Surovikin was appointed head of the coordination committee for air defense issues under the advice of the CIS Ministry of Defense.
There is no direct confirmation of this, but seeing as how previous rumors regarding his whereabouts were seemingly proven true, there's good chance this one has merit. If true, it certainly represents a quiet and face-saving demotion of sorts, with notable 'leniency' on his putative transgressions.
Next:
A report on the Challenger from Slavyangrad:
The Challenger 2 tank turned out to be defective; its frontal armor came off

As demonstrated by the combat operations in the Northern Military District zone, the quality of British Challenger 2 tanks, two units of which were destroyed by Russian Kornet ATGMs, leaves much to be desired.

The first of the destroyed tanks, as they write on social networks and forums, had the front plate of the hull sponson torn off. Also, an internal explosion of ammunition tore out a multi-ton turret.

And all this for a combat vehicle, which for many years was presented as the standard of security. In fact, it turned out that it has practically no advantages over the previous generation.

Currently, of the 14 units delivered, 12 remain, and no future deliveries are expected. There are already jokes on the Internet calling the remaining tanks "Zeloushen's twelve friends."

Slavyangrad
What's interesting about this is that in the video of the ATGM squad commander which destroyed the Challenger, he mentions that the tank makes a special kind of "fire" with a lot of sparks. When Russia hit Khlemnitsky with the massive strike months ago, if you'll recall there were a lot of "sparkly" things in the air and reports of large increases in the radiation background because the depot was said to have housed a large amount of British DU ammo.
Now it makes sense if soldiers witnessed strange sparkles from the Challenger explosions. After all, the tank has a unique rifled barrel which cannot use the same ammo as other Western tanks, so there's very good chance it was packed full of British supplied DU. But don't worry, the ever incorruptible Rafael Grossi of the IAEA sees nothing wrong with DU:
The British army chief for his part felt "emotional" when the Challenger was destroyed:
How sad!
Finally, as of this writing, Kim Jong Un has finally arrived in Russia and is meeting with Putin at the Vostochny Cosmodrome in Russia's Far East:
---
If you enjoyed the read, I would greatly appreciate if you subscribed to a monthly/yearly pledge to support my work, so that I may continue providing you with detailed, incisive reports like this one.
Alternatively, you can tip here: Tip Jar
---