Discover more from Simplicius's Garden of Knowledge
War strategies, geopolitical analysis, SitReps, and discussions.
Over 24,000 subscribers
Let's start with the biggest, most momentous update of all. The BRICS summit, which has just ended, ended up in ways surpassing my expectations. The official acceptance of 6 new members was announced, which is more than a doubling of the current size of the BRICS:
Iran, United Arab Emirates, Saudi Arabia, Argentina, Egypt, and Ethiopia. Their official membership will begin on January 1, 2024. The new BRICS:
It was announced they will be keeping the name BRICS and not adding new letters.
Let's break down the most important points of this historic expansion.
Firstly, this group now represents 37% of the world's GDP in PPP terms. Keep in mind that the much vaunted G7 has 29.9%, down from 46% in 1992. And if all prospective members join in the future, it'll be 45%:
Think that's not a big enough deal? The new 11-member BRICS, with its energy powerhouses of Iran, UAE, and Saudi Arabia, now also controls ~54% of the world's oil production and 46% of the world's population. Not to mention they will account for 48.5 million square kilometers, or 36% of the world's landmass area.
Some other things to note. Firstly, they promised to continue expansion so there will be more members considered for the next summit, which should be one year from this one and will be chaired by, and presumably take place in, Russia. That means by next summer all of these numbers could even drastically increase.
Further, the BRICS members did verbalize an initiative to begin work on an inter-BRICS settlement payment system and currency. The timetable for it is not immediate, allegedly within 5-10 years they hope to develop one. But even in the meantime, they will increase initiatives towards settling in their own currencies away from the dollar. So the de-dollarization will continue accelerating, especially now that there are new members on board. It's just that they will convert between their own currencies rather than use a new single inter-BRICS currency in the way the EU uses the Euro.
⚡️The Bank of the BRICS countries is developing a single digital currency for the states of the group, - the media, citing the head of the monetary policy department of Trace Finance, Evandro Casianu.

According to him, a single digital currency of the bloc is possible if it is issued by the BRICS bank

- This can happen in 5-10 years, the implementation of the corresponding project will be phased

- As a result, a single currency can be used for trade transactions
It's been noted that the new BRICS currency will not be like the Euro in that it won't be currency to replace daily usage for the average person in the streets. They will continue using their own currencies in their individual countries. The BRICS currency will be more for the countries' own central banks to settle trade amongst themselves to avoid purchasing USD dollars. So in that respect, it won't be like the EU where the Euro replaces the Deutsche Mark and all the rest.
This article even describes Putin's call for a new BRICS transport commission to figure out all the new route logistics for the members.
"An important priority for BRICS interaction is the creation of new sustainable and safe transport routes... We believe that the time has come to establish within the framework of BRICS a permanent commission on transport, which would deal not only with the North-South project, but also, in a broader sense, with the development of logistics and transport corridors," Russian President Vladimir Putin said, addressing the audience of the 15th summit via video link.
The article explains that in particular, this commission would look toward ensuring the chief BRICS members' ability to bypass critically strategic corridors and choke points like the Strait of Singapore, Strait of Malacca, Suez Canal, Bosphorus, Strait of Hormuz, etc.
As most know, Saudi Arabia has previously signaled that they're considering allowing trade of oil in Yuan. And that's not from a tinfoil source but from the Wallstreet Journal itself:
That was long before KSA became a member of BRICS. Now imagine some point in the medium term future, BRICS creates its currency and Saudi Arabia ditches the petrodollar. The types of global changes this could precipitate are incalculable. The entire Bretton Woods system would begin to unravel, though it's arguably starting to unravel already.
Pepe Escobar spills more details in his new Sputnik article as well. He reveals that one of the "great difficulties" in the negotiations which Putin referenced was that India wanted to admit only 3 new members, while China wanted 10, with a compromise of 6 having been reached. The fact that China is so bullish on the BRICS is good news—it means president Xi is very serious about overturning the system of Western hegemony.
And the 6 accepted members are better than imagined: with Egypt, which represents the largest economy in Africa by GDP PPP; Iran and KSA, which represent a historic rapprochement for the two gulf powerhouses to occupy the same bloc. UAE, the home of Dubai and Ethiopia which is said to be the current fastest economically growing African country and a natural resources powerhouse, not to mention, importantly, is the 2nd most populous African country after Nigeria. Yes, Ethiopia is even more populous than Egypt, at 126 million.
Argentina is a bit of a dark horse. Sure it's a powerful representative of the South American continent, however as this article points out, it can prove to be a bad investment. Far-right candidate Javier Milei, according to the author, could win October's presidential elections and has already promised to cut ties with China and re-orient Argentina to the "civilized West", which would likely mean ditching BRICS.
The author aptly summarizes the chief strength and weakness of the BRICS concept:
One of the strengths and weaknesses of BRICS is that it is not ideological. Non-ideological cooperation is a blessing because it has the possibility to withstand the test of elections, but it's a liability because it means that the general enthusiasm for building a long-term project is lower, plus an election (or a coup) also has the possibility to upend it if an extremist is elected. This ultimately means that for BRICS to remain worthwhile, it has to produce tangible results that politicians can show to their domestic audiences. Perhaps, to that end, if Argentina is promised fresh cash, it will end up joining whatever the result of its presidential election.

But the unpredictability, and the resulting fragility, of some Global South governments will undoubtedly be the perennial challenge for BRICS.
These challenges are reflected in the fact that many of the BRICS countries do tote Western cultural initiatives. For instance, just yesterday Brazil passed legislation outlawing homophobia, allowing prison time for any hate or anti-gay "bigotry".
At the end of the day, the Western world is falling. As an example, Turkey and many other powerhouses could be up next for the BRICS at the next summit. Many inside Turkey already feel the shift:
The United States creates enemies for everyone, and for Turkey too. Ankara forced to put up with undeclared US war

"Turkey is in a state of undeclared, secret war with the United States, which has actually become its strategic enemy. In such a situation, there can be no question of a new era in relations with the United States," said Tamer Korkmaz, a columnist for the pro-government newspaper Yeni Şafak.

The reason is that Washington strongly supports the Syrian branch of the Kurdistan Workers' Party, recognized as a terrorist organization in Turkey, as well as the Kurdish People's Protection Units (YPG). The US Armed Forces conduct regular exercises with them and prepare them.
And the West is already seething. Here's the "Chair of European Committee for NATO Enlargement" Gunther Fehlinger threatening Brazil:
Lastly, let's address the repeatedly surfacing criticism that BRICS is a secretly "globalist organization" because it was a "brainchild of Goldman Sachs." This is nonsense. All that happened was that in 2001, a Goldman Sachs employee named Jim O'Neill wrote an internal paper stating that Brazil, Russia, India, and China were beginning to wield power on the world stage and that they should be allowed into the G7 sooner rather than later. This policy suggestion seemed to stem from the standpoint of trepidation that if the West didn't take these countries under their wing, they would allow them to form their own bloc that would end up being the undoing of the West (how prophetic).
In the paper he called them BRICs but this had no provable connection to the founding of the BRICS which happened 5 years later. The shorthand name of BRICS may have caught on and the countries may have used it out of convenience or simply because there was nothing else to logically call it, since taking the letter of each country just makes straightforward sense. The point is that Goldman Sachs had nothing whatsoever to do with the actual founding of the BRICS, nor any connection with them. One of their policy advisors merely put two and two together and coined the term BRICS in an internal paper, that's it. Here's a screenshot of the actual 2001 report as proof:
Incidentally, Jim O'Neill just had a new interview with Financial Times days ago where he slammed the BRICS' idea of a common currency as "absurd", and said that India/China's tensions would likely prevent it. Although he admonished that should they find a way to reconcile their issues and actually create such a currency, then it would be the end of the dollar. O'Neill now works for Chatham House thinktank in the UK.
So, calling BRICS a Goldman creation is like believing Klaus Schwab's fantasy about Putin being a "young global leader."
Long story short:
By the way, ironically, Brazil's Lula is the only current president associated with the foundation of BRICS. He was president of Brazil during the first BRICS summit in Russia in 2009 which inaugurated the group, while even Putin was not president—Medvedev having taken the role at the time. China was then led by Hu Jintao and India by Singh. Now Lula is back and is presiding over the first major BRICS expansion since that time.
//
Let's move on to a few battlefield updates.
Yesterday, Ukraine launched a large new push attempt on Rabotino which had some people calling it the third phase of the offensive. Some sources claimed 83+ armored vehicles were involved in a huge column, but there have not been precise corroborations. There have just been some new photos of armor graveyards from the push, as well as confirmations of new destroyed Strykers as well as other vehicles:
They pushed down into Rabotino and finally made Russian forces abandon it. However, afterwards Russia retook some of it with a small counter-attack. As of this writing some sources claim Russia has a presence in the south of the settlement, but it's uncertain. In fact, the DontStopWar channel associated with an actual Russian military unit seems to state that AFU hasn't even captured the north part of Rabotino yet:
Here's a helpful map which shows Russia's previous control before any of the counter-offensives began in June (white line). The purple line shows how far Ukraine has gotten now on this western side.
Here, you can see that Russia's infamous main "Surovikin defense line" begins much closer than on the Vremevske ledge in the east. Which means Ukraine is very close to it near the town of Verbove. However, here Russia has many more layers of the Surovikin line, whereas in the east, beneath Staromayorsk, the line may begin much farther south but there's fewer echelon layers.
A wider view:
It had been previously stated that the main counter-offensive objective had been downsized to simply taking Tokmak, rather than the unrealistic objectives of capturing Crimea, Mariupol, or even Melitopol. If they can take Tokmak they will be happy and consider that a major success.
Thus, some sources claimed that the new major advance would be a final culminating "armor fist" to break through the first line and shoot down towards Tokmak. Neither is likely to happen. Particularly capturing Tokmak, which is absurd at this point.
But have no fear—Western military thinkers claim all is not as dire as it seems.
But they can already cover all this territory with their vaunted JDAMs, Storm Shadows, GLSDBs, etc. What would putting all that in HIMARs range do? It's not like HIMARs can hit moving targets so having a highway in HIMARs range doesn't do much.
For the record, here's a post from an AFU unit to see their side of the updates on the current hostilities around Rabotino:
Good morning, dear friends!

Good news to you.

⚔️ Fighting on the southern outskirts of Robotino. In some places, the guys went to Novoprokopivka.

⚔️ The Ukrainian armed forces have started to move towards Kopanya from Robotyne. This is a counterattack to avoid hitting us in the flank. No progress so far. Fierce fighting. But then the orcs got nervous...

⚔️ Verbove - advance and also counterattacks to avoid a blow to our flank.

⏳ Nesterianka - No deep advances so far, but the area is very interesting....

📍 Now all the main battles are taking place in the Robotyno-Novoprokopivka-Verbove triangle - the fate of the Tokmak direction is being decided here. The enemy, like us, threw everything they could here - infantry, paratroopers, marines, prisoners, etc. It's much easier for the orcs - they have burrowed into the ground, into the defensive lines they built in advance. This is what makes it difficult to move in the direction of Novoprokopivka - Verbove.

The orcs' aircraft continue to operate, but it is becoming a routine. There are new minefields, apparently set up by the orcs recently and hastily, haphazardly.

We are working, yours.
There are continued rumors of new mass mobilizations from Ukraine for this fall-winter.
🇷🇺⚔️🇺🇦 Yuri Podolyaka (Russian analyst) on the state of the Ukrainian Armed Forces:

💬 "I returned from the front line of combat, talked to the guys who captured soldiers of the Ukrainian Armed Forces in the southern sector. There are noticeable changes: now they often surrender even when they could still fight. There has been a psychological shift among Ukrainian soldiers, and more and more of them really don't want to end up in this slaughter. The Kiev regime must understand that it will only get worse from here.

➡️The turning point came in June-July, when Ukrainian soldiers began to realize that it was the end. The Russians didn't retreat. It's reminiscent of the critical point the German army faced at Stalingrad.

➡️A new wave of mobilization in Ukraine will likely face much greater resistance from society. Although they could recruit 200,000 to 300,000 within six months, due to raising the age, canceling previous deferment conditions, and other measures. But the quality of this contingent will be very low. The best of them are currently dying on the battlefields."
Video for the above:
Zelensky seemed to stage a question at a press conference two days ago in order to begin conditioning society for the inevitability of a new mass mobilization:
Meanwhile, Reznikov, who conveniently is said to be resigning soon, told Ukrainians that when they see a soldier in the street, they should expect to replace him on the battlefield soon:
Meanwhile, MSM is also breaking the news to society slowly:
Note the slow descent: a few months ago it was "Ukraine is running out of ammo", which has now become "Ukraine is running out of men."
The problem is, some sources like the following report that Ukraine needs to mobilize 10k per month just to keep up with losses:
Ukraine must mobilize 10 thousand people every month to be able hold the front

"In order to compensate for the losses (dead and wounded), as well as to replace the military dismissed from service for health reasons, age and family circumstances, it is necessary to call up about 10 thousand people to the Defense Forces every month.

This is without taking into account the creation of new units or the training of reserves, "a source in the General Staff of the AFU reports.
So, in order to keep up with that plus add enough new recruits to bring up ~200-300k would be a monumental task that is likely not possible.
Gleb Bazov of Slavyangrad even claims the following dire situation:
Sources monitoring the movement of Ukrainian strategic military reserves report their absence from the previous deployment locations. This means that Ukraine has nearly drained/exhausted all its currently available manpower and military equipment resources, sending them to the front.

This corroborates our earlier projection that the Ukrainian counteroink has peaked and is slated to completely exhaust itself in September, likely by mid to the beginning of the last third of month.
What's interesting is that other headlines have recently been revealing how U.S. leadership is clashing with that of the AFU in regard to the distribution of forces. Namely that Western leadership wants Ukraine to go "all in" on the southern direction while they regard Ukraine's pouring of reserves into Bakhmut and the northern Kharkov front to be wasteful and dissipative.
The latest NYTimes article goes into this:
As well as Wallstreet Journal:
From NYT:
Ukraine's grinding counteroffensive is struggling to break through entrenched Russian defenses in large part because it has too many troops, including some of its best combat units, in the wrong places, American and other Western officials say.
The article makes some other admissions:
American officials' criticisms of Ukraine's counteroffensive are often cast through the lens of a generation of military officers who have never experienced a war of this scale and intensity.

Moreover, American war doctrine has never been tested in an environment like Ukraine's, where Russian electronic warfare jams communications and GPS, and neither military has been able to achieve air superiority.
As well as stating that Ukraine likely has 4-6 weeks remaining before the rains take over and operations will have to be paused.
Now, Arestovich has underlined this fissure, candidly opining that he too cannot see the logic of the endless Bakhmut reinforcement:
General Zaluzhny days ago indirectly replied to all such complaints by pointing out that Ukraine would lose territory in those regions if it took men away from them to the south. Certainly in Kharkov they would, where Russia is actually conducting assault operations. But in Bakhmut, it seems to me the Russian force disposition is not that of assault-heavy squads but rather defensive forces of the 3rd army corps. If Ukraine were to ease off on that front, I doubt those Russian forces would eagerly burst forward but rather continue digging in to strong defensive lines.
This surmise was proven days ago when I posted a video of Russia's only big mishap in recent times. It occurred near Klescheyevka by those very forces who tried to switch to offensive operations to expand their zone for a bit more breathing room. They did not appear prepared for that assault as they were brutally rebuffed with an entire armored column destroyed in a way that was reminiscent of the earlier Ugledar fiascos. Meanwhile the troops in Kharov region continue advancing and assaulting successfully on a daily basis.
But this seems to reveal an odd ideological obsession with Bakhmut—somehow, that particular town is personal to Ukraine's leadership. We can speculate on why: the most readily available reason being perhaps that's where they spilled the most blood and faced their largest humiliation in many ways. More likely, as I wrote last time, they smelled weakness there. Syrsky stated, in the infamous video I once posted, that now that Wagner had left, there was nothing 'scary' in Bakhmut anymore—a frail attempt to lift his troops' morale.
Now—perhaps to cover their own dire need for men—Ukraine is issuing new reports that Russia itself is planning for a major mobilization this fall:
The head of the Ukrainian intelligence Kirill Budanov assures that Russia has been continuing covert mobilization since last fall and is now considering the possibility of additionally drafting 450 thousand people.

According to him, monthly hidden mobilization gives the troops a replenishment of 20-22 thousand people.
The interesting aspect above is that he confirms the "covert mobilization", which by now is not so covert as Russian officials have continually updated the numbers on it. He claims a 20-22k new troops per month, that was Russia's figure from about June or earlier. Now Medvedev/Shoigu report upwards of 40k new signups per month, if you'll recall. But that's neither here nor there; the important thing being that even Ukraine is acknowledging this, which means that there's no room left for propagandists and schizopatriots to claim that "Putin and Shoigu are corrupt" and are deliberately throwing the operation because they refuse to mobilize more men. Whether it's 20k or 40k, this monthly sum represents upwards of 250-500k new men per year in shadow enlistment. But of course it's never enough, the schizopatriots claim only 2-3 million new men is adequate and that all Russian citizens must be press-ganged into 18 hour shifts at the tank forge.
This gives us a rough outlook for the next 6 months, up to next spring. Ukraine will likely try to desperately mobilize as many new men as possible over the winter in order to prepare for the big Russian spring 2024 operations everyone is now talking about. But a slight hitch in that plan. The earlier posted WSJ article generated buzz such that RT even headlined it:
Namely, that a former U.S. official told them that funding will be tapered off next year, and that the "mountain of steel" needed to refit the AFU simply "doesn't exist":
On that same note, it's interesting how many pro-Ukrainians doubted how much of Ukraine's airforce Russia had destroyed. For instance, Oryx's infamously undercounted list only has a few dozen craft (while Russia lays claim to hundreds). Now, Ukraine's airforce spokesman Yuri Ignat has openly stated that Ukraine requires a whopping 128 fighter jets to "replace the old fleet."
That last part is crucial—he's clearly admitting that they've lost at least 128+ fighter craft which must be replaced. Using laughable Oryx figures, here's what The Economist believes Ukraine lost:
If they lost only 60, would their spokesman be saying they need ~130 to replenish the fleet? That said, Russia's own official figures show nearly 500 airplanes, though it's difficult to know their tallying methodology and whether perhaps they include something we don't know about:
For instance, they are likely including all disused/mothballed planes they destroyed on the ground, which is said to be many (it includes tons of transport planes, and old Soviet biplanes like the AN-2, etc.), whereas Ukraine is referring to only active usable fighter jets, specifically. Not to mention a portion could be double counts in that Russia may have "damaged" many which were subsequently fixed and then hit/destroyed again at a later date, which would appear as 2 separate planes on Russian tallies.
Getting back to the near future. One last major problem is that Ukrainian officials foresee a very grave upcoming winter:
💡🐽⬛️ There may be no light in Lviv for up to 2 months - Mayor Sadovaya

"We need to prepare for a situation when Lviv may be a month or even two without power supply. When there will be a difficult situation, the demand will be twice as much for refuelling generators and transporting water. We need to prepare for very difficult periods," the mayor said during a meeting of the city council.💥😁💥
Last winter when Russia ran its large infrastructure strike campaign many believed that it was mostly in vain as Ukraine went on to fix much of its energy network, particularly given the perception that Russia was only striking transformers rather than the power plant engine rooms themselves. However, recently I've seen some possible info to the contrary, like one report stating that only a small fraction of the infrastructure had been repaired. Ukraine boasted that they still maintained an "energy surplus" earlier this year, however commentators noted that much of that was likely an effect of the exodus of millions of people leaving a huge net loss of energy usage in large cities.
Either way, reports continue from the Russian side that Russia has big plans. For instance, the Zaporozhye governor after his recent meeting with Putin:
Balitsky, after his conversation with Putin, announced "a lot of interesting things" on the SMO fronts in autumn. According to him, the Russian president confirmed his thesis: We haven't started anything yet.
The only question remains, will Russia "start something" major this fall/winter, or wait for spring? On one hand I favor spring because there's no real hurry at the moment and Russia is still building up stores and stockpiles of surplus ammo for an offensive.
However, there's clearly also great strategic possibility in launching an offensive at a point of the AFU's greatest exhaustion and breakdown, which would be this fall. Waiting for spring could allow them to begin those mass mobilizations to replenish their forces. Likely, they'll split the difference. This fall/winter they'll launch smaller localized offensives to take advantage of exactly the spots where the most battered AFU brigades are in the process of being pulled and replaced, while next spring may bring something much bigger and unified.
//
Now, let's move on to the Prigozhin/Wagner saga to update a few things on that front.
First, let's dispense with the video condolences issued by Putin:
Noteworthy is the fact that Putin did not say the kind of things I personally would have expected, under normal circumstances. You expect declarations like: "We will scour the earth, leave no stone unturned until we get whoever was responsible for this. The coward/craven/villain who committed this vile terrorist act will be brought to justice, etc."
None of that was said. Instead, a very reserved and mannered eulogy, fraught with symbolism. Prigozhin was a 'difficult man' who 'made mistakes', etc. Personally, it's exactly the type of brief, cagey, boilerplate eulogy I'd expect if Prigozhin was infact "put out to pasture" by security services.
That said, there's still no real 100% confirmation or identification of the bodies. They have been flown to Moscow for DNA analysis, spurring many people to run away with theories that Prigozhin is actually still alive. Admittedly, the only such theory I could give an inkling of credence to is if, for instance, some hostile outside force like the SBU tried to assassinate Prigozhin but failed (by blowing up the wrong plane). Then if Putin was interested in "protecting" his important asset, he may have tasked the country's services with covering up Prigozhin's death, to allow him to exist in the shadows so that the assassins can't get him.
But this would probably be absurd, as Prigozhin would have to resurface at some point in the future anyway to conduct his business, and so the hypothetical threat on him would continue.
For now, what we know is that Putin suddenly issued a new decree obliging all paramilitary style forces like volunteers and PMCs to "swear an oath of allegiance" to Russia: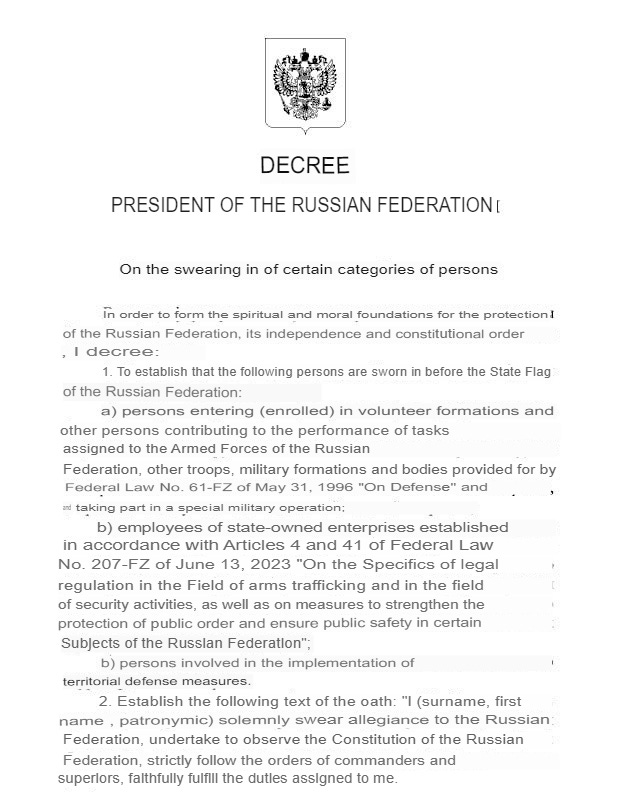 This appears to be different than the previous legal ruling forcing Wagner fighters to sign a contract with the Russian state. This is more of a loyalty test, with peculiar timing in that it appears clearly aimed at weeding out the Wagner fighters who may potentially question their loyalties in the wake of their leaders' deaths.
There were also some interesting new updates. For instance, the information that Russian general Yunus-bek Yevkurov traveled to both Libya and Syria just prior to Prigozhin's death for negotiations:
Negotiations were not only about the cooperation and fighting terrorism together. As it turns out, Yunus-bek Yevkurov held meetings with the leadership of these countries and insisted on the winding down of all Wagner's supporting business projects and withdrawal of PMC's contingents. The most important part was that the decision had to be made independently by the governments of Syria and Western Libya to deflect negativity from the Russian leadership.
Everything apart from the travel is unconfirmed, however one can infer; after all, what else would he be traveling there for?
So on the one hand, Russian government tried to negotiate with the Wagner PMC and make it focus primarily on Africa. And on the other hand, the Ministry of Defense tried to persuade Libya to decrease the presence of Wagner's forces. It goes on:
⚡️🇷🇺🌍Exclusive: Wagner's rotation in Africa and dialogue with the Russian government

Our sources told us interesting facts regarding the negotiations between Wagner PMC and Russian government that involve Africa and Wagner's presence there.

Apparently, just the day before the plane, on which PMC's boss Yevgeny Prigozhin allegedly was traveling to Moscow, crashed, an agreement was reached with one of the security agencies of the Russian Federation.

Wagner was supposed to partially return to Ukraine and even more intensify its activities on the African continent.

So Russian idea was to increase the presence of the PMC in Africa and, following the idea of separation of tasks between Wagner and the Ministry of Defense, make the group one of the main Russian military actors on the continent.

This agreement was made to separate Russian Ministry of Defense and Wagner, so to make them focus on different directions and tasks in the interests of the Russian Federation and make sure they don't overlap each other, in order to prevent another conflict and "mutiny".
Take it with a grain of salt as again this is from the anti-Russian propaganda outlet of VChk-OGPU. However, I post it because it does follow logic, to an extent.
The thesis appears to be that the—presumably Shoigu driven—plan to finally disarm and weaken Wagner was to make a deal for Wagner to put all their resources, focus, and efforts on Africa, while simultaneously quietly telling African leaders to start unwinding Wagner contracts, presumably replacing them with the Russian MOD's other new PMCs.
Like I said, the fact that the Russian military delegation just arrived in Libya literally a day or two before Prigozhin's death seems to support this direction of thought.
Not to mention that it was the first official Russian military delegation to the north African state, led by Russia's deputy minister of defense, no less. They even openly stated the purpose revolved around cooperation against international terrorism, which was exactly Wagner's raison d'etre in Libya—so clearly the theory has merit.
The vast concatenation of events seems to imply an orchestrated operation to decapitate Wagner and "cut them down to size".
By the way, interestingly, the U.S. as always seemed to have a bead on these events. In my last report I had forgotten to mention the fact that U.S. state department curiously issued an immediate notice for U.S. citizens to depart Belarus. Note the timestamp:
Did they foresee some kind of Wagner trouble?
And why Belarus and not a warning to leave Russia? Probably because they've already warned everyone to leave Russia long ago many times.
On that note, some observers have alleged that Wagner's Belarus base had already begun rapidly emptying. Left is August 1st, right is August 23rd:
In Belarus, they show the camp of Wagner PMC, where 101 out of 273 residential tents have already been dismantled. Tents have been removed since the beginning of this month.

The photo shows a comparison of the general view of the camp. On the left is a frame from August 1, on the right - from August 23, 2023.
On the other hand, Lukashenko dispelled above rumors and had the following to say about Wagner's fate in Belarus and elsewhere:
"Wagner lived, Wagner lives, and Wagner will live in Belarus, no matter how much some people don't want it. We have built a system with Prigozhin, how Wagner will be located here. And these images from space, that we are dismantling something... Why are we removing extra tents - we don't need so many. There is still a nucleus here, someone has gone on holiday, someone has decided to live on the sidelines, but the phones, addresses, passwords and addresses in this nucleus are known. Within a few days everyone will be here, up to 10,000 people. There is no need to keep them here now. So they are not running anywhere. As long as we need and this unit, they will live and work with us"- Lukashenko
A top Wagner commander echoed the words:
The commander of the Wagner Group, Alexander Kuznetsov, better known as Ratibor, made a statement:
"We will not go anywhere, we will not abandon anyone and we will protect the Russian people to the last. Evgeny Viktorovich was my comrade and close friend, he bequeathed us instructions on what to do if he was gone — there would be a parade of justice. The instructions and last words of Prigozhin, which he bequeathed to the Russian people, I published in my channel, he loved Russia..."
The last thing I wanted to say on the issue is something I had nearly forgotten about Prigozhin in my quasi-homage of the last report.
While it's true that Prigozhin was a "complicated" and dynamic man, he in fact tantalized and seduced us with his wit, gallows humor, and charisma into ignoring his many darker transgressions, such that I even nearly forgot about some of them.
Using his charm he couched his many self-serving complaints in some half-baked genuine objections from known cliches about ammo problems, etc. But some forget that he also spewed some incredibly treasonous and dangerous rhetoric, interspersing it within these 'genuine' grievances.
For instance, who recalls when he claimed that the entire SMO was fraudulent and had no actual legal, moral, or righteous justification at all?
Yes, he actually said that Ukraine was not attacking Donbass on the eve of the SMO, nor planning any such aggression against Donbass at all. And that this was all just "oligarchs' propaganda to enrich each other". Ironically, we later came to find out that the only oligarch enriching themselves from the SMO was in fact…him, as he had countless contracts for supplying everything from soggy hotdogs to subpar armor to the troops, from which he was making a killing in billions.
According to him, NATO's plans for Crimea, the events of 2014 and the Maidan were all a hoax, I suppose—the thousands of dead civilians in Donetsk and the surrounding purlieu must have similarly been made up by the "scumbags" who started the SMO—which, logically, includes Putin. Add to this outrage the fact that he openly called for the end of the SMO after taking Bakhmut, remarking that it's pointless to continue.
Then we mustn't forget how he repeatedly savaged Russian troops near Bakhmut as worthless cowards, accusing them of "running away." Not to mention leaks which claimed that Prigozhin was willing to offer the positions of Russian troops to the SBU for striking, through his own private SBU contacts, in exchange for some breathing room in Bakhmut from the AFU. Not that I necessarily buy that, but perhaps only because I'm naively afraid to admit the implications of something so utterly cynical.
You know what all that is a classic textbook example of in many ways? Something called gaslighting. Yes, in spite of some better qualities, Prigozhin was in fact a master gaslighter and manipulator. He had refined a brilliant method of actually going against Russian interests, while slagging you off but couching it in the sort of faux-concern of a doting parent. It's the type of person that calls you a schmuck, undermines everything you're doing, but then brainwashes you into believing it's all for your own good, because you brought it onto yourself with your putative shortcomings.
He repeatedly ridiculed the Russian army, accused them of the worst accusation you could levy on a soldier: cowardice. Openly called the entire SMO's legitimacy into question, reducing its import to that of a mere self-aggrandizing 'stunt' by some bored oligarchs and corrupt defense ministers.
Well, what more can we say about him? A difficult man indeed.
A symbolic parting video: Utkin—off to the side, as usual—intones the now famous phrase that death is not the end, in a recent interview with Pegov of Wargonzo. Prigozhin fatalistically chimes in:
//
Some last sundry updates are in order.
An unverified update on the Gonzalo Lira situation:
Summarised details:

- Gonzalo Lira was detained on 01/05/2023

- He was released on bail on 29/06/2023

- He attempted to cross the border to hungary on 01/08/2023 and was detained

- He failed to appear to his court hearing on 02/08/2023

- He appeared in front of court on 04/08/2023, when it was decided to re-detain him

- A hearing in his initial case was scheduled today 22/08/2023 at 1430 hrs Kharkov time

- A hearing is scheduled on 11/09/2023, in an appeal attempt against his re-detention.
A week or so ago Sarah Cirillo tried to renege on his earlier boasts of capturing Gonzalo Lira by implying that Gonzalo actually made it to Hungary:
Recall that others like Mark Sleboda had claimed they had their own confirmation that Gonzalo was infact apprehended by Ukrainian security forces.
Next:
Remember the missile strike on the Chernigov 'drama theater' last week, where the drone exhibition and foreign intel services meeting was said to be held? Ukraine claimed it was nothing but a peaceful civilian gathering. Well the first obituaries of actual AFU soldiers have begun to pour in:
How did this brave warrior get into the peaceful civilian gathering?
Next:
Some interesting things have been happening at Tinker Air Force base in Oklahoma:
Most noteworthy is the deaths are being covered up and families not allowed to investigate the reasons. Some believe these are losses of American AD crews who operated the Kiev Patriot missiles in Ukraine, now being blackholed:
17 people died this year at a US Air Force base in Oklahoma due to "various causes"

Representatives of the Air Force and the base deliberately cover up the nature of the deaths. Leaked snippets of investigations show that "there have been base-related deaths this year, including potential suicides," writes The Daily Mail.

There is a version that all 17 Americans "bounced" on a date with Bandera when the Kiev air defense Patriot reported on the "downed" Daggers ". Officially, the United States cannot send its military personnel to Ukraine, and it takes too long to train Bandera. So they recorded as 17 "suicides" coinciding with the arrival of hypersonic missiles.
Next:
This is to illustrate something. There've been numerous concerns and claims that Ukraine is attritioning Russia's air defenses, radars, counter-battery systems, etc.
The past few days have been illustrative in that regard. Ukraine succeeded in one strike on a Russian S-300 unit in Crimea 2-3 days ago. Since then, Russia has released footage of:
Several Ukrainian S-300s destroyed by Russian Su-34s firing Kh-35 missiles:
A Ukrainian Buk AD system hit by a Lancet:
A Ukrainian P-18 radar station, which are their bread and butter essential systems, hit by Lancet:
An American AN/TPQ-36 counter-battery radar destroyed here:
As well as a couple Strela-10 systems destroyed over the past week. This is the type of example I'm talking about. Russia officially has over 2,000 S-300 launchers. Ukraine destroyed a single launcher while losing ~10 or more other highly valuable radar or AD systems in the same time frame. What attrition can we speak of here? It appears to be the same 8:1 or so attrition that Russian troops enjoy on many of the fronts.
With that said, Ukraine does continue to acquire some interesting and impressive new systems from Western partners. No where near enough to keep up with attrition of course, but one such new drone was seen capturing footage of a Russian Ka-52 on a mission with startling clarity and tracking acuity:
Next:
A very curious photo I wanted to share that shows the density of mine fields in Ukraine. This is alleged to be a Ukrainian minefield in Kharkov region:
And people wonder why neither side can advance.
Next:
Another interesting one-off: a look at how Russian Ka-52s see in the dark. Some have wondered in the past why the footage often looks grainy—but look at the sheer light amplification the optical sensors are doing. On the left is the regular camera showing pitch black, on the right is the IR/FLIR targeting cam:
It gives a new appreciation to the oft-seen footage of Ka-52s taking out AFU armor. By the way, the official statistic is that 40% of the armor destroyed in Ukraine's counter-offensive from June onward is done by the rotary-wing heroes. These things are indispensable and worth their weight in gold.
Lastly, a sea-borne saga that's worth a look. Ukraine has increased its attack boat activity in the Black Sea. Days ago they began to swarm a derelict Russian oil platform just east of Snake Island. I believe this is the same Chornomornaftogaz platform Ukraine had already hit with missiles and set on fire at the beginning of the SMO:
Now here's the 3 part saga:
First, the view from a Russian Su-30 which was said to be strafing the boats with its 30mm GSh-30-1 autocannon:
Russia claimed to have destroyed at least 2 of the boats.
Now here's the view from one of the AFU boats, showing them getting raked with fire and trying to return fire with small arms:
And finally, a view from a Ukrainian drone which shows that the boats infact had manpads on board and weren't afraid to use them:
Ukraine claimed to have damaged one Russian fighter which returned to base, but Russia denies this and says no fighter took damage.
Their maritime activity is high, unfortunately most continue to end up like these guys:
In the early morning of August 24, ukrovoyaks tried once again to "seize a bridgehead" on the left bank of the Dnieper. wanting to please your ukrofuhrer by the day of independence of the outskirts. But again something went wrong. Between the settlements of Golaya Pristan and Kardashinka, units of the Dnipro group destroyed the "festive" attack boats of the Armed Forces of Ukraine.
Until next time!
---
If you enjoyed the read, I would greatly appreciate if you subscribed to a monthly/yearly pledge to support my work, so that I may continue providing you with detailed, incisive reports like this one.
Alternatively, you can tip here: Tip Jar
---