Discover more from Simplicius's Garden of Knowledge
War strategies, geopolitical analysis, SitReps, and discussions.
Over 24,000 subscribers
Today, let's talk about some of the specifics of the ongoing offensives and military actions, an area we've neglected the last few reports in favor of the ongoing ZNPP developments. In the background of all that, there has been a variety of offensive actions on every front from both sides. At the moment, both sides are seeking to gain offensive initiative in their own objective areas: for Ukraine it's Zaporozhye and Bakhmut, for Russia it's primarily in Kremennaya and the northern front.
First, let's just do away with the ZNPP updates to set the scene. Budanov now claims that the threat of the ZNPP attack is 'receding':
The main reasons are likely that once Russia exposed their plans to the world, Ukraine's Western partners put internal pressure on them not to carry out the falseflag, as well as the IAEA not fully backing Kiev as much as they would have liked:
🇷🇺🇺🇦❗️ On the night of July 5, several leaders of European countries held consultations with President of Ukraine Volodymyr Zelensky on the situation at the Zaporozhye nuclear power plant. This was reported to TASS by Renat Karchaa, adviser to the general director of the Rosenergoatom concern.

According to my information, at night there were very intensive consultations between European leaders and Zelensky, they convinced that nothing irreparable would happen

According to Karcaa, until the NATO summit in Vilnius, which will take place on July 11-12, tensions over the situation at the ZNPP will remain.
This includes new published satellite photos which showed a closeup of the ZNPP roof, where Budanov had just recently claimed that Russia installed explosive devices. Though one new before and after satellite comparison claims to show something new on the roof of the #4 reactor building:
It doesn't mean the threat is gone for good, nor does it mean they'll stop talking about it. That's because one of the main reasons for the ZNPP tension is likely to create a constant wall of noise and disruption in the information field in order to hide the AFU's own losses and failings, not dissimilar to what happened a couple weeks ago when the Biden admin appeared to prolong the Titan submersible disinformation in order to mask the ongoing Hunter scandal.
So even if they never intended to actually attack the ZNPP, we can expect the disinfo tension to continue to be used at key moments to mask spikes of failures in their ongoing 'offensive'. There's always this theory, too:
Also, as a last update and correction I'd like to make: I had mentioned the cask storage of spent fuel in ZNPP last time, and how they were at risk of being struck. While it's true for artillery and powerful missiles, one thing I forgot to mention was that Russia did erect a cage over the casks in order to prevent, at the least, drone strikes. It can be seen here with today's visit of Sergey Kiriyenko (Russian presidential deputy) to the site:
Now, onto that offensive. Like I said, there are two main areas. When they first began to fail in Zaporozhye, the AFU shifted tactics and sent reinforcements to the Bakhmut line to see if they could make a breakthrough there instead. At this point, with time running out, they'll take their chips where they may, and if they can make a significant 'showy' breakthrough in Bakhmut, it can at least salvage some part of their campaign enough to use as a credit with NATO in the upcoming summit.
And they have been making some gains in Bakhmut, but the critical point that's missed is the scale to which they're expending troops there. New information points to the fact that they're throwing very large amounts of reinforcements there the past few days, thousands of men and what's described by a frontline observer as "hundreds" of new vehicles. All in an attempt to capture Klescheevka in the south of Bakhmut and make inroads around Berkhovka in the north.
The past few days have seen reports that AFU had captured it, but now it's been confirmed by video that Russian troops not only still hold Klescheevka but have pushed the AFU a good distance back, about 500m away from the line.
But due to the absolute desperation of the AFU to make some kind of inroad somewhere, the fighting has been particularly intense and bloody for both sides. Reports on the casualties go as follows:
In the Bakhmut direction, our guys have regained previously lost positions. At great cost, but the UAF suffered even greater losses and retreated. Two of the three dominant heights are controlled by the Russian army.

In other directions, bloody battles are going on without the success of the UAF. Sanitary losses per day are up to 1000 people from the UAF, ours – up to 200-250.
There are numerous videos from both sides in that direction, showing the deceased of the other side. The AFU captures a few troops here and there as they continue aggressively storming the positions.
One thing to comment on: many are using the Bakhmut area as 'evidence' that Wagner troops were "superior" to Russian forces, basically repeating the cliche that Russian troops are retreating from the areas that Wagner had captured and held. The main thing to note on that is that so far, Russian forces have only retreated from the zones already long established to be 'crumple zones' or buffer areas that were meant specifically for this purpose.
I've mentioned this before but I think it's good to explain a little better what exactly the definition of a crumple zone is: in short, it is an area that's typically in front of a heavily fortified place which has a natural geographic/topological advantage. In combat strategy, arguably the most important thing is the geography; whether it's advantageous or not, etc.
So for instance, you may have an area with a high ground which is very naturally defensible and below that area is nothing but flat open ground with no natural cover, that is very difficult to defend even if you build trenches into it. To create a crumple/buffer zone, you would capture this flat area and hold it only as a forward expanse in order to give your troops room to pull back and slowly lead the enemy in through the enfilade of your defending units which will be holed up in much better cover, and shooting artillery from the elevated positions.
I wrote many months ago how the entire northwest sector of Bakhmut, everything past Berkhovka, was taken specifically for the purpose of creating a crumple zone, as an example. Now here you can see roughly what was taken from the peak of Russian control around Bakhmut to almost present:
I say "almost" because this particular map has not been updated since about early July so there's a few more positions near Klescheevka in the south that were taken by the AFU:
But the area to the east (just behind) Klescheevka is a big high ground that Russia is holding and is well fortified.
The other important thing is that the troops operating in these areas are not the strongest of the Russian armed forces. There are some decent units like the 144th Guards Motor Rifle Division elements, 200th Guards Motor Rifle from the 14th Army Corps in Berkhovka, as well as some VDV on the flanks (83rd and 31st Guards Airborne Assault), but also a lot of 3rd Army Corps units like the 72nd which are the newly created volunteer organizations and are not high up on the totem pole. As to why Russia may be short-changing what you might think is a significant area, the simple answer is that there are other areas which have precedence over it.
Namely: the Kremennaya-Svatovo line has what is probably the more elite and higher quality of the Russian army, as it's swarming with various VDV units and Russia's best 1st Guards Tank Army. And of course, the southern Zaporozhye direction, as well as the adjacent Kherson area, which has most of Russia's currently best deployed units, from the 58th Army, most of the best Spetsnaz brigades, etc.
So that is all to say that the Kremennaya and Zaporozhye area is prioritized by Russian command. In Zaporozhye the reason is obvious: because Ukraine is building its largest offensive potential there in general. In Kremennaya the reason is likely because Russia sees the best opportunity for developing its own initiative and offensive potential, and likely sees the Kharkov vector as being critical in importance to recapture sometime in the near future.
Thus, Bakhmut is left with some of the left-overs which are told to make do the best they can. They're not push-overs, mind you, like I said there are some decent units there, but they are simply now being outnumbered by the sheer amount of new reinforcements that Ukraine is pouring into the area. Also, Ukraine continues to use a few very elite smaller battalions like the Jaeger troops in the actual shock-assault role against specially chosen weak points where Russian reservists are sitting in trenches.
With that said, they are still clearly holding the most important points if you discount some of the open fields of the 'crumple zones', so for now the situation is not critical despite some alarmists claiming that Bakhmut will soon fall back to AFU control after being 'encircled'. And as of this writing, Russia appears to have counter-attacked to regain ground as well:
"The 105th Regiment of the DPR Militia" TG Channel reports on the Russian counterattack on the southern flank of the Artyomovsk front:

The Artyomovsk direction is a source of good news today:

In the morning reports came in that the Russian Army is launching a powerful counterattack on the southern flank.

1) From the Kleshcheevka area, the Russian forces launched an offensive in the direction of Krasnoye.

2) From the Kurdyumovka area, an offensive is underway in the direction of Belaya Gora.

Our infantry is actively supported by aviation and heavy artillery, as usual (thank God!).
Here's a geolocated video of Russian forces rebuffing one AFU assault yesterday outside Klescheevka area which appears to show the AFU much farther west than some claim:
So the conclusion is: Ukraine is expending a lot of forces and offensive potential (in both materiel, manpower, ammo, etc.) to capture a few empty fields thus far.
Now, to the north, the situation is the reverse. Russian elite units are overrunning Ukrainian weak points and are making daily gains. Today Russia re-captured the industrial area of Belgorovka, the town just to the east of the Seversk front.
🆘🆘🆘Seversky direction

Early this morning, our troops began active assault operations in the settlement area. Belogorovka The enemy has left part of the positions The battle continues Our troops are supported by aviation🆘🆘🆘
The town itself is still held by the AFU, but Russian units are now encroaching on it.
And further north is where Russia is having the most success by far, on the Kremennaya line. There are daily small gains here, including today's capture of the rail line in Novoselovsky, near Kuzemovka:
There are also some gains south near Makeevka:
❗️Svatove sector of the front and fighting near Novoselovsky

situation at the end of July 6, 2023

At the Svatove sector, Russian units continue to assault the positions of the AFU in the Novoselovsky area. After establishing control over the depot, the Russian Armed Forces entrenched themselves on Second Street and shifted their efforts to the surrounding area.

Soldiers of the Russian Armed Forces storm strongholds south of the village. As a result of the fighting, Russian servicemen occupied several forest belts near the railway, including to the west of the railway line.

Now the assault detachments of the Russian Armed Forces are trying to advance to the landing adjacent to Novoselovsky. Behind it is an important height of 190 meters, which makes traffic from the south difficult.
Here's a clearer map to see Novoselovsky in relation to Kupyansk at the northwest and Svatove at the southeast:
Another for reference:
In general, it can be seen that particularly in the south direction in this zone, Russian forces are slowly advancing towards Torske/Torskoe, which itself is not far away from Lyman. Slowly but surely Russia is inching back towards Lyman and eventually Slavyansk and the Izyum direction.
Here you can see some of the recent results in this direction. Below are elements of Russian VDV capturing AFU trenches in that direction. You can see a few AFU surrender at the end:
And here is another trench where they didn't surrender (18+):
Now, to take it back to Zaporozhye for a moment, let's see what's coming next. We know that Zelensky really wanted something to show for the NATO summit coming up in a few days on July 12. This is why it appeared a new offensive wave was imminent, and the AFU's 128th Mountain Assault Brigade did launch some attempts yesterday but they were not as massive as the originals:
🆘🆘🆘The enemy continues to attack on the left flank of Zaporozhye - already 5 "waves of meat" rush under fire in the attack

▪️The operational situation in the Vasilyevsky district in the Kamensky direction at 19:00. Southern Military District 58th Army 19th Division Defense Zone.

➨ The day after the infantry artillery preparation, the 128th Mountain Assault Brigade sends waves of infantry to attack from Pyatikhatka towards Zherebyanki.

➨ The first 4 waves were partially blown up by mines, partially destroyed and scattered by artillery fire and our fighters, the surviving armed forces each time fled to the outskirts of Pyatikhatka.

➨ Now the biggest wave is coming: up to 200 militants of the 128th Guards Brigade are again walking like zombies under fire without armored vehicles.

➨ In the morning, enemy attacks are repulsed by 429 infantry regiments, Sudoplatov's detachment and artillery.

➨ During the battles, the enemy suffers heavy losses, but still throw infantry into battle, the battles continue🆘🆘🆘
However, there's some word they are gearing up for another big one right on the eve of the summit:
Based on the results of the analysis of all incoming data, he concentrated up to forty battalions in the Orekhovo-Polozhsky direction, aiming to rush along the Orekhov-Tokmak vector. Understanding our ability to launch missile and bomb attacks on clusters, it is likely that he will continue the tactics of a creeping offensive with limited forces, until he understands that favorable conditions have been created for the introduction of the main reserves intended for the subsequent throw deep into our territories.
It is possible that a simultaneous strike attempt will be made in the direction of Energodar in order to capture the Zaporizhia NPP. Here we should expect the most unpleasant surprises - the Kakhov reservoir is a witness to that."
And here's Rybar's writeup with their intel:
The enemy is preparing to throw large forces into a new wave of offensive before the NATO summit on July 11-12. Maybe tonight or next

▪️According to the latest data:

▪️Kyiv urgently needs to show some noticeable results on the battlefield to report to the West. For a month, special achievements of the Armed Forces of Ukraine could not be achieved.

▪️In recent weeks, the enemy has been pulling up reserves - units that did not take part in the first stage of the offensive. which must be thrown in several directions of impact. Including the "Offensive Guard".

▪️At night, the Armed Forces of Ukraine secretly transferred equipment in small groups, and not in noticeable columns, concentrating closer to the front.

▪️Enemy attacks for almost 2 weeks with almost no armored vehicles or with a minimum number. Probably the equipment is being saved for an attempt to break through the front.
There's new indication that they are attempting to concentrate forces for an attempt across the reservoir, but Russian preemptive air strikes are continually hampering their preparations and setting them back.
This includes a very powerful cruise missile attack on Lvov yesterday which was said to devastate a huge arms shipment as well as a foreign mercenary concentration point:
🇷🇺🇺🇦 The source of the Russian Defense Ministry specified the goals of the night strike with Kalibr on Lvov.

The purpose of today's strike on the reserves of Ukraine was Western equipment and militants on the territory of the military academy in Lvov. Western armored vehicles were on the territory, with a high degree of probability, British Challenger tanks.

It is also reported that on the territory of the Academy of the Armed Forces of Ukraine at the time of the strike there were up to 800 Armed Forces of Ukraine and foreign mercenaries.
There are once again videos of devastated buildings which Ukraine is attempting to pass off as civilian just as they did in the Kramatorsk strike, where we now know several dozen mercenaries perished.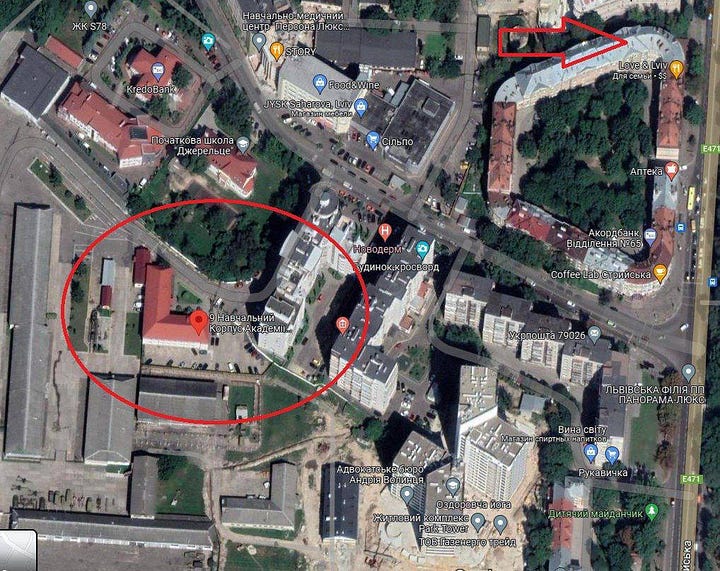 Here's a video of what's said to be the barracks which housed up to 800 military personnel and Western mercenaries:
💥 The building of the Academy of the Army of Ukraine was hit at night in Lviv (Ukraine)

Russian tg-channels analyzed the strike by the Russian Armed Forces

on a critical facility in Lviv. The arrows on the map show where the debris from the air defense missiles hit. The objects in between are circled in red.

❗️ It turns out that the strike was conducted on the 9th educational building of the Army Academy. And the Ukrainian media continue to howl about "strikes on civilians".
In fact, the assault on Lvov is being said by some as the largest ever:
Local residents claim that this was the most powerful strike on Lvov since the start of the war.

According to captain of the 1st rank Vladimir Gundarov, the Russian troops used this time some 'special' missiles, writes "MK".

He noted that the power of the explosions was simply amazing, and the destruction was noted in a large area of the Academy of the Ground Forces of Ukraine. Moreover, not only educational buildings were affected, but also car parks with military equipment, fuel depots, dormitories and barracks.

If sea-based Calibers were used, as representatives of the Ukrainian Air Force say, then they were most likely a new model missiles with more powerful warheads. Moreover, not one or two rockets hit, as thirty buildings were damaged, according to the Lviv authorities, the source explained.

P.S.

In 2022, a new upgraded Caliber version was announced...they might have been used yesterday at Lvov
Now that Russia is using its glidebombs upwards of 50 times a day, they are simply striking concentration points on the other side of the Dnieper over and over, never giving the AFU time enough to build up ammo stores. We were even given the first ever video showing of this new Fab-500M62 UMPC 'planning' glide-bomb or 'Orthodox JDAM-ER'. A brief glimpse of two of them after being launched from an Su-34:
For anyone that missed it:
Compare to:
For anyone who's interested, Russia's famed 'Combat Approved' show just released a new long episode specifically on the new class of Russian guided and gliding bombs of all types:
But back to the 'offensive'. The last thing to say on it is, Ukraine is simply desperate to find any possible breakthrough to sell to their NATO masters at this point. But there are so many internal struggles, entire units from the 47th Brigade refusing to go on offensive, various memoranda for which Western equipment can and can't be used, like the new rumor that British Challengers were pulled back and that Britain is threatening to take them out completely if Ukraine loses a single one in the same humiliating way they did the Leopards. Not to mention that according to some captured AFU, they're afraid to even use the most prestigious of the Western gear because they know Russia is specifically targeting them, so to drive around in one of the Challengers or Leopards puts an extra large bullseye on your back:
🇷🇺⚔️🇺🇦 Ukrainian fighters are afraid to use foreign equipment, including Leopard tanks, as they believe that Russian soldiers are targeting Western-supplied vehicles, according to Andrey Prikhodko, a captured member of the Ukrainian paramilitary unit "Kraken," as reported by RIA Novosti.
There are major problems and now even famed Austrian Colonel Markus Reisner has released a new report detailing that Ukraine's offensive has flat out 'failed'. Here's the German link for anyone interested.
His key takeaway is that Ukraine is 'using NATO tactics' against a Russian prepared defense, and this simply doesn't work and will not work. The simple fact is, no matter what tactics you use, you typically need an advantage of some sort, usually and classically, a numerical advantage to have a chance on offensive breakthrough. Often when I say this, some people will point to "how about the Germans in Barbarossa!" Well guess what? Germans had a huge numerical advantage in nearly the first six months of Barbarossa. From this video:
Note the date on the top left. Germany had massively more troops, which allowed them to push the USSR back. USSR didn't equalize until pretty much the battle of Moscow when the Eastern reinforcements arrived. People incorrectly extrapolate USSR's later troop numbers as if that had applied to the entire war—not by a long shot.
So the point is, what kind of madness is the Ukrainian 'offensive' attempt? They are going against one of the densest prepared defenses in history, while pretty much either evenly matched or even outnumbered numerically, and having zero air cover. And that's not to even mention having a 1:10 artillery disparity not in their favor. There is no sane general in history who would even attempt such a thing. In order to have a successful offensive even with a peer-level force you're equally matched to in armament you need to have a huge numerical advantage in troops to stand a chance.
Here's Pepe on the AFU's losses from his 'source':
Also, retired French general Jean-Bernard Pinatel gave his own detailed assessment that there is zero chance for Ukraine to succeed as Russia is superior "in every possible way":
In fact, Ukrainian defense secretary Danilov even announced that the goal of the offensive is no longer to "move forward" but rather simple attrition:
Secretary of the National Security and Defense Council of Ukraine Oleksiy Danilov announced a change in the counteroffensive strategy of the country's armed forces. According to him, at this stage of the offensive, moving forward is not the main task of the Armed Forces of Ukraine. He specified that the defense forces of Ukraine now see the number one task as " maximum destruction of manpower and equipment."
An ex-commander of Chechen troops came short of dismissing the 'offensive' entirely:
⚡️⚡️⚡️Ex-commander of a group of troops in Chechnya, Lieutenant General Pulikovsky - about the reasons for the futility of the APU offensive:⚡️⚡️⚡️

❗️I do not consider this offensive dangerous. Yes, heavy fighting is underway, but if it were an offensive, it implies, firstly, the creation of a strike force. Someone comes in the first echelon, someone in the second, someone develops success. There is no such strike force in Ukraine.

❗️They have about five more brigades of fresh ones somewhere. But in order to develop the offensive, the second element after the creation of the grouping is the fire defeat of the enemy. And artillery, and aviation, and missile strikes. It is impossible to advance without it.

❗️They are looking for weaknesses in our defense on a wide front, sending small detachments, poking their noses into our defense and looking for a weak spot. They haven't found him yet, and they're unlikely to find him. Therefore, indeed, the defense of our troops is prepared very, very qualitatively.
So now that the inevitable is obvious, there's more rumor and talk of secret negotiations happening behind the scenes for a ceasefire.
💥💥💥According to NBC television, the former US officials met secretly with Russian officials, including Russian Foreign Minister Sergey Lavrov, in an attempt to advance the basis for the possibility of negotiations to end the conflict in Ukraine.💥💥💥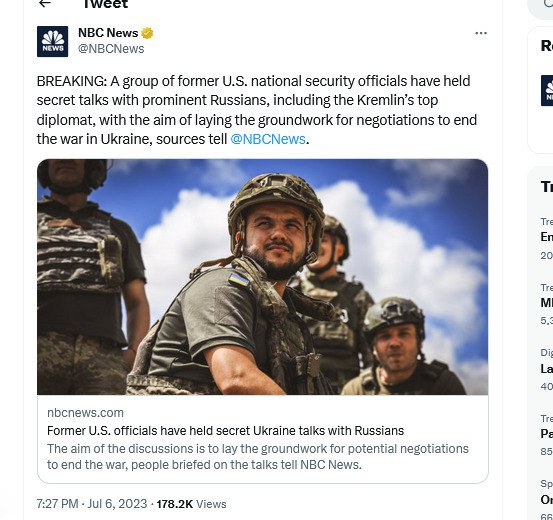 On the agenda of the April meeting were some of the thorniest issues in the war in Ukraine, like the fate of Russian-held territory that Ukraine may never be able to liberate, and the search for an elusive diplomatic off-ramp that could be tolerable to both sides. 
So, the U.S. apparently is looking for a way out that 'saves face' for both itself and Russia.
Most interesting was, the talks were allegedly helmed by the very same CFR president Richard N. Haass I recently profiled:
Sitting down with Lavrov were Richard Haass, a former diplomat and the outgoing president of the Council on Foreign Relations, current and former officials said. The group was joined by Europe expert Charles Kupchan and Russia expert Thomas Graham, both former White House and State Department officials who are Council on Foreign Relations fellows. 
As you can see, this guy gets around. Of course, it's all CFR alumni who are secretly negotiating on the U.S.'s behalf. It goes to show the CFR's true underhanded power in world politics.
The article goes to note that when CIA director Burns went to Kiev recently, he also listened to ideas around the prospect of establishing 'peace talks' by year's end. If you recall, I had months ago predicted this would be the course simply due to the fact that the democrats would need to wrap the war up by the time of the 'Big Show' of the election cycle next year.
But before anyone panics, such talks are not indicative of Russia necessarily acquiescing or even being open to compromises. No where has Russia yet signaled such a thing, and in fact every single top Russian official is signaling the complete opposite: increasingly maximalist goals.
A recent Op-ed by Medvedev himself was unequivocal in its demands.
I urge everyone to read the fire-and-brimstone piece. In the article, Medvedev names the "top three things the Anglo-Saxons must come to realize":
The confrontation with the West has become global. It is a total confrontation between the West and the rest of the global east and south rebelling against their hegemony.

The confrontation will be very long, and it is too late to tame the mutineers. In short, he's saying that they are dug in for the long haul and nothing the West can do will change Russia or the rest of the world's mind. He says this confrontation will last for 'decades' and urges the West to accept it now to lessen the shock.

What is Russia willing to do to 'compromise' or end the confrontation: the only thing that will end it, according to Medvedev, is that all anti-Russian initiatives must be completely revoked, and the Kiev Nazi regime should be totally "annihilated".
Read the rest of the article to see his other points, but the short of it is: Russia will not stop until the entire Kiev Nazi regime is completely destroyed, uprooted, extirpated, deracinated, and fumigated.
There is no way, of course, that U.S. would openly support such a measure, however, one possible long-shot prediction I can make is the following. If things progress much worse by the end of this year, and the U.S. begins to get desperate as the 2024 election cycle grows near, and the festering sore of this war is still not comfortably cleaned up and threatens to become a major lightning rod and open wound for Biden's campaign, then there is a possibility that U.S. can make a secret agreement with Russia to 'throw Zelensky under the bus'.
The reason this would work is because we know there's already been months of rumors of Zaluzhny butting heads with him and secret power struggles within Bankova, with rumors swirling that Zaluzhny himself could overthrow Zelensky who's increasingly unpopular with the actual armed forces. It's said that Zaluzhny is the second most popular figure in Ukraine. So it could be possible that if brought close enough to the brink, U.S. will secretly sponsor a coup to get rid of Zelensky and wrap up the war with a secret agreement with Russia to partly save face on both sides. Russia would get their desired effect of having 'brought down Zelensky's regime' while making some concessions to make U.S. not look as bad.
Of course, in many ways it's improbable from Russia's side simply because there are many other maximalist goals Russia likely still holds, like regaining Odessa and other territories, but you never know. It all depends on what the U.S. controllers are willing to give up on Ukraine's behalf.
With this in mind, I wanted to reprint this poll one more time. Last time I had just pasted the results but now I have the actual graphic:
Notice the very predictable spread between males and females and young and old.
But here is the most interesting poll from the foundation I found, although it's from late last year but still fairly relevant, methinks. There are a lot of hucksters and 2D blogger shysters who claim that Shoigu is "widely hated" by everyone in Russia. This is in fact not true.
If you'll recall, I myself tried to give a very frank and impartial appraisal of Shoigu during the Wagner rebellion. I had stated that there is no real evidence he's widely disliked. There is some anecdotal things from certain troop segments, but most troops in every country dislike their defense ministers, it's just the nature of the game as troops are never quite satisfied with how things are. You think American troops like General Milley?
What I had said was that amongst the regular populace, Shoigu is not really a controversial figure. He's not particularly liked or disliked simply because he's not a 'loud' personality who takes the limelight. He does his job quietly and rarely has any scandals other than the minor thing with his daughter, which is not even his own scandal. And the fact that he's been very close to Putin in fact makes him a bit popular as he absorbs some of Putin's popularity.
Well, with that in mind, here's a poll I've never seen before which settles it. Keep in mind, as far as I can tell this is from a Ukrainian-leaning organization, so the results should be even more telling:
So, nearly 2000 Russian respondents and 63% approved of Shoigu with only 20% disapproving, a mere 12% being 'strong disapproval'. Counting the ambivalent, you can state that nearly 80% of Russians do not disapprove of Shoigu. The fact that Putin's approval typically hovers around 75% means Shoigu is not too far behind. This should put to bed any specious narratives from the 2D bloggers that Shoigu is "universally hated" by Russians. This is patently false and is merely an excuse used to build up Prigozhin's traitorous claims.
In fact, let me tell you a short story about what many of the 'older guard' think of Shoigu. You see, Shoigu's predecessor was widely reviled and is considered by many people to have destroyed the Russian armed forces. He's a man by the name of Anatoly Serdyukov and was responsible for vast sweeping reforms which completely gutted the Russian armed forces in the period around 2008-2010. Now keep in mind, there are two sides to every story, and many people actually claim Serdyukov did many good things, however he is hated by many of the old guard.
He was responsible for completely gutting Russia's officer corps, removing many historical Russian divisions and formations, including entirely wiping away 3 whole military districts. Russia used to have 7 total districts, he removed 3, leaving just the Western, Southern, Central, and Eastern districts. Of course, recently Russia added the northern, and is now again re-adding the other 2 he had removed—Moscow and Leningrad Districts.
He cut down the entirety of the Russian army staff by something like 30%, making the Russian army the smallest it's ever been in history, almost entirely eliminating the NCO corps. He's also the one responsible for the complete removal of Russia's divisional structure in favor of brigades. Once again—some believe his 'reforms' were much-needed and cleaned out a lot of the waste. But from what I've seen from interviews of actual Russian ex-generals from that time period, they said he destroyed the force.
To this day, people discuss this infamous character and his terrible legacy:
Here's an example of a Guardian headline from 2012, when Putin finally fired Serdyukov for corruption and replaced him with Shoigu:
"Deeply unpopular amongst the armed forces". I guarantee Shoigu is no where near as 'unpopular' in the armed forces, as any soldiers hating him is mostly hand-selected anecdotal evidence. Even years later, the communist party continued trying to bring Serdyukov to justice.
Shoigu came in in 2012 and launched his own reforms which sought to modernize the Russian army. It was under him that all the Russian Ratnik programs came about and new modernization goals were set. Despite the fact that the effectiveness of Shoigu's own reforms can be questionable in some areas, it is true that under his regime is when the Russian armed forces began to look "modern" for the first time. If you look back to the Georgian War of 2008, the Russian forces still resembled not only that of the Chechen Wars, but arguably even of the Afghan War of the 80's. Only after Shoigu had come in did Russian forces begin looking like their modern NATO counterparts in many ways, though admittedly a lot of that is owed to the Ratnik programs.
So, it's not a total defense of Shoigu because no one's perfect. But I simply wanted to dispel a few misconceptions since Shoigu is at the very heart of much of the narrative currently shaping the discourse. At the end of the day, Putin does not shy away from uprooting corruption. He fired Serdyukov when his corruption was made known. Shoigu is "claimed" to be corrupt (with zero evidence) by some hucksters pushing a 2D narrative, but clearly Putin is sticking by him for a reason.
Here's to that:
Now, let's dispense with a few last sundry items of interest.
One interesting new update was that Russia repainted the ships of its Black Sea Fleet in an innovative new camouflage pattern which is designed to fool satellite detection. And according to Western sources it's working, as they're now having major issues tracking Russian ships by satellite:
The Economist. "On June 22, the Russian warship Admiral Essen was spotted at the Black Sea Fleet base in Sevastopol in a bright new color scheme. The bow and stern are now black, and the middle part is white, which makes the ship look smaller from a distance than it really is. As noted by independent military analyst H. I. Sutton, three other Russian ships of the Black Sea Fleet underwent a similar repainting. What causes this? This camouflage pattern is almost certainly intended to confuse surface drone operators. Ukraine conducts its attacks at high speed, and the operators have only seconds to determine the target. Deceptive coloring can make it difficult for them to spot a warship against the background of cargo ships and support ships
The Economist article above mentions only confusing surface drones but other experts made it clear that it's completely messing with satellite surveillance as well as the bow and stern decks appear repainted as well. It just goes to show the types of innovation and low-tech countermeasures Russia employs to fool Western ISR, and further shows that Russia is ahead of the game in military innovation in general, though this tactic itself is not new per se, and dates back to at least as far as WW2 as I understand it.
These two back to back headlines tickled me. In one, Zelensky rewards his AD officer for shooting down no less than 13 Russian hypersonic Kinzhal missiles (cue the laughter). While in the other: the U.S. announces that someday in the future they may develop a system that can…shoot down Russian Kinzhal missiles: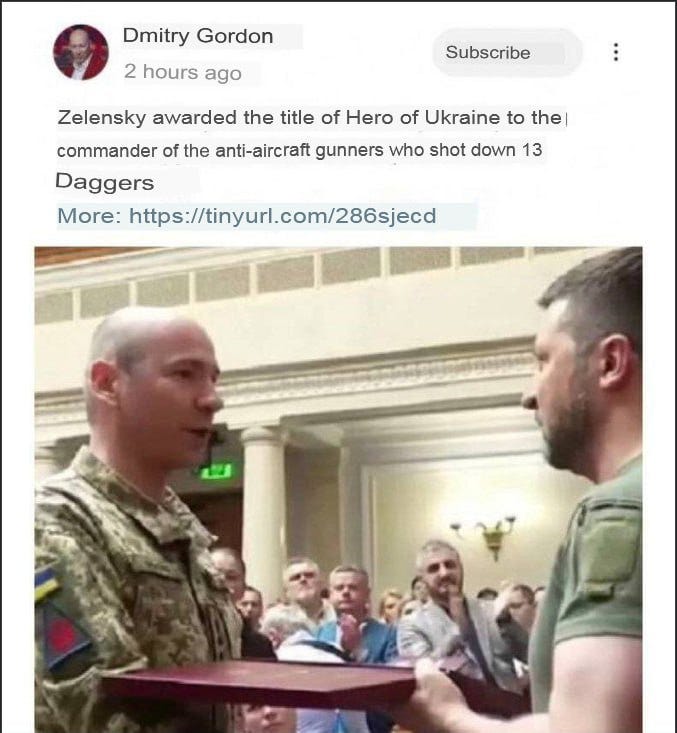 I guess Zelensky's boys are really "special".
A pair of MSM articles showing the same coordinated, tired design: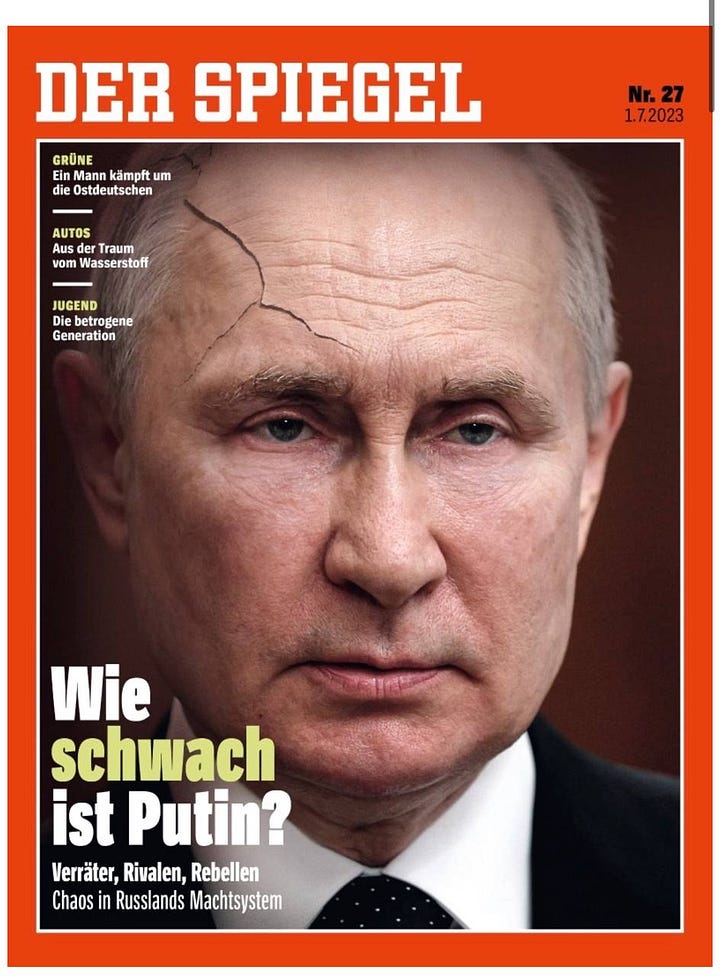 Simply a testament to how all global MSM propaganda marches in lock-step.
Another set of interesting polls. The translator slightly messed the first one up. The question is, if Ukraine could only join one economic union, which would it be? On the bottom, the answers are supposed to be:
Green for European Union
Maroon: Customs Union of Russia, Belarus, Kazakhstan
Dark Gray: Difficult to answer
Light Gray: No answer
This one is self-explanatory:
Also, a new poll states the following about Putin's popularity:
⚡️⚡️⚡️78.6% of Russians trust Putin, 74.8% approve of his work.

This is evidenced by the data from the VTsIOM survey⚡️⚡️⚡️
Not to mention this:
💥💥💥81% of Muscovites consider themselves happy.

19% have no reason to be happy, and 5% of them are definitely unhappy. If we compare these figures with the results of last year's survey, over the year Muscovites have become more happy about life. At the time, 20% of Muscovites said they were absolutely happy, while 19% rated their happiness at four.💥💥💥
An interesting series of exercises called Ridge Runner 23-0 was held in the U.S. in June which appears to have been focused on combating Russian tactics used in the Ukraine war. Go to the above link for the full writeup as there's a lot of very interesting details.
It took place in Virginia and even had full scale mockups of Russian S-400 units as well as Geran-2 drones:
Here's one analyst's writeup of it:
💥💥💥University for saboteurs: Americans take a closer look at the SMO experience

A hodgepodge of forces from the US SDF and Marine Corps, involving Polish Special Forces, representatives of the British, Latvian and Lithuanian armies, were engaged in a large-scale exercise Ridge Runner 23-0. It took place at the US National Guard's West Virginia Proving Ground and focused on deep behind enemy lines as well as behind-the-scenes guerrilla warfare.

The observers included countries involved in one way or another in the conflict between Russia and Ukraine: Australia, Canada, Georgia, Moldova, Qatar, Hungary, Germany, Finland, Czech Republic, Slovakia and Australia. Special mention should be made of the specific "guests" who are actively involved in the conflict in Ukraine: SAS and SBS, representatives of the British Special Forces.

As part of the exercise, the Western Special Forces trained to destroy anti-aircraft missiles, headquarters, depots and launch pads of kamikaze drones behind enemy lines (Russia obviously). Although similar exercises are conducted in all the more or less serious armies of the world, it is noteworthy that the conditions of these exercises are as similar as possible to the realities of the US Air Defence Forces. For example, the Poles did not send army units to the exercise, but rather territorial defence units.

Our enemies are carefully studying the experience of Ukrainian and Russian DRGs during the EWS and are not just accumulating it, but also preparing to apply it in future conflicts.

Military science does not stand still, so the Russian army should not rest on its laurels. It is necessary to improve counter-subversive tactics and introduce all sorts of technical innovations that will allow them to counter the enemy more effectively.💥💥💥
Now a few last videos. First, the U.S. has released another angsty complaint that Russian Su-35s have been harassing their MQ-9 Reapers over Syria:
They said the Su-35s dumped fuel and shot parachute-retarded flares in the path of the drone, causing the pilot to lose control, though this time it didn't crash.
This follows a French report that their Rafale fighters likewise were harassed by Russian Su-35s nearby:
🇷🇺❌🇫🇷❗️ — 🇫🇷🪖 General Staff of French Armed Forces on Twitter:

— "On 06/07, 2 Dassault Rafale fighters of French Air Force 🇫🇷 on a protection mission on the Iraqi-Syrian border reacted to a non-professional interaction on the part of an SU-35 of Russian Federation 🇷🇺

The French pilots 🇫🇷 maneuvered in order to control the risk of accident before continuing their patrol."
And more destroyed AFU armor from the Piatykatki front west of Orekhov:
A report on the shot down British-French Storm Shadow and how it was pulled out of the 'gray zone' by a special operation of Bars-11 volunteer forces, which took 2 days under heavy fire:
Prigozhin's mansion was raided, revealing his eccentrically lavish lifestyle, which included a wig vault and photos of his Chechen warlord disguise fetish bordering on Sacha Baron Cohen levels of ridiculousness:
Sladkov gives an update on AFU losses from the small section of the front, where he currently is with the troops:
Eduard Basurin of the DPR had some well-spoken words for Western mercenaries:
The Dagestani girl whom Putin invited to the Kremlin had this cute response afterwards:
I'll leave you with this poignant 'art piece' that was left on a Moscow street a few weeks back. For those that can't figure it out, it's a big red button symbolizing the nuclear launch initiation, with the words: "Russian Patience"…slowly thawing:
---
If you enjoyed the read, I would greatly appreciate if you subscribed to a monthly/yearly pledge to support my work, so that I may continue providing you with detailed, incisive reports like this one.
Alternatively, you can tip here: Tip Jar
---