Discover more from Simplicius's Garden of Knowledge
War strategies, geopolitical analysis, SitReps, and discussions.
Over 24,000 subscribers
SITREP 3/19/23: AND Weekend Mailbag Answers Extravaganza
Important SITREP updates! And mailbag answers combined in one.
Since there weren't a huge amount of mailbag questions this time, I've decided to combine the two into a Sitrep, which we'll do first, and then the mailbag answers at the end.
So let's begin with a few things which are in need of saying about the International Criminal Court (ICC) at The Hague's issuance of an arrest warrant for Putin.
First, the most important and natural question on everyone's mind: why now? And cui bono?
There are two main ideas behind the timing of this ruling. The first and most pressing, is that China's Xi Jinping has only days ago been announced to be headed to Moscow for an important state visit on 3/20 - 3/22.
The timing of this sudden Hague ruling is deviously obvious: it's meant to put pressure on Xi on the eve of his likely signing of important agreements. It's meant to embarrass Xi, both internally within perhaps some of the detractors of his own party, and outside with the rest of the world, by generating the optics of him meeting with what is ostensibly an 'international criminal' in Putin.
Of course from the more 'surface reading' of the western side, the current narrative revolves around this Hague ruling being a pressure lever meant to topple Putin internally from power. Various UK tabloid rags are running with the take that Putin's 'oligarchs' will now overthrow him, and that his tenuous grip on power is slipping due to the embarrassment of being perceived as an internationally condemned 'criminal'.
Of course, this take is pure nonsense. No one in Russia cares about these lowbrow jester's parlor tricks. The fact is, the Hague has no legitimacy not only because Russia is not a signatory to it, never having ratified the Hague agreement and thus does not recognize the court's authority whatsoever, but also the fact that the US has already itself destroyed any credibility of the Hague by threatening to arrest its judges if they dared prosecute American troops for Afghani war crimes:
John Bolton also threatened to sanction the Hague for the same. In fact, the US literally passed the American Service Member Protection Act, which—I kid you not—gives the US the legal right to 'invade the Hague' should they prosecute American soldiers.
This authorization led to the act being colloquially nicknamed "The Hague Invasion Act", as the act allows the President to order U.S. military action, such as an invasion of The Hague, where the ICC is located, to protect American officials and military personnel from prosecution or rescue them from custody.[2][3]
And in even bigger hypocrisy, it turns out that the chief prosecutor of the Hague, the very man himself who wrote the order of arrest for Putin—Karim Khan—is the brother of one Imran Ahmad Khan, UK Tory politician who was convicted of child sex last year:
But the kicker is, Kim DotCom claims that Karim Khan, the ICC prosecutor, helped get his convicted pedophile brother out 9 months early. The same Karim Khan who just issued an arrest warrant to Putin for the crime of 'deporting/trafficking Ukrainian children'. Hypocrisy much?
With that said, I myself haven't been able to verify the link that Karim Khan explicitly aided in the early release of his brother, so this could be speculation. However, given that Karim Khan is a prominent British lawyer and was appointed Queen's Counsel in 2011, it certainly lends credibility to the notion.
Also, this bit in his bio is quite intriguing:
Khan was the third chief prosecutor elected in the ICC's history, and the first one elected by secret ballot. Khan had been nominated by the United Kingdom.[4][13] He took office in June 2021, replacing Fatou Bensouda.
Seems perhaps this compromised family has quite some kompromat pulling their strings.
Now, onto the other reason for why they would issue this ruling against Putin now. The first as I said was to throw a shade over Xi's coming state visit. Another likely and more significant possibility is to undercut any potential future peace talks between Putin and Zelensky.
The powers that be are watching Ukraine's collapse and know the last big 'hurrah' hail mary throw of the vaunted 'Spring Offensive' will be the true beginning of the end, at which point Zelensky will be under great pressure from various sides to begin formal overtures of peace/compromise toward Putin/Russia.
By issuing this arrest warrant on Putin, the powers that be are effectively dousing him with a 'black mark', or perhaps a scarlet letter which throws great legal weight against any potential peace proceedings. After all, how do you formally and officially meet for legal peace agreements with a known, internationally recognized 'criminal'? Would Slobodan Milosevic be allowed to hold 'peace talks' with anyone in a formal, legal format?
In fact, this is straight out of the standard CIA playbook. Here's a Washington Post article from May 28, 1999 which says:
Russia vowed today to continue to try to mediate between NATO and Yugoslav President Slobodan Milosevic but said that his indictment on war crimes charges had complicated the effort and that the talks were not moving in a positive direction.
The indictment of Milosevic on the eve of Chernomyrdin's visit was denounced by Russia, and viewed by some Russian officials as a sign that the West is taking an uncompromising approach. The newspaper Izvestia noted that "it is impossible to come to terms with a wanted military criminal" and claimed the indictment would cancel out Chernomyrdin's diplomacy.
Read that last part again: "it is impossible to come to terms with a wanted criminal" and that this indictment would "cancel out…diplomacy."
You see how conveniently it all works out? By branding a leader with the 'black mark' of international pariah status, you magically poison any possibility of his being allowed to hold formal, legal, internationally recognized diplomacy of any sort.
In short, this action is a 'setting fire to the ships' (rather than mere 'show across the bow') for Ukraine. The message is, no peace talks will be accepted—we need you to fight and die to the last Ukrainian.
We can further assume that perhaps the situation has gotten so bad, there may have been secret internal 'signals' that got Washington worried. So they pulled the alarm to scuttle that ship.
"We would arrest Putin immediately": The German Justice Minister promises to extradite Putin to The Hague if he sets foot on German territory, and demands the same actions from other countries that recognize the jurisdiction of the ICC.

"Now Putin can feel really confident, perhaps, only in Russia," said German Justice Minister Marco Buschmann. - I expect that the ICC will immediately appeal to Interpol, as well as to the participating states and demand their enforcement."
And given the above statement by a German Justice Minister, we can conclude this is designed to make peace-talks on any European/ICC-affiliated territory impossible, as the specter of his 'arrest' would prevent his attendance.
---
Now for some randomly unrelated updates. First, a few technical things to get out of the way. Russia has shot down some HIMARS missiles over Donetsk and recovered the fully intact electronics in the fuses: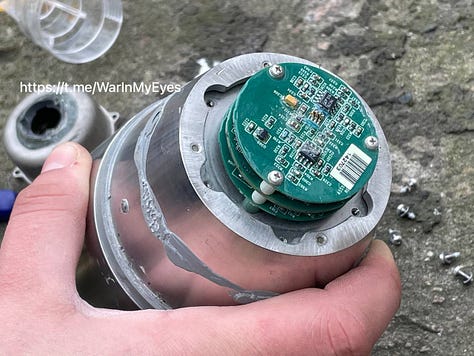 Another parallel curiosity: Ukraine published recovered electronics from one of the couple captured Russian T-90M tanks—the most advanced production tank in Russia's inventory.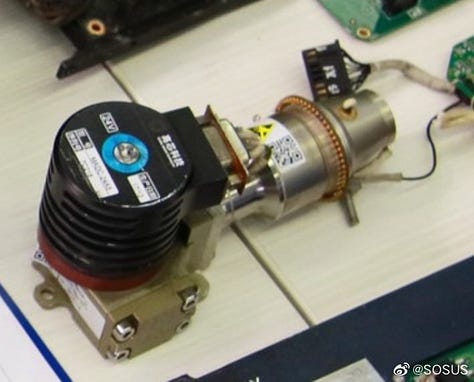 What was of interest here, was that there were Chinese chips and circuitry, in particular of the 90nm scale variety. The pro-Ukrainian side of course used it as a moment of triumph and mockery, that Russia's most advanced weapon system has some Chinese parts. This hardly matters—the bigger significance is it proves that Russia has completely import-substituted its most sensitive electronics and is now sourcing them from a place that will never stop the flow. Which means we have definitive proof of T-90M's ability for perpetual production.
Secondly, it's interesting that the chips used were specifically of the 90nm variety. I explained in this article:
That highly advanced, low nanometer scale semiconductors are not that important for military applications. As I wrote there, most Tomahawk missiles and many other weapons from the 90's and earlier still have chips even far older than that. But for their intended purpose of basic guidance functions, etc., they are more than good enough.
By the way, in my eternal penchant for tu quoque arguments, I should mention the hypocrisy of US supporters crying about a few minor foreign parts in Russian systems. After all, the West itself has few entirely indigenous system. The US M1A2 Abrams uses a German designed Rheinmetall cannon for pete's sake! What's wrong, can the US not design their own cannon?
Half of the F-35 was entirely manufactured in Turkey to the extent that Turkey even swore that the F-35 can't be built without Turkish parts!
The US was forced to 'look for new vendors' to replace the critical Turkish parts for the F-35 after Turkey bought a Russian S-400.
What's wrong, can't the US build its own plane? Russia manufactures all their own planes natively.
Not to mention this little embarrassing blip:
There are very few systems in use by the US or European NATO partners use, that are entirely natively designed and manufactured. Many of the top UK weapons are 'joint projects' with other countries. And has anyone asked NASA where they got their rocket engines?
So, I say, spare us the false condemnations. When America learns to build its own cannons, fighter jets, and rocket engines, they can come talk to Russia about Chinese semiconductors inside the T-90.
Oh, and uh:
Hell, at least Russia isn't stealing its foreign parts.
Onto other business:
First a quick update on the Reaper situation.
It is reported that the commander-in-chief of NATO forces in Europe, Christopher Cavoli, canceled several flights of the MQ-9 Reaper UAV scheduled for today. In total, there were three flights of drones planned: from Italy in the direction of Crimea, from Lithuania in the direction of Kaliningrad. And the third one from Romania in the direction of Lviv.
Initially, US/NATO appeared deterred by the events and cancelled planned future flights. However, they did end up sending up a new RQ-4 Global Hawk, but this time it flew with transponders on and much farther away from Russian territory.
Also, if you'll note, it initially wavered and vaccilated over Romania for a long time, doing many sets of tracks and loops before it 'committed' to the Black Sea, as if it was waiting for higher up permission. As can be seen, it ended up flying much closer to the Turkish border than to the Russian one. That's telling. All the 'rah-rah-rah' bluster that came from the US about 'not being deterred' and 'we will continue flying our missions over international waters', ended up being empty boasts as they not only wimped out and flew well outside Russia's various military engagement, economic corridor, and airspace identification zone, but even flew with transponders on.
Also, interestingly, some intrepid netizens have managed to geolocate the drone incident, placing it precisely at that southern tip of Crimea.
What's most interesting about that is, it puts holes in the fraudulent CNN / Western MSM spin which attempted to portray the incident as having taken place well outside of Russian boundaries, much farther southwest:
As you can see, this CNN graphic attempts to portray the incident as being literally hundreds of kilometers away from the actual place it occurred, as usual misleading their viewers and painting Russia as the bad guy for shooting down the innocent American drone over such pristinely distant international waters. The distance from crash site to Crimea in the egregious CNN graphic is over 250km. If that was the case, do you really think you would see the literal headland of Crimea in the footage as showed in the geolocation posted above? Crimea is nearly right under the drone in that shot, that looks like under a dozen kilometers at most, not nearly 300km.
Just more despicable, warmongering lies from the shameless, humanity-hating propagandists at Charlatan News Network.
---
Now onto the most important two topics, which are Bahmut and the ongoing Zaporozhe direction probing strikes. The AFU once again probed with another attack consisting of two battalions. They were rebuffed with losses once more.
According to the Military Chronicle, two armored groups of the 128th Mountain Assault Brigade of the Armed Forces of Ukraine, units of the 106th and 129th Territorial Defense Brigades are trying to probe the defenses of the RF Armed Forces south of Orekhov, between Novodanilovka and Malaya Tokmachka.
VFU used smoke before the attack, and three charges of SD to make passages in minefields. At the moment, it is known that the VFU lost 3 infantry fighting vehicles, 2 tanks and about 25 personnel in this attack. We have two wounded. An interesting point: VFU use remote mining of the rear in order to impede the approach of reserves and the evacuation of the wounded.
Here's a video of the consequences of the first probe days ago: Video 1 (18+) (Alt Link 1)
Video 2
And here's a video of today's latest attack: Video 3 (Alt Link 3)
Video 4
At the same time, AFU has launched some counter-attacks that have taken back a little territory in Bakhmut—not in the city itself, but in the highway to the west, giving them a little more breathing room to supply the city and letting up the yoke of fire-control on the main highway.
In the city itself, Wagner continues to advance, now advancing in the south sector up towards 'Avangard Stadium', where fighting was reported. Here are two maps of the southern advance toward Bakhmut center. Basically, it's a few more blocks captured since the last sitrep.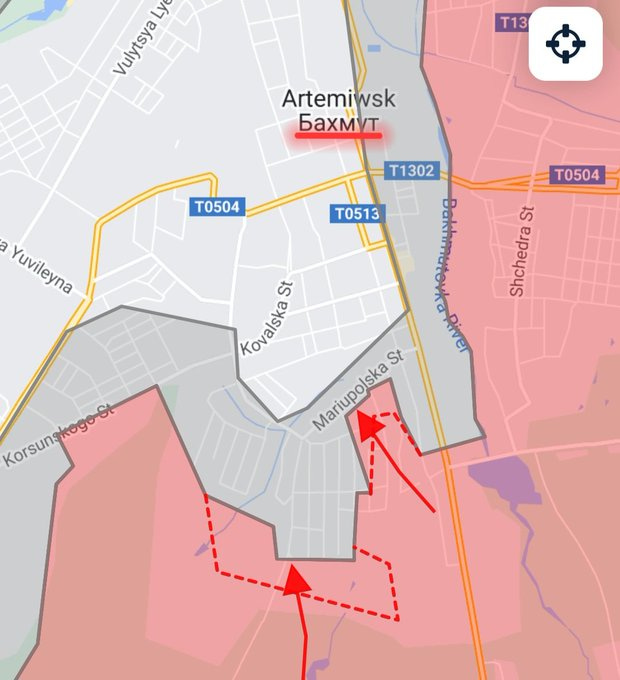 But the biggest news is that AFU is reportedly assembling a massive fist to launch a much more large scale counter-offensive against Bakhmut, to try to deblock it.
AFU counteroffensive near Artemivsko m-concentration of forces. Apparently, the enemy is preparing for the" deblocking " of Artemovsk very seriously.

In total, 20 brigades (including 2 tank and 3 artillery) are expected to take part in the counteroffensive. It is clear that some of them are no longer "in the kit", but the power is formidable (and besides, basically it's all the elite of the Armed Forces of Ukraine). Total up to 50 000 - 55 000 a man at the front from north of Soledar to the northern outskirts of Toretsk (not counting the" meat " from teroborona).

True, our people are also preparing for this. According to foreign sources, regular units of the Russian Armed Forces are being drawn here to help the Wagners. According to data from the Ukrainian side, the offensive should begin next week. (Yuri Podolyaka)
According to sources, this offensive is being planned for wednesday/thursday of this coming week. If you read the post above, it sounds quite massive on paper—and corroborative videos have appeared that do seem to show an unprecedented build up.
According to some sources, the enemy intends to concentrate a very large strike group (up to 10 brigades) in the Chas Yar area and hit the Orchestra's flank, with the aim of completely deblocking Bakhmut and defeating the strongest Russian army,and the Orchestra is certainly an army.

It seems that it is there that they plan to use the first Leopards and massively strike with drone bombers.

When exactly the enemy will concentrate the shock fist is still unknown, but apparently Zaluzhny made a serious bet on this counteroffensive. I believe that the Orchestra will withstand the blow if the Ukrainians really strike it,and the neighbors on the right and left will honorably fulfill their military duty and help as Russian soldiers should help each other in battle."
The important thing to note is that, this is the main reason Wagner slowed down in trying to fully 'encircle' Bakhmut by directly cutting across the highways, or expend most of their energy advancing into the city center itself. Rather, in the past week and a half, their main thrusts have gone towards growing the bridgeheads on their flanks in order to create large 'crumple zones' as protection against the coming counter-offensive.
This can be clearly seen in the wide map shots of Bakhmut.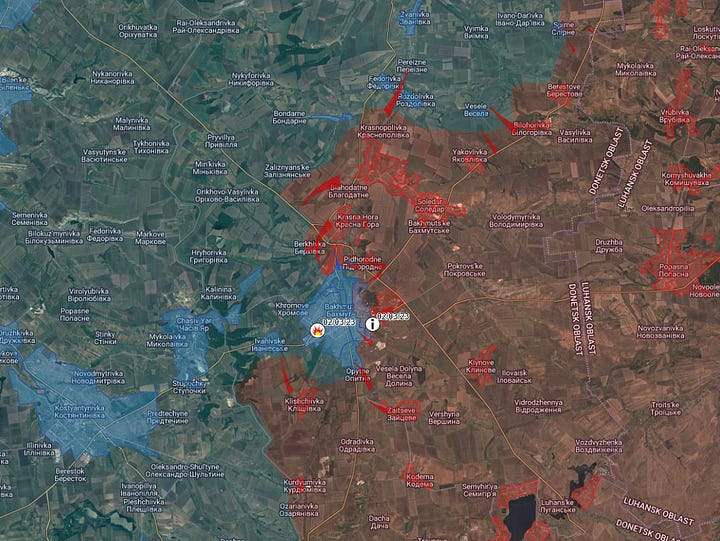 The left picture is from about two weeks ago, the right one is current. Besides the large swaths of the southern city proper being taken, notice how much more headroom is taken to the north and northwest of Bakhmut city itself. They are creating a crumple zone there to impact the coming counter-offensive which was initially said to be mostly aimed at the weak/exposed northwest flank of Wagner. This is so that they have headroom to retreat by fire if need be without losing the more important, already held/fortified territory to the rear, and territory actually critical to the taking of Bakhmut city itself (i.e. that of the direct north on city outskirts).
General Syrsky Next Wed/Thur from 5 directions Bakhmut counteroffensive plan:

UA should simultaneously launch a 5-directional strike, which should allow to unblock Bakhmut and return Soledar to the control of Ukraine. The whole operation is designed for 5 days and must pass quickly.

For these purposes shells and equipment have been accumulated in Seversk/Slavyansk/Kramatorsk/Konstantinovka.
Our source in the OP said that Western tanks have been imported to Ukraine for a month and form new units in the Armed Forces of Ukraine. Statements that the first deliveries are expected at the end of March were made on purpose so that the enemy did not know about their deployment and did not expect their use as an element of an information war. Germany and Poland have already transferred more than 80 Leopards, as well as about 50 T-72s and PT-91 Twardys (upgraded T-72's).
The Office of the President of Ukraine demands that the General Staff launch a counteroffensive near Bakhmut in all weather conditions. Syrsky is ready to launch the operation at the end of next week, but Zaluzhny opposes this plan, because of the rains, the fields near Bakhmut turned into a swamp and will not allow the APU to use maneuverability as in the Kharkiv counteroffensive.
So let's summarize. General Syrsky (commander of all UA ground forces) is reportedly accumulating massive amounts of men, upwards of 50k+ with (according to one UA report) secretly smuggled in Leopards, new main battle tanks, etc., to punch a huge shock fist through Wagner flanks and completely deblock Bakhmut.
This relates to the sudden mass probe attacks on the Zaporozhe line because, presumably, if the Bakhmut grand counter-offensive is true, then it would go to figure that UA may be attempting diversionary strikes to throw Russia off-balance, make them think that the Zaporozhe offensive is in fact imminent, pulling reserves there. Remember, to shore up Bakhmut's defenses and help Wagner's flanks, Russia was reportedly intending to send actual Russian units to the region to work in tandem with Wagner on those flanks.
Those reinforcements could theoretically be pulled from Zaporozhe. So by suddenly activating large fixing strikes on Zaporozhe, UA is likely attempting to forestall Russian reserve reinforcement to Bakhmut in the lead up to that attack, so Wagner's flanks could be left weakened.
To add another dimension, if you'll recall my mentioning a very heavy build up in Kherson, on the West bank of the Dnieper. Now there are new reports of such movements, so there could even be further diversionary fixing strikes across the Dnieper timed to coincide with the grand Bakhmut counter-offensive. This shows clear urgency in the AFU to pin down Russian reserves from being transferred to aid Bakhmut.
By the way, here are the new words of Vostok Battalion commander Alexander Khodakovsky on the situation:
There is a feeling of avalanche in the air, the enemy increases the degree of the situation, - Vostok commander А. Khodakovsky: "The enemy is gradually increasing the degree of the situation - artillery shelling and local sorties have become more frequent. Talks about the impending escalation have already become a rule of etiquette. I myself have repeatedly predicted the imminent activation - and then yielded that right to more intelligent forecasters. Nonetheless, the sense of an avalanche is in the air. Are we ready for the coming events? It's hard to say. I think we haven't finished our bitter medicine, but we're not sitting around and wasting time. We are using every day we have left to pull our raw troops up by the ears. It is encouraging that commanders on the ground are eager to learn and teach their personnel. We have a long-established practice of exchanging everything of value, and I tell you - the army has every chance in time not only to restore its potential, but to surpass it. But that will be a little later, and in the meantime we must not let the enemy build on its success."
It should be noted, however, that presumably if such a mass scale, 10+ brigade counter-offensive takes place, much of the manpower would have to be drawn from the reserves planned for the grand 'Spring Offensive'. So this would likely represent a very dangerous gambit for the AFU. If they fail and lose a lot of men and equipment, it could spell doom for any future offensives of the sort.
But as we discussed in the last report, there appears to be a grave sense of desperation for the AFU specifically vis a vis losing the Bakhmut region. I opined last time that this must imply that UA command has extremely low confidence of their ability to defend the regions west of Bakhmut, and likely means they foresee those open plains crumpling very swiftly, leading Russian forces right to the doorstep of Kramatorsk, should Bakhmut fall. This is the only logical explanation for why this much effort is being expended to hold and deblock Bakhmut.
Of course, there's always the chance they're telegraphing such a massive Bakhmut counter-offensive as a big maskirovka campaign to draw Russian forces there, and instead kick off their grand southern offensive, or something along those lines. The people on the ground would know best where it feels more likely to happen, and indications point to Bakhmut, but it's something to note—never let your guard down. The AFU could 'project' a huge Bakhmut offensive, draw all Russian reserves there, and instead strike down into Zaporozhe. After all, did we really expect them to tell us the exact date of their 'Grand Spring Offensive'? That could all be a deliberate ruse.
Of course we've felt they're bound to a later date based on the constraints of rasputitsa. But that clearly didn't stop them in the two large probing attacks of this past week, and in fact it was even specifically noted by Russian forces that UA seemed to handle the terrain well and didn't have overt problems with the mud during these attacks.
For now all we can do is wait and see if the Bakhmut offensive materializes on the expected date of wednesday/thursday of this week.
---
Now, let's finally turn to our Mailbag questions:
1.
What do you think is the likelihood of NATO slowly becoming actively involved in the fighting after the AFU's military successes have failed to materialize and the supply of cannon fodder has been depleted?
This is something I've addressed from a variety of different angles before, but to try to synthesize them all in summary: I do believe there's a heightened chance of that—though it's not necessarily a strong one, in absolute terms. Particularly because at the start of the SMO last year, some people within NATO, and even full NATO members like Poland, already outright called for NATO intervention.
In fact, last year Mitt Romney in a speech stated that the US military could get involved at the point when Putin is 'bogged down in Ukraine' and this would catch Russia 'in a very weak position', sort of telegraphing the standard thought of US planners:
So it's clearly something on the agenda, but there will of course be dissenting voices within those power structures which will try to quell the attack dogs, so it's only a matter of who will win.
With that said, what I believe the general shape of events will be is: once Ukraine's offensive is crushed and the situation is dire sometime presumably by this summer, Russia will first get a series of very strong offers/warnings/threats to start wrapping up the SMO. If Putin refuses to do so, then there will be larger implied threats of intervention that will come in the form of increased accusations of an imminent 'Russian nuke/chemical' strike of some sort. Because in my view, the likeliest/simplest NATO intervention would come as a result of some nuke/chem falseflag similar to the infamous Douma attacks in Syria.
The reason is, this gives NATO the perfect cover to enter Ukraine not for the express purpose of fighting Russia but rather the ostensible one of 'establishing a humanitarian corridor' for civilians 'fleeing the chem/nuke' attack. With such a 'humanitarian corridor' they can then 'squat' on whichever parcel of Ukrainian land they don't want Russia to control—which would likely be Odessa and/or parts of west Ukraine.
But the ultimate question of how likely this is to actually happen—well, I don't think it's extremely likely but definitely too likely for comfort. Let's say 10-20% chance. But we'll see as we get closer to those days of the proposed 'offensives', as a lot of nuances of the geopolitical climate at the time will inform us. For instance, if the main player-countries are experiencing strong political headwinds at home, it could put the brakes on such attempts.
---
2.
The RF President in his last address to the nation specifically referred to the problem of some Russian businessmen preferring to squander their wealth abroad rather than use it to transform their country, for which so many of their ancestors laid down their lives, into a modern country. This shows that there are forces in the RF that are more likely to move westward and are certainly just waiting to use their western contacts to topple the government, or rather its president, from the throne. How high do you think this probability is?
Russia definitely has its regular lineup of 5th and 6th columnists, its liberals, traitors, etc., as any country has. However, in western media, the specter of 'Russian oligarchs' is greatly overplayed for the western audience. They don't really have as much power and influence as people think, and the few holdovers who had access to the Kremlin, and the potential 'power/influence' to do what you suggest, have already fled; Chubais being chief amongst the ones I'm thinking of.
The west likes to believe that Putin's power is somehow 'threatened', and that he's perpetually just teetering on the precipice, tenuously holding a grip on fleeting power. But it couldn't be further from the truth. His position is secure, and there's no real phantom 'oligarchs' that could threaten him or even remotely come close to 'toppling him' in any way.
Even as I write this, one of the current 'narratives' being constructed around the ICC (Hague) arrest ruling against Putin is that this will bring him even closer to that precipice as the power structures inside Moscow will see him as a 'marked man'. But this is just typical Anglo fantasy-making. I realize almost wincingly that the confidence with which I write that almost makes me sound like an unrealistically optimistic 'Putin fanboy'. But it couldn't be further from the truth. I don't even idolize Putin and have been critical of him in this past year. But anyone who knows anything about Russian politics will tell you it's a total joke to think there's even a remote chance of some shadowy oligarchs seizing power in the Tom Clancy cartoon way that Anglo-newspapers will have you believe.
This is without even mentioning the fact that Russia in particular has utterly neutered western NGO's, their power and reach capabilities, which makes it extremely difficult for them to stage any sort of provocation that could lead to 'toppling' anyone from power.
---
3.
Are US active military already embedded? Prob. a mix of Spec. Forces, CIA paramilitary, Delta,

senior enlisted heavy weapons advisors, O-5/6/7/8's as rear guard advisors and planners plus the everyday thrill seeking mercenaries. Not to omit mention of balloon and UFO watchers.
Yes, US active military has been there from the beginning in a variety of ways, both openly and clandestine. The same goes for the special services/forces of most other countries like British SAS, etc.
Here, a June 2022 NYTimes article exposes how: A secretive operation involving U.S. Special Operations forces hints at the scale of the effort to assist Ukraine's still outgunned military.
The NYTimes goes on to explicitly state that:
Much of this work happens outside Ukraine, at bases in Germany, France and Britain, for example. But even as the Biden administration has declared it will not deploy American troops to Ukraine, some C.I.A. personnel have continued to operate in the country secretly, mostly in the capital, Kyiv, directing much of the vast amounts of intelligence the United States is sharing with Ukrainian forces, according to current and former officials.
Notice they state "mostly in the capital", which is an obvious admission that there are some not in the capital but elsewhere as well.
Few other details have emerged about what the C.I.A. personnel or the commandos are doing, but their presence in the country — on top of the diplomatic staff members who returned after Russia gave up its siege of Kyiv — hints at the scale of the secretive effort to assist Ukraine that is underway and the risks that Washington and its allies are taking.
And more:
The [American] commandos are not on the front lines with Ukrainian troops and instead advise from headquarters in other parts of the country or remotely by encrypted communications, according to American and other Western officials, who spoke on the condition of anonymity to discuss operational matters. But the signs of their stealthy logistics, training and intelligence support are tangible on the battlefield.
And later in the article they once more admit to forces in the country:
The C.I.A. officers operating in Ukraine have focused on directing the intelligence that the U.S. government has been providing the Ukrainian government. Most of their work has been in Kyiv, according to current and former officials.
While the U.S. government does not acknowledge that the C.I.A. is operating in Ukraine or any other country, the presence of the officers is well understood by Russia and other intelligence services around the world.
In October, a separate article from The Intercept highlighted the fact that at the start of the war, there were Navy Seals and CIA assets inside Ukraine. Biden initially pulled some of these assets out, however he later returned them:
When it became clear that the agency's predictions of a rapid Russian victory had been wrong, the Biden administration sent the clandestine assets that had been pulled out of Ukraine back into the country, the military and intelligence officials said. One U.S. official insisted that the CIA only conducted a partial withdrawal of its assets when the war began, and that the agency "never completely left."
The Intercept then goes on to very clearly state there is now more CIA and special forces in the country than ever before:
Yet clandestine American operations inside Ukraine are now far more extensive than they were early in the war, when U.S. intelligence officials were fearful that Russia would steamroll over the Ukrainian army. There is a much larger presence of both CIA and U.S. special operations personnel and resources in Ukraine than there were at the time of the Russian invasion in February, several current and former intelligence officials told The Intercept.
And this was told to The Intercept by 'several current and former intelligence officials', so it's pretty much confirmed information rather than speculation.
But on the more 'open' front, US has already mulled sending troops into the rear areas under the guise of helping to track/audit the US weapons aid.
And of course as for non-US involvement, there's leaks like this one from GrayZone showing UK's plans to construct a secret 'terror army' inside Ukraine, utilizing UK's spies working on the ground.
And of course, all of these US assets are ones in Ukraine under official US uniform and current service, that's not even getting into the more 'gray area' of the hundreds/thousands of US mercenaries in Ukraine, some of which are unofficial, 'undercover intel assets'.
For instance, the American mercenary who defected from the AFU to the Russian side last month, spoke of other American mercs in his Foreign Legion unit who had contacts with the CIA and were given a secret satellite phone from which they could call those contacts and get up-to-the-minute readouts on Russian positions, etc.
Long story short: Ukraine is absolutely crawling with US assets both official and unofficial, from special forces to intel to contractors and everything in between. And same goes for the UK and probably many other major countries from their bloc.
---
4.
Scott Ritter discussed/speculated with Garland Nixon the prospects for a peace proposal from President Xi to Presidents Putin and Zelensky. Given the hold of the neocons over the EU and Ukraine I'm left scratching my head; granted a serious proposal, but vassals without agency combined with neocon-neoliberal psychopathy it seems that the already convinced (non-aligned/neutral) don't need further illumination of US intransigence. Since April 2022 when the last attempt was quashed what are the prospects for such proposals? The current changes in environment in the US are financial chickens coming home to roost - do you think this could precipitate isolation of the neocons (a praetorian action?) as this crisis continues unfolding?
This is a very timely question seeing as how Xi is now set to visit Moscow reportedly March 20-22, and the visit appears to have something at least partly to do with some of the things you outlined. Particularly because, on the agenda, Xi is planning to speak to Zelensky via a video-call after he visits and meets with Putin. This would be Xi's first conversation with Zelensky since the start of the SMO.
So clearly, it appears that Xi is set to convey some sort of message or act as a middle-man to some extent in this regard.
As you know, China presented its 12-point peace plan last month, which the US quickly rejected, partly owing—as I understand it—to the fact that one of the points called for the lifting of sanctions.
So the big question here is, what is the real purpose of Xi's Russia visit, and are his intentions to 'meet' Zelensky just a sort of figleaf and 'public face' gesture to show the world that China supports peace, while secretly China intends to ramp up military support for Russia? This is what some eminent people are thinking.
One of the other angles to this is, China is still wavering on this issue because the Russian SMO situation presents an ultimate 'trump card' for China to deal with US's increasing encroachments vis a vis Taiwan. China is holding the dagger over Ukraine with a veiled sort of threat that, if US begins mass arm shipments to Taiwan like they've hinted at doing, then China will do the same for Russia. In fact, one unsourced post even reported the following:
The Ministry of Foreign Affairs of China said that the volume of arms sales by China to Russia will be the same as the volume of U.S. arms sales to Taiwan
But with that said, much of the other part of this question was already answered earlier in this post where I discussed how the Hague declaration against Putin was designed by those very neocons you mention to scuttle peace talks. But do I think it will 'isolate' those neocons as things move forward?
For now there appears no true indication of that so it's difficult to say. We will really get a clearer indication of which way the wind is blowing in that regard after the big planned Ukrainian offensives. That will be the true test to see which voices drown out the other side, and whether the peaceniks will win over the neocons in terms of escalation, or vice versa. So I'd give it another couple months before we truly have indication of the answer to this part of the question.
---
5.
I thank you for your analyzes which are among the finest of what can be read on the net in the camps of Russophiles

I would like to know your analysis on why the Russian aviation is not more involved in depth. Is Ukraine's anti-aircraft cover really effective? does Russia really have the mastery of the sky?
Firstly thanks for your kind words.
As to the question: much of the answer to that can be found in my more extensive article:
—which deals with explaining why in the first year of the SMO, many systems/branches/etc. from the Russian side appeared to be low or missing.
But to summarize what I said, it mostly revolves around the fact that the total number of force usage that Russia has deployed so far for the entire armed forces, which includes the airforce, has been much lower than most people thought. You can get the exact numbers and all the granular details in the above article.
However, the second biggest thing is, with the limited forces they have been utilizing, the airforce is still doing a fairly strong 150-200 sorties per day.
In Syria, Russia conducted on average 20-50 sorties per day, with 'surges' on some days as high as 90+, just to give an example.
In NATO's air campaign on Serbia during 1999, they flew at times 250 sorties per day:
And:
USAF aircraft eventually flew 150 strike sorties per day. Targets ultimately included refineries, communication lines, electrical power grids, and dual-use communication structures; however NATO maintained strict control over which targets could be hit and which were off limits. General Short could generate 1,000 strike sorties a day by early May and could destroy targets more quickly than they could be approved by the leaders of the various nations in the alliance.
The finally tally for US forces only (not counting NATO), if you take away the tanker (non combat) sorties and count only the direct fighter/bomber sorties, then divide it by the 78 days of conflict, you get an average of 118 sorties per day.
So Russia is currently flying almost double what the 'mighty US airforce' was capable of in the famed NATO-Serbia war.
So, re-oriented in that light, can we really say that Russian airforce is 'missing'? After all, I outlined in this article:
—that Russian airforce has been objectively more effective, having had a hand in the destruction of tens of thousands of Ukrainian ground units, while the NATO bombings managed to destroy only a few dozen pieces of Serbian armor, and kill only ~1000 troops.
But to further answer: Russian aviation is in fact greatly curtailed by Ukrainian AD. And yes, UA still has enough AD remaining to threaten Russian aviation into flying very cautiously. Russia destroys their AD regularly but they are getting flooded with new systems all the time. A new video of the Humvee-mounted Avenger system just appeared yesterday:
And why does some Ukrainian AD still able to elude Russian destruction? The simple explanation is that most of them now operate in 'cold/silent' mode with radars turned off. Using the various Delta/Nettle systems I spoke about in depth here and here (the first of which even includes a video of the system in action, tracking a Russian jet flight to feed it to the AD network), Ukraine is able to use a system of forward observation spotters to first indicate when a Russian craft is in the area, and only then, after relaying the info to sector AD systems, does that AD briefly turn its radar hot to gain tracking/target data and launch, quicking turning radar cold again afterwards.
This allows them to operate undetected by Russian SEAD missions with anti-radiation missiles. With that said, their AD has been greatly degraded, in fact they've been through two or three rounds of full AD infrastructure by now, as it continually gets entirely destroyed by Russia. But more units are sent all the time.
Here's just a sampling of all the systems sent so far, with the exception of Patriot, although last week Poland claimed one Patriot unit was already inside Ukraine as well:
And also the above doesn't include Soviet legacy systems sent from neighboring countries.
---
6.
Yes. Thank you for your site and the valuable knowledge you share.

1. American Military reality seems designed around the Adolf/German method of Blitzkrieg, having no Plan B for a long, or even medium term slugfest.

2. As a long time manufacturer, I have watched Western Nations (Western Corporations) move nearly all Primary/Heavy Industry (including all support, secondary and tertiary industries) to Mexico and China.

So, try as I might I fail to see a solution to Ukraine, unless Europe breaks rank. Alternatively, to save face, the U.S. pushes for WWIII.

Do you see viable paths to Peace ? Or any path at all to Peace ?
It's interesting you mention the manufacturing situation particularly in light of the recent news:
Eisenwerk Verlag GmbH has filed a claim to declare itself bankrupt. The reason for bankruptcy is standard for our time - energy resources have risen in price.
Think about it, this Saxon metallurgical enterprise traces its history back to 1380.
For six hundred years it has survived the Hanseatic League, two orders of knighthood - the Teutonic and Livonian, the Reformation, the First and Second World Wars, the Cold War and the Global Economic Crisis.
And the Young reformers in German in the person of our Olaf Scholz have not survived.
With that said, no unfortunately I don't see much viable path to peace. In fact, in last week's mailbag answers, I wrote much more deeply on this topic. Please reference question #5 and #10 from there to see a broader answer recent answer.
There is unfortunately not too much more I can add beyond that, without regurgitating the same things I said.
All I can say is that, right now everything is banking on the long-awaited 'Grand Spring Counter-Offensive' by Ukraine. Everything will depend on how that goes. Recently John Kirby, spokesman of the US, stated that US supports peace, but only after Ukraine has regained enough territory to justify a peace agreement where Ukraine has favorable terms. He stated that if there was a ceasefire now, then it would lead to Ukraine losing all the current territory Russia holds.
So it's clear that the US first wants Ukraine to retake as much territory as possible. So you can think of it progressing in one of two ways:
1. During the coming 'grand offensive', Ukraine will retake vast amounts of territory until hitting a natural roadblock where the offensive stalls. At this point perhaps the West will feel comfortable about pausing hostilities into a 'Korean DMZ' scenario.
Or
2. Ukraine's offensive will be brutally smashed, and UA forces will now be completely unable to resist the massive subsequent Russian offensive, which will be injected with the 200k+ mobilized troops which have thus far been waiting outside of combat. Russian forces will overrun everything and the West will hit the panic button.
At that point the US will branch into 2 new remaining possible pathways:
1. Either beg, coerce, or force in any way possible, Russia to agree to an immediate ceasefire, lest they overrun much more of the country.
Or, in the case the above doesn't work (which it likely won't)
2. Engineer a NATO-led entrance into the war via 'boots on the ground' to save the AFU. This would likely happen as a result of some large-scale chemical/nuclear falseflag.
So you can see how the choices therein don't particularly hew to any 'peace' option in any optimistic way.
---
7.
Like I have expressed before, I am extremely appreciative of your analysis and honest assessment of the Ukraine conflict.

There has already been several very excellent questions, so I will try not waste your time with a similar topic asked already.

If you think that this is a topic worth discussing, I would like to hear your opinion on the West's ability to provide Ukraine's forces with enough military ordinance (artillery/tanks ect.) to sustain a long-term war for the next 2-3 years?

Best Regards!
Thanks for the words.
Once again this is something I've covered much more in depth than I could possibly rewrite here in the following article:
All the pure data, numbers, and bells and whistles are there about this exact topic. It covers what US and NATO are ablet o produce right now, versus what they will be able to produce in exactly the 2-3 year timespan you allude to, if they're successful in 'ramping up' their production/sustainment as they claim to intend on doing.
But to summarize very succinctly: they have no real way of providing the needed sustainment any time soon. The reason I say needed is because they can provide a certain level, but according to the AFU's own words and usage charts, it's no where near enough for them to even repel Russian attacks, let alone enough for a sustained offensive effort of their own (for which you need vastly more shells).
They want to be able to shoot 10k+ shells or more per day, which is 300k per month. But the West's ability to manufacture shells is currently in the 100-150k per month maximum rate, or even less. And to bring that up much higher will take a couple years if not more.
Like I said, please read the article above for the much more nitty gritty on that topic.
---
8.
Basically: Why does the USA keep doubling down on provocations, as if they WANT to goad Russian leadership into saying "screw it, no more tactical restraints, no more hiding beyond the polish border, no more shipping weapons on unescorted commercial vessels without ships torpedoed/mined, cargo aircraft carrying weapons get downed now, if we can see you, you get whacked"?
This one's a multipart question, so I'll start with the first.
The main arc of the question appears to be: why does the US appear to be confident of the endless escalation spiral, as if they have no qualms about reaching critical mass like nuclear war or other slightly less odious scenarios?
Primarily, I would say that in my opinion, this is a slightly alarmist misreading of the situation, to the extent that I don't think they're escalating nearly as 'recklessly' as this makes it sound, or as some believe. In fact, I believe the US has been somewhat prudent, cautious, and wary of Russia thus far, almost to a surprising degree. Thus, my position would be that US in fact has a great amount of 'escalatory headroom' remaining, should they choose to utilize it.
So what do I mean by that? Well, for starters, we know they've very markedly adhered to Russia's redlines regarding a variety of things such as: no long range missile system supplies (ATACMs, etc), no western jets thus far; even Elon was forced to back off the Starlink usage for 'offensive means', and I suspect it was under US governmental pressure, as I view Musk as being mostly compromised under the aegis of US MIC in regard to Starlink anyway.
With that said, of course this is just marginal, and in general they're still much heavier on the provocation side than the reverse, but I was just making a point of tempering that particular angle somewhat. I believe beneath the gung-ho chestbeating we see from US officials, behind the scenes they're much more restrained than they appear.
One way this is evident is that what is going on today, and US's involvement in the current conflict, hardly even compares to that of previous conflicts during the Cold War. Hell, there were outright Russian pilots flying for the Koreans in Mig Alley, killing US pilots by the boat load. Proxy wars always have this sort of support on both sides. Of course in pure numbers this one dwarfs the others in many ways, and it also takes on a heightened urgency for us owing to our knowledge of the conflict's more existential nature to Russia than Afghanistan was, apropos US's arming of the Mujahideen, etc.
But in the most general sense, a lot of this is 'par for the course', and compares to all previous proxy wars as standard escalatory procedure. After all, some would claim the US escalated even more chaotically against Russian forces in Syria. Not only did they directly push a NATO member (Turkey) to shoot down a Russian Su-24 with air to air missiles, but depending whose reports you believe, the US directly attacked and bombed Wagner forces, killing anywhere between 10-200.
And this is not to mention the countless, much scarier, WW-3 prelude style direct encounters between Russia/US that regularly went down in Syria:
Hell, with some of that in mind, Ukraine almost doesn't seem half-bad with regard to direct US involvement / clash with Russian forces.
The next question was very long so let me just summarize/truncate it:
What USA military technology might exist that has not been unveiled/publicly acknowledged? In particular, I recall there was a plan for ONE thermonuclear device to pump MULTIPLE independently aimed gamma/far X ray LASER beams. At the time it was thought of, supercomputers were able to crunch the fluid dynamics equations for the required two stage and possibly THREE stage fission/fusion trigger & "drivetrain", but certainly could not have computed on the fly to configure an orbited weapon "optical" output devices to nail hundreds of missiles in flight/satellites in orbit. Could we be there now. And would these jackwagons have the hubris to trust their lives to such things working properly without live testing one first? https://en.m.wikipedia.org/wiki/Project_Excalibur
Well, first let me just mention the infamous 'Rods of God' system to get it out of the way:
As for other top secret systems which are not merely horizontal upgrades/advances, personally I don't think there are too many, unless one starts getting into real woo-woo speculative stuff, project Aurora anti-gravity etc., and there's no clear enough proof there to serve as fodder for serious enough discussion.
There's a multitude of newfangled systems that were always under development but the vast majority of them have severe limitations that in my opinion they don't pose much serious threat. I'm talking about the railguns and things of that nature. Particularly the railgun meant to take down ICBM's 'cheaply' from a distance.
My personal opinion is the following: the entire future of military advancement has switched from overtly kinetic asset development, which have mostly hit a ceiling in characteristics (planes, missiles, rockets, bombs, etc.) to one revolving around AI, biological, psychological related fields (amongst others).
So I believe the true 'secret weapons' of world-changing power being developed by the US revolve around biological attacks of various sorts, and psychological warfare by way of AI.
Two brief things I'll post in that regard:
Try this new article, for instance. And watch this commercial for the official US Army Psyops Unit recruitment:
Secondly:
The US wants to destroy agriculture in Russia. Quite the usual plans for the world hegemon.

Americans are preparing climate weapons to confront Russia:

The White House and Congress have adopted a five-year plan for the so-called "climate interventions", which provides for the creation of climate control technologies. The goal of the program is to combat Russia's emerging dominance in agriculture. The US National Intelligence Council believes that Russian agriculture should be viewed as a geopolitical threat.

Thus, the Americans are planning to create a scientific base for controlling solar radiation.

The US economy is extremely vulnerable due to ongoing climate change. Every year the area of arable land is reduced due to heat, drought and soil degradation. Forecasts are disappointing - by 2040, the yield of agricultural states will be reduced by 90%.

At the same time, Russia will expand the zone of efficient farming in Siberia by 2080, in fact, twice - the increase will be 5 million km². The country will become the world's top wheat producer with 20% of the market.
The US MIC/elites are thinking ahead with long term plans. They know their own demographic, sociological, socio-political, and financial/economic situation is crumbling with outlooks/forecasts being poor for the long term. Particularly with an ascendant China/Russia partnership and Russia's vast resources being opened up even more in the future due to [engineered] climate change, they see the absolute existential threat this poses as Siberia eventually defrosts and opens up endless new resources to Russia.
So I believe all future secret project development revolves around AI/bio/chem/HUMINT/psychological style systems to destroy Russia's environment, resource capabilities, etc. The infamous biolabs in every country surrounding Russia (Ukraine, Georgia, etc.) is likely one example of this.
As for the Project Excalibur you mentioned, its one main limitation which has rendered it obsolete/useless is the concept of FOBS (Fractional Orbital Bombardment) which Russia invented. In short, it's a system that eschews 'ballistic trajectory' for ICBM's, which causes them to rise to great height and be vulnerable/exposed to various countermeasures, and instead utilizes a flat trajectory that's much harder to detect.
Russia's newest and feared SARMAT (nicknamed Satan II) is FOBS capable, which means US has no way to shoot it down. From wiki:
Sarmat has a short boost phase, which shortens the interval when it can be tracked by satellites with infrared sensors, such as the U.S. Space-Based Infrared System, making it more difficult to intercept. The Sarmat is able to fly a trajectory over the South Pole, which would require Fractional Orbital Bombardment (FOBS) capability, and is claimed to be completely immune to any current or prospective missile defense systems.

According to various sources, RS-28's launch sites are to be equipped with the "Mozyr" active protection system, designed to negate a potential adversary's first strike advantage by discharging a cloud of metal arrows or balls kinetically destroying incoming bombs, cruise missiles and ICBM warheads at altitudes of up to 6 km.
And of course, we know Russia's latest 9M730 Burevestnik missile—the nuclear-propulsion powered cruise missile—has a similar ability, given that it has 'unlimited range' due to its nuclear power plant, and can fly all over the globe, bypassing any conceivable ABM defenses to hit its targets on the continental US. Given that it's basically a cruise missile with unlimited range that flies at low altitude (compared to ICBMs), the 'Project Excalibur' satellite system would have no effect on it.
---
9.
Could you please recommend a good basic book of Russian history? Thank you!
The last one was this simple request, which I turn to you readers. Maybe some in the comments can recommend something.
As for me, I don't know many 'good' ones, particularly non-Russian ones or written in the West, since they're typically strewn with propaganda.
This is particularly the case when it comes to Soviet history, as the big bad bugbear of the USSR precludes Western writers from ever covering that topic with any sort of impartiality. If you want Soviet history without the typical propaganda try the books by Grover Furr.
As for pre-Soviet history, one of the only things I can recommend is actually to read the famous Russian literature of the day, because it is often greatly social-conscious with a lot of commentary on Russian history, straight from the Russian writers themselves. Things like Turgenov (Fathers and Sons), Mikhail Lermontov (A Hero of our Time), Chekhov, Dostoevsky, Tolstoy, etc. It depends on which era of history specifically you're interested in.
But keep your eyes peeled in the comments, maybe others have some better recommendations.
Well, that's all for now folks, see you on the next one.
---
---